Double Chocolate Chip Cookies
Super easy and quick, chewy double chocolate chip cookies topped with a pinch of sea salt flakes!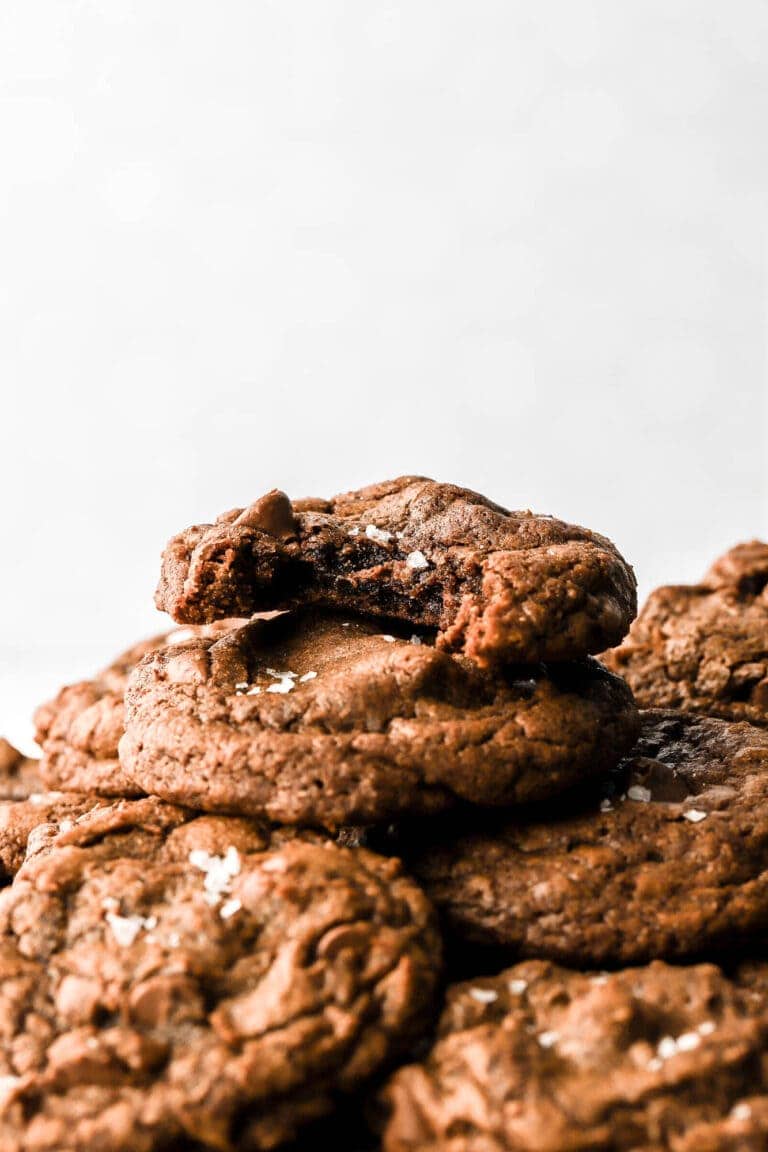 There's like a million recipes out there that say these are the BEST chocolate chip cookies ever. Ok liarrrrrr. lol, jk everyone has different favorites so I'm going to stick with these cookies are amazing and they're super quick and easy to make which makes them even more amazing! You're welcome!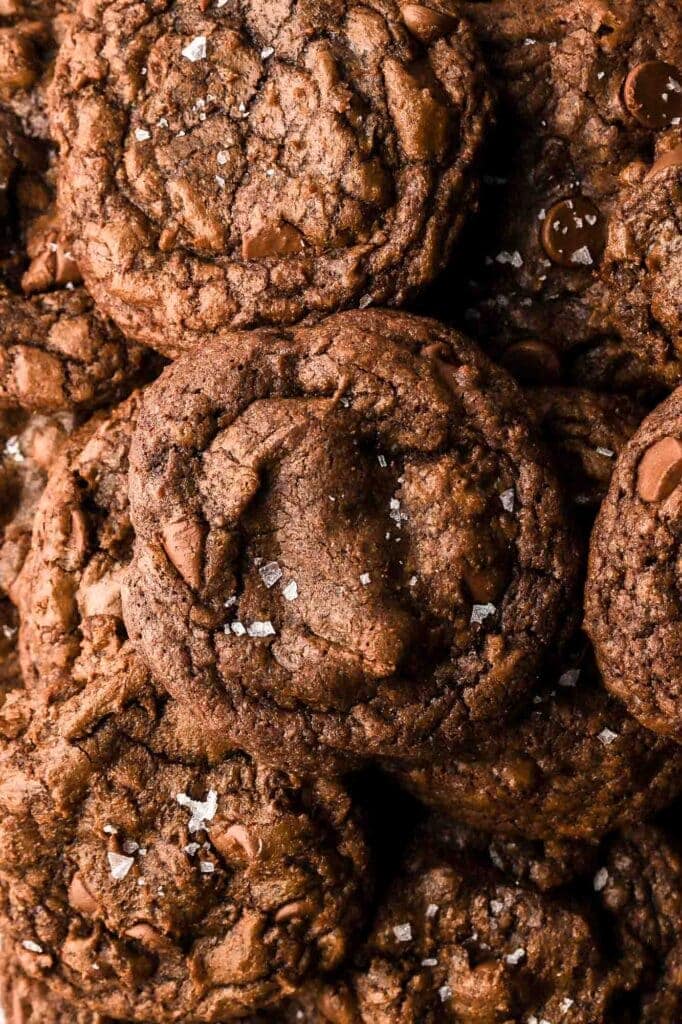 How to make double chocolate chip cookies
These cookies are one of the easiest recipes to make. It's a quick combine the wet ingredients and add the dry ingredients type of recipe. No chilling time required and a quick 10 minute bake. The hardest part is letting them cool for a few minutes without devouring them!
These are the ingredients needed to make double chocolate chip cookies. For the exact cookie I made, follow the recipe exactly but if you need to make some substitutions, I made some available below. Just know that all substitutions change flavor/texture slightly but for these cookies, the changes were very minor.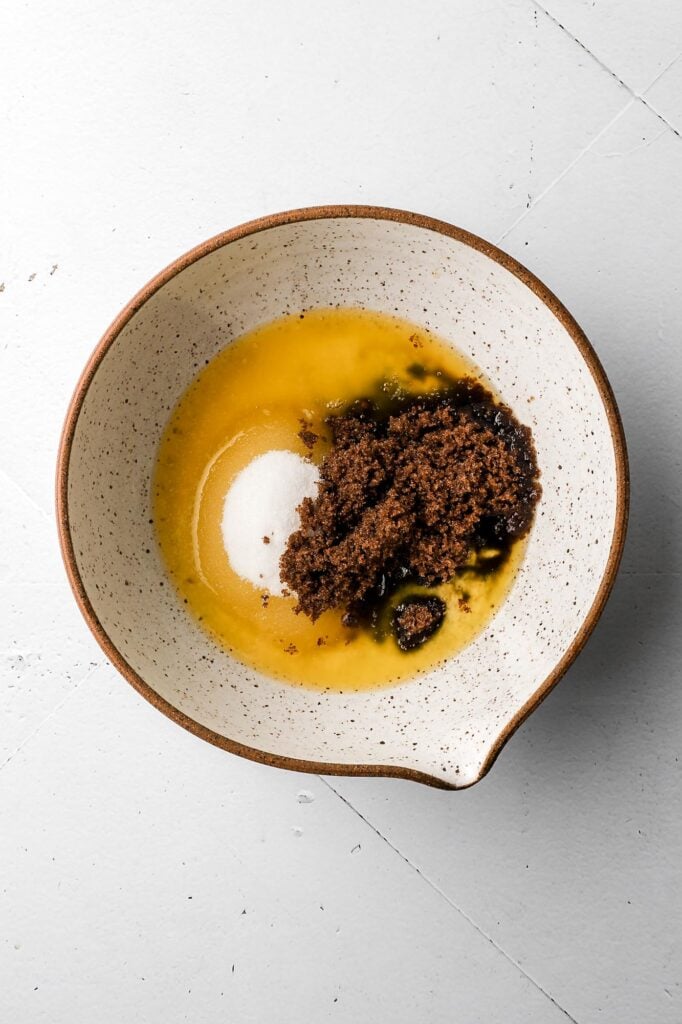 Essential Ingredients
Flour – I use all-purpose flour to keep these cookies simple but you can always substitute with 1:1 gluten-free mix like Bob's Red Mill.
Cocoa Powder – I use Dutch-process cocoa powder but you can use any unsweetened cocoa powder for these cookies.
Baking Powder – If you don't have baking powder on hand, you can substitute it with 1/8 tsp of baking soda (if you're using baking soda instead of baking powder, make sure you keep the brown sugar or also substitute the Dutch-process cocoa powder for natural cocoa powder).
Butter – you can use salted or unsalted butter but just omit the extra salt in the recipe if you use salted butter.
Sugar – I use a combination of brown sugar and granulated sugar but you can use one or the other.
Eggs – I love adding an extra egg yolk to my recipes for an extra rich flavor.
Chocolate Chips – you can use whatever kind of chocolate chips you want or baking chocolate but I was feelin' milk chocolate this particular day!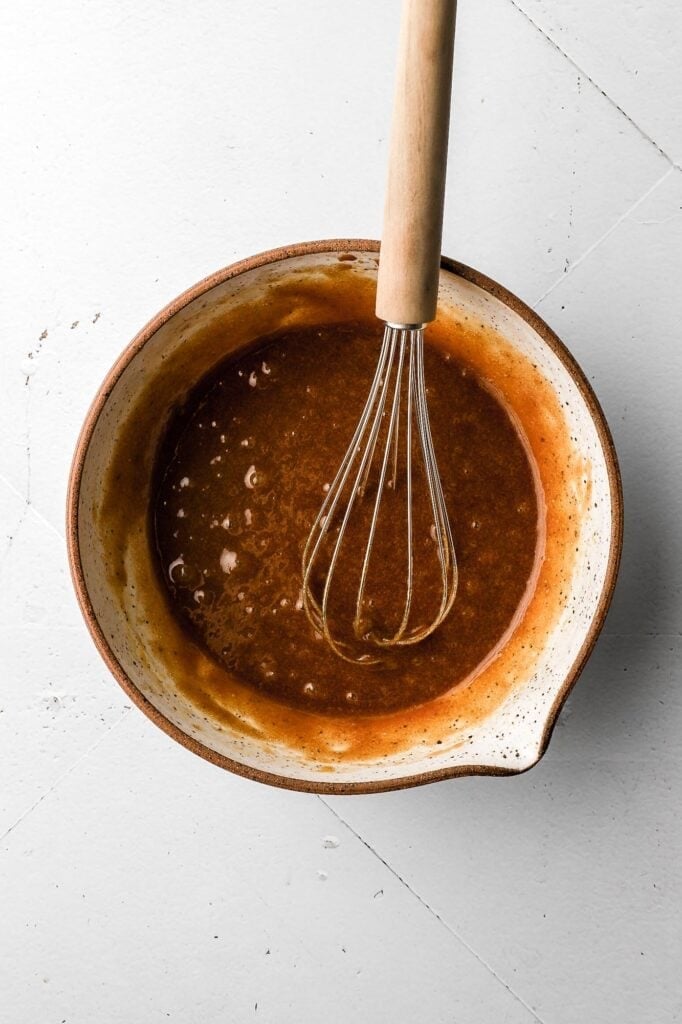 Can I make these into giant chocolate chip cookies
I did also test these cookies using a large cookie scoop. I got about 8 large cookies and I baked them for about 14-16 minutes. The edges should feel pretty set when you remove them from the oven and them cool for at least 15 minutes so they don't fall apart. The center will still be soft and gooey.
I personally prefer the smaller cookie version with a slightly more even bake.
How to store double chocolate chip cookies
How to store cookie dough
To store cookie dough, scoop out your rounds while the dough is still at room temperature and then flash freeze them on the tray for 20ish minutes. Once they feel firm and aren't sticky anymore, place them in a ziplock bag or an airtight container and refrigerate them for up to a week or freeze them for up to three months.
To bake them, remove them from the freezer and allow them to thaw in the fridge overnight. Then remove them from the fridge and allow them to rest at room temperature while the oven preheats. They may still be slightly colder when baking so you might need to add 1-2 minutes to baking time or allow them to rest at room temperature until they've come to room temperature.
How to store baked cookies
To store baked cookies, allow them to cool completely on a cooling rack. Then place them in a ziplock bag or an airtight container and store them at room temperature for about 5 days.
I've been so late with posting my recipes so thanks so much for being patient with me. My babies are only babies once so I'm soaking up all the cuddles I can get! If you have any questions, comment down below and make sure to tag me @baranbakery on Instagram if you make these! As always, have blessed day and happy baking!
Love, B
Yield: 18
Double Chocolate Chip Cookies Recipe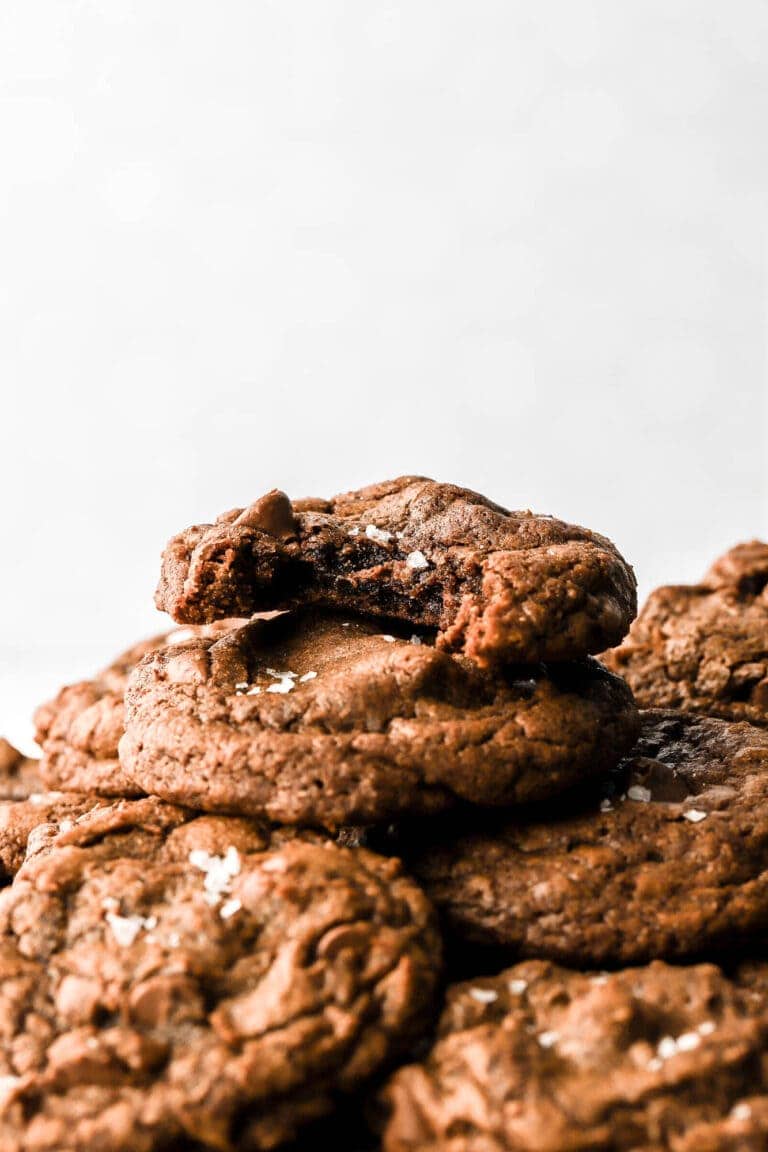 Super easy and quick, chewy double chocolate chip cookies topped with a pinch of sea salt flakes!
Additional Time
10 minutes
Ingredients
1 1/4 cups (150g) all purpose flour, spooned and level
1/4 cup (20g) dutch process cocoa powder, spooned and level
1/2 Tbsp baking powder
1/2 tsp salt
1/2 cup (113g) unsalted butter, melted
1/2 cup (95g) light brown sugar, lightly packed
1/2 cup (100g) granulated sugar
1 large egg, room temperature
1 large egg yolk, room temperature
1 cup (6 oz) good quality milk chocolate chips
Instructions
Preheat the oven to 350F/177C convection (325F/163C conventional) and line three cookie sheets with parchment paper.
In a medium bowl whisk together the flour, cocoa powder, baking powder and salt until they're well combined.
In a large bowl whisk together the butter, brown sugar and granulated sugar until they're smooth. Add in the egg and egg yolk, whisk until they're combined combined.
Fold the dry ingredients into the wet ingredients just until the flour is barely combined, then fold in the chocolate chips.
Use a small cookie scoop to scoop out 18 rounds of dough, 6 per cookie sheet and bake for 10 minutes, until the edges feel set and the center is still slightly soft.
Top with a pinch of sea salt and allow them to cool on the pan for 10 minutes before moving to a cooling rack.
Serve warm!
Nutrition Information:
Yield:
18
Serving Size:
1
Amount Per Serving:
Calories:

183
Total Fat:

9g
Saturated Fat:

5g
Trans Fat:

0g
Unsaturated Fat:

3g
Cholesterol:

47mg
Sodium:

123mg
Carbohydrates:

24g
Fiber:

1g
Sugar:

15g
Protein:

3g
Nutrition information may not be fully accurate.