Caramelized White Chocolate Ganache
If you love caramel and white chocolate I have no doubt that you will be completely obsessed with caramelized white chocolate ganache. It really is the best of both worlds!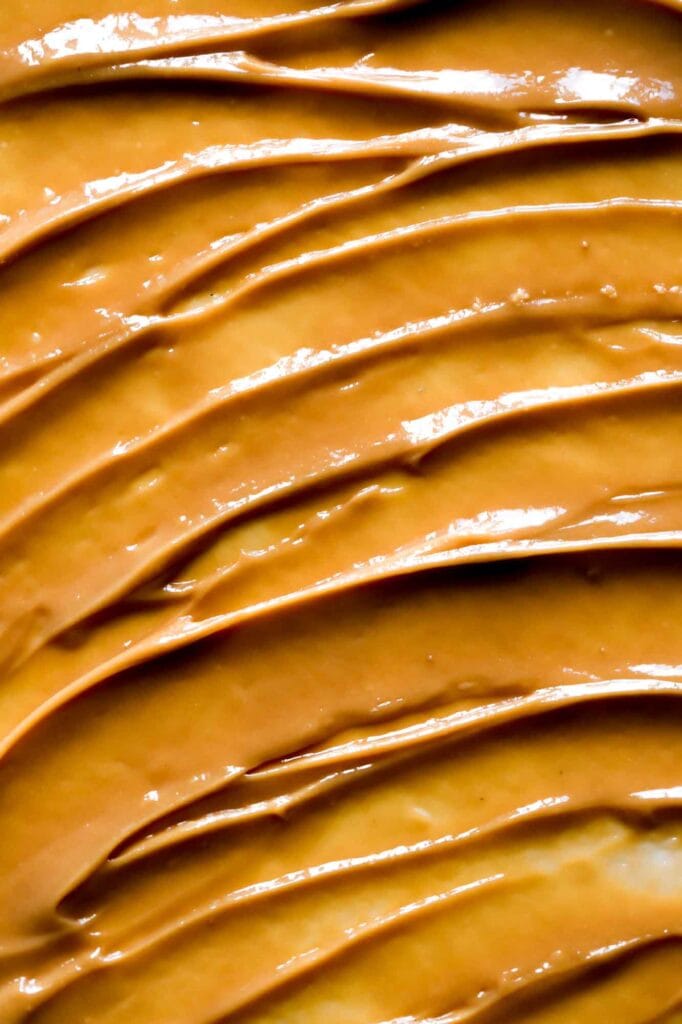 You know what's funny? Two of my favorite flavors are cookie butter and caramelized white chocolate and I have almost no recipes posted with them…
I posted this caramelized white chocolate ganache recipe almost three years ago, when I first discovered the magic that happens when you slow-bake white chocolate.
How to make caramelized white chocolate ganache
Caramelized white chocolate ganache is basically made the same way as any other ganache. If you've purchased my cookbook, Frosted, you'll see that the difference between them is that white chocolate, milk chocolate and dark chocolate all use a different ratio of cream to chocolate. 
For caramelized white chocolate ganache, you'll want to caramelize the white chocolate first and then combine it with the warm cream, stirring gently just until it's all smooth and silky.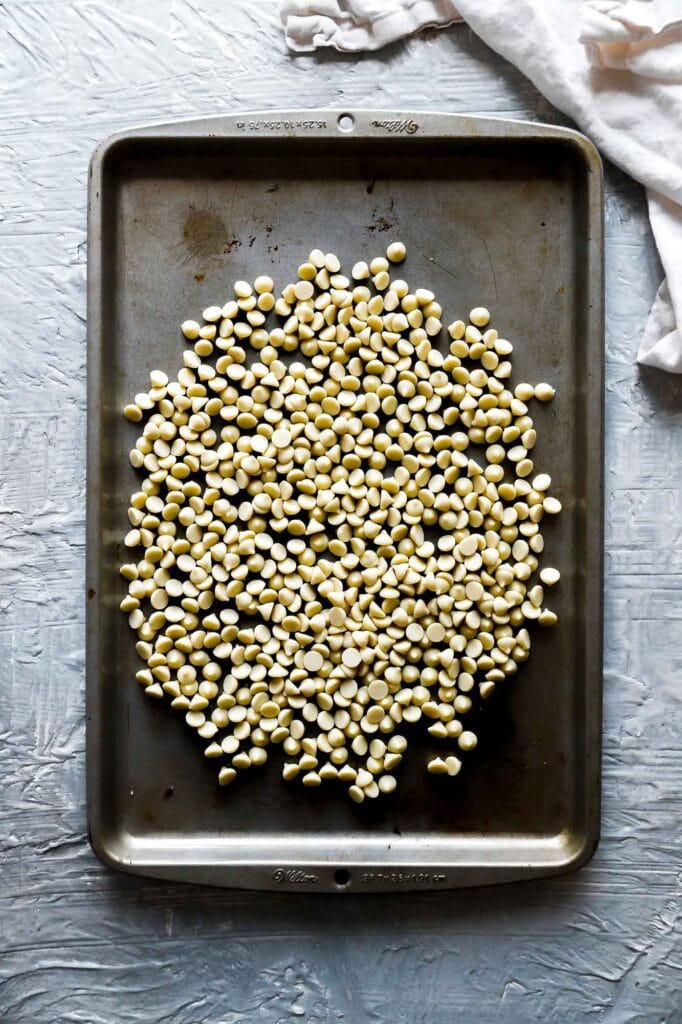 How to caramelize white chocolate
This is probably the easiest task on the planet. You just preheat the oven to 240F, place the white chocolate chips or bits on a cookie sheet and then bake for 10 minutes. Remove the pan from the oven, use an offset spatula to scrape up all the chocolate, spread it back out and bake for 10 minutes again. Repeat this process 6-8 times, depending on how dark you want it to get.
Also, don't get worried when you see the chocolate seizing, it doesn't always for me but sometimes more than others. It'll smooth out once you scrape it all up and spread back out. Below you can see a close-up of the chocolate, about halfway through bake time, before and after scraping and spreading.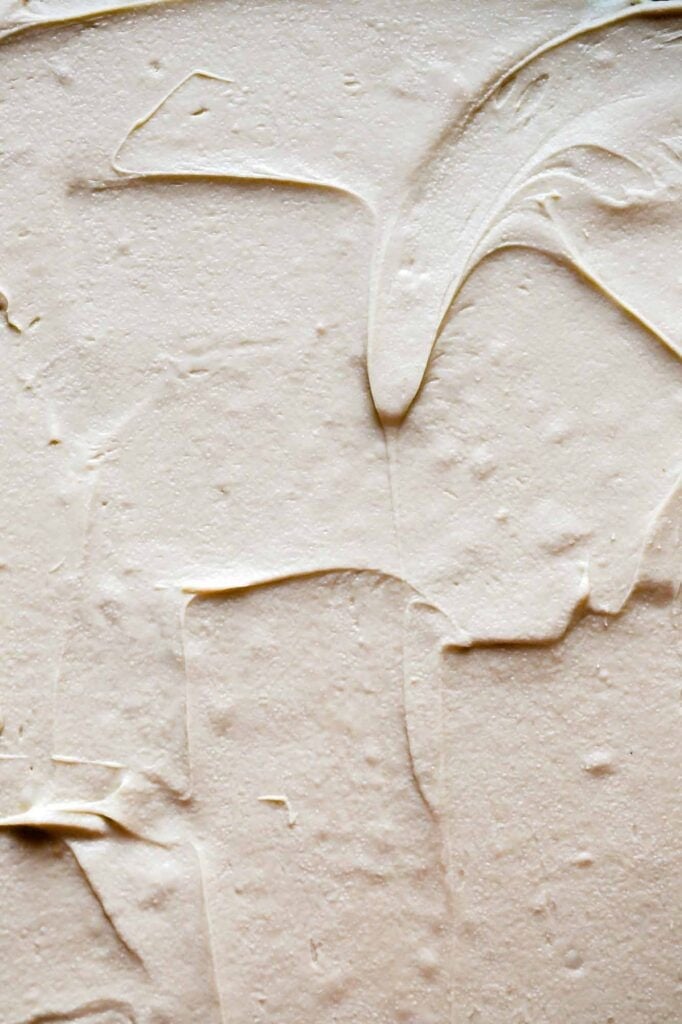 What kind of white chocolate to use when caramelizing white chocolate
Ok, this is controversial, lol. Any time you see people caramelizing white chocolate they talk about using high quality white chocolate with a high ratio of cocoa butter. I have tried this with a few different brands and if I'm being completely honest, NESTLE WHITE CHOCOLATE CHIPS are my favorite…
Caramelizing white chocolate has worked with all the brands I've tried, from cheap to expensive, higher amounts of cocoa butter to chips with stabilizers. The reason I prefer Nestle white chocolate chips is because I like the taste of cheap white chocolate better than fancy white chocolate…yeah please don't judge me, lol.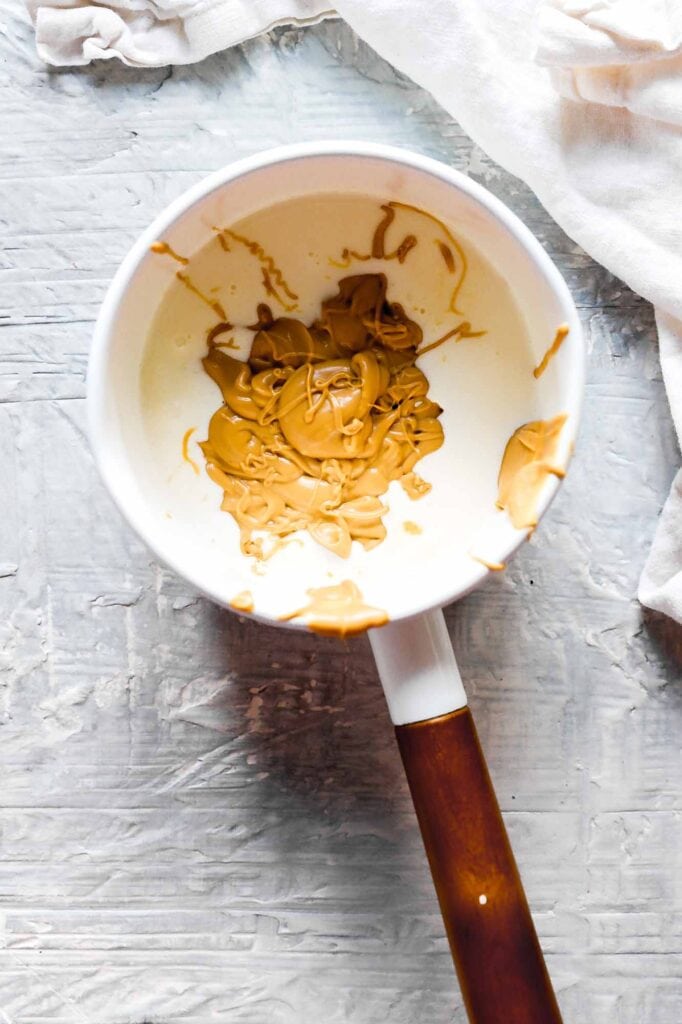 How to use caramelized white chocolate
Use it in place of chips: so technically, you could let the caramelized white chocolate cool and harden, then use it in place of chocolate chips/chunks. 
Use it in place of caramel: I like to make it into a ganache and use it in place of caramel sauce. I have SO MANY recipes that use my homemade salted caramel sauce and you could replace it with this luscious caramelized white chocolate ganache. Some of my favorites are:
It's also really good in place of peanut butter, almond butter and cookie butter. Some great ways to use it like this is to swirl it in brownies or blondies, freeze little balls of ganache and stuff it into chocolate chip cookies or use it to frost a cake.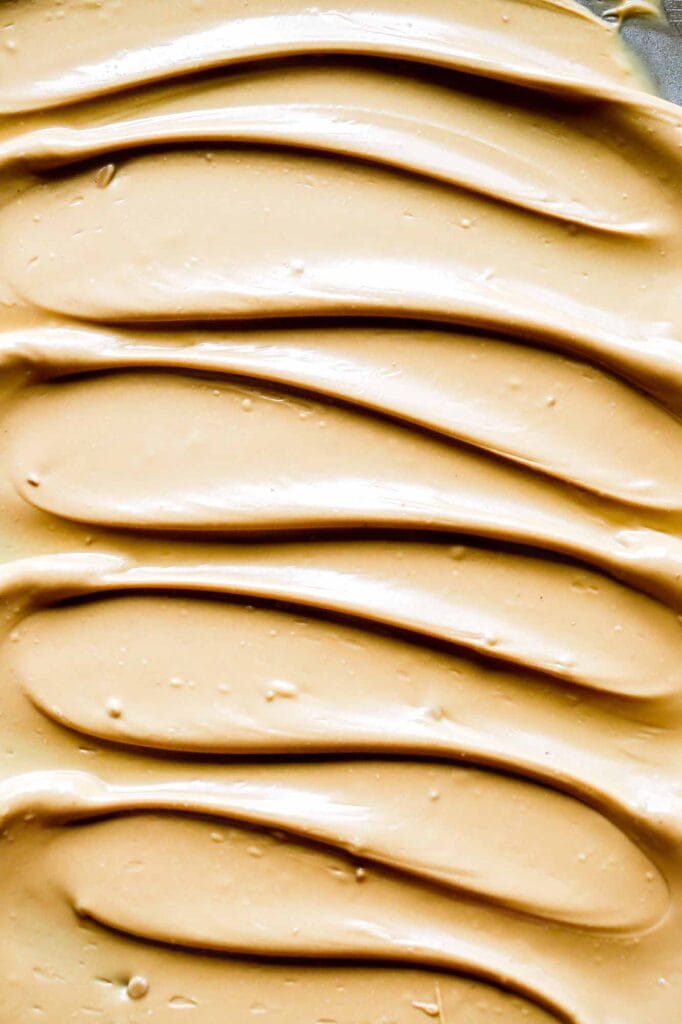 How to store caramelized white chocolate ganache
If you leave the caramelized white chocolate as chocolate and don't turn it into a ganache, it'll last basically forever.
If you do make it into a ganache, it'll stay good for 1-2 months refrigerated in an airtight container. I just microwave it a little when I want to use it and drizzle it/spread it onto whatever I want.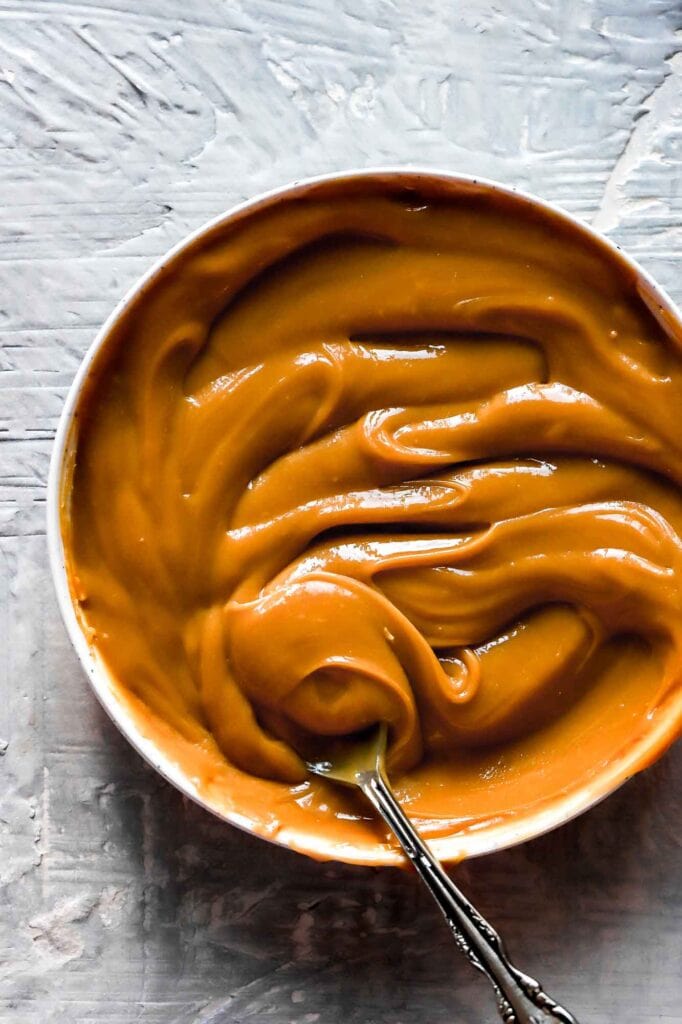 Thanks so much for reading today's post, if you have any questions just comment down below, i'm happy to answer! If you ever make caramelized white chocolate ganache, I would love to see how you use it so make sure to tag me @baranbakery on instagram!
As always, have a blessed day and happy baking!
Love, B
Yield: 1 batch
Caramelized White Chocolate Ganache Recipe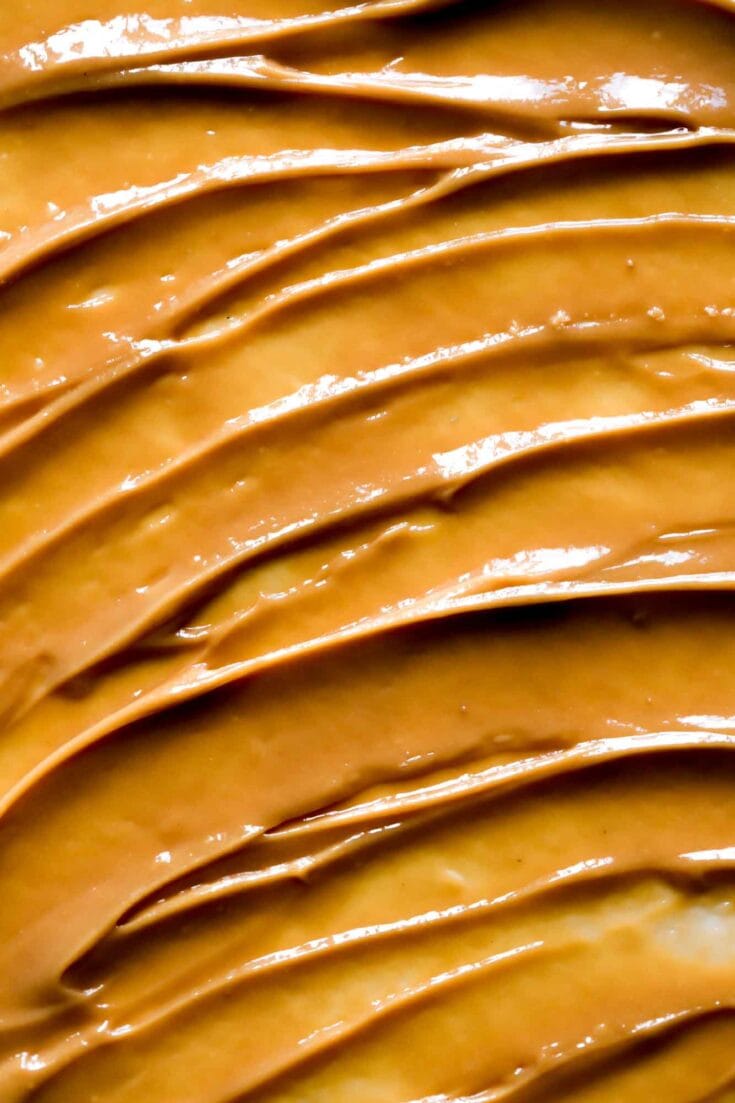 If you love caramel and white chocolate I have no doubt that you will be completely obsessed with caramelized white chocolate ganache. It really is the best of both worlds!
Additional Time
15 minutes
Total Time
1 hour
15 minutes
Ingredients
12 oz white chocolate chips (1 small bag)
1/2 cup (118mL) heavy cream
Instructions
Preheat the oven to 240F (116C) and place the white chocolate on a baking sheet. Bake for 10 minutes and remove.
Scrape off the white chocolate with a spatula and re-spread it on the pan. Bake again for 10 minutes, scrape, and re-spread. Repeat this 6-7 times until it turns into a nice caramel color and it is smooth and pours nicely.
Pour the heavy cream in a small pot and bring to a gently simmer. Turn the heat off, add the caramelized white chocolate and gently stir until the mixture is fully combined and smooth.
Pour the ganache into a jar or container and use it in place of caramel, white chocolate ganache, dark chocolate ganache or just drizzle it on EVERYTHING!
Store it in an airtight container in the fridge for up to a month and just reheat it when you want to use it.
Notes
I used nestle morsels and it worked great. Depending on the brand of white chocolate, it may look grainy every time it is removed from the oven, but it will smooth out when scraped/spread.
Recommended Products
As an Amazon Associate and member of other affiliate programs, I earn from qualifying purchases.
Nutrition Information:
Yield:
1
Serving Size:
1
Amount Per Serving:
Calories:

2238
Total Fat:

152g
Saturated Fat:

93g
Trans Fat:

1g
Unsaturated Fat:

47g
Cholesterol:

206mg
Sodium:

338mg
Carbohydrates:

205g
Fiber:

1g
Sugar:

204g
Protein:

23g
Nutrition information may not be fully accurate.