Caramelized White Chocolate Cinnamon Rolls
Caramelized white chocolate cinnamon rolls take cinnamon rolls to a level… think pillowy soft brioche dough swirled with caramelized white chocolate and cinnamon sugar, and balanced with the tang of cream cheese frosting!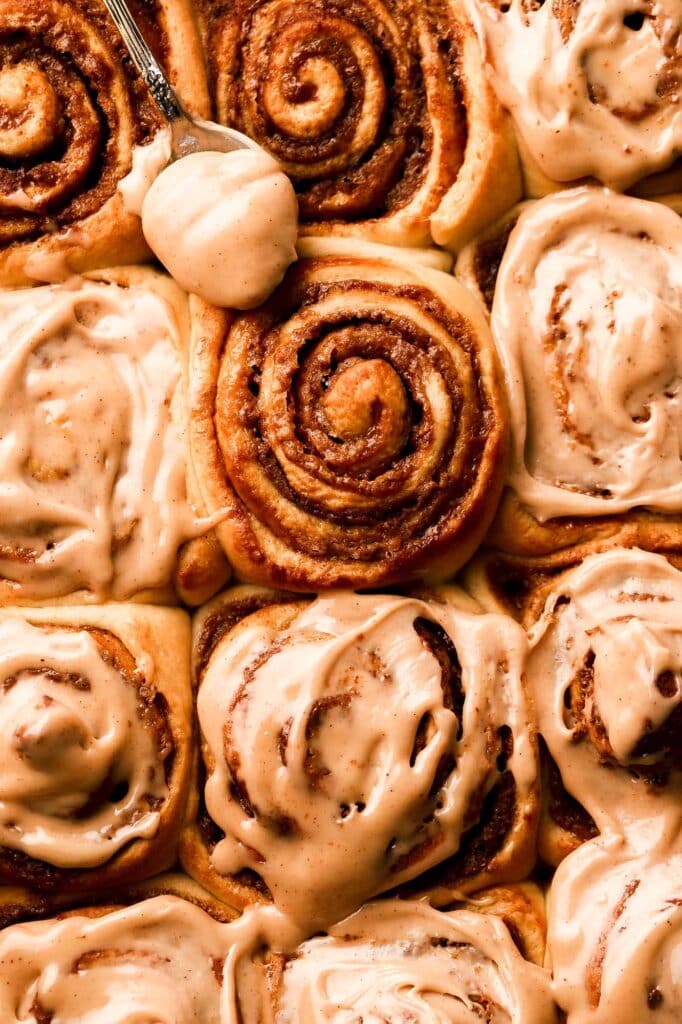 How to make caramelized white chocolate cinnamon rolls?
This recipe is one of the oldest on Baran Bakery and one of my favorites as well! Honestly, anything covered in caramelized white chocolate is my favorite. And this dough, it's only got one rise time and it's perfectly pillowy soft. The filling is made of the caramelized white chocolate, brown sugar and cinnamon and then of course, topped with cream cheese frosting.
Dough with instant yeast
We all know that no one wants to wait around for their dough to proof TWICE. So yeah, instant yeast is the way to go. The yeast doesn't require any activation so I mix it right up into the flour and salt and then pour over my wet ingredients.
Here you'll want to knead the dough (I use a stand mixer with a hook attachment) until the gluten is strong enough to peel away from the edge of the bowl. If you're kneading by hand, the dough should be significantly less sticky and you can also do the windowpane test. Stretch a piece of dough until it becomes so thin in the middle that you can see light through it. If it breaks before you can see light through it, keep kneading.
Caramelized white chocolate filling
If you've never made caramelized white chocolate, it's basically just roasting white chocolate until it turns a gorgeous caramel color. You can use it as is, or mix it with cream to make liquid gold, aka caramelized white chocolate ganache.
For the filling, I spread that liquid gold onto my dough, then top it with brown sugar and cinnamon.
Cream Cheese Frosting
My favorite frosting for cinnamon rolls is cream cheese frosting, duhhh! The tanginess of cream cheese plays well with the sweetness of the white chocolate and warmth of the cinnamon.
I use the frosting base from my brioche cinnamon rolls. Sometimes I brown the butter, like I did with my apple butter cinnamon rolls or add marshmallow fluff like my s'mores cinnamon rolls.
I prefer my frosting to be thicker so that when I spread it on warm rolls, it melts on top. You can also make it thinner, like a glaze, by adding extra milk or cream, like I did with my brown butter lemon cinnamon rolls and my chocolate cinnamon rolls.
I also added some of that liquid gold to my frosting because, well they are called caramelized white chocolate cinnamon rolls after all.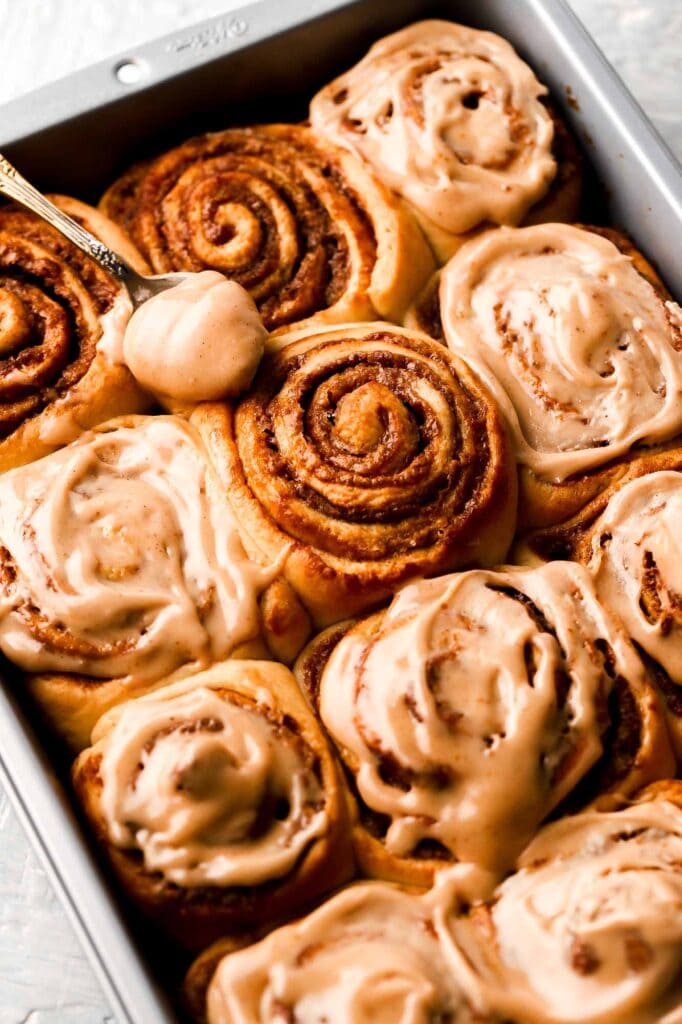 How to store cinnamon rolls
In general, cinnamon rolls are best served fresh and warm. If they're not served immediately, it's best to reserve the frosting and frost them before serving. The rolls can stay in an airtight container at room temperature for 1-2 days (unfrosted) and refrigerated for up to a week. When serving cinnamon rolls, reheat them in the microwave or the oven just until they're warm and then frost.
If they are frosted and not eaten right away, refrigerate them and reheat them before serving, keeping in mind the frosting will melt and probably look separated but it will still taste good.
Ok I'm done ranting. If you have any questions or suggestion, comment down below and if you make these cinnamon rolls make sure to tag me @baranbakery on instagram! As always, have a blessed day and happy baking!
Love, B
Yield: 12 rolls
Caramelized White Chocolate Cinnamon Rolls Recipe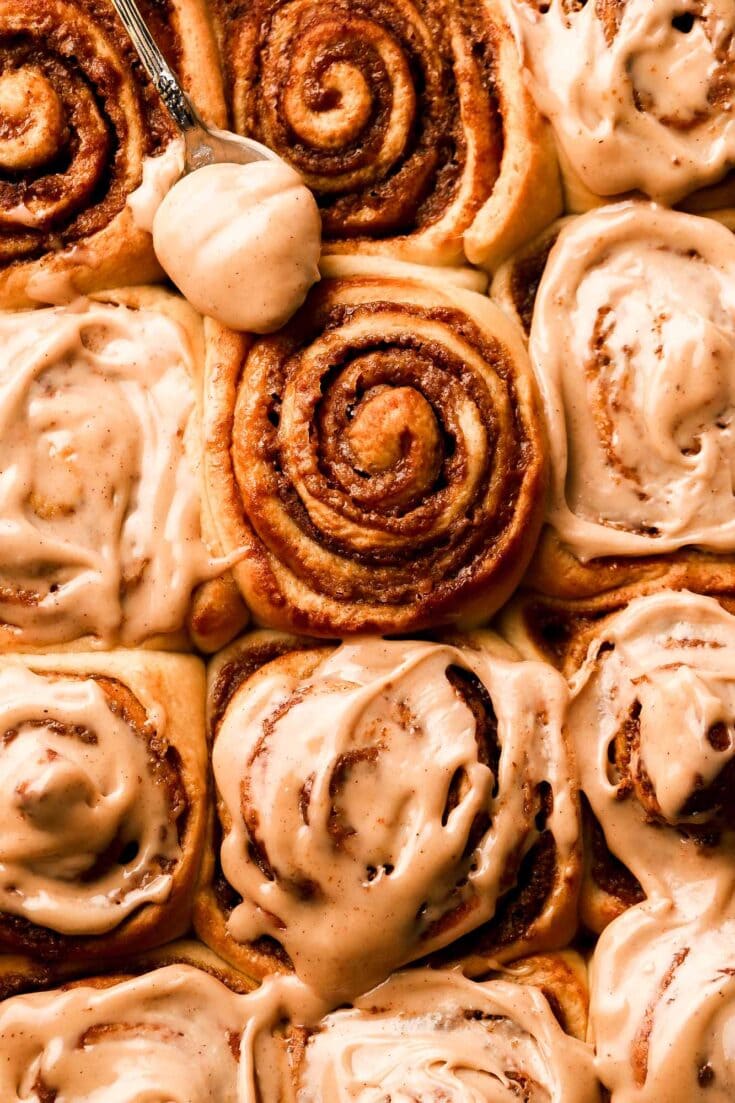 Cinnamon Rolls filled with a caramelized white chocolate and cinnamon sugar mix, and topped with icing and caramelized white chocolate and done in under 90 minutes!
Additional Time
5 minutes
Total Time
1 hour
30 minutes
Ingredients
Caramelized White Chocolate
24 oz white chocolate (1 small bag)
1 cup (237mL) heavy cream
Dough
3 1/2 cup (420g) all-purpose flour, spooned and leveled
1 Tbsp instant yeast (one 7oz. package)
1/4 cup (50g) granulated sugar
1/2 tsp salt
1 cup (237mL) warm milk
1 whole large egg, room temperature
1 tsp vanilla extract
1/2 cup (113g) butter softened
Filling
1/2 cup caramelized white chocolate ganache
1 cup (100g) light brown sugar, lightly packed
1 Tbsp cinnamon
Topping
1/2 cup (4 oz) cream cheese
1 1/2 cup (180g) powdered sugar, spooned and leveled
1/2 cup caramelized white chocolate ganache
Instructions
Start by making the caramelized white chocolate ganache the day before.
Dough
To make the dough, combine the flour, yeast, sugar, and salt in the bowl of a stand mixer. Heat up the milk until it is hot to the touch but not boiling. Using a hook attachment and the mixer on low speed, add in the eggs to the dry ingredients. While still mixing, slowly pour in the milk and vanilla.
Once the dough is combined, continue beating on low-medium speed with the hook attachment while slowly adding in chunks of butter. Allow the dough to knead for a few minutes. Add 1-2 Tbsp of flour if it is too sticky.
Place the dough to rest on a floured surface for just 10 minutes. Grease a 9x13 inch pan and then use a rolling pin to roll the dough out into a 12x16 inch rectangle on a floured work surface.
Assemble
Spread the caramelized white chocolate ganache onto the dough and then top it with the brown sugar and cinnamon.
Starting at the short end, roll the dough up tightly. Trim the ends and then slice into 12 rolls.
Place the rolls in the prepared pan. They should be about a 1/2" apart so they have room to proof. Cover them and let them rest in a warm environment for 30-45 minutes until they rise and look "squished".
Bake on 350F/177C convection (325F/163C conventional) for 20-25 minutes, until golden brown.
Icing
Beat together the cream cheese, sugar and caramelized white chocolate ganache. Spread over the warm cinnamon rolls.
Recommended Products
As an Amazon Associate and member of other affiliate programs, I earn from qualifying purchases.
Nutrition Information:
Yield:
12
Serving Size:
1
Amount Per Serving:
Calories:

832
Total Fat:

42g
Saturated Fat:

26g
Trans Fat:

1g
Unsaturated Fat:

13g
Cholesterol:

85mg
Sodium:

279mg
Carbohydrates:

106g
Fiber:

2g
Sugar:

76g
Protein:

11g
Nutrition information may not be fully accurate.