Brownie Pancakes with Cream Cheese Icing
Brownie pancakes are the ultimate breakfast recipe. They're made using sunbutter, extra chocolate chips and of course topped with cream cheese icing!
Hiiiiiyaaaaa ! If you can't tell by the photos, I have the most indulgent recipe for ya this morning. Say hello to your new love, double chocolate brownie pancakes topped with cream cheese icing & of course, extra chocolate chips!
Honestly, for as big of a sweet tooth that I have, I don't prefer a sweet breakfast. I prefer eggs, always, any kind. BUT I do love breakfast for lunch or dinner & I'll gladly take a sweet breakfast then, especially if it has the words brownie & cream cheese icing in it.
How To Make Homemade Pancakes
Homemade pancakes are like the most versatile thing ever. Some people just put a bunch of ingredients in a blender and cook it. This is especially convenient to do when you want to make healthy pancakes. For example, blending oats, banana, peanut butter, protein powder, egg, etc. Making regular homemade pancakes is really just as easy, you just need a good base recipe & cooking technique.
For these, I combined all my wet ingredients in a bowl, whisking until combined. I used SunButter & oil in the recipe to give it a little bit of a thicker batter. A thicker batter will make your pancakes a bit taller instead of spreading out all over the pan like a crepe. Then I added the dry ingredients, mixing just until combined.
Now you want to let your batter sit for 5-10 minutes, this will relax the gluten in the pancake, making it more tender & less chewy. However, if you use baking powder or baking soda in the recipe, letting it rest too long will release too many air bubbles, making the pancakes less fluffy. So try not to over-mix (over-mixing develops gluten, which makes chewier pancakes) & let it rest for just a few minutes, still keeping it light & fluffy.
How to cook pancakes
I'm not sure exactly where I read this, (maybe on Ambitious Kitchen's blog somewhere?) but using olive oil or butter to grease the pan will aid in the crispiest pancakes. I used olive oil baking spray.
Use a 1/4 cup ladle and just pour the batter over the hot oil. Cook for 2 minutes on each side, you should see the air bubbles coming up on top by then. Flip and cook the other side for another 2 minutes. The pancakes grow nice & tall while they're cooking, don't press down on them, just let them be. The chocolate chips will get all melty & gooey, making them the ultimate brownie pancakes. Don't over cook, or you'll have a dry, not so good, wannabe brownie pancake.
Ok, I think I've talked enough now. Going to make these brownie pancakes ASAP, anyone care to join?! If you make these, make sure to tag me @baranbakery on instagram so we can all join in on the fun ! As always, have a blessed day & happy baking!
Love, B
Yield: 12
Brownie Pancakes Recipe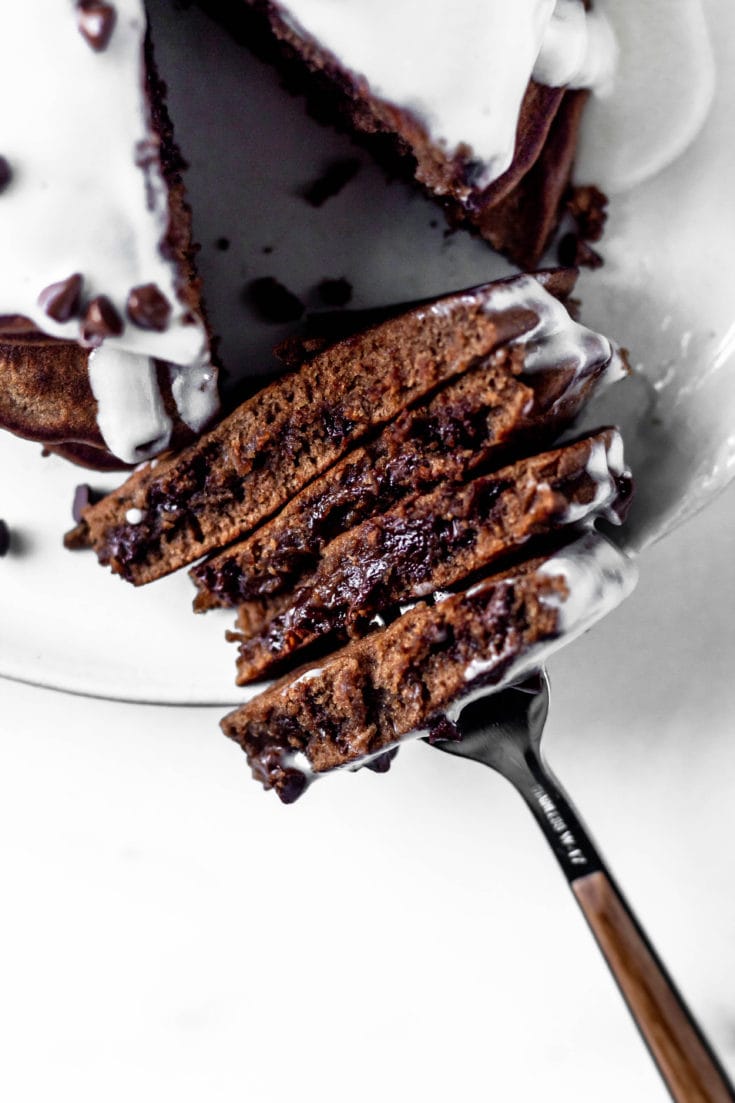 Double chocolate gooey brownie pancakes topped with cream cheese glaze.
Ingredients
Pancakes
1 large egg, room temperature
1/2 cup light brown sugar, lightly packed
1/2 cup milk
2 Tbsp canola oil
2 Tbsp Sunbutter
1 tsp vanilla
1 cup all-purpose flour, spooned and leveled
1/8 cup Dutch-process cocoa powder, spooned and leveled
1 tsp baking powder
pinch of salt
1/4 cup mini chocolate chips
olive oil for cooking
Cream Cheese Glaze
1 cup powdered sugar, spooned and leveled
2 oz cream cheese
3 Tbsp milk
1/2 tsp vanilla
Instructions
Pancakes
Combine the egg, brown sugar, milk, oil, Sunbutter, and vanilla in a bowl and whisk until it is smooth.
Add in the flour, cocoa powder, baking powder and salt and mix just until combined-don't over mix.
Let the batter sit for 5-10 minutes, then fold in the chocolate chips.
Keep the stove top on low-medium heat and use olive oil to grease the pan before every pancake.
Use about a 1/4 cup of batter for each pancake and cook for 2 minutes on each side.
Glaze
Combine all the ingredients and whisk until smooth.
Serve the pancakes hot, topped with icing and extra chocolate chips.
Nutrition Information:
Yield:
12
Serving Size:
1
Amount Per Serving:
Calories:

202
Total Fat:

9g
Saturated Fat:

2g
Trans Fat:

0g
Unsaturated Fat:

6g
Cholesterol:

21mg
Sodium:

92mg
Carbohydrates:

29g
Fiber:

1g
Sugar:

19g
Protein:

3g
Thank you for supporting all things Baran Bakery & the brands that make it all possible. This post was sponsored by Sunbutter. All opinions are 100% my own.