Chocolate Cinnamon Rolls with Chocolate Glaze
The only thing better than fresh, homemade cinnamon rolls is fresh, homemade chocolate cinnamon rolls with the best chocolate glaze!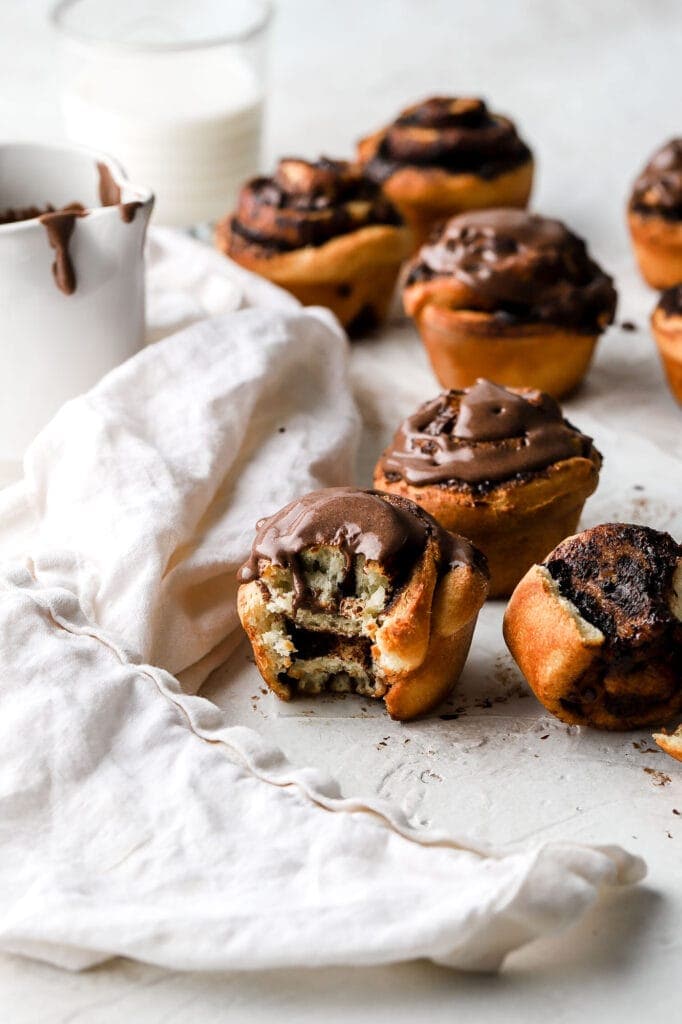 Another delicious recipe coming to you this week that I can't believe I didn't make sooner. I partnered with Danish Creamery to make chocolate cinnamon rolls using their European Style Salted Butter.
If I'm being honest, I was never a huge fan of chocolate combined with cinnamon but when you have that perfect ratio, these rolls are TO DIE FOR, especially with that extra rich flavor from the European style butter. 
How to make chocolate cinnamon rolls
Cinnamon rolls are by far one of my favorite treats to make. These chocolate cinnamon rolls are fairly simple to make. Starting with a soft and fluffy brioche dough, a chocolate cinnamon sugar filling and a super easy, delicious chocolate glaze.
Brioche Dough
Brioche dough is generally what cinnamon rolls are made from. It's a flour and yeast dough that's just slightly sweetened and enriched with eggs and butter. I use it in my brioche cinnamon rolls along with my lemon, s'mores, apple butter, carrot cake and caramelized white chocolate rolls.
I used Danish Creamery European Style Salted Butter this time and the 85% butterfat made this dough super soft and fluffy! I'll definitely be using the this butter for all my brioche now!
I'm a huge salted chocolate fan but even if you're not, the sea salt in the butter provides a richer flavor but doesn't make these chocolate cinnamon rolls salty. Just make sure not to add any extra salt to the recipe when using salted butter.
Chocolate Cinnamon Filling
For the filling, I prefer to spread the softened butter directly over the dough and sprinkle my toppings over the butter. I find this method easier to roll than combining the butter with the sugar but really, you can do it either way.
Again, I used Danish Creamery European Style Salted Butter for an extra rich and butter flavor. Then I sprinkle cocoa mixed with cinnamon and sugar on top and then sprinkle chocolate milk chocolate. 
What kind of chocolate to use for chocolate cinnamon rolls
For the cocoa powder I prefer to use dutch-process cocoa powder because I prefer the flavor and color but you can use any unsweetened cocoa powder. Make sure not to use sweetened cocoa powder because you're adding extra sugar to the recipe.
For the chocolate, I chopped up some baking chocolate into tiny pieces instead of using chocolate chips or mini chocolate chips. The recipe does work with chocolate chips but because they have added solidifiers to keep their shape, they don't melt quite as nice as a chocolate bar.
Chocolate Glaze
This is literally the easiest chocolate glaze recipe, and it's soooo delicious. Just combine heavy whipping cream with powdered sugar and unsweetened cocoa powder until the consistency is perfect.
How to store chocolate cinnamon rolls
Chocolate cinnamon rolls are best served warm and fresh but can be stored in an airtight container, at room temperature for up to 3 days or up to a week in the refrigerator. Make sure to reheat the cinnamon rolls for optimal flavor and fluffiness!
Can I make cinnamon rolls ahead of time?
Yes! If you want to make these in advance, I would make them up until placing them in the muffin tin, then cover them tightly and refrigerate them overnight. When you're ready to bake, remove them from the fridge, allow them to proof at room temperature for about an hour and then bake.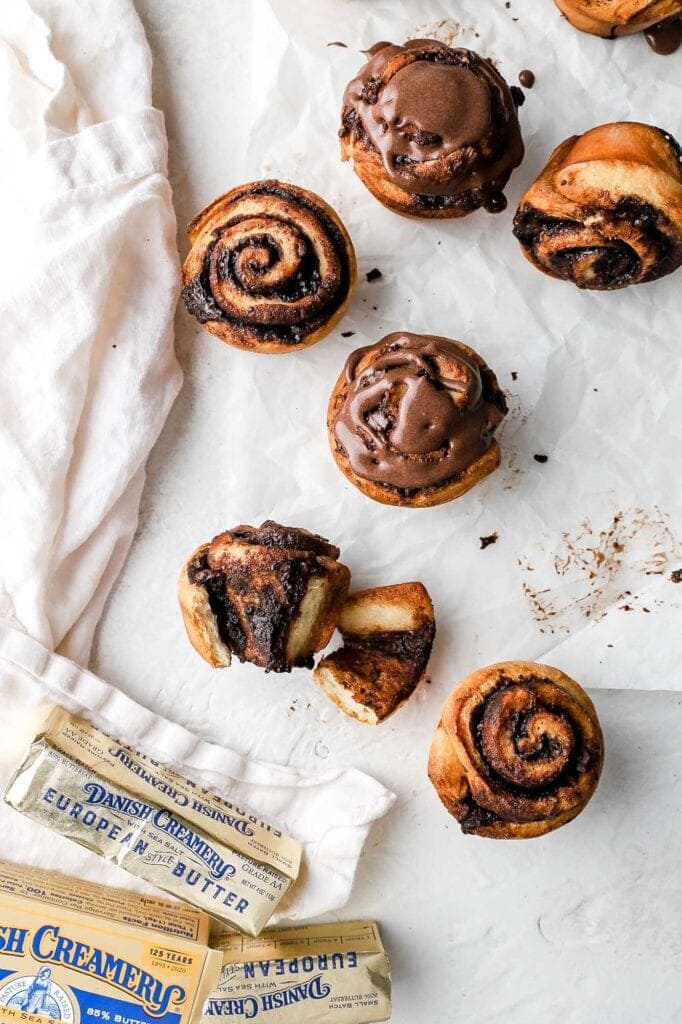 If you have any questions, just comment down below and make sure to tag us @baranbakery and @danishcreamery on instagram if you make them! As always, have a blessed day and happy baking! 
Love, B
Yield: 12 rolls
Chocolate Cinnamon Rolls Recipe
The best Brioche Cinnamon Roll Dough filled with cocoa cinnamon sugar and chocolate chunks, and topped with a delicious chocolate glaze!
Additional Time
45 minutes
Total Time
1 hour
40 minutes
Ingredients
Brioche Dough
3 1/2 - 3 3/4 (420g - 450g) cup all-purpose flour, spooned and leveled
2 1/4 tsp (1 package) instant yeast
1/4 cup (50g) granulated sugar
1 large egg, room temperature
1 large egg yolk, room temperature
1 cup (237mL) milk
1 tsp vanilla extract
1/2 cup (113g) Danish Creamery European Style Salted Butter, softened
Filling
1/4 cup (56g) Danish Creamery European Style Salted Butter, softened
1/4 cup (50g) granulated sugar
1/8 cup (10g) Dutch-process cocoa powder, spooned and leveled
1 tsp cinnamon
1/2 cup (3 oz) baking milk chocolate, chopped
Glaze
1/4 cup (20g) Dutch-process cocoa powder, spooned and leveled
1 cup (120g) powdered sugar, spooned and leveled
1/4 cup (59mL) heavy whipping cream
Instructions
In the bowl of a stand mixer, combine 3 1/2 cups of flour, instant yeast, and sugar until they're evenly dispersed.
Using the hook attachment, turn the mixer up to medium-low speed and add in the egg, egg yolk, milk and vanilla.
Add in 1-2 Tbsp at a time of the Danish Creamery European Style Salted Butter, mixing until each piece is fully combined.
Mix until the dough starts to come together and then let it knead for 5-10 minutes. The dough is ready when it's pulled itself away from the edge, forming a ball around the hook. You can also remove a piece of dough and stretch it between your fingers, if you can see light through it without it breaking then it is done.
With the mixer on medium-low speed, continue letting the dough knead for about five minutes, until the dough feels ssmooth and elastic. If the dough is still sticky, add in the extra flour, 1-2 Tbsp at a time and knead until it's combined and the dough is soft but not super sticky.
Place the dough to rest on a floured surface for just 10 minutes. Then use a rolling pin to roll the dough out into a 12x16 inch rectangle on a floured work surface. Grease a muffin tin.
Filling
Evenly spread the softened Danish Creamery European Style Salted Butter onto the dough, leaving a half inch border.
In a small bowl, mix the sugar, cocoa powder and cinnamon and sprinkle over the butter to evenly coat the dough.
Sprinkle the chocolate chunks on top and starting on the long side of the dough, use your hands to tightly roll it into a log. Use a serrated knife to evenly slice the log into 12 large rolls.
Place the rolls in the prepared muffin tin and cover them with plastic wrap. Place them in a warm environment (about 75°F or 24°C), for about 45 minutes, and let the rolls rise until they've doubled in size.
Preheat the oven to 350F/177C convection (325F/163C conventional) and bake the rolls for about 25 minutes, until they're golden brown. Remove them from the oven and set them aside to cool for a few minutes.
Glaze
Mix all the ingredients for the glaze and spread over the warm rolls. Serve immediately.

Nutrition Information:
Yield:
12
Serving Size:
1
Amount Per Serving:
Calories:

137
Total Fat:

4g
Saturated Fat:

2g
Trans Fat:

0g
Unsaturated Fat:

2g
Cholesterol:

53mg
Sodium:

30mg
Carbohydrates:

20g
Fiber:

1g
Sugar:

2g
Protein:

4g
Nutrition information may not be fully accurate.
This post was sponsored by Danish Creamery, all thoughts and opinions are 100% my own. Thank you for supporting the brands that support Baran Bakery!