Every birthday party needs birthday cake cupcakes, and these are made using my vanilla cupcakes filled with a chocolate ganache and milk chocolate Swiss Meringue Butter. What could be a better way to celebrate?
How to make birthday cake cupcakes?
When celebrating a birthday, there is nothing better than a moist, delicious cake or cupcake. Cupcakes are not only kids favorites, but adults too, although some won't admit it! These vanilla birthday cake cupcakes with milk chocolate ganache and Swiss meringue buttercream are a spin on the traditional birthday cake.
Some advice on the ingredients. With the milk chocolate ganache and chocolate buttercream, you want the vanilla flavour in the cupcake to stand out, and the best way to achieve this is to buy good vanilla! It is SO worth splurging on good vanilla extract or vanilla bean paste. People love to see the black specks of vanilla in the cupcakes and you can tell the difference in flavor.
The best vanilla cupcakes
I use this vanilla cupcake recipe as a base for several cupcakes. In my opinion, when something is good, you stick to it! I've tested this vanilla cupcake recipe about a million times and have adapted it in so many different ways. You can make a small batch cupcake recipe or turn them into a mini cupcake recipe.
With cupcakes, the difficult part is that, unlike cakes, they're not very forgiving.  If you overfill or under-fill the muffin pans slightly, they won't come out as visually pleasing or beautifully domed as you might like. Mind you, they will still taste good, but no one ever complained about a cupcake that was as beautiful as it tasted!
Ingredients:
Cake Flour: I don't always use cake flour for regular cakes but for cupcakes, I feel it works best. But even more important than the type of flour you use, is accuracy. Measuring the correct amount of flour is important. I recommend investing in a digital kitchen scale. They are accurate, affordable, and will save your life whilst baking. 
Sugar: I use granulated sugar for this recipe, but if you choose to reduce the sugar I cannot guarantee the same results. Fun fact. Sugar is not just used as a sweetener, sugar helps with leavening, moisture and tenderness, so I advise you to follow the recipe as is for maximum results.
Butter & Oil: I use a combination of butter and oil in almost all of my cake recipes because I love the structure and flavor from butter and the moisture from oil. 
Eggs: I used 1 whole egg, because I like my birthday cake cupcakes to be more of a classic birthday cake yellow whereas my other cupcakes, I prefer to be white so I use just egg whites.
Milk & Sour Cream: I have tested this recipe with a million and one combinations of milk, sour cream, yogurt, buttermilk, etc. This is my favorite ratio and combination. If you don't have sour cream, you can replace it with full fat greek yogurt. It just works!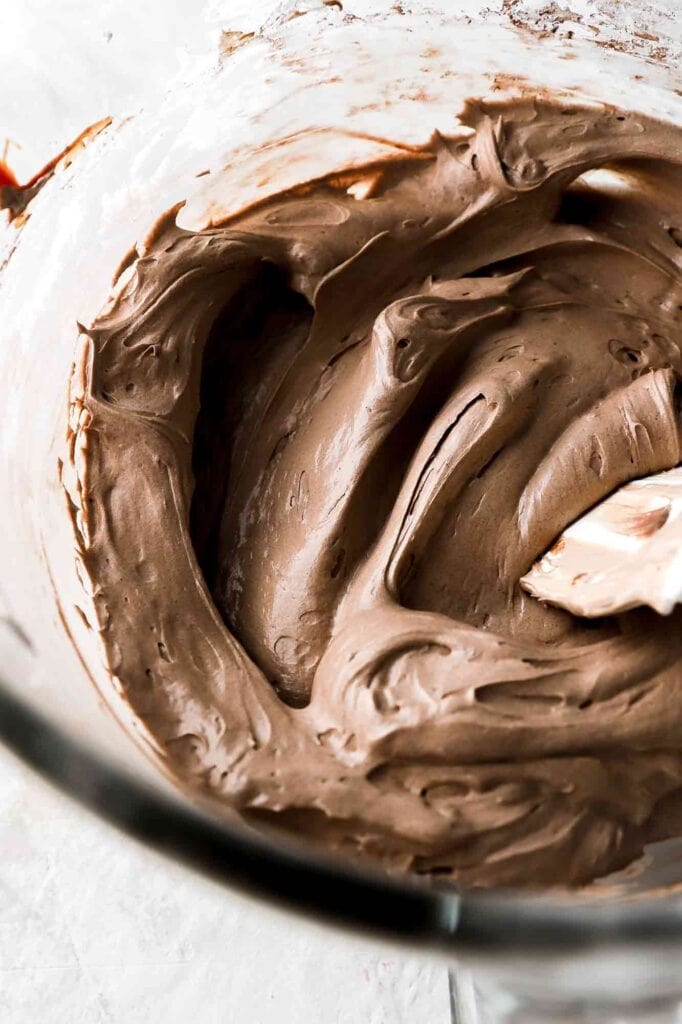 How to make milk chocolate swiss meringue butter?
Swiss meringue buttercream is simple. It consists of two main parts, the meringue and the butter. The meringue is egg whites whipped with sugar. The butter is then beaten until it emulsifies into a smooth thick, creamy and fluffy buttercream. You can check out my post on How to make Swiss meringue buttercream for detailed, step-by-step photos.
Egg Whites: from many experiments I've found it is best to use fresh egg whites but I've also had success with aged egg whites, pasteurized carton egg whites, and aquafaba.
Sugar: I typically make buttercream with granulated sugar but I've also successfully made it with super fine castor sugar, light brown sugar and dark brown sugar. If you're using brown sugar, reduce the amount by 25%, which is 1/4 cup (50g) in this case.
Butter: because there is so much butter in the recipe, I like to use unsalted butter. I've had success with commercial butter, European style and plant-based butters.
Milk chocolate ganache filling
For something so delicious, chocolate ganache is actually pretty basic and easy to make. There are multiple ways to make chocolate ganache but I like to keep it simple. I prefer to stick to two ingredients; chocolate and heavy cream.
For a thick chocolate ganache, I usually stick to a 2:1 ratio of chocolate to cream and for a thin chocolate ganache, I do 1:1 chocolate to cream. For this recipe, I chose to make my chocolate ganache right in the middle of those two so that it has the perfect consistency to sit inside the cupcakes!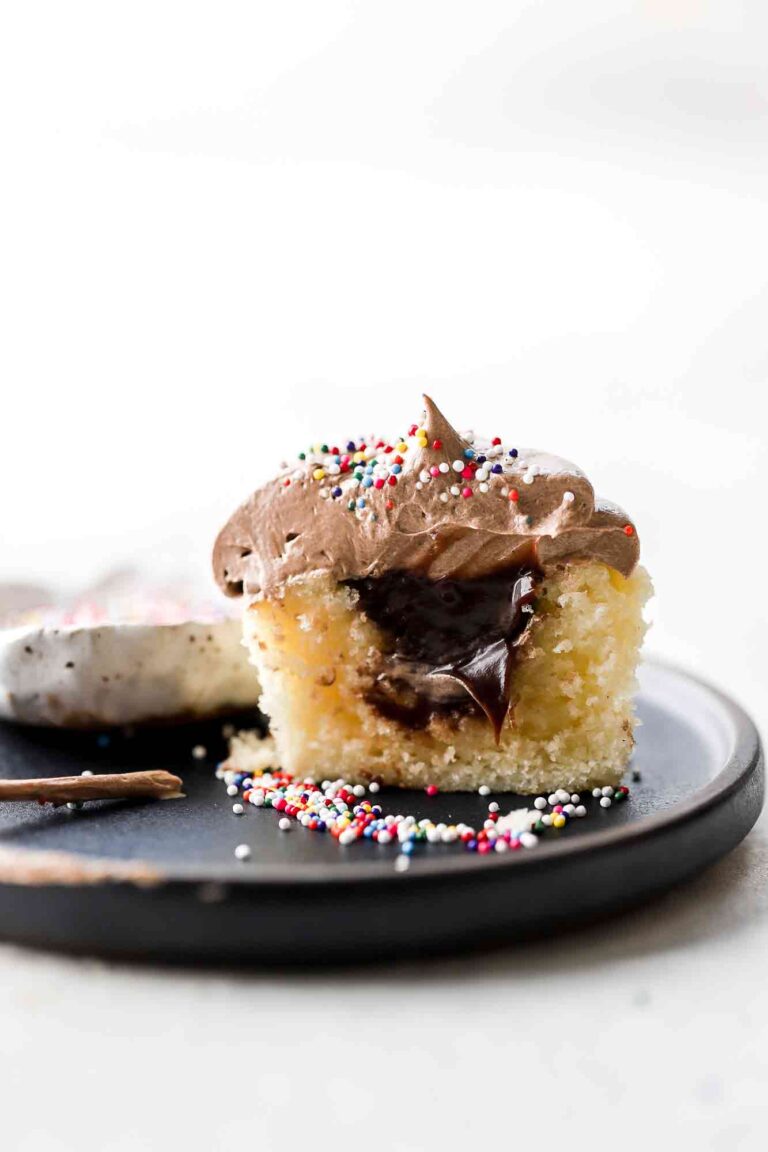 Storing cupcakes
How to make cupcake ahead of time
If you decide to bake the cupcakes ahead of time, store them in an airtight container or fully covered at room temperature overnight. If it's longer than one night, freeze them and bring them back to room temperature when frosting.
The frosting can be made 1-2 days in advance and I keep it on the counter. If you make it more than 2 days in advance, refrigerate or freeze it, fully covered and then bring it back to room temperature to get a spreadable consistency before trying to frost. (I recommend making it fresh though).
How to store finished birthday cupcakes
Once the cupcakes are done, refrigerate them for 30-60 minutes until the frosting firms up. Then cover them in an airtight container or wrapped in plastic wrap. I recommend leaving them at room temperature for 2-3 days. They can be refrigerated for 7-10 days but keep in mind the cupcake will slowly dry out with time so I recommend freezing after 1-2 days.
How to freeze cupcake
Fun fact, refrigerators will dry out your cake more than freezing!
To freeze cupcakes, refrigerate them for 30-60 minutes until the frosting firms up. Then cover them completely in an airtight container or wrap each one individually in plastic wrap. Place the container or the wrapped cupcakes in a large freezer bag, squeezing out all of the excess air. Bring it back to room temperature before serving.
FAQ
What can I do with any excess cake? 
For these cupcakes you have to carve out a hole to fill with the milk chocolate ganache. Instead of discarding the center of the cake, try using the spare cake to make cake pops.
Can I customize this birthday cupcake recipe?
Yes! You can fill the center with my homemade salted caramel sauce (make sure to refrigerate for a little so it's not too runny). You can fill it with dark chocolate ganache, just sub the milk chocolate for dark chocolate.
You can also try my French buttercream recipe instead of the Swiss or you can try this 2 ingredients chocolate frosting or even this 2 ingredients nutella frosting!
Thanks so much for reading today's post , if you have any questions just comment down below, i'm happy to answer! If you make this chocolate chip almond cake I would love to see the results, please make sure to tag me @baranbakery on instagram and order my cookbook, Frosted. As always, have a blessed day and happy baking!
Love, B
Yield: 13 cupcakes
Birthday Cake Cupcakes Recipe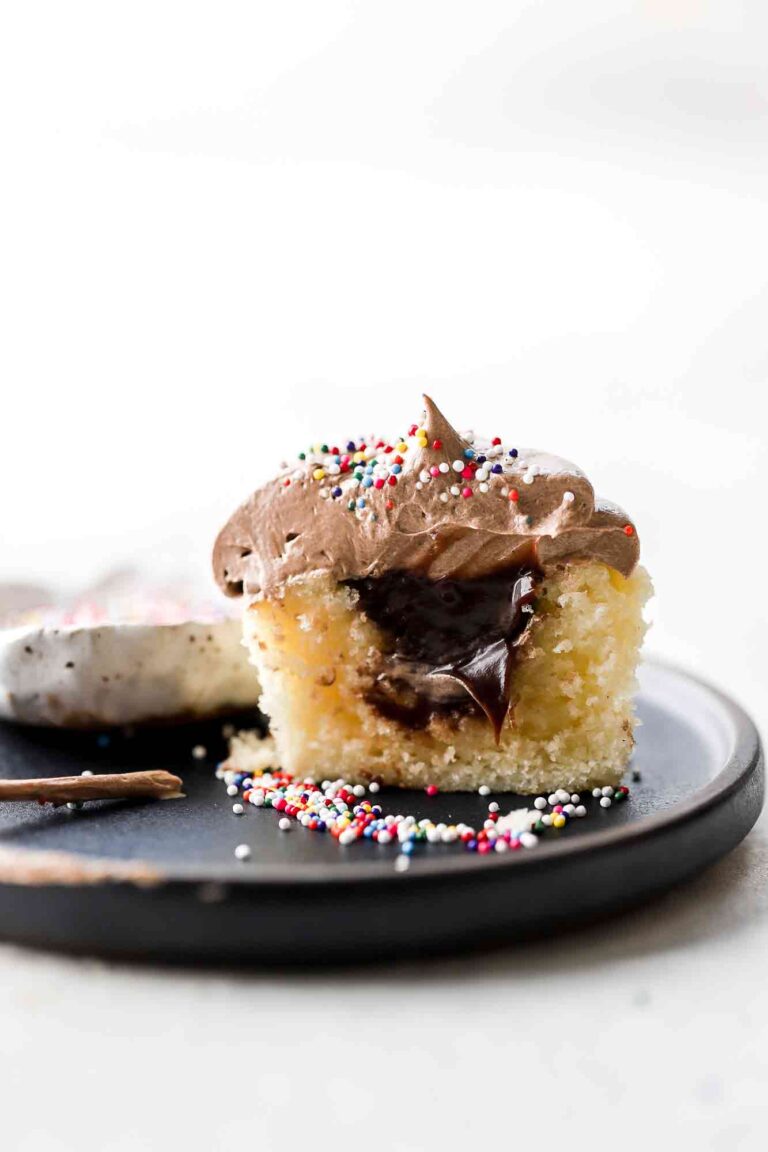 Every birthday party needs birthday cake cupcakes, and these are made using my vanilla cupcakes filled with a chocolate ganache and milk chocolate Swiss Meringue Butter.
Additional Time
1 hour
15 minutes
Total Time
2 hours
18 minutes
Ingredients
Vanilla Cupcake
1 1/2 cup (172g) cake flour, spooned and leveled
1/4 tsp baking soda
1/2 tsp baking powder
1/4 tsp salt
1 cup (200g) granulated sugar
1/4 cup (59mL) canola oil
1/4 cup (56g) unsalted butter, room temperature
1 large egg, room temperature
2 tsp vanilla extract
1/3 cup (78mL) whole milk, room temperature
1/2 cup (113g) sour cream
Milk Chocolate Ganache Filling
1 cup (6oz) milk chocolate chips
1/2 cup (118mL) heavy whipping cream
Chocolate Swiss Meringue Buttercream
4 large eggs, room temperature
1 cup (200g) granulated sugar
1 cup (227g) unsalted butter, room temperature
1 cup (6oz) milk chocolate chips, melted and cooled
2 tsp vanilla bean paste (or extract)
1/8 tsp salt
Instructions
Vanilla Cupcakes
Preheat the oven to 350F/177C convection (325F/163C conventional) and line 13 muffin tins with cupcake liners (preferably a light colored pan).
In a medium bowl, whisk together the cake flour, baking soda, baking powder, salt and sugar. Add the oil and butter to the dry ingredients and beat together until they're combined. Add the egg and vanilla extract and mix until they're fully combined. Then add the milk and sour cream, mixing just until the batter is smooth.
Fill each cupcake liner about 2/3-3/4 full (about 50g). Bake for 16-18 minutes. When they are done, the cupcakes should no longer look wet and when you press on the center of the cupcake it should spring back, or once a toothpick inserted comes out clean.
Remove them from the oven and let them cool in the cupcake pan for 10 minutes, then move them to a cooling rack. Allow the cupcakes to cool completely and then use a cupcake corer or a knife to cut a whole out the center. Set aside.
Milk Chocolate Ganache
Place the chocolate chips in a large bowl and set aside. Heat the cream in a small saucepan over low heat just until it begins to simmer and then pour it over the chocolate chips.
Cover the bowl for 1-2 minutes and then slowly stir until it's fully combined and smooth. Allow it to cool at room temperature for about 30 minutes, mixing ever few minutes.
When it's at room temperature, use a spoon or a piping bag to fill the cupcakes to the top.
Swiss Meringue Buttercream
Bring a small pot with 1/2 cup of water to a boil and lower the heat to simmer.
Place the egg whites and granulated sugar in the bowl of a stand mixer and place the bowl over the simmering water for 5-10 minutes, whisking intermittently until the granulated sugar is completely dissolved.
Once the sugar is dissolved, remove the bowl of egg whites from the heat. Use the whisk attachment to beat the egg whites with the sugar. Beat for 7-10 minutes on high speed and then lower the speed to low-medium.
Slowly add 2 Tbsp of butter in at a time. Wait for the butter to incorporate before adding the next chunk. Once all the butter is added, turn the mixer up to high speed for a few seconds, until it comes together.
Then use a rubber spatula to scrape the edge of the bowl. Add the melted chocolate, vanilla bean paste (or extract) and salt and beat until it's fully combined.
Use a piping bag with a round tip to pipe the frosting onto each cupcake. Top with sprinkles and refrigerate for at least 15 minutes to set!
Notes
*if the frosting feels too soft to pipe, just refrigerate it for 10-20 minutes at a time until you like the consistency.
Recommended Products
As an Amazon Associate and member of other affiliate programs, I earn from qualifying purchases.
Nutrition Information:
Yield:
13
Serving Size:
1
Amount Per Serving:
Calories:

592
Total Fat:

37g
Saturated Fat:

20g
Trans Fat:

0g
Unsaturated Fat:

14g
Cholesterol:

141mg
Sodium:

146mg
Carbohydrates:

60g
Fiber:

1g
Sugar:

45g
Protein:

7g
Nutrition information may not be fully accurate.