Funfetti Cupcakes with Unicorn Frosting
The most beautiful vanilla funfetti cupcakes frosted with a colorful pastel buttercream frosting and sprinkles!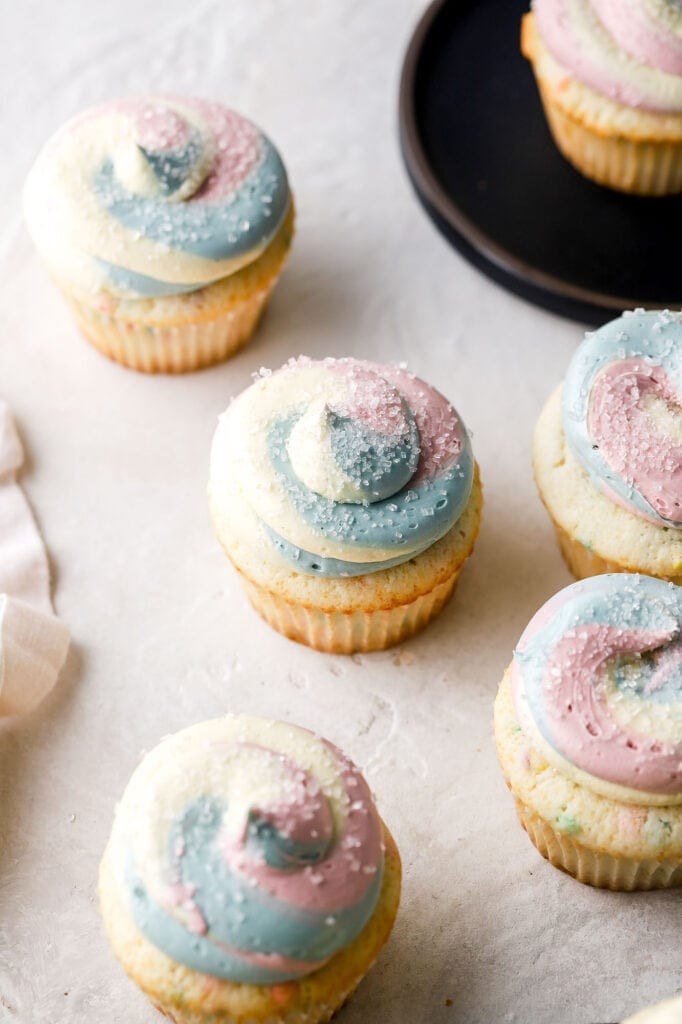 I have been waiting to share these amazing homemade funfetti cupcakes with you guys for like two months. This is one of my favorite recent recipes and everyone who's tried them has agreed!
How to make funfetti cupcakes
I'm not sure if you're aware but funfetti cupcake recipes are basically just fun vanilla cupcakes lol. So this recipe uses my basic vanilla cupcake recipe. I created this base cupcake recipe for my cookbook, Frosted, because I wanted to have the most perfectly domed, fluffy and tender WHITE vanilla cupcakes.
The color shouldn't matter but I really don't like when cupcakes are white and then they brown on the edges. (Some of them still brown a little if they're slightly overfilled and touch the metal pan while baking – specifically a dark pan). I also didn't want a super yellow cupcake so this was quite a process. 
You can also make these funfetti cupcakes as a small batch if you use my small batch cupcake recipe.
What you'll need:
Cake Flour: I don't usually prefer cake flour for my cakes but for these cupcakes it's pretty essential. You can do the cake flour substitute with all-purpose flour and cornstarch but keep in mind that it is a substitute and won't be exactly the same but they will still turn out good. 

The most important factor is measuring the flour correctly. I recommend using a digital scale to weigh your ingredients, especially flour.

Baking Powder and Baking Soda: I use both to balance the acidity of the sour cream but you can also make them using 1½ tsp baking powder, just keep in mind the flavor might be just slightly more acidic. 
Whole Milk and Sour Cream: I use both whole milk and sour cream because the high fat content makes up for the lack of egg yolks in the recipe. I have also made them with 2% milk and yogurt but I would opt for a full fat yogurt. 
Oil and Butter: I use both oil and butter in almost all my cake recipes because I like the structure and flavor of butter and the moisture from oil. Any kind of neutral flavored oil works. 
Granulated Sugar: Sugar provides both sweetness and structural support, I don't recommend cutting out any sugar. In my opinion, the sweetness of the cupcakes is balanced with the buttery frosting. 
Egg whites: I use only egg whites for this recipe because I wanted the cupcakes to be pale. You can use fresh egg whites or carton egg whites but I have not tested this recipe with an egg alternative. 
Vanilla: I recommend a combination of pure vanilla extract (or paste) and artificial vanilla extract for the ultimate funfetti flavor.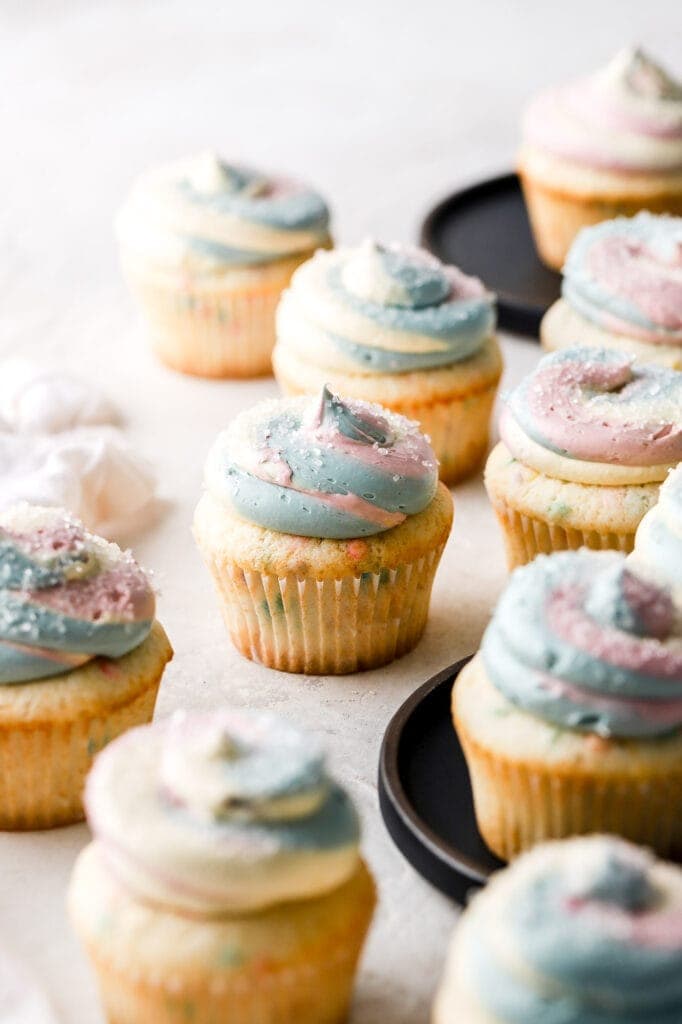 What kind of sprinkles to use for funfetti cupcakes
My top two recommendations for sprinkles to use in funfetti cakes are rainbow jimmies or rainbow sequins. Both of these are soft enough to melt into the batter when they're baked but not too soft that they melt before the batter is baked.
I don't recommend using nonpareils, they can streak the batter, creating either a tie dye effect or even a mixed muddy color if they're overmixed.
In the photo above, you can see I added some fancy sprinkles, which had a mix of different kinds. This worked for me because I added only a few of those and used mostly pastel rainbow sequins.
How to make unicorn frosting
For the basics and step by step details on this frosting, check out my post on How To Make French Buttercream. I used this buttercream because we had extra egg yolks from the cupcakes that I didn't want to waste.
I also love that it has a custardy flavor and isn't as sweet so it balances the cupcakes well.
For the unicorn flavor, I did a combination of vanilla, almond and cotton candy extract. My family was absolutely obsessed with the flavor so I hope you guys are just as impressed, lol.
How to color French Buttercream
Coloring the frosting can be a little difficult since it already has a yellow tint from the egg yolks but the best way to go about it, is to just add 1-2 drops of food coloring at time.
If you use pure blue, it may turn slightly greenish blue from the yellow base so I added 1-2 drops of purple as well. For the pink, if you add pure pink or red, it'll be a warmer version, towards orange so I added 1-2 drops of purple to that as well. Just be careful not to add too much because there's no going back!
For the swirl, the best way to explain how it's done is by looking at the photos, lol.
How to serve and store cupcakes
These funfetti cupcakes are best served fresh at room temperature.
Store them in an airtight container, at room temperature for 2-3 days.
If it's longer than that, store them in an airtight container, refrigerated for 7-10 days but bring them back to room temperature before serving.
To freeze them, place them in an airtight container and then place the container in a freezer bag, squeezing out all the excess air. Freeze for 2-3 months, defrost in the fridge overnight and then bring them to room temperature before serving.
Thanks so much for checking out today's post. If you have any questions, just comment down below and if you make these cupcakes, make sure to tag me @baranbakery on instagram! As always, have a blessed day and happy baking!
Love, B
Yield: 13 cupcakes
Funfetti Cupcakes with Unicorn Frosting Recipe
The most beautiful sprinkled vanilla cupcakes frosted with a colorful pastel buttercream frosting!
Additional Time
30 minutes
Total Time
1 hour
33 minutes
Ingredients
Funfetti Cupcakes
1 1/2 cup (172g) cake flour, spooned and leveled
1/4 tsp baking soda
1/2 tsp baking powder
1/4 tsp salt
1 cup (200g) granulated sugar
1/4 cup (59mL) canola oil
1/4 cup (56g) unsalted butter, room temperature
2 large (60g) egg whites, room temperature
1 tsp pure vanilla extract
1 tsp artificial vanilla extract
1/3 cup (78mL) whole milk, room temperature
1/2 cup (113g) sour cream
1/3 cup pastel rainbow sequin sprinkles
Unicorn Frosting
4 large egg yolks, room temperature
1 cup (200g) granulated sugar
1/4 cup (59mL) water
1 cup (227g) unsalted butter, room temperature
2 tsp vanilla extract (or paste)
1/4 - 1/2 tsp almond extract
1/4 - 1/2 tsp cotton candy extract
blue, pink and purple gel food coloring
Instructions
Funfetti Cupcakes
Preheat the oven to 350F/177C convection (325F/163C conventional) and line 13 muffin tins with cupcake liners (preferably a light colored pan).
In a medium bowl, whisk together the cake flour, baking soda, baking powder, salt and sugar.
Add the oil and butter to the dry ingredients and beat together until they're combined. Add the egg whites and vanilla extracts and mix until they're fully combined and then add the milk and sour cream. Gently fold in the sprinkles.
Mix just until the cupcake batter is smooth and then fill each cupcake liner about 2/3-3/4 full.* Bake for 16-18 minutes. They are done when you press on the center of the cupcake and it springs back or when a toothpick inserted comes out clean.
Remove them from the oven and let them cool in the cupcake pan for 10 minutes, then move them to a cooling rack. Allow the cupcakes to cool completely before frosting.
Unicorn Frosting
Make 1 batch of French Buttercream and once it's done, add in the vanilla, almond and cotton candy extracts.
Split the frosting into three separate bowls and use the gel food coloring to make pink and blue frosting. Start with 1-2 drops at a time and add more as needed to get desired color. Add purple if the colors are too warm. Leave the third bowl of frosting uncolored, it will already have a yellow tint from the egg yolks.
Lay out a piece of plastic wrap on a flat surface and make three rows of frosting, one of each color (refer to photos). Roll up the plastic wrap, twist the ends to close them (like a candy wrapper) and then cut one side off and place it inside a pastry bag fitted with a large round piping tip.
Swirl frosting on top of the cupcakes and top with sparkly clear sprinkles. You may need to repeat the piping process twice to use up all the frosting.
Notes
*I weigh 55g of batter for each cupcake.
the vanilla cupcake recipe was designed to stay pale so don't look for a golden brown color when it's finished baking.
store in an airtight container, at room temperature for 2-3 days or refrigerated for 7-10 days.
Recommended Products
As an Amazon Associate and member of other affiliate programs, I earn from qualifying purchases.
Nutrition Information:
Yield:
13
Serving Size:
1
Amount Per Serving:
Calories:

433
Total Fat:

26g
Saturated Fat:

13g
Trans Fat:

0g
Unsaturated Fat:

12g
Cholesterol:

125mg
Sodium:

136mg
Carbohydrates:

45g
Fiber:

0g
Sugar:

32g
Protein:

5g
Nutrition information may not be fully accurate.