Classic Birthday Cake Recipe with 2 Ingredient Frosting
Classic Birthday Cake recipe using my favorite three layer, 6-inch vanilla cake and a 2 ingredient, chocolate fudge frosting!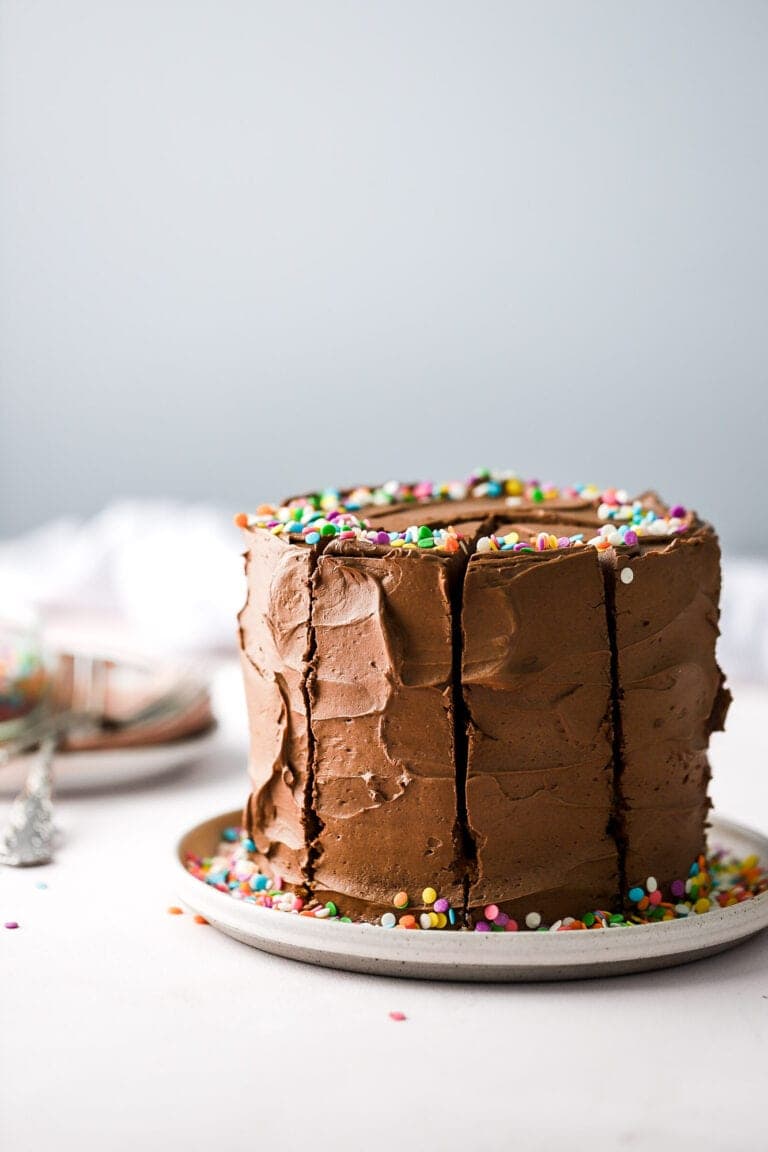 Hello lovebugs! Some housekeeping, there are some big changes coming up in the Baran household soon so I've decided to do just one blog post a week for the next few months. We bought a new house so we will be moving over the next month, then baby #2 is coming in just 8ish weeks & then a month later Frosted will finally be out!
What is classic birthday cake
I recently posted this Funfetti Cake recipe and although the terms 'funfetti cake' and 'birthday cake' are sometimes used interchangeably, they're not exactly the same.
Funfetti cake refers to a vanilla cake with sprinkles. More specifically, that artificial vanilla flavor is what people are looking for.
Classic Birthday Cake usually refers to vanilla cake with chocolate frosting. I believe it's just because that's been the most popular cake flavor over the years. To make it extra birthday special, top it with sprinkles or add them to the cake batter!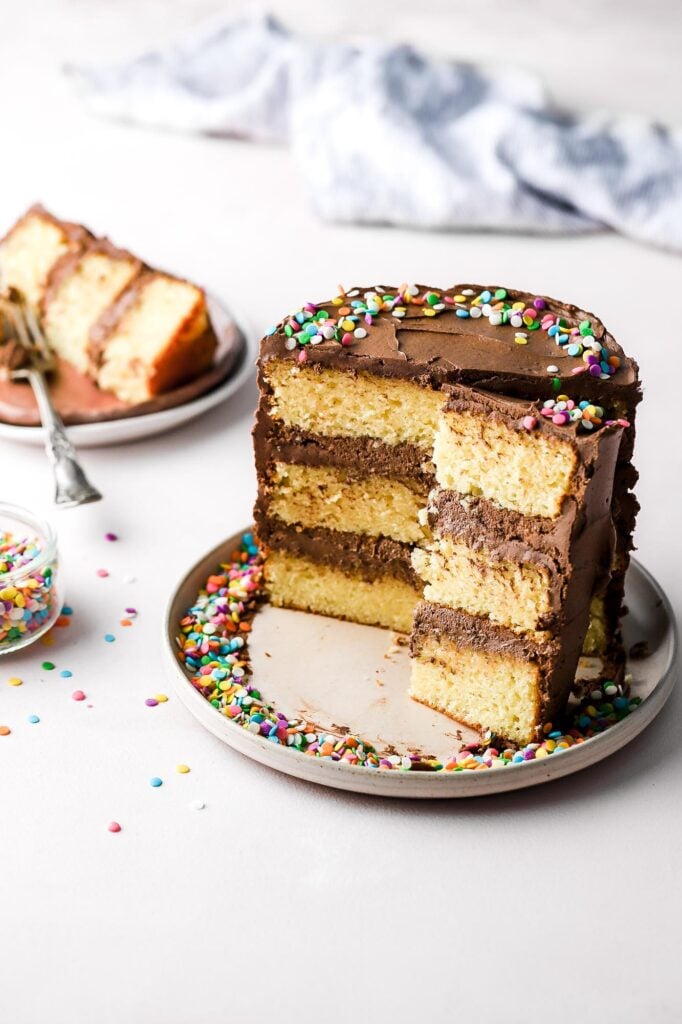 How to make vanilla cake layers
This is my favorite base cake recipe. It makes three 6 inch layers and is the perfect (in my opinion) combination of fluffy and moist! See my 6 Inch Vanilla Cake Recipe post for step-by-step shots on how to make this deliciousness.
Can I use a different type of flour
I don't recommend changing the recipe but generally all-purpose flour can be swapped with a 1:1 gluten-free flour. Make sure it says 1:1 on it like Bob's Red Mill.
I've also made the cake with cake flour but I would do just 2 cups (230g) instead of the 2 ¼ cup. Cake flour is more absorbent than all-purpose flour.
Can I bake this cake in different size pans
This vanilla cake recipe makes three 6 inch layers, two 8 inch layers or two 9 inch layers. The 8 inch layers will take about the same amount of baking time, about 35 minutes but the 9 inch layers may take a little less, about 25-30 minutes.
The total amount of batter is about 42oz so if you're looking for even layers, I get about 14oz in three pans or 21oz in two pans.
The cake can also be baked as a sheet cake in a 9x13x2 inch cake pan for about 40-45 minutes.
To test if the cake is done baking, you can either see it release itself from the edge, press on the center and it should spring back or a toothpick inserted should come out with a few moist crumbs.
Do I need to line the cake pans
I don't usually line my round cake pans but if you bake it in the 9×13 inch pan, I would line the whole bottom with parchment paper. Make sure to leave it long enough to go over the edge and clip it with binder clips for easy release and removal of the cake.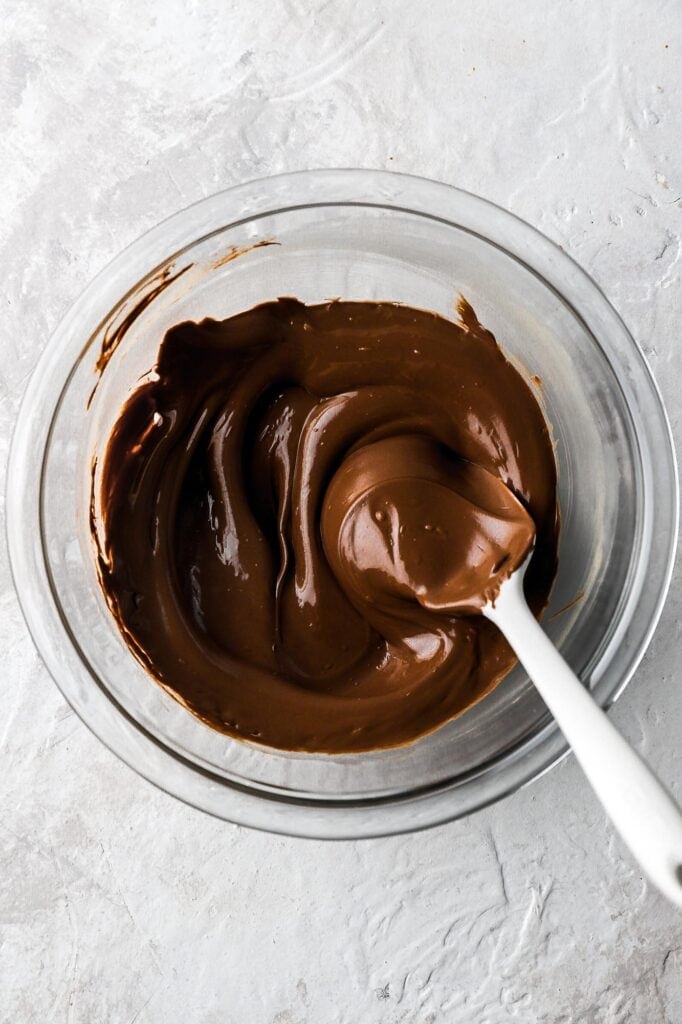 How to make 2 ingredient chocolate frosting
I wanted to make this birthday cake recipe super easy and a little different than the basic butter and confectioners sugar frosting. American frosting is a little overly sweet so I thought, why can't I omit the sugar since chocolate chips are already fairly sweet. Well, turns out you can.
The only difference is that the chocolate hardens a bit once it's fully cooled, so it's best to frost the cake with fresh frosting. When the frosting is fresh, it's smooth and silky but once it's been chilled a bit, it becomes a little more fudge-like so I recommend serving it at room temperature (although I think both ways are good).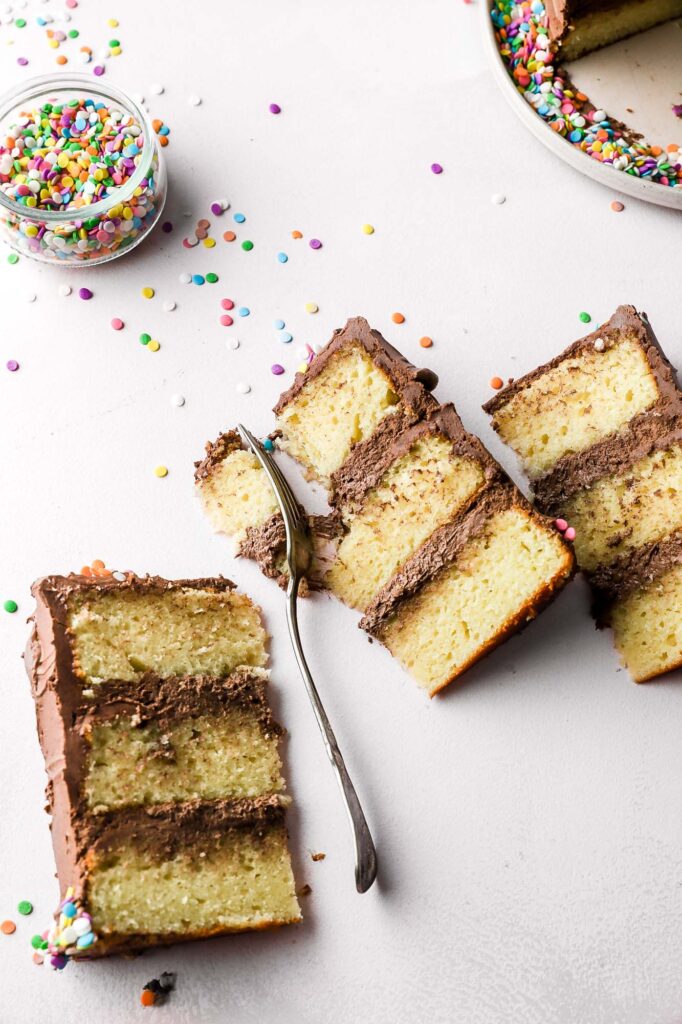 How to store birthday cake
Like I mentioned above, the cake is best served at room temperature so I would recommend storing it fully covered at room temperature for 48 hours. If it's longer, refrigerate it but then bring it back to room temperature before serving.
To freeze the cake, slice it and place the slices tightly in an airtight container. Then place the container in a freezer bag, squeezing out all of the excess air. Freeze for 1-2 months.
If you want to remove one slice at a time, you can also wrap each individual slice in plastic wrap and place them in a freezer bag and/or container. It's easier to wrap them once they've been chilled for a little.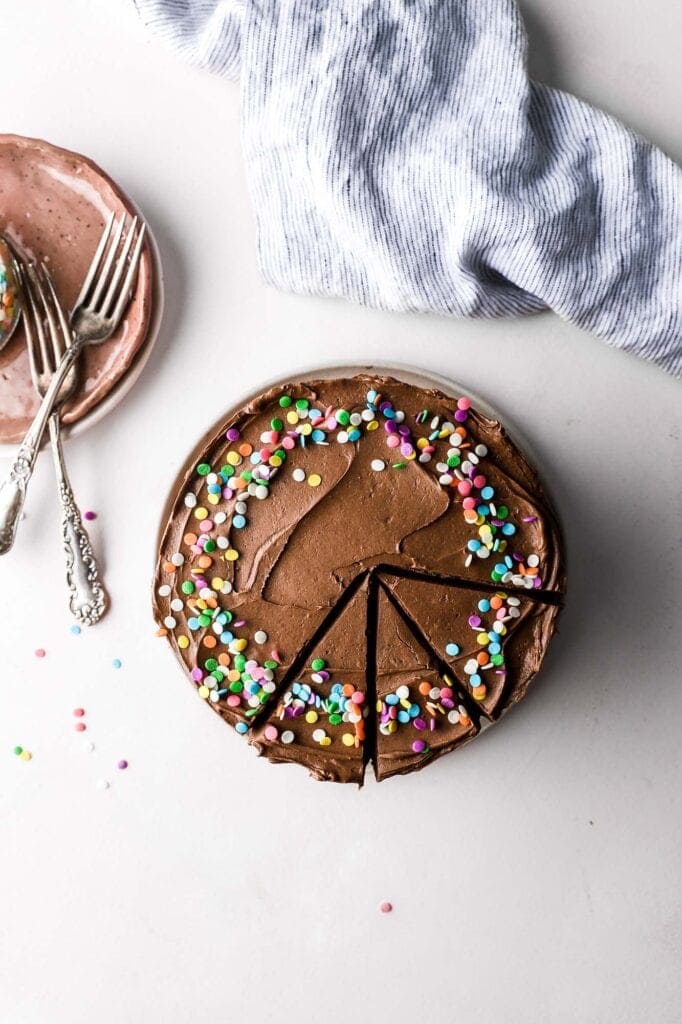 It's somebody's birthday somewhere so you don't actually need an excuse to make this classic birthday cake recipe! If you have any questions just comment down below and make sure to tag me @baranbakery on instagram. As always, have a blessed day and happy baking,
Love, B
Yield: 8-10 servings
Classic Birthday Cake Recipe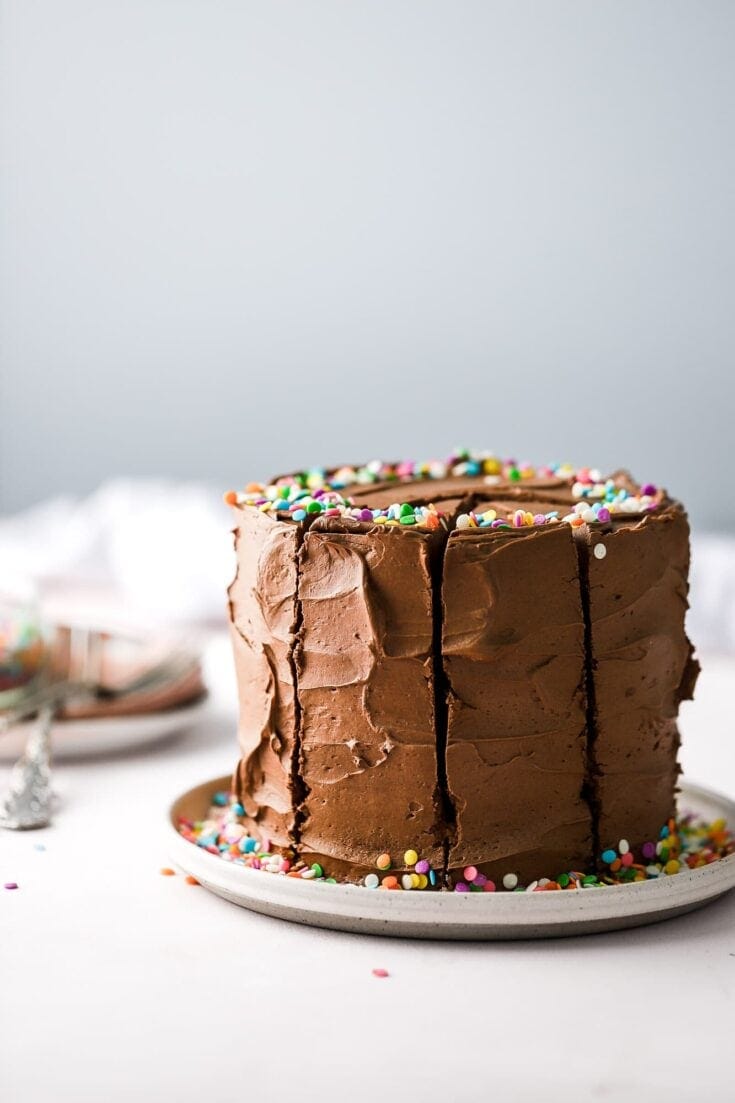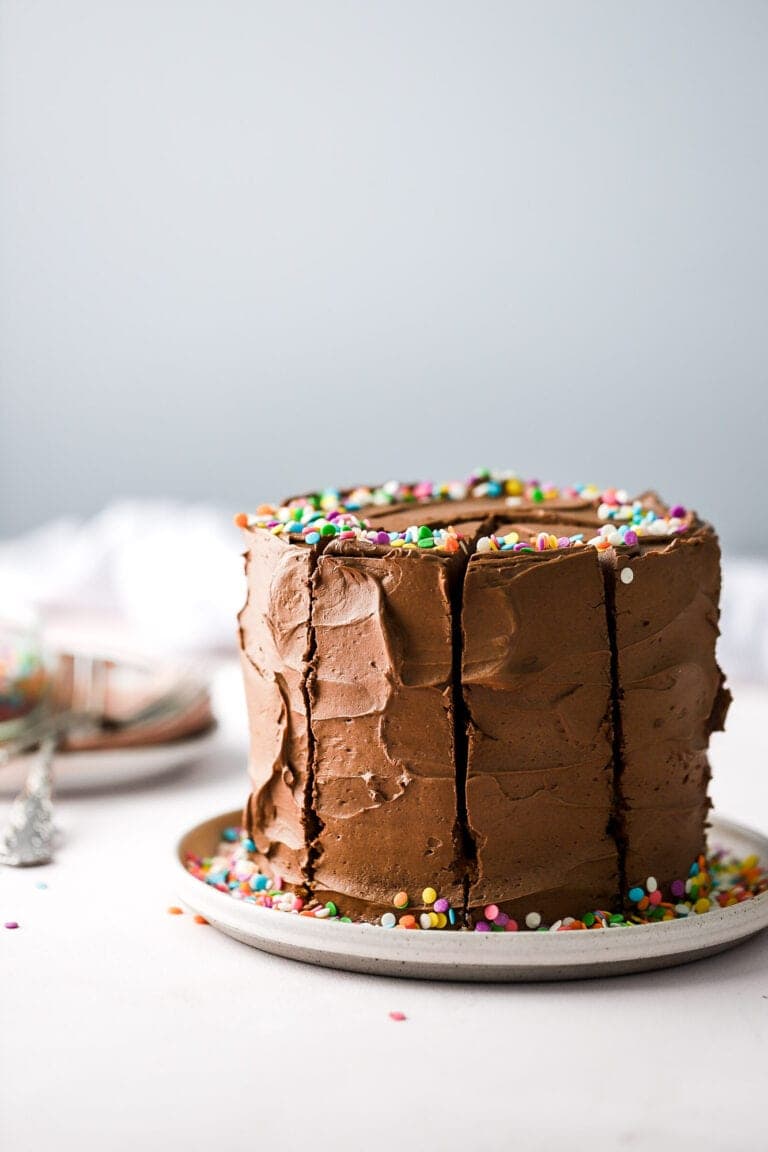 Classic Birthday Cake with my favorite three layer, 6-inch vanilla cake recipe and a 2 ingredient, chocolate fudge frosting!
Additional Time
1 hour
30 minutes
Total Time
2 hours
50 minutes
Ingredients
Vanilla Cake
2 1/4 (270g) cups all-purpose flour, spooned and leveled
1 Tbsp (10g) baking powder
1/2 tsp salt
1/4 cup (60g) unsalted butter, room temperature
1/2 cup (120mL) canola oil
1 1/2 cup (300g) granulated sugar
3 large eggs, room temperature
3/4 cup (170g) sour cream, room temperature
1 Tbsp vanilla extract
3/4 cup (180mL) milk, room temperature
Chocolate Frosting
1 1/2 cups (9oz) milk chocolate chips
1 1/2 cups (340g) unsalted butter, room temperature
Sprinkles
Instructions
Vanilla Cake
Preheat the oven to 350F/177C convection (325F/163C conventional) and grease and line three 6 inch cake pans.
In a medium bowl, whisk together the flour, baking powder and salt until they're evenly distributed.
Place the room temperature butter, oil and granulated sugar in a large bowl and use an electric mixer with the whisk attachment to beat them for 2 minutes.
Add the eggs, one at a time, beating on medium speed until each egg is fully incorporated. Add the sour cream and vanilla extract and beat just until combined.
Add half of the dry ingredients to the wet ingredients, turn the mixer on low speed and then pour in the milk, followed by the rest of the dry ingredients.
Distribute the batter evenly among the three cake pans, about 14oz in each pan and bake for 30-35 minutes. When the cake is fully baked it will release itself from the edge of the pan and it will spring back if you press on the center of it.
Invert the cakes onto a tea towel or cooling rack and allow the cake to cool completely before frosting.
Chocolate Buttercream
For the frosting, melt the chocolate chips until they're smooth and silky. I do this in the microwave on 20-30 second intervals, stirring between each interval. You can also do it over a double boiler but make sure to stir the chocolate frequently.
Once the chocolate is melted, remove it from the heat and continue to stir it every few minutes so it cools but doesn't harden.
Meanwhile, place the butter in a large bowl and use an electric mixer to beat it at full speed for about 5 minutes, until it's pale and fluffy. Make sure to scrape the edge of the bowl every couple minutes.
Once the chocolate is no longer warm but still soft, pour it over the butter and beat the mixture until it's fully combined.
Assemble
Place the first layer of cake on a flat surface and use 1/4 of the chocolate buttercream to frost it. Repeat with the second layer and then place the third layer on top.
Refrigerate the cake for 20 minutes and then use the rest of the buttercream to frost the outside of the cake. Top with sprinkles!
Best Served
Refrigerate the cake for another 15-20 minutes, just to set it, and then serve fresh. This Classic Birthday Cake is best served at room temperature within the first 1-3 days. Store fully covered, at room temperature for up to 48 hours and then refrigerated.
Notes
You can bake these cakes up in advance. To best preserve the moisture, allow the cakes to cool almost to room temperature, they should still be slightly warm. Wrap them in plastic wrap, place them in a freezer bag, pressing all the air out and freeze. Remove them from the freezer when you're ready to frost, this makes it easier to frost and they will defrost by the time you're ready to serve.
Optional: add 1/4 cup of cocoa powder to the buttercream to make it a darker chocolate or use dark chocolate chips instead of milk chocolate.
Recommended Products
As an Amazon Associate and member of other affiliate programs, I earn from qualifying purchases.
Nutrition Information:
Yield:
10
Serving Size:
1
Amount Per Serving:
Calories:

809
Total Fat:

56g
Saturated Fat:

28g
Trans Fat:

0g
Unsaturated Fat:

25g
Cholesterol:

159mg
Sodium:

324mg
Carbohydrates:

69g
Fiber:

2g
Sugar:

44g
Protein:

8g
Nutrition information may not be fully accurate.