Gluten-Free Brownies (Toaster Oven)
The best gluten-free brownies made with almond flour and options to be made dairy free as well!
Last year, most of my top posts included chocolate so of course, 2021 will bring you even more chocolate. I'm not exactly a healthy food blogger…actually I'm not at all a healthy food blogger but I like trying new things and Cuisinart and I believe that everyone, even our gluten-free friends, deserve the best brownies!
How to make gluten-free brownies
There are many different versions of gluten-free brownie recipes. That's because there are many different flours you can use that don't contain gluten. I chose to work with almond flour because it's something many people have on hand and it's easily accessible.
If I'm being honest, this recipe gave me a bit of trouble at first but after extensive testing, I got the exact texture I was looking for. These gluten-free brownies are crisp on the top and chewy and super fudgy in the center…but not like the gooey where it's underbaked. They're just perfect, in fact, I would never even notice that they're gluten-free if I didn't know.
Make sure the rest of your ingredients are pure so that they're gluten-free as well. Most of them should be but just double check that you're buying plain almond flour, cornstarch, gluten-free chocolate chips, etc.
How to make brownies in a toaster oven
I'm gonna be honest with you guys (always am), you can basically make anything in a toaster oven that you can in a big oven, so long as it fits! I partnered with my friends from Cuisinart to make these gf brownies and they turned out soooo delicious.
The chocolate gets melted with the butter and then mixed with the eggs and sugar. The dry ingredients get mixed in just until they're fully combined and then spread evenly into an 8 inch pan. Bake the brownies in an Air Fryer Toaster Oven at 325F on convection for 35-40 minutes.
Why I love Cuisinarts' Airfryer Toaster oven
Ok, can we just take a second to appreciate its beauty for a second? Before this one, I had a GIANT toaster oven which takes up like half my counter but this baby is so cute and compact and still fits a 12" pizza in it!
The Cuisinart Air Fryer Toaster Oven is also an air fryer (obviously) and it bakes on convection setting. Pro tip: if you don't have a convection oven, get the Cuisinart Airfryer Toaster Oven! I'd also like to mention that unlike sooo many ovens, you can see so clearly through the glass without having to open the toaster oven door.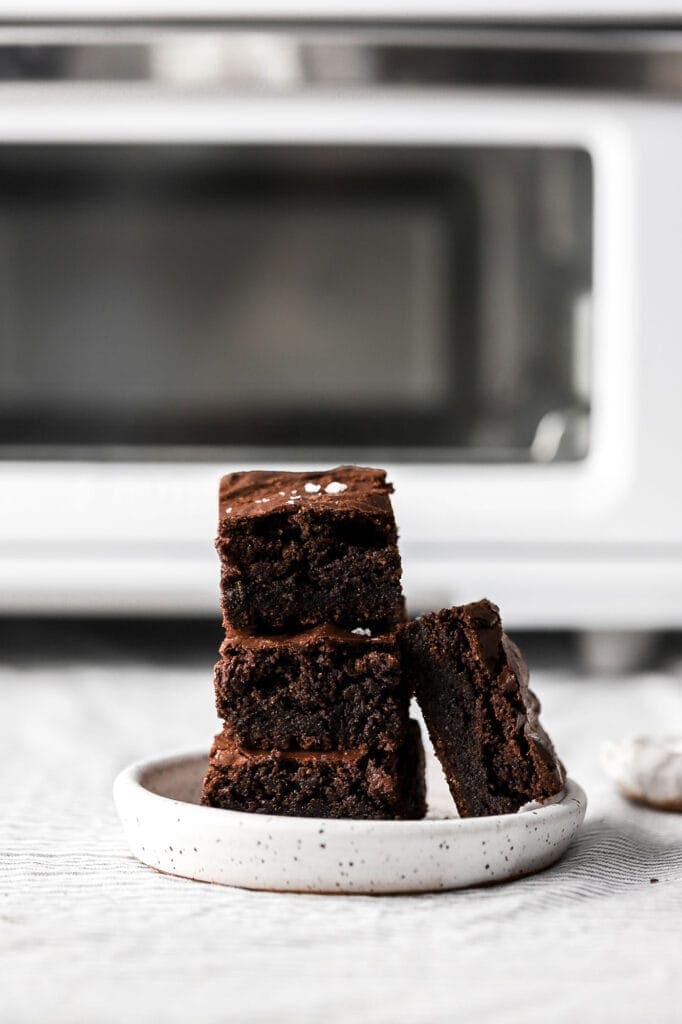 Science behind almond flour brownies
Almond flour is made from just almonds and almonds are mostly made up of fat whereas flour is mostly made up of carbs (and gluten). Fats give extra moisture to baked goods and gluten gives structure so if I was to do a plain swap from My PERFECT Brownies (which I tried), the result would be a very wet brownie. That's exactly what I got. No matter how I baked it, the top would burn and the center was still underbaked and just wet.
To make up for the lack of structure, I used cornstarch with the almond flour and then took out some of the butter since the almond flour provides more moisture than regular flour. I also took out an egg because eggs also contain a lot of fat and moisture.
How to serve and store gluten-free brownies
Allow the brownies to cool in the pan for about 20-30 minutes, then remove them from the pan. They'll still be slightly warm at this point and they do taste delicious but it may be a little difficult to slice them nicely.
If you want clean slices, refrigerate the brownies for about an hour and then use a large, serrated knife to cut. Instead of just pushing the knife straight down and cracking the crunchy top, slide the knife back and forth on top until you've created a nice cut through the top. Rinse the knife under hot water to clean it between each slice.
Store the brownies in an airtight container at room temperature for 2-3 days. For longer, refrigerate them and bring them back to room temperature or slightly warmer before serving.
How to make gluten-free brownies even better!
These brownies are amazing on their own but if you want to add a little something-something to them, you can drizzle some homemade salted caramel sauce on top, turn them into pecan pie brownies or hot chocolate brownies!
To turn these into gluten free, dairy free brownies, use a plant based butter and dairy free chocolate chips!
Thanks so much for sticking around and I really hope you enjoy these brownies as much as I did! If you make them, make sure to tag me @baranbakery and @cuisinart. As always, have a blessed day and happy baking!
Love, B
Yield: 16 Brownies
Gluten-Free Brownies Recipe
The best gluten-free brownies made with almond flour and options to be made dairy free as well!
Total Time
1 hour
45 minutes
Ingredients
1/2 cup (113g) unsalted butter
1 cup (6oz) semi-sweet chocolate chips
1 cup (200g) granulated sugar
1/2 cup (100g) light brown sugar, lightly packed
3 large eggs, room temperature
1 cup (100g) almond flour, spooned and leveled
1/4 cup (20g) Dutch-process cocoa powder, spooned and leveled
1/4 cup (32g) cornstarch, spooned and leveled
1/2 tsp salt
Instructions
Preheat the Cuisinart Air Fryer Toaster Oven to 325F (163C) and grease and line an 8-inch pan with nonstick cooking spray and parchment paper.
In a microwave safe bowl, heat the butter and chocolate chips for 30-45 seconds until they're smooth.
In a large bowl, combine the sugars and add the eggs, whisking for 10-15 seconds, until they're mostly combined. Stir in the melted butter and chocolate and mix until they're well combined.
Sift in the almond flour, cocoa powder, cornstarch and salt and fold the batter until the dry ingredients are fully incorporated.
Spread the batter evenly into the prepared pan and bake for 35-40 minutes, until a toothpick inserted comes out clean.
Let them cool in the pan for at least 20 minutes and then remove them to finish cooling before slicing.
Notes
to make these dairy-free, use a plant based butter and dairy free chocolate chips.
Recommended Products
As an Amazon Associate and member of other affiliate programs, I earn from qualifying purchases.
Nutrition Information:
Yield:
16
Serving Size:
1
Amount Per Serving:
Calories:

240
Total Fat:

14g
Saturated Fat:

6g
Trans Fat:

0g
Unsaturated Fat:

7g
Cholesterol:

50mg
Sodium:

90mg
Carbohydrates:

29g
Fiber:

2g
Sugar:

24g
Protein:

3g
Nutrition information may not be fully accurate.
This corresponding Instagram post was sponsored by Cuisinart, all thoughts and opinions are my own. Thank you for supporting the brands that support Baran Bakery!
For similar recipes, check out: