Super moist and fluffy cookies 'n' cream Oreo cake made with Oreo chunks, Oreo buttercream and milk soaked whole Oreos!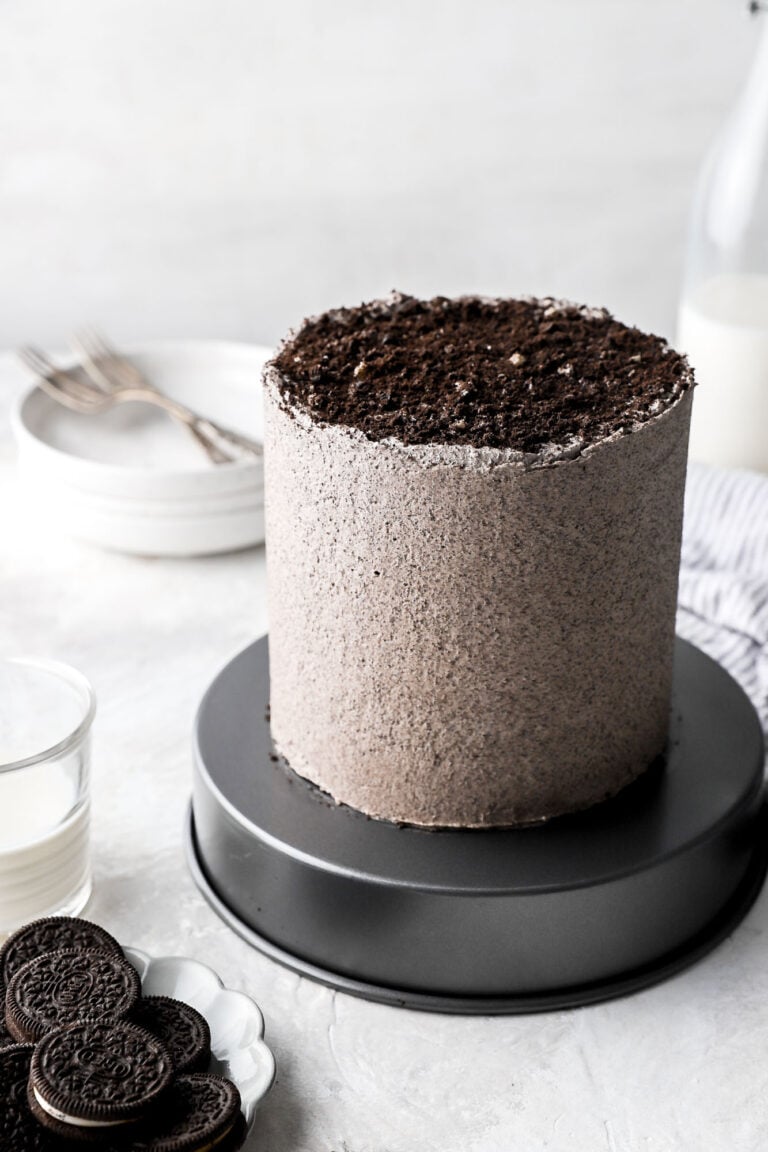 If you know me, you know I've always been a HUGE fan of Oreos… or anything cookies and cream, really. They're that one childhood treat that I'll never grow out of loving. Fortunately for me, my siblings feel the same way so I had to make us the ultimate Oreo cake.
Not to my surprise, my family highly approved of the cake and highly recommend you try it out for yourself *winky-face*.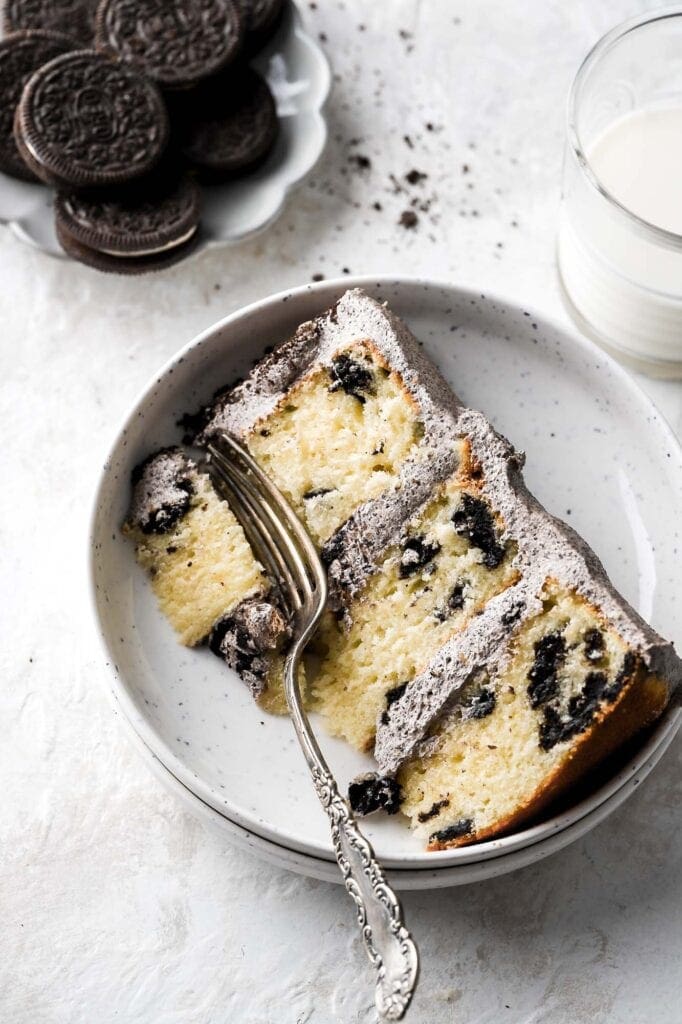 What's in this Oreo cake?
Some people might describe Oreos as a chocolate cookie with vanilla cream filling but if you're a true Oreo lover, you would agree that Oreo isn't just chocolate and vanilla, it's its own flavor. Almost all of the Oreo cake recipes I've come across are made with a chocolate sponge. If I'm being honest, I think a chocolate sponge would completely mask the flavor of Oreos.
I chose to add roughly chopped Oreos to my favorite vanilla cake recipe and then add ground Oreos to vanilla buttercream frosting. For an extra indulgent touch, I even soaked some Oreos in milk until they were nice and soft and then placed a layer on top of each layer of buttercream. Let's just say, I was very pleased with the Oreo-ness of this cake!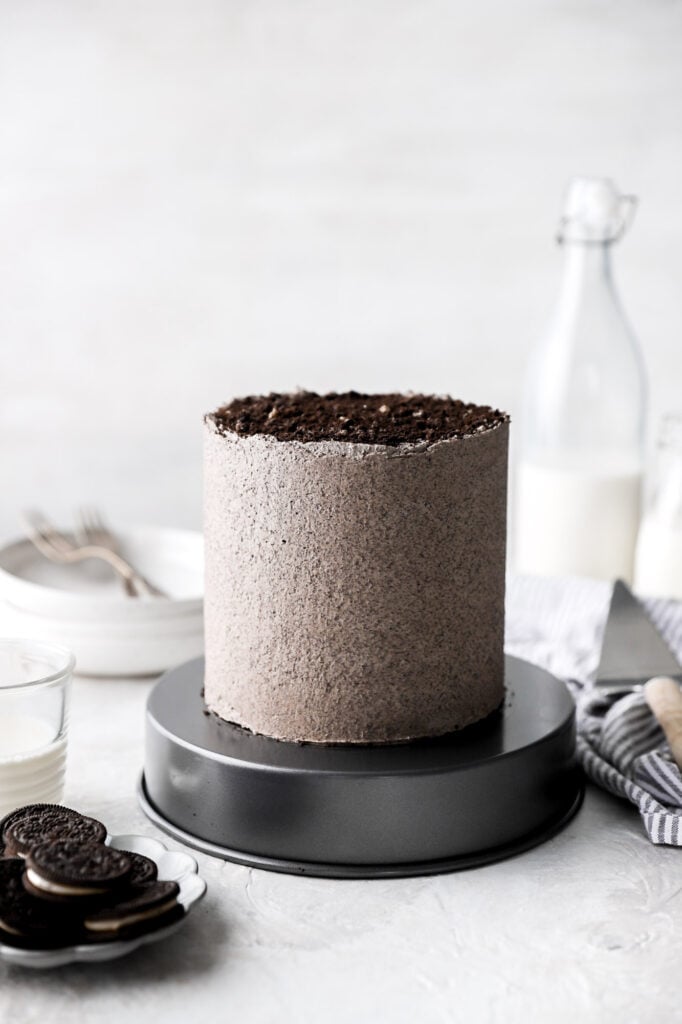 Can I make a chocolate cake version?
If you do prefer a chocolate Oreo cake version instead, you can use my 6 inch chocolate cake recipe instead of the vanilla. It's actually on my cake bucket list because it does sound like it would be amazing. You better send me some…or at least a picture if you try this!
How to make Oreo cake
See this detailed step-by-step post on my favorite 6 inch vanilla cake recipe. I just roughly chopped Oreos and folded them into the batter. To make the color between the cake and the Oreos more contrasted I didn't add all the crumbs that came with chopping the Oreos. I saved them and added them to the frosting but it really doesn't make a significant difference, you can do it either way.
I really wanted to make a Swiss meringue or a french buttercream for this Oreo cake so that it's not too sweet but I ended up going with a classic American frosting for two reasons. First, it was my husband's birthday and he prefers ultra sweet frosting and second, because I just felt that the idea of an Oreo cake would go better with American frosting.
If you do prefer a frosting that is less sweet you can try my french buttercream recipe or use the Swiss meringue buttercream recipe from this this rhubarb vanilla cake but omit the jam and add the Oreos.
Can I make the cake in a different size
I love three layer 6 inch cakes because I think they're so cute but I'm aware that many of you prefer an 8 or a 9 inch cake. You can make this exact cake into 8 or 9 inches but I recommend baking just two layers.
The baking time will be similar, but the best way to test for doneness is once the cake no longer looks wet, gently press your finger on top and if it springs back it' done, if it stays indented, give it a couple more minutes. You can also check for doneness if a toothpick inserted in the center comes out clean.
If you bake three layers in an 8 inch pan, they will be much thinner so check for baking doneness around 25 minutes. You can also double the whole recipe to make a three layer 9 or 10 inch cake!
Can I turn this Oreo cake into cupcakes?
Last time I tested this cake recipe as cupcakes, it didn't turn out quite like I had hoped. If you want to make a cupcake version of this cake, I would recommend doubling my small batch vanilla cupcake recipe and folding 5-6 chopped Oreos into the batter. Follow the bake time of the cupcake recipe +/- 1-2 minutes.
Use the frosting recipe below to generously frost 12 cupcakes.
Can I make this into a sheet cake?
The cake can be baked in a 9×13 inch cake pan for about 40 minutes. Make sure to check for doneness the same way I mentioned above. Use the frosting recipe below to frost the sheet cake.
Assembling the cake
I love a fancy cake with a ton of layers but this Oreo cake is fairly simple to assemble. On top of each layer of cake is a layer of frosting and then a layer of milk (cream) soaked Oreos. In the photo, I used mini Oreos because that's what I had at home but you can use regular size Oreos too.
I un-sandwiched the Oreos so they're not super thick, let them soak for about 10 and then I used the milk/cream for the frosting. It might get a little messy since the Oreos are soggy but just cover it up with a little extra frosting and then layer the next cake on top.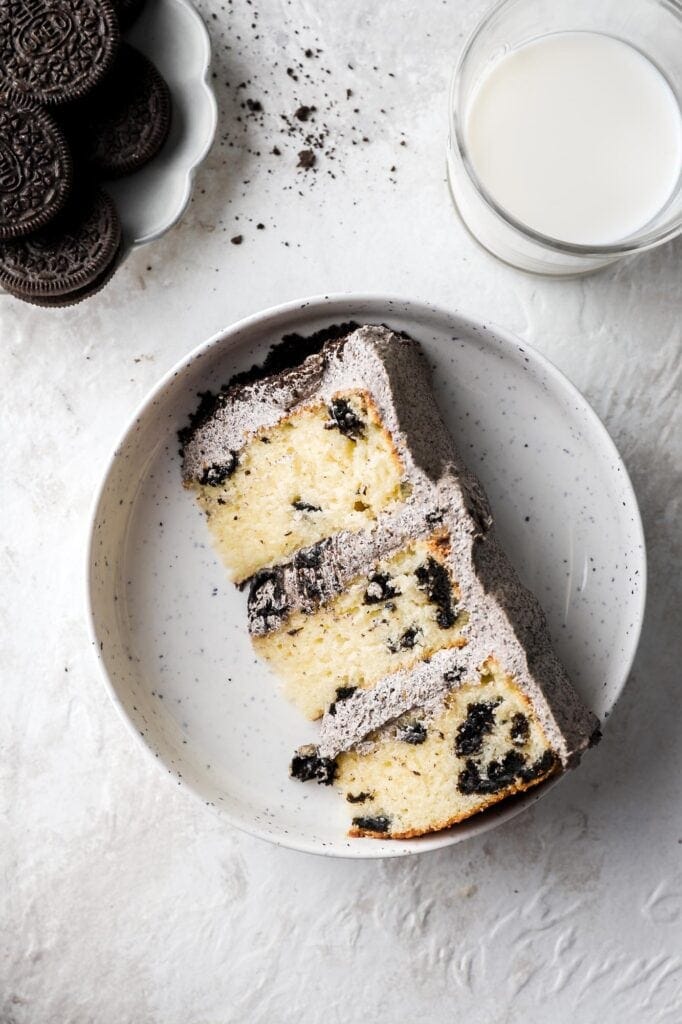 How to decorate Oreo cake
If you don't already know or can't tell, I can't be bothered with piping bags or piping tips. To keep things simple. I chose to do a perfectly smooth side and an unfinished ridge at the top filled with Oreo cookie crumbs.
Put all the frosting on top of the cake and use an offset spatula to work the frosting around it. Then with the cake on a turntable, I spin it while gently scraping the sides with a cake scraper. Instead of cleaning the ridge on the top, I left it unfinished and just crumbled two Oreos on top.
Some other fun ideas are:
a dark or white chocolate drip
placing the Oreo crumbs in a crescent moon shape
piping some frosting poofs on top alternating with whole Oreos
use a unique cake scraper to make a fun design on the sides
add some crushed Oreos to the bottom of the cake as well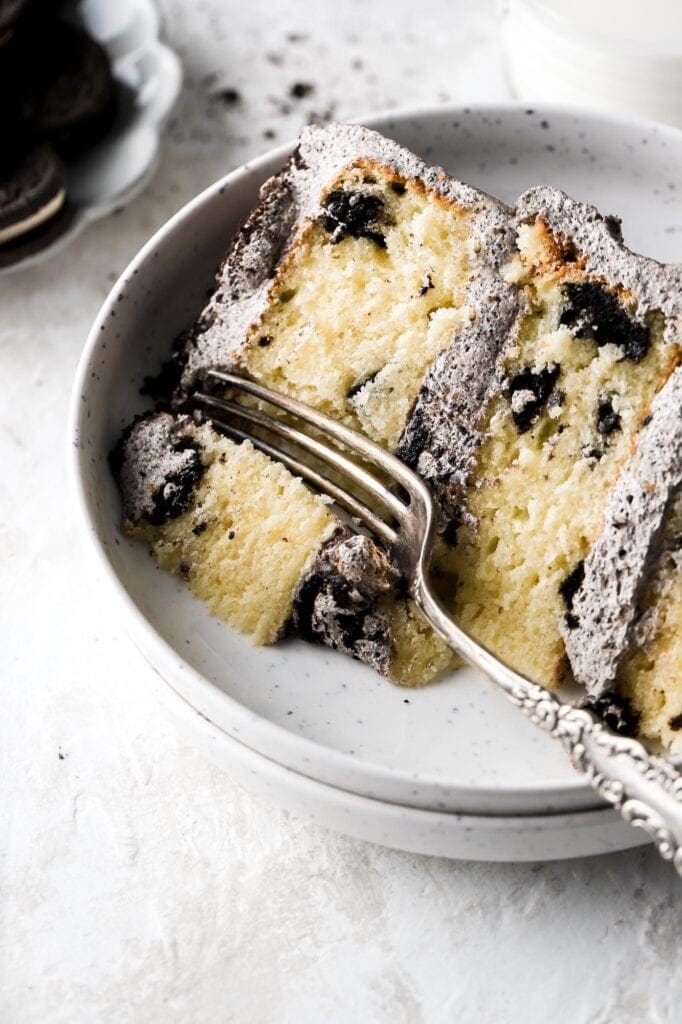 How to store Oreo cake
Before the cake is sliced, it can be stored uncovered. Keep it at room temperature for 1 night or in the fridge for up to a week.
Once the cake has been sliced, cover the open slices with plastic wrap or place them in an airtight container. The cake can be kept at room temperature for 1 night or refrigerated for up to a week.
To freeze the cake, wrap each slice individually with plastic wrap, place them in an airtight container and then place the container in a freezer bag. Freeze for up to 2 months.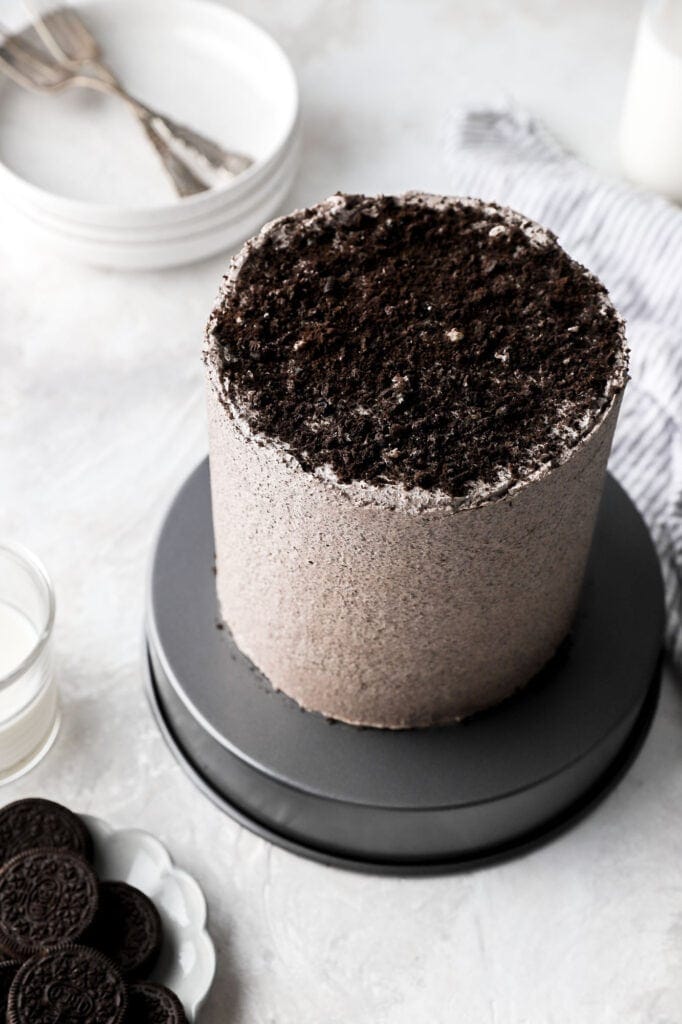 Whether or not you're an Oreo lover, I hope you enjoy this cake. Don't forget to tag me @baranbakery on instagram so I can see it too! If you have any questions just comment down below and leave a review if you've tried the cake. As always, have a blessed day and happy baking!
Love, B
[mv_create key="128″ type="recipe" title="Oreo Cake" thumbnail="https://baranbakery.com/wp-content/uploads/2021/01/Oreo-Cake-19.jpg"]
For similar recipes, check out: