Cakesicles – the modern way to eat cake. Your favorite cake, compacted into a popsicle shape and dipped into melted chocolate coating. A million different flavor combinations and decorating options.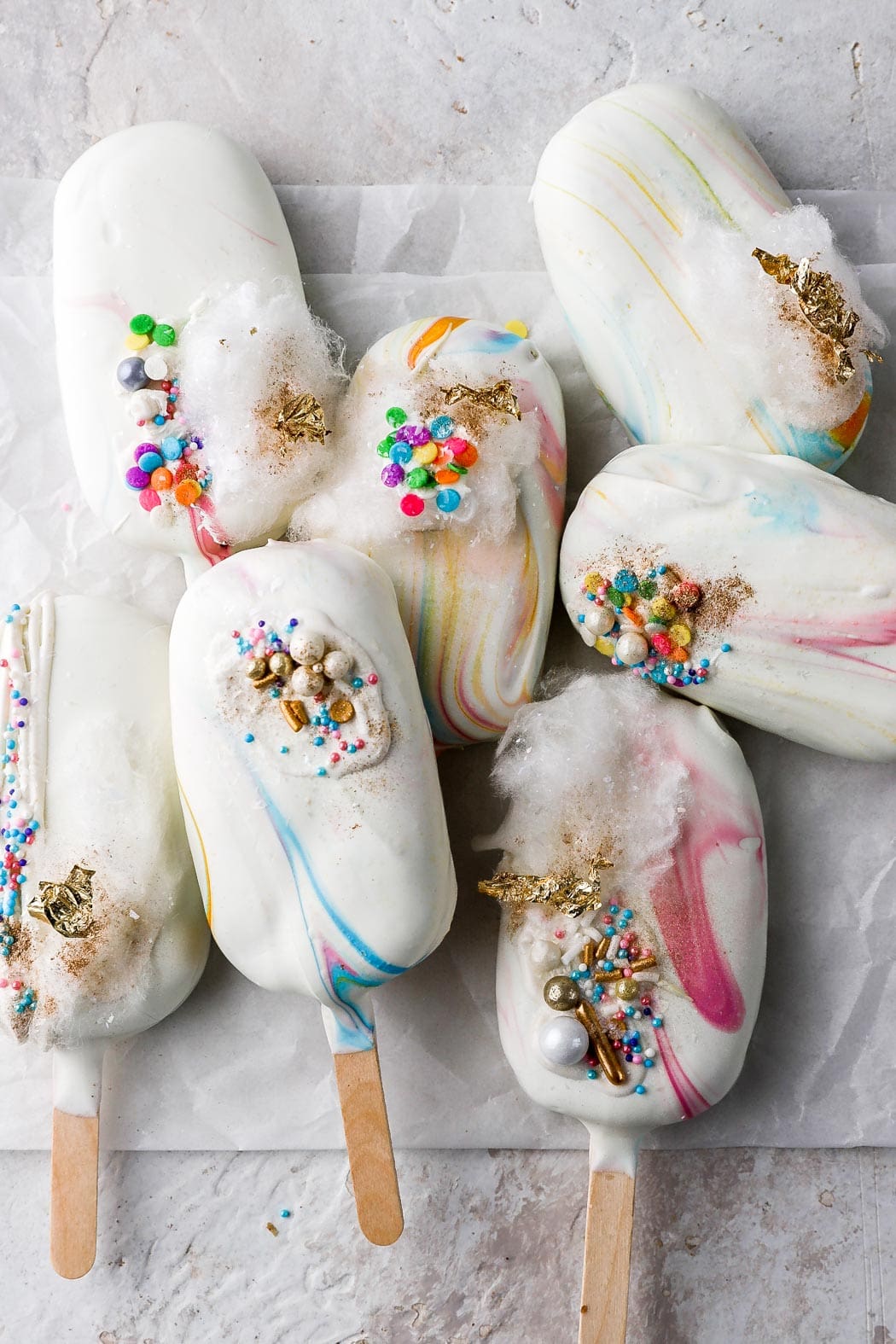 Most bakers have a love/hate relationship with cakesicles. They're such beautiful little treats but honestly, they're a little finicky and can be time consuming. So I took it upon myself to simplify the process so we can all enjoy making these, not just eating them.
I tested different methods of making them, different types of chocolate, different types of food coloring, different consistency of the cake crumbles and frosting ratios, etc. I did it all. That's why this recipe wasn't up in February when it was supposed to be. LOL
One thing to keep in mind with cakesicles is that they require urgency and finesse at the same time. Chocolate usually sets quickly and it can get very messy so practicing will help you work quicker and cleaner resulting in a lovelier final product.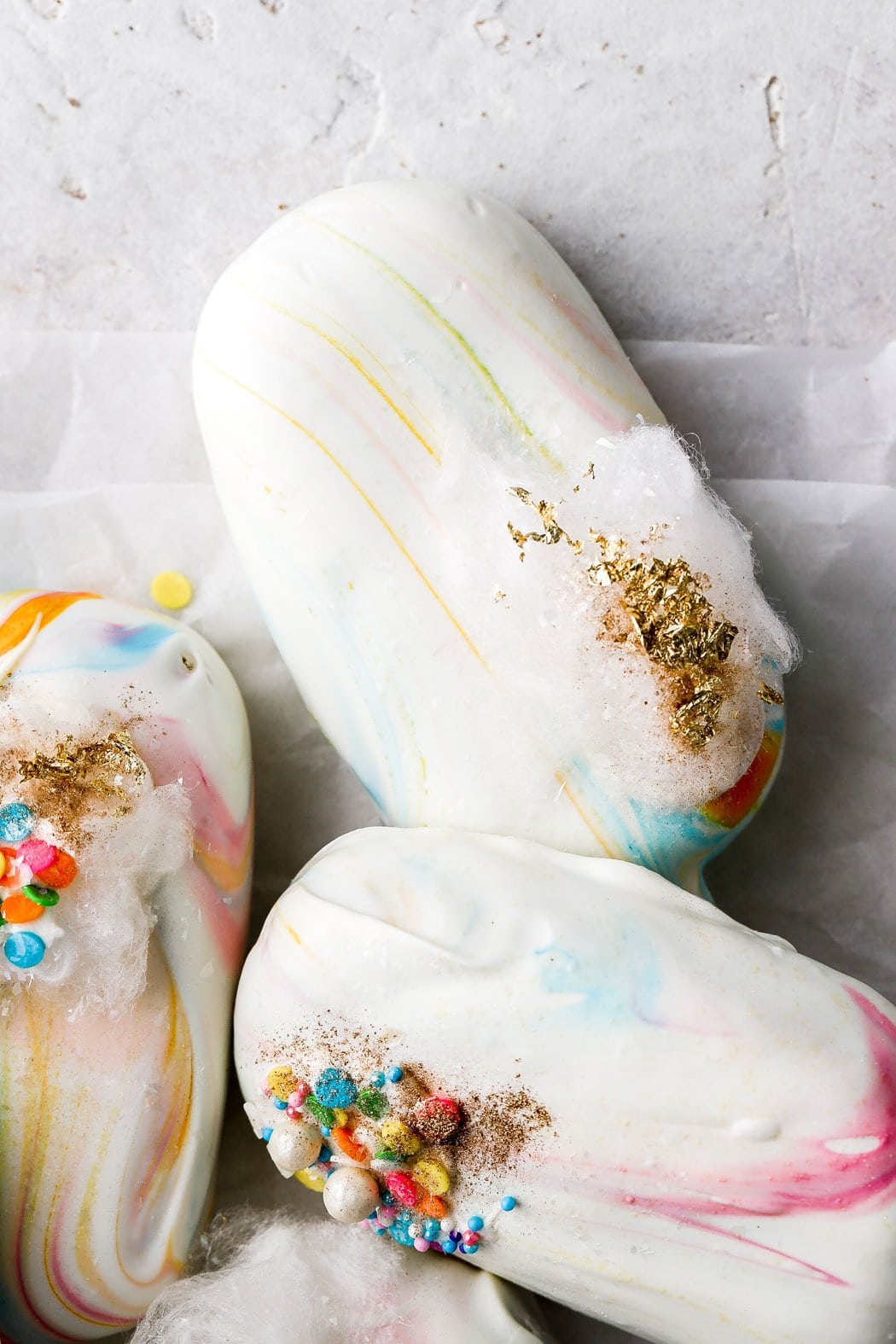 What is a cakesicle?
Cakesicles are basically a cake mixed together and molded into popsicles using a cakesicle mold. They are covered with candy melts or melted chocolate to hold their shape and they are eaten like popsicles.
If you've ever had a cake pop they are essentially the same thing, just bigger and shaped differently.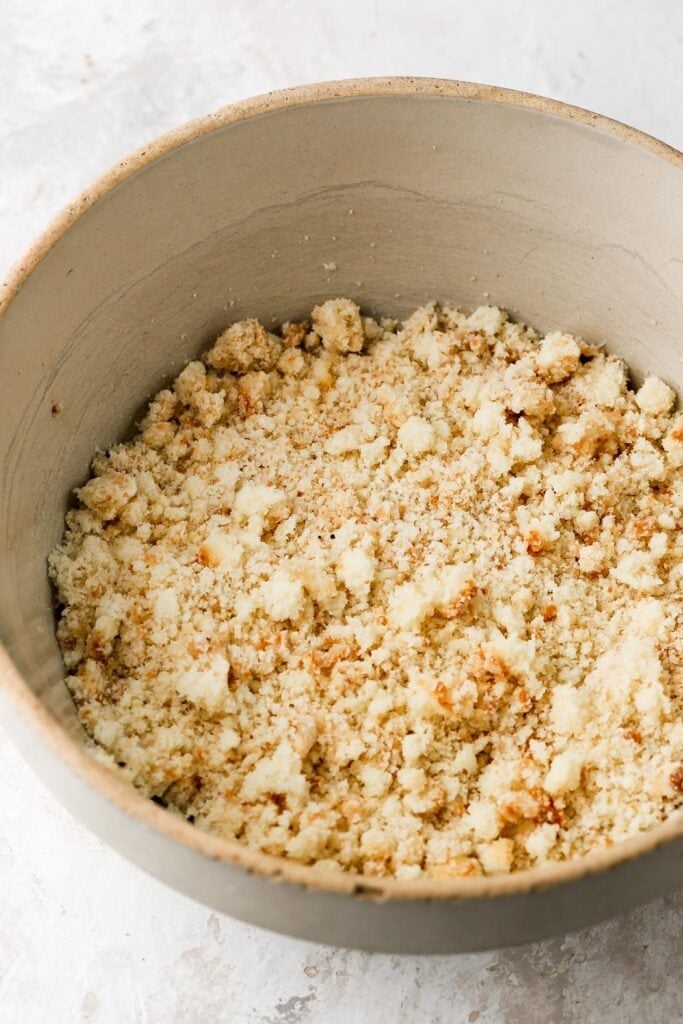 How to make cakesicles
There's a cake center and a chocolate coating. Most recipes call for cake and frosting for the cake filling but I found that it's not necessary to use frosting at all.
Here's why:
The frosting is usually used as a "glue" to hold the cake crumbles together but if you have a moist cake, the cake will stick to itself.
Cakesicles are coated with candy melts or melted chocolate, both of which are usually very sweet. Most people find cake pops/cakesicles too sweet anyway so avoiding the frosting in the cake filling is golden.
If your cake is too dry and you do need to use a "glue", I recommend using a couple Tbsp of milk or cream because this will hydrate the cake enough to make it stick to itself without making it super sweet.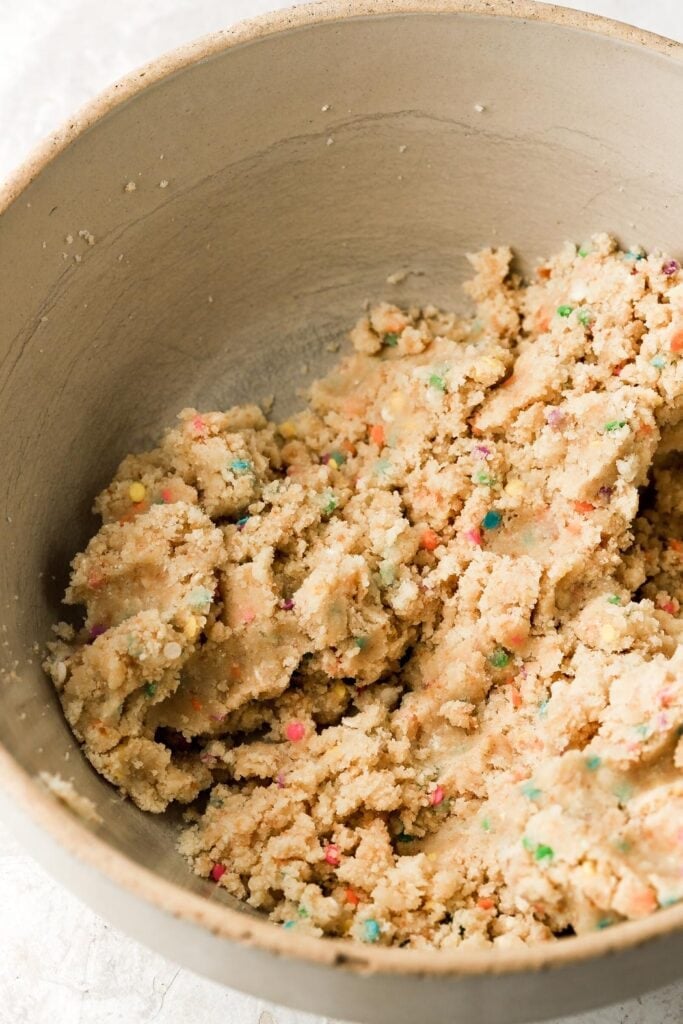 What kind of cake to use
The best part about cakesicles and cake pops is that you can use whatever cake you want! & if that means the scraps that you cut off to level your cakes then yes, go for it!
I used my Vanilla 4 Inch Cake for this part to provide a recipe. It will make 6-10 cakesicles (depending on the method you and how tightly you pack the cake – see method section).
After you bake the cake, let it cool completely. Then crumble it with your hands or a mixer. When you squeeze it in your hand, you want the cake crumbles to stick together, like cookie dough. If it's too crumbly, add 1-2 Tbsp of heavy cream or milk and test it again. Then add more, if needed.
Other great cakes to make cakesicles with are my Small Batch Cupcakes (Chocolate and Vanilla Recipe), these Funfetti Cupcakes , S'mores Cupcakes , Carrot Cake Cupcakes, Brown Butter Cookie Butter Cake, Oreo Cake, and even Classic Banana Bread.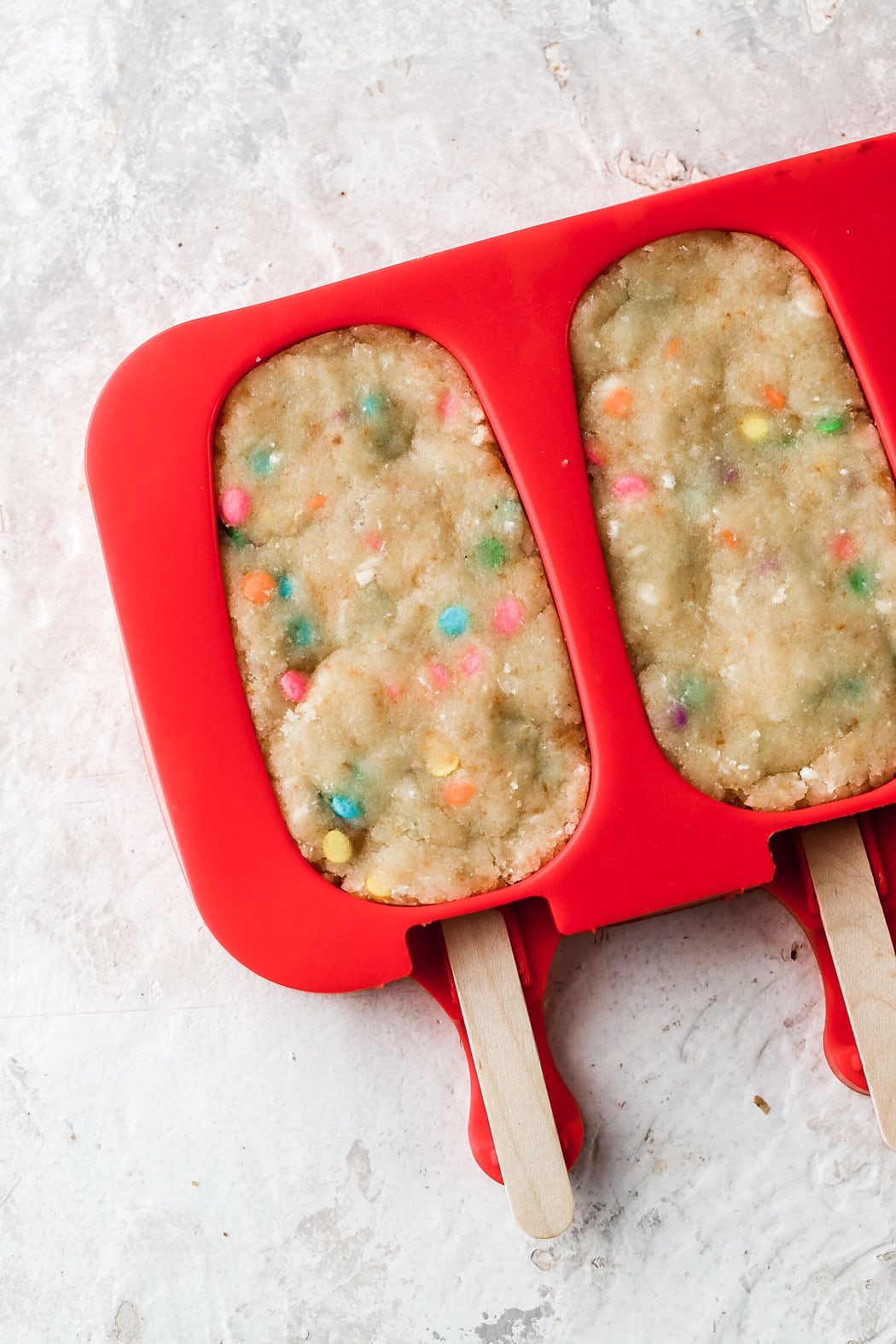 Ingredients:
Flour: I use all-purpose flour because most people have it at home. To prevent over measuring your flour I recommend using a digital scale.
Fat: I like the texture oil gives my cakes and with a cake this size you would have odd measurements if I used butter and oil (like I do in most of my cakes).
Egg: Use room temperature eggs to prevent the batter from curdling. You can place them in hot water for 5-10 minutes if you forget to take them out ahead of time.
Sugar: I generally don't make diet friendly recipes so please don't take out any sugar. It will make your cake tasteless and dry. Consider this your warning if you're thinking about it lol
Liquid: I use both sour cream and milk. If you don't have sour cream you can substitute greek yogurt.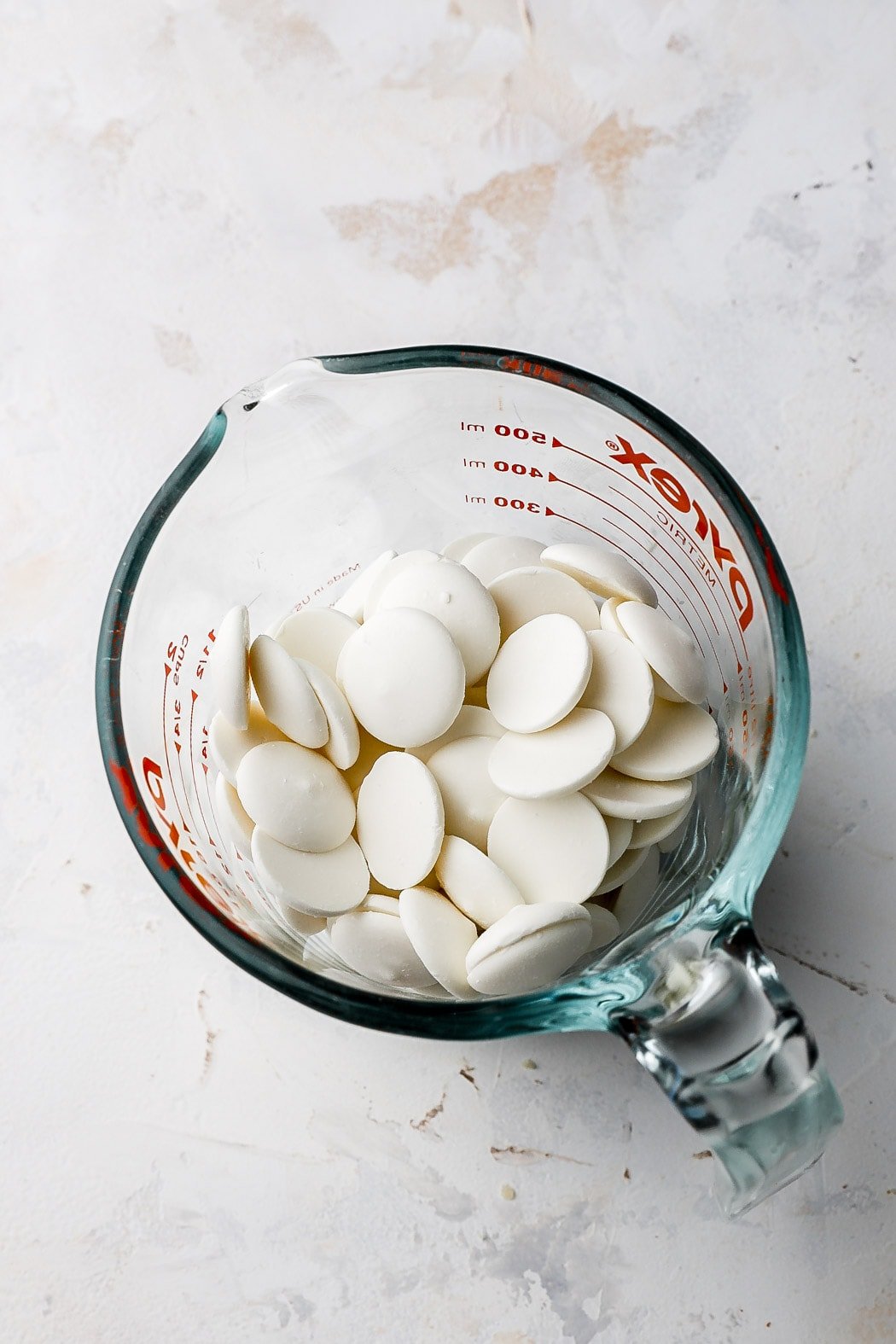 How to assemble cakesicles
There are two ways to assemble cakesicles. For both ways, you will need popsicle molds, candy melts and popsicle sticks.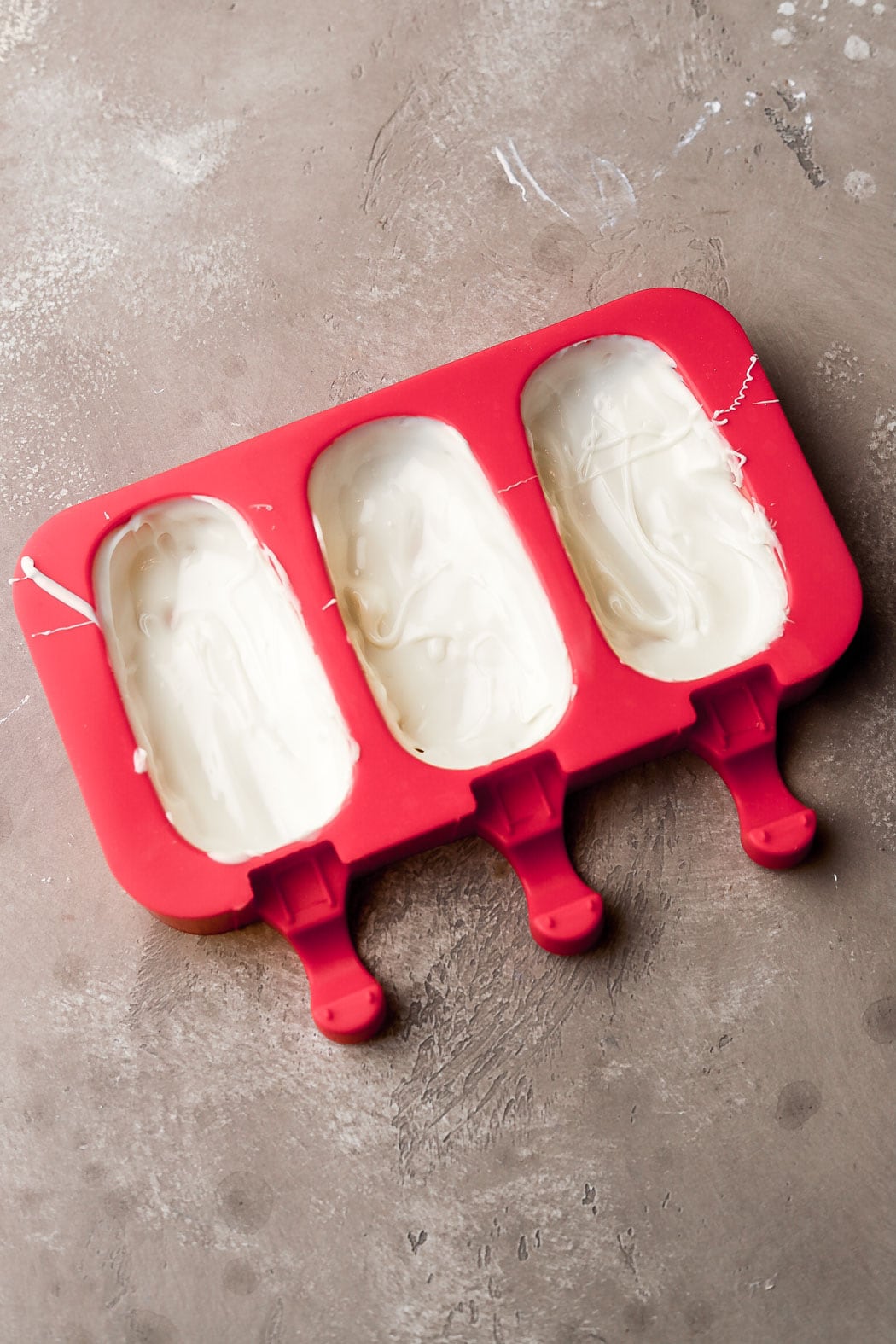 Traditional Method
In the original method, the molds get coated with the melted chocolate/candy melts (a good layer). Then insert the popsicle sticks halfway in the bottom hole and then remove them. This is just so we make room for them later.
Freeze the molds for a few minutes and then pack the molds tightly with the cake crumbles. Insert the popsicle sticks, spread the melted chocolate on top and refrigerate or freeze until they are completely firm.
You can use the leftover candy melts and buttercream to decorate!
This method is a little more foolproof than the next but a little more time consuming as well. It also can be more cost effective since they're technically smaller in size and there may be less wasted chocolate.
However there are a couple things to look out for:
Make sure your molds are squeaky clean. You can literally see every speckle of dust on the chocolate when you remove the cakesicles from the molds.
Make sure to coat the cakesicles with a good layer of melted chocolate or it can snap when you go to remove them.
Dipping Method
This is the method I prefer because I'm lazy and it's quicker lol but I think it's easier to mess up and they don't generally turn out quite as clean looking.
For this method, the cake crumbles get packed really tightly into the popsicle molds. Freeze them until they're solid, then remove them and dip them in melted chocolate.
The reason this method is a little less neat looking is because you have to let the excess chocolate drip off of the cakesicle. Then gently scrape the back so there's even less chocolate so you can set it down on a sheet to dry completely.
With this method, you also run the risk of the dreaded clumpy chocolate. I think some people call this "elephant skin", where the chocolate coating sets clumpy. Refer to FAQs for more on this.
You can see the cakesicles made the traditional method vs the dipping method look different. The traditional method is a little smaller, more sleek, clean and shiny but the dipping method is a little more rustic, chunky and matte.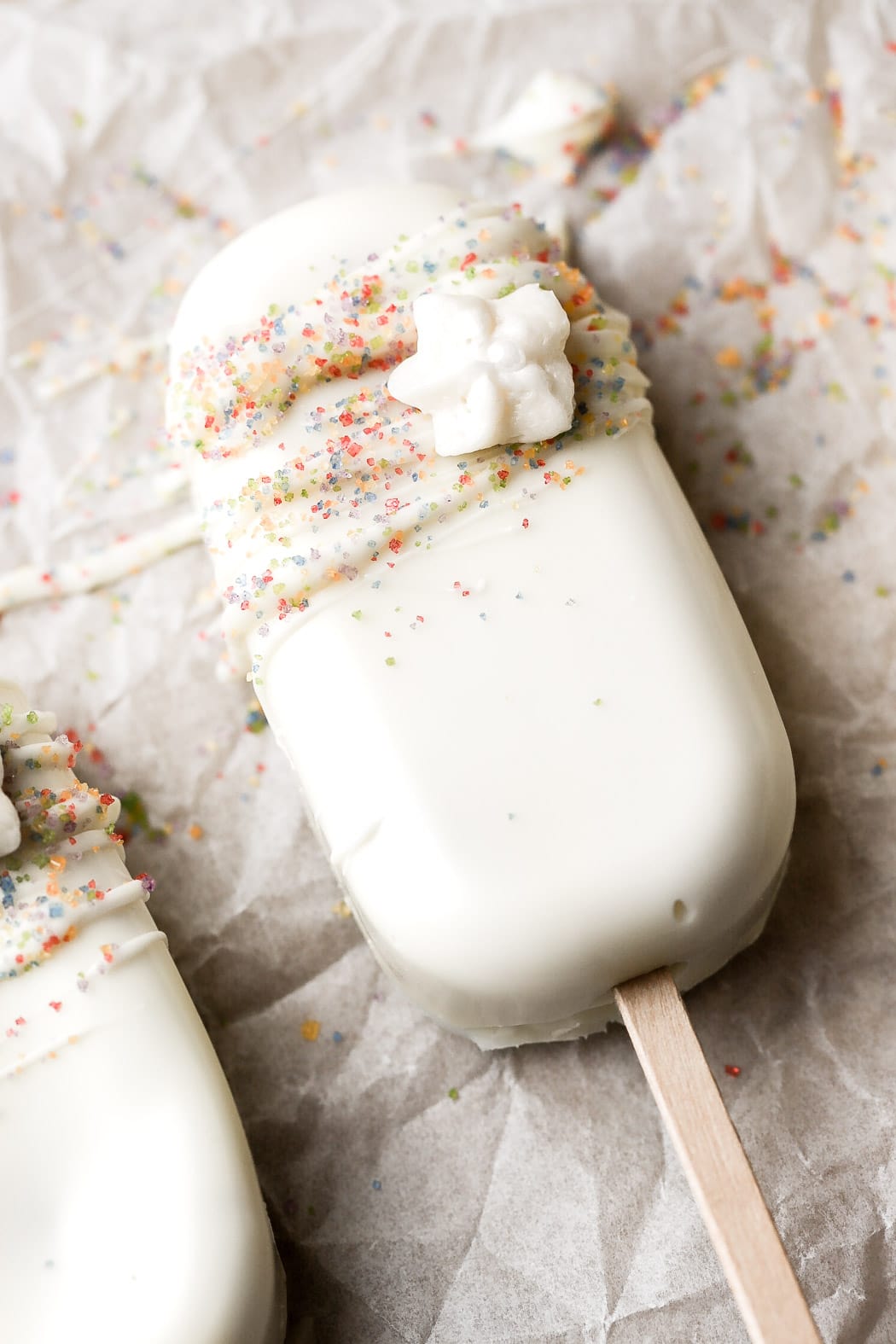 How can I customize my cakesicles?
The possibilities are endless when it comes to customizing cakesicles. To make the cake chocolate, use 2/3 cup (80g) all-purpose flour and 1/4 cup (20g) of cocoa powder, which is the same as my Small-batch Chocolate Cupcakes or:
Add 1 Tbsp cocoa powder or a few ground up Oreos, biscoff cookies, peanuts, ettc. to the cake crumbles. You'll need a little extra cream/milk to balance the dry added dry ingredients.
For other flavors add 1-2 Tbsp jam, peanut butter, caramel, etc. to the cake crumbles instead of the cream (depending on how much you need, you may still need the cream).
Add 1/2-1 tsp of extract to the cake batter before baking or add it afterwards to the crumbles.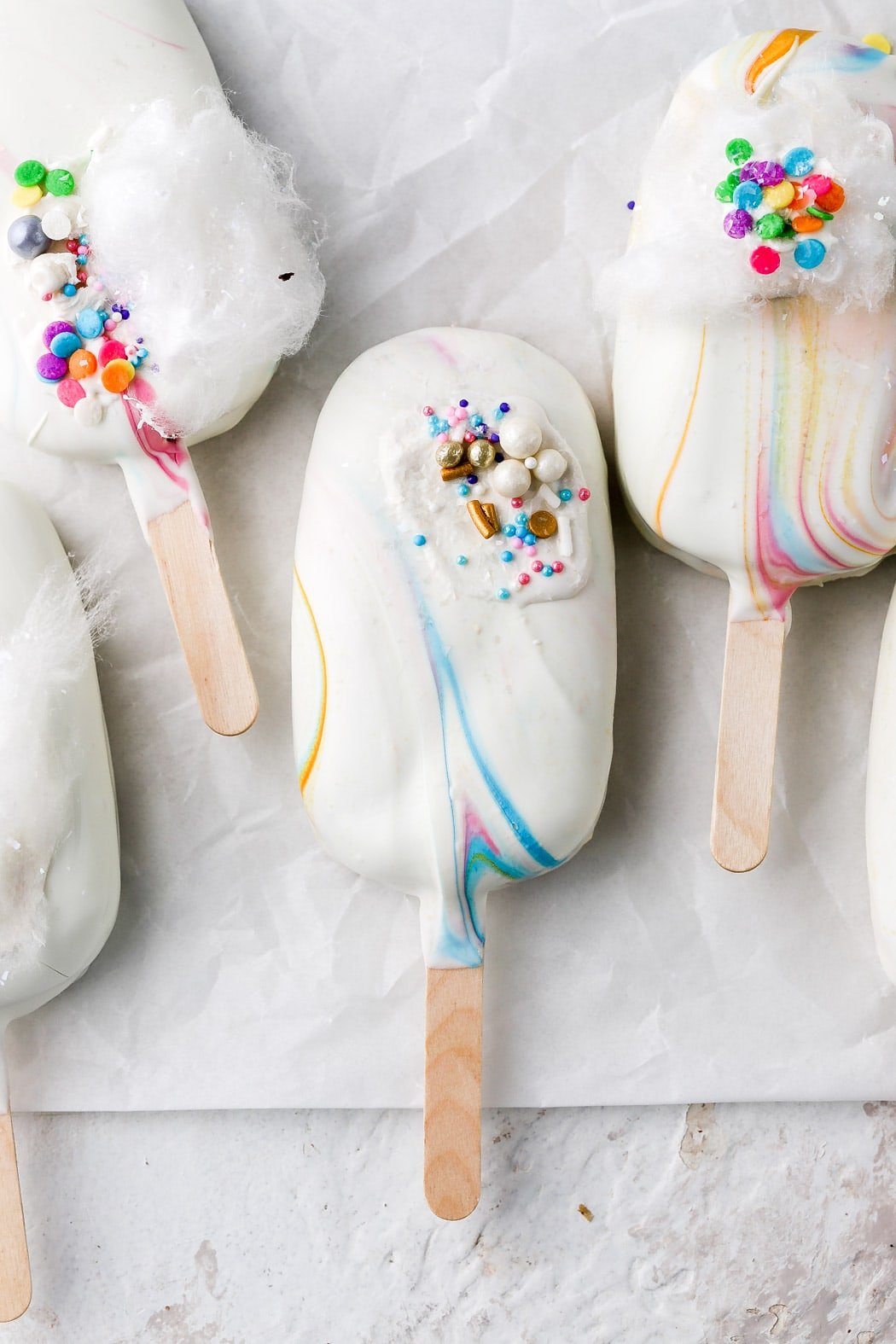 Frequently Asked Questions (FAQs)
Can I double the recipe to make more cakesicles?
Yes you can! If you want more, just double the recipe. I recommend buying more cakesicle molds if you want to make a larger quantity so you don't have to wait for them to freeze before using the mold again.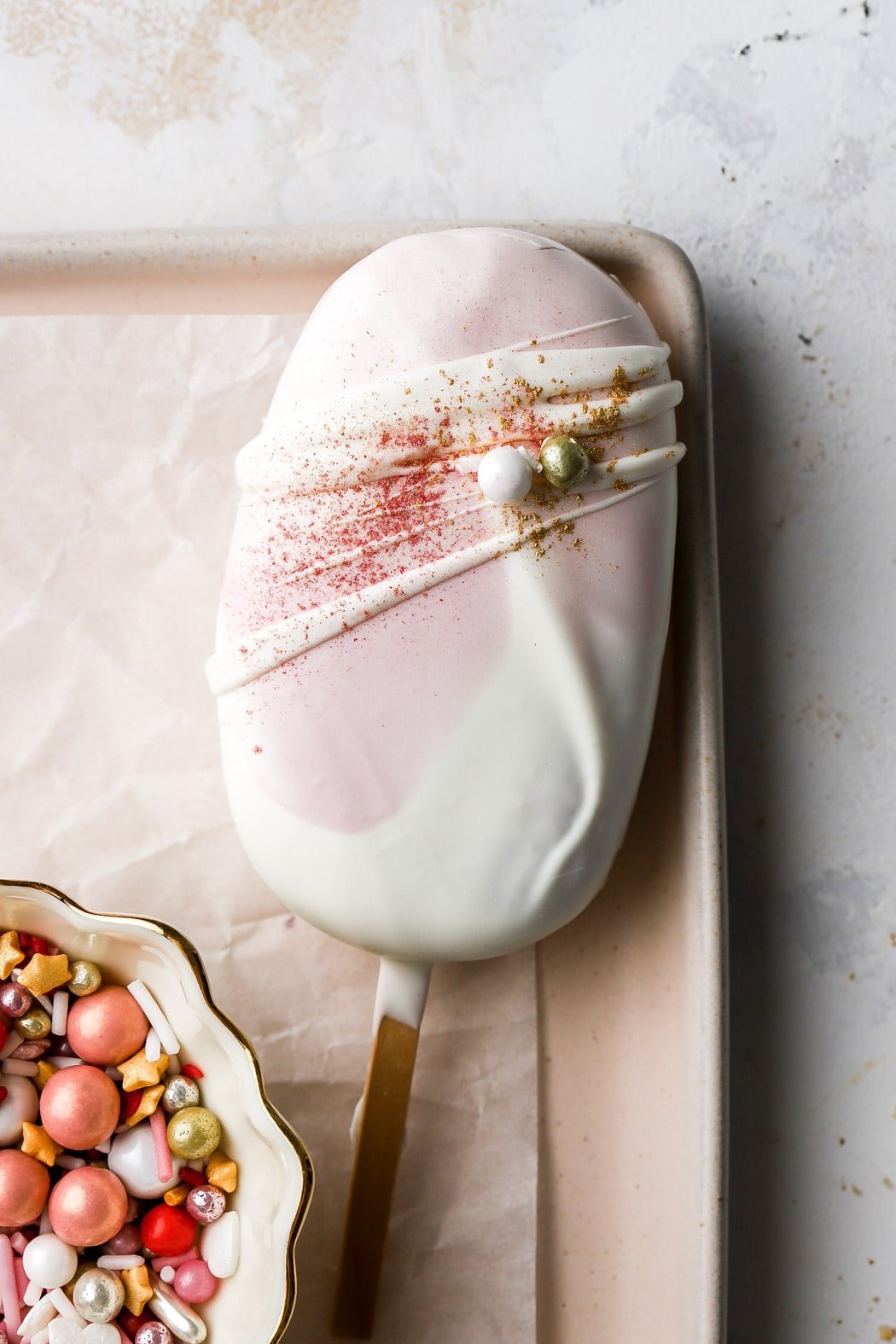 Can I use this recipe to make cake pops?
If you want cake pops, roll the cake mixture into 1.5 inch size balls and place them in the refrigerator or freezer until they are firm. Dip the tip of the popsicle stick in the melted candy melts, stick them halfway into the cake balls, and dip the balls into the candy melts.
I recommend sticking them in a styrofoam box or something that will allow them to sit upright while they harden.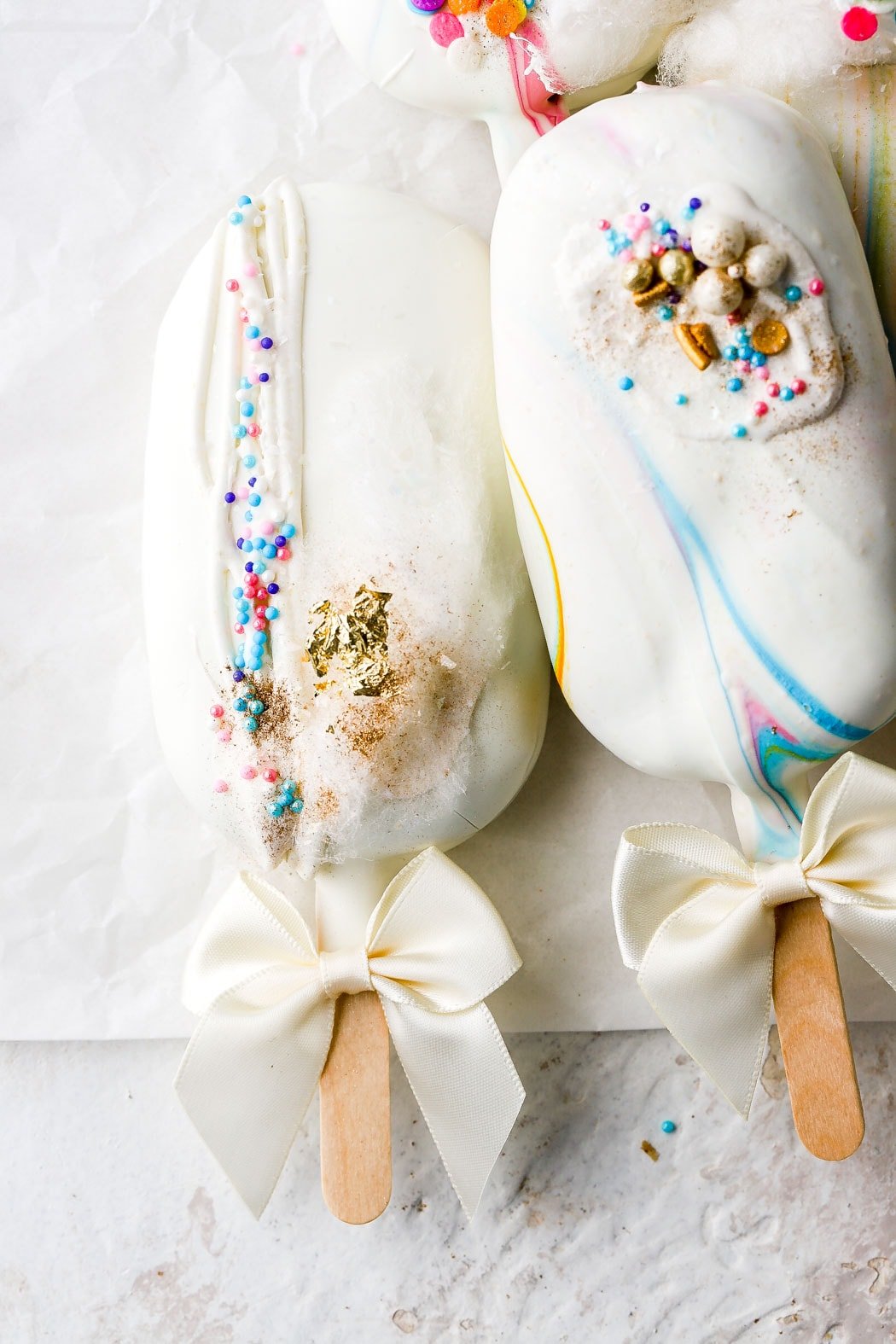 What kind of chocolate should I use?
Different types of chocolates contain different ingredients like stabilizers. There is real chocolate, chocolate chips and candy melts. Candy melts were created for the intention of melting, dipping something in it and setting again. Chocolate chips perform similarly but real chocolate takes longer to set back due to the lack of stabilizers.
For cakesicles, I personally recommend using HIGHLY QUALITY candy melts. I have tested about 10 different brands of chocolate and the most consistent results I get is with Merckens Candy Melts. They taste A LOT better than other ones you'll find at the store and they melt so smooth and quickly, and hardly ever clump. They're also bright white (not yellowish) so they're easily colored.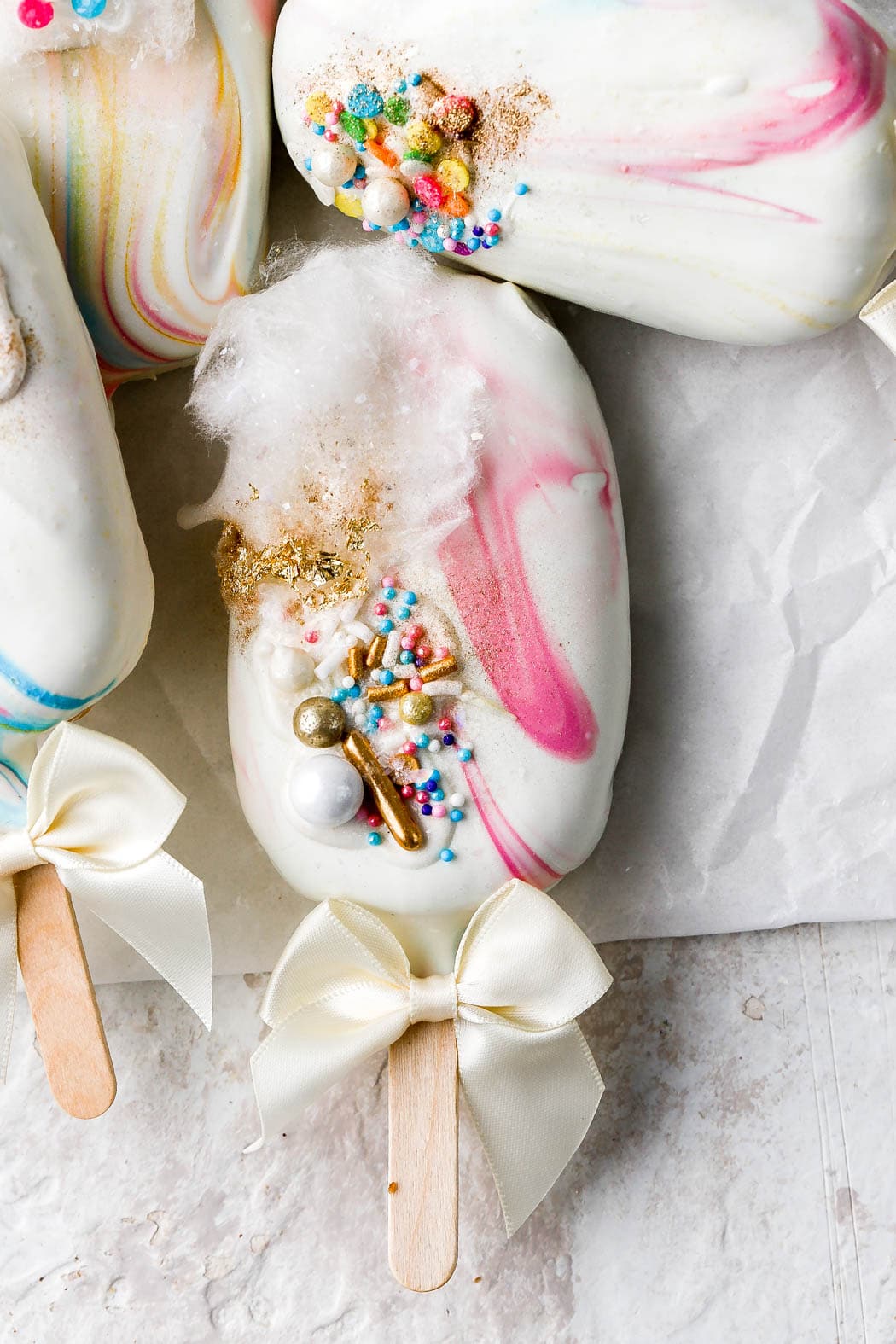 Why is my chocolate clumpy/elephant skin?
Chocolate is very finicky about its temperature. Chocolate doesn't like to be startled so if its temperature changes too quickly, it can clump. This means that either it was heated up too quickly or it was warm and a frozen cakesicle startled it.
I recommend giving it a couple of minutes to rest after it's been melted. Also remove the cakesicles from the freezer a few minutes before dipping it into the chocolate.
It can also clump from moisture. If even one drop of water gets into the bowl or if you're heating it over a double boiler and the water is splashing the bottom of the bowl or if too much steam is coming up around the bowl. Water will usually cause it to also seize completely, not just clump.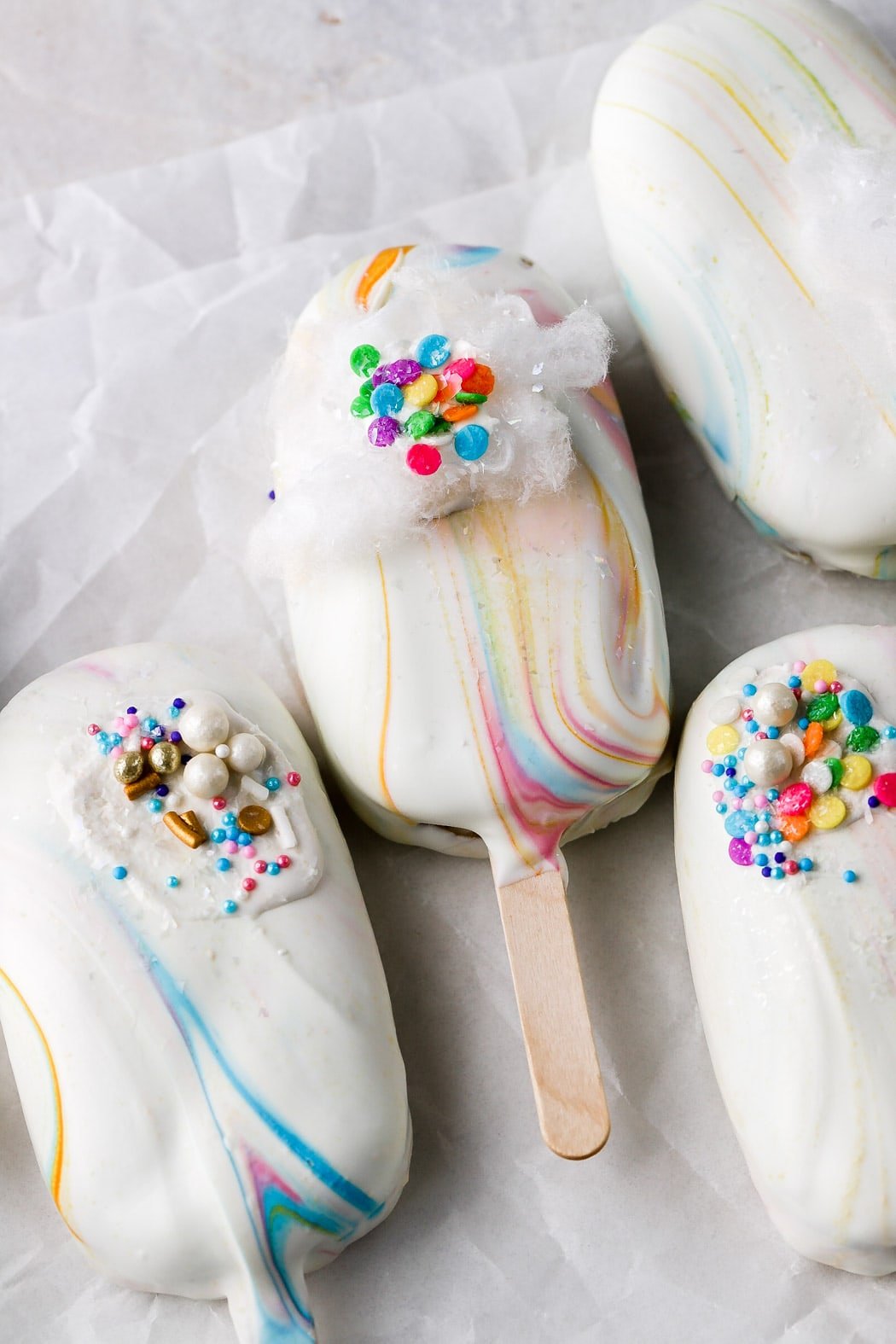 How to fix seized chocolate
Unfortunately chocolate is the worst lol. You can TRY to fix it by adding about 1 teaspoon, at a time, of boiling water to the chocolate and whisk aggressively until it's smooth again.
This will dilute the chocolate of course so it may not work for the cakesicles but at least the chocolate is saved and can be used for other purposes like drizzling.
Can I flavor the chocolate coating?
I highly recommend not adding any flavorings to your melted chocolate/candy melts. Every brand/type of flavoring I've tried to add to any type of melted chocolate melts always makes it seize. I've never had success adding flavorings to hard shell chocolate coating.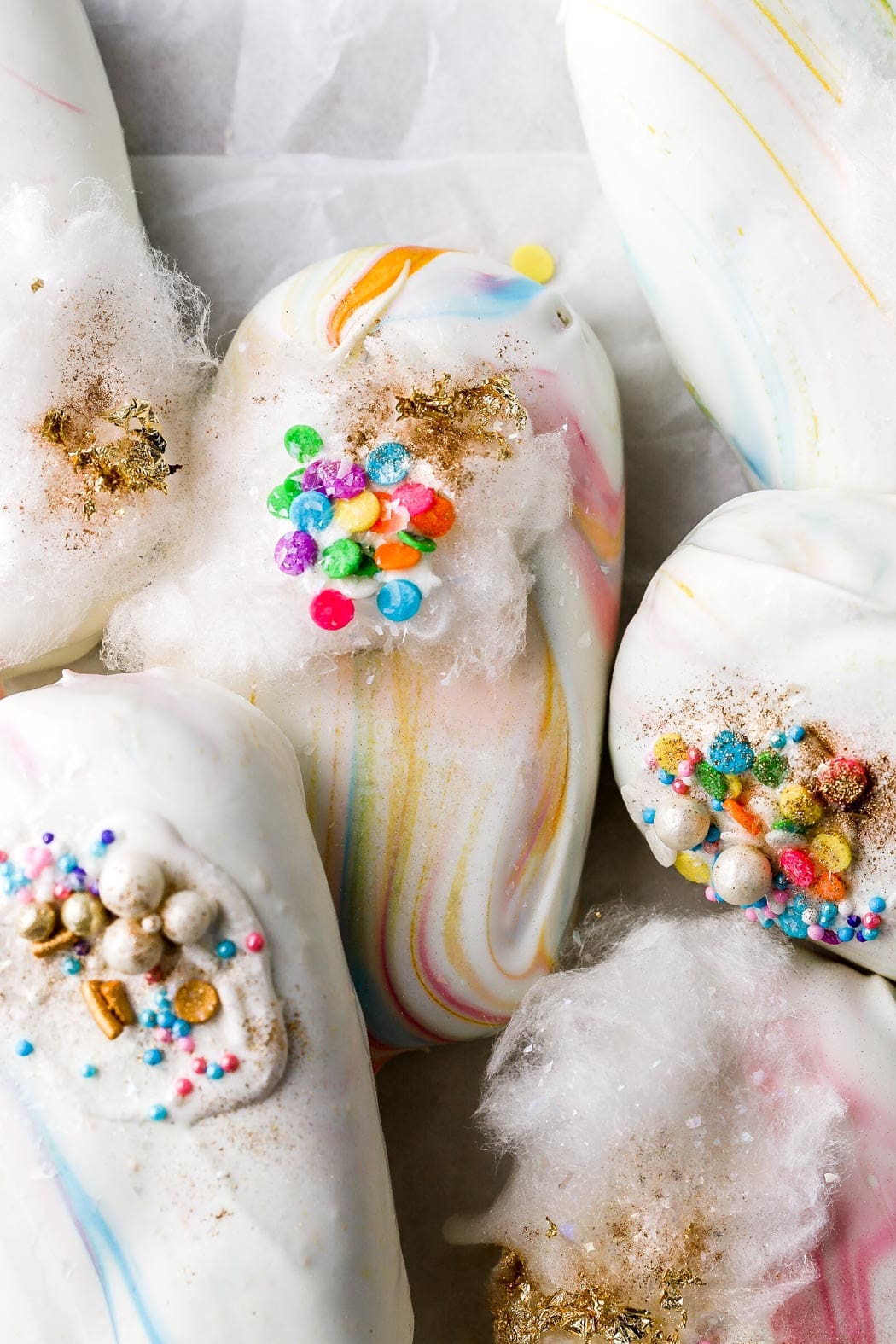 How to store cakesicles
You can store leftover cakesicles in an airtight container at room temperature for 2-3 days, in the fridge for a week, or in the freezer for 2-3 months.
You can also make the cake ahead of time. Allow the cake layers to cool almost to room temperature and when they're still just slightly warm, wrap them in plastic wrap and leave them on the counter overnight or place the plastic wrapped layers in a freezer bag, squeeze out the excess air, and freeze for 2-3 months.
When you are ready to make your cakesicles, remove the layers from the freezer and bring them back to room temperature before crumbling them.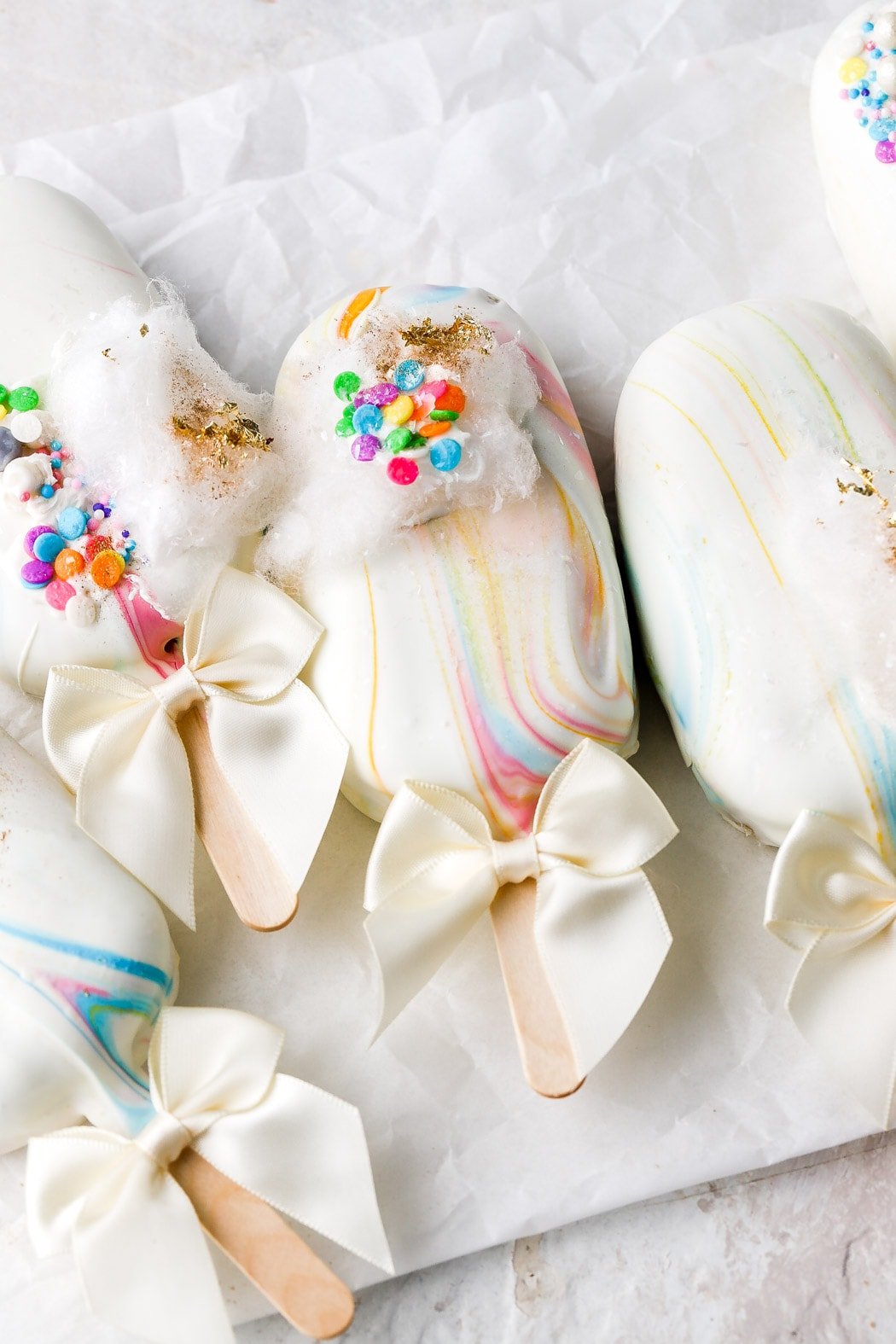 Thanks so much for sticking around. If you have any questions, make sure to ask in the 'comment' section because I can't respond in the 'rating' section!
I'd love to see if you guys make these cakesicles so please make sure to tag me on instagram @baranbakery.
As always, have a blessed day and happy baking!
Love, B
Yield: 7-10 Cakesicles
Cakesicles Recipe
The best way to eat cake is a mixture of your favorite moist vanilla cake and buttercream molded into cakesicles and covered in white chocolate!
Total Time
3 hours
35 minutes
Ingredients
Vanilla Cake
3/4 cup (90g) cups all-purpose flour, spooned and leveled
1 tsp (4g) baking powder
1/4 tsp salt
1/4 cup (60mL) vegetable oil
1/2 cup (100g) granulated sugar
1 large egg, room temperature
1/4 cup (56g) sour cream, room temperature
1 tsp vanilla extract
1/4 cup (60mL) milk, room temperature
1-2 Tbsp (15-30mL) heavy whipping cream
Coating
2 cups Merckens Candy Melts (varies - may need more if you're using the dipping method)
1 tsp coconut oil
Instructions
Vanilla Cake
Preheat the oven to 350F (177C) convection or 325F (163C) conventional and grease and line a 6 inch cake pan.
In a medium bowl, whisk together the flour, baking powder and salt until they're evenly distributed.
Place the oil and the granulated sugar in a large bowl and use an electric mixer with the whisk attachment to beat them, until they're smooth.
Then add the egg and beat on medium speed for 1-2 minutes. Add the sour cream and vanilla extract and beat just until combined.
Add half of the dry ingredients to the wet ingredients, turn the mixer on low speed and then pour in the milk, followed by the rest of the dry ingredients. Mix just until the last streak of flour is combined.
Pour the batter in the cake pan and bake for 35 minutes. When the cake is fully baked it will release itself from the edge of the pan and it will spring back if you press on the center of it.
Flip the cake over onto a tea towel and allow the cakes to cool completely.
Assemble
Once the cake has cooled completely, use your hands or a mixer to crumble it into a large bowl.
Add the 1 Tbsp of heavy cream at a time and mix it in until it's evenly distributed. You want the texture of the cake filling to be able to stick to itself, just like cookie dough.
Traditional Method
In a medium bowl, microwave the Merckens White Chocolate Candy Melts and coconut oil for 20 second intervals, mixing in between each, until the white chocolate is completely smooth.
Spread the melted white chocolate in the cakesicle mold, all the way up the sides. Insert the popsicle sticks into the bottom holes, and then remove them. Freeze the molds for a couple minutes.
Once it's chilled, tightly pack in the cake filling. Insert the popsicle sticks now so they go halfway into the cake filling. Spread a layer of the melted white chocolate on top and refrigerate or freeze until they're completely firm.
Pop them out of their molds and use the leftover white chocolate (gently reheat it) and leftover chocolate to decorate them!
Dipping Method
Pack the cake filling into the popsicle molds as tightly as possible. Insert the popsicle sticks and freeze until the cake is firm.
When the cake is hard enough to remove from the mold, remove it and place it on a tray/sheet and refrigerate or freeze until it's time to dip. Repeat packing the rest of the cake filling into the molds.
When all of the cakesicles are complete, in a medium bowl, microwave the Merckens White Chocolate Candy Melts and coconut oil for 20 second intervals, mixing in between each, until the chocolate is completely smooth.
Let the melted chocolate rest for a minute. (If you want swirls like mine, drop a dot of GEL or OIL based food coloring into the white chocolate and make one swirl with a knife).
Dip each cakesicle into the melted chocolate and let the excess run off, gently scrape the back edge of the excess chocolate and set it down on it's back.
Decorate
Use leftover melted chocolate, buttercream, sprinkles, glitter, cotton candy, gold foil, etc. to decorate.
Notes
This recipe makes 7-10 cakesicles (depending on the method used)
Recommended Products
As an Amazon Associate and member of other affiliate programs, I earn from qualifying purchases.
Nutrition Information:
Yield:
10
Serving Size:
1
Amount Per Serving:
Calories:

436
Total Fat:

25g
Saturated Fat:

12g
Trans Fat:

0g
Unsaturated Fat:

11g
Cholesterol:

37mg
Sodium:

166mg
Carbohydrates:

49g
Fiber:

0g
Sugar:

41g
Protein:

5g
Nutrition information may not be fully accurate.