Classic Banana Bread Recipe
My go to classic banana bread recipe takes 15 minutes to prep, is easily customizable, and is perfectly moist and fluffy without being too gummy!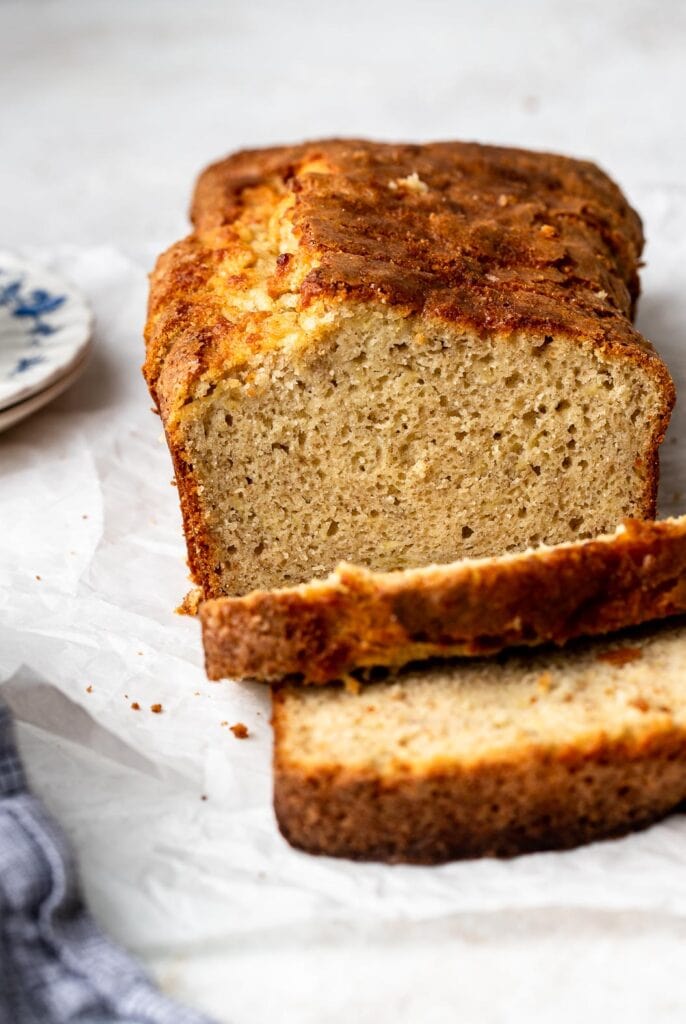 Goals:
First, it has to be moist but not gummy. I've tested some "5 star" recipes out there and they were too gummy for my taste.
Second, I wanted it tall and beautiful. My previous banana bread recipe, which was my favorite in terms of flavor and texture, it was just kind of short and stout. Nothing wrong with that but I just envisioned a tall beautiful, round topped banana bread.
Easy to make and easy to customize – just a bowl and whisk needed and the option to add a cup of chocolate chips or pecans, 2 tsp of chai spice, or a cinnamon streusel, etc.
How to make this classic banana bread recipe
Banana bread is simple to make and uses ingredients most people already have at home. The prep time is 15 minutes and the hardest part is being patient while it bakes!
To make the batter you mash your bananas and mix it with lemon zest and lemon juice. In a separate bowl you combine the rest of your wet ingredients until they are smooth, add in the bananas, then fold in your dry ingredients and transfer the batter to your prepared bread pan.
Then you sprinkle some cinnamon sugar on top and put it in the oven. It's so simple and quick that it probably took me longer to write this then it will take you to make it!
Ingredients:
Bananas: Bananas add a lot of moisture to recipes so it's important to use the proper amount. I used 3 large ripe bananas, which equaled about 400 grams or about 1 ¾ cup when they're fully mashed.

This might also be 4 medium sized bananas. If I'm a little short of 400g, I just add a little water to make up the difference, that's why it's best to use a digital scale when baking.

Eggs: make sure to use large, room temperature eggs. If you're in a pinch, just warm them in hot water for 5-10 minutes.
Sugar: Bananas are sweet, but we still need sugar to give the banana bread the perfect amount of sweetness.
Fat: I use oil instead of butter because I love the texture oil gives my banana bread. It makes it softer and more moist and we're not looking for a buttery flavor here anyway.
Liquid: You can use either sour cream or unsweetened yogurt in this recipe. I used unsweetened greek yogurt to feel semi-healthier when I'm eating this for breakfast or giving some to my kids, lol.
Flour: I just used all-purpose flour in my banana bread because it's what everyone usually has on hand!

I suggest using a digital scale anytime you measure flour. Over measuring flour is the most common baking mistake and can vastly alter your end results.

Baking Powder: I prefer baking powder over baking soda because some readers have notified me that they're unable to find baking soda. And since covid, I haven't really found baking soda as readily available either.
Lemon zest: this is totally optional but omg I don't why love the light lemon flavor in my banana bread. If you're unsure about, start with a little less!
Cinnamon Sugar: I always add a little cinnamon to the batter but now I also add a little cinnamon sugar to the top of the batter. It's totally optional (maybe not part of your January diet lol) but it's sooo good. It gives it a nice sweet, crispy top.
Frequently Asked Questions (FAQs) 
What other flavors can I add to the banana bread? 
The possibilities seem endless when adding flavors and customizing my banana bread. 
Just to name a few options, you can add a salted caramel swirl, caramelized white chocolate ganache swirl, peanut butter swirl or Nutella swirl. . You would need ½ cup total and to add it in, put half the batter in your bread pan, swirl in ¼ cup, add the other half of the batter, and swirl in the rest. 
You can also add chocolate chips (1 cup), a cinnamon swirl, chopped nuts, etc.
How do I know when it's done baking?
I stick a knife all the way down the center (the tallest part) and if it comes out with moist crumbs instead of gummy batter it's done baking.
How to store banana bread
You can keep your banana bread on the counter at room temperature for 3-4 days. If you won't eat it in time, you can freeze it by slicing it and wrapping each slice individually with plastic wrap and then place them in a freezer bag.
It can freeze for 2-3 months. To serve, thaw your bread at room temperature or microwave it on low power (defrost setting) for 30 seconds.
Thanks so much for reading today's post, if you have any questions just comment down below, I'm happy to answer! If you make my favorite banana bread I would love to see the results. Please make sure to tag me @baranbakery on instagram. As always, have a blessed day and happy baking!
Love, B
Yield: 10-12 servings
Classic Banana Bread Recipe
My go to banana bread recipe takes 15 minutes to prep, is easily customizable, and is perfectly moist and soft!
Total Time
2 hours
10 minutes
Ingredients
Banana Bread
3 large ripe bananas (400g or 1 3/4 cup), mashed
1/2 medium lemon, zest and juice *optional
3 large eggs, room temperature
1 cup (200g) granulated sugar
1/2 cup (118mL) vegetable oil
1/4 cup (56g) greek yogurt (or sour cream)
2 1/4 (270g) cups all-purpose flour, spooned and leveled
1 Tbsp baking powder
1 tsp cinnamon
1/2 tsp salt
Cinnamon Sugar
1 Tbsp granulated sugar
1/4 tsp cinnamon
Instructions
Preheat the oven to 350F/177C convection (325F/163C conventional + a few more minutes of bake time). Grease and line a 9"x5" loaf pan with baking spray and parchment paper.
In a medium bowl, mash the bananas until it looks like puree and there are no more large chunks.
Grate lemon zest and squeeze the juice out of one lemon onto the mashed bananas and set it aside.
In a large bowl combine the eggs, sugar, oil and greek yogurt, whisking for 2-3 minutes, until they are completely smooth.
Add in the mashed bananas with the lemon and whisk until it's combined. Fold in the flour, baking powder, cinnamon and salt just until the last streak of flour is combined.
Pour the batter into the prepared loaf pan and sprinkle the cinnamon sugar on top.
Bake for 55-60 minutes, remove from the oven and let it cool in the pan for 30-60 minutes.
Nutrition Information:
Yield:
10
Serving Size:
1
Amount Per Serving:
Calories:

341
Total Fat:

13g
Saturated Fat:

1g
Trans Fat:

0g
Unsaturated Fat:

11g
Cholesterol:

56mg
Sodium:

287mg
Carbohydrates:

52g
Fiber:

2g
Sugar:

25g
Protein:

6g
Nutrition information may not be fully accurate.