Brown Sugar Espresso Cake
Inspired by the Starbucks drink, Brown Sugar Espresso Cake has brown sugar cake layers with espresso buttercream, brown sugar whipped cream, and praline pecans!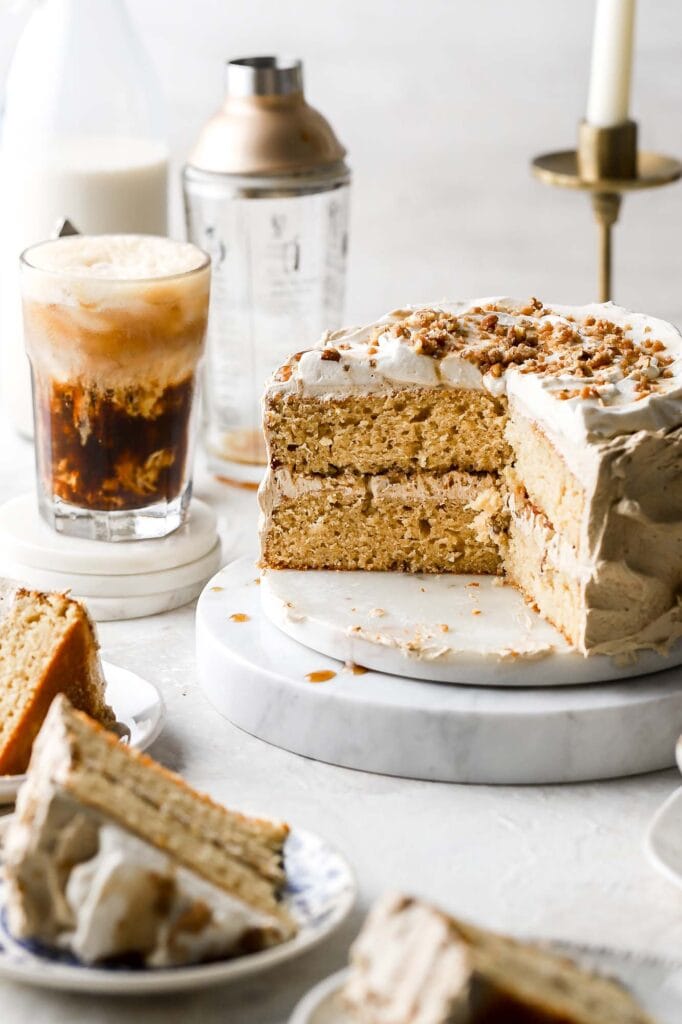 If you've tried the Iced Brown Sugar Oatmilk Shaken Espresso from Starbucks, you would understand why I had to make this Brown Sugar Espresso Cake. It's the perfect fall cake without being basic and it's a nice break from pumpkin. Because if we're being honest, we all need a pumpkin spice break every once in a while.
It took a few tries for me to perfect this espresso cake because I wanted to get the balance between the espresso and brown sugar flavors just right. I think I finally nailed it because this baby was a fan favorite among friends and family!
How to make Brown Sugar Espresso Cake
My Brown Sugar Espresso Cake consists of brown sugar cake layers with espresso ermine buttercream. On top of the frosting layers I added praline pecans. It's not part of the drink but I just felt that the cake needed a little more oomph! After frosting the outside of the cake, I topped it with homemade brown sugar whipped cream and more praline pecans.
Brown Sugar Cake
To make the brown sugar cake, I adapted my Vanilla 6 Inch Cake and replaced the granulated sugar with dark brown sugar. If you don't have dark brown sugar, you can easily replace it with light brown sugar. It won't make much of a difference, except that dark brown sugar will give it slightly more flavor and color.
Ingredients:
All-purpose Flour: All-purpose flour is something most people already have at home which is why I like using it in my cakes. Ain't nobody got time to do any extra shopping around here, and the flavor is just as good as using cake flour.
To get the perfect cake, I HIGHLY recommend using a digital scale, as you will almost always overmeasure the flour.
Fat: I use butter and oil in almost all my cake recipes because butter gives them a better flavor, and the combination of both fats creates the perfect texture. Oil alone tends to produce spongy cakes, and butter alone produces stiffer cakes.
Whole Eggs: I try to stick to whole eggs for 2 main reasons. Number one- the flavor and texture is better. And number two- no one likes to split eggs and have partial eggs taking up space in the fridge. We all convince ourselves we will use it, but let's admit it, we don't always follow through.
Sugar: The difference between dark and light brown sugar is simply the amount of molasses in them. Dark obviously has more and therefore gives the cake a stronger flavor and more color, which is why I used it for this recipe. You can use equal amounts of light brown sugar or granulated sugar but you'll be missing out on all the added flavor from the molasses and the gorgeous dark color.
Liquid: I wanted my espresso cake to have a moist texture and optimal flavor and still stay on brand to Starbucks, so I used sour cream and oat milk. The oatmilk is very subtle so you can substitute it with regular milk. I highly recommend using sour cream but if you have to, equal amounts of greek yogurt is the best substitute.
Espresso Ermine Buttercream
There are so many different types of frostings used for different purposes that you can literally fall down a rabbit hole once you start researching. But lucky for you, I volunteered myself as tribute, fell down the rabbit hole, and crawled out after I wrote my book, Frosted.
I used ermine buttercream for this cake because I could get the most espresso and oatmilk flavor. Other frostings don't have much liquid in them so the flavor of espresso and oatmilk would be minimal. If you're curious to learn more and to see which frostings work best for different desserts, check out my book!
Praline Pecans
Praline Pecans aren't part of the Starbucks latte, but I felt the cake needed some extra texture and flavor. So what better way to add texture during the holiday season than to have praline pecans? I used store bought, but you can make your own, use plain toasted pecans, candied pecans, or skip it all together. If you're feeling super fancy, you can make my Caramelized White Chocolate Nuts, chop them, and use that. You do you boo!
Brown Sugar Whipped Cream
To top off any fancy espresso drink, you need whipped cream. And since this cake is all about the brown sugar syrup, I used it to make the homemade whipped cream!
Store bought whipped cream is also an option if you're in a pinch!
Frequently Asked Questions (FAQs)
What other pans can I use to make this cake?
To make it as a sheet cake, you would use a 9"x13" pan and pour the whole batter in. For a 6 inch cake you would use 6" pans and split the batter in three to make three layers. You can reference my 6 Inch Vanilla Cake post for more information on bake times in different pans because this cake was adapted from that one.
Can I make this into cupcakes?
This isn't the best base recipe for cupcakes, but you can definitely make cupcakes using it. If you do make them, it should make about 23 cupcakes. I suggest using the vanilla cupcakes recipe from my Birthday Cake Cupcakes post if you want the cupcake version. You would just replace the granulated sugar with dark brown sugar.
How to store Brown Sugar Espresso Cake
You can store the cake uncovered at room temperature for 2-3 days, or refrigerated for up to a week. If the cake has been sliced, cover the open slices with plastic wrap or place them in an airtight container. To freeze the cake, store it in an airtight container, place the container in a freezer bag and remove all the excess air. Freeze for up to 2 months.
I've been so excited to share this recipe with you because I was obsessed with the Starbucks drink when it first came out. I love fall baking, but if I'm being honest, pumpkins spice and everything nice wasn't doing it for me this year! This Brown Sugar Espresso Cake was the perfect twist I needed.
Thanks so much for reading today's post and if you have any questions just comment down below- I'm happy to answer! If you make this Brown Sugar Espresso Cake, I would love to see the results, so please make sure to tag me @baranbakery on instagram. And if you want more exclusive recipes you can order my cookbook, Frosted. As always, have a blessed day and happy baking!
Love, B
Yield: 12 slices
Brown Sugar Espresso Cake Recipe
Inspired by Starbucks latest fall drink, Brown Sugar Espresso Cake has brown sugar cake layers with espresso buttercream, brown sugar whipped cream, and praline pecans!
Total Time
5 hours
35 minutes
Ingredients
Espresso Ermine Buttercream
1/4 cup (30g) all-purpose flour, spooned and leveled
3/4 cup (150g) dark brown sugar, lightly packed
1/4 cup (59mL) espresso (2 shots)
1/2 cup (118mL) oat milk
1 cup (227g) unsalted butter, room temperature
1 tsp vanilla extract
Brown Sugar Cake
2 1/4 cup (270g) all-purpose flour, spooned and leveled
1 Tbsp baking powder
1/2 tsp salt
1/4 cup (56g) unsalted butter, room temperature
1/2 cup (118mL) canola oil
1 1/2 cups (300g) dark brown sugar, lightly packed
3 large eggs, room temperature
3/4 cup (170g) sour cream
1 tsp vanilla extract
3/4 cup (177mL) oat milk, room temperature
Brown Sugar Syrup
1/2 cup (100g) dark brown sugar, lightly packed
1/4 cup (18mL) water
1/4 tsp cinnamon
Toppings
1 cup (237mL) of heavy whipping cream, cold
3 Tbsp (45mL) brown sugar syrup
1/2 cup pralined pecans, chopped (store-bought)
Instructions
Espresso Buttercream
In a small saucepan combine the flour and dark brown sugar. Slowly add in the espresso and oat milk, while whisking continuously so you don't get clumps.
Once everything is combined, place the saucepan over medium-low heat and whisk continuously but slowly.
Once the mixture begins to thicken and stick to the bottom of the pan, whisk quicker. Cook the mixture until it's thick enough to coat the back of a spoon, between 5-10 minutes.
Remove from the heat, pour into an airtight container and allow to cool completely to room temperature, about a couple hours (you can also put it in an ice bath but continue to whisk so it cools evenly and doesn't get clumpy). Set aside.
Brown Sugar Cake
Preheat the oven to 350F/177C convection (325F/163C conventional) and grease and line two 8 inch cake pans.
In a medium bowl, whisk together the flour, baking powder and salt until they're evenly distributed.
Place the room temperature butter, the oil and the dark brown sugar in a large bowl and use an electric mixer with the whisk attachment to beat them for 2 minutes. Add the eggs, one at a time, beating on medium speed until each egg is fully incorporated. Add the sour cream and vanilla extract and beat just until combined.
Add half of the dry ingredients to the batter, turn the mixer on low speed and then pour in the milk, followed by the rest of the dry ingredients.
Distribute the batter evenly among the two cake pans, and bake for 30-35 minutes. When the cake is fully baked it will release itself from the edge of the pan and it will spring back if you press on the center of it.
Allow the cake to cool completely before frosting.
Brown Sugar Syrup
Place the brown sugar, water and cinnamon in a small saucepan over medium heat, stirring occasionally for about 3 minutes, until it comes to a boil.
Once the sauce comes to a boil, stir frequently for 2 minutes and then remove it from the heat and pour it into a heat safe jar. Let it cool completely to room temperature.
Finish Buttercream
To finish the frosting, place the 1 cup of butter in the bowl of a stand mixer and with the whisk attachment, beat at full speed for at least 5 minutes, until the butter is fluffy and pale yellow.
Reduce the speed to medium and add in a couple Tbsp of the cooled mixture at a time, allowing it to combine with the butter before adding more. Scrape the edge of the bowl as needed and once it's all combined, add in the vanilla extract and beat it at full speed for another minute.
Assemble
Use 1/3 of the buttercream to frost the first layer of cake. Top with a handful of pralined pecans and a drizzle of the brown sugar syrup. Place the second layer on top and use the rest of the buttercream to frost the outside of the cake and then make the whipped cream.
Using an electric mixer with a whisk attachment, beat the heavy whipping cream on low-medium speed for 1-2 minutes until it begins to thicken. Increase the speed to medium-high and beat until soft peaks form. Add in the brown sugar syrup and continue beating just until stiff peaks begin to form.
Spread the whipped cream on top of the frosted cake and top with more pralined pecans. Enjoy!
Recommended Products
As an Amazon Associate and member of other affiliate programs, I earn from qualifying purchases.
Nutrition Information:
Yield:
12
Serving Size:
1
Amount Per Serving:
Calories:

692
Total Fat:

43g
Saturated Fat:

19g
Trans Fat:

0g
Unsaturated Fat:

21g
Cholesterol:

128mg
Sodium:

268mg
Carbohydrates:

74g
Fiber:

1g
Sugar:

50g
Protein:

6g
Nutrition information may not be fully accurate.