Banana Fluffernutter Cake
Banana Fluffernutter Cake is a banana cake with marshmallow fluff swirls and a peanut butter Swiss meringue buttercream… with more marshmallow fluff swirls and some lightly salted peanuts, of course!
Banana cake with peanut butter and marshmallows can only mean one thing, banana fluffernutter cake is this week's banana inspired recipe!
I didn't grow up eating fluffernutter because if I wanted something sweet there was always homemade cake in the fridge (thanks mom!). When I finally tried it as an adult, the only thing that made a fluffernutter sandwich better was bananas.
How to make Banana Fluffernutter Cake
Fluffernutter is a sandwich that consists of peanut butter and marshmallow fluff. To make a banana cake version I made a one layer banana cake using my Chocolate Chip Banana Cake recipe minus the chocolate chips.
After I made the batter I swirled in marshmallow fluff. Then it gets frosted with a peanut butter buttercream, more marshmallow fluff on top. The lightly salted peanuts are optional but highly recommended.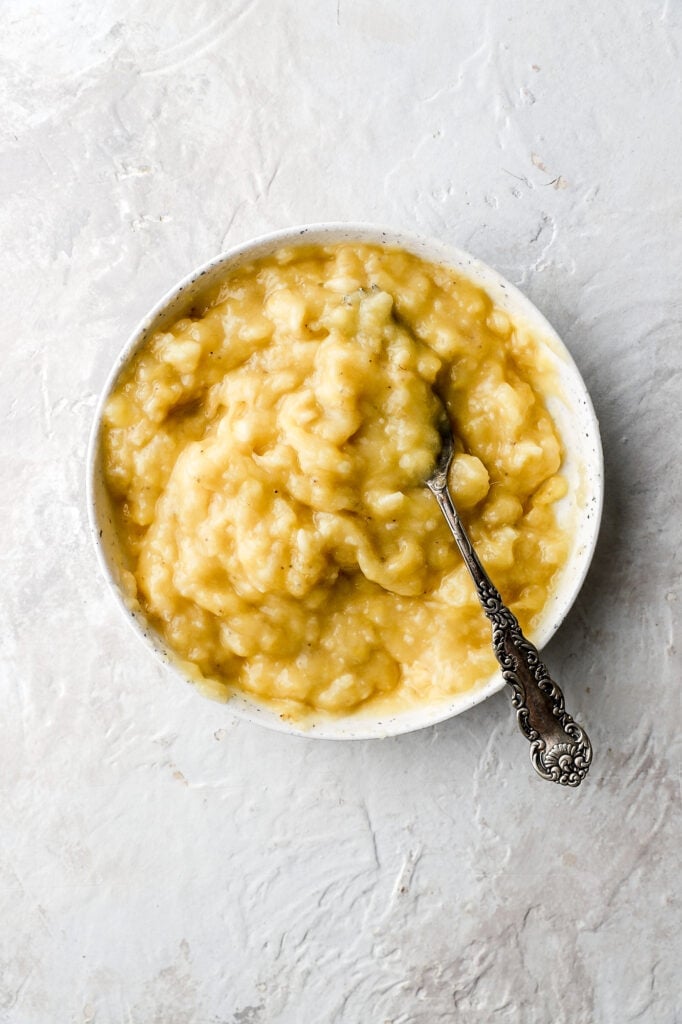 Banana Cake
A major part of banana cake is the bananas…shocker. Not all bananas are the same size so I highly recommend weighing the bananas after they're peeled. I suggest using a digital scale for all baking measurements and especially for the bananas and flour. 
375g is about 3 medium-large bananas, and if you have a little under (like 350-360g) you can add a couple tablespoons of water. If you don't have a scale you can also measure it by cup. It's about 1 ½ cups when it's all mashed and if you have a little under you can add water.
Ingredients:
Bananas: This one is pretty obvious….you can't have banana cake without bananas. See above for measuring accurately.
Flour: I suggest using a digital scale to avoid common mistakes like over measuring, which can ruin your cake.
Sugar: I used light brown sugar because I prefer the flavor it gave the cake with the peanut butter and marshmallows but this recipe also works with granulated sugar.
Egg: When baking, it's best to use room temperature eggs. If you don't take them out of the fridge in time to get to room temperature, you can run them under warm water for a few minutes.
Fat: I just use vegetable oil but any neutral oil will work fine. I've also used olive oil but it does give off a bit of flavor.
Liquid: I use Greek yogurt but if you don't have any you can use sour cream as a 1:1 replacement.
Peanut Butter Swiss Meringue Buttercream
I went with a Swiss meringue buttercream because I love how silky it is. It's basically made using a homemade marshmallow fluff and then you add butter, so I thought it was fitting. It's also less sweet than other frostings and balances out the flavor of the extra marshmallow fluff well.
If you want to try a different frosting I recommend one batch of French Buttercream or one batch of American Buttercream. My book Frosted is a great place to start if you love experimenting with different frostings. It has 13 base recipes and 60 ways to flavor them and use them in different desserts.
Frequently Asked Questions (FAQs)
Can I make these into cupcakes?
You can make 24 cupcakes
Three layer 6 inch cake
Two layer 8 or 9 inch cake from this recipe
You can also half it and make 12 cupcakes
How ripe should the bananas be?
Ideally you want the peel to be mostly brown and the banana to be soft and "mushy" but not brown inside. As long as it has a good amount of brown spots it will work just fine. I don't recommend yellow bananas and definitely not green, lol.
How to ripen bananas
If you don't have brown bananas you can cheat and quickly ripen your bananas in the oven. Place them on a cookie sheet in an oven preheated to 300F (149C) and bake them for 10-15 minutes, until they've browned. Let them cool and then use accordingly.
How to store Banana Fluffernutter Cake
You can store the frosted cake, covered, at room temperature for 2-3 days. If it's sliced, cover the cut side with plastic wrap or a cake dome. If you want to refrigerate the cake you can store it covered for up to a week.
You can also store it in the freezer for up to 2 months. To freeze it, slice the cake and place the slices in an airtight container. Then place the container in a freezer bag, squeezing out all the excess air.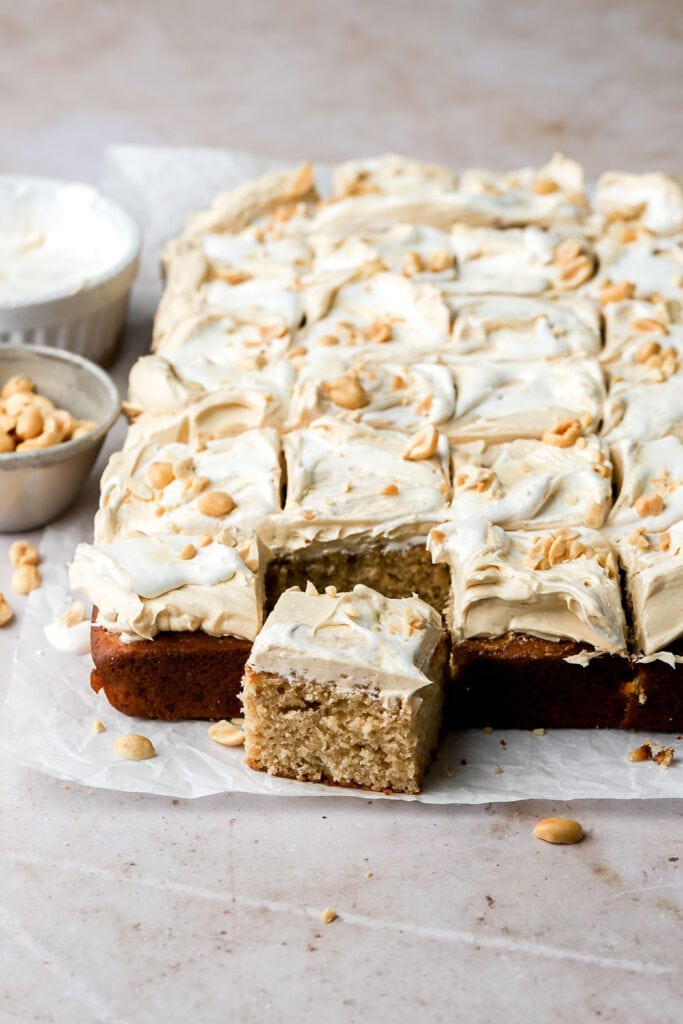 Thanks so much for reading today's post! If you have any questions just comment down below, I'm happy to answer! If you make this banana fluffernutter cake I would love to see the results, so please make sure to tag me @baranbakery on instagram and order my cookbook, Frosted. As always, have a blessed day and happy baking!
Love, B
Yield: 24 slices
Banana Fluffernutter Cake Recipe
Banana Fluffernutter Cake is banana cake with marshmallow fluff swirls and a peanut butter Swiss meringue buttercream.
Total Time
3 hours
5 minutes
Ingredients
Banana Cake
2 1/2 cups (300g) all-purpose flour, spooned and leveled
1 Tbsp (10g) baking powder
1/2 tsp salt
1 tsp cinnamon
1 1/2 cups (300g) light brown sugar, lightly packed
2 large eggs, room temperature
1/2 cup (113g) greek yogurt
1/2 cup (118mL) vegetable oil
1 tsp vanilla extract
3 large (375g or 1 1/2 cups) ripe bananas, mashed (add water to make up the difference to 375g)
1/2 cup (60g) marshmallow fluff
Peanut Butter Buttercream
3/4 cup (150g) light brown sugar, lightly packed
4 large egg whites, room temperature
1 cup (227g) unsalted butter, room temperature
2 tsp vanilla bean paste or vanilla extract
1/2 cup (132g) creamy peanut butter
1/2 cup (60g) marshmallow fluff
handful of lightly salted peanuts, roughly chopped
Instructions
Banana Cake
Preheat the oven to 350F/177C convection (325F/163C conventional). Grease and line a 9x13x2-inch (33x23x6cm) cake pan with baking spray and parchment paper.
In a medium bowl, whisk together the flour, baking powder, salt and cinnamon. Set aside.
In a large bowl, whisk together the brown sugar and eggs until they're smooth. Add the greek yogurt, oil and vanilla extract, whisking them until they're completely combined.
Add the bananas to the mixture and mix until they're fully combined and then fold in the dry ingredients just until the last streak of flour is incorporated.
Slightly heat the marshmallow fluff in the microwave so that it's a more runny consistency.
Pour the batter into the prepared pan and dollop the marshmallow fluff on top. Use a knife to swirl it back and forth and then bake for 35 minutes.
Remove it from the oven and allow it to cool for at least 30 minutes before removing it from the pan to cool completely.
Peanut Butter Buttercream
Make one batch of Swiss Meringue Buttercream using just 3/4 cup of brown sugar in place of the 1 cup of granulated sugar.
Once the buttercream is done, add in the vanilla and peanut butter and mix at medium-high speed, just until it's combined.
Spread the buttercream onto the cooled cake and then gently heat the marshmallow fluff again until it's a little more of a runny consistency.
Dollop it on top of the buttercream and use an offset spatula to smear it around slightly.
Top with peanuts and enjoy!
Nutrition Information:
Yield:
24
Serving Size:
1
Amount Per Serving:
Calories:

289
Total Fat:

15g
Saturated Fat:

6g
Trans Fat:

0g
Unsaturated Fat:

9g
Cholesterol:

36mg
Sodium:

161mg
Carbohydrates:

35g
Fiber:

1g
Sugar:

21g
Protein:

4g
Nutrition information may not be fully accurate.