Light and fluffy white chocolate raspberry loaf cake studded with tart raspberries and topped with a white chocolate glaze!
If I'm being totally honest, I'm more of a chocolate dessert lover and less of a fruity dessert lover BUT this white chocolate and raspberry loaf cake has got me rethinking my life choices! Lol, everyone knows that super sweet white chocolate is a match made in heaven with tart raspberries so putting them in a cake and baking it in a loaf pan to call it breakfast is just expected.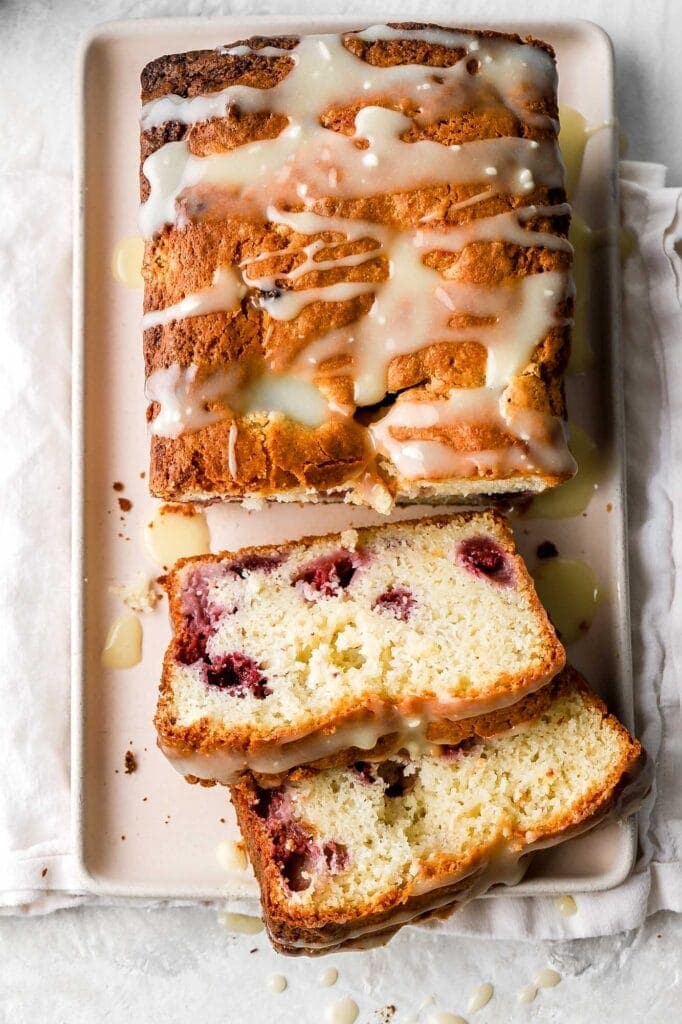 How to make white chocolate and raspberry loaf cake
Generally things like this may take me some time to perfect, however I had a little hack to this recipe. In my cookbook, Frosted, I have a brownie loaf cake that uses melted chocolate in the batter and it is to die for. So I thought, what if I made this with white chocolate and then added raspberries to it!? Well friends, it worked. 
The start of this loaf cake is similar to brownies in general, where the white chocolate gets melted and then the eggs and sugar get combined. Followed by the greek yogurt (or sour cream) and the melted chocolate. Fold the dry ingredients into the wet ingredients and then fold in the raspberries. 
What kind of raspberries can I use
I tested this loaf with both fresh raspberries and frozen raspberries and I'm glad to say, they both work! I do prefer the frozen raspberries, just because they're not as soft when you're folding them into the batter so they don't bleed/break as much as the frozen ones. In terms of baking outcome and taste, I didn't really notice a difference between the frozen or the fresh raspberries in the loaf.
How do you know when a loaf cake is done baking
Loaf cakes can be a little bit difficult to determine doneness. From the outside this cake appeared to be done at around 50 minutes. However, when I inserted a knife throughout it, I kept getting back a little wet batter. 
The loaf ended up needing 70 minutes of in a convection oven at 350F. The outside didn't change too much from 50-70 minutes but the inside finished baking. The knife or toothpick should bring up a few moist crumbs. 
What size pan to use for a loaf cake
I like to use a 9x5x3" loaf tin, which I also linked down below in the recommended products under the recipe. It bakes a taller cake and just looks nicer to me but I did also bake it in a slightly larger loaf pan, for the same amount of time and it was just a little bit more stout looking but still tasted great!
How to store loaf cake
If it's eaten within 1-2 days, I like to store my cake in the loaf tin that I baked it in. I just slice it, put it back in the pan and then cover it tightly with aluminum foil. You can also store it in an airtight container to keep it fresh for longer.
If it's not eaten within 1-2 days, refrigerate it for up to a week or freeze it for 2-3 months. To freeze it, place it in an airtight container, place the container in a freezer bag and squeeze out all the excess air. 
Thanks so much for reading today's post, I hope you guys enjoy this raspberry white chocolate loaf cake as much as we did. If you have any questions just comment down below and if you make it, make sure to tag me @baranbakery on instagram. As always, have a blessed day and happy baking!
Love, B
Yield: 10 slices
White Chocolate and Raspberry Loaf Cake
Light and fluffy white chocolate loaf cake studded with tart raspberries and topped with a white chocolate glaze!
Cook Time
1 hour
10 minutes
Total Time
2 hours
20 minutes
Ingredients
1/2 cup (3 oz) white chocolate, melted
2 cups (240g) all-purpose flour, spooned and leveled
1/2 tsp baking soda
1 tsp baking powder
1/2 tsp salt
1/2 cup (113g) unsalted butter, melted
1 1/2 cups (300g) granulated sugar
2 large eggs, room temperature
1 cup (227g) full-fat Greek yogurt
8 oz raspberries, fresh or frozen, tossed with 1 Tbsp of flour
White Chocolate Glaze
1/2 cup (3 oz) white chocolate chips
1 Tbsp (15mL) milk
Instructions
Loaf
For the bread, preheat the oven to 350F. Grease a 9x5 loaf pan, line it with parchment paper and secure it with binder clips.
In a small bowl, melt the white chocolate chips in the microwave for 20-second intervals, stirring after each interval, until the white chocolate is smooth. Set aside.
In a large bowl, whisk together the butter and sugar until they're smooth. Add the eggs, the Greek yogurt and the melted white chocolate, whisking until they're completely combined. Add the flour, baking powder and salt and mix just until the flour is almost combined.
Gently fold the raspberries into the batter until they're evenly distributed. Spread the batter into the prepared pan, and bake the loaf for 70 minutes, or until a toothpick inserted in the center comes out with moist crumbs and not wet batter.
Allow the loaf to cool in the pan for about 30 minutes before removing it and then let it cool completely to room temperature before slicing.
White Chocolate Glaze
In a small heat safe bowl, combine the white chocolate and milk and microwave it on 15 second intervals, stirring in between, until it's smooth.
Drizzle glaze on top of loaf and serve fresh. Store loaf in an airtight container.
Recommended Products
As an Amazon Associate and member of other affiliate programs, I earn from qualifying purchases.
Nutrition Information:
Yield:
10
Serving Size:
1
Amount Per Serving:
Calories:

429
Total Fat:

17g
Saturated Fat:

10g
Trans Fat:

0g
Unsaturated Fat:

6g
Cholesterol:

68mg
Sodium:

268mg
Carbohydrates:

63g
Fiber:

2g
Sugar:

42g
Protein:

7g
Nutrition information may not be fully accurate.
For similar recipes, check out: