S'mores donuts are baked graham cracker cake donuts topped with chocolate ganache, toasted vanilla meringue, and crushed graham crackers!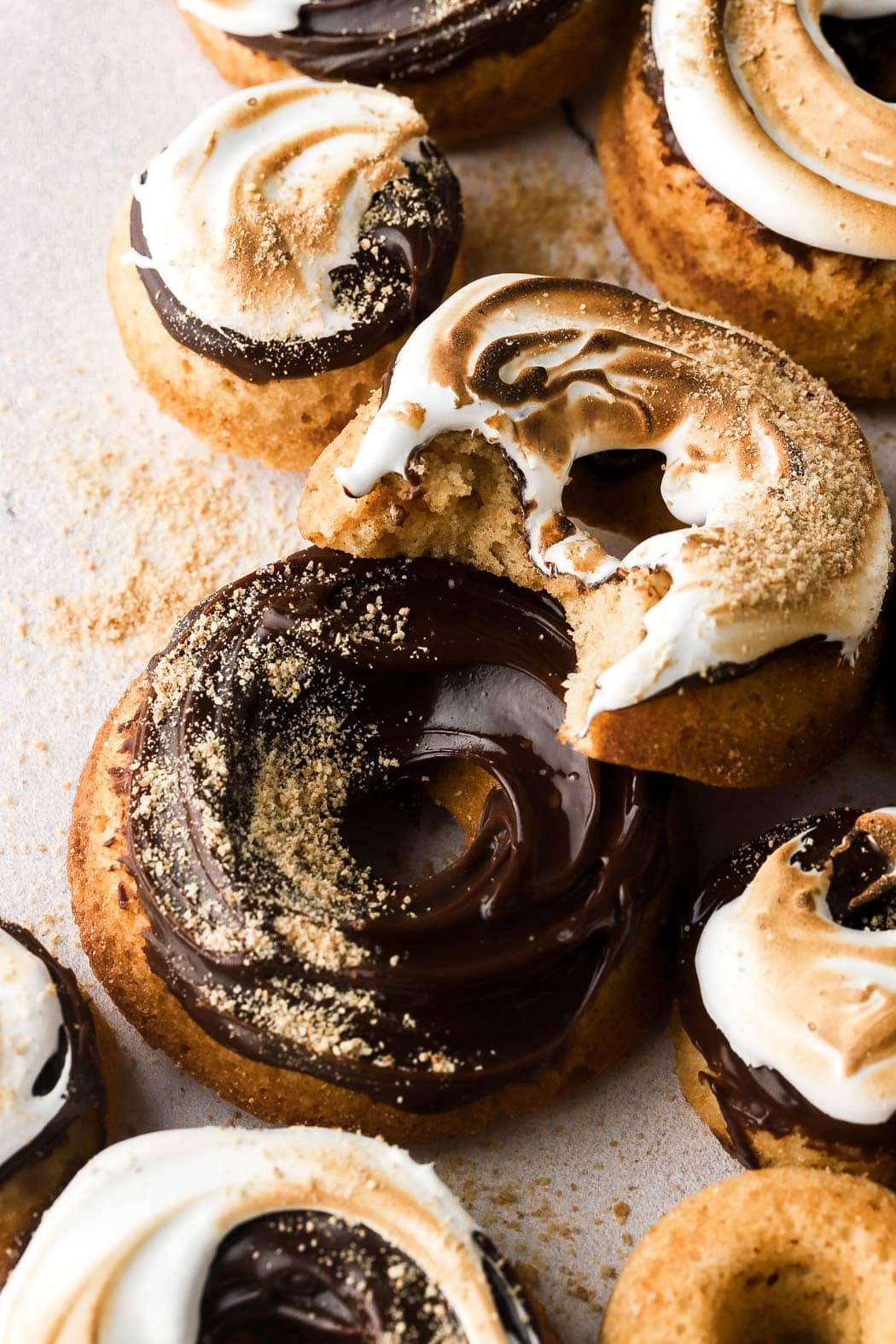 Friends. *deep breath*. This recipe was one of the first ones ever published on my website and it is still one of the best. It hasn't gotten much attention in the last few years because, well, no one saw it. Even if they did, the photos definitely didn't do it justice so the whole post got a glow up.
How to make s'mores donuts
S'mores donuts consist of three glorious parts. The graham cracker baked cake donut layer. Frosted with a creamy chocolate ganache layer and then topped with a toasted vanilla meringue.
If you ask me, there's no better flavor than s'mores. Funny thing is, I don't care much for actual s'mores but s'mores flavored anything is my favorite.
How to make graham cracker donut
If you've been following me for a while you may have read about my s'mores flavor distribution rants in one of my other s'mores posts…lol. Let me explain: I don't know why but most "s'mores" recipes online have a chocolate base and I disagree with that concept.
A s'mores' base is graham cracker cookies so I think the base of a s'mores dessert should be graham cracker flavored. Ok rant over for now.
So I made a graham cracker flavored donut to start. & to be perfectly honest with you, a graham cracker flavored donut is kind of plain and just boring…like a graham cracker (which I actually love lol). But when you top it with the chocolate and the homemade fluff, it's magical.
Ingredients:
Graham Crackers – I prefer to crush my own graham crackers because I think they taste better. They're a little more fresh and flavorful than the pre-made graham cracker crumbs. I like the Honey Made original Honey version.
Flour – I use all-purpose flour because it's the most readily available for people. I also HIGHLY recommend using a digital scale, as flour is the most over-measured ingredient.
Baking Powder – I use baking powder, if you don't have it you can sub ¼ tsp baking soda.
Sugar – I use light brown sugar. You can also use dark brown sugar but I don't recommend granulated sugar.
Butter – I use salted butter but if you want to use unsalted, I would add ¼ tsp salt with the dry ingredients.
Egg – I use large, room temperature eggs, always. If you're in a pinch, warm up your eggs in hot water for 5-10 minutes.
Heavy Cream – Heavy cream is my new favorite ingredient in desserts. It's higher in fat, so it makes baked goods really tender and moist. It is also more flavorful than milk. If you're in a pinch, you can also use milk; full-fat is best or mix milk with sour cream or yogurt until you have the right amount.
Vanilla – do we need to talk about this one?
How to make the chocolate ganache
Chocolate ganache is really simple to make. All it requires is some chocolate chips and heavy cream.
The heavy cream gets simmered on the stove and then poured over the chocolate. Let it sit for a couple minutes and then gently stir it until it comes together and it's smooth. Allow it to cool until it's spreadable.
What kind of chocolate to use for chocolate ganache?
A typical s'mores uses Hershey's Milk Chocolate Bars so that's what I used in my reels on Instagram. It tastes more like a s'more with that chocolate but if I'm being perfectly honest, it's a little too sweet for me.
I prefer to use dark chocolate chips instead but you can even use milk, semi-sweet or dark chocolate chips.
If you want to use a chopped up chocolate bar instead of chocolate chips, the ganache will be a little more runny because of the lack of stabilizers. You may need to wait longer for it to thicken until it's spreadable or you could refrigerate it for a little.
How to make meringue (homemade marshmallow fluff)
This is truly the star of the show and I am certainly going to do a whole post on meringue one day. Meringue is just egg whites whipped with sugar until it's a fluffy cloud of deliciousness.
On its own, it's not very stable so I included a few things you can add/do to make it more stable.
After you frost the donuts, I use a torch to toast the meringue and give it that nostalgic toasted marshmallow flavor.
Tips to stabilize meringue:
Egg whites can't whip up to their full potential if there is any fat residue touching it so it's best to use a metal bowl and whisk instead of plastic, silicone, glass, etc. because they hold the least amount of residue.
Make sure to thoroughly clean your bowl and utensils. After drying them, squeeze some lemon or a drop of vinegar onto a paper towel and whip the bowl and utensil.
If you have a kitchen thermometer, it's best to take the egg whites and sugar up to 160F (71C). The higher temperature keeps it more stable.
When you start beating the egg whites with the mixer, start slow for a minute, then increase to medium and then to full speed, just until stiff peaks form. Avoid going straight to full speed and avoid over-beating. Over-beating runs the risk of deflating, where the water runs out of the egg whites and you have a split meringue.
Add lemon juice or cream of tartar to the meringue. This prevents the meringue from splitting as easily.
Frequently Asked Questions
Can I double the recipe
Yup! The original recipe was the same, just double the amount. For this recipe, there's a little leftover meringue so if you double the whole recipe, I would just do 1.5x the meringue. That's 3 egg whites and ¾ cup sugar.
Can I make mini donuts?
Yes! You'll get about double the amount of mini donuts (maybe a few more). I bake them at the same temperature, just for 7ish minutes. They don't get quite as brown but they should spring back when you press on them.
Why did my meringue split
Read the tips on how to stabilize a meringue 🙂
Can I use store bought marshmallow fluff?
Store bought marshmallow fluff does this thing where it doesn't "stay put". Lol, I don't know if you know what I'm talking about but basically it doesn't hold peaks so it won't stay on the donut, it'll kind of run off.
If you're eating them all right away (like the first few minutes) it definitely will still be good but if you're transporting them anywhere or saving them even for even a few hours later, I don't recommend.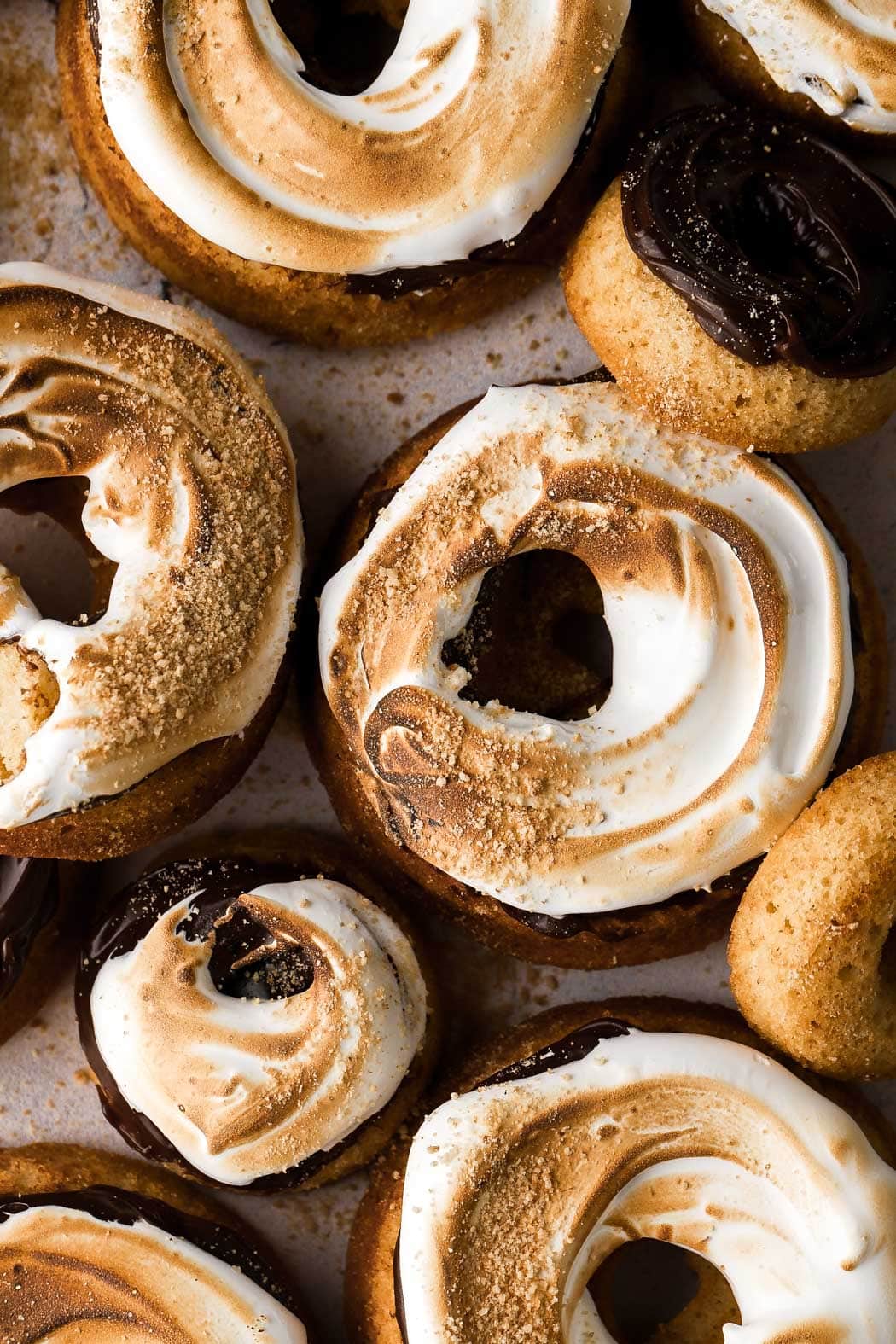 How to make donuts ahead of time
If you want to make these in advance, make the graham cracker donuts and the chocolate ganache, frost them and refrigerate them for a few minutes until they're set.
Then either leave them room temperature for a day or place them in an airtight container and then place the container in a freezer bag for a few weeks/months.
Defrost the night before and top with fresh meringue the day of serving.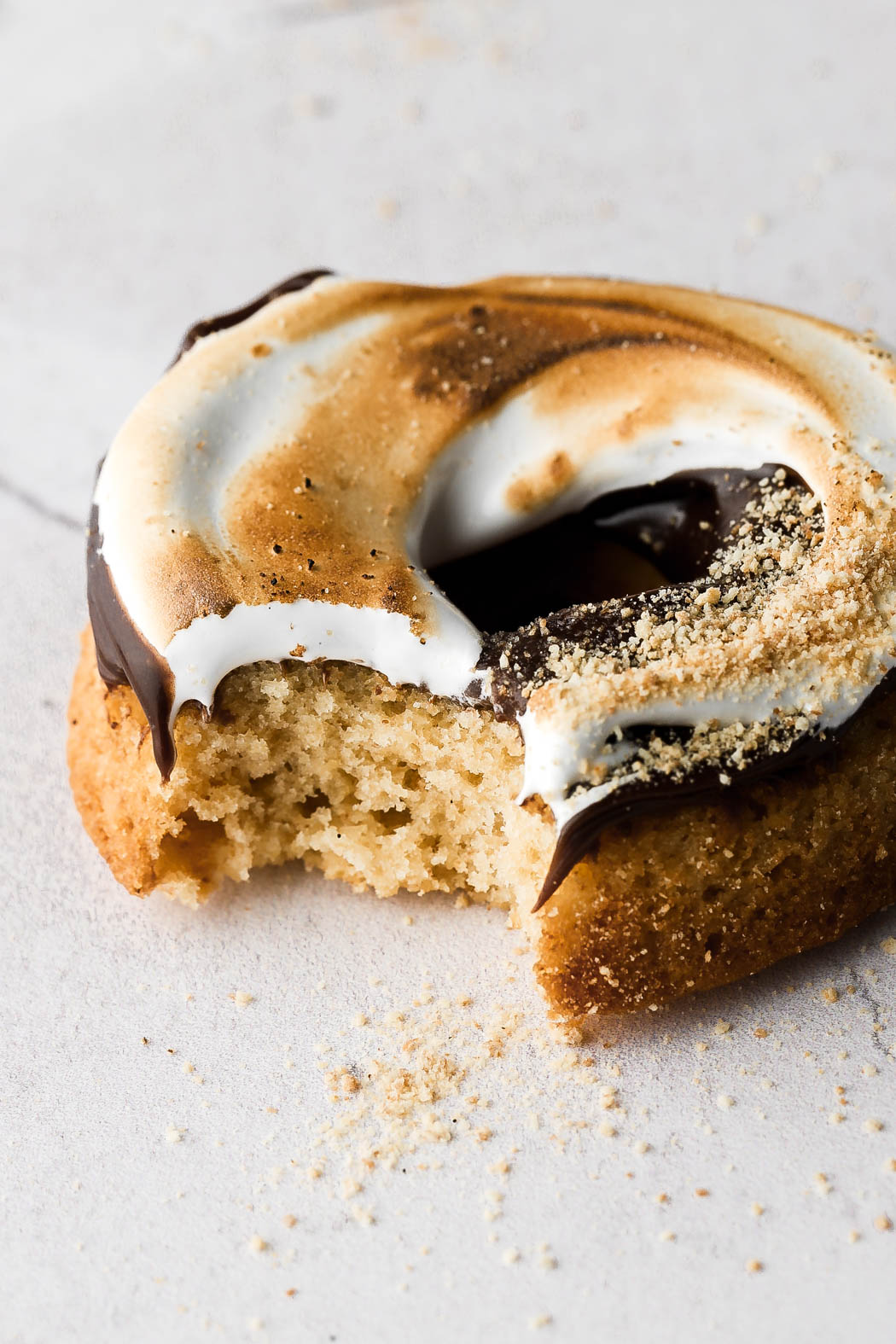 How to store s'mores donuts
I like to refrigerate these because of the meringue made with egg whites. I place them in a large, shallow airtight container because stacking them makes a mess. They're good for up to a week but dry out over the course of a week in the fridge.
If you want to freeze them, place the airtight container in a freezer bag as well. They can be frozen for up to a few months. Defrost in the fridge or room temperature.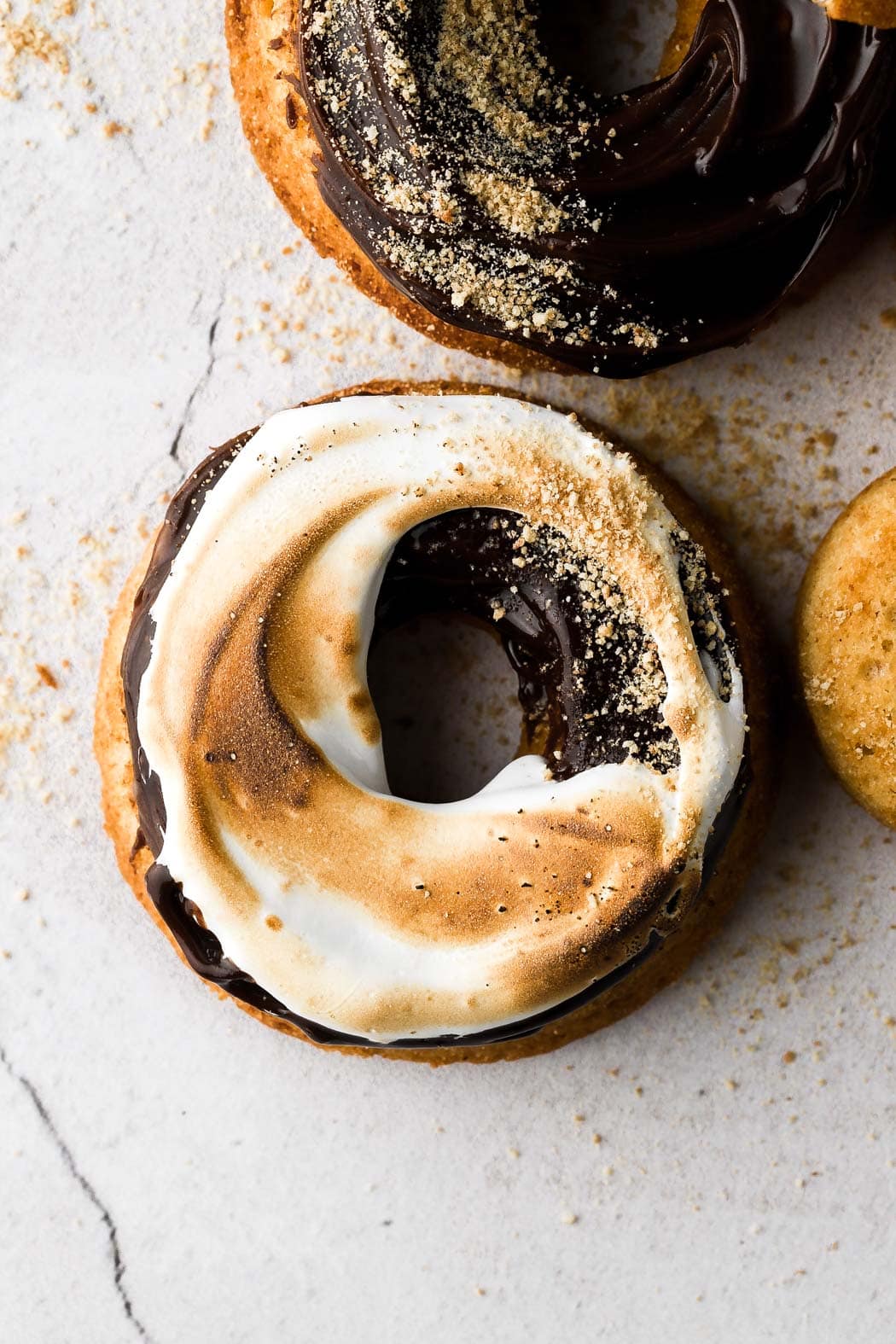 Thanks for reading today's post, if you have any questions just comment down below in the comment section (not the rating section, because I can't answer there).
If you make these s'mores donuts, make sure to tag me @baranbakery on instagram. As always, have a blessed day and happy baking!
Love, B
The BEST S'mores Recipes:
Like I said, I love anything s'mores flavored so if you're looking for more s'mores desserts, I got you.
Yield: 7 large donuts
Baked S'mores Donuts Recipe
Baked graham cracker cake donuts topped with chocolate ganache, toasted vanilla meringue, and crushed graham crackers!
*original recipe was the same, just doubled in quantity 🙂
Additional Time
15 minutes
Ingredients
Graham Cracker Donuts
1/4 cup graham crackers, crushed (about 1/4 of a sleeve of graham crackers)
3/4 cup (90g) all-purpose flour, spooned and leveled
1 tsp baking powder
1/4 cup (56g) salted butter, melted
1/3 cup (66g) light brown sugar, lightly packed
1 large egg, room temperature
1/3 cup (79mL) heavy cream, room temperature
1 tsp vanilla
Chocolate Ganache
1/4 cup (59mL) heavy cream
1/2 cup (3 oz) chocolate chips, milk or dark*
Toasted Vanilla Meringue
1/2 cup (100g) granulated sugar
2 large egg whites
1 tsp vanilla
Instructions
Donuts
Preheat the oven to 350F/177C convection (325F/163C conventional) and grease 7 donut molds (if your pan has six, you can bake the last one after).
Crush graham crackers into a flour-like powder, using a processor or blender, measure out 1/4 cup.
Combine the graham crackers, flour and baking powder in a bowl and set aside.
Use a whisk to combine the butter and sugar together until well combined.
Add in the eggs, cream and vanilla and mix until combined.
Fold in the dry ingredients, just until the last streak of flour is combined, and then use a piping bag or a spoon to fill the donut molds about 3/4 full.
Bake for 13 minutes, or until the donuts are golden brown and spring back when you press on them.
Ganache
While the donuts are cooling, heat the cream in a sauce pan just until it simmers.
Pour the cream over the chocolate and let it sit for 2-3 minutes, then stir until it is smooth.
Allow it to cool just until it's spreadable, 10-30 minutes, depending on room temperature.
Meringue
In the bowl of a stand mixer, combine the sugar and egg whites.
In a small pot, bring 1/2 cup of water to a simmer and then place the bowl of eggs and sugar on top, creating a double boiler.
Whisk the eggs and sugar over the simmer pot, until the sugar is fully dissolved (you shouldn't be able to feel any sugar granules when you touch the egg), or until it reaches 160F (71C).
Once, the sugar is dissolved, remove from heat and beat with an electric mixer until stiff peaks form.
Add in the vanilla and beat just until the vanilla is combined.
Assemble
Spread the ganache evenly on the donuts and place then in the fridge for 6 minutes to set.
Use a piping bag, a spoon or an offset spatula to frost the donuts with the meringue.
Use a kitchen torch to toast the meringue on top and sprinkle with some crushed graham crackers.
Notes
*milk chocolate tastes more like a s'mores but it's personally too sweet for me so I like to use dark chocolate chips.
can also make mini donuts - bake for about 7 minutes; makes about 15 minis.
If you don't have a kitchen torch, you can also toast the meringue in the oven. If you do this, make sure to refrigerate the chocolate on the donut until it's firm (you don't want the chocolate to melt off), quickly pipe the meringue on top and place in a 450F (232C) oven for 1-2 minutes.
Recommended Products
As an Amazon Associate and member of other affiliate programs, I earn from qualifying purchases.
Nutrition Information:
Yield:
7
Serving Size:
1
Amount Per Serving:
Calories:

371
Total Fat:

19g
Saturated Fat:

12g
Trans Fat:

1g
Unsaturated Fat:

6g
Cholesterol:

69mg
Sodium:

187mg
Carbohydrates:

46g
Fiber:

1g
Sugar:

33g
Protein:

6g
Nutrition information may not be fully accurate.