Chocolate Cupcakes with Vanilla Frosting
Super fluffy and moist chocolate cupcakes frosted with my favorite vanilla buttercream frosting (not too sweet and no egg yolks or egg whites wasted)!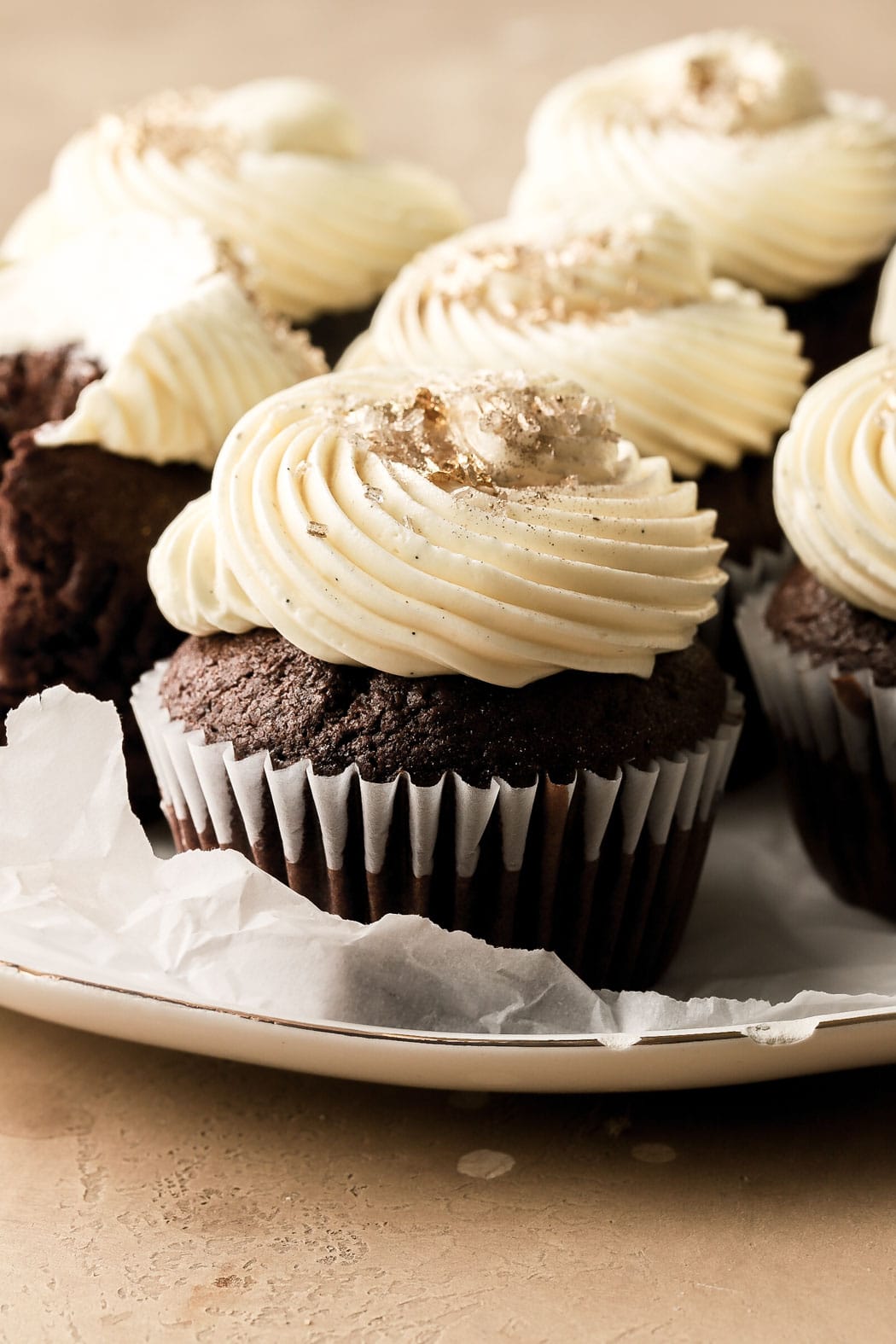 I recently posted my vanilla cupcakes with vanilla buttercream recipe, I figured I'd post my full batch chocolate cupcake recipe too.
Why I love these cupcakes
They're fairly simple to make, not complicated and much more forgiving than vanilla cupcakes.
These chocolate cupcakes are super rich, fluffy and moist.
They pair well with any flavor of buttercream.
They actually make a great cake recipe too.
If you love these cupcakes, I think you'll love my brownie bottom cupcakes and my s'mores marbled cupcakes!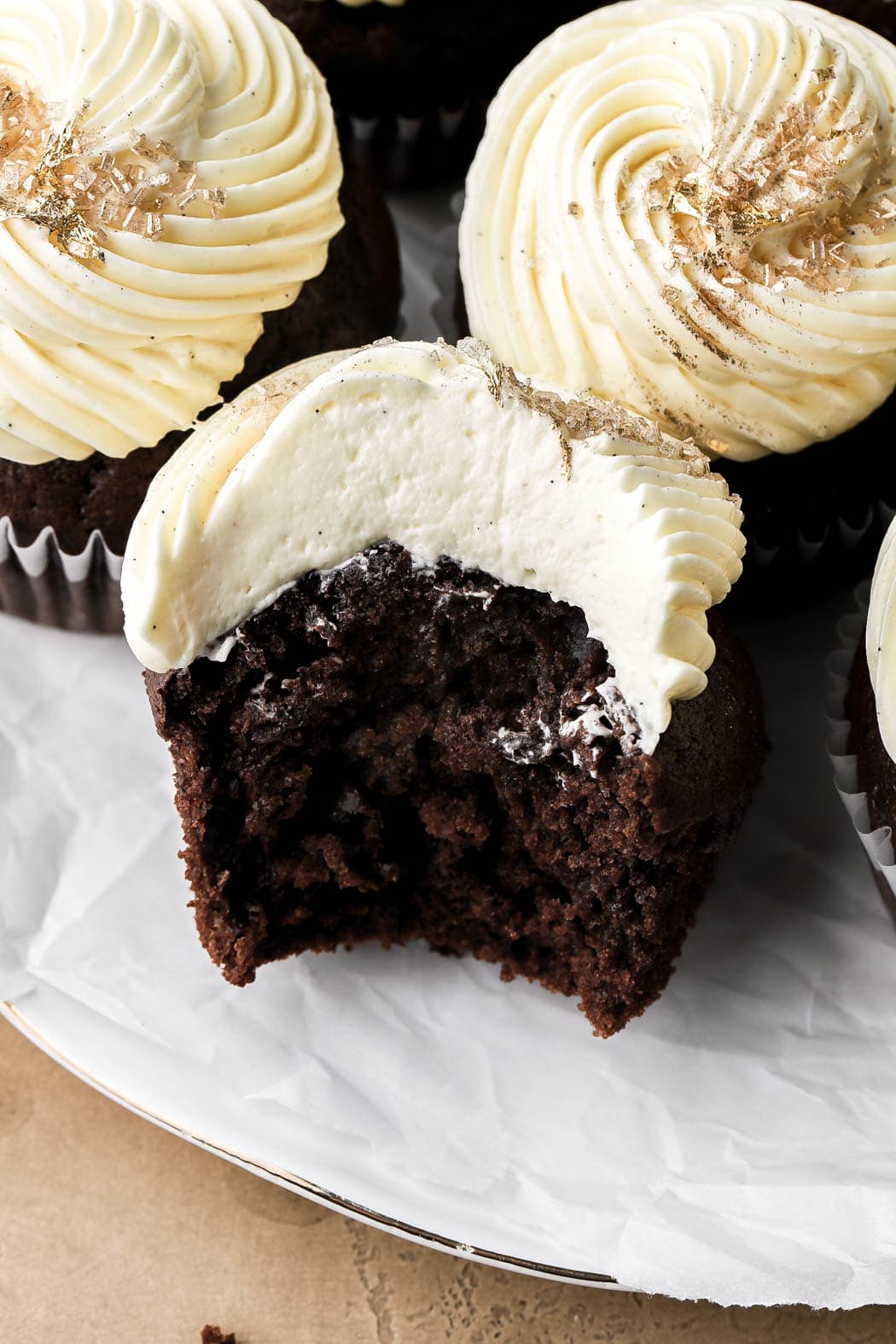 Ingredients & Substitutions
Flour: Unlike my vanilla cupcake recipe, I use all-purpose flour in this recipe because part of it gets replaced with cocoa powder.

I HIGHLY recommend using a digital scale to measure the flour and cocoa powder, as they're so often over measured.

Cocoa Powder: use unsweetened cocoa powder. I prefer dutch-process but natural cocoa powder also works. The color and flavor will be slightly less intense.
Baking Powder: to leaven the cupcakes.
Sugar: I used granulated sugar and I don't recommend cutting any out.
Oil: I use oil for my cupcake recipes. Vegetable oil, canola oil, sunflower oil, olive oil, etc. all work fine.
Eggs: Use large, room temperature eggs.

If you're in a pinch, place them in hot water for 5-10 minutes.

Sour Cream: I've used greek yogurt and sour cream in this recipe and they both work well. You can also use plain yogurt.
Milk: I use whole milk or two percent but any milk will work here, even dairy free.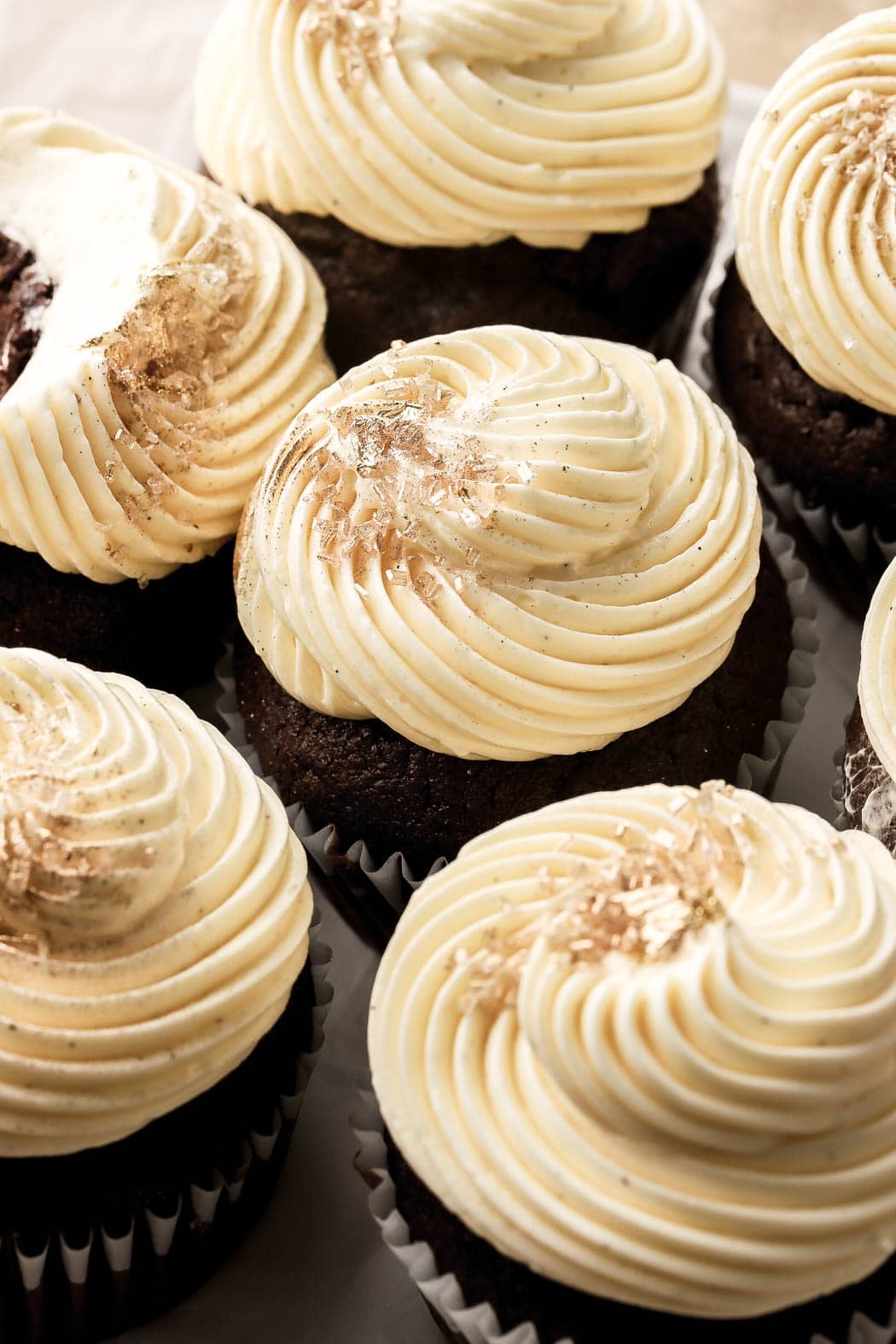 Guided Instructions
Step 1: Whisk together the flour, cocoa powder, sugar, baking powder and salt until they're evenly distributed.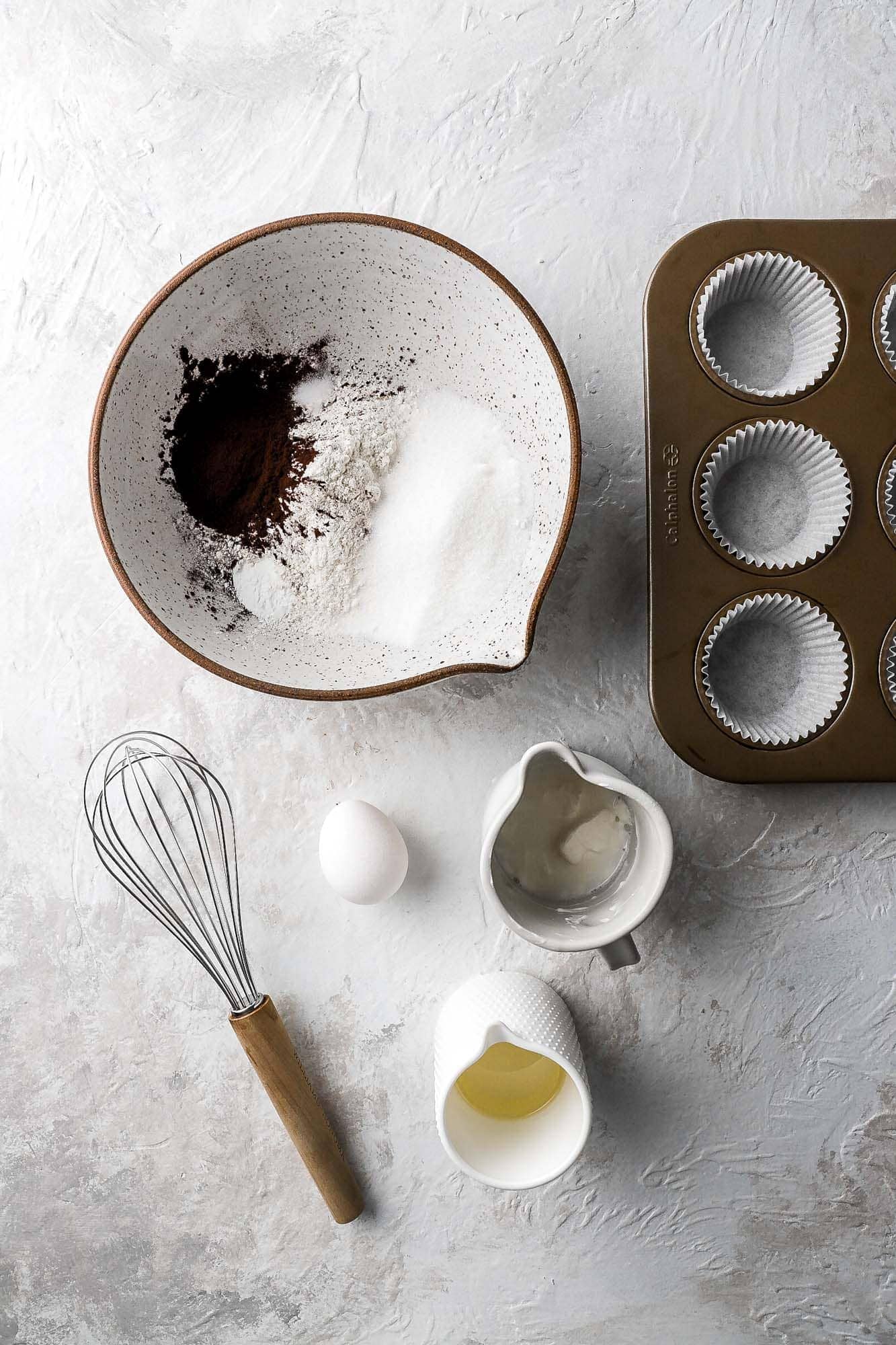 Step 2: Add the oil and use a whisk or electric mixer to beat them at medium, until they're crumbly like a streusel.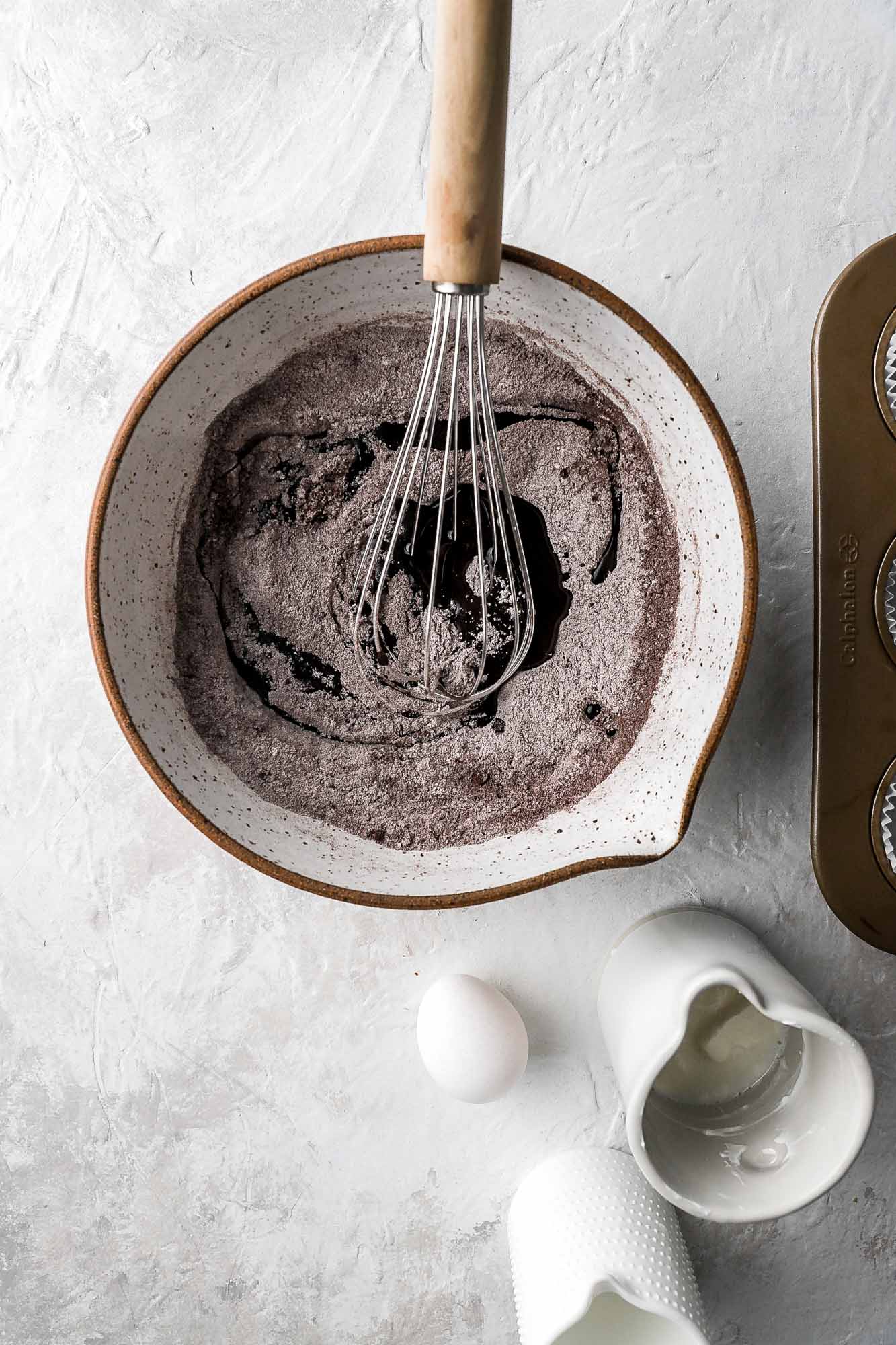 Step 3: Add the eggs and vanilla and mix just until it's well combined and the batter looks like paste.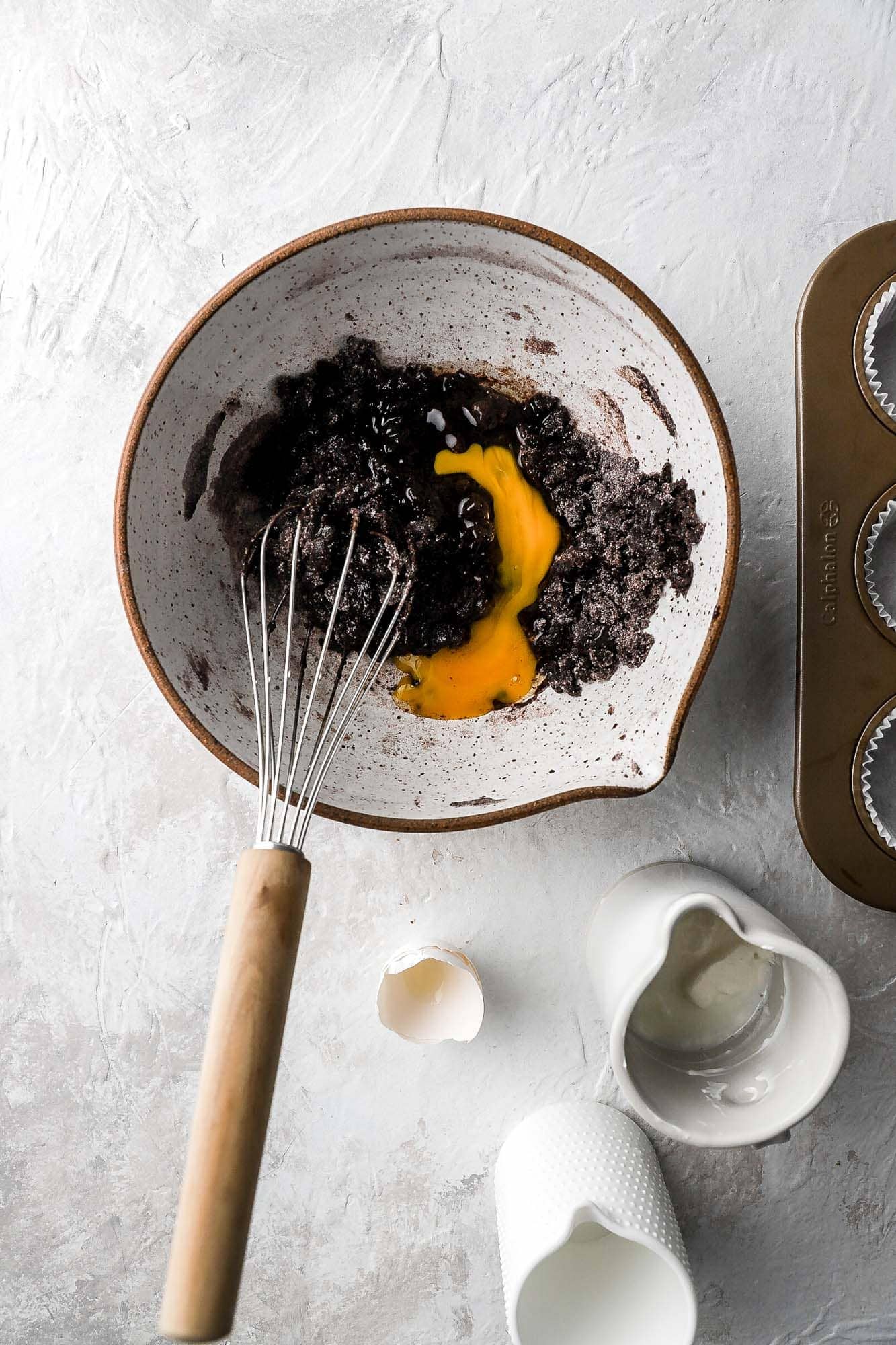 Step 4: Add the sour cream and turn the mixer to low speed while streaming in the milk.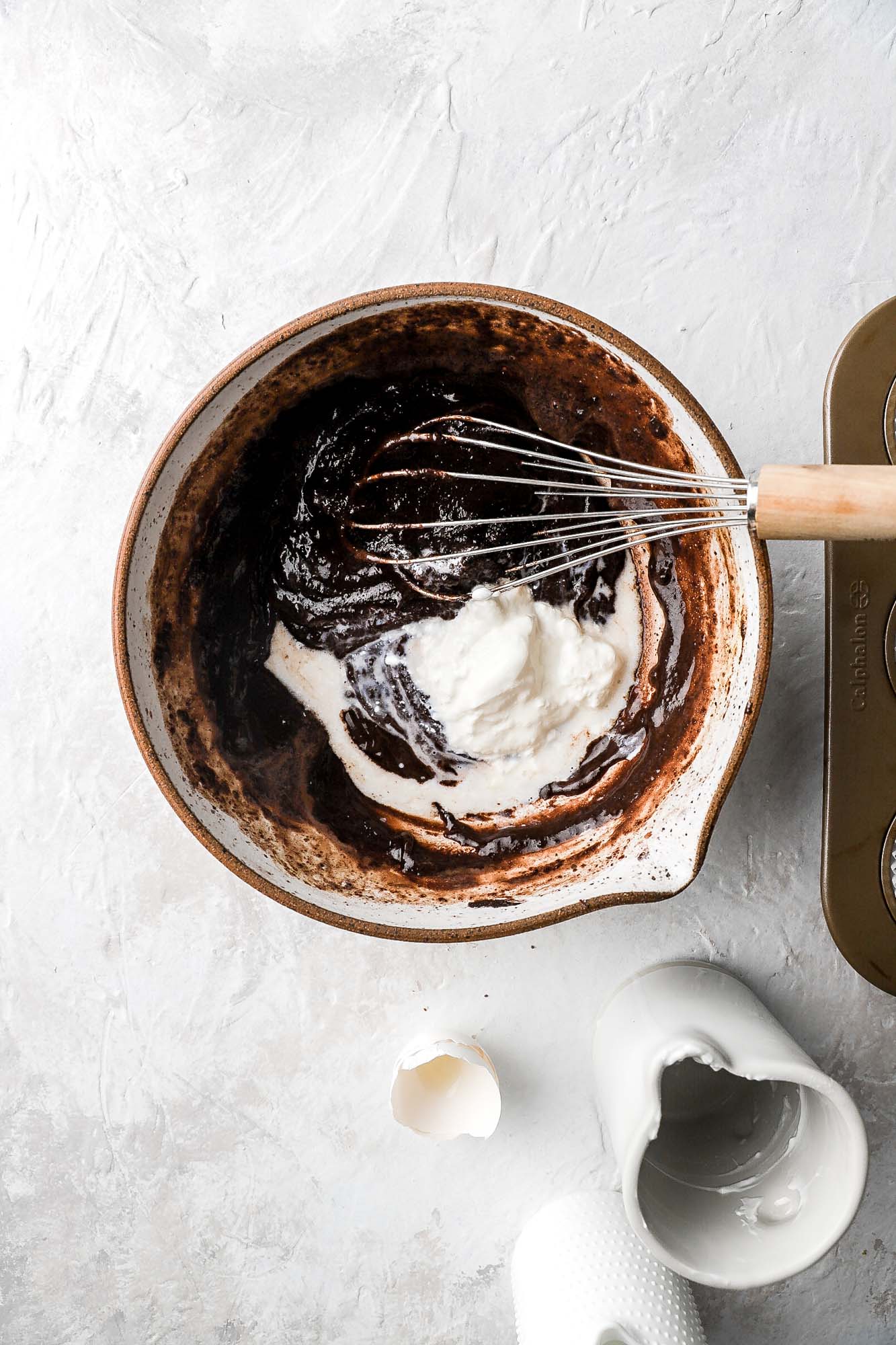 Step 5: Scrape the edge of the bowl and give it a good mix. Fill the cupcake liners about ⅔-¾ full. I recommend weighing them so each cupcake has 50-55 grams of batter.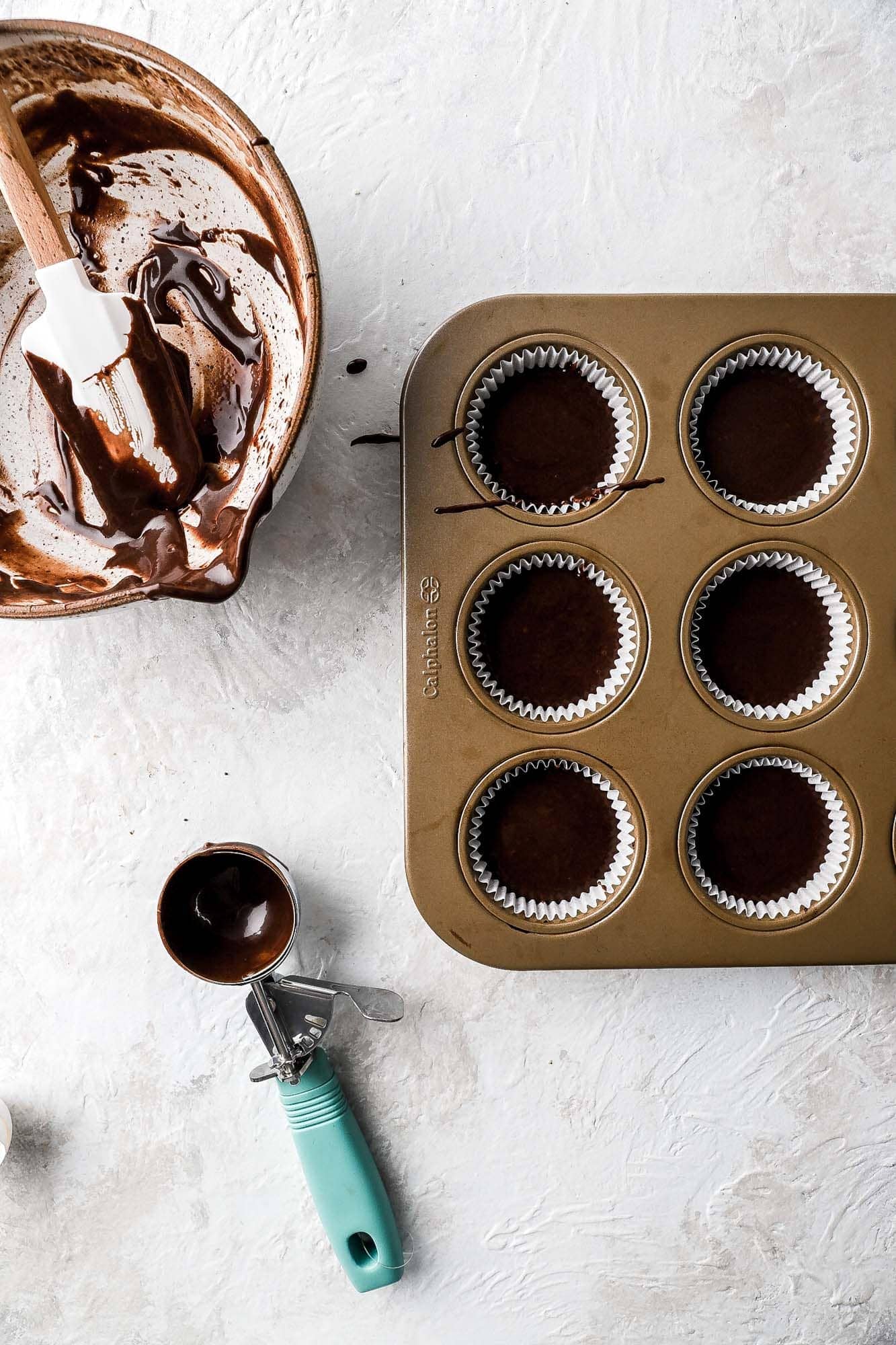 Step 6: Bake for 16-18 minutes, until the tallest part of the cupcake, in the center, springs back when you press on it. If you're hesitant, give it another minute or so.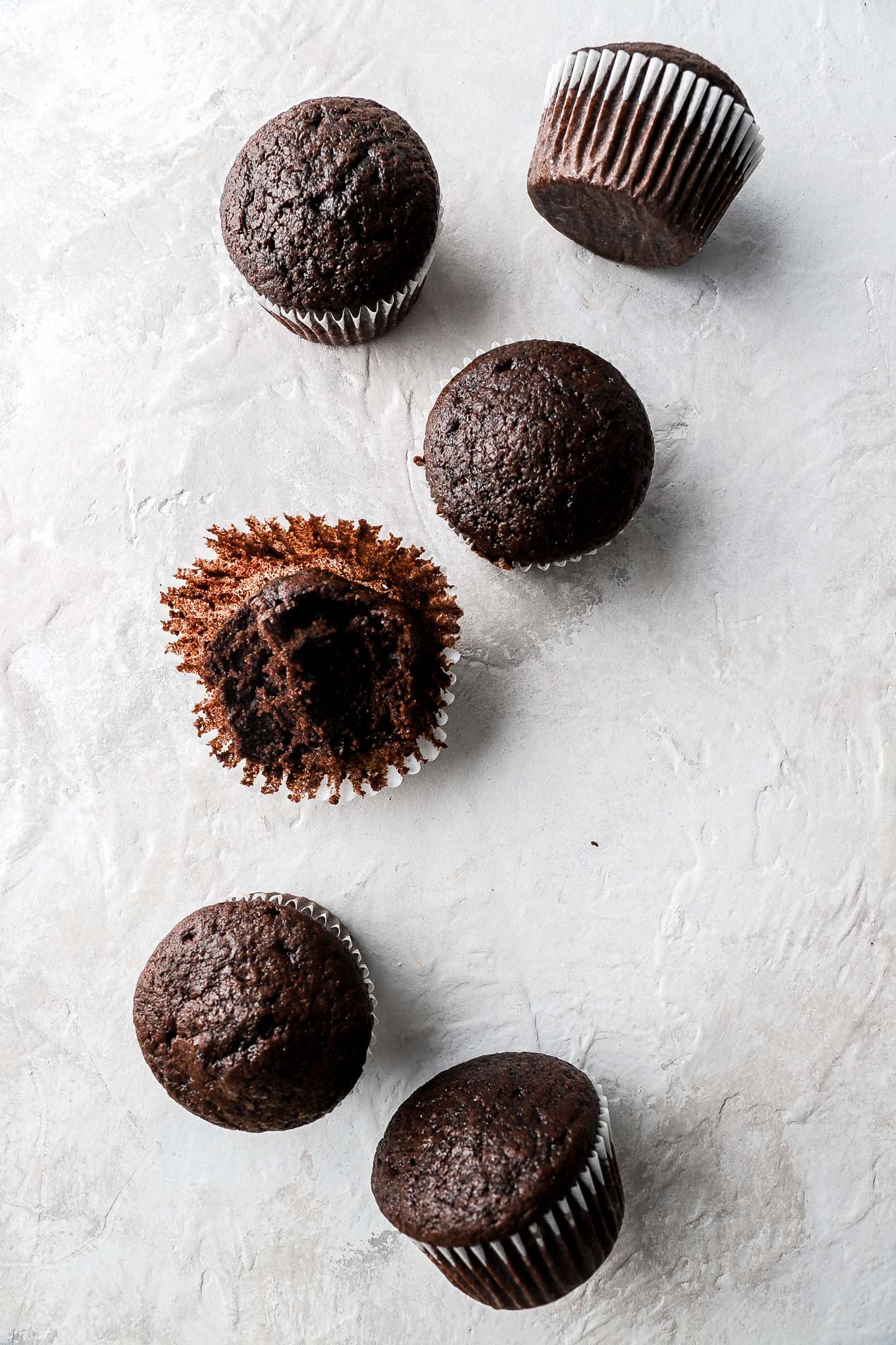 Step 7: Let the cupcakes rest for 10 minutes in the pan, then remove them from the pan.
Why do I use the reverse creaming method?
The reverse creaming method is where you combine all the dry ingredients including the flour, sugar, baking powder, salt, etc. with the butter and oil first. In this step the butter and oil are coating the flour particles. When the flour is coated with fat first, it inhibits the development of gluten, making the cupcakes extra tender (over developing the gluten is what can make cakes tough).
This also provides a 'tight' crumb which means you should have large air pockets in the crumb of the cake. The lack of the large air pockets helps the cupcakes rise more evenly so that they're not lopsided and don't deflate when you remove them from the oven.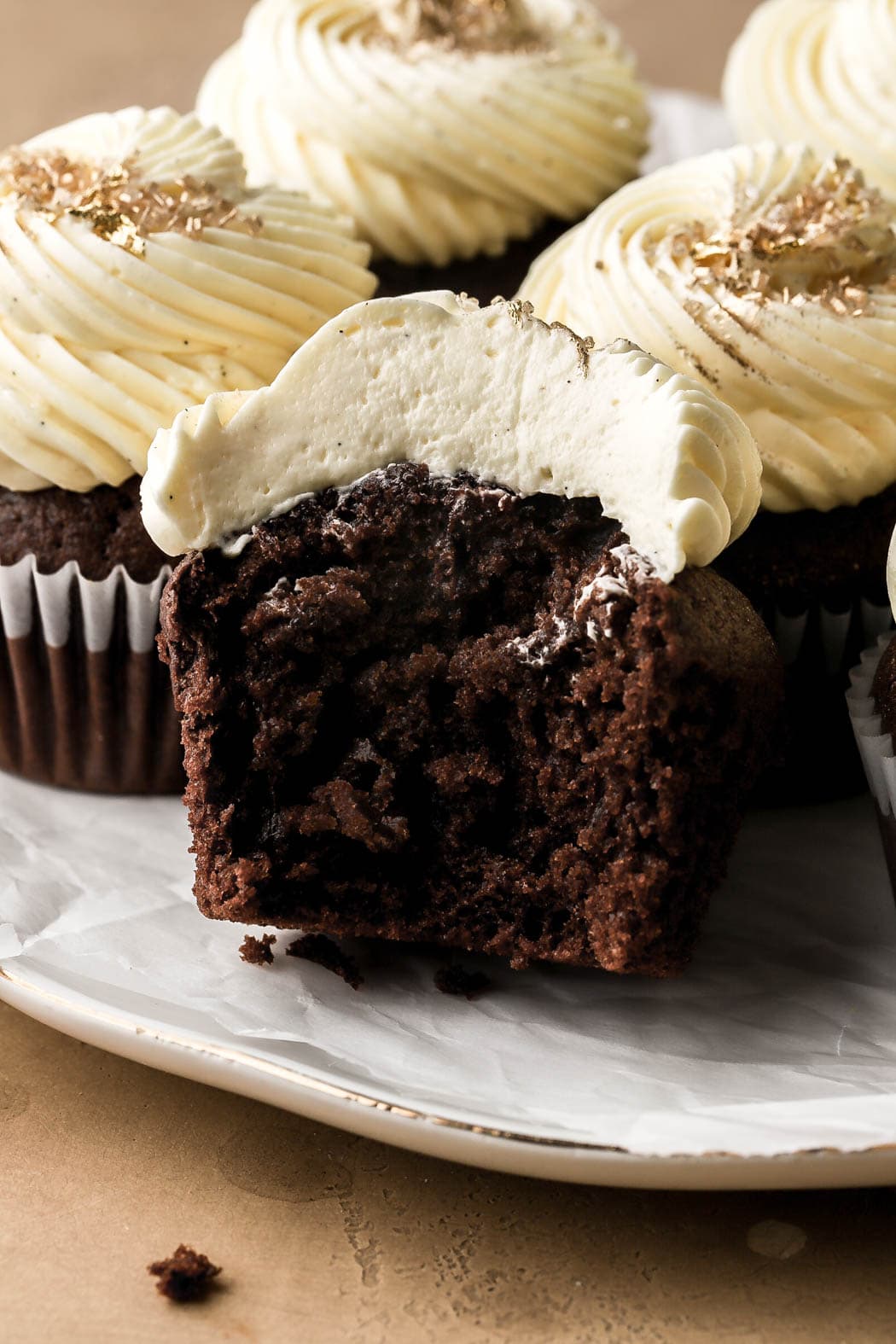 Expert tips on getting perfectly baked cupcakes
Don't swap ingredients unless I mentioned them in the ingredient section above.
Don't reduce the sugar. I know a lot of people do that for some recipes but not this one.
Weigh your ingredients with a digital scale.
Weigh the batter for each cupcake with a digital scale. I just place the cupcake pan on the scale with the liners and measure out 50-55 grams for each cupcake.
Use a light colored stainless steel muffin tin.
The best vanilla frosting for chocolate cupcakes
This is pretty much a personal preference. In my small-batch cupcakes, I used American buttercream (chocolate or vanilla).
If you have any extra egg yolks lying around, French buttercream is always a good idea. If you have leftover egg whites lying around, Swiss meringue buttercream will be perfect.
For these ones, I used a my favorite buttercream! It's a combination of French buttercream and Italian buttercream. I call it the 'whole egg buttercream' because it tastes just like the other meringue based buttercreams, it's stable like them but it uses whole eggs instead of just egg whites or just egg yolks.
The recipe is in the recipe card but you can also read more about it in my Frosted 2.0 downloadable guide (below). It's a continuation to my cookbook, Frosted.
If you're looking for something more unique, try my sweetened condensed milk frosting or a cream cheese frosting (you can skip the brown butter).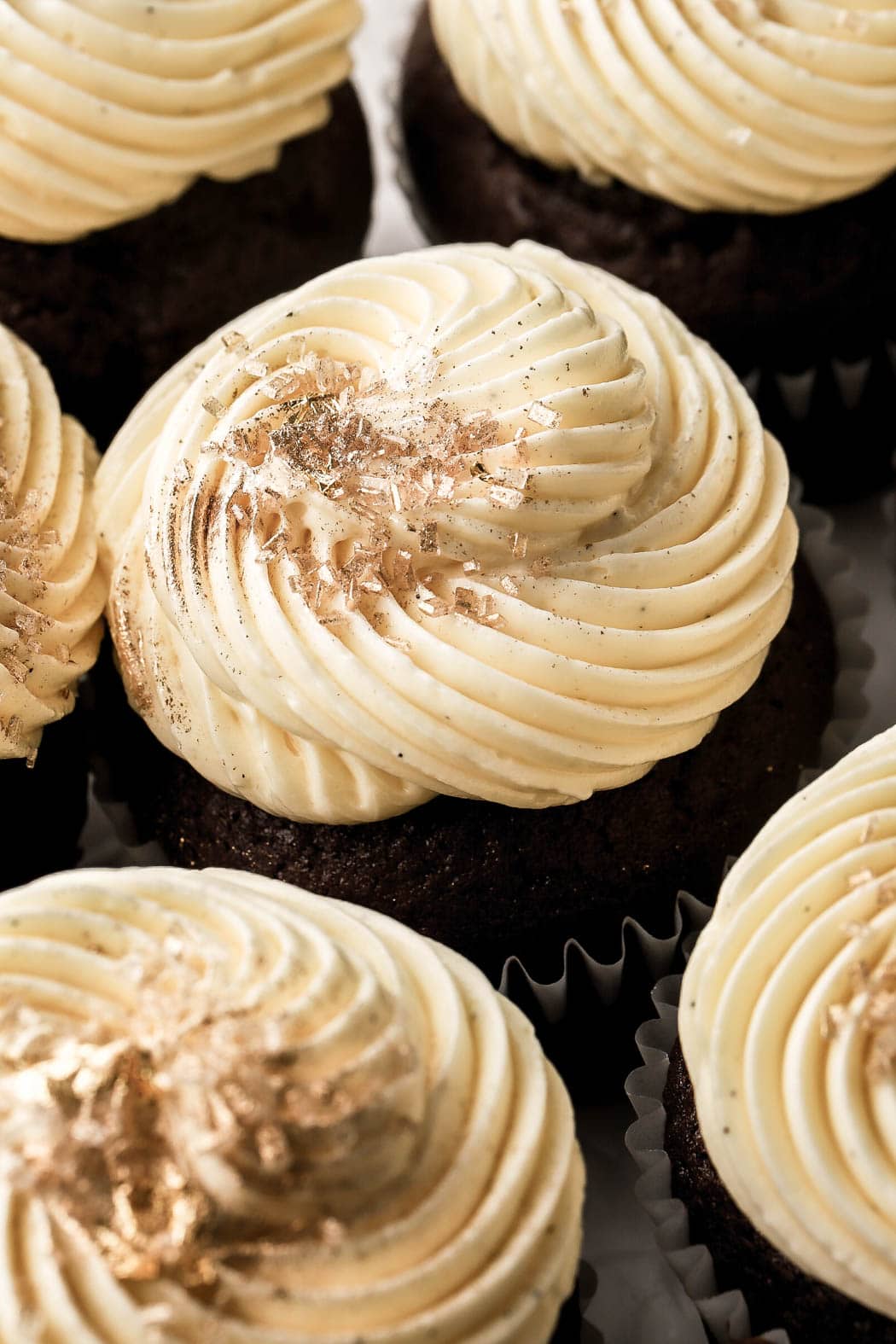 Frequently Asked Questions
Can I make this ahead of time?
This cake holds on to moisture really well so you can make it 1-2 days in advance before serving. 
What if I only have one pan?
If you only have one muffin pan, the batter for the last two cupcakes can just wait on the counter until the first 12 are done baking. 
How do I know when it's done baking?
Just like all the rest of my cakes, I test if it's done baking by pressing gently on the tallest part of the cake. The cake will spring back if it's done baking. If it stays indented, give it a few minutes in the oven, before testing again. 
Can I use this as a chocolate cake recipe?
This cupcake recipe was adapted from my chocolate cake recipe so yes, they make an incredible cake. This amount can be baked in:
Two round 6 inch baking pan
Two square 6 inch baking pan
One round 8 inch baking pan
One square 8 inch baking pan
One round 9 inch baking pan
One square 9 inch baking pan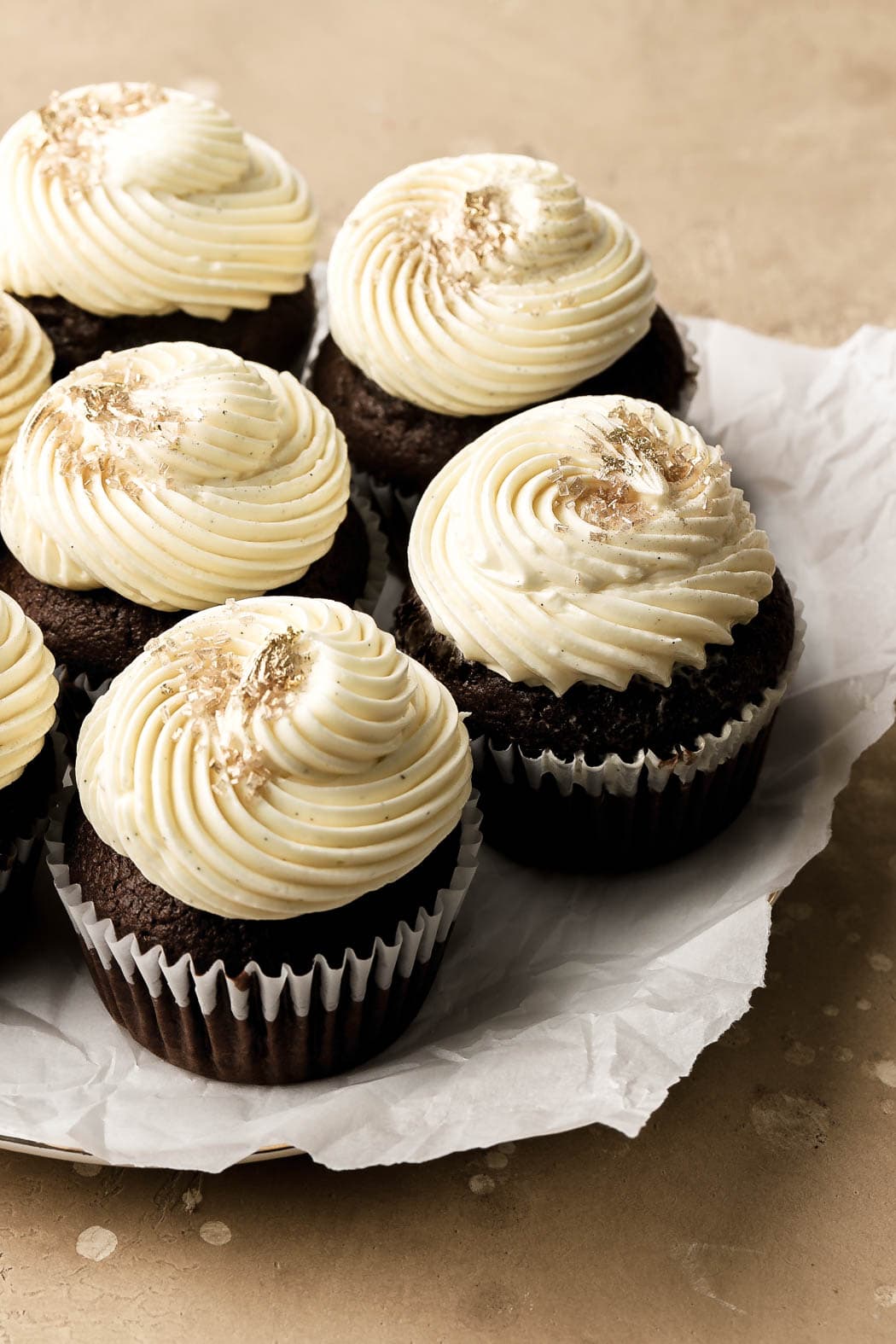 How to store these chocolate cupcakes
I usually just cover them with a cake dome or place them in an airtight container and store them at room temperature for 2-3 days. You can store them in the refrigerator for an additional 2-3 days but if it's any longer, I recommend freezing them.
To freeze the cupcakes, place them in an airtight container and then place the container in a freezer bag, squeezing out all the excess air. Bring them back to room temperature by thawing at room temperature for a few hours before serving.
Thanks so much for reading today's post, if you have any questions just comment down below. Make sure to leave it in the comment section because I can't answer in the rating section.
If you make these chocolate cupcakes, I'd love it if you left a star rating for me. If it's less than five stars, please leave a comment with the rating so I know why! 🙂
As always, have a blessed day and happy baking!
Love, B
Yield: 14 cupcakes
Chocolate Cupcakes with Vanilla Buttercream Recipe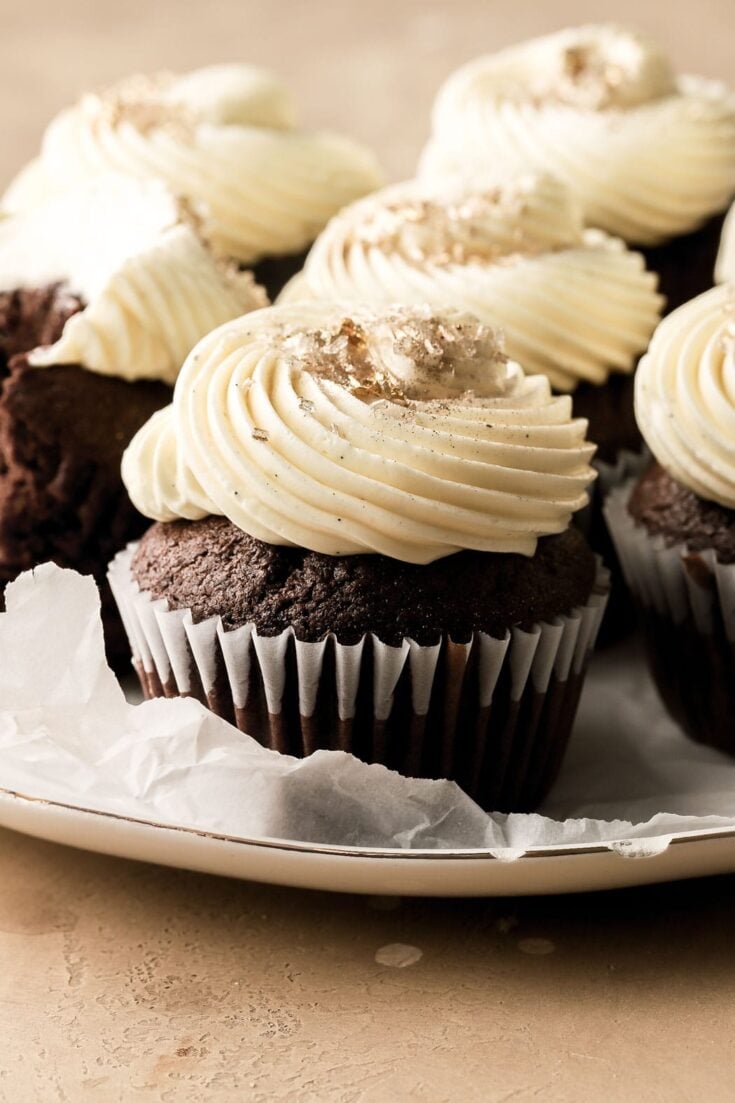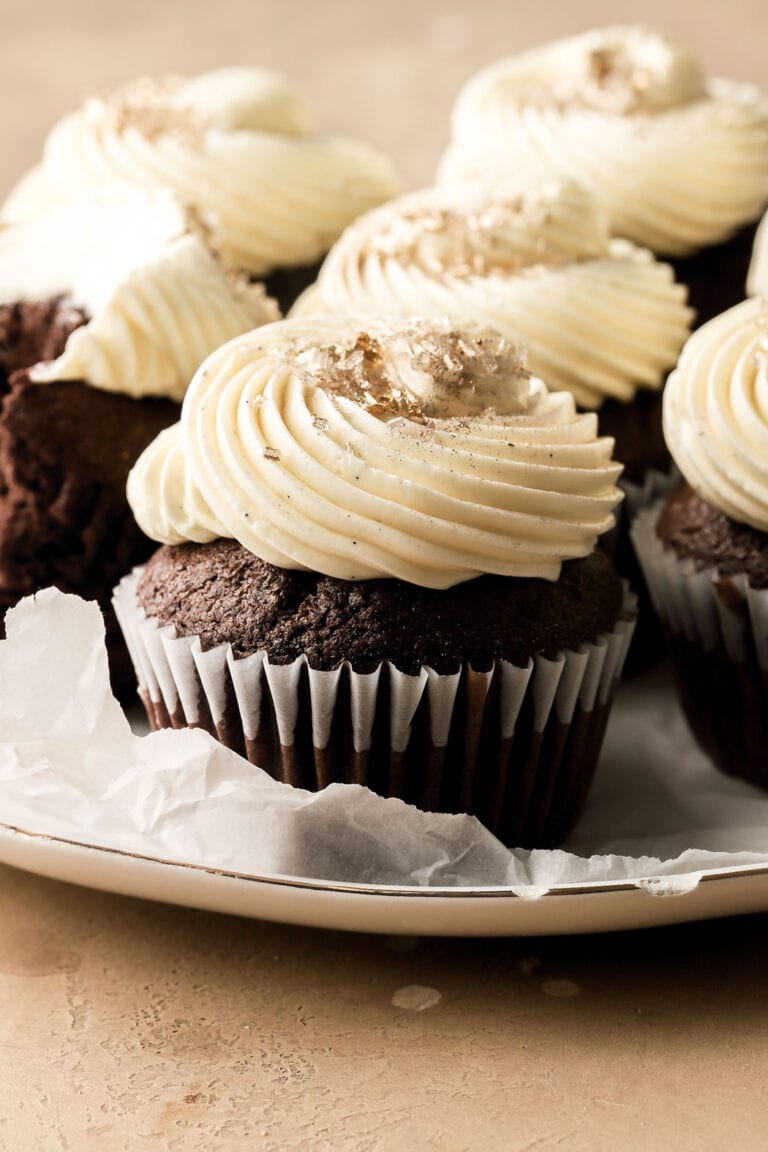 Super rich and fluffy chocolate cupcakes frosted with my favorite vanilla buttercream (or whatever buttercream you want!).
Additional Time
30 minutes
Total Time
1 hour
7 minutes
Ingredients
Chocolate Cupcakes
1 1/4 cup (150g) all-purpose flour, spooned and leveled
1/2 cup (40g) unsweetened cocoa powder (I used dutch process), spooned and leveled
1 cup (200g) granulated sugar
2 tsp (6g) baking powder
1/2 tsp fine sea salt
1/2 cup (120mL) vegetable oil
2 large eggs, room temperature
1/2 cup (113g) sour cream
1/2 cup (120mL) milk, room temperature
Vanilla Buttercream
1 cup (200g) granulated sugar
1/4 cup (60mL) water
2 large eggs, room temperature
1 cup (227g) unsalted butter, room temperature
1 tsp vanilla extract
1 tsp vanilla bean paste
1/8 tsp fine sea salt
Instructions
Chocolate Cupcakes
Preheat the oven to 350F/177C convection (325F/163C conventional) and line 13 muffin tins with cupcake liners (or 12, the batter for the 13th can wait).
In a medium bowl, whisk together the flour, cocoa powder, sugar, baking powder, and salt.
Add the oil to the dry ingredients and whisk together until it's combined.
Add the eggs and mix until it's fully combined.
Add the sour cream and milk and mix just until the cupcake batter is smooth.
Fill each cupcake liner about 2/3-3/4 full. Bake for 16-18 minutes. When you press on the center of the cupcake it should spring back.
Remove from the oven and allow them to cool in the pan for 10 minutes, then move them to a cooling rack.
Allow the cupcakes to cool completely before frosting.
Vanilla Buttercream
Place the sugar and water in a medium saucepan and swirl the pan until the sugar is fully immersed in water. Place the saucepan over medium heat until the sugar dissolves and comes to a gentle simmer.
Lower the heat to low and place the lid on the pan and allow the mixture to simmer for a couple minutes.
Meanwhile, place the eggs in the bowl of a stand mixer, fitted with the whisk attachment, and turn the mixer up to high speed. Let it whip while the sugar is cooking.
Use a candy thermometer to see when the sugar reaches 240F (116C), then lower the mixer to medium speed and slowly drizzle the hot sugar syrup into the thick and foamy eggs, while they are whipping.
Turn the mixer back up to high speed and let it whip for 5-10 minutes, until the egg mixture is very pale and fluffy and is cool to the touch or no longer warm.
Turn the mixer back down to medium speed and add in the butter, 2 Tbsp of butter at a time, mixing until each chunk is fully combined and the buttercream looks smooth and creamy.
Scrape the sides and bottom of the bowl, add in the vanilla and salt and turn the mixer up to high speed for 1-2 minutes.
To get rid of the excess air bubbles (for smoother piping), switch to a paddle attachment and turn the mixer to low speed for 5-10 minutes.
Once the cupcakes have cooled, use a piping bag to frost the cupcakes. Top with sprinkles, gold luster dust, and/or edible gold foil.
Nutrition Information:
Yield:
14
Serving Size:
1
Amount Per Serving:
Calories:

391
Total Fat:

24g
Saturated Fat:

10g
Trans Fat:

0g
Unsaturated Fat:

12g
Cholesterol:

94mg
Sodium:

182mg
Carbohydrates:

40g
Fiber:

1g
Sugar:

29g
Protein:

4g
Nutrition information may not be fully accurate.