Carrot Cake Cinnamon Rolls
Carrot cake cinnamon rolls made with a soft and fluffy brioche dough, filled with grated carrots, chopped nuts and cinnamon sugar and topped with a cream cheese icing!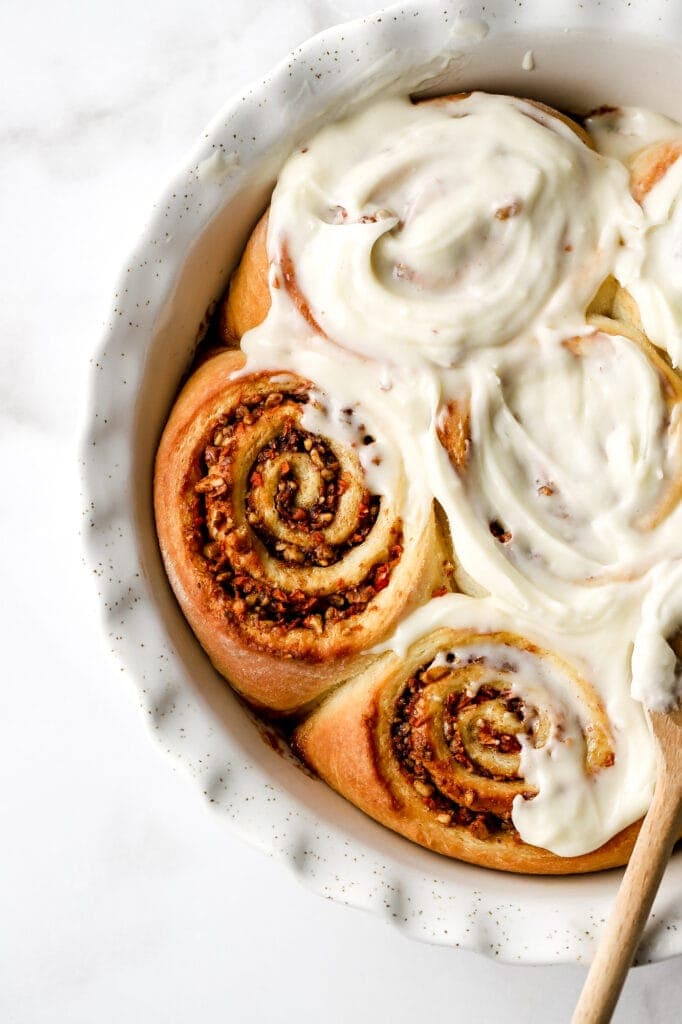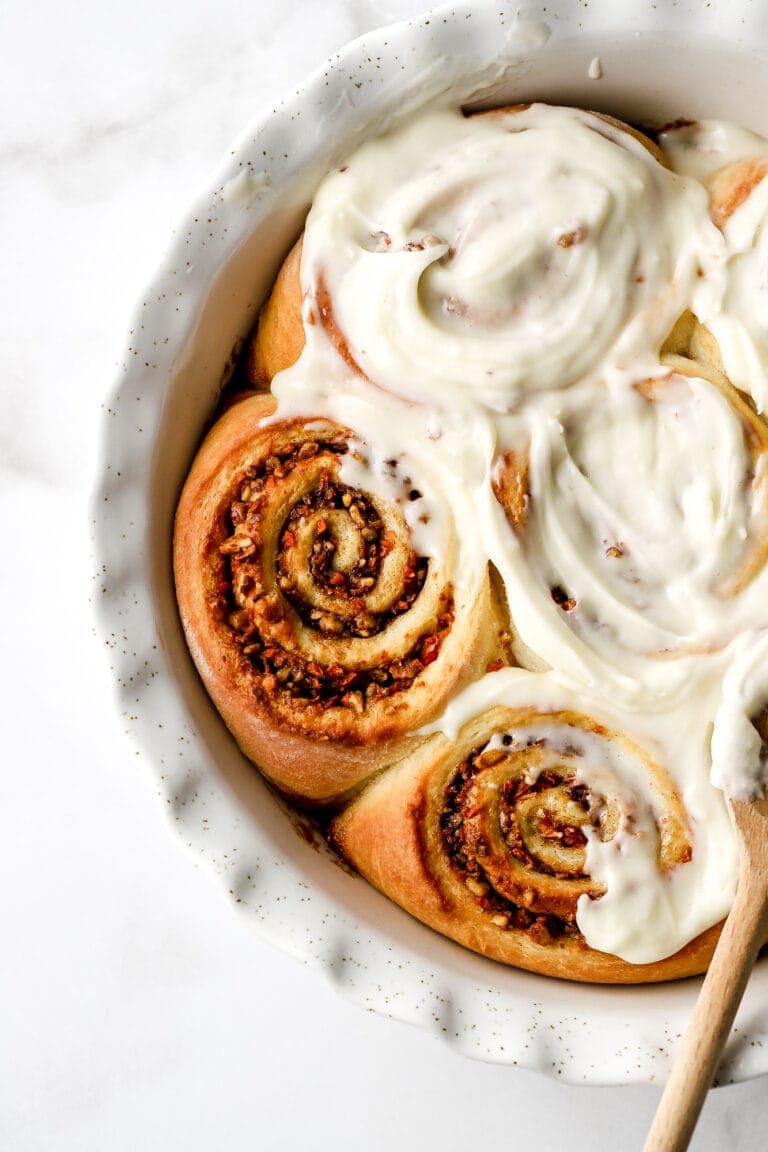 If you thought I was done with carrot cake for the season, you were wrong because today we're talking all about these carrot cake cinnamon rolls!
I partnered with Cuisinart to make the ultimate treat, combining classic cinnamon rolls and carrot cake using their new mini cordless food processor. 
How to make carrot cake cinnamon rolls
Brioche Dough
Brioche dough is what's generally used to make cinnamon rolls. It's enriched with a little bit of sugar, eggs, milk and butter for ultra fluffiness.
For more details and step-by-step shots on how to make the perfect dough, check out The Best Brioche Cinnamon Rolls. I use that base for all my cinnamon rolls, including chocolate, lemon, s'mores, apple and caramelized white chocolate rolls.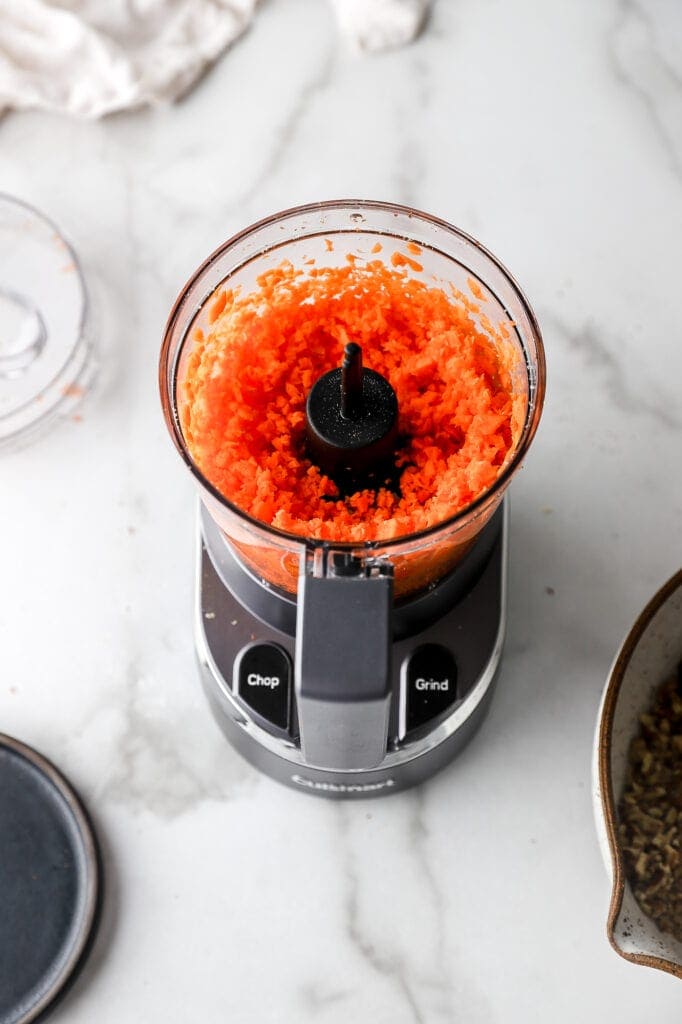 Carrot Cake Filling
The carrot cake filling is the hero of this recipe. It's made up of chopped carrots, walnuts, pecan, cinnamon and brown sugar. Thanks to the Cuisinart EvolutionX Mini Chopper, you can easily chop the carrots, walnuts and pecans in like two seconds with the easiest clean up ever. 
I'm not even going to lie, sometimes I don't want to make carrot cake because I don't feel like shredding my carrots but with this chopper, it's soooo much quicker. Did I mention it's cordless too?! Yeah, that's right you can use it anywhere and everywhere. To say I'm obsessed is an understatement.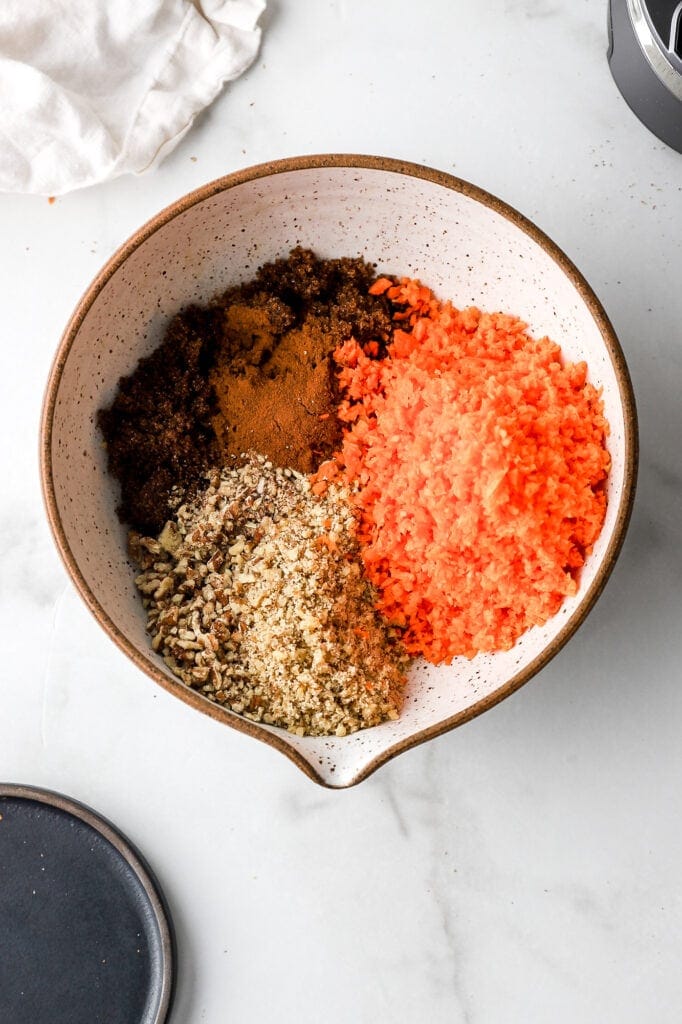 Cream Cheese Icing
I mean, you can't make cinnamon rolls without a cream cheese icing right?! The key to the cream cheese icing, is making sure the cream cheese is softened and not cold out of the fridge. It'll be much easier to combine with the powdered sugar this way.
& if you want a really thin glaze, just add more milk to the icing but keep in mind, when you spread it on top of the warm cinnamon rolls, it'll thin out and melt into all the crevices, even if your icing isn't super runny!
Serving and storing carrot cake cinnamon rolls
Carrot cake cinnamon rolls are best served fresh and warm. I like to give them about 5-10 minutes to cool in the hot pan before frosting and serving. You can frost all the rolls right away or save the frosting and frost before serving. 
Storing leftover cinnamon rolls
I recommend frosting just the cinnamon rolls that will be eaten immediately. That way, you can store the leftover cinnamon rolls in an airtight container on the counter for 3-4 days, reheat them and then frost. 
If you already frosted all of them, store the cinnamon rolls in an airtight container in the refrigerator for up to a week. If you leave the frosted cinnamon rolls on the counter, you'll risk the cream cheese frosting going bad. 
Reheat leftover rolls
To reheat carrot cake cinnamon rolls, either microwave or place them in an oven preheated to 350F for 10ish minutes, until they feel warm. Just remember, if they're already frosted, the frosting on top will melt into the rolls when they're reheated.
How to make carrot cake cinnamon rolls ahead of time
To make these cinnamon rolls ahead of time, you can either make the filling ahead of time and store it covered in the refrigerator overnight. The roll can also be made up until slicing and before proofing in the pan, cover tightly and refrigerate overnight. When you're ready to bake, remove them from the fridge, allow them to proof for about 45-60 minutes and bake. 
Thanks so much stopping by, if you have any questions just comment down below. If you make these fabulous carrot cake cinnamon rolls, make sure to tag us @baranbakery and @cuisinart on instagram! As always, have a blessed day and happy baking!
Love, B
Yield: 12 Rolls
Carrot Cake Cinnamon Rolls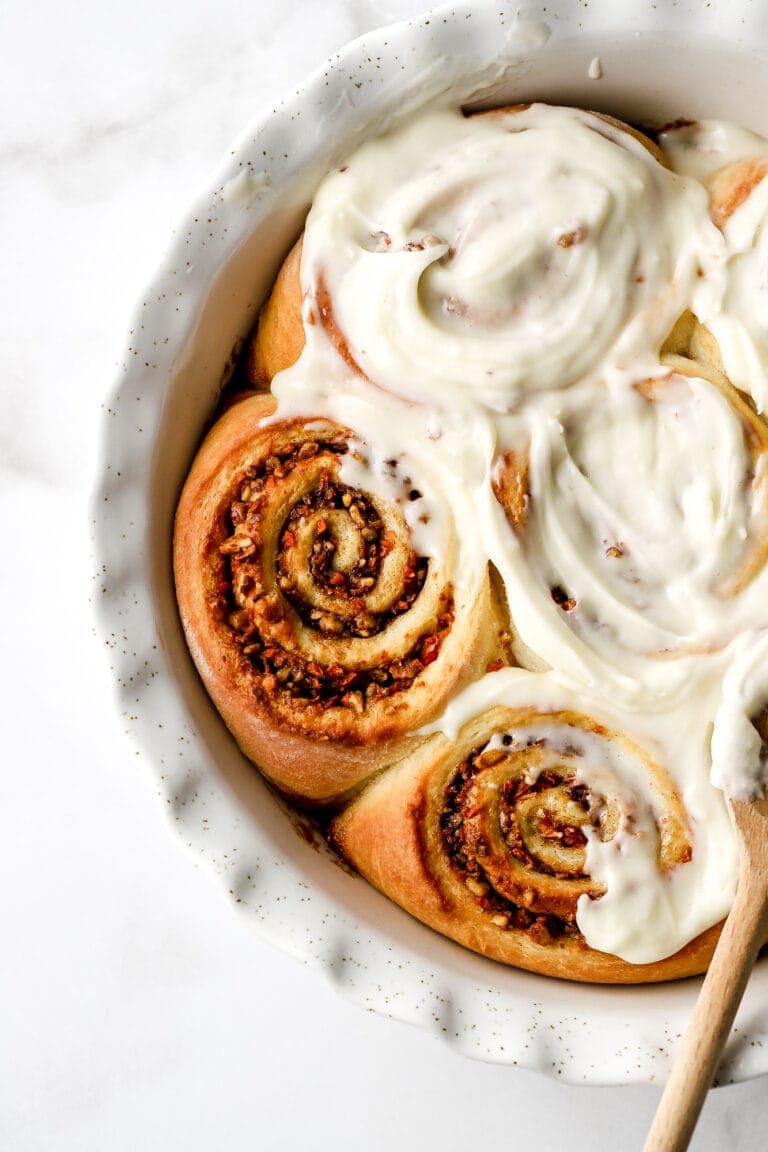 A combination of the two greastest desserts, Cinnamon Rolls and Carrot Cake, to make these delicious Carrot Cake Cinnamon Rolls with Cream Cheese Frosting!
Additional Time
45 minutes
Total Time
1 hour
40 minutes
Ingredients
BRIOCHE DOUGH
3 1/2 - 3 3/4 (420g - 450g) cup all-purpose flour, spooned and leveled
2 1/4 tsp (1 package) instant yeast
1/4 cup (50g) granulated sugar
1/2 tsp salt
1 large egg, room temperature
1 large egg yolk, room temperature
1 cup (237mL) milk
1 tsp vanilla extract
1/2 cup (113g) butter softened
CARROT CAKE FILLING
2 large carrots, peeled and sliced
2 oz walnuts
2 oz pecans
1/4 cup (50g) light brown sugar, lightly packed
2 tsp cinnamon
1/4 cup (56g) unsalted butter, softened
CREAM CHEESE ICING
2 oz cream cheese, room temperature
2 oz unsalted butter, room temperature
1 1/2 cup powdered sugar, spooned and leveled
2 Tbsp heavy cream
1 tsp vanilla extract
Instructions
Brioche Dough
In the bowl of a stand mixer, combine 3 1/2 cups of flour, instant yeast, sugar and salt until they're evenly dispersed.
Using the dough hook attachment, turn the mixer up to medium-low speed and add in the egg, egg yolk, milk and vanilla. Mix until the dough starts to come together and then let it knead for 5-10 minutes.
The dough is ready when it's pulled itself away from the edge, forming a ball around the hook. You can also remove a piece of dough and stretch it between your fingers, if you can see light through it without it breaking then it is done. Add in 1-2 Tbsp of the butter at a time, mixing until each piece is fully combined.
With the mixer on medium-low speed, continue letting the dough knead for about five minutes, until the dough feels soft but not super sticky. If the dough is still sticky, add in the extra flour, 1-2 Tbsp at a time and knead until it's combined and the dough is soft but not super sticky.
Place the dough to rest on a floured surface for just 10 minutes. Grease a 9x13 inch pan (or two 8-9" pans) and set aside. Use a rolling pin to roll the dough out into a 12x16 inch rectangle on a floured work surface.
Filling
Use the Cuisinart EvolutionX Mini Chopper to grind the carrots. Place them in a bowl. Use the chopper to grind the walnuts and add them to the bowl of carrots.
Use the chopper to grind the pecans and add them to the bowl of carrots and walnuts. Add the sugar and cinnamon to the bowl and mix until combined.
Spread the butter on the rolled out dough, and evenly spread the filling on top of the butter. Starting at the long edge of the dough, use your hands to tightly roll it into a log. Use a greased knife to evenly slice the log into 12 large rolls.
Place the rolls in the prepared baking pan and cover them with plastic wrap. Place them in a warm environment (about 75°F or 24°C), for about 45 minutes, and let the rolls rise until they've doubled in size.
Preheat the oven to 350°F (177°C) and bake the rolls for about 23-25 minutes, until they're golden brown. Remove them from the oven and set them aside to cool for a few minutes.
Frosting
With a hand mixer, beat the cream cheese with butter until it is pale and fluffy.
Add the powdered sugar and beat until smooth, then add the heavy cream and vanilla and mix until combined.
Spread over the cooled rolls and serve!
Recommended Products
As an Amazon Associate and member of other affiliate programs, I earn from qualifying purchases.
Nutrition Information:
Yield:
12
Serving Size:
1
Amount Per Serving:
Calories:

841
Total Fat:

27g
Saturated Fat:

13g
Trans Fat:

0g
Unsaturated Fat:

13g
Cholesterol:

96mg
Sodium:

207mg
Carbohydrates:

130g
Fiber:

5g
Sugar:

23g
Protein:

18g
Nutrition information may not be fully accurate.
This corresponding Instagram post was sponsored by Cuisinart, all thoughts and opinions are my own. Thank you for supporting the brands that support Baran Bakery!