Banana Cookies with Cream Cheese Frosting
These banana cookies are basically a banana snickerdoodle sandwiched around fluffy vanilla bean cream cheese frosting!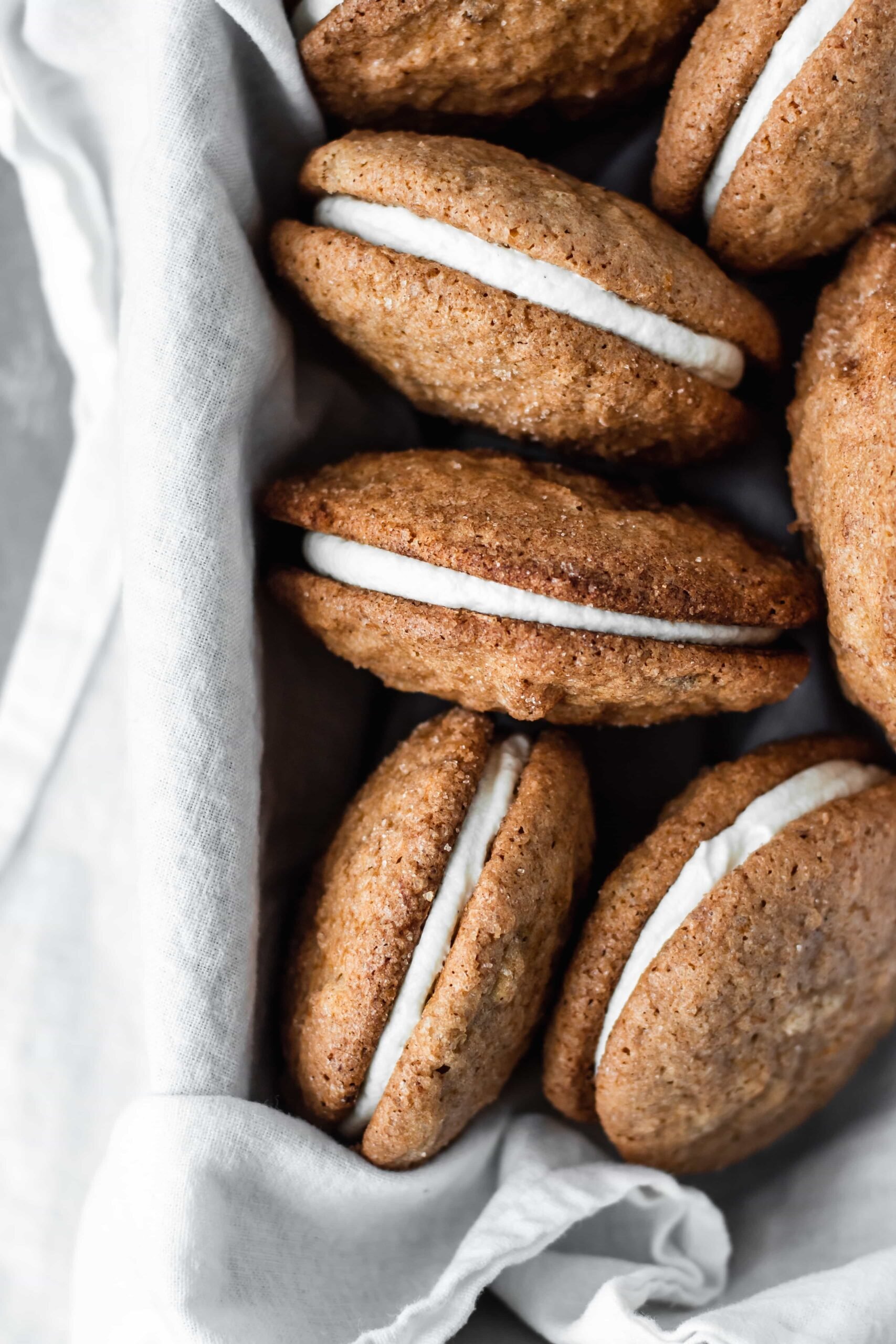 Why hello there! Hope you are having the most wonderful day ever & if not, then I hope to make it the most wonderful day ever with these epic banana sandwich cookies!
I know you'd probably prefer that I made them & hand delivered them to you but that's just not an option at the moment soooo a recipe & photos will have to suffice.
When I first started taking this blog more seriously & switched over to the new website, I posted these carrot cake cookies which EVERYONE LOVED. My dad has been trying to convince me to sell them… but that's not happening so instead I made a banana version.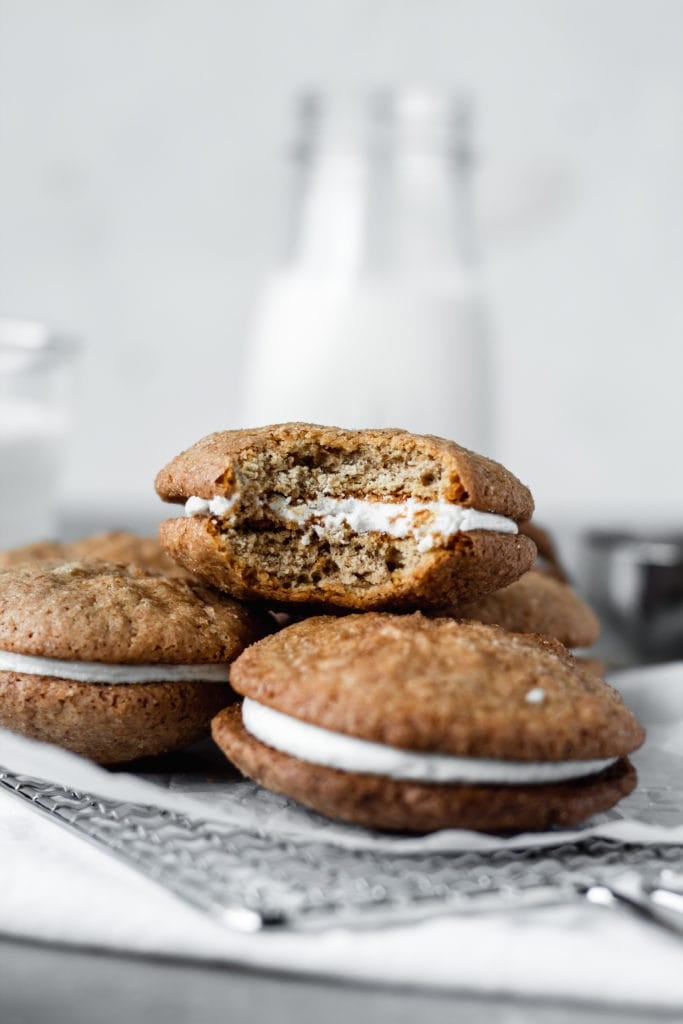 How To Make Banana Bread Cookies
So we're starting with a basic cookie recipe. Cream butter & sugar, add in eggs & vanilla. Fold in dry ingredients. But now we're adding the bananas.
If you've ever made banana bread, you know you want to mash the bananas separately before adding them to dough. If not, you'll get large clumps of gooey banana that just feel weird and under-baked. So make sure to mash your bananas really well first & then mix them in.
Ingredients You'll Need:
Flour:  I used all-purpose flour for these cookies. Flour is the most inaccurately measured ingredient so I highly recommend a digital kitchen scale to measure for all baking recipes.
Cinnamon: You just can't have banana without cinnamon.
Salt: Remove if you're using salted butter
Baking Soda: Baking soda will balance the acid from the bananas and brown sugar and give some rise to the cookies.
Butter: I use unsalted but you can use salted and skip the salt.
Sugar: A combination of brown sugar and granulated sugar give these a nice chewy, caramelly flavor and texture.
Eggs: always use large, room temperature eggs. Pop them in warm water for a few minutes if they're cold.
Bananas: if you don't have ripe bananas, you can ripen them quickly by baking them in the oven at 400F until they're brown.
How to prepare and bake banana cookies
I like my sandwich cookies to be a little bit on the flatter side so that they don't have a huge dome in the middle. To get them just right, I like to roll them into balls and then press them down just a little into a patty.
Then they get rolled in the cinnamon sugar and baked for 12 minutes. Check on your cookies at about 9-10 minutes of bake time. If they're not as perfectly round as you want them to be, place a round cookie cutter (or anything of similar size, like a cup) around the cookie and give it a little swirl so it's evens out the sides. Then return to the oven and finish baking.
The reason I do that instead of waiting until they're fully baked is because if the edge is fully bake, they don't conform to the shape you want them to anymore.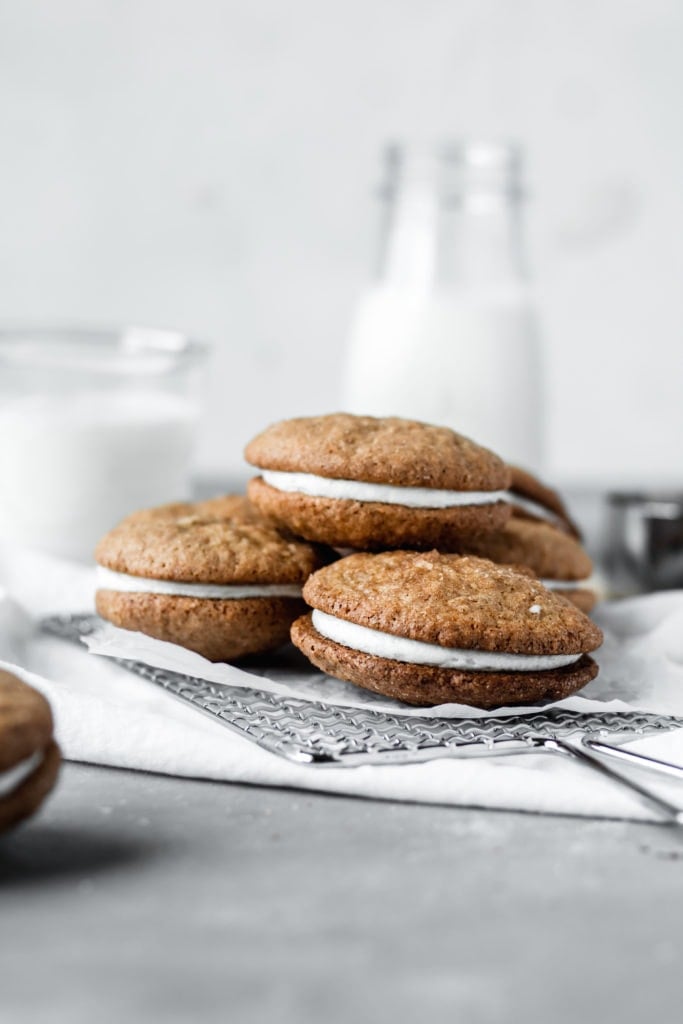 What kind of frosting to use for sandwich cookies?
I went with a basic cream cheese frosting. You can also do the frosting with just butter or even a European buttercream if you prefer, like my Swiss meringue or French buttercream recipes or check out my book, Frosted, for all things buttercream! There's an incredible snickerdoodle ermine frosting recipe that would pair so lovely with these.
FAQs
Some cookie recipes require refrigerating, some don't. There's a reason for that and I tested these 4-5 times trying to get them right without refrigerating, lol. It just doesn't work, the bananas make the cookie dough too soft & adding more flour to make them firmer turns them into an actual banana bread.
Why did my cookies come out dry?
My best guess is over-measuring the flour. I 10/10 recommend using a digital kitchen scale for measuring dry ingredients. If you aren't using one, make sure you fluff up the flour, then spoon it into the measuring cup and level off the top. Keep in mind, not all measuring cups are created equally, the most accurate for me is Williams Sonoma's.
How to store banana cookies
Generally cookies can be stored at room temperature however because they're frosted with cream cheese frosting, I recommend storing them in the refrigerator. Place them in a ziplock bag or an airtight container and store them in the fridge for up to a week or the freezer for 2-3 months.
Alright lovebugs, now that I've taken up like half your day, I hope you enjoy the rest of it. If you're looking for more banana recipes, check out this chocolate chip banana cake with peanut butter buttercream or my favorite banana bread recipe!
If you make these banana cookies with cream cheese frosting, make sure to tag me @baranbakery on Instagram so I can stalk your pictures! As always,
Love, B
Yield: 10 large cookies
Banana Cookies with Cream Cheese Frosting Recipe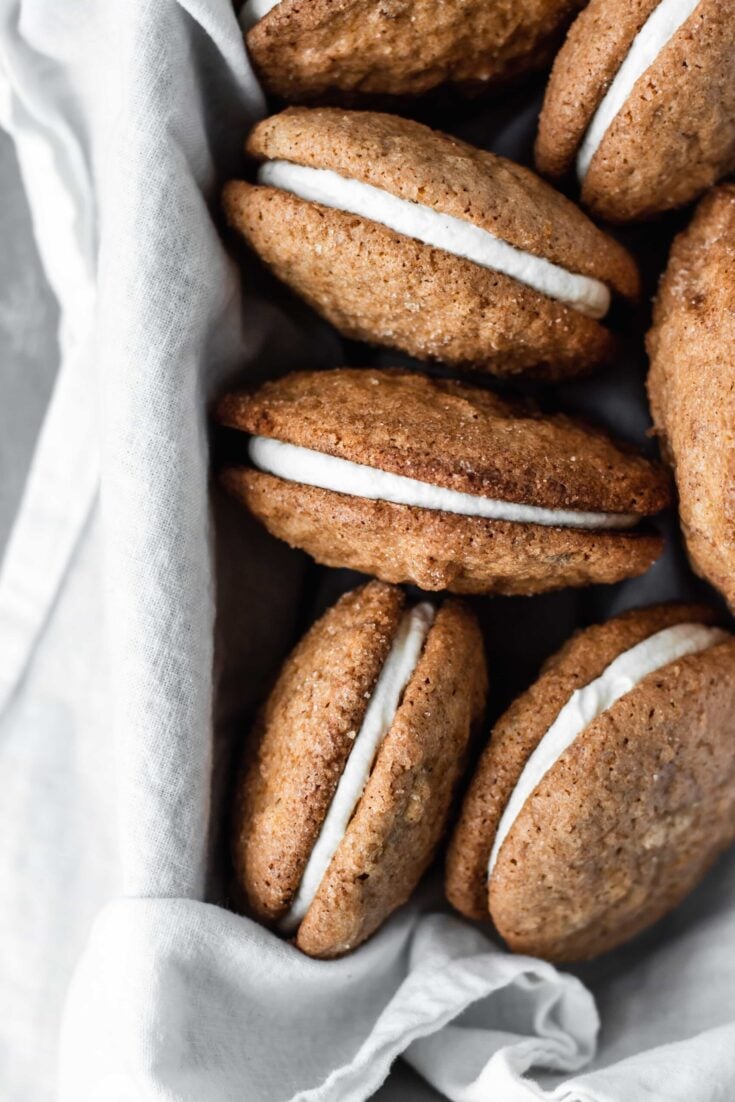 These banana cookies are basically a banana snickerdoodle sandwiched around fluffy vanilla bean cream cheese frosting!
Total Time
3 hours
32 minutes
Ingredients
Banana Cookie
2 cup (240g) all-purpose flour, spooned and leveled
1/2 Tbsp cinnamon + 1 tsp for rolling
1/4 tsp salt
1/2 tsp baking soda
1/2 cup (113g) unsalted butter, room temperature
1/2 cup (100g) light brown sugar, lightly packed
1/2 cup (100g) granulated sugar + 1/2 cup (100g) for rolling
2 large eggs, room temperature
1 tsp vanilla extract
2 medium (200g) ripe bananas, mashed
Cream Cheese Frosting
8 oz cream cheese, room temperature
8 oz unsalted butter, room temperature
2 tsp vanilla
1/4 tsp salt
3 1/2 cup (420g) powdered sugar
Instructions
Banana Cookie
Begin by mixing the flour, the 1/2 Tbsp of cinnamon, salt and baking soda in a bowl and set aside.
Using a flat beater, cream the butter with the brown sugar and 1/2 cup of granulated sugar. Add in the eggs and vanilla and beat everything until they're well combined.
With the mixer on low speed, add in the dry ingredients and mashed bananas and mix just until the flour is incorporated. Refrigerate the dough for about 30 minutes.
Using a small ice cream scooper, scoop 20 cookies onto a lined cookie sheet and refrigerate for at least 1 hour.
Preheat the oven to 350F/177C convection (325F/163C conventional) and mix 1 tsp of cinnamon and 1/2 cup sugar and roll the cookie scoops in the cinnamon sugar.
Separate the cookies onto three pans, allowing 6-7 cookies per pan. Roll them into a ball and then flatten them into a patty. Not super thin, just press down on the center a little.
Toss the cookies in the cinnamon sugar and bake for 12 minutes.
Allow the cookies to cool on the pan for a 2-3 minutes and then move them to a cooling rack to cool completely before icing.
Cream Cheese Frosting
To make the icing, place the cream cheese and butter in the bowl of a stand mixer and use the flat beater, at medium high speed to cream them together for 2-3 minutes.
Add in the vanilla, salt and powdered sugar and beat until the sugar is incorporated and the frosting is smooth.
Once the cookies are cool, place about a tablespoon amount of icing on half of the cookies and sandwich them together with the other half.
Let them set for 2-3 hours in the fridge and serve them either cold or at room temperature.
Notes
Banana flavor is slightly more intense the next day.
You can sub 1/2 cup flour for ground nuts (I used walnuts once) for a slightly flatter/nuttier cookie.
Recommended Products
As an Amazon Associate and member of other affiliate programs, I earn from qualifying purchases.
Nutrition Information:
Yield:
10
Serving Size:
1
Amount Per Serving:
Calories:

677
Total Fat:

37g
Saturated Fat:

22g
Trans Fat:

0g
Unsaturated Fat:

12g
Cholesterol:

133mg
Sodium:

273mg
Carbohydrates:

84g
Fiber:

2g
Sugar:

61g
Protein:

6g
Nutrition information may not be fully accurate.