Chocolate Chip Almond Cake
Chocolate chip almond cake is my favorite chocolate cake packed full with chocolate chips and frosted with a chocolate chip almond flavored French buttercream.
Double chocolate cake with chocolate chip almond buttercream…what's not to love? There are so many flavor combinations and variations for layer cakes, and if you are a regular here at Baran Bakery, you will know this is probably one of my favourite styles of cakes to make.
This flavour combination is both decadent and also surprisingly light and the texture is the perfect balance; sturdy yet fluffy. The intensity of the chocolate cake paired with the chocolate chip almond buttercream is a clear winner.
How to make chocolate almond cake?
I prefer to keep my recipes as simple as possible without skipping any important details or tips to help you in the kitchen. It's so important to enjoy the process of baking as well as the eating, don't you agree? The full and in detail instructions are in the recipe card, but I do have some handy dandy tips for you in here as well, if you're interested, of course.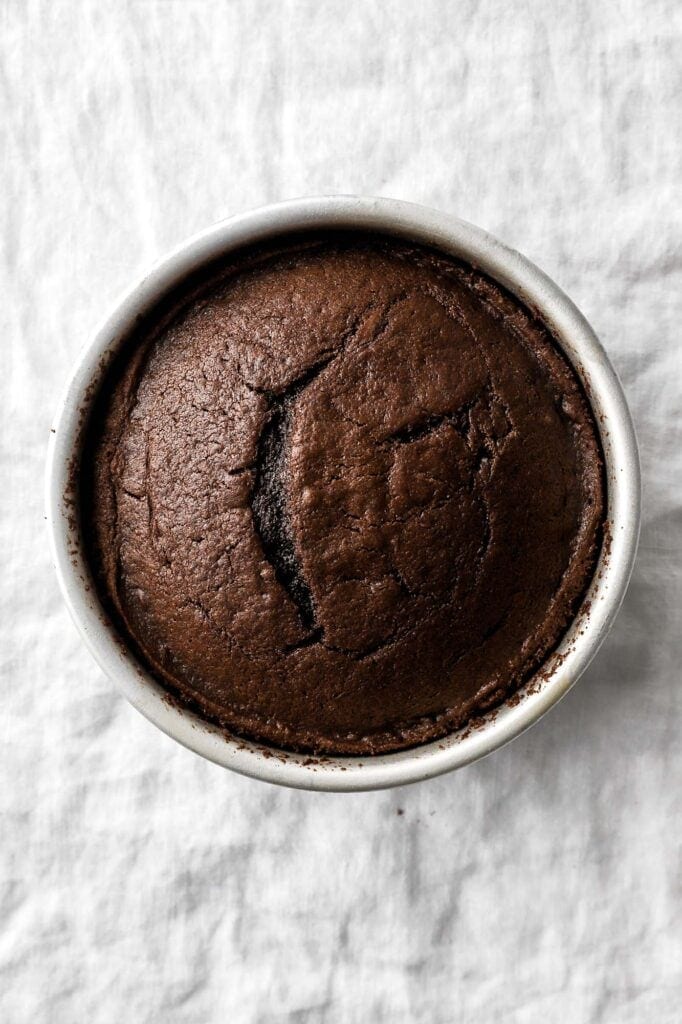 Chocolate Cake
I've tested what feels like hundreds and hundreds of chocolate cake recipes (not that i'm complaining) and although I love a moisture heavy, indulgent melt in your mouth, bite, I prefer a sturdy texture with a fluffy quality, the type of sponge that doesn't instantly fall apart. Basically the perfect bite! This chocolate cake recipe, in my opinion, achieves a perfect texture balance.
Ingredients:
Flour: I develop most of my recipes with all-purpose flour because it is easily accessible and most of you probably have it in your kitchen pantry already! Convenience for me is a priority.
Cocoa Powder: Cocoa powder in chocolate cakes achieves the perfect flavour balance. As opposed to chocolate, cocoa powder packs a more powerful and pure chocolate flavor punch! More chocolate flavor, who could be mad at that?
Fat: I use butter and oil in almost all my cake recipes because I prefer the texture produced by the combination of both fats. Butter alone can make the cake texture quite dry, whereas oil can make it too squishy and wet, so I love the results of creaming the butter with the sugar for flavor and volume but then adding some oil too. It just works every time!
Sugar: Sugar provides flavor, structure, and moisture in cakes. It also helps with leavening since it gets creamed with the butter. If you're aiming for a cake that's a little less sweet, opt for a European buttercream, like this French one or a Swiss meringue buttercream, instead of American buttercream.
Liquid: I use milk and sour cream in my recipes. I like the fluffy texture provided by the combination of both. If you don't have sour cream, you can replace it with greek yogurt.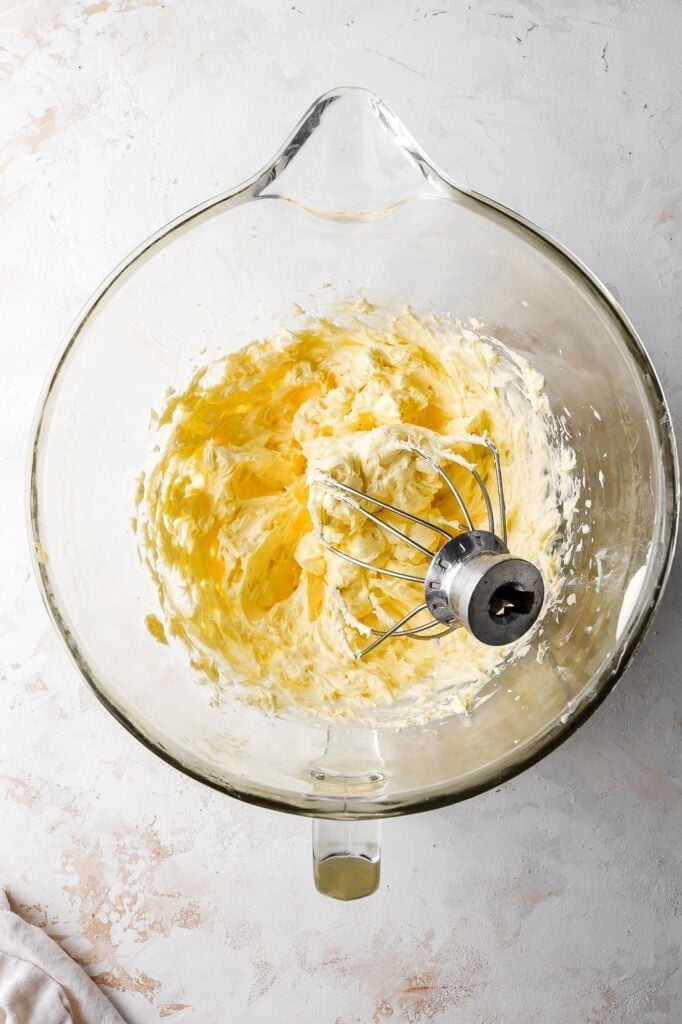 Chocolate chip almond buttercream
There is no doubt that French buttercream is one of my favorite frostings but you can certainly use any type of frosting you prefer. Check out my cookbook, Frosted, for all the different types of frosting and how to use them.
I could've totally taken this "almond" flavor in a different direction by using almond paste, almond butter or almond flour throughout the cake. BUT, the truth is, I really like the taste of almond extract and it was the main reason I wanted to make this cake. So yeah, it's basically just French buttercream with almond and vanilla extract and some chocolate chips.
Also, if you're wondering why I didn't add chocolate chips to the whole frosting, it's because they're annoying to slice through so I just added them to the outside frosting.
Chocolate ganache
Ganache sounds complex but my version is completely manageable, and so delicious. It is a two ingredient dream. All you need is a cup of chocolate chips or chopped chocolate and ½ a cup of heavy cream.
It really is the perfect addition to almost any cake but especially to this chocolate almond cake. The ganache making process is simple and straightforward, so be warned, you might end up including chocolate ganache in all your bakes! Definitely not a bad thing, I doubt you'll get any complaints!
Frequently Asked Questions (FAQs)
Why do ingredients have to be at room temperature
In three words: fluffiness, texture and precision! When at room temperature, eggs, butter, and other dairy ingredients form an emulsion which catches air. While your cake is baking in the oven, that trapped air expands and creates a well balanced perfectly textured cake!
TIP: If your batter ever looks split/curdled when you add the eggs, it's most likely either the temperature of your ingredients or the fat to liquid ratio is off.
How to prevent the cake from sticking to the pan
I rarely encounter this problem because I usually just use a baking spray made with flour to grease my cake pans. It is not as common as greasing with plain butter or flour but it works every time for me and it's so much easier. I'm all for simplifying and saving time during the baking process! If you're nervous you can use parchment paper to line the pans as well.
How do I know when my cake is done baking?
This is an important part to consider because an amazing cake can quickly become dry in a matter of minutes, and we don't want dry cake right? Most people insert a toothpick and if it comes out clean without any raw batter on, that signals the cake is done baking but honestly, that's doing too much and the cake could already be overbaked.
I have a tip (or two!) for the perfect bake! If your cake pans are greased properly, the cake should release itself from the edge of the pan once it's fully baked. Another way to know is that as soon as the top of the cake no longer looks wet, very gently press on the center of it and if it springs back, it's done. If your fingerprint stays pressed down then baked for another 1-2 minutes and try again.
What size can I make this cake into?
Two layer 8 inch cake, bake for about 35 minutes
Two layer 9 inch cake, bake for about 30 minutes
One 9×13 inch cake, bake for about 45 minutes
How to store chocolate chip almond cake
Store the frosted cake at room temperature for 2-3 days. If it's sliced, make sure to cover the cut side with plastic wrap or a cake dome. You can also refrigerate the cake fully covered for up to a week.
To freeze the cake, slice it and place the slices in an airtight container. Then place the container in a freezer bag, squeezing out all the excess air. Freeze for about 2 months.
Thanks so much for reading today's post , if you have any questions just comment down below, i'm happy to answer! If you make this chocolate chip almond cake I would love to see the results, please make sure to tag me @baranbakery on instagram and order my cookbook, Frosted. As always, have a blessed day and happy baking!
Love, B
Yield: 8-10 slices
Chocolate Chip Almond Cake Recipe
Thick chocolate cake layers studded with extra chocolate chips and frosted with chocolate chip almond flavored french buttercream!
Prep Time
1 hour
15 minutes
Total Time
4 hours
50 minutes
Ingredients
Chocolate cake
1 3/4 cups (210g) all-purpose flour, spooned and leveled
3/4 cup (60g) Dutch process cocoa powder, spooned and leveled
1 Tbsp (10g) baking powder
1/2 tsp salt
1/4 cup (56g) unsalted butter, room temperature
1/2 cup (118mL) canola oil
1 1/2 cup (300g) granulated sugar
3 large eggs, room temperature
3/4 cup (170g) sour cream
3/4 cup (177mL) milk, room temperature
1 cup (6oz) mini semi-sweet chocolate chips or chopped chocolate
Chocolate Chip Almond French Buttercream
1 cup (200g) granulated sugar
1/4 cup (59mL) water
4 large egg yolks, room temperature
1 cup (56g) unsalted butter, room temperature
1 tsp vanilla bean paste (or extract)
1 tsp almond extract
⅛ tsp salt
1/2 cup (3oz) semisweet mini chocolate chips or chopped chocolate
Chocolate Ganache
1 cup (6oz) semi-sweet chocolate chips or chopped chocolate
1/2 cup (4oz) heavy cream
Instructions
Chocolate Cake
Preheat the oven to 350F/177C convection (325F/163C conventional) and grease and line three 6 inch cake pans.
In a medium bowl, whisk together the flour, cocoa powder, baking powder and salt until they're evenly distributed.
Place the room temperature butter, the oil and the granulated sugar in a large bowl and use an electric mixer with the whisk attachment to beat them for 2 minutes. Add the eggs, one at a time, beating on medium speed until each egg is fully incorporated. Add the sour cream and beat just until it's combined.
Add half of the dry ingredients to the batter, turn the mixer on low speed and then pour in the milk, followed by the rest of the dry ingredients, mixing just until the flour is mostly incorporated. Fold in the chocolate chips, just until it's evenly distributed.
Distribute the batter evenly among the three cake pans, about 14oz in each pan and bake for 30-35 minutes. When the cake is fully baked it will release itself from the edge of the pan and it will spring back if you press on the center of it.
Allow the cake to cool in the pan for 5 minutes and then invert them onto a tea towel or cooling rack. Then allow them to cool completely before frosting.
Chocolate Chip Almond Buttercream
Place the sugar and water in a medium saucepan and swirl the pan until the sugar is fully immersed in water. Place the saucepan over medium heat until the sugar dissolves and comes to a gentle simmer.
Lower the heat to low and place the lid on the pan and allow the mixture to simmer for a couple minutes. Meanwhile, place the egg yolks in the bowl of a stand mixer, fitted with the whisk attachment, and turn the mixer up to high speed. Let it whip while the sugar is done cooking.
Use a candy thermometer to see when the sugar reaches 240F (116C), then lower the mixer to medium speed and slowly drizzle the hot sugar syrup into the thick and foamy egg yolks, while they are whipping.
Turn the mixer back up to high speed and let it whip for 5-10 minutes, until the yolk mixture is very pale and fluffy and is cool to the touch or no longer warm.
Turn the mixer back down to medium speed and add in the butter, 2 Tbsp of butter at a time, mixing until each chunk is fully combined and the buttercream looks smooth and creamy.
Scrape the sides and bottom of the bowl, add in the vanilla, almond and salt and turn the mixer up to high speed for 1-2 minutes.
Assemble
Place the first layer of cake on a flat surface and use 1/4 of the chocolate chip almond buttercream to frost it. Repeat with the second layer and then place the third layer on top. Refrigerate the cake for 20 minutes.
Add in the chocolate chips to the remaining buttercream and mix until they're evenly dispersed. Then use the rest of the buttercream to frost the outside of the cake.
Refrigerate the cake for another 30-60 minutes, until the buttercream feels a little more firm and sturdy.
Chocolate Ganache
Place the chocolate chips in a large bowl and set aside. Heat the cream in a small saucepan over low heat just until it begins to simmer and then pour it over the chocolate chips.
Cover the bowl for 1-2 minutes and then slowly stir until it's fully combined and smooth. Allow it to cool at room temperature for about 15 minutes, mixing ever few minutes.
When it's no longer hot but still runny, pour it over the chilled cake. Refrigerate the cake for another 15 minutes to set the chocolate ganache.
Serve at room temperature or slightly chilled.
Recommended Products
As an Amazon Associate and member of other affiliate programs, I earn from qualifying purchases.
Nutrition Information:
Yield:
10 Slices
Serving Size:
1
Amount Per Serving:
Calories:

961
Total Fat:

60g
Saturated Fat:

29g
Trans Fat:

0g
Unsaturated Fat:

27g
Cholesterol:

235mg
Sodium:

342mg
Carbohydrates:

102g
Fiber:

4g
Sugar:

76g
Protein:

12g
Nutrition information may not be fully accurate.