Fluffy and moist one bowl carrot cake muffins with a hint of cinnamon and a sweet crunchy muffin top.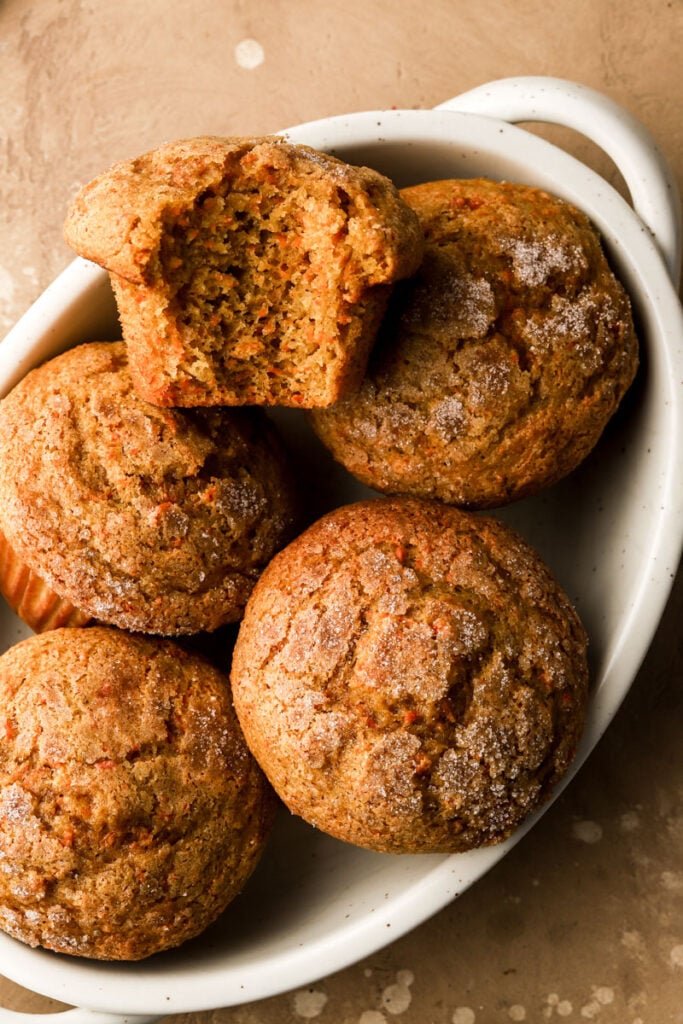 Next type of muffin on the list? You guessed it, carrot cake. She is as fabulous as she looks.
I couldn't resist swapping out the banana from my banana bread muffins for a carrot cake version. If you're feeling fancy, you can also add my pecan streusel from my pumpkin muffins or make it a plain streusel by omitting the pecans.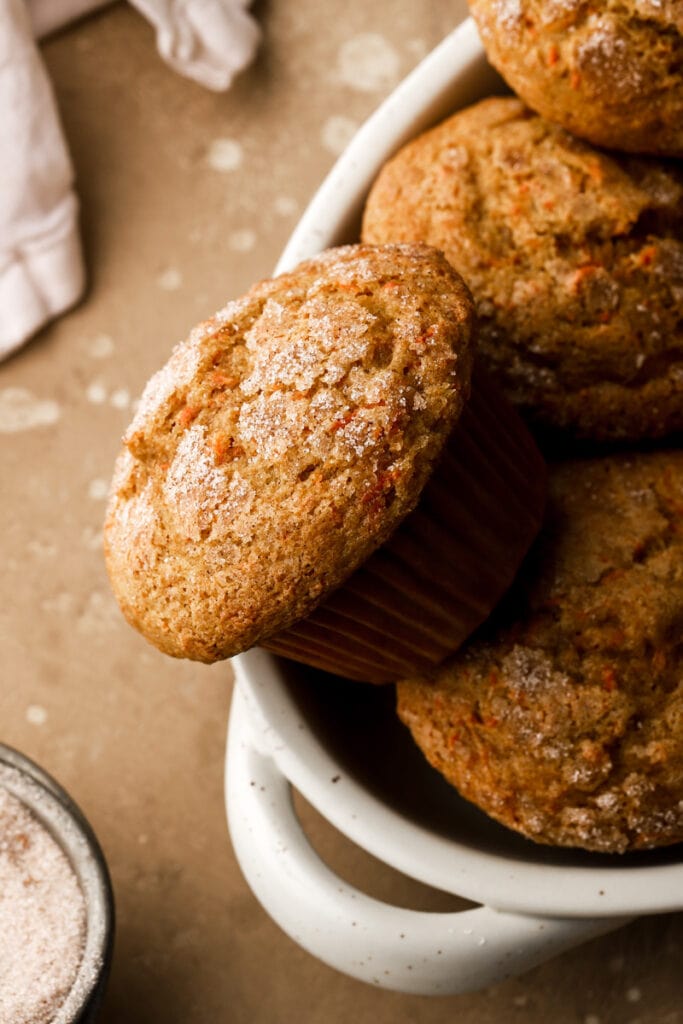 Why you'll love these Carrot Cake Muffins
Convenient because they use up carrots since they always come in a big bag lol.
They're made in one bowl so no extra dishes!
They're large and have perfectly domed muffin tops but can also be made smaller.
Muffins are moist but not gummy.
Carrot flavor dances beautifully with a hint of cinnamon.
Although they still have sugar, the rest of the ingredients can be healthy.
Ingredients
Carrots: I used two large carrots but it's best to measure it by weight.

I had to increase the amount of carrots and yogurt used here compared to my other muffin recipes because carrots don't hold as much moisture as bananas/pumpkin, etc.

Flour: I use all purpose flour in most of my recipes and I HIGHLY recommend using a digital scale, as flour is so often over measured.

If you want to make these a little healthier, you can swap half the flour for whole wheat flour or all of the flour for white whole wheat flour.
1:1 Gluten-free flour substitutes also work.

Baking Powder & Baking Soda: We're going to need both here and a lot of them to get that gorgeous muffin top.
Sugar: I used light brown sugar but granulated or dark brown will work well in this recipe as well.
Oil: I used oil in this recipe because I wanted to keep the muffins a little fluffier and spongier. I used olive oil to make them slightly healthier as a breakfast treat but any neutral oil works fine as well.
Eggs: I use room temperature, large eggs. Pop them in hot water for a few minutes if they're cold.
Greek yogurt: I like to add greek yogurt as a healthier option but sour cream and plain yogurt also work. Make sure the yogurt is unsweetened.
Cinnamon: I used ground cinnamon and I will never not add a little cinnamon to my carrot recipes lol.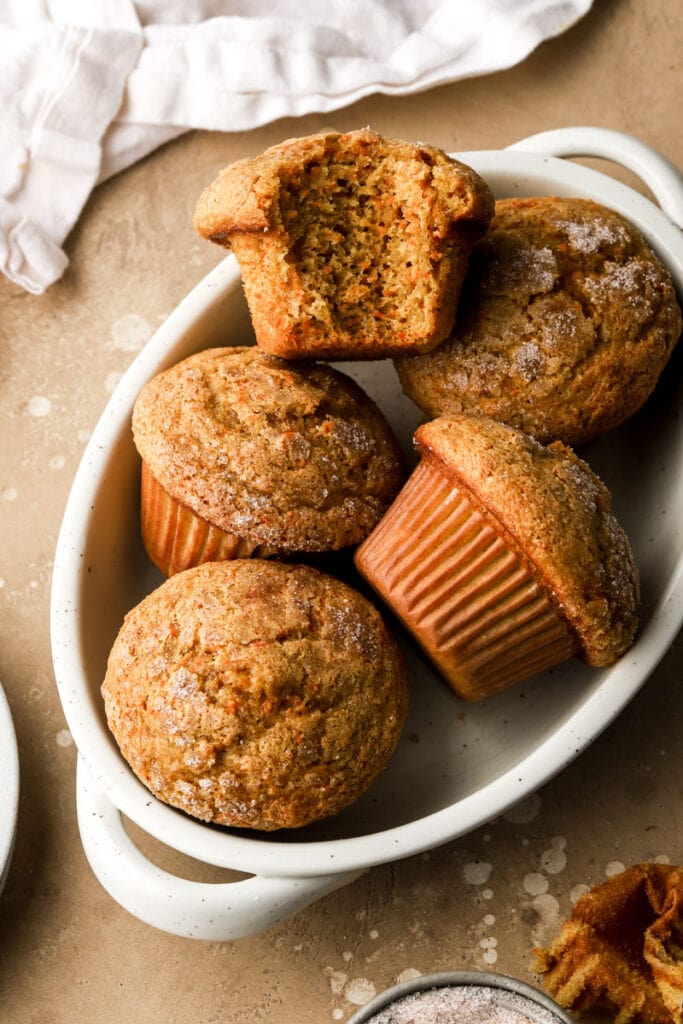 Step-by-Step Instructions
Step 1: Grate the carrots, measure it out and set it aside.
Step 2: Whisk together the sugar and the olive oil aggressively until they're well combined.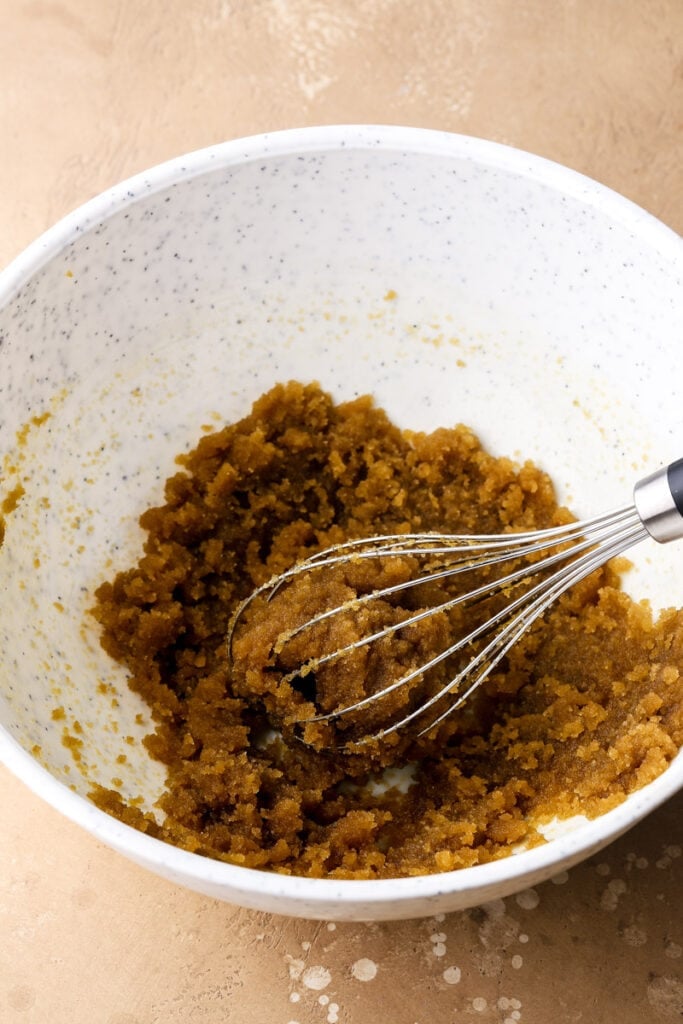 Step 3: Whisk in the eggs. This is important; whisk in one egg at a time for about 30 seconds, until it's completely combined, pale and fluffy. Then add the other egg, etc.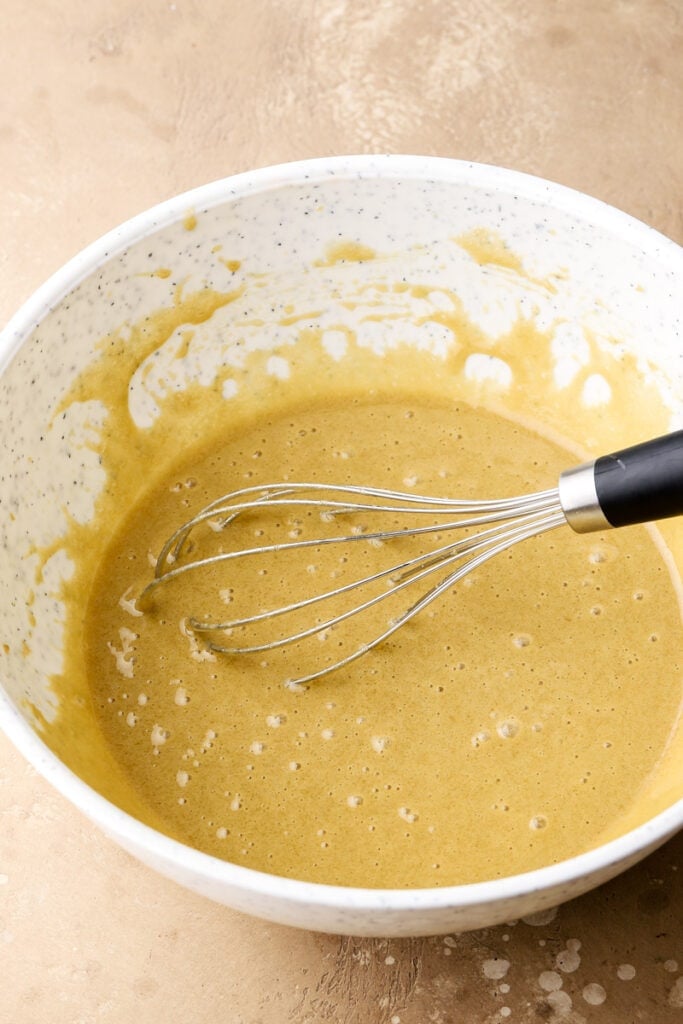 Step 4: Add the greek yogurt and vanilla and whisk until it's completely smooth.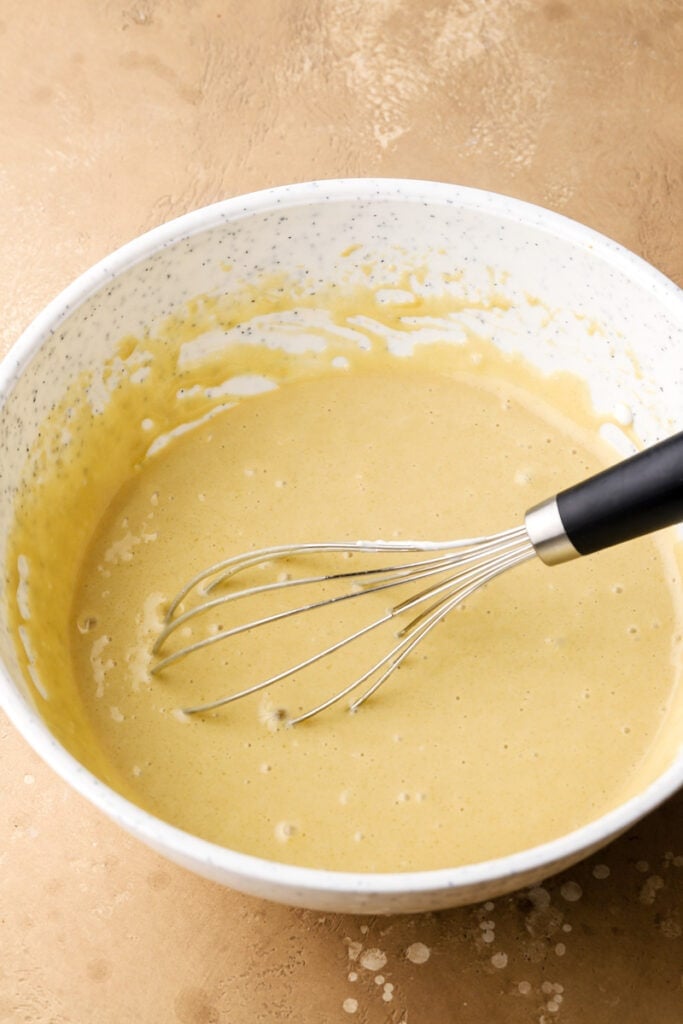 Step 5: Whisk in the shredded carrots, until they're well combined.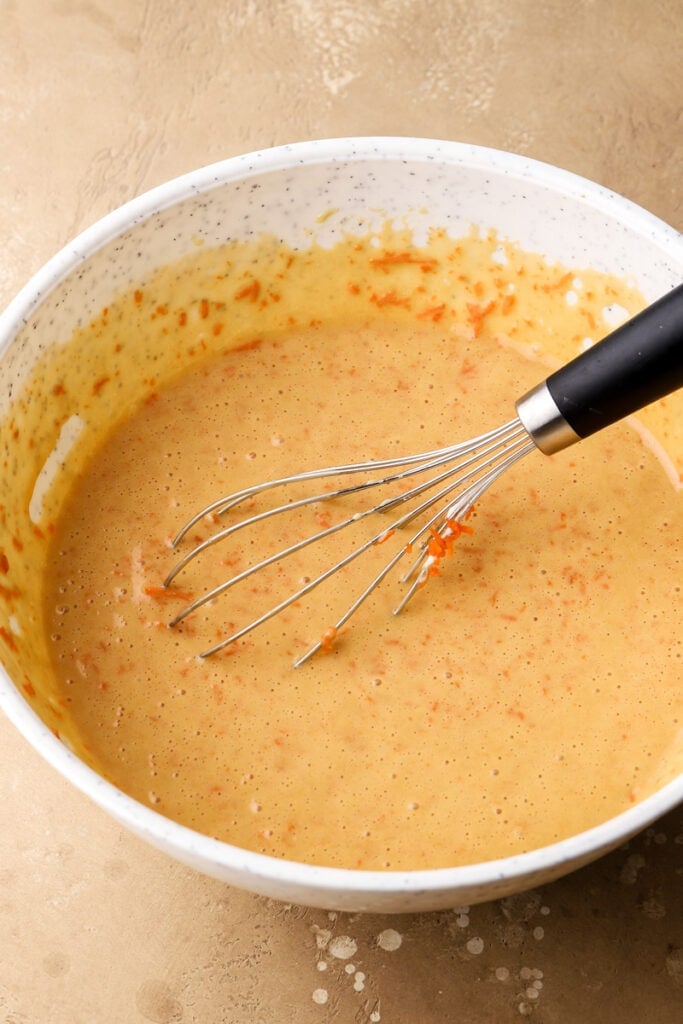 Step 6: Add the dry ingredients together whisk in the flour, baking powder, baking soda, spices and salt into the wet ingredients until they're completely combined.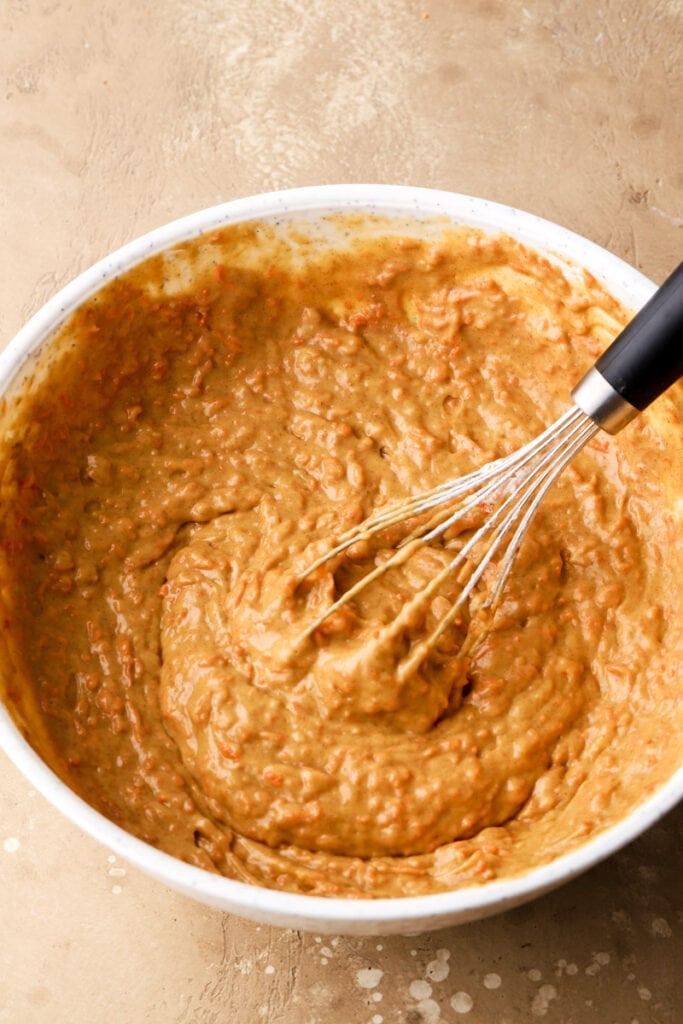 Step 7: Rest the batter – Cover the bowl and let the batter rest at room temperature for 1 hour. This allows the gluten to relax and the leaveners to get a head start. (If you're in a rush, 30 minutes is fine but definitely don't go past 90 minutes or you'll get a wonky bake).
Step 8: Fill the muffin pan all the way to the top rim and sprinkle a little granulated or raw sugar on top.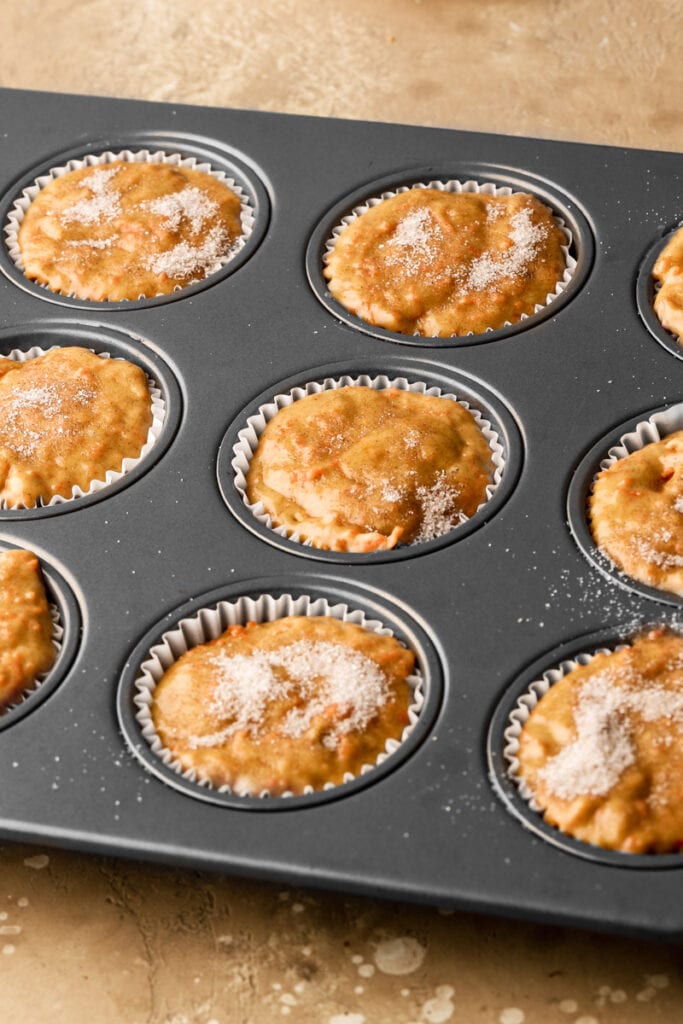 Step 9: Bake for five minutes at 425 F (218C) and then reduce oven temperature to 375 F (190C) and bake for another 13-15 minutes.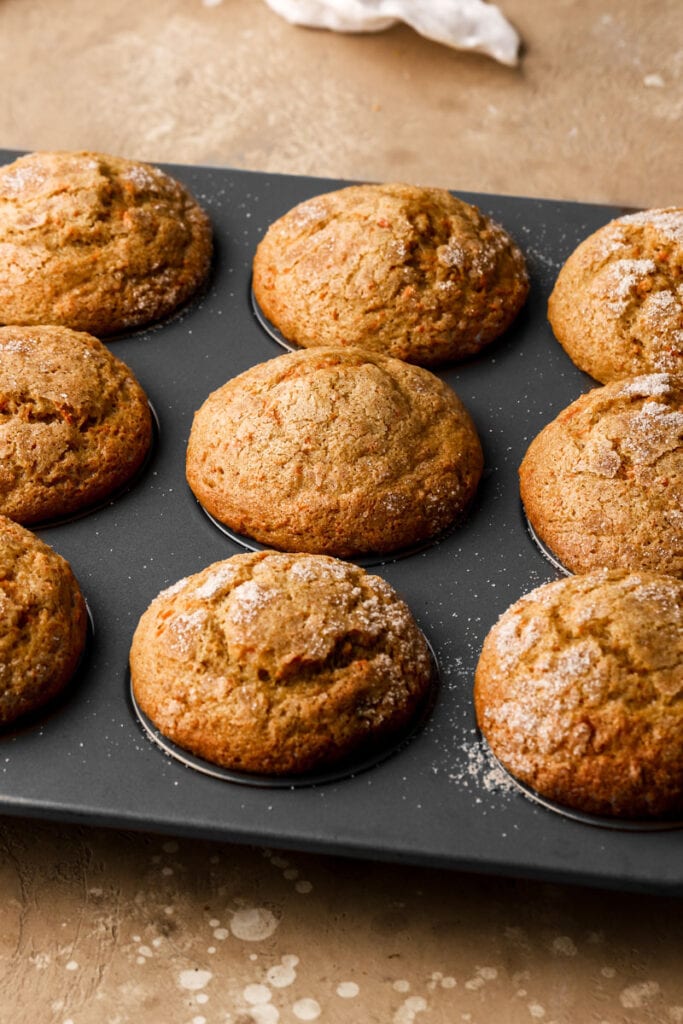 Pro Tips for the best muffin tops:
The baking powder and baking soda seem excessive but you'll need that much to get a nice muffin top, especially on a batter with heavy ingredients like carrots, so don't reduce or skip one of them.
The resting allows the baking soda to activate before it hits the oven, helping you get that nice large muffin top.
Make sure to whisk each ingredient well before adding the next. This is especially important with the eggs. Beating a little air into the batter with each egg will help make these muffins fluffier.
Frequently Asked Questions
Can I bake these muffins in a loaf pan?
I haven't tested it but I would assume it works. I also have a fabulous carrot cake loaf that you can try instead! 
Can I add in other mix-ins?
You can add 1 cup of raisins, white chocolate chips or chopped nuts to the batter. 
Can I make these smaller?
Yup, I filled mine to the top of the muffin tins, giving me 12 large muffins with large muffin tops. You can also just fill them ¾ full and you'll probably get about 18 muffins. Reduce the second bake time by 4-6 minutes.  
Can I add a streusel to my carrot cake muffins?
Yup! I made the muffin tops crispy with a little sugar but you can also use the same streusel that I use on my pumpkin muffins or omit the pecans to make it plain.
Another option is to use the glaze from my carrot cake loaf, which I also used on my pumpkin banana muffins.  
Can I make batter ahead (or save some for later)?
To get that gorgeous muffin top I increased the leavening agents a little more than usual. Allowing the batter to rest for an hour gives you the perfect bake but if you wait longer, the muffins will bake with a wonky, lop sided muffin top.
I haven't tested this yet, but if you want to make the batter ahead of time, I would try skipping the baking soda.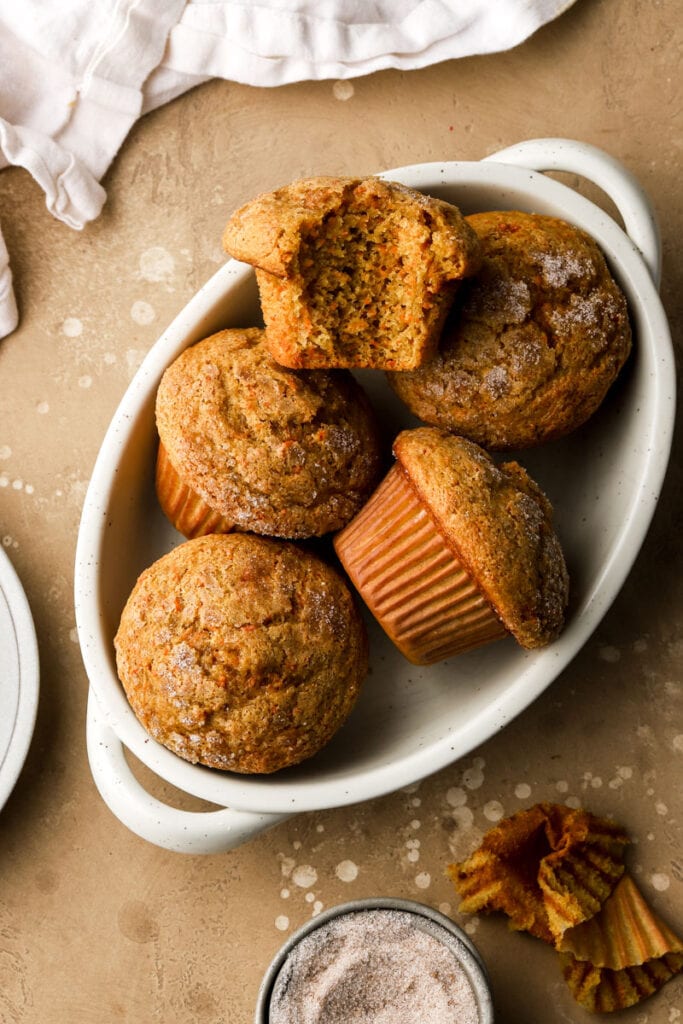 How to store muffins
I place the muffins under a cake dome or in an airtight container at room temperature for 2-3 days. If it's longer you can refrigerate for a couple of days but they dry out quicker in the fridge, so I recommend freezing instead. You can freeze them and bring them back to room temperature before serving.
How to freeze muffins
Bakes stay more fresh when they're frozen. Place muffins in an airtight container and then place the container in a freezer bag.
You can also wrap each one individually in plastic wrap and then place those in a freezer bag so you can easily remove one at a time.
Freeze for up to a couple of months. Bring back to room temperature before serving.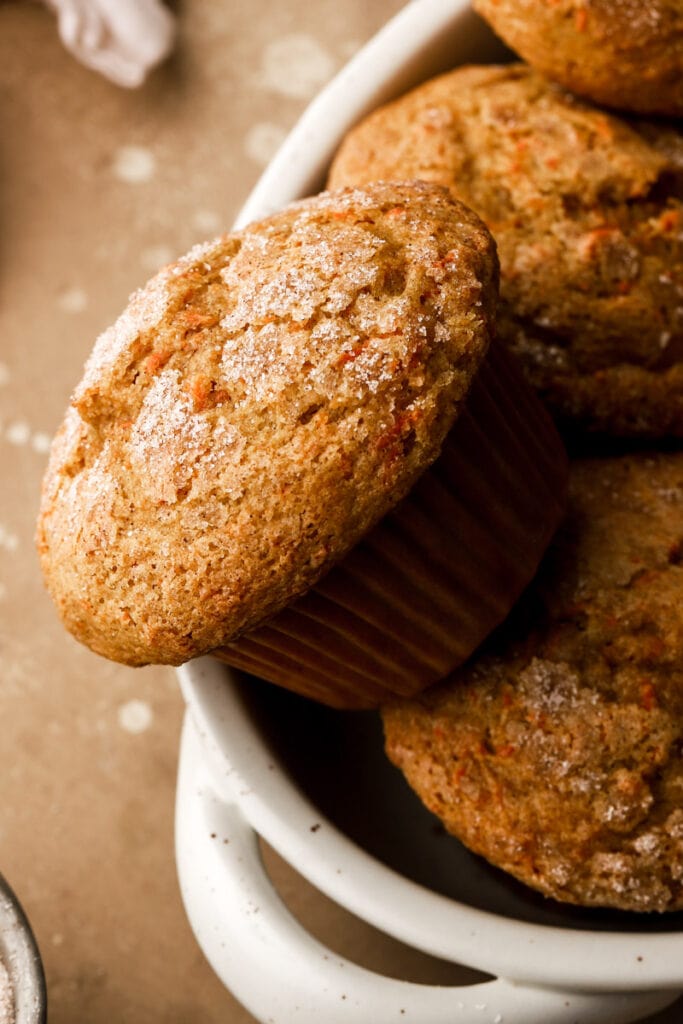 Thanks so much for reading today's post, if you have any questions just comment down below. Make sure to leave it in the comment section because I can't answer in the rating section.
If you make this carrot cake muffin recipe please leave a star review if you liked it or leave a comment if there's something that could be improved 🙂
As always, have a blessed day and happy baking!
Love, B
Yield: 12 large muffins
Carrot Cake Muffin Recipe
Fluffy and moist one bowl carrot cake muffins with a hint of cinnamon and a sweet crunchy muffin top.
Additional Time
1 hour
30 minutes
Total Time
1 hour
55 minutes
Ingredients
1/2 cup (120mL) olive oil (or vegetable oil)
1 1/4 cup (250g) light brown sugar, lightly packed
3 large eggs, room temperature
1 cup (225g) Greek Yogurt
1 Tbsp pure vanilla extract or 2 teaspoon vanilla bean paste
1 1/2 cups (180g) shredded carrots
2 1/2 cups (300g) all-purpose flour, spooned and leveled
1 Tbsp baking powder
1/2 tsp baking soda
1/2 tsp fine sea salt
1 tsp cinnamon
2-3 Tbsp raw or granulated sugar, for topping *optional
Instructions
In a large bowl whisk together the olive oil and sugar until they're well combined.
Add in one egg and whisk until it's well combined and has lightened in color, about 30 seconds. Repeat with the next two eggs, one at a time.
Add in the Greek Yogurt, vanilla and shredded carrots and whisk until it's completely smooth.
Add in the dry ingredients (flour, baking powder, baking soda, salt and cinnamon) and mix just until the last streak of flour is incorporated.
Cover with a lid, plastic wrap or a tea towel and set aside to rest at room temperature for 1 hour.
Preheat the oven to 425F (218C)and line 12 muffins tins.
Use a large cookie scooper to fill the muffins tins to the top, the batter should be enough for 12 large muffins.
Bake for 5 minutes. Reduce the oven temperature to 375F (190C) and bake for 10-12 minutes, just until the muffins are browned and spring back when you press on the center gently.
Remove from the oven and allow to cool for at least 20 minutes.
Nutrition Information:
Yield:
12
Serving Size:
1
Amount Per Serving:
Calories:

321
Total Fat:

11g
Saturated Fat:

2g
Trans Fat:

0g
Unsaturated Fat:

8g
Cholesterol:

47mg
Sodium:

301mg
Carbohydrates:

51g
Fiber:

1g
Sugar:

28g
Protein:

6g
Nutrition information may not be fully accurate.