Pumpkin Muffins with Pecan Streusel
The fluffiest and most tender pumpkin muffins ever. Muffin is made with pumpkin puree and topped with a crunchy pecan streusel. Takes 10 minutes to make, 1 hour to rest, and 20 minutes to bake with that beautiful crispy muffin top!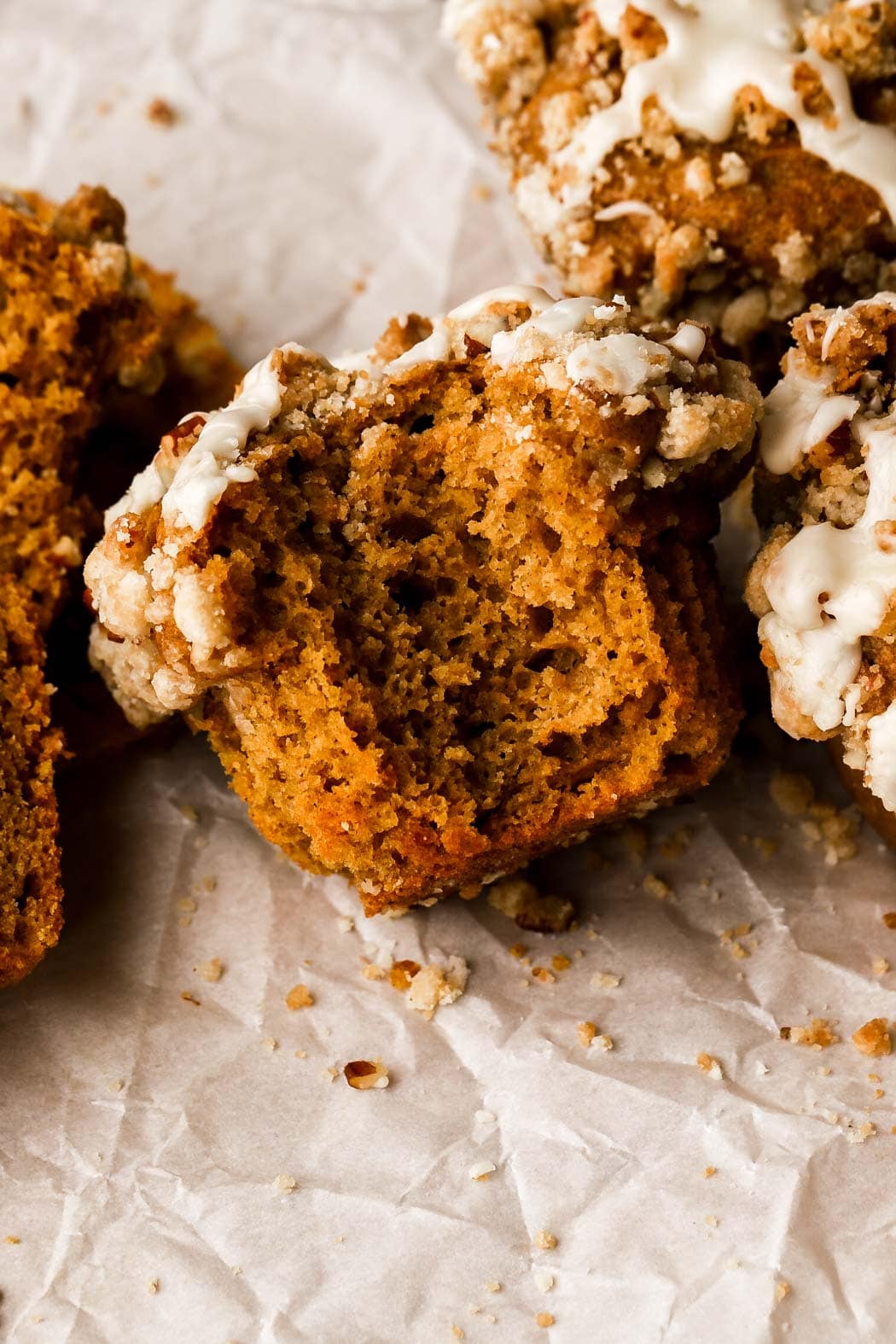 I've made so many muffins lately and you all are here for it so here's another, fall flavored one!
Why these are the best pumpkin muffins
They're large and shareable (if you want lol)
HUGE crispy muffin top with a toasty pecan streusel
Packed full of fall pumpkin spices
Stay moist, fluffy/bouncy for days
If you love muffins with streusels, make sure to check out these strawberry crumble muffins or my white chocolate blueberry ones. If you're just here for pumpkin spice and everything nice, I also have chocolate chip pumpkin muffins or pumpkin bread.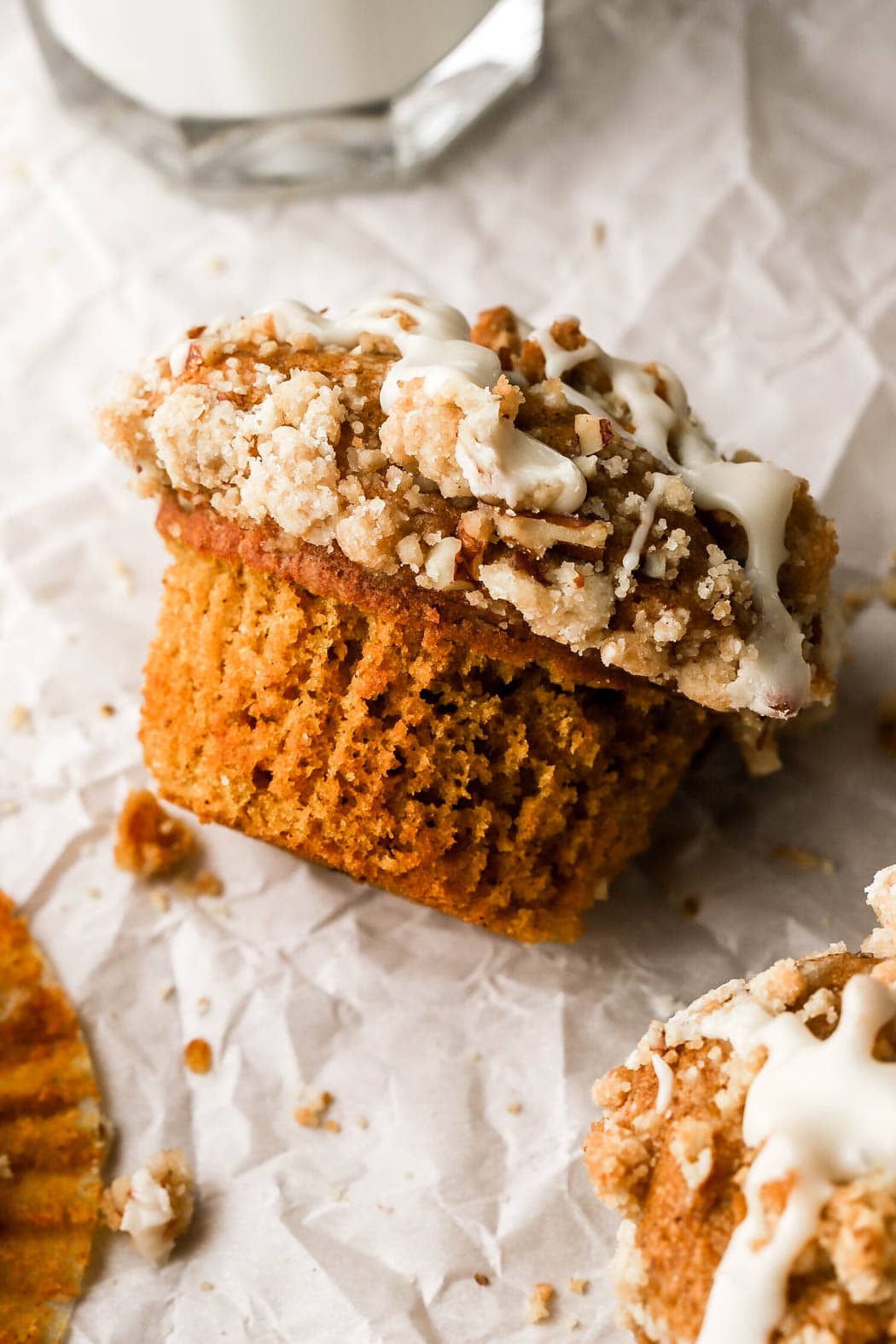 Ingredients
Flour: I use all purpose flour in most of my recipes and I HIGHLY recommend using a digital scale, as flour is so often over measured.
Baking Powder & Baking Soda: We're going to need both here and a lot of them to get that gorgeous muffin top.
Sugar: I used light brown sugar but granulated or dark brown will work well in this recipe also.
Oil: I used oil in this recipe because I wanted to keep the muffins a little fluffier and spongier. I used olive oil but any neutral oil works fine as well.
Eggs: I use room temperature, large eggs. Pop them in hot water for a few minutes if they're cold.
Greek Yogurt: I like to add greek yogurt to my muffins to justify eating them for breakfast, lol. Plain yogurt and sour cream work as well.
Pumpkin: I usually use Libby's pumpkin puree (not pumpkin pie filling). I've also used Kroger brand or Whole Foods 365 brand.
Spices: I make my own pumpkin pie spice at home or you can just buy some. It's just a combination of spices with a higher ratio of cinnamon.
Step-by-Step Instructions
Step 1: Whisk together the oil and sugar, just until they're combined.
Step 2: Whisk in the eggs: this is important; whisk in one egg at a time for about 30 seconds, until it's completely combined, pale and fluffy. Then add another egg, etc.
Step 3: Add the yogurt and pumpkin: whisk in the greek yogurt and pumpkin until they're completely smooth.
Step 4: Add the dry ingredients together: whisk in the flour, baking powder, baking soda, spices and salt into the wet ingredients until they're completely combined.
Step 5: Rest the batter: another important step – Cover the bowl and let the batter rest at room temperature for 1 hour. This allows the gluten to relax and the leaveners to get a head start. (If you're in a rush, 30 minutes is fine but definitely don't go past 90 minutes or you'll get a wonky bake).
Step 6: Make crumble topping: combine melted butter with sugar, flour and chopped pecans, until pea size chunks form,
Step 7: Fill the muffin pan: line 12 muffin tins and fill them all the way to the top rim.
Step 8: Top with streusel topping generously, pressing it into the batter so it sticks a little.
Step 9: Bake: for five minutes at 425F and then reduce oven temperature to 375F and bake for another 15 minutes.
Step 10: Make maple glaze by whisking together maple syrup and powdered sugar.
Pro Tips for the best muffin tops:
The baking powder and baking soda seem excessive but you'll need that much to get a nice muffin top, especially on a batter with heavy ingredients like pumpkin and banana, so don't reduce or skip one of them.
The resting allows the baking soda to activate before it hits the oven, helping you get that nice large muffin top.
Make sure to whisk each ingredient well before adding the next. This is especially important with the eggs. Beating a little air into the batter with each egg will help make these muffins fluffier.
If you're baking in a regular sized pan with 12 muffin tins, bake the muffins in every other tin to allow equal air flow.
If you double the recipe and make 12 muffins, feel free to bake them all in one batch, right next to each other.
Frequently Asked Questions
Can I add in other mix-ins?
Omg yes. You can add some chocolate chips or white chocolate chips to these pumpkin muffins.
Or you can even add ½ cup of chopped pecans (or pralined nuts) to the batter as well. 
What kind of pumpkin should I use
I just use canned pumpkin puree. Someday I'll get to making my own pumpkin puree but that day is not today. I recommend Libby's brand or something of similar consistency.
Make sure you don't accidentally buy pumpkin pie filling. 
Can I make these dairy free?
You can use dairy free butter, milk, cream, yogurt or sour cream in any of my muffins but the flavor/texture will be a tiny bit changed 🙂
Can I make these gluten-free?
I have not tested this recipe specifically but all of my cake recipes work with a 1:1 substitute of gluten-free flour so I don't see why this wouldn't work. I recommend King Arthur or Bob's Red Mill.
Can I make batter ahead (or save some for later)?
To get that gorgeous muffin top I increased the leavening agents a little more than usual. Allowing the batter to rest for an hour gives you the perfect bake but if you wait longer, the muffins will bake with a wonky, lop sided muffin top.
I haven't tested this yet, but if you want to make the batter ahead of time, I would try skipping the baking soda.
How to store these pumpkin muffins
I LOVE crispy muffin tops but if you store these in an airtight container, you lose that crispiness. So I leave them out overnight and then after the first night, I store them in an airtight container or bag at room temperature.
I don't recommend refrigerating, as they'll just dry out. You can freeze them and bring them back to room temperature before serving but again, you'll lose that crisp muffin top.
How to freeze muffins
Bakes stay more fresh when they're frozen. Place muffins in an airtight container and then place the container in a freezer bag.
You can also wrap each one individually in plastic wrap and then place those in a freezer bag so you can easily remove one at a time.
Freeze for up to a couple of months. Bring back to room temperature before serving.
Thanks so much for reading today's post, if you have any questions just comment down below. Make sure to leave it in the comment section because I can't answer in the rating section :).
If you make this pumpkin muffin recipe I would love to see it so make sure to tag me @baranbakery on instagram!
As always, have a blessed day and happy baking!
Love, B
Yield: 12 large muffins
Pumpkin Muffins with Pecan Streusel and Maple Glaze Recipe
Super fluffy and perfectly spiced pumpkin muffins topped with a crunchy brown sugar pecan streusel and a maple glaze.
Total Time
1 hour
35 minutes
Ingredients
Pumpkin Muffins
2 1/2 cups (300g) all-purpose flour, spooned and leveled
1 Tbsp baking powder
1/2 tsp baking soda
1 tsp fine sea salt
4 tsp pumpkin pie spice (or 2 tsp cinnamon, 1 tsp ginger, 1 tsp nutmeg, 1/2 tsp cloves, 1/2 tsp allspice)
1/2 cup (118mL) vegetable oil (canola oil or olive oil, etc.)
1 1/4 cup (250g) light brown sugar, lightly packed
3 large eggs, room temperature
1 cup (244g) pumpkin puree (Libbys - thick consistency)
3/4 cup (170g) greek yogurt
Pecan Streusel
1/4 cup (56g) salted butter, melted
1 cup (120g) all-purpose flour, spooned and leveled
1/3 cup (70g) light or dark brown sugar, lightly packed
1/4 cup (30g) pecan halves, finely chopped
Maple Glaze
1/4 cup (60mL) maple syrup
3/4-1 cup (90-120g) powdered sugar, spooned and leveled
Instructions
Pumpkin Muffins
In a medium bowl, whisk together the flour, baking powder, baking soda, salt and pumpkin spices. Set aside.
In a large bowl whisk together the oil and brown sugar until they're well combined.
Add in one egg and whisk until it's well combined and has lightened in color, about 30 seconds. Repeat with the next two eggs, one at a time.
Add in the pumpkin puree and Greek Yogurt and whisk until they're completely smooth.
Add in the dry ingredients and mix just until the last streak of flour is incorporated.
Cover with a lid, plastic wrap or a tea towel and set aside to rest at room temperature for 1 hour.
Pecan Streusel
Preheat the oven to 425F (218C) and line 12 muffins tins.
Combine the melted butter with the flour, brown sugar and pecans, until pea size chunks form.
Use a large cookie scooper to fill the muffin tins to the top, the batter should be enough for 12 large muffins.
Distribute the streusel evenly over the whole tops of the muffins and try to press them into the batter a little so they stick. Bake for 5 minutes at 425F (218C).
Reduce the oven temperature to 375F (190C) and bake for another 13-15 minutes, just until the muffins no longer look wet on top and spring back when you press on the center gently.
Remove from the oven and allow to cool for at least 10-20 minutes before serving.
Maple Glaze
Whisk together the maple syrup and the powdered sugar until the glaze is smooth. *start with less powdered sugar and if it's too runny, add the last 1/4 cup (30g).
Drizzle over the cooled muffins and serve.
Notes
Muffins can be stored at room temperature for 2-3 days, refrigerated for up to a week or frozen for 1-2 months.
Muffins can be made smaller - make sure to check for doneness a few minutes sooner though.
Recommended Products
As an Amazon Associate and member of other affiliate programs, I earn from qualifying purchases.
Nutrition Information:
Yield:
12
Serving Size:
1
Amount Per Serving:
Calories:

380
Total Fat:

14g
Saturated Fat:

8g
Trans Fat:

0g
Unsaturated Fat:

6g
Cholesterol:

78mg
Sodium:

426mg
Carbohydrates:

57g
Fiber:

2g
Sugar:

27g
Protein:

7g
Nutrition information may not be fully accurate.