Giant, super fluffy, bakery-style, lemon poppy seed muffins with an optional streusel and lemon glaze.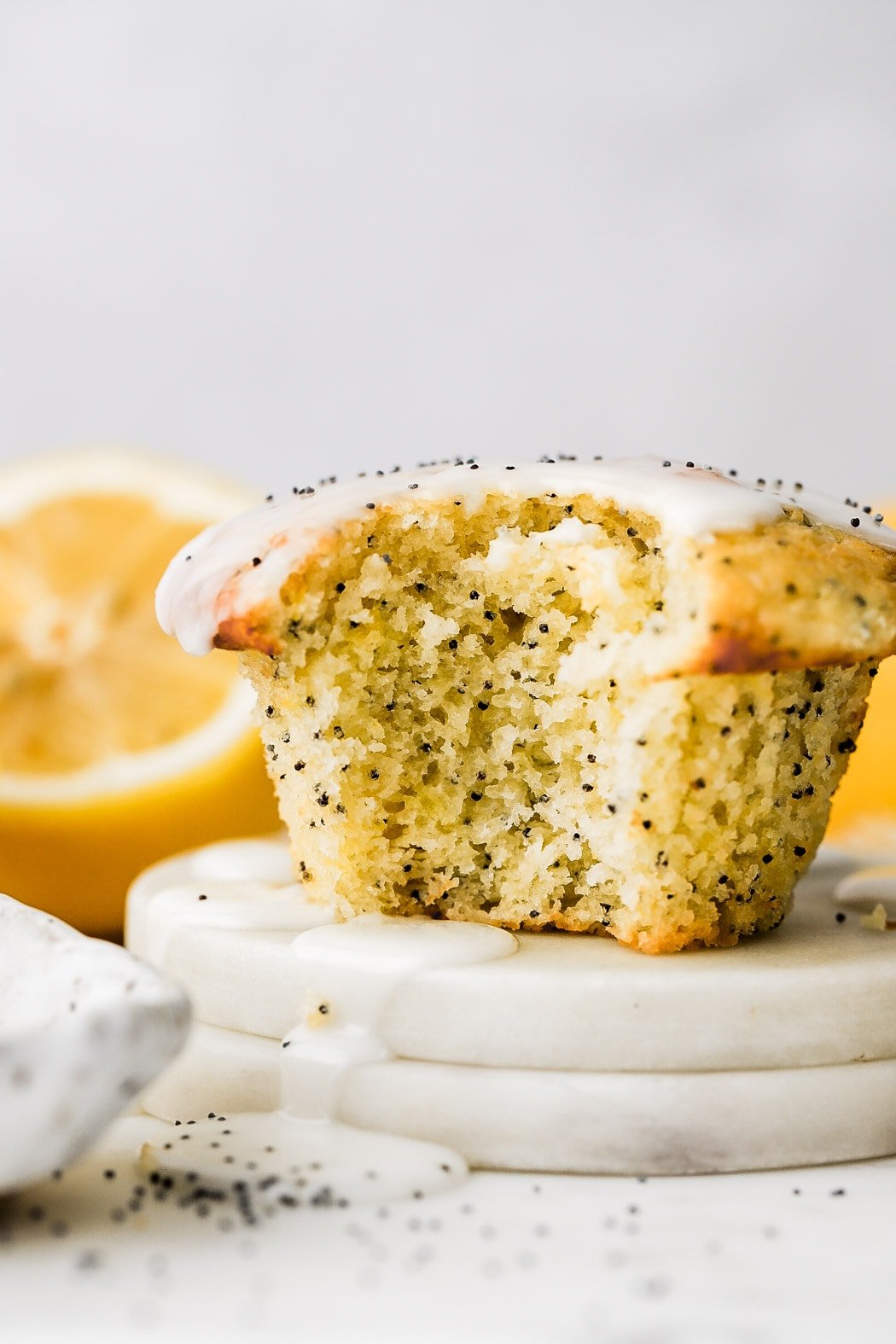 Ok real talk for a second. I can bake you a beautiful and delicious layer cake without even looking at a recipe but why does it take me 10 tries to get a perfect muffin recipe? These lemon poppy seed muffins gave me a run for my money!
This post is actually an updated version that I prefer much more than before. But if you've been here a while and you want the old lemon poppy seed muffin, it's still up on C&H Sugar's website. You can also sen dme a message and I can send you the original recipe.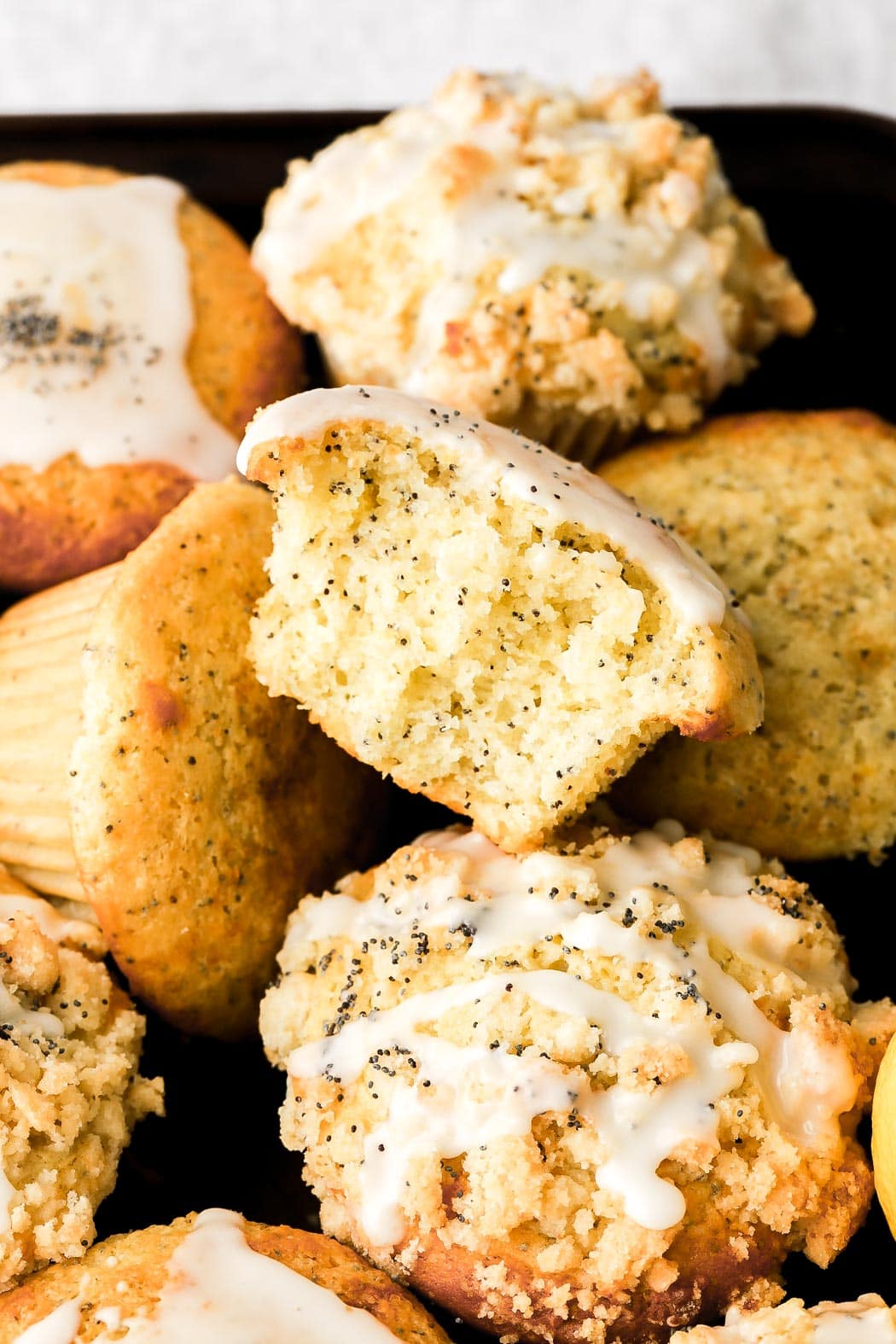 How to make lemon poppy seed muffins
These lemon poppy seed muffins use just a basic muffin mixing technique. You combine all the wet ingredients with the sugar first and then fold in the dry ingredients until they're just barely combined.
I do add the lemon juice at the very end because adding something very acidic like that to any batter can disrupt the structure. If you add it after the flour is already hydrated, it gives the flour some time to build that structure first. For more fun baking science like that, make sure to check out my ebook The Ingredient Guide.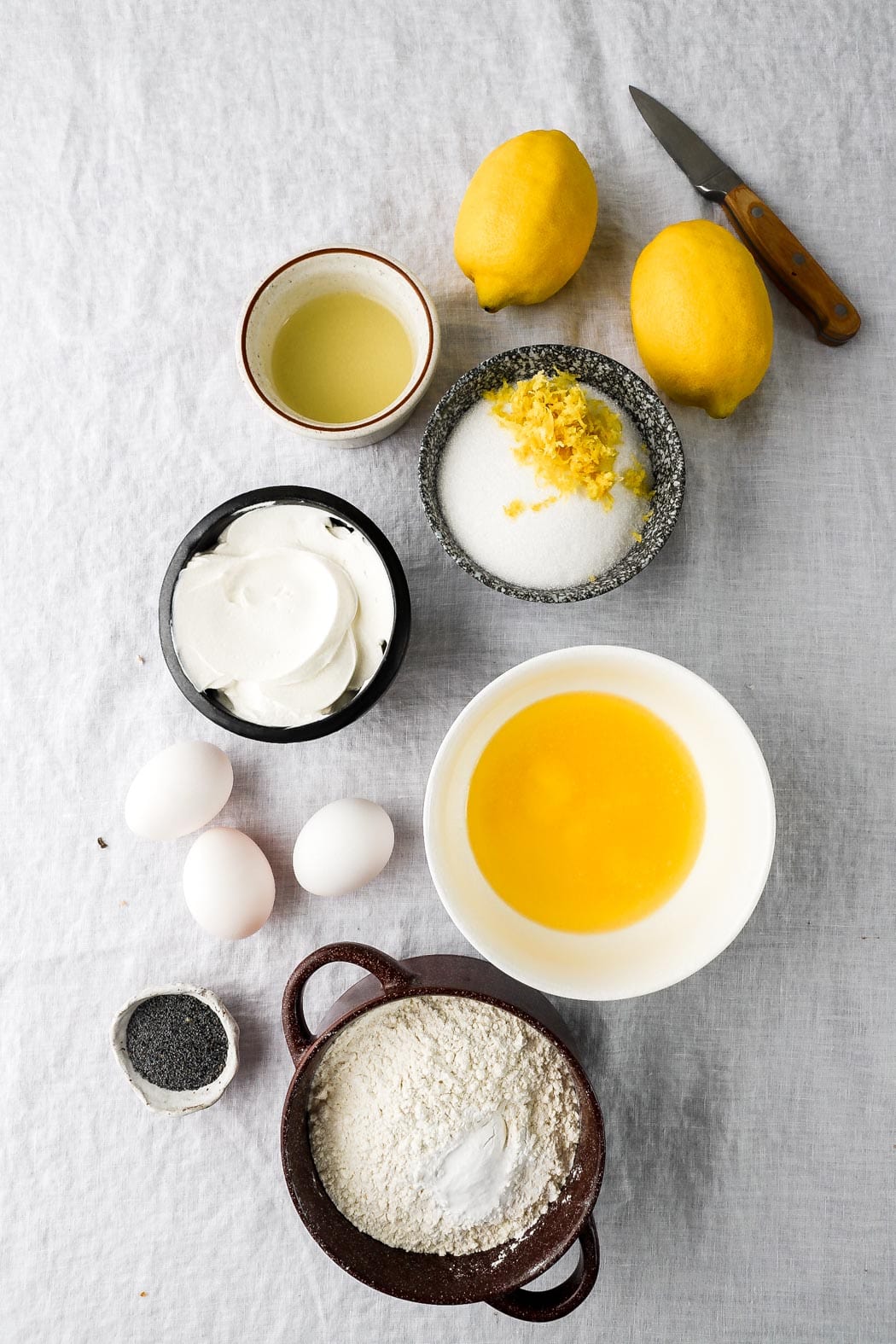 How To Get Large Muffin Tops
To get that signature, bakery-style muffin top, like in my blueberry muffins, you'll want to make sure you follow these steps.
Don't skimp on the baking soda and baking powder. I know it looks like a lot but we need a big rise.
Don't skimp on the resting time. When the batter is finished, you want to let it rest for at least 30-60 minutes so the leavening agents can get a head start on rising. When you go to scoop them into the muffin pans, be gentle so you don't deflate the batter.
Fill the muffin tins all the way. It looks like a lot of batter but it fits into 12 muffin tins.
Start baking at 425F (218C) for five minutes, then lower the heat down to 350F (177C). This allows the muffins to form a solid shape on top, then rise and bake completely, lifting that domed top.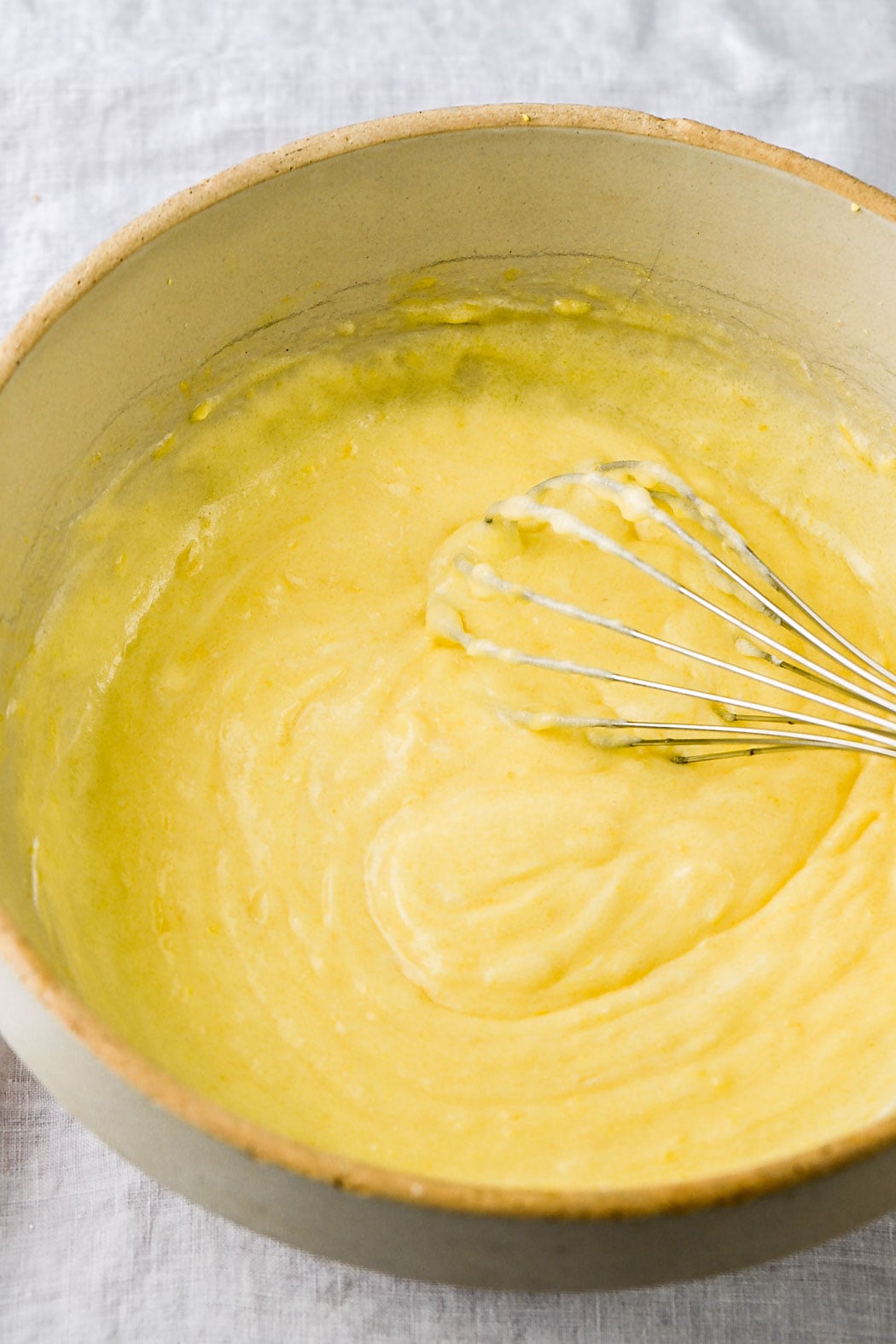 Ingredients:
Flour: I use all-purpose flour and I ALWAYS recommend weighing with a digital scale.
Baking Powder/Soda: using a little extra leavening agents will get you that bakery style muffin. 
Sugar: I really tried to make these muffins with a little less sugar but if I'm being totally honest, cutting out even 1/4 cup (50g) of the sugar made these bland to me. 
Oil: Using oil instead of butter will keep these muffins moist for longer. To avoid changing the flavor of the muffins, use a neutral flavored oil. 
Eggs: I use large, room temperature eggs. If you're in a pinch, just place them in hot water for 5-10 minutes before using.
Greek Yogurt: I usually use greek yogurt in muffins (to justify my kids eating them lol) but sour cream or plain yogurt work as well. Make sure it's unsweetened if you use yogurt.
Lemon: you want to use both the lemon juice and the zest to really give these muffins a strong enough lemon flavor. 
Poppy Seeds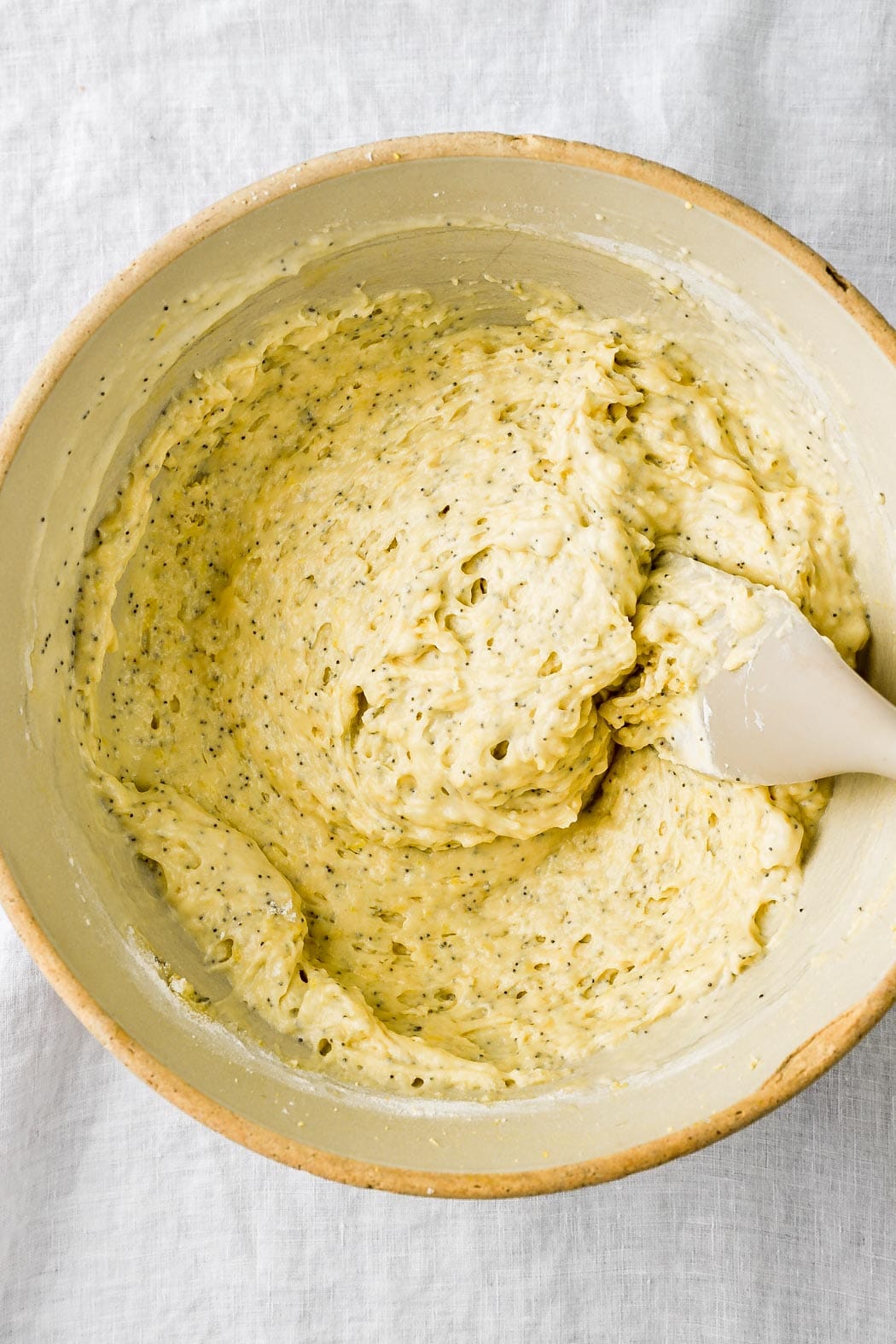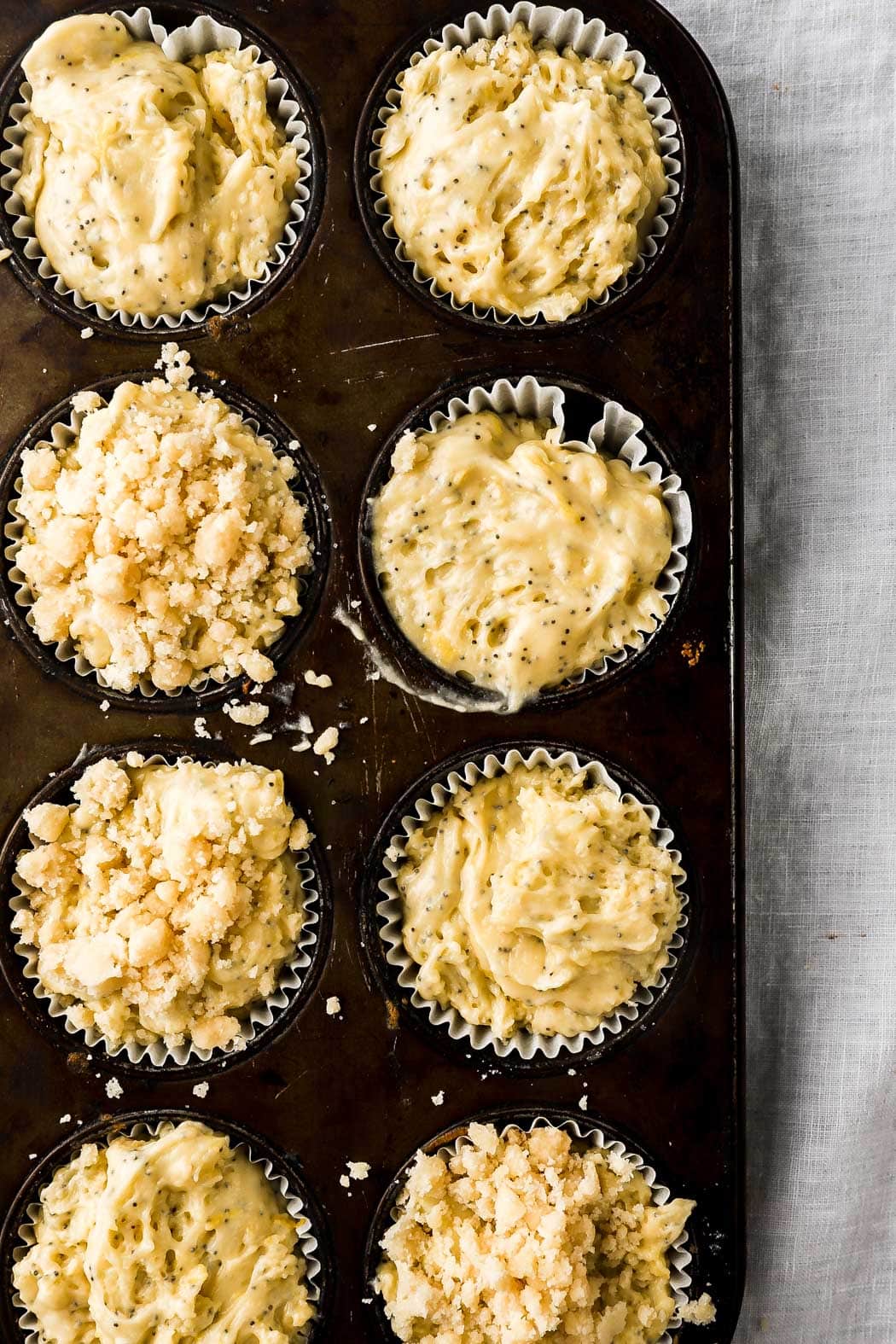 How to make streusel for muffins
The topping is optional but it's super easy to make as well. Because muffins bake fairly quickly, I can get away with using melted butter to make the streusel topping. Just combine all the ingredients in a bowl until they're pea size chunks.
If the streusel seems to clump together more, feel free to add an extra Tbsp of flour. This can happen if it's warm/humid out or if the butter was still warm.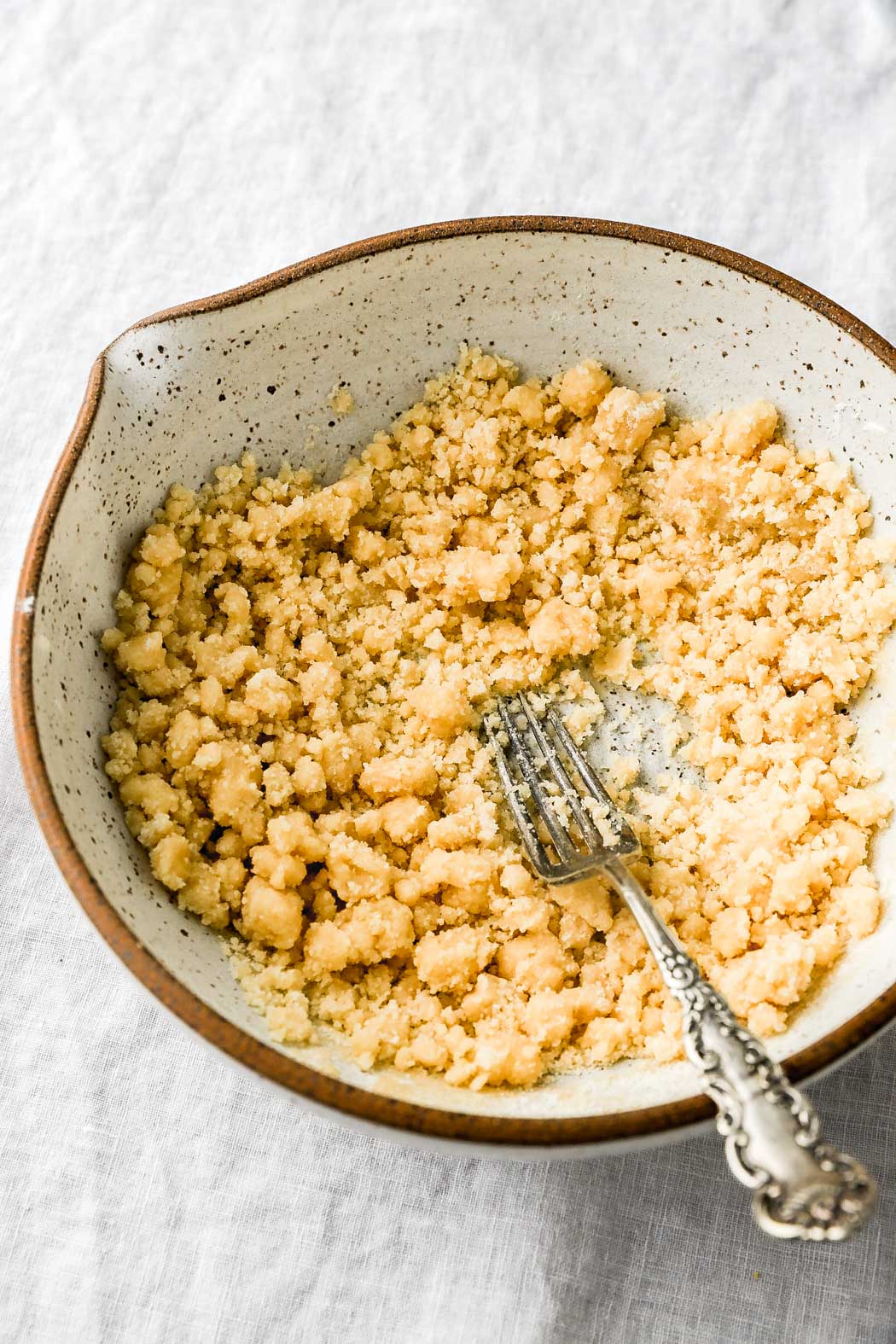 The lemon glaze
This is my favorite part. The tart lemon juice combined with powdered sugar gives these muffins a little extra oomphhh! You can make it as thick or thin as you'd like by adding more or powdered sugar.
How to store homemade muffins
These lemon poppy seed muffins can be stored in an airtight container at room temperature for 2-3 days. I would refrigerate them if it's been longer than 3 days. Keep in mind that the streusel will lose some of its crispness.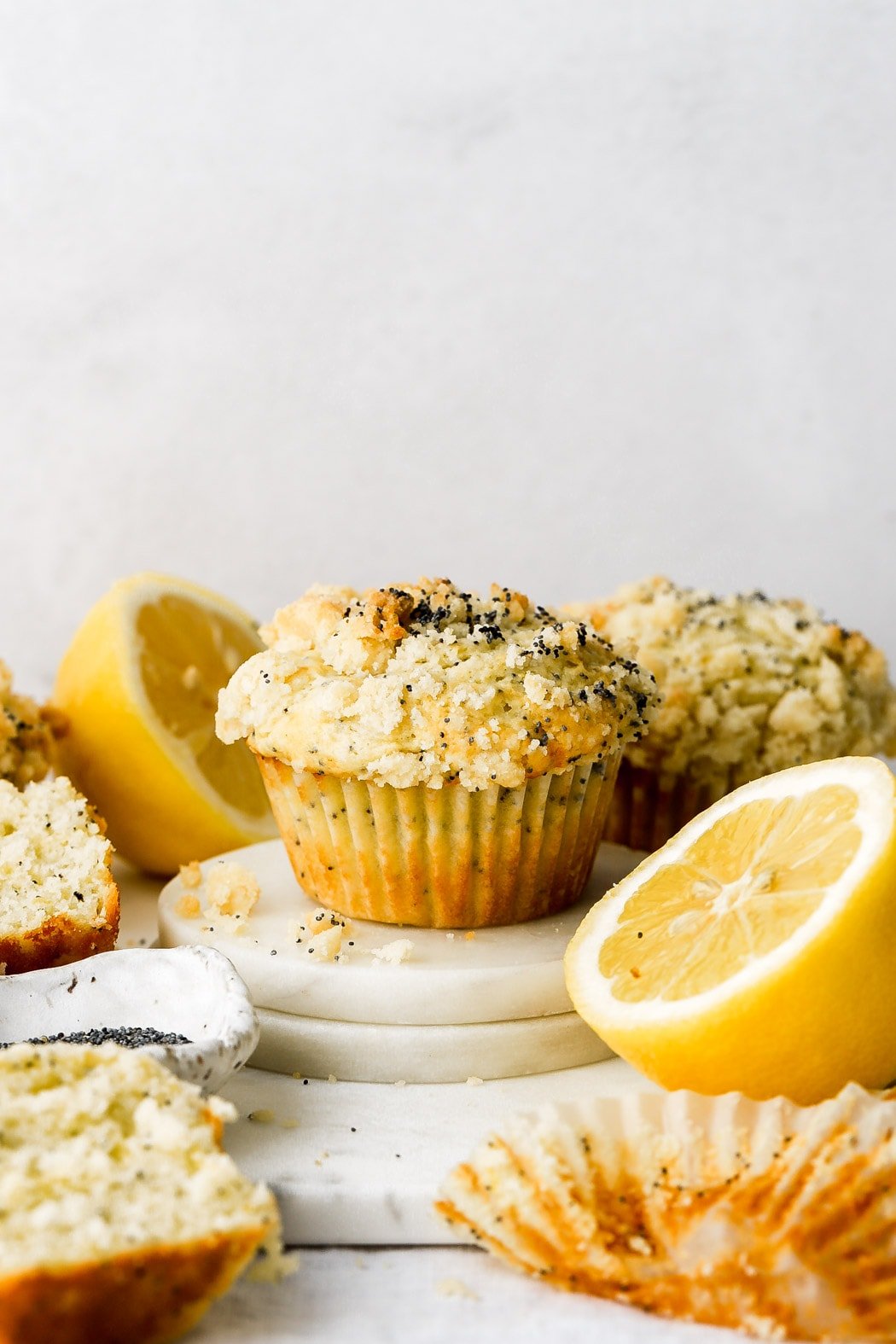 If you're in need of a delicious easy lemony treat, these muffins will do the trick. Make sure to tag me @baranbakery on instagram if you make them! As always, have a blessed day and happy baking!
Love, B
Yield: 12 Large Muffins
Lemon Poppy Seed Muffins Recipe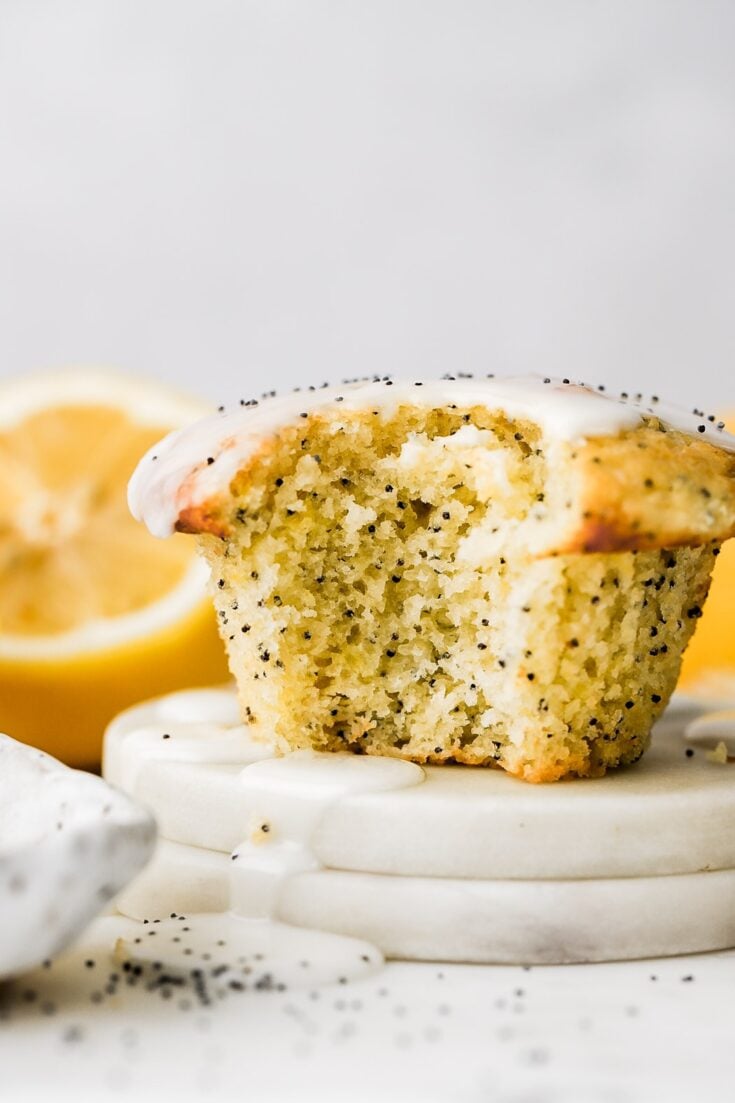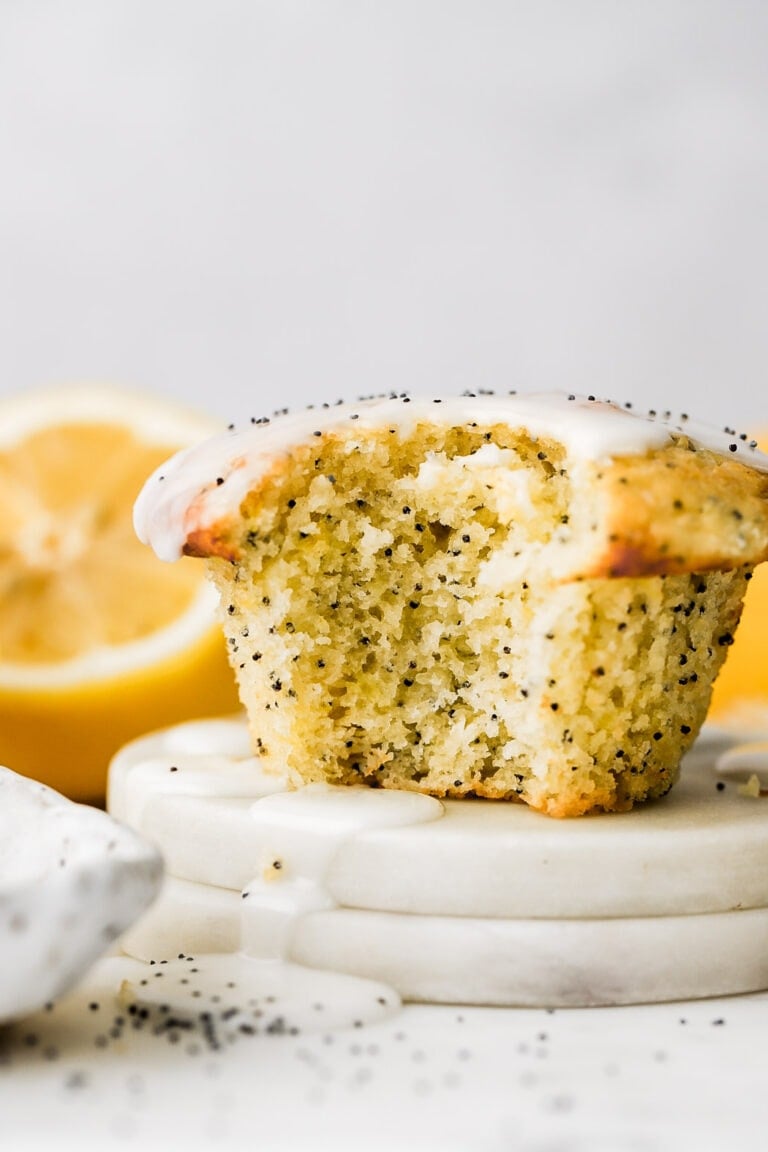 Giant, super fluffy, bakery-style, lemon poppy seed muffins with an optional streusel and lemon glaze.
Ingredients
Muffin
1 1/2 cup (300g) granulated sugar
1 Tbsp lemon zest
2 1/2 cups (300g) all-purpose flour, spooned and leveled
1 Tbsp baking powder
1/2 tsp baking soda
1/2 tsp salt
2 Tbsp poppy seeds
1/2 cup (118mL) vegetable oil or canola oil
3 large eggs, room temperature
1 cup (227g) Greek Yogurt or sour cream
1/4 cup (59mL) lemon juice
Streusel Topping
1/4 cup (56g) salted butter, melted
3/4 cup (90g) all-purpose flour, spooned and leveled
1/3 cup (70g) granulated sugar
Glaze
2 Tbsp (30mL) juice lemon, juice
1 cup (120g) powdered sugar, spooned and leveled
Instructions
Muffins
In a large bowl, combine the sugar and lemon zest and use your fingers to rub them together to release the oils from the lemon zest.
In a separate bowl, whisk together the flour, baking powder, baking soda, salt and poppyseeds in a medium bowl and set aside.
Add in the oil to the sugar and lemon zest and whisk until they're combined.
Then add in the eggs and mix for 1-2 minutes until the color lightens a little.
Add the greek yogurt and mix until the batter is smooth.
Fold in the dry ingredients just until barely combined.
Add the lemon juice and fold until the batter is smooth.
Cover the batter with a towel and allow it to rest for 30-60 minutes. Preheat oven to 425F (218C) and line 12 tins of a muffin pan
Distribute the batter evenly among 12 muffin tins. The tins should be filled to the top.

Streusel Topping
For the streusel, combine all the ingredients in a bowl and use a pastry cutter, a fork or your fingers to combine the butter into the sugar and flour. You want to make pea size chunks of streusel.
Distribute the streusel evenly over the muffins (it may look excessive but as the muffin bakes, it grows in surface area).
Place the muffins in the oven at 425F/218C convection (or 400F/204C conventional) for 5 minutes and then lower the heat to 350/177C convection (or 325F/162C conventional) for 10-12 minutes.
Remove the muffins from the oven and let them cool in the pan for a few minutes while you make the glaze.
Lemon Glaze
To make the glaze, combine the lemon juice and the sugar in a bowl and whisk it for 1-2 minutes until it's completely smooth.
Move muffins to a wire rack and drizzle the glaze on top or dunk the muffins in the glaze (if there's not streusel).
Notes
Store at room temperature in an airtight container.
Nutrition Information:
Yield:
12
Serving Size:
1
Amount Per Serving:
Calories:

349
Total Fat:

7g
Saturated Fat:

3g
Trans Fat:

0g
Unsaturated Fat:

4g
Cholesterol:

58mg
Sodium:

333mg
Carbohydrates:

64g
Fiber:

2g
Sugar:

36g
Protein:

8g
Nutrition information may not be fully accurate.