Super Fluffy Blueberry Muffins
The fluffiest and most tender blueberry muffins I've ever had. Can be made with frozen or fresh blueberries and regular or wild blueberries. Takes 10 minutes to make, 1 hour to rest, and 15 minutes to bake with that beautiful crispy muffin top!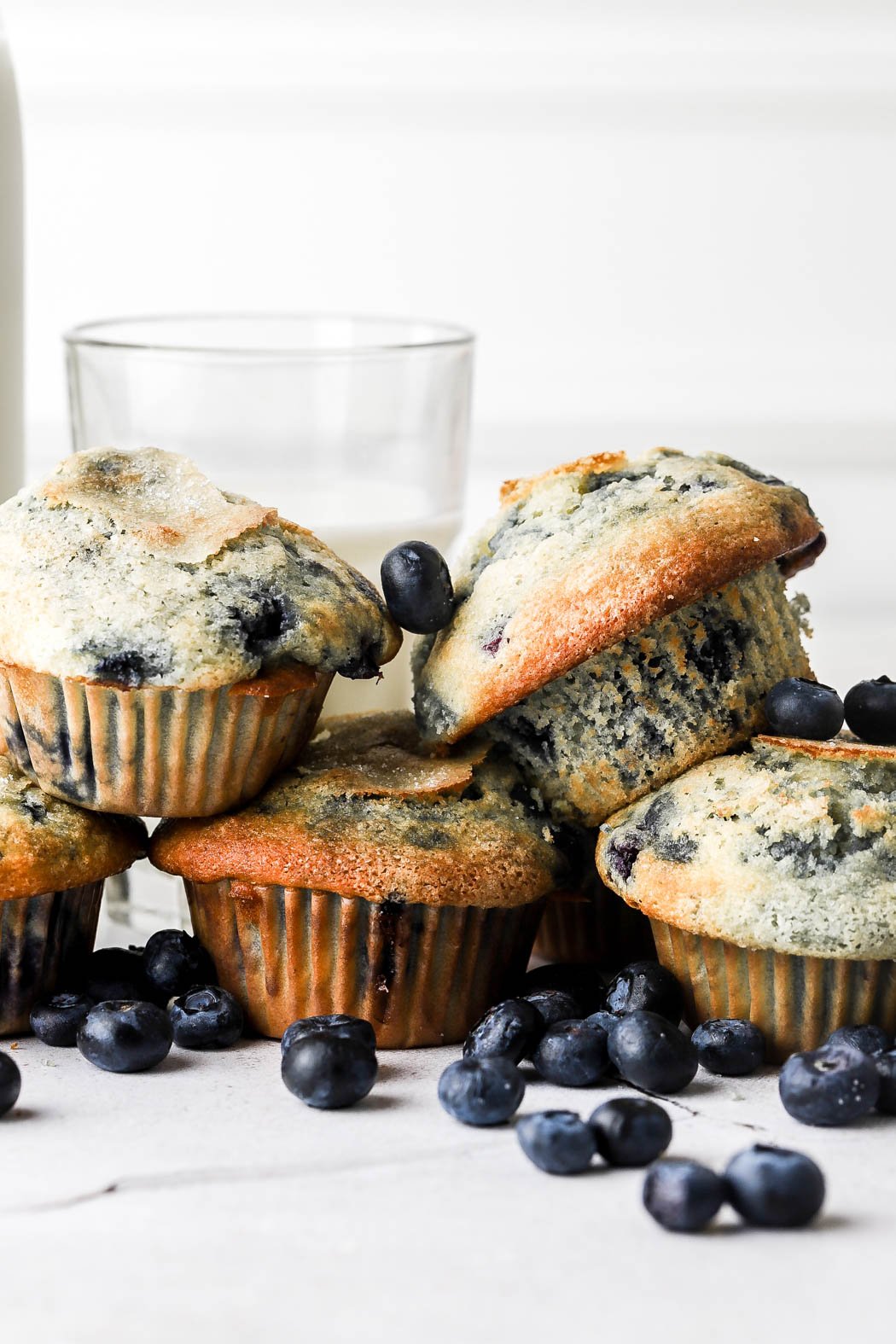 I'm not going to lie, I was so tempted to name these The BEST Blueberry Muffins because I believe they deserve that title. I know so many recipes claim to be the best but this is my perfect blueberry muffin recipe.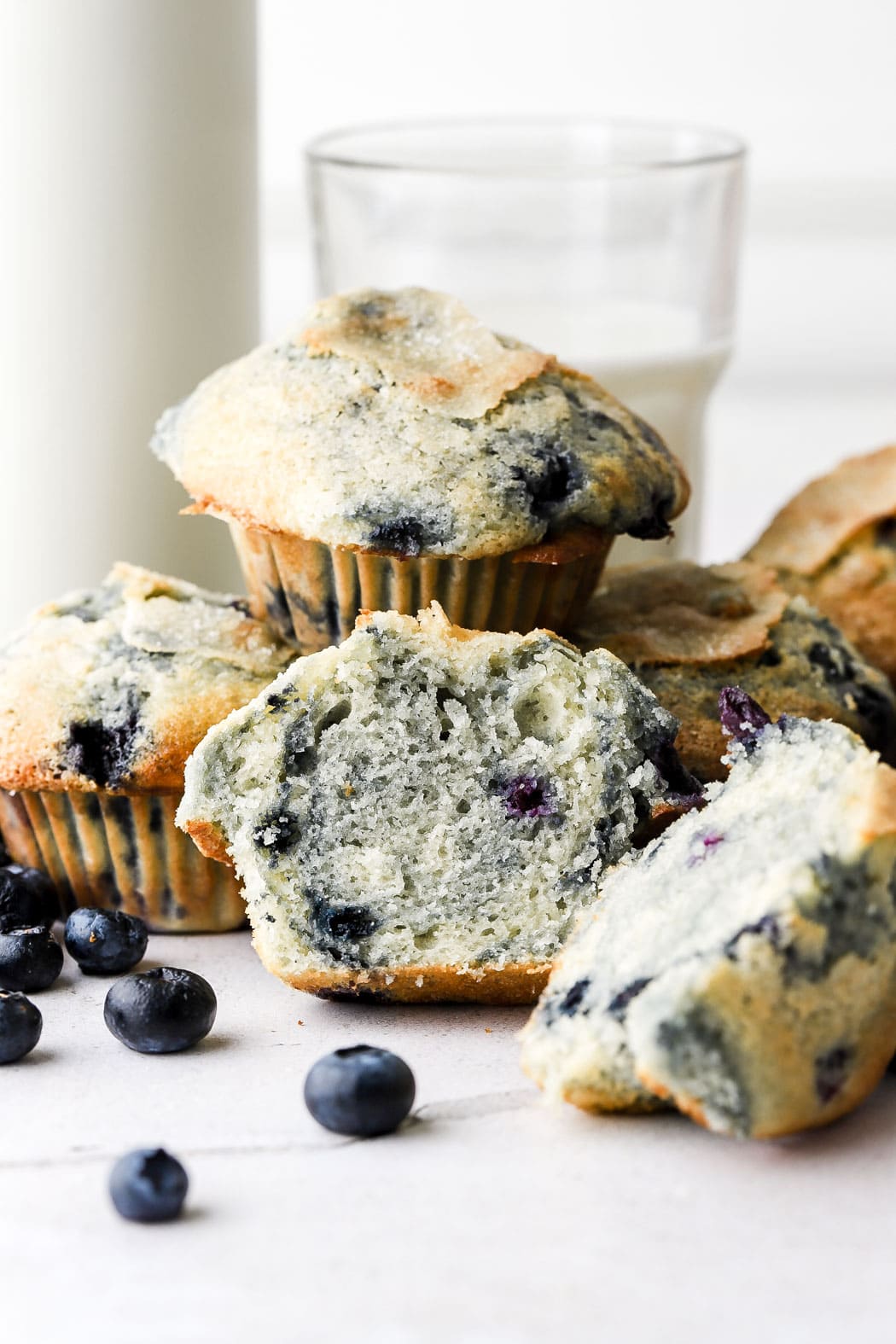 What makes these blueberry muffins so good?!
Literally so many reasons why you should make these.
They're large and shareable (if you want lol)
HUGE crispy muffin top, because that's the best part.
Super fluffy and feels like the kind of texture you can't just make on whim but now you can!!!
Packed full of blueberries and can be made with any kind of blueberries, regular/wild, fresh/frozen, you name it.
Stay moist, fluffy/bouncy for days.
Make sure to check out my white chocolate blueberry muffins, lemon poppy seed muffins, banana chocolate chip muffins and chocolate chip pumpkin muffins.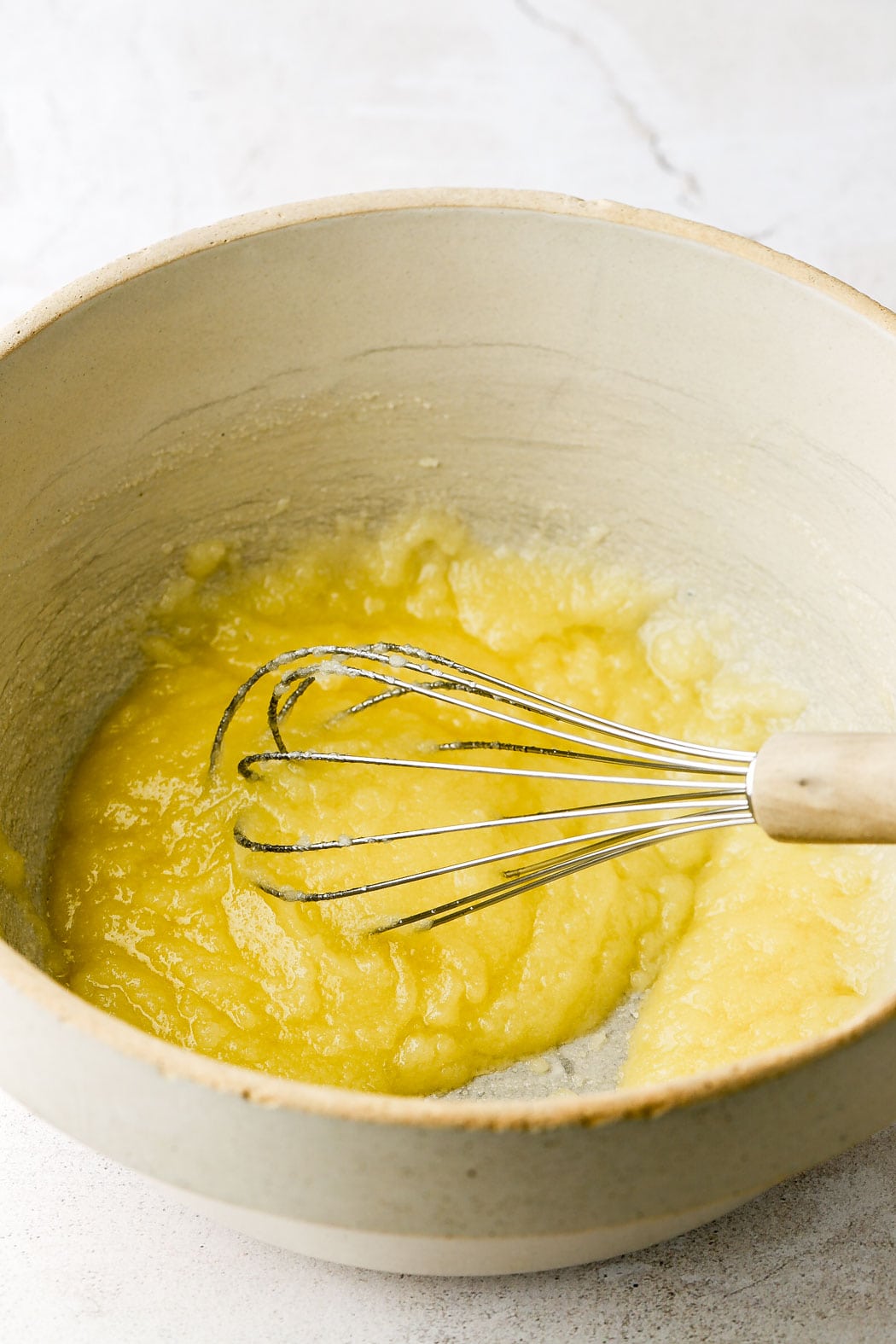 Ingredients
Flour: I use all purpose flour in most of my recipes and I HIGHLY recommend using a digital scale, as flour is so often over measured.
Baking Powder & Baking Soda: We're going to need both here and a lot of them to get that gorgeous muffin top.
Sugar: please don't cut the sugar… 🙂
Butter: I like to use salted butter but unsalted also works, just add ½ tsp of salt.
Eggs: I use room temperature, large eggs. Pop them in hot water for a few minutes if they're cold.
Greek Yogurt/Milk/Cream: I found my favorite combination to be half greek yogurt and half heavy whipping cream. I know it's weird, most people don't use cream in muffins but I promise it's so good.

If you don't want to use cream and you want to use milk, I would sub the greek yogurt for sour cream. The higher fat content helps keep these muffins more tender and moist. That said, you can also do greek yogurt and milk for a slightly healthier option. They'll be good, especially right away but they might dry out a little quicker.

Vanilla: you can use either pure vanilla extract, vanilla bean paste or artificial vanilla extract. Blueberry overpowers it anyway so they're not a huge difference.
Blueberries: I used frozen wild blueberries for these muffins and I 10/10 recommend them. However you can use any kind of blueberries you want!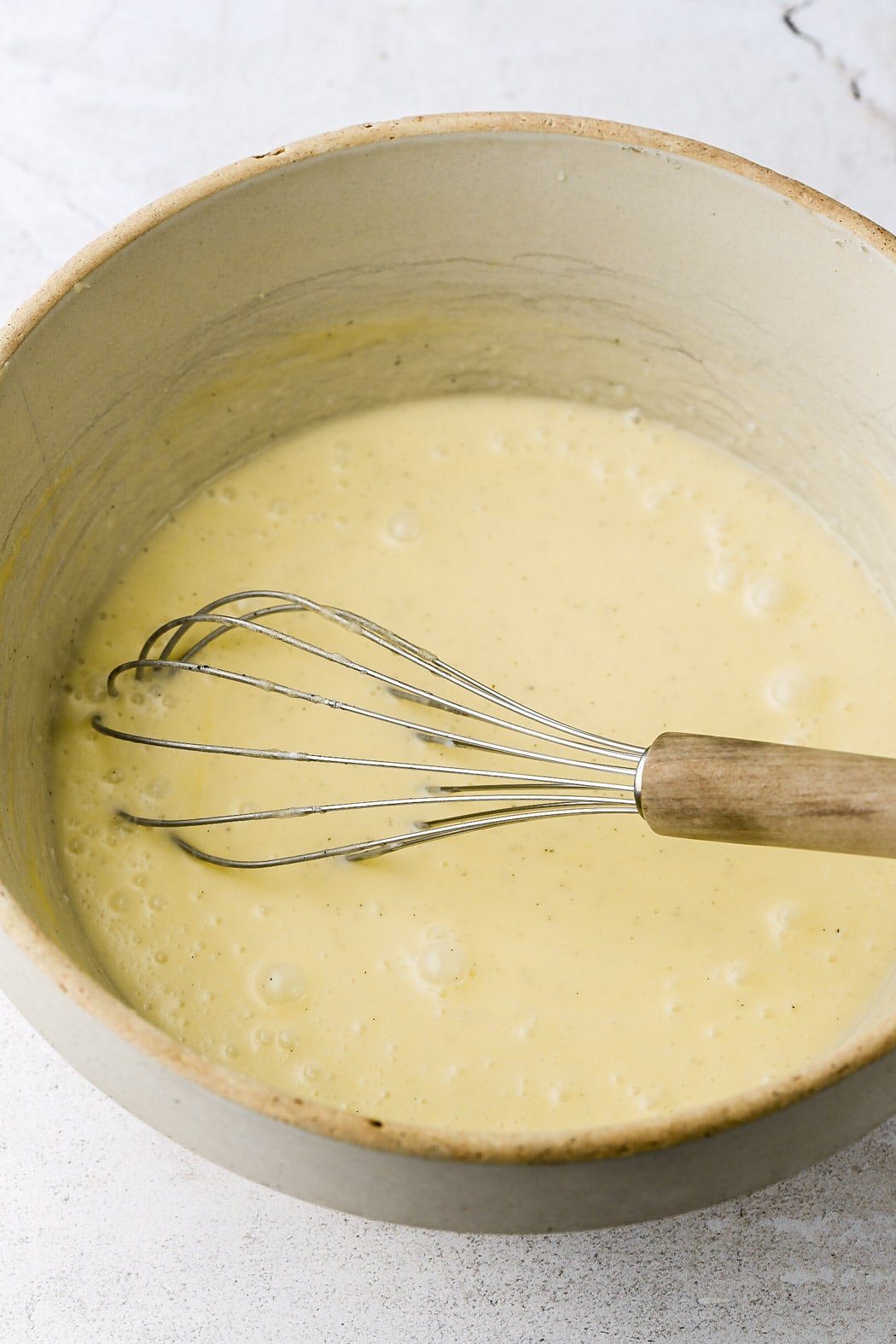 Step-by-Step Instructions
Whisk together the melted butter and sugar: let the butter cool a little before combining with the sugar.
Whisk in the eggs: this is important; whisk in one egg at a time for about 30 seconds, until it's completely combined, pale and fluffy. Then add another egg, etc.
Add the dairy: whisk in the greek yogurt and vanilla until it's smooth, then add the room temperature cream and whisk until it's smooth.
Add the dry ingredients together: whisk in the flour, baking powder, baking soda and salt into the wet ingredients until they're completely combined. Reserve 1 tablespoon of the dry ingredients to toss with the blueberries.
Add the blueberries: toss the blueberries with the reserved flour and then GENTLY fold them in just until they're almost evenly distributed.

Pro Tip: Try not to over-mix here or the whole batter will turn blue. I turned half my batter blue but I kind of like that lol.

Rest the batter: another important step – cover the bowl and let the batter rest at room temperature for 1-2 hours. This allows the gluten to relax and the leaveners to get a head start.
Fill the muffin pan: all the way to the top rim and top with ½-1 tsp of granulated sugar to make a crunchy muffin top.

You can also use a coarse sugar like demerara or turbinado on top of the muffins.

Bake: for five minutes at 425F and then reduce oven temperature to 375F and bake for another 10 minutes.
Frequently Asked Questions
Can I add in other mix-ins?
Omg yes. You can add some lemon zest or add in some white chocolate chips to these blueberry muffins.
Or you can use fresh or frozen mixed berries instead. I also have a strawberry version coming soon!
What kind of blueberries should I use
Like I said, I used frozen wild blueberries in these photos. I've always loved Betty Crocker's blueberry muffins (mom made them every sunday morning) and they use the mini blueberries. I also love how they bleed into the batter a little bit, giving them a little more flavor throughout.
You can also use regular frozen blueberries, fresh wild blueberries or fresh regular blueberries.
Whatever you use, make sure to toss them with a tablespoon of the reserved flour so they don't bleed too much.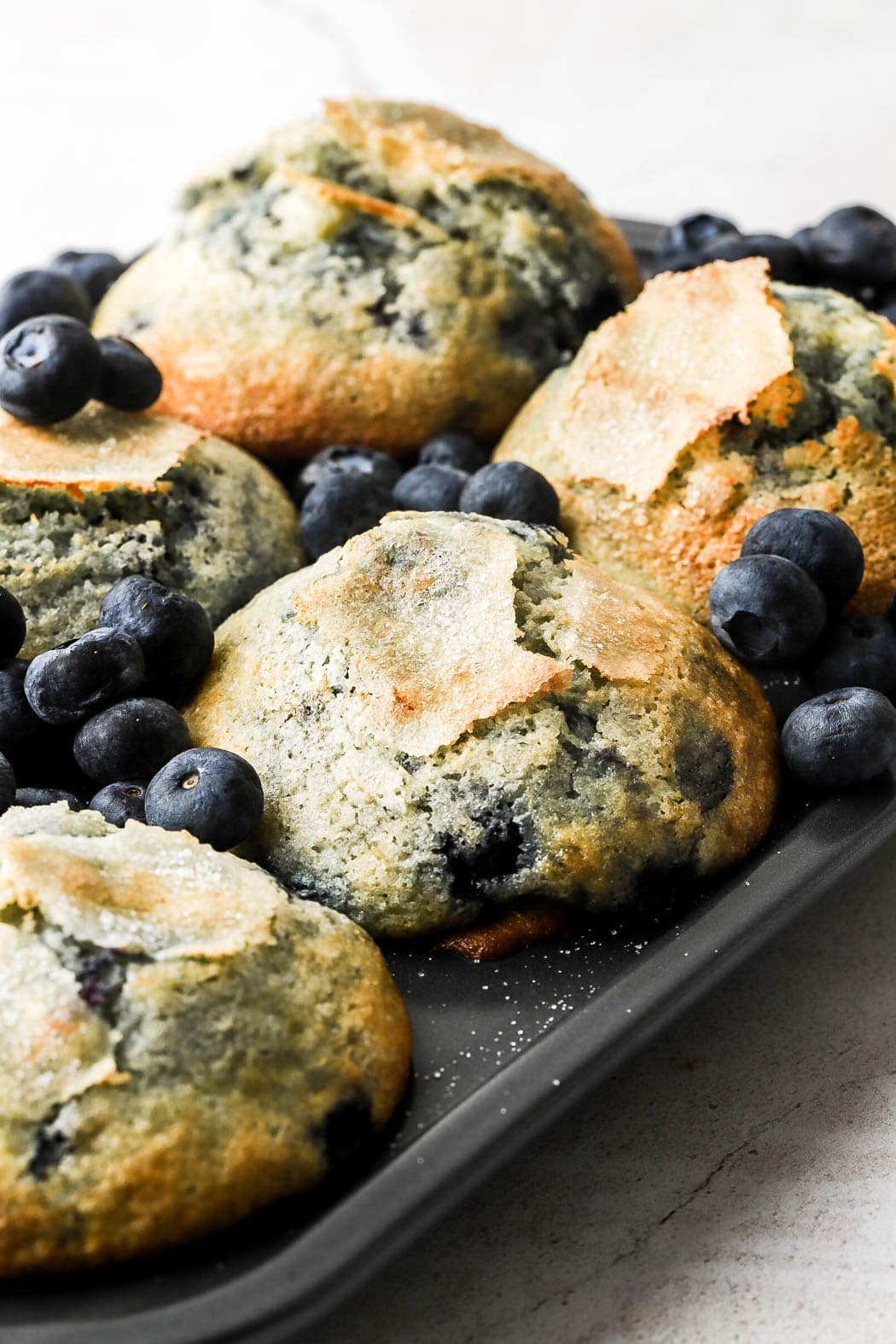 How to store these super fluffy blueberry muffins
I LOVE crispy muffin tops but if you store these in an airtight container, you lose that crispiness. So I leave them out overnight and then after the first night, I store them in an airtight container or bag at room temperature.
I don't recommend refrigerating, as they'll just dry out. You can freeze them and bring them back to room temperature before serving but again, you'll lose that crisp muffin top.
How to freeze muffins
Bakes stay more fresh when they're frozen. Place muffins in an airtight container and then place the container in a freezer bag. Freeze for up to a couple of months. Bring back to room temperature before serving.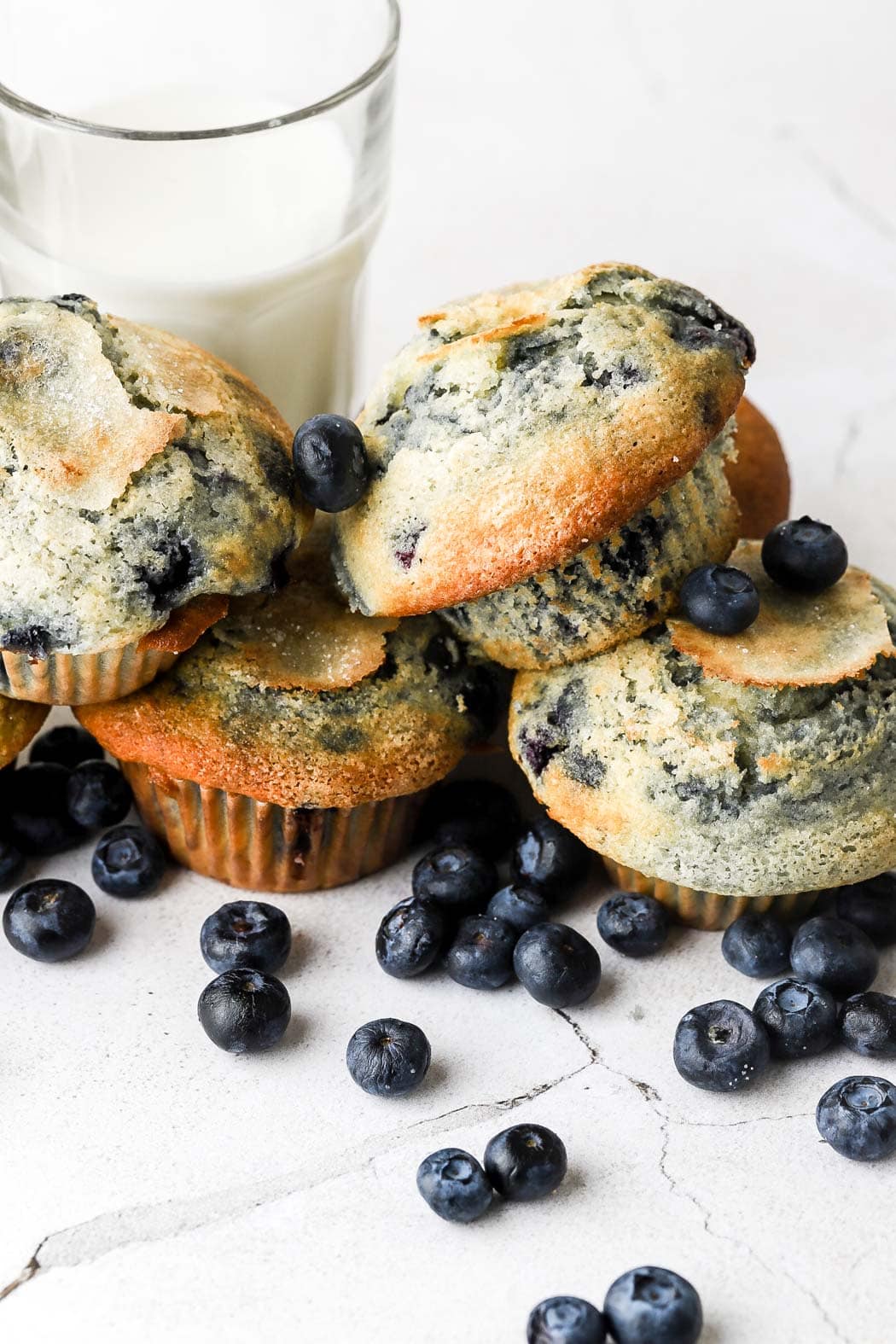 Thanks so much for reading today's post, if you have any questions just comment down below. Make sure to leave it in the comment section because I can't answer in the rating section :).
If you make this blueberry muffin recipe I would love to see it so make sure to tag me @baranbakery on instagram!
As always, have a blessed day and happy baking!
Love, B
Yield: 12 large muffins
Fluffy Blueberry Muffins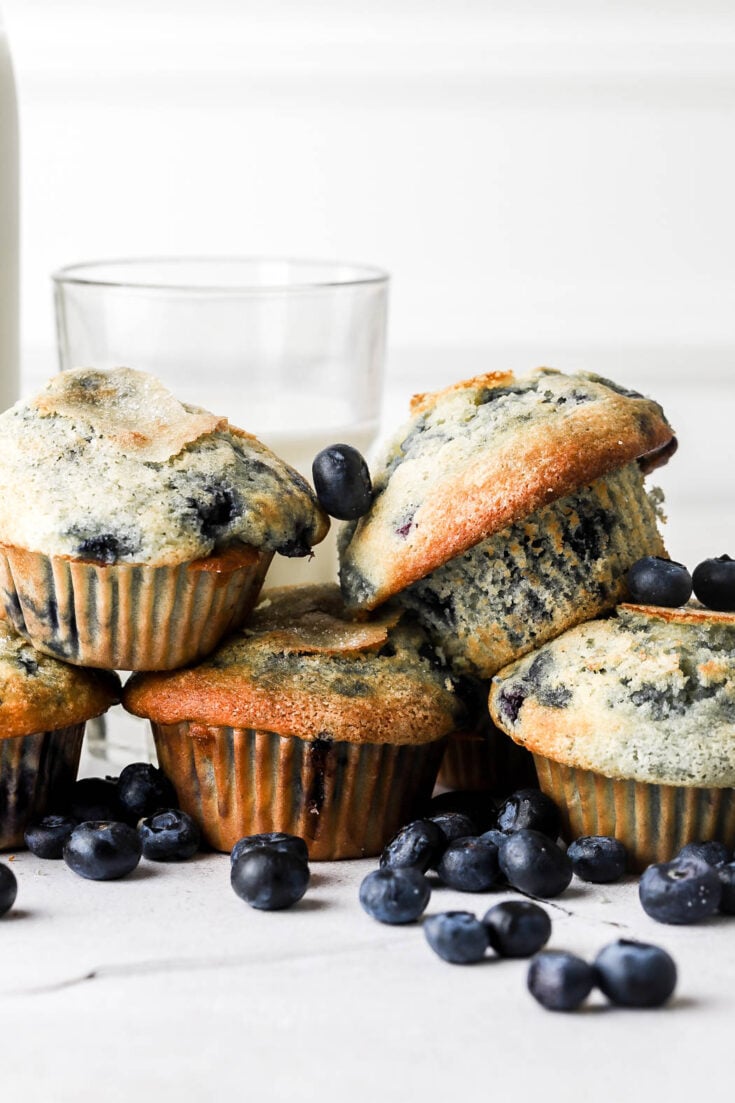 The fluffiest and most tender blueberry muffins I've ever had. Can be made with frozen or fresh blueberries and regular or wild blueberries.
Additional Time
1 hour
30 minutes
Total Time
1 hour
55 minutes
Ingredients
2 1/2 cups (300g) all-purpose flour, spooned and leveled
1 Tbsp baking powder
1/2 tsp baking soda
1/4 tsp salt
1/2 cup (113g) salted butter, melted
1 1/4 cup (250g) granulated sugar
3 large eggs, room temperature
3/4 cup (170g) Greek Yogurt
2 tsp pure vanilla extract
3/4 cup (6oz) heavy cream, room temperature
1 1/2 cups (210g) frozen wild blueberries (or fresh blueberries)
2-3 Tbsp sugar, for topping *optional (granulated or raw sugar)
Instructions
In a medium bowl, whisk together the flour, baking powder, baking soda and salt. Set aside.
In a large bowl whisk together the melted butter and sugar until they're well combined. Add in one egg and whisk until it's well combined and has lightened in color, about 30 seconds. Repeat with the next two eggs, one at a time.
Add in the Greek Yogurt and the vanilla extract and whisk until it's completely smooth.
Add in the heavy whipping cream and whisk until it's completely smooth.
Add in the dry ingredients, reserving 1 tablespoon of flour, and mix just until the last streak of flour is incorporated.
Toss the blueberries with the reserved tablespoon of flour and fold them into the batter, just until they're evenly distributed.
Cover with a lid, plastic wrap or a tea towel and set aside to rest at room temperature for 1-2 hours.
Preheat the oven to 425F (218C) and line 12 muffins tins.
Use a large cookie scooper to fill the muffins tins to the top, the batter should be enough for 12 large muffins.
Sprinkle each muffin with 1-2 tsp of granulated sugar for a crispy muffin top and bake for 5 minutes.
Reduce the oven temperature to 375F (190C) and bake for 11 minutes, just until the muffins are golden brown and spring back when you press on the center gently.
Remove from the oven and allow to cool for at least 10-20 minutes before serving.
Recommended Products
As an Amazon Associate and member of other affiliate programs, I earn from qualifying purchases.
Nutrition Information:
Yield:
12
Serving Size:
1
Amount Per Serving:
Calories:

350
Total Fat:

15g
Saturated Fat:

9g
Trans Fat:

1g
Unsaturated Fat:

5g
Cholesterol:

84mg
Sodium:

360mg
Carbohydrates:

49g
Fiber:

1g
Sugar:

28g
Protein:

6g
Nutrition information may not be fully accurate.