Vanilla latte cupcakes are my cupcake dreams come true! The best vanilla cupcake soaked in sweetened coffee and frosted with a silky espresso French buttercream.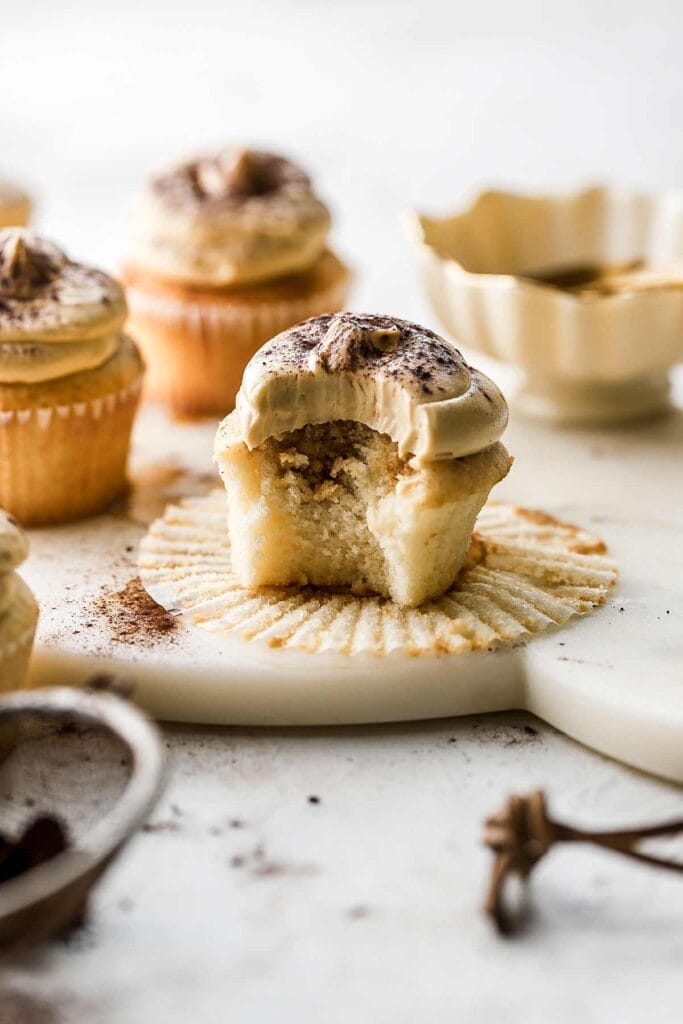 It's here, the post you've all been waiting for, vanilla latte cupcakes! These cupcakes are definitely in my top 5 favorite that I've ever had. I mean I'm a coffee lover so that's no surprise but these were also a big hit with friends and family too.
What are vanilla latte cupcakes
A few years ago we got a Breville espresso machine so we can spoil ourselves with vanilla lattes on the regular. & since everyone in my family is also obsessed with my vanilla cupcake recipe, I thought I'd combine the two. 
So vanilla latte cupcakes use my favorite vanilla cupcake recipe. They get soaked in sweetened coffee and frosted with the silkiest, espresso flavored, French buttercream.
You can also make small batch of these using my small batch cupcake recipe.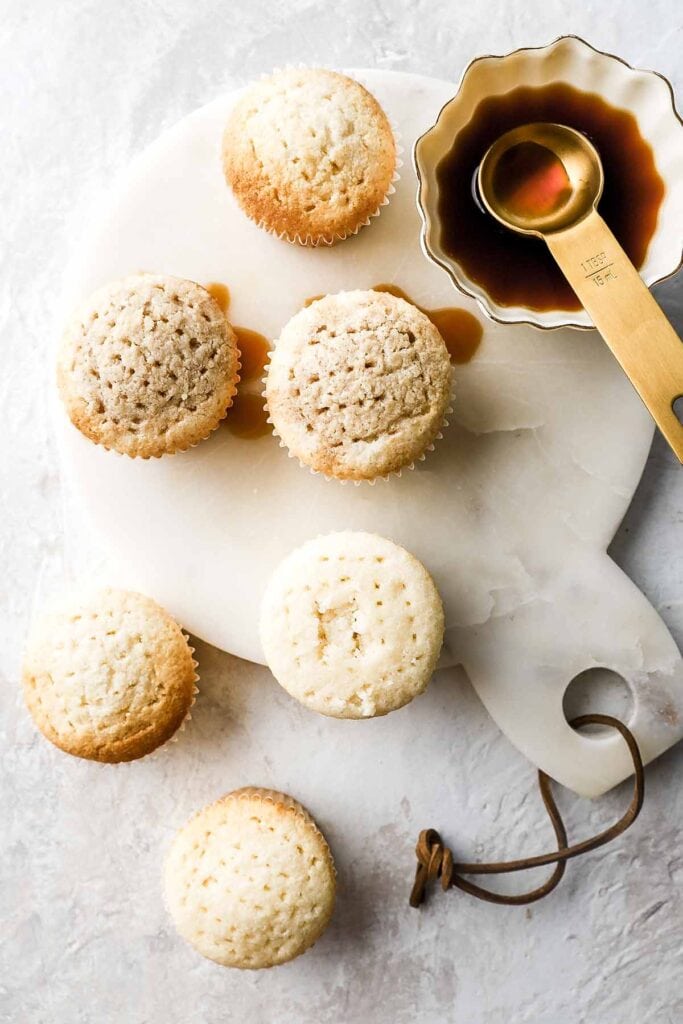 How to make the best vanilla cupcakes
Ok. So I still haven't posted my classic, full batch vanilla cupcake recipe BUT these birthday cake cupcakes and this vanilla latte cupcake uses my vanilla cupcake recipe. I tested this recipe sooooo much (maybe 20 batches?!) so that I could get a perfectly domed, moist and pale vanilla cupcake.
Ingredients:
Cake flour: I'm not a cake flour fanatic, in fact, my vanilla cake recipe I use all-purpose flour but for these cupcakes, I highly recommend cake flour. If you absolutely can't get any, you can do the cornstarch swap where you use all-purpose flour, remove 1 Tbsp and replace it with cornstarch. Keep in mind, they may not dome as perfectly.

HIGHLY recommend a digital kitchen scale to measure flour…for every recipe. Measuring flour inaccurately is probably the number one mistake in baking.

Baking powder & baking soda: I use both but if you don't have access to baking soda, you can do 1 ½ tsp of baking powder.
Salt: brings out flavor and balances sweetness.
Sugar: I'm going to say this in all my recipes lollllll please don't take out half of the sugar and then tell me the recipe didn't work out. Some people think you can remove up to 20% of the sugar without a difference in the results besides sweetness but every recipe is different and this one specifically I don't recommend removing any sugar.
Butter & oil: I use both because I like the structure and flavor that butter provides and the tenderness that oil provides. You can use any kind of neutral oil like vegetable, canola, sunflower, etc.
Eggs: this is one you can change a bit. I have tested this recipe with 1 whole egg and with 2 egg whites. The cupcakes turn out great both ways but if you want a paler cupcake, use the egg whites.
Milk & sour cream: I tested soooo many ratios of this combination and I tried buttermilk too but this is my favorite variation. If you absolutely can't find sour cream, I recommend plain yogurt or full fat greek yogurt.
What kind of frosting to use for cupcakes
If you've read my cookbook, Frosted, you'll know that most buttercreams are interchangeable. I usually love a good Swiss meringue buttercream but since I had leftover egg yolks from the cake, I went with a French buttercream. I have a whole post on How To Make French Buttercream so check that out for step-by-step shots.
How to flavor frosting with coffee
So to make this a true vanilla latte, I tried adding real espresso shots to the buttercream. It had a great flavor but it makes the buttercream much softer which isn't ideal for sitting at room temperature. So I recommend espresso powder dissolved in a tiny bit of water. If you don't have espresso powder, you can also use instant coffee.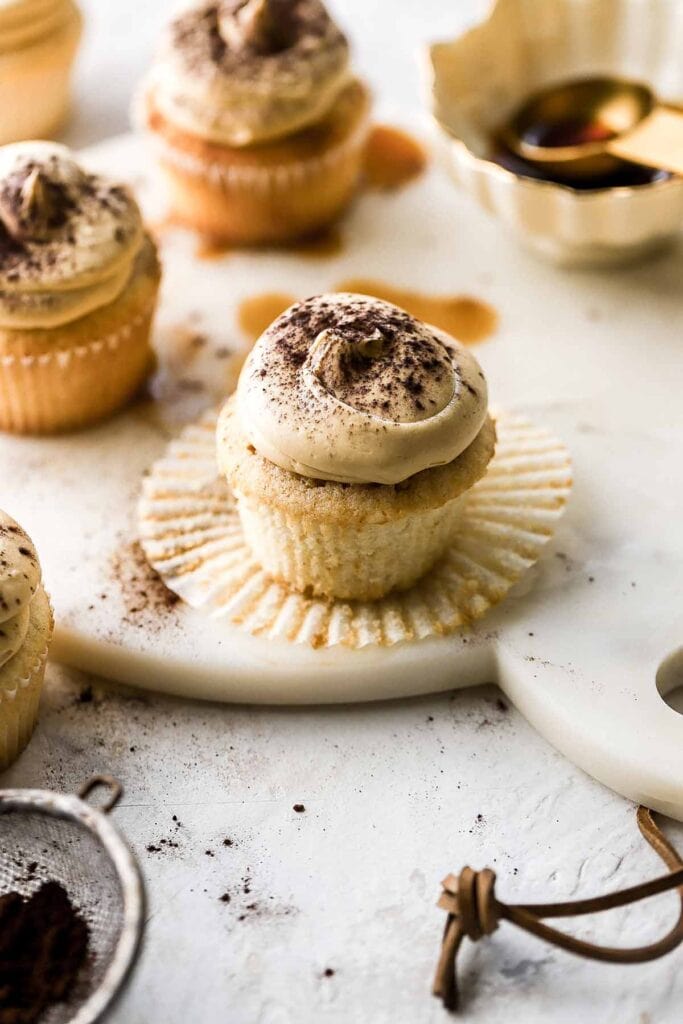 How to store vanilla latte cupcakes
These cupcakes are best served at room temperature and since cupcakes are smaller, they tend to dry out in the refrigerator. I recommend storing them at room temrpature for up to two days. If you make them ahead of time, place them in an airtight container, wrap the container in plastic wrap and freeze them. Bring them back to room temperature before serving. They can be stored in the freezer for up to a couple months.
If you have any questions just comment down below and use the #baranbakery on instagram so I can see them! As always, have a blessed day and happy baking!
Love, B
Yield: 13 cupcakes
Vanilla Latte Cupcakes Recipe
Vanilla latte cupcakes are my cupcake dreams come true! The best vanilla cupcake soaked in sweetened coffee and frosted with a silky espresso French buttercream.
Additional Time
30 minutes
Total Time
1 hour
33 minutes
Ingredients
Coffee Soak
1 cup (237mL) coffee, hot
2 Tbsp (25g) granulated sugar
1 tsp vanilla bean paste (or extract)
Vanilla Cupcake
1 1/2 cup (172g) cake flour, spooned and leveled
1/4 tsp baking soda
1/2 tsp baking powder
1/4 tsp salt
1 cup (200g) granulated sugar
1/4 cup (59mL) canola oil
1/4 cup (56g) unsalted butter, room temperature
2 large (60g) egg whites, room temperature
2 tsp pure vanilla extract
1/3 cup (78mL) whole milk, room temperature
1/2 cup (113g) sour cream
Coffee Buttercream
4 large egg yolks, room temperature
1 cup (200g) granulated sugar
1/4 cup (59mL) water
1 cup (227g) unsalted butter, room temperature
1 tsp espresso powder OR 1 Tbsp instant coffee dissolved in equal amounts of water
2 tsp vanilla bean paste (or extract)
Cocoa powder for topping
Instructions
Coffee Soak
While the coffee is still hot, mix the sugar in it until it's completely dissolved. Set aside to cool while you make the cupcakes. Once it's cooled, add the vanilla bean paste.
Vanilla Cupcakes
Preheat the oven to 350F/177C convection (325F/163C conventional) and line 13 muffin tins with cupcake liners (preferably a light colored pan).
In a medium bowl, whisk together the cake flour, baking soda, baking powder, salt and sugar.
Add the oil and butter to the dry ingredients and beat together until they're combined. Add the egg whites and vanilla extract and mix until they're fully combined. Then add the milk and sour cream, mixing just until the batter is smooth.
Fill each cupcake liner about 2/3-3/4 full. Bake for 16-18 minutes. The cupcake should no longer look wet and when you press on the center of the cupcake it should spring back or once a toothpick inserted comes out clean.
Remove them from the oven and let them cool in the cupcake pan for 10 minutes, then move them to a cooling rack. Allow the cupcakes to cool completely.
Coffee Buttercream
Make one batch of French Buttercream. Once the buttercream is done, add the dissolved coffee and vanilla and mix until combined.
Assemble
Once the cupcakes and the coffee soak are completely cooled and the buttercream is done, you can begin assembling.
Use a fork to poke a bunch of holes in the top half of the cupcakes. Use a spoon or a pipet to drizzle the coffee over each cupcake, slowly, giving it time to soak into the cake. I did about 1-2 Tbsp of coffee per cupcake.
Use a piping bag, fitted with a round tip to pipe the coffee buttercream on the cupcake.
Top each cupcake with a dusting of cocoa powder.
Notes
If the buttercream is ever too soft, just refrigerate it for 10-20 minutes and proceed.
Recommended Products
As an Amazon Associate and member of other affiliate programs, I earn from qualifying purchases.
Nutrition Information:
Yield:
13
Serving Size:
1
Amount Per Serving:
Calories:

435
Total Fat:

26g
Saturated Fat:

13g
Trans Fat:

0g
Unsaturated Fat:

11g
Cholesterol:

124mg
Sodium:

129mg
Carbohydrates:

47g
Fiber:

0g
Sugar:

34g
Protein:

5g
Nutrition information may not be fully accurate.