Spiced Honey Chocolate Cake
Spiced Honey Chocolate Cake is three layers of spiced honey cake frosted with chocolate diplomat cream, and drizzled with chocolate.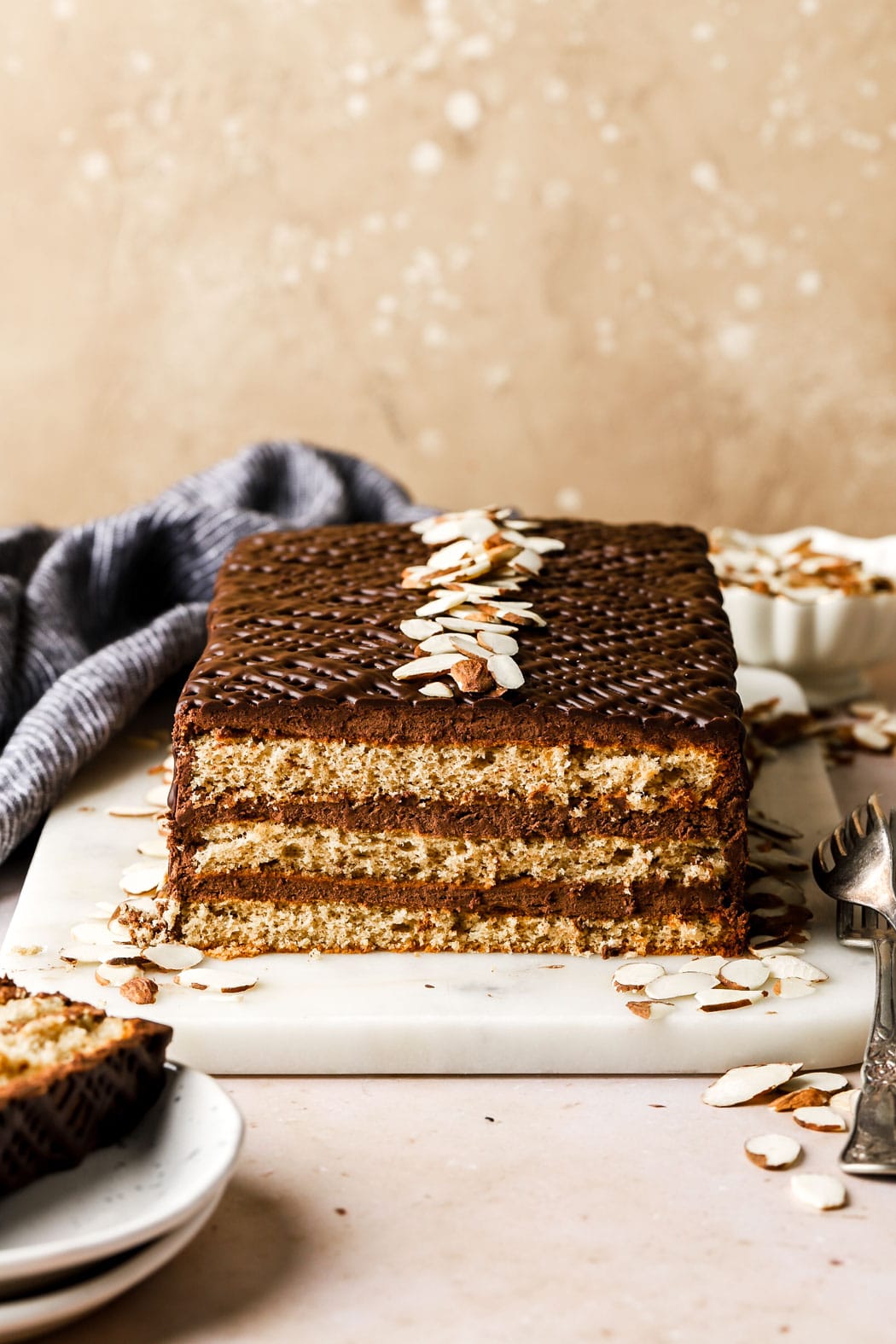 Every once in a while I get nostalgic and crave sweets my grandma would bake when I was younger. One of my favorites was this honey cake spiced with all-spice. It has the softest cake layers and a delicious light and fluffy chocolate cream. I knew it was the perfect cake to share with you when I partnered with my friends at Nature Nate's and Endangered Species Chocolate!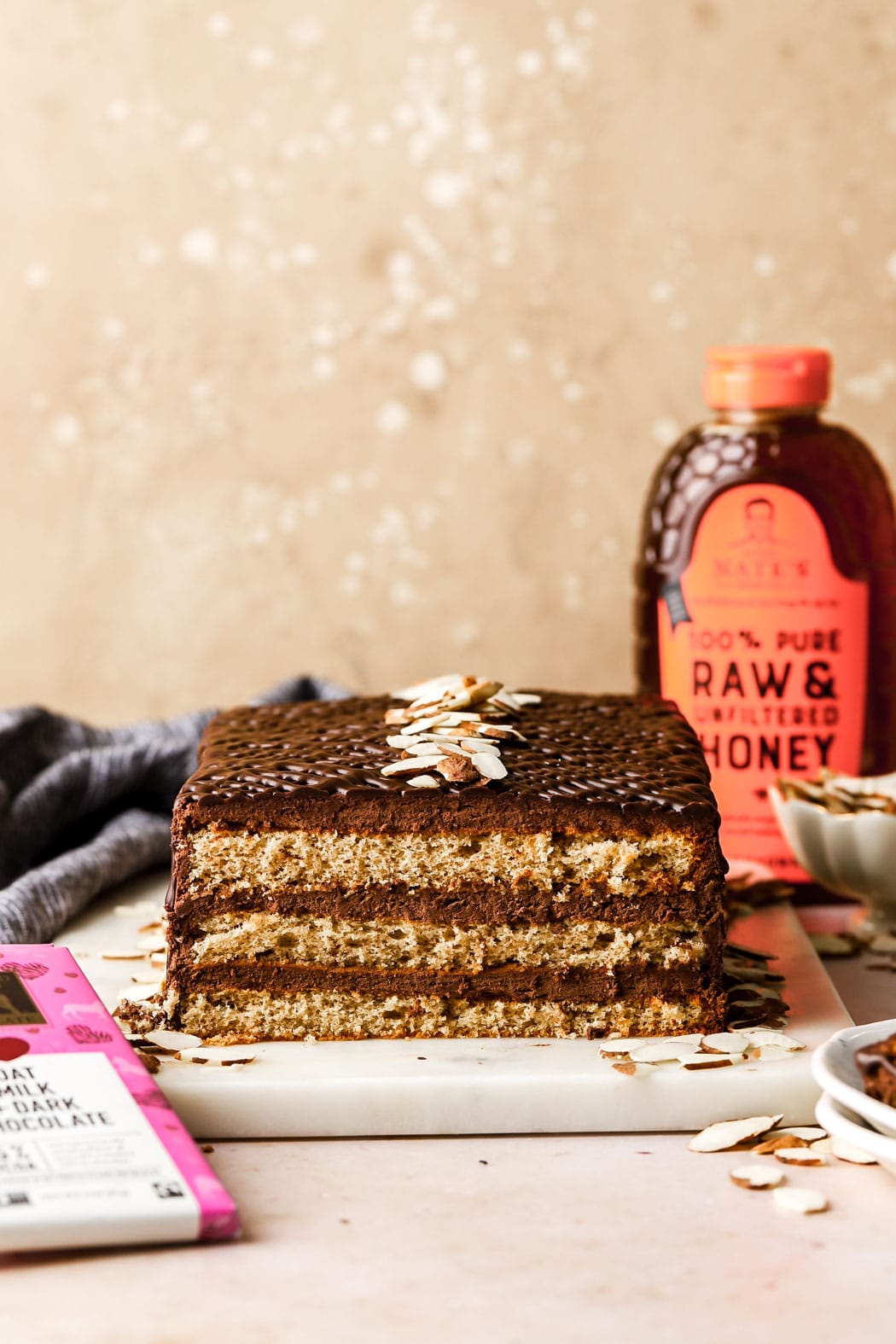 How to make spiced honey chocolate cake
Spiced honey chocolate cake has three main parts. The first part is the spiced honey cake layers. They are so soft, perfectly spiced, and have a delicious honey flavor thanks to Nature Nate's Honey Co. The second part is the chocolate diplomat cream layers. Endangered Species Oat Milk Dark Chocolate makes it extra creamy and rich. Last I added a chocolate drizzle after I frosted the outside with the chocolate diplomat cream.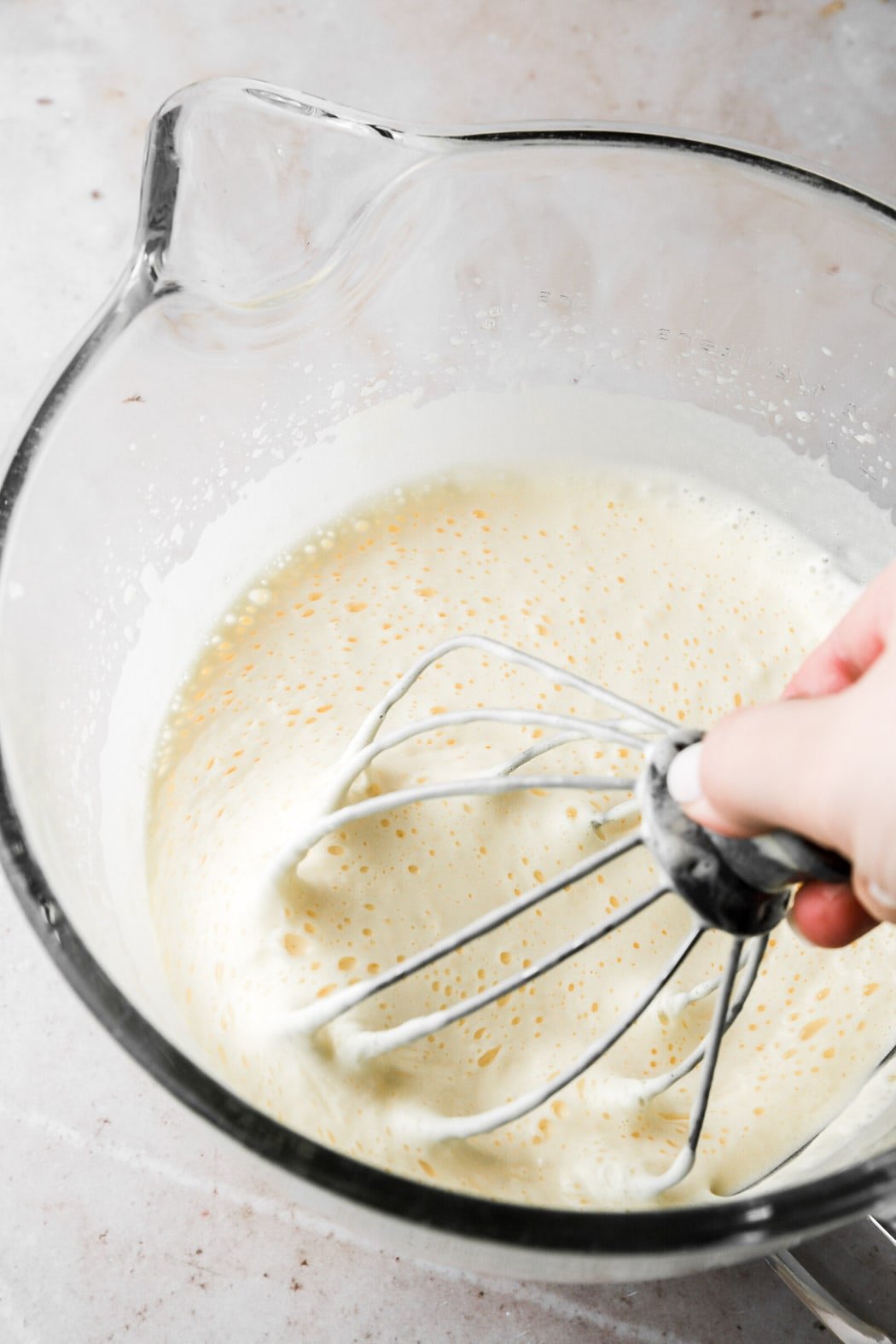 Honey Spice Cake
Spiced honey cake is like a cross between my Honey Lemon Cake and Pumpkin Roll . First you will whisk your dry ingredients together. Then beat the eggs, add the sugar, and continue beating until they are thick and fluffy. Then, like my Honey Lemon Cake, cook the honey until it bubbles and add baking soda, whisking while it bubbles for about a minute. Next, pour the honey and oil into the beating egg mixture and add your dry ingredients.
Bake it in a 12" x 19" sheet pan for about 18 minutes. After it cools, cut it into three parts, the short way, so you have three 12" x 6 " layers (might be 6 and something but the cake shrivels a bit either way when it's cooling). You can do slightly larger too but I don't recommend a smaller pan unless it's much smaller and you use two.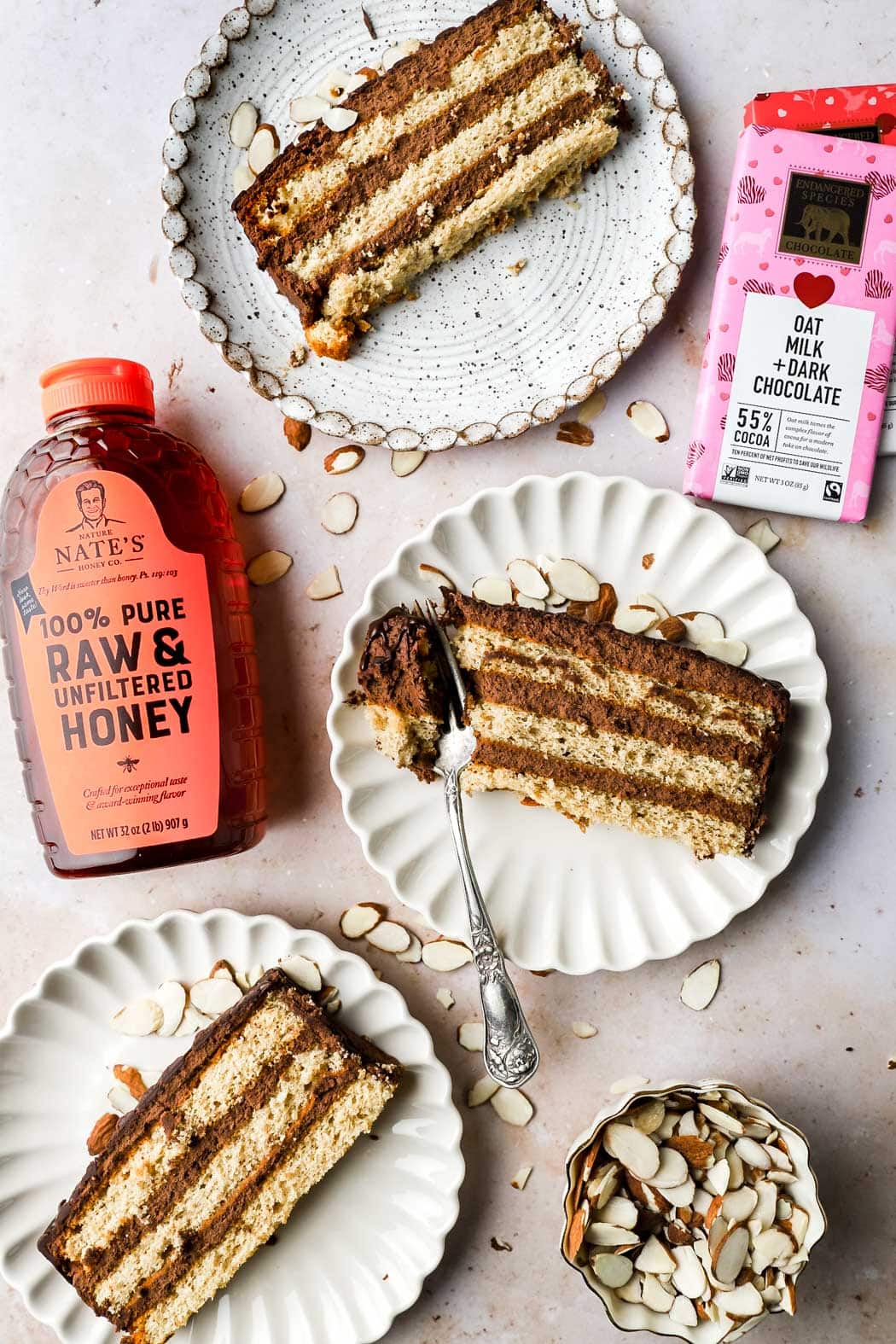 Ingredients:
Flour: I used all-purpose flour because everyone I know has some at home. I highly recommend a digital scale to measure your flour to avoid over measuring, a common baking mistake.
Spices: I used all-spice and a touch of cinnamon. The cinnamon isn't necessary but I think it compliments the all-spice well.
Sugar: The sugar is mainly used to beat air and volume into the eggs which helps your cake rise in the oven.
Eggs: I use large, room temperature eggs. If they aren't room temperature you can run them under warm water for 5-10 minutes.
Honey: You need a good quality honey, so I used my favorite honey ever – Nature Nate's 100 Pure, Raw & Unfiltered Honey. It is rich in flavor and gives the cake just the right amount of sweetness.
Baking Soda: The baking soda helps give the cake it's rise by aerating the heavy honey. It also balances the acidity in the honey to maintain the structure of the cake.
Oil: I used vegetable oil but you can also use sunflower or canola oil.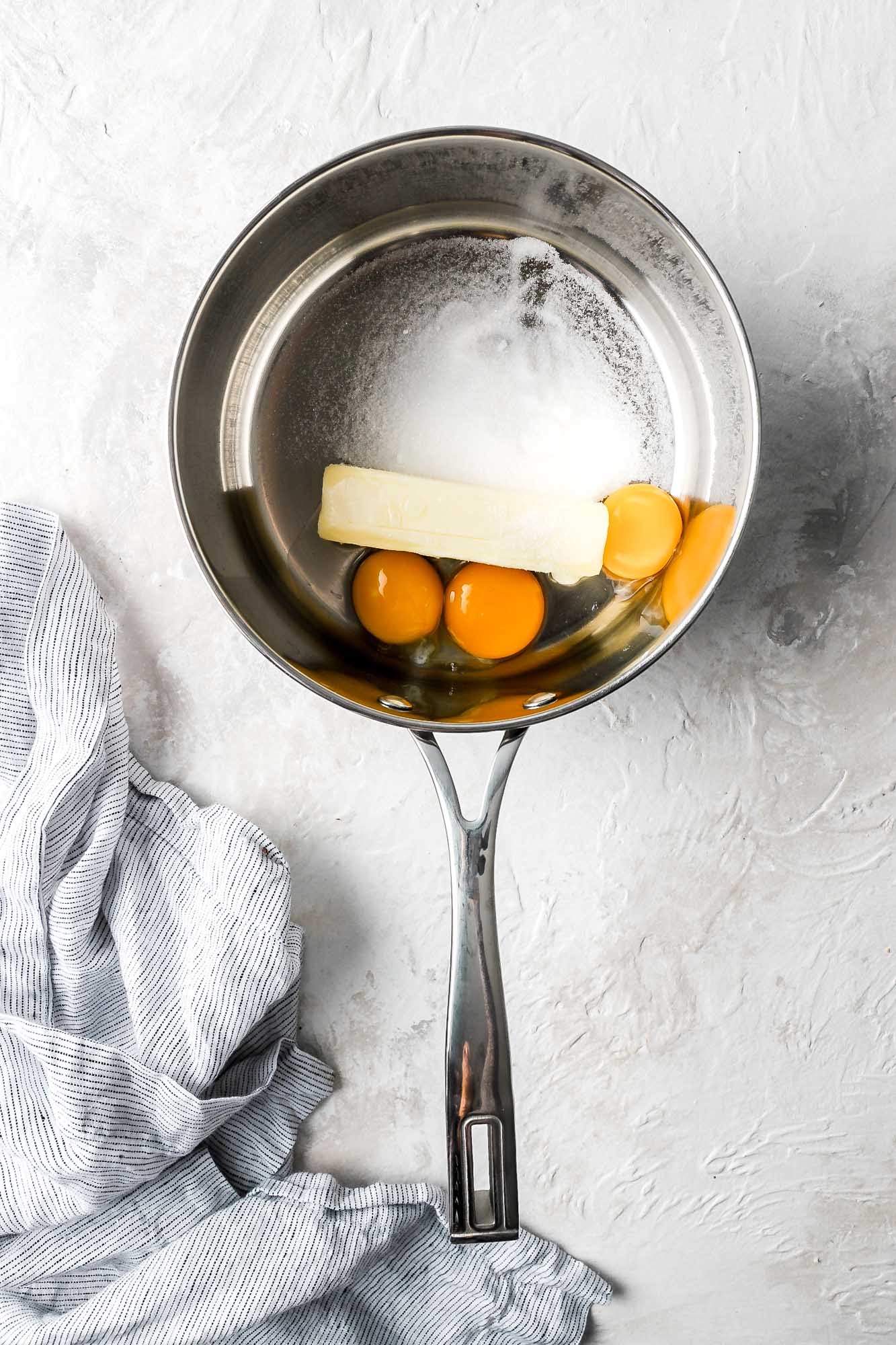 Chocolate Diplomat Cream
The second part of this spiced honey chocolate cake is the chocolate diplomat cream. I used Endangered Species Oat Milk Dark Chocolate for two reasons – the oat milk gives the chocolate an extra creamy texture and a delicious, unique flavor.
I used gelatin to make the diplomat cream because I wanted to make sure it was extra sturdy and would hold up on the sides of the cake too. I have also made it without the gelatin and since the melted chocolate hardens at room temperature, it does stabilize the cream enough but it is slightly more difficult and unpredictable without the gelatin.
If you want a darker chocolate flavor in the cream, you can certainly double the amount of Endangered Species Oat Milk Dark Chocolate and/or you can add ¼-½ (20g-40g) cup of cocoa powder.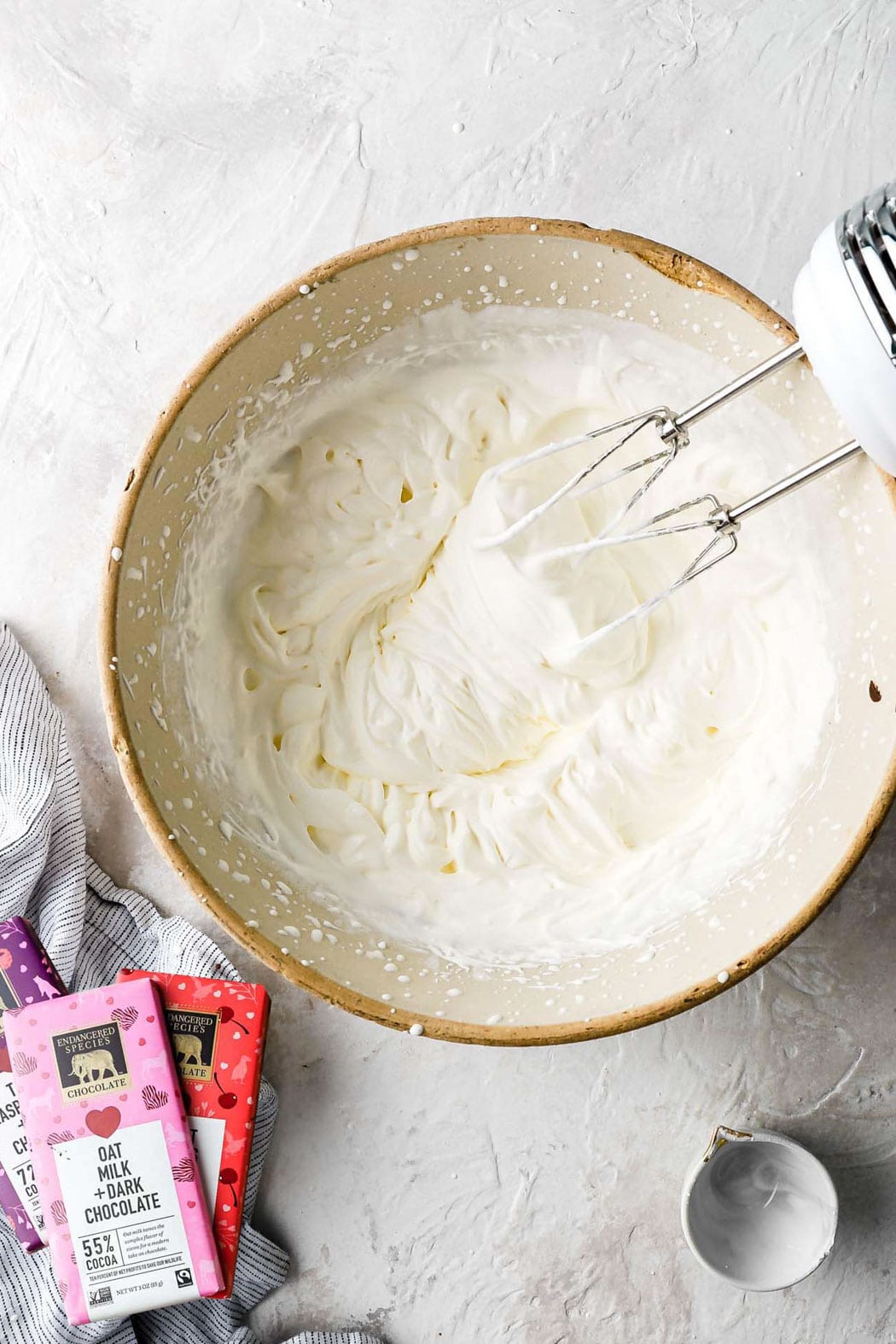 Chocolate Drizzle
I made a delicious chocolate drizzle with Endangered Species Oat Milk Dark Chocolate to drizzle over the cake. It is simple to make. Just microwave the chocolate, oil, and cream, a few seconds at a time, until you can mix it all together.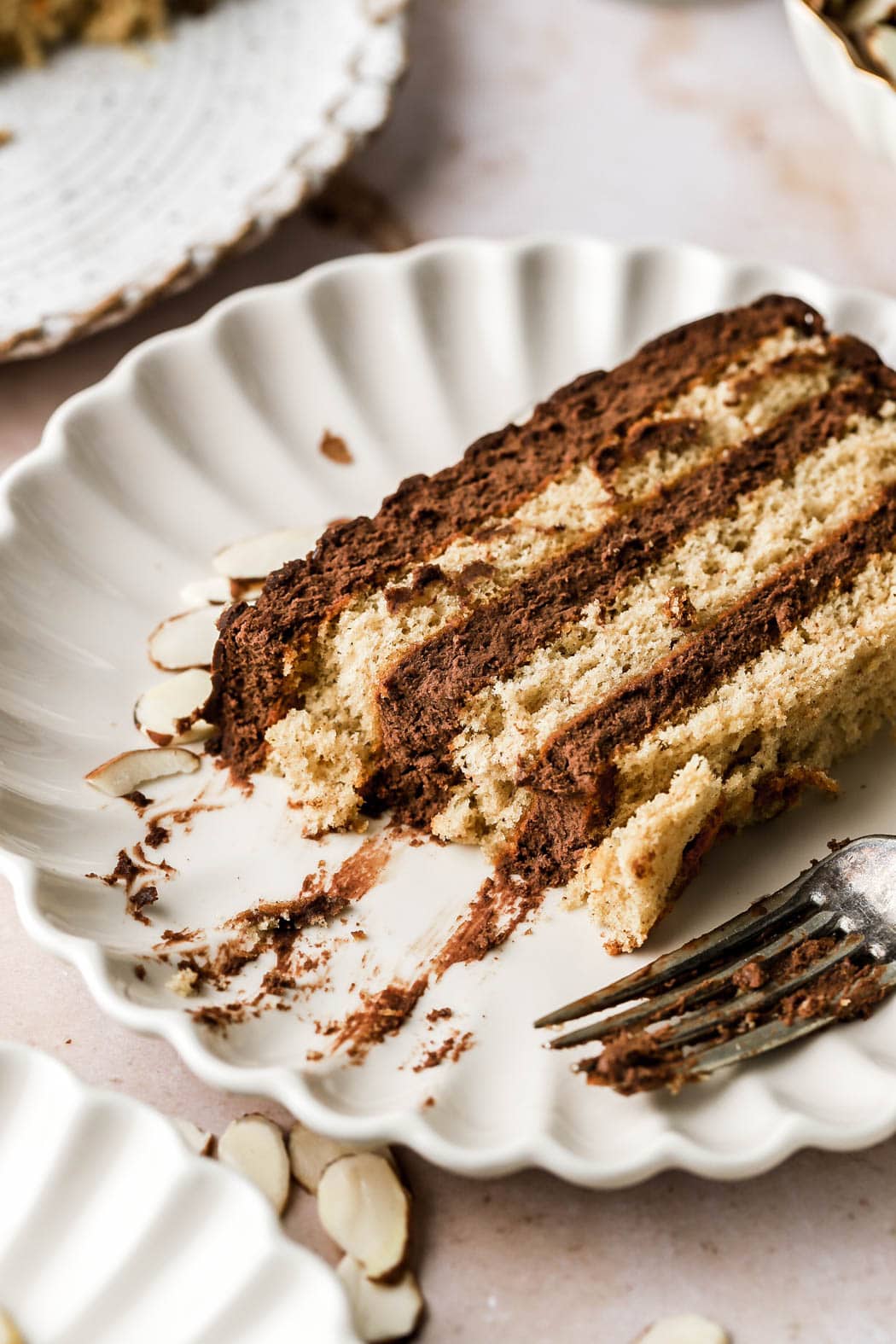 Frequently Asked Questions (FAQs)
What kind of honey should I use?
Because the main ingredient in the cake is honey, it is important to use a quality honey. Nature Nate's Honey Co. is by far the best tasting honey I've ever had. It's really not a shock that they are the number one branded honey company in the US!
Their honey is raw and unfiltered with no additives which helps give it a deep, rich flavor. So if you want the best tasting spiced honey chocolate cake you've ever had, I'd stick with Nature Nate's.
What kind of chocolate should I use?
I love chocolate that is creamy and flavorful and doesn't require adding too many extra ingredients which is why I used Endangered Species Chocolate. I used the oatmilk but their raspberry chocolate bar and cherry chocolate bar would also taste great in this recipe.
Plus, they support Give Back Partners who focus on wildlife conservation and use FairTrade certified cocoa beans. Chocolate that tastes amazing and also helps our planet? That's a win for me!
Can I bake spiced honey chocolate cake in different pans?
Yes you can! You can also make a 3 layered 8 inch cake, round or square. Just separate the batter into 3 equal parts and bake. You'll want to use visual cues as a sign of doneness. I would start with 12 minutes and just check to see when it no longer looks wet, press on the center gently and if it springs back it's done.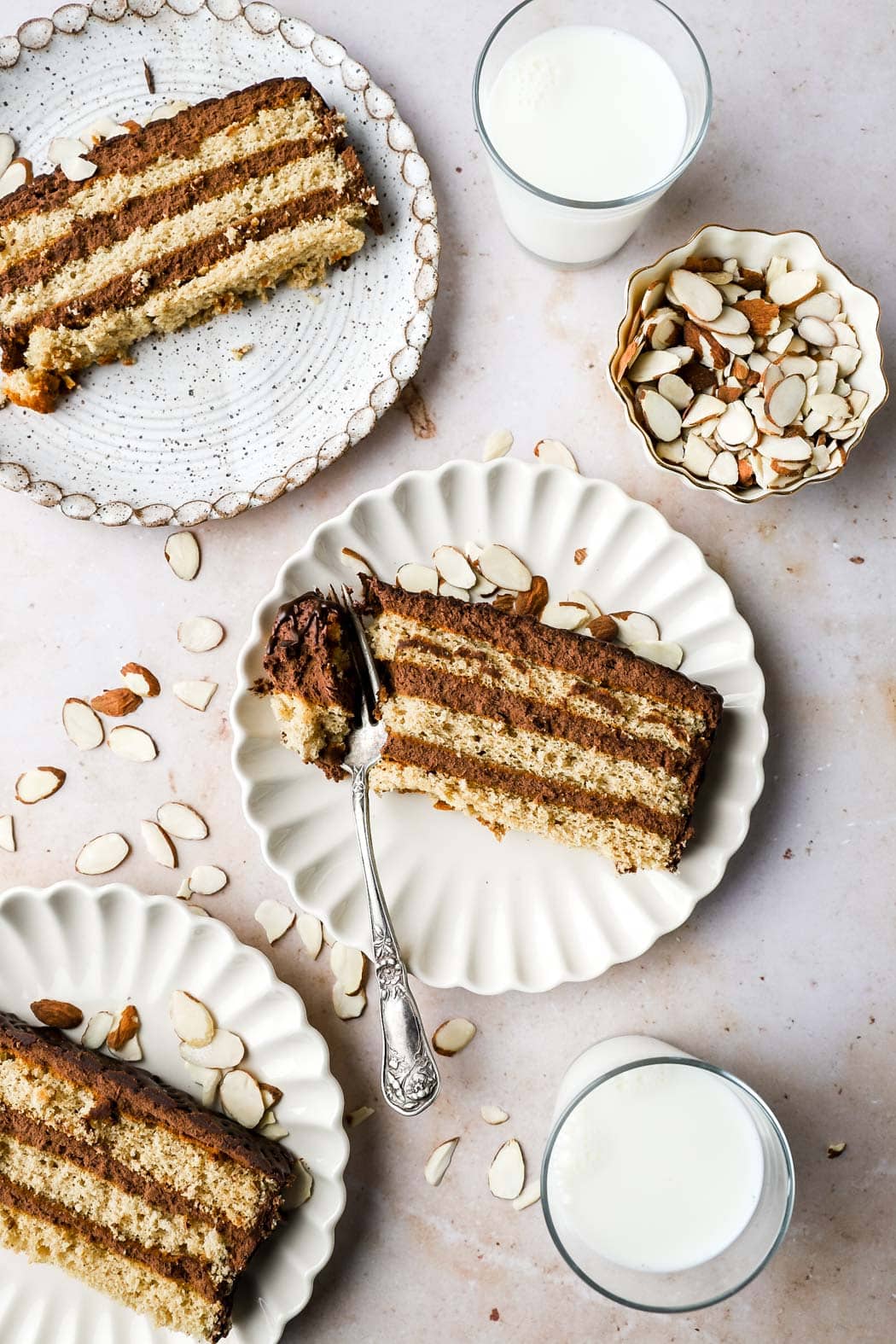 How to store spiced honey chocolate cake
Spiced honey chocolate cake is best stored in the refrigerator for up to a week since the chocolate diplomat cream is whipped cream based. It's best to cover the cake with plastic wrap or a cake dome to keep it from drying out.
You can also freeze it for 2-3 months:
If freezing the cake whole, wrap it in plastic wrap twice and freeze.
If freezing individual slices, wrap them in plastic wrap and place them in a freezer bag and squeeze out all the excess air.
Please note, the cream can potentially separate after it thaws. When you are ready to serve, allow the cake to defrost in the fridge overnight and then on the counter for a few hours. Individual slices will make it easier and quicker to defrost.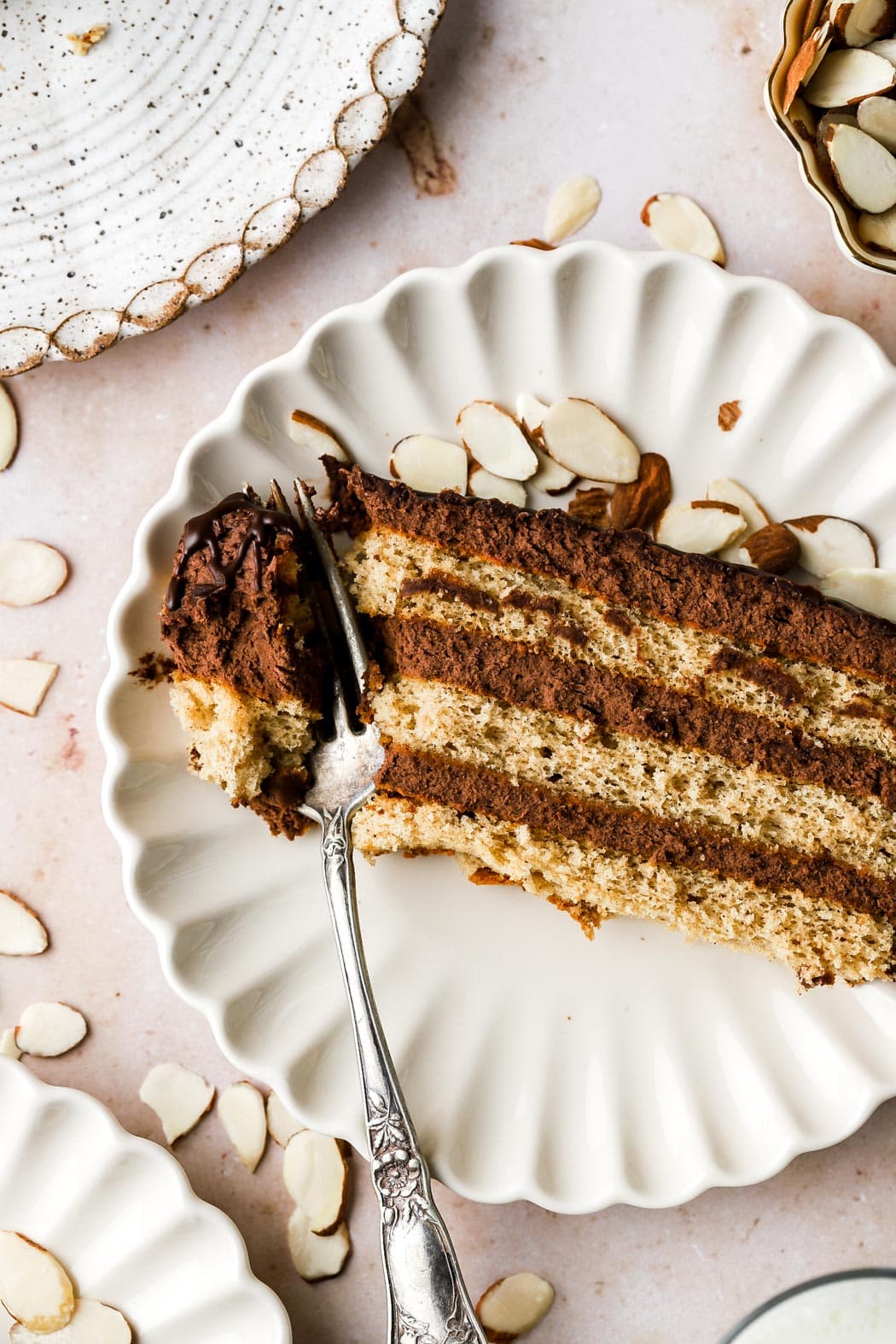 Thanks so much for reading today's post! If you have any questions just comment down below, I'm happy to answer! If you make this spiced honey chocolate cake I would love to see it. Make sure to tag me @baranbakery on instagram and order my cookbook, Frosted, for similar recipes from my family too!
As always, have a blessed day and happy baking!
Love, B

Yield: 12 slices
Spiced Honey Chocolate Cake Recipe
Spiced Honey Chocolate Cake is three layers of spiced honey cake frosted with chocolate diplomat cream, and drizzled with chocolate.
Total Time
3 hours
58 minutes
Ingredients
Spiced Honey Cake
3/4 cup (90g) all-purpose flour, spooned and leveled
1 1/2 tsp all-spice
1/2 tsp cinnamon
1/8 tsp salt
5 large eggs, room temperature
1/2 cup (100g) granulated sugar
1/3 cup (112g) Nature Nate's 100 Pure, Raw & Unfiltered Honey
1/4 tsp baking soda
1/4 cup (59mL) vegetable oil
Chocolate Diplomat Cream
3 large egg yolks, room temperature
1/4 cup (50g) granulated sugar, separated
1/2 cup (113g) unsalted butter, softened
1 cup (6oz) Endangered Species Oat Milk Dark Chocolate
1 tsp gelatin dissolved in 1 Tbsp warm water
1/4 cup (30g) powdered sugar, spooned and leveled
2 cups (16oz) heavy whipping cream
1 tsp vanilla extract
Chocolate Drizzle
1/2 cup (3 oz) Endangered Species Oat Milk Dark Chocolate
1 Tbsp (30mL) vegetable oil
1 Tbsp (30mL) heavy whipping cream
Slivered almonds for topping
Instructions
Chocolate Diplomat Cream
Begin by making the custard portion for the diplomat cream so it has time to cool.
Place the egg yolks, sugar and butter in a small saucepan over medium-low heat and whisk continuously for about 5 minutes.
The mixture will look chunky before it melts. After it melts, continue cooking until it thickens enough to coat the back of a spoon and resembles lemon curd.
Remove it from the heat, pour it into a heat safe container and cover it with a lid. Set it aside to cool completely to room temperature.
Spiced Honey Cake
Generously grease and line a 12"x19" sheet pan with baking spray and parchment paper and preheat the oven to 350F/177C convection (325F/163C conventional).
In a small bowl, whisk together the flour, all-spice, cinnamon and salt until they're evenly distributed.
Place the eggs in the bowl of a stand mixer, fitted with a whisk attachment and begin beating at medium speed.
Once the eggs look frothy, slowly stream in the sugar. Increase to full speed and beat them together until they're thick and fluffy, about five minutes.
Place the honey in a small saucepan, over medium-high heat, and bring it to a simmer while swirling intermittently. Cook for about 3 minutes, until it begins to bubble all around.
Remove it from the heat and then add the baking soda to the hot honey and whisk continuously while it's bubbling.
Turn the mixer to medium speed and slowly pour in the honey, immediately followed by the oil.
Add the dry ingredients, one tablespoon at a time and mix just until it's incorporated, scraping the edge of the bowl as needed.
Pour into prepared pan and bake for 18 minutes, until it's browned and releases itself from the edge of the pan or springs back when you gently press on the center.
Finish Chocolate Diplomat Cream
In a medium bowl, microwave the chocolate for 20 seconds, stir it and repeat until the chocolate is smooth. Set it aside to cool to room temperature (don't let it harden though).
Mix the gelatin with water and allow it to dissolve.
Place the powdered sugar, and just a couple Tbsp of the heavy whipping cream in a large bowl and use an electric mixer to beat them at medium speed until they're well combined.
Then slowly keep pouring the cream in until the mixture thins out a bit. Once all the cream is added, beat at full speed just until soft peaks form.
If the gelatin has set and isn't liquid anymore, microwave it for 5 seconds, until it's liquid again. Turn the mixer to medium-high speed, pour in the gelatin and beat until stiff peaks form and the whipped cream looks smooth.
Add the cooled custard to the bowl of whipped cream and beat them at medium-high speed just until they're smooth. Then add the cooled, melted chocolate and vanilla extract and beat until it's fully combined.
Assemble immediately, do not refrigerate the cream before assembling or the gelatin will set and the cream will no longer be smooth.
Assemble
Once your honey cake has cooled, slice it into three's from long end to long end so you have three short sections. You can refer to the photos or measure each section to be about 12"x6" now.
Place the first layer of cake onto a flat surface and top with 1/4 of the cream. Repeat with the second layer and then top with the third. Use the rest of the diplomat cream to frost the top and sides of the cake.
It can be quite difficult to get a smooth look with this cream and the shape of the cake so embrace the rustic vibes.
Refrigerate the cake while you make the chocolate topping.
Chocolate Drizzle
Place the Oatmilk chocolate in a small bowl with the oil and the cream. Microwave on 20 second bursts, 2-3 times, stirring between each interval, until it's completely smooth.
Pour the Chocolate into a piping bag fit with a small round tip and drizzle it back and forth diagonally, both ways. Top with slivered almonds, toffee chunks or if you're feeling adventurous some honeycomb!
Cake can be served immediately but it's best to let it set in the fridge for a couple of hours.
Nutrition Information:
Yield:
12
Serving Size:
1
Amount Per Serving:
Calories:

469
Total Fat:

34g
Saturated Fat:

16g
Trans Fat:

1g
Unsaturated Fat:

15g
Cholesterol:

206mg
Sodium:

113mg
Carbohydrates:

36g
Fiber:

1g
Sugar:

28g
Protein:

7g
Nutrition information may not be fully accurate.
This post was sponsored by Nature Nate's Honey Co and Endangered Species Chocolate, all thoughts and opinions are 100% my own. Thanks so much for supporting the brands that support Baran Bakery!