Pumpkin Roll with Cream Cheese Buttercream
Fluffy pumpkin sponge cake rolled around silky cream cheese frosting, topped with more frosting and chopped pecans.
I've been going through and updating a ton of old blog posts and this pumpkin roll is one of them. When I first published this recipe on Baran Bakery, I had just adapted one of my mom's sponge cake rolls but I actually had very little knowledge of baking and photography. Since then I've improved in both departments, however this recipe was gollldddddd, so I did not change it!
Ok, I did make a couple little tweaks, but not because the recipe needed fixing, it was more just to minimize the ingredients. I'm sick of recipes using two types of sugar or both baking powder and soda, etc. I'm trying to keep things minimal here on BB.
How to make the best pumpkin roll
I'm calling this the best because honestly, it's so flippin' good. Also if you google 'pumpkin roll' all the recipes are pretty much the same so it's basically just mine against the world and I'm partial to mine, lol.
This pumpkin roll is actually super easy to make and just consists of two parts, the pumpkin sponge cake and the cream cheese frosting.
Pumpkin Sponge Cake
If you're not familiar with sponge cakes, they're basically a type of cake that uses whipped eggs to give them rise, as opposed to a rising agent. Sponge cakes generally don't contain much fat compared to traditional American cakes, so they're much fluffier and lighter and they feel more spongy when you press on them.
You'll notice that I actually do use baking powder in the recipe even though sponge cakes should get their rise from the whipped egg whites. This is because when you add something heavy like pumpkin puree or mashed bananas, the batter becomes much heavier and harder to lift.
If you look at my pumpkin chai sheet cake or chocolate chip pumpkin muffins, you'll notice that it requires a lot more baking soda and powder than I normally do in my cakes. For this recipe I added just a bit to help out the whipped egg whites.
Ingredients:
Flour: I used all-purpose flour for these muffins. Flour is the most inaccurately measured ingredient so I highly recommend a digital kitchen scale to measure for all baking recipes.
Spices: I usually just make my own pumpkin spice since I have all the individual spices in my pantry but feel free to use a premixed pumpkin spice or homemade pumpkin spice. I would do about 1 Tbsp.
Sugar: this was the one tweak I made to the recipe, I replaced the granulated sugar with brown sugar. I didn't see a point in using both!
Eggs: I use large, room temperature eggs. Make sure when you're separating the whites from the yolks that you don't get any yolk in the egg white bowl because fats interfere with the whipping of the egg whites.
Pumpkin: I used both Libby's and Farmer's Market Foods pumpkin puree and it worked out great with both of them.
Cream Cheese Frosting
This is pretty basic. At first, I tested this with a caramel cream cheese frosting which was amazing but I wanted to keep it simple and classic so I took that out. If you're into it, feel free to add a few Tbsp of salted caramel sauce to the frosting though!
If you're feeling fancy, I also 10/10 recommend browning the butter. Again, I didn't put it in the recipe but there are few things in life better than brown butter cream cheese frosting, lol.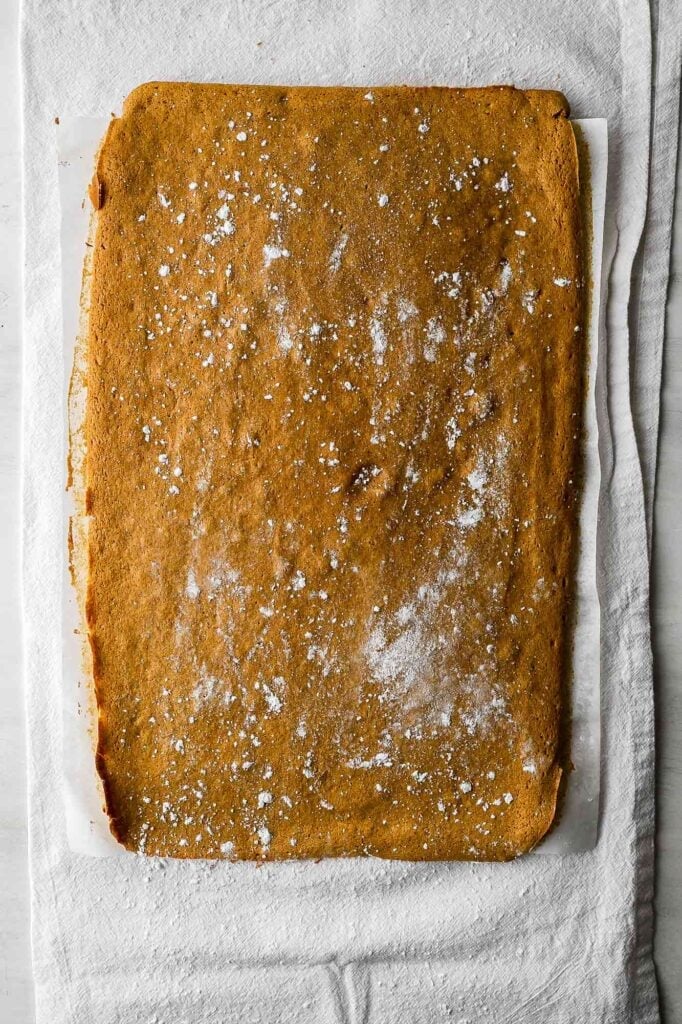 How to roll the cake without breaking it
First, make sure to grease and line your pan properly. Then when you remove the pan from the oven, you'll want to flip it over but you want it to land perfectly on the parchment paper so place the parchment paper on top of the cake, exactly lined up. My parchment papers are 9×13 so they match perfectly. Then place a large cutting board on top of that and flip the whole thing over.
The cake should be perfectly aligned with the parchment paper on top of the board. Now, generously dust the side facing up with powdered sugar and then SLOWLY roll the cake with the parchment paper into a roll. Cover it with a towel so it stays rolled and let it cool completely.
When You go to frost it, make sure to very gently unroll it and when you go to slice it, make sure sure you let it set in the fridge first so it doesn't break.
How to decorate a pumpkin roll
Honestly, I'm so disappointed in people's lack of creativity with the pumpkin rolls! Why is everyone just dusting them with powdered sugar?! Where's the frosting?! I decided to frost the outside of mine with more cream cheese frosting for obvious reasons…it's delicious.
I also tossed some chopped up pecans on there for a little more character and I was SO TEMPTED to drizzle some homemade salted caramel sauce. If we're being honest, I overuse caramel in my recipes so I went against that…is that even possible?! 
You could also top it with walnuts, hazelnuts, etc. whatever you have on hand, even ginger cookies would be great!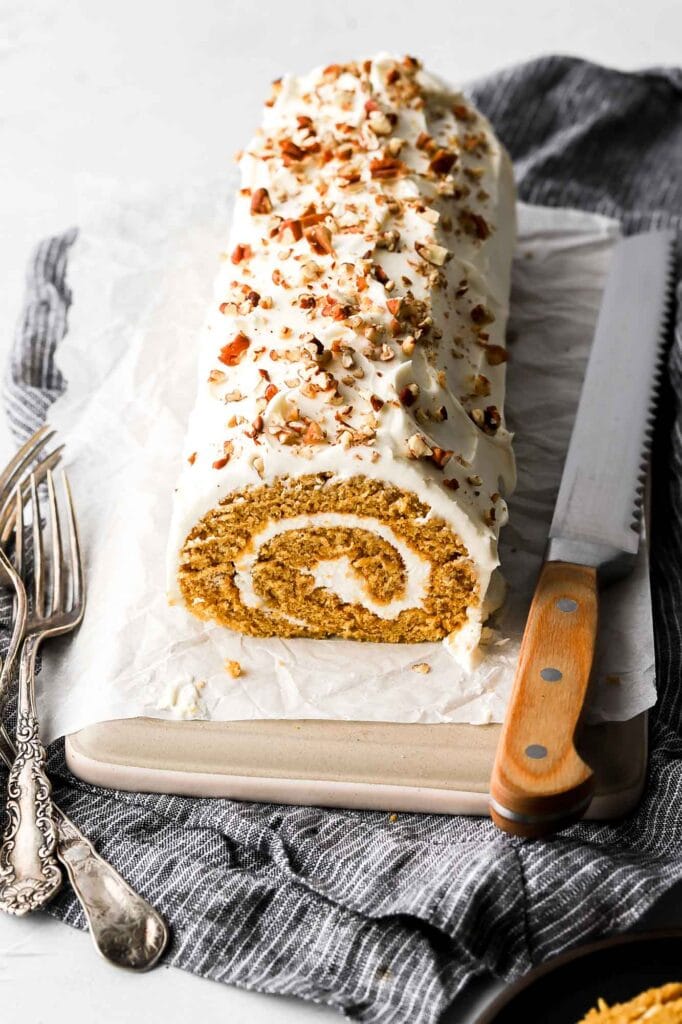 How to store pumpkin roll with cream cheese frosting
Since the pumpkin roll uses cream cheese frosting, you'll have to store it in the refrigerator. I recommend letting it chill in the refrigerator until the frosting is firm, then cover it with plastic wrap and refrigerate it.
It'll stay more fresh if you slice it fresh when serving and I recommend letting it sit at room temperature for at least half an hour to an hour before serving so the frosting softens up a bit.
The pumpkin roll can also be frozen. There are ways to freeze it:
Wrap the whole roll in plastic wrap and then place it in a container or freezer bag.
Slice the roll and place the slices in an airtight container.
Slice the roll and wrap each one in plastic wrap, then place them in a container or freezer bag. This option allows you to eat one at a time!
Thanks so much for reading today's post , if you have any questions just comment down below, i'm happy to answer! If you make this pumpkin roll I would love to see the results, please make sure to tag me @baranbakery on instagram. As always, have a blessed day and happy baking!
Love, B
Yield: 16 slices
Pumpkin Roll with Cream Cheese Frosting Recipe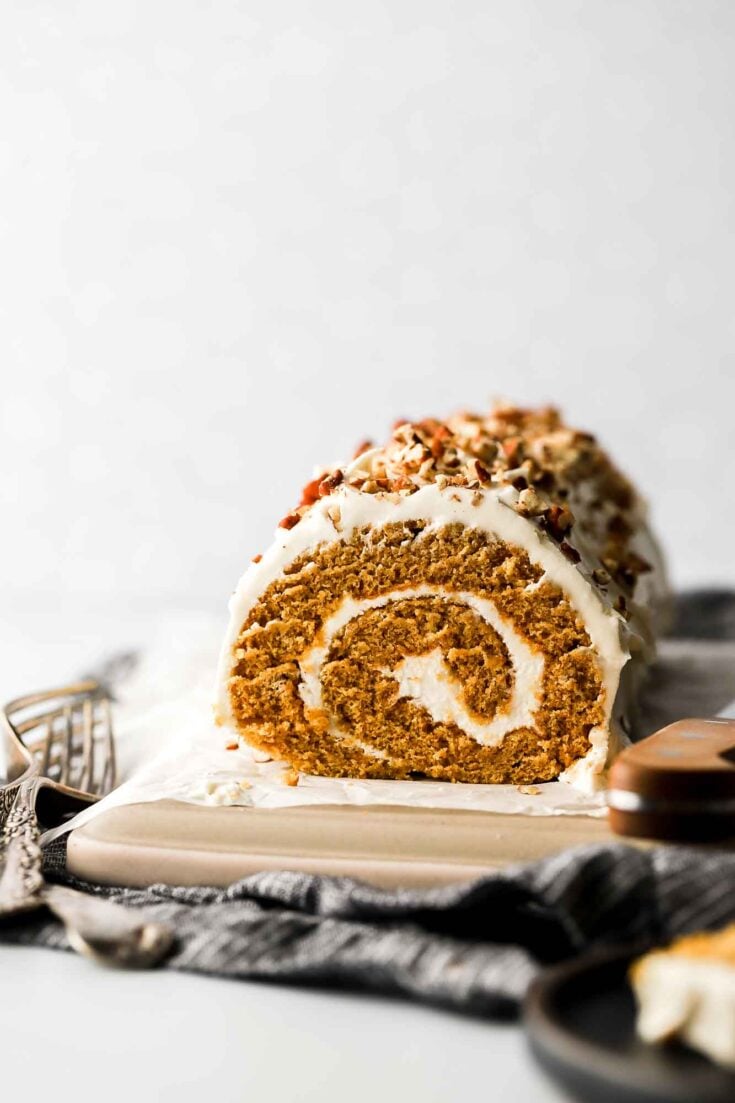 Pumpkin sponge cake rolled around silky cream cheese frosting, topped with more frosting and chopped pecans.
Additional Time
10 minutes
Ingredients
Pumpkin Sponge
4 large eggs separated, room temperature
1 cup (200g) light brown sugar, lightly packed
7 oz (1/2 small can) pumpkin puree
1 1/4 cup (150g) all-purpose flour, spooned and leveled
1 tsp baking powder
1/2 tsp fine sea salt
1 tsp cinnamon
1/2 tsp ginger
1/2 tsp cloves
1/2 tsp nutmeg
1/2 tsp allspice
powdered sugar, for dusting
Cream Cheese Frosting
1/2 cup (113g) unsalted butter, softened
1/2 cup (112g) cream cheese
2 cup (240g) powdered sugar, spooned and leveled
2 tsp vanilla bean paste (or extract)
1/4 cup pecans, roughly chopped
Instructions
Sponge Cake
Preheat the oven to 350F/177C convection (325F/163C conventional) and grease and line a 12" x 19" sheet pan with baking spray and parchment paper.
In a medium bowl, whisk together the flour, baking powder, salt and spices until they're well combined. Set aside.
Place the egg whites and brown sugar in the bowl of a stand mixer, fit with the whisk attachment. Beat at full speed for 2-3 minutes, until it forms a big fluffy meringue.
With the mixer at medium speed, add in the egg yolks and pumpkin and beat just until they're combined.
With the mixer on slow speed, add in the dry ingredients, 1 Tbsp at a time, mixing everything just until the dry ingredients are fully incorporated. Make sure to scrap the sides and bottom of the bowl and pour the batter onto the prepared baking sheet.
Bake the cake for 15 minutes, until it springs back when you press on it gently. Remove it from the oven and place parchment paper on top of the cake. Place a large cake board or cutting board on top of the parchment paper and then flip the cake over so it's on top of the parchment paper.
Peel off the other parchment paper (the one it baked on) and dust the cake with powdered sugar. While it is still warm, slowly and gently roll the cake up from short end to short end.
Allow it to cool completely.
Frosting
Meanwhile beat the butter and cream cheese with a flat beater until it is pale and fluffy. Add in the powdered sugar and vanilla and beat for a few minutes until the sugar is fully dissolved.
Once the cake is cooled, slowly and gently unroll it (it may stick a little but that's fine), spread a layer of buttercream on top, and roll it back up. Refrigerate it for at least an hour.
Frost the top of the cake with the rest of the frosting and then top with chopped pecans. Refrigerate for another 30 minutes or so to let it set.
Best served slightly chilled.
Recommended Products
As an Amazon Associate and member of other affiliate programs, I earn from qualifying purchases.
Nutrition Information:
Yield:
16
Serving Size:
1
Amount Per Serving:
Calories:

255
Total Fat:

7g
Saturated Fat:

4g
Trans Fat:

0g
Unsaturated Fat:

3g
Cholesterol:

61mg
Sodium:

43mg
Carbohydrates:

45g
Fiber:

1g
Sugar:

38g
Protein:

3g
Nutrition information may not be fully accurate.