Small Batch Chocolate Cookies
Small batch chocolate cookies are quick and easy, ready to enjoy in under 20 minutes and makes 8 cookies!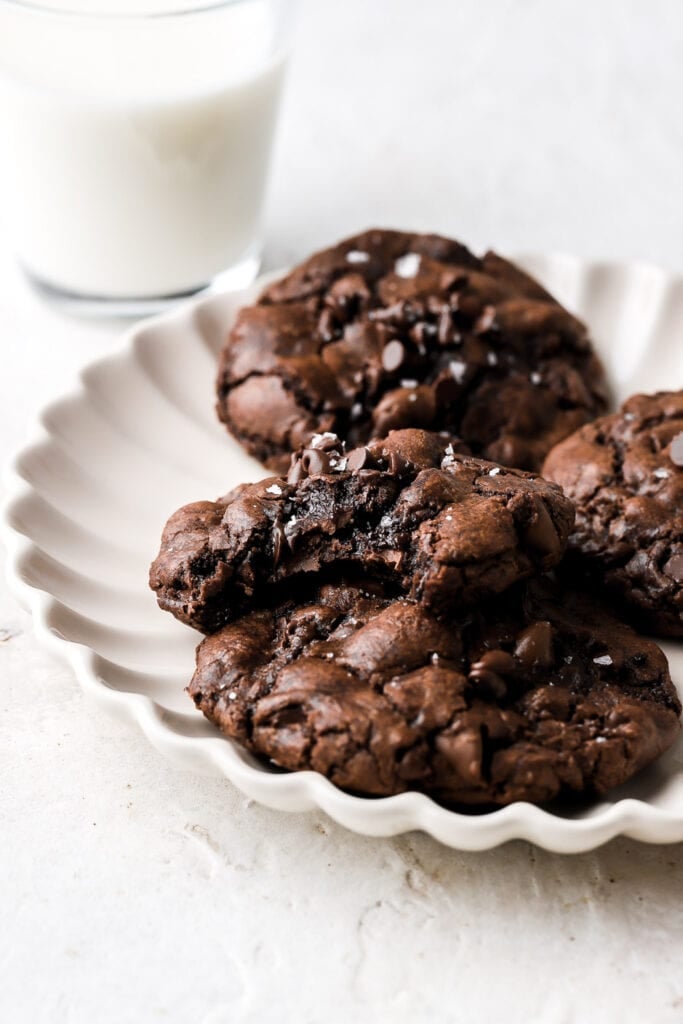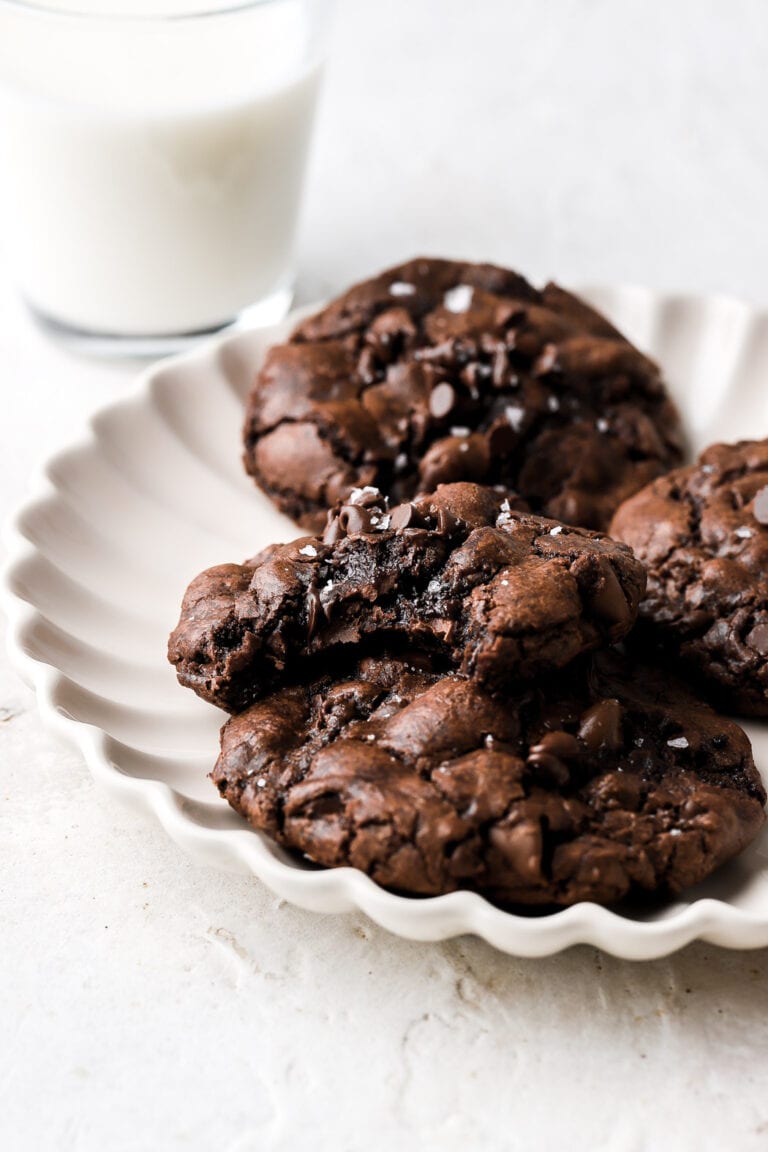 My favorite baking words are quick, easy, delicious and chocolate and these small batch chocolate cookies are all of those things! They are mouth-watering delicious and take under 20 minutes to make. And what I mean by under 20 minutes is 5 minutes to prep, 10 to bake and 5 minutes to rest.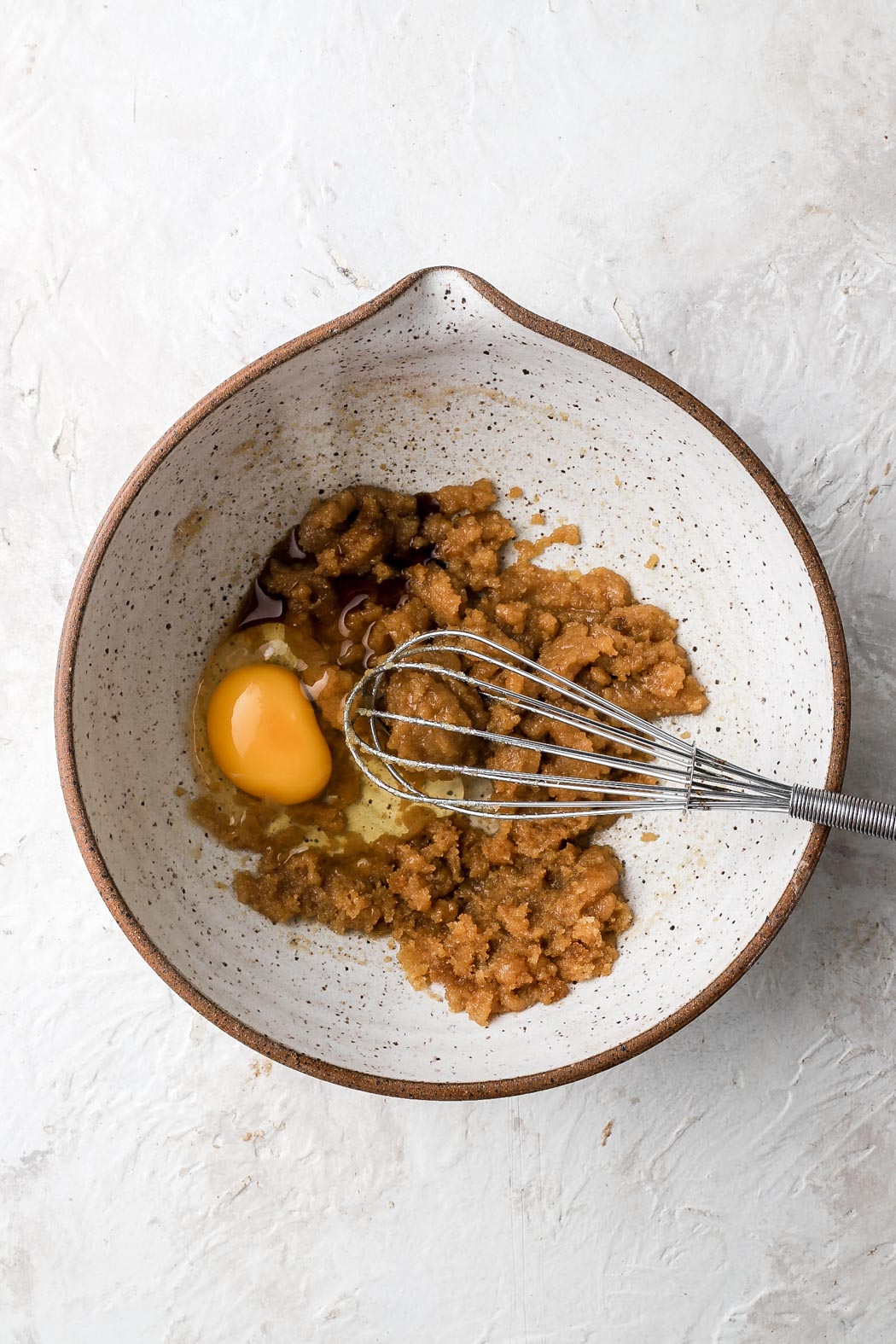 How to make small batch chocolate cookies
As if small batch chocolate cookies wasn't already your favorite cookie recipe, I'm going to add one more reason, you only need one bowl! It also uses simple ingredients you probably already have at home (that's reason number 6 for those who are keeping track). 
If you made my Small Batch Chocolate Chip Cookies the steps are similar. Whisk together the melted butter and brown sugar, whisk in the vanilla extract and egg, and fold in the flour, cocoa powder and baking powder. Then fold in the chocolate chips and bake! Just like I promised, it's quick and easy with no mess and no crazy kitchen tools or ingredients.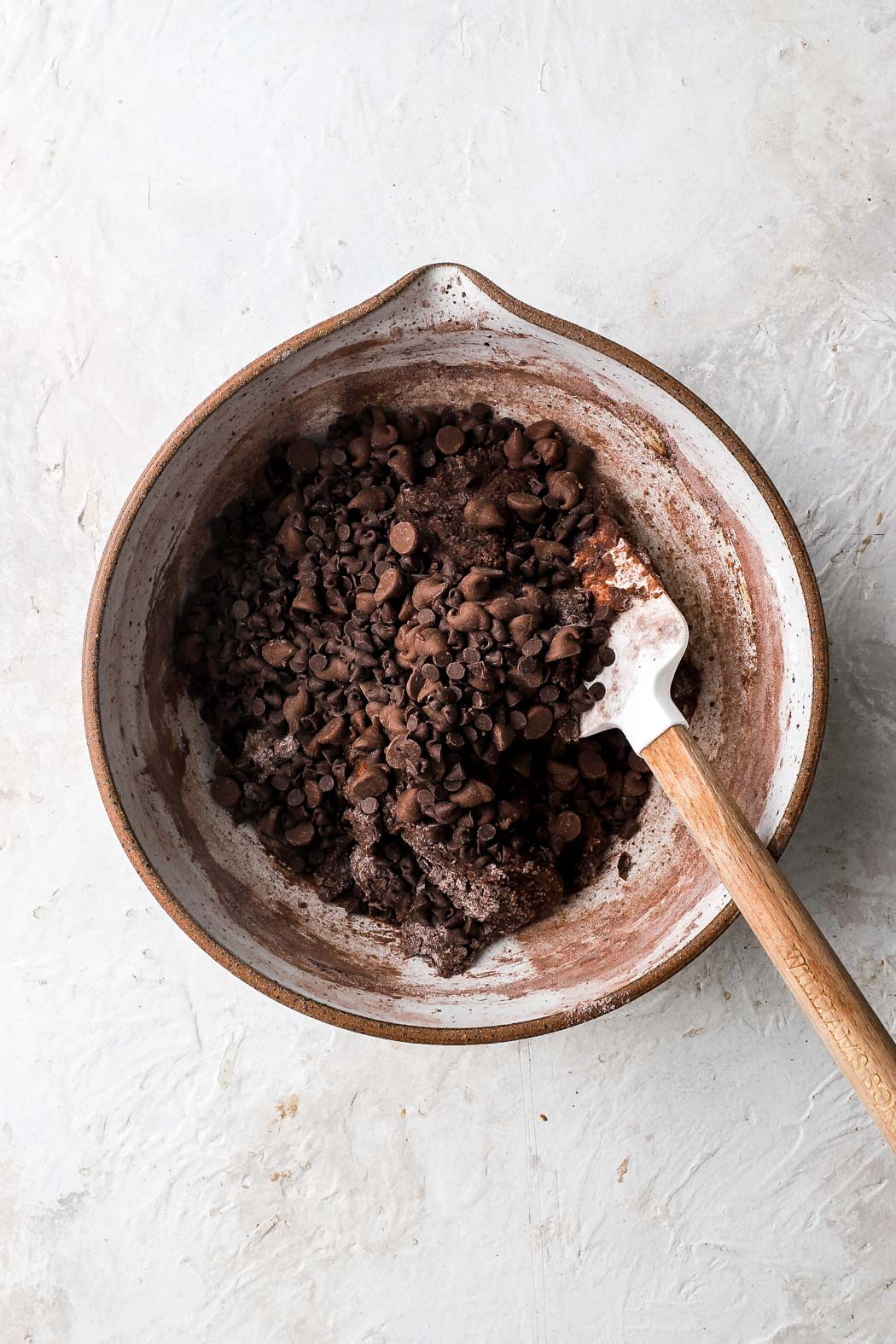 Ingredients:
Flour: I used all-purpose flour and to make sure your cookies are perfect, I HIGHLY recommend using a digital scale. Over-measuring the flour is the most common baking mistake and can give you some dry cookies. 
Sugar: I used light brown sugar for these cookies and I don't recommend substituting it unless you do half dark brown sugar and half granulated sugar.
Butter: I think salted butter makes tastier cookies and you don't have to add extra salt. If you use unsalted butter, add ¼ tsp salt to the batter when you add the flour.
Egg: I promised an easy, no odd ingredients recipe so I used one large egg.
Vanilla: Vanilla extract is going to make your cookies taste better so don't skip this small but powerful ingredient. Sometimes I don't use it in chocolate desserts but I feel like I'm "missing something" when I skip it in cookies.
Baking Powder: I used baking powder because that's what most people have on hand.
Cocoa Powder: I use dutch-process cocoa powder because I prefer the flavor and color but you also use natural cocoa powder. If you use natural cocoa powder, I would suggest replacing the baking powder with 1/4 tsp of baking soda instead.
Chocolate: You can use baking chocolate or chocolate chips and I'll talk about the difference below!
Sea Salt Flakes: I'm not a cherry on top kind of girl…I'm a sea salt flakes on top kind of girl lol. I hate saying it's optional because it's so delicious, but don't sweat it if you don't have any.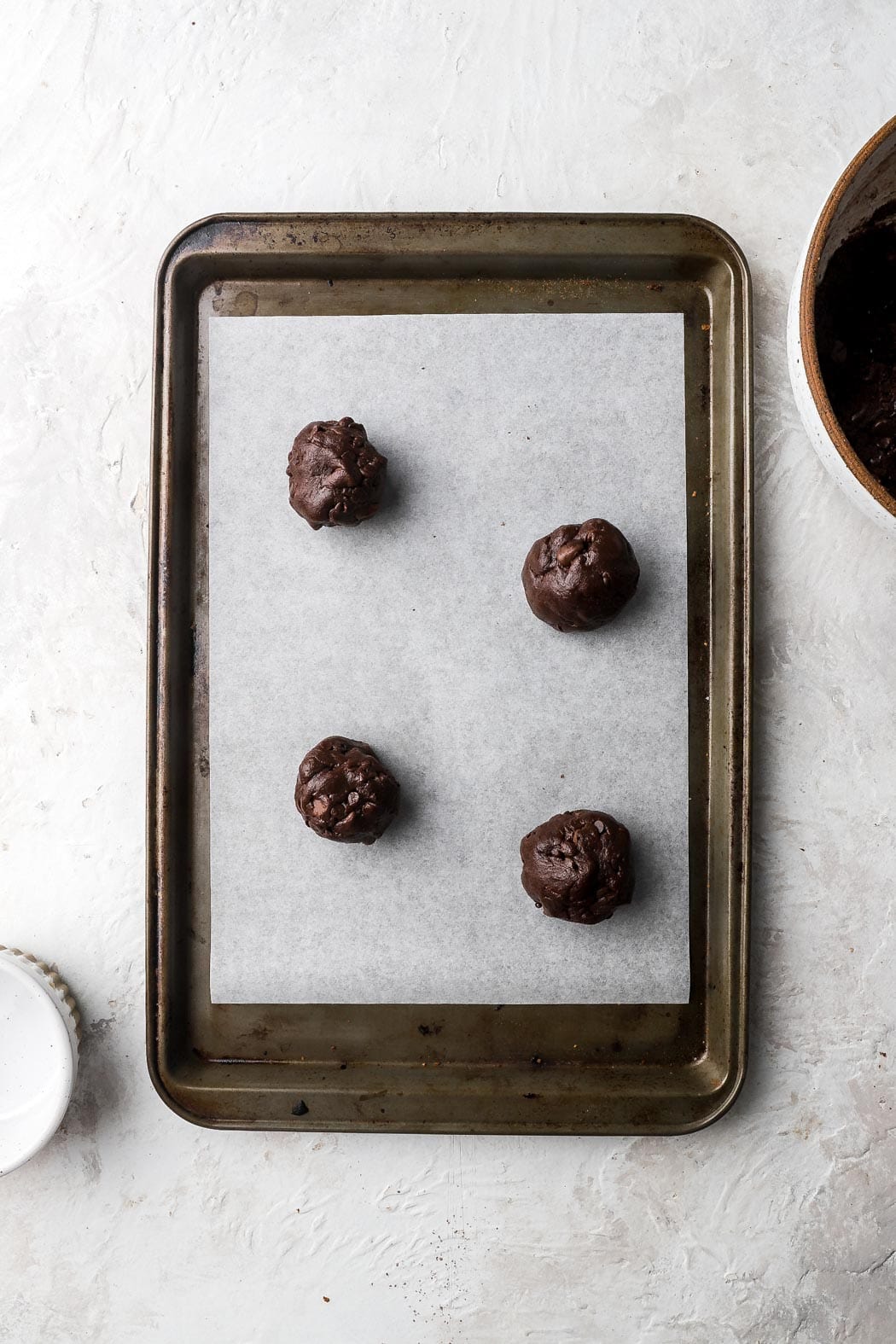 How to bake small batch chocolate cookies
To convect or to convent – that is the question! If you didn't already know, a convection oven has a fan that circulates the heat which lowers the bake time and helps bake your cookies more evenly. I usually bake with convection but you can use a conventional oven and the cookies will be just as yummy. Just follow the guidelines below:
Convection Oven (fan) – bake 2 oz cookies at 350F (177C) for 10 minutes
Conventional Oven (no fan) – bake 2 oz cookies at 325F (163C) for 12 minutes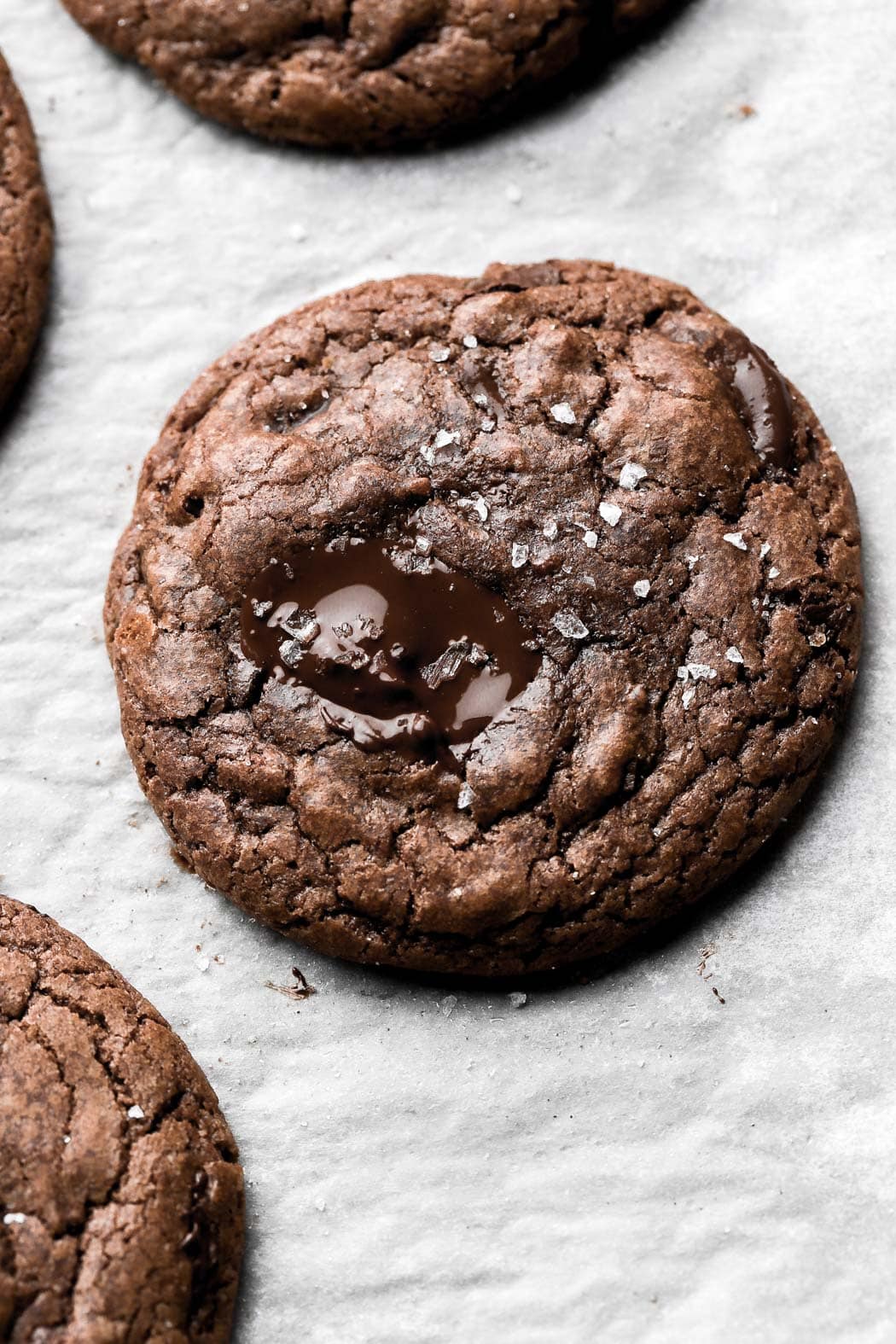 What type of Chocolate to use in cookies
I included a whole section on this because I made them both way s and I think they're great either way. The first picture below is made with chopped up chocolate and the second picture is made with chocolate chips.
I used semi-sweet chocolate but obviously if you like a sweeter cookie, use milk chocolate. If you like them less sweet, use dark chocolate. If you use chocolate chips (second photo) the cookie will be much chunkier. If you use chopped up baking chocolate, you'll get a flatter cookie with melted pools of chocolate.
In my bakery-style chocolate chip cookies (coming soon), I use both because I love the combination of the textures from both chocolates and the flavors of both milk and dark. You can do that here too and you'll get a slightly thicker cookie with some melted pools of chocolate.
Frequently Asked Questions (FAQs) 
Can I double the recipe to make a full batch of cookies?
If you want a rich, full batch chocolate cookie recipe I recommend my 5 star Double Chocolate Chip Cookies. You can also double this recipe and it will give you 16 cookies.
How can I make these thick and gooey?
This recipe makes a classic cookie so if you want a thick, gooey cookie I recommend my Chocolate Peppermint Cookies. Just omit the peppermint bark and use chocolate chips or chopped chocolate instead. The difference is that it has less flour and more cocoa powder, making it more fudgy like a brownie.
Can I freeze the cookie dough?
I love having frozen cookie dough to quickly bake whenever I want a treat. The dough is soft so to freeze it, roll it into balls, place them on a plate or tray, and press them down a little so they have a flat top.
Refrigerate them until the cookie dough is more firm, place them in a ziplock bag and freeze. To bake, allow them to thaw a bit while the oven is preheating and add an additional 2-3 minutes to the bake time.
How to store small batch chocolate cookies
We all know you probably won't have leftovers to store lol. But hypothetically speaking, if you did, just store them in a ziplock bag at room temperature for 3-4 days. You can also pop them in the microwave for 5-10 seconds and enjoy!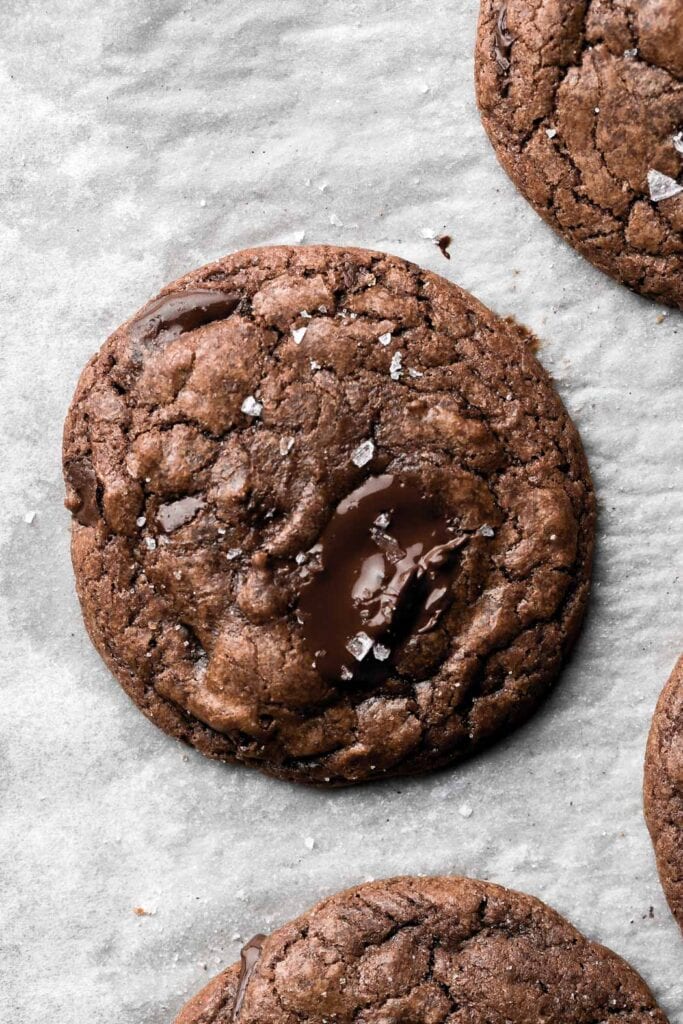 Thanks so much for reading today's post! If you have any questions just comment down below, I'm happy to answer! If you make these small batch chocolate cookies I would love to see the results, so please make sure to tag me @baranbakery on instagram and order my cookbook, Frosted. As always, have a blessed day and happy baking!
Love, B
Yield: 8 cookies
Small-Batch Chocolate Cookies Recipe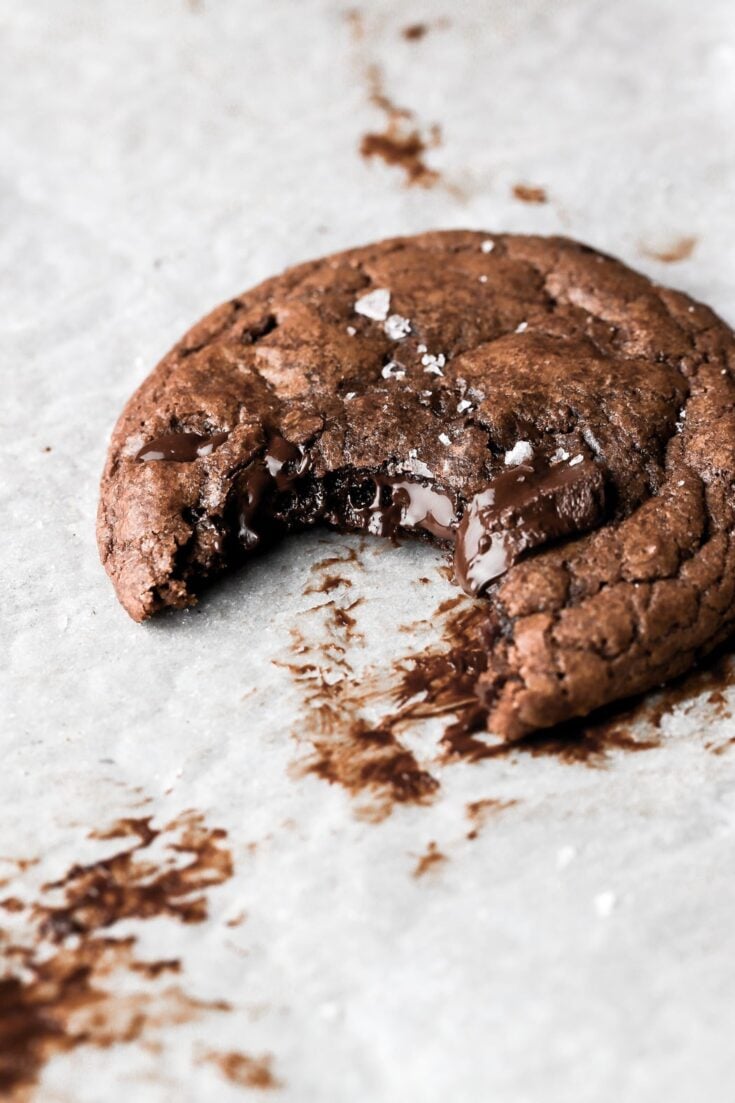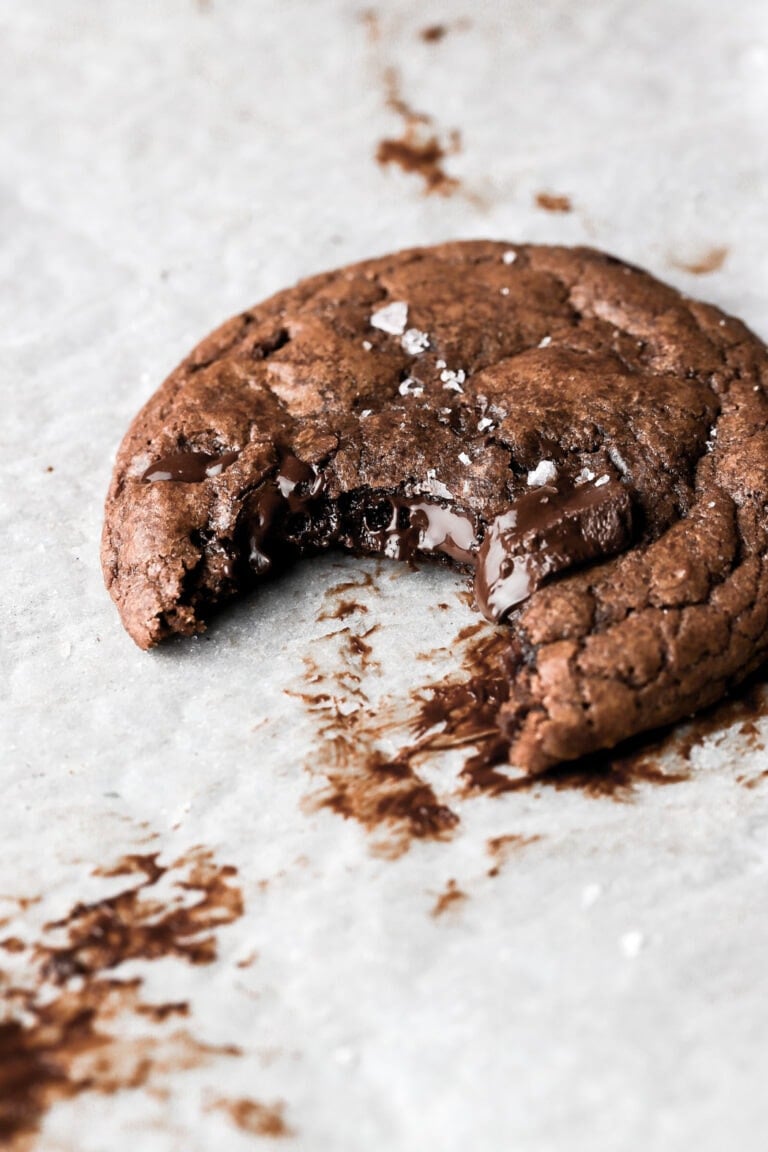 Small batch chocolate cookies are quick and easy, ready to enjoy in under 20 minutes and makes 8 cookies! 
Additional Time
5 minutes
Ingredients
1/4 cup (56g) salted butter, melted
3/4 cup (150g) light brown sugar, lightly packed
1 tsp vanilla extract
1 large egg, room temperature
1 cup (125g) all-purpose flour, spooned and leveled
1/4 (20g) dutch-process cocoa powder, spooned and leveled*
1 tsp baking powder
1 cup (6 oz) semi-sweet chocolate chips or chopped baking chocolate*
Instructions
Preheat the oven to 350F (177C) convection (fan) OR 325F (163C) conventional (no fan) and line two cookie sheets with parchment paper.
In a large bowl, microwave the butter for 30-60 seconds, just until it's melted.
Add the brown sugar and whisk the butter and sugar until they're well combined.
Add in the vanilla extract and the egg and continue whisking until it's completely smooth.
Add the flour, cocoa powder and baking powder and use a rubber spatula to fold them in, just until they're barely combined.
Add the chopped chocolate or chocolate chips and fold until the chocolate is evenly distributed.
Use a two ounce cookie scooper to scoop out eight, 2 ounces of cookie dough balls. Place four cookie rounds per cookie sheet.
Bake on the middle rack for 10-12 minutes, just until the edges feel set (you can touch them carefully) and the center looks puffed up.
Remove and bang the pan on the counter and top with a pinch of sea salt flakes. Let the cookies rest on the pan for at least 10 minutes before serving.
Notes
*read blog post for switching cocoa powders and chocolate
Nutrition Information:
Yield:
8
Serving Size:
1
Amount Per Serving:
Calories:

118
Total Fat:

1g
Saturated Fat:

1g
Trans Fat:

0g
Unsaturated Fat:

1g
Cholesterol:

24mg
Sodium:

77mg
Carbohydrates:

23g
Fiber:

1g
Sugar:

11g
Protein:

3g
Nutrition information may not be fully accurate.