Super simple and delicious pistachio cream pies made with Athens phyllo shells, pistachio pastry cream and toasted brown sugar meringue topping.
Pistachio is one of those beloved flavors that almost everyone loves, but it's also often forgotten about. It's not as commonly used but it really should be! It's a very subtle flavor so it's hard not to let other flavors dominate. That's why I kept this recipe nice and simple!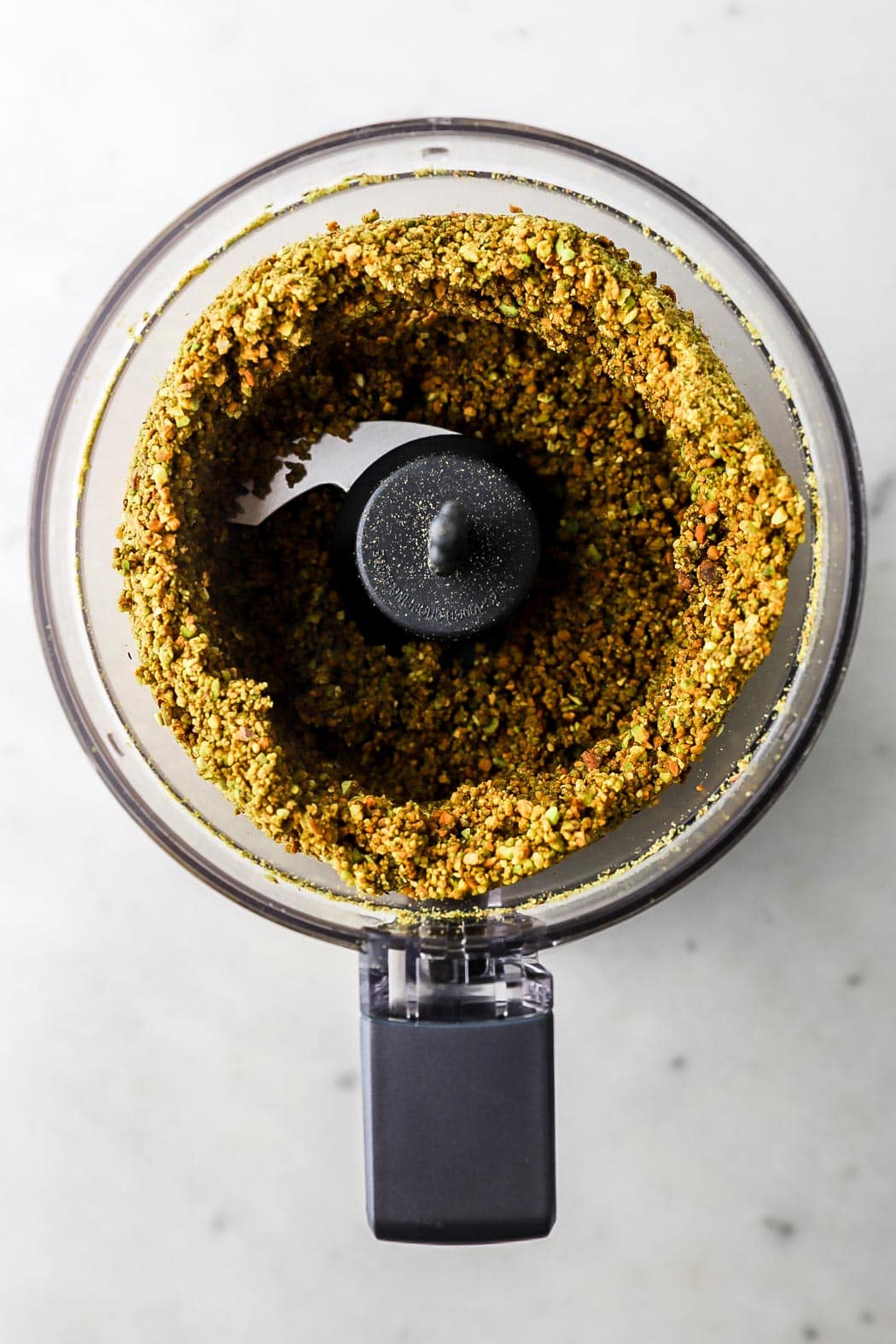 How to make pistachio cream pie
We have three layers here. The first is our "boat" or our vehicle for the pastry cream lol. I partnered with my friends from Athens Foods to use their phyllo shells because they produce a nice crispy texture that balances the cream well. Plus they are easy to prep- just thaw following the instructions on the box!
The second layer is the pistachio pastry cream made with homemade pistachio paste. Then a gorgeous fluffy cloud of toasted brown sugar meringue.
How to make pistachio paste
I opted for the simplest way to make a pistachio paste. I used roasted, slightly salted pistachios and just put them in the food processor. I ground them until they got as small as they could get. Then I added 1-2 Tbsp of water at a time, until it turned into a pasty consistency.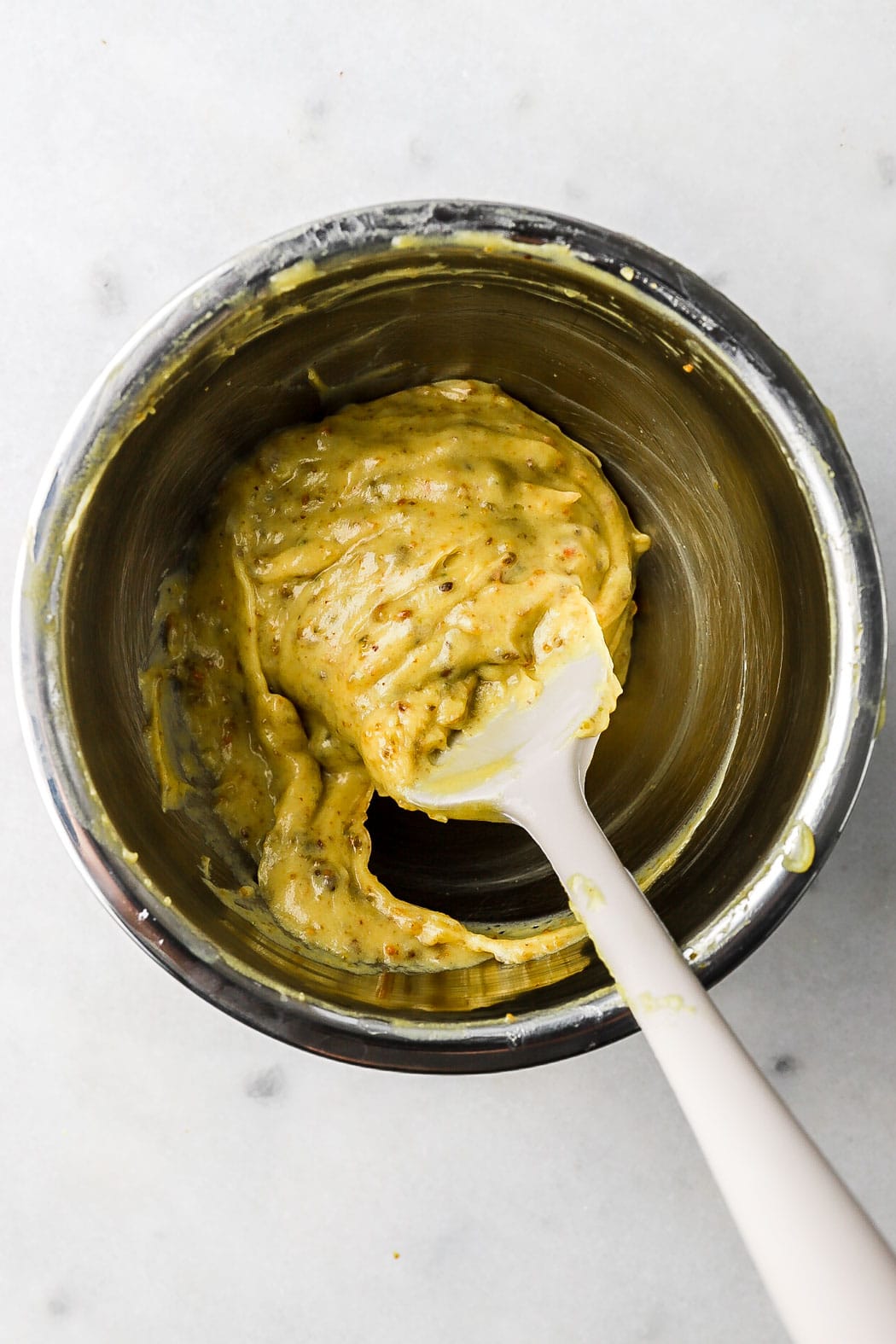 How to make pistachio cream
My pastry cream recipe is super simple. Two egg yolks get whisked with sugar and cornstarch while the milk comes to a simmer with the butter. To temper the eggs, slowly pour the milk and butter over the eggs while whisking and then return the whole mixture to the pot.
Whisk the mixture continuously until you see the first bubble pop. Once the first bubble has popped, whisk for 1 more minute and then pour the pastry cream into a bowl to cool. The pastry cream should be thick enough to coat the back of a spoon and will continue to thicken as it cools.
Add the pistachio paste while it's still warm and whisk until it's combined and then fill the Athens phyllo shells to the top. There should be exactly enough pastry cream to fill one box of shells.
How to make brown sugar meringue
I make my brown sugar meringue the same way I make a regular meringue. Combine the sugar with the egg whites over a double boiler and whisk until the sugar is fully dissolved. Then use an electric mixer, at full speed, to beat the egg whites until stiff peaks form.
How to toast the meringue
There're a few ways to toast meringue.
Use a lighter – since the pies are so small, you can get a quick little toast with a lighter.
Use a culinary torch – this is my favorite way. It's super easy to use and gives it a nice dark, toasty color and flavor.
Broil in the oven for a couple of minutes – this will give you more of a crust around the meringue and lighter brown color.
FAQs
Can I use store bought pistachio paste?
Yes! You can definitely use store bought pistachio paste. Just keep in mind the texture. The texture of the homemade paste is pretty thick and chunky so if you get one that's smooth you won't have any chunks in your cream. Also make sure the paste you use isn't too runny or the pastry cream won't set right.
How to make the pistachio cream green?
There's three ways to get a pretty green color for your pistachio pastry cream.
Use store bought pistachio paste that's already green
Add a little gel food coloring to the pastry cream
You can use unroasted pistachios instead of roasted. You'll have to remove them from their shells. Bring some water to a boil and then place the pistachios in the hot water for 2 minutes. Drain them, peel the skins off and then proceed with the recipe. You may need to add a little less water than I used for the roasted pistachios paste.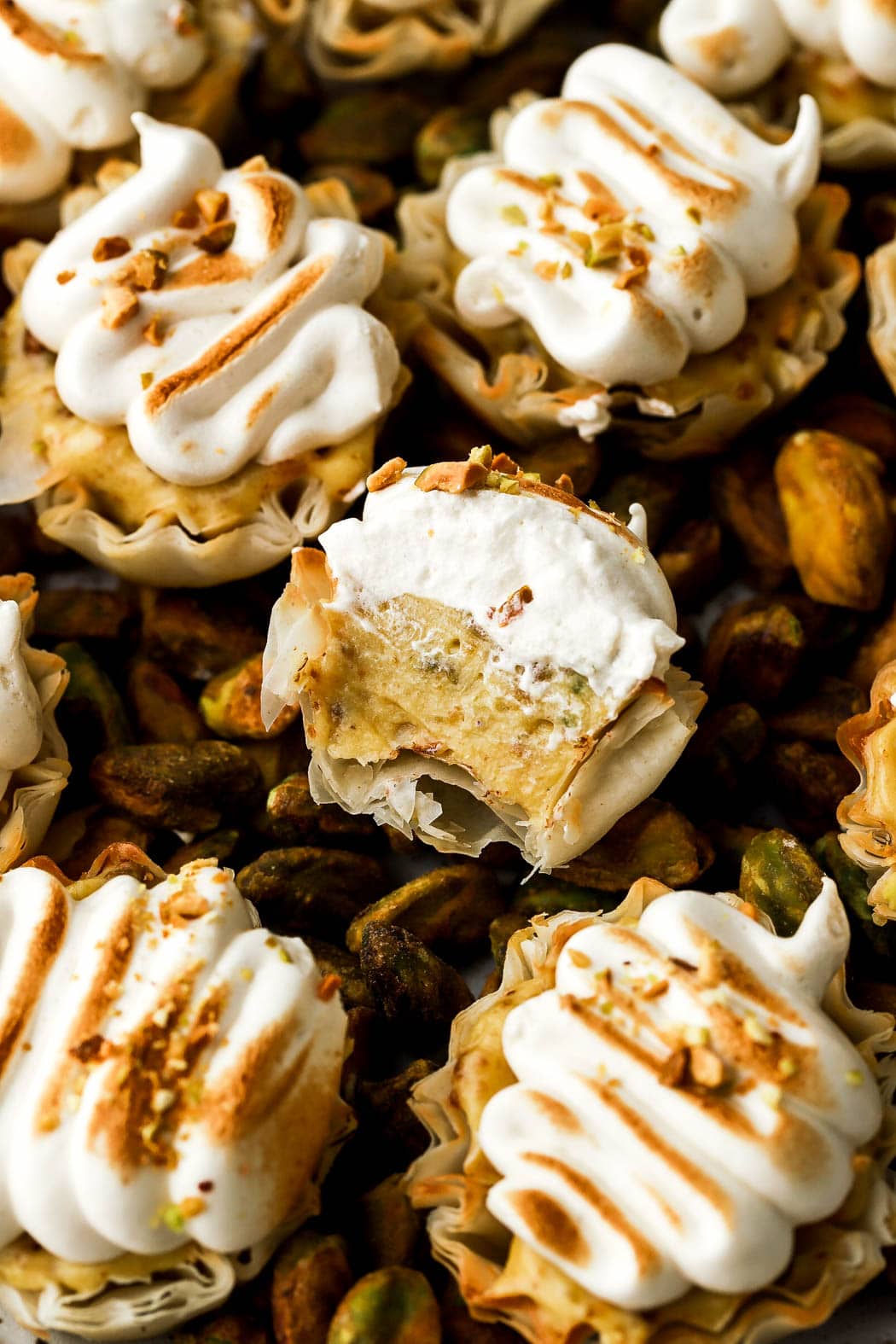 Can I make them in advance?
The pistachio cream pies can be made 1-2 days in advance but the shells won't be quite as crispy after being in the fridge and the meringue is best made fresh or it can deflate a little.
Can I double the recipe?
Yes! You'll just need to double the amount of pastry cream you make and use two boxes of Athens phyllo shells. One batch makes extra pistachio paste and meringue so you won't need to double those.
How to serve and store pistachio cream pies
Pistachio cream pies can be served cold or at room temperature but should be stored in the refrigerator.
Thanks so much for sticking around. I'd love to see if you guys make these pistachio cream pies. Make sure to tag me on instagram @baranbakery and @athens_foods.
As always, have a blessed day and happy baking!
Love, B

Yield: 15 mini pies
Pistachio Cream Pies Recipe
Crispy phyllo dough shells filled with pistachio pastry cream and topped with a toasted fluffy brown sugar meringue!
Additional Time
10 minutes
Ingredients
1 box Athen's Phyllo Dough Shells
Pistachio Paste
6 oz lightly salted and roasted unshelled pistachios
1/4 cup water
Pistachio Pastry Cream
2 large egg yolks, room temperature
2 Tbsp (25g) light brown sugar, lightly packed
1/2 Tbsp cornstarch
1/4 cup (59mL) milk
1/4 cup (56g) unsalted butter, room temperature
1 tsp vanilla bean paste
2 Tbsp (28g) pistachio paste
Brown Sugar Meringue
2 large eggs whites, room temperature
1/2 cup (100g) light brown sugar, lightly packed
1/2 tsp vanilla extract
Instructions
Thaw the Athens Phyllo Dough Shells and set aside until ready to fill.
Pistachio Paste
Place the pistachios in a food processor and grind for a few minutes until it's as ground as it's going to get. Add in 1-2 Tbsp of the water at a time and pulse until the pistachios form a thick paste.*
Pistachio Pastry Cream
In a medium bowl, combine the egg yolks, sugar, and cornstarch. Whisk them together until the mixture is smooth; set aside.
In a medium saucepan, over low-medium heat, bring the milk and butter to a simmer and then slowly stream the milk over the egg mixture, while whisking continuously.
Return the whole mixture to the pot and over low-medium heat, whisk continuously for a few minutes until you see the first bubble pop.
After the first bubble pops, whisk for one more minute and then remove the cream from the heat and pour through a sieve into a bowl.
Add the vanilla and pistachio paste and use a whisk to fully combine it. If your paste was chunky, make sure to break it up a little and it'll look like mine. If you use a store bought version, it'll be smooth and brighter green.
Use a spoon or a piping bag to fill Athen's Phyllo Dough Shells with the pastry cream (there should be just enough cream for one box).
Brown Sugar Meringue
In a small saucepan, bring ½ cup of water to a simmer.
Keep the water simmering on low heat and place a heat safe bowl with the egg whites and sugar on top of the saucepan, creating a double boiler.
Whisk the egg whites and sugar over low heat for 5 minutes, until the sugar granules are dissolved. You can feel it between your fingers if the sugar is fully dissolved or you can use a candy thermometer and bring the mixture to about 150°F (65°C).
When the sugar granules are fully dissolved in the egg whites, remove the bowl from the heat and place it on the stand mixer. Beat the mixture on high speed, add the vanilla, and beat until stiff peaks form and the mixture is no longer warm.
Use a piping bag fit with your favorite tip to pipe on top of the cream pies.
Use a culinary torch or lighter to toast the meringue and top with chopped pistachios.**
Notes
* Store leftover in an airtight container in the freezer and defrost before using again.
** You can also toast the meringue by placing them in a preheated oven to broil for 2-3 minutes, on the top rack. 
Recommended Products
As an Amazon Associate and member of other affiliate programs, I earn from qualifying purchases.
Nutrition Information:
Yield:
15
Serving Size:
1
Amount Per Serving:
Calories:

94
Total Fat:

5g
Saturated Fat:

3g
Trans Fat:

0g
Unsaturated Fat:

2g
Cholesterol:

70mg
Sodium:

30mg
Carbohydrates:

10g
Fiber:

0g
Sugar:

9g
Protein:

2g
Nutrition information may not be fully accurate.
This post was sponsored by Athens Foods. Thanks so much for supporting the brands that support Baran Bakery. All thought and opinions are 100% my own.