Chocolate Chip Pistachio Cookies
These chocolate chip pistachio cookies are crispy around the edge and soft and chewy in the center. The dough has a nutty flavor from the brown butter and pistachio paste and the cookies are stuffed with melted pools of dark chocolate and chunks of pistachios. Oh, and no chill time!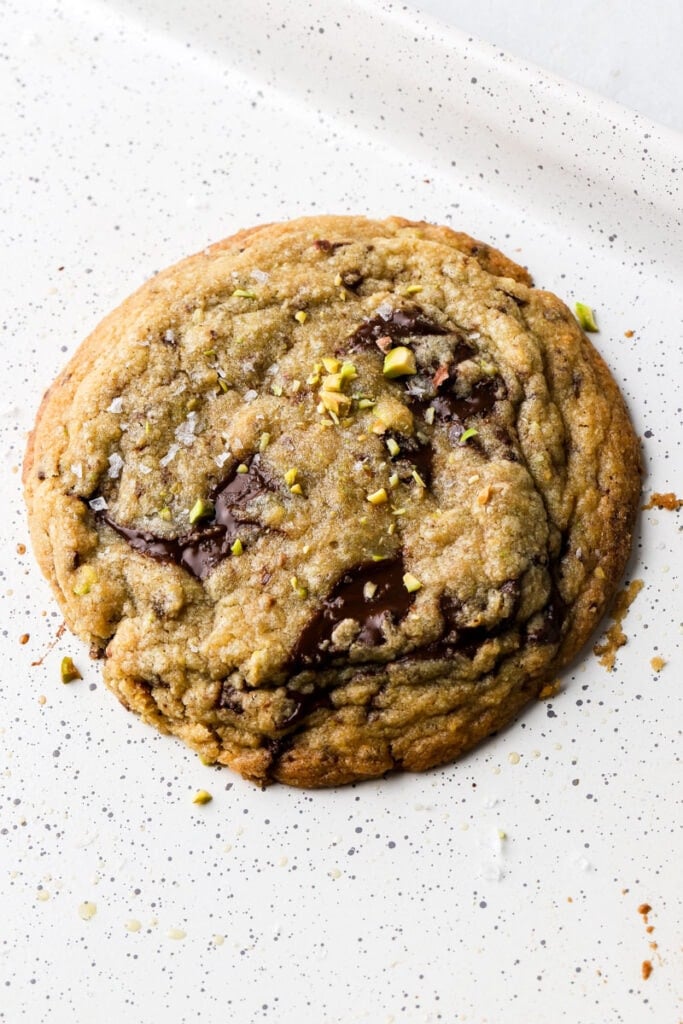 Why you'll love these pistachio chocolate chip cookies
They're super quick and easy to make with a tiny bit more effort than an average cookie (& NO CHILL TIME!).
They're a little crisp on the outside and soft in the center when they're warm but nice and chewy when they've cooled.
There's pistachio paste in the dough, pistachio crumbs folded in with the flour and pistachio chunks on top.
They can be made with either 1 large egg or 3 large egg yolks. Eggs are expensive nowadays and I wanted an easy recipe that's able to use up several leftover egg yolks.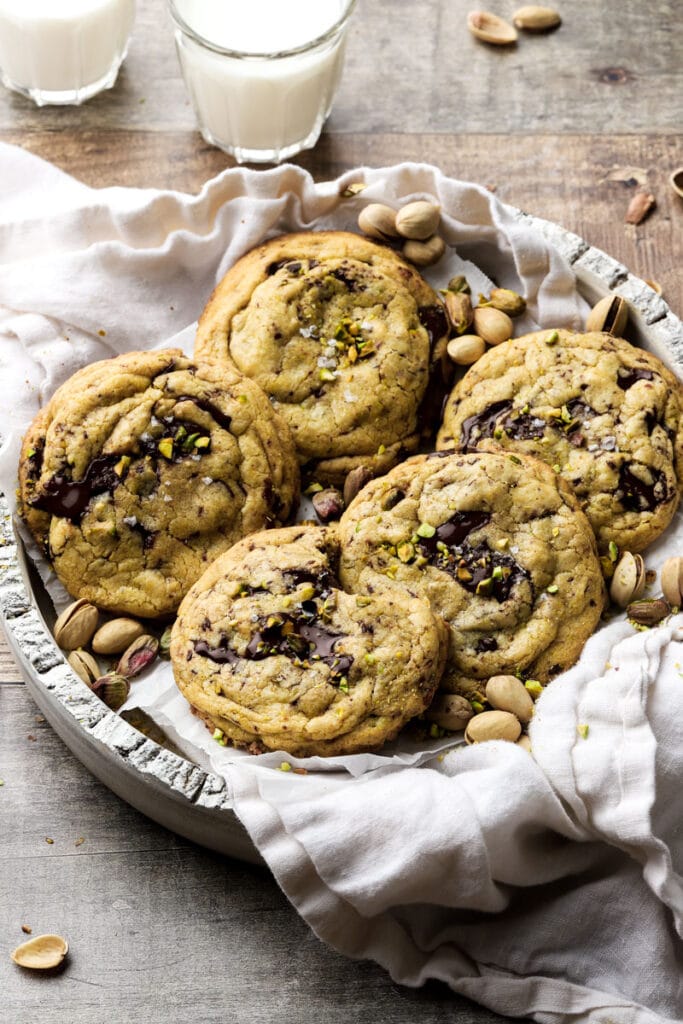 Ingredients & Substitutions
Flour: I HIGHLY recommend using a digital scale, as flour is so often over measured. If not, make sure to scoop the flour into the measuring cup and level it off.
Sugar: I used light brown sugar but I've also made them using half dark brown sugar and half granulated sugar. I don't recommend just dark or just granulated sugar. I also don't think they're overly sweet so I don't recommend reducing any of the sugar as it'll change the texture of the cookie too.
Pistachio Paste: I just made my own pistachio paste at home and it's super easy (included in the recipe). If you have some store bought pistachio paste, you may also use that, however I believe it's a little more runny than what I used so either reduce it to 1 Tbsp or add an additional tablespoon of flour.
Pistachios: I use lightly salted pistachios because I think the salt brings out the flavor a little more and I kind of like a salty cookie. You may also use unsalted but I'm not sure I would recommend fully salted unless you omit the added salt in the recipe.
Butter: I like to use salted butter for cookies, especially when browning the butter. I find that it browns quicker and more evenly but unsalted butter also works fine.

Dairy free butter also works well.

Eggs: I tested this recipe with both a large whole egg and with just egg yolks. I want to make my recipes as versatile as possible so if you're making one of my recipes that calls for egg whites, and you have a ton of egg yolks leftover, you can replace this one large egg with 3 large egg yolks. I photographed both versions and there's a VERY slight difference. The egg yolk cookie was just slightly less wet and didn't spread quite as much so it baked a little bit thicker than the cookie with the whole egg. Both versions were great but I preferred the thinner cookie using one large egg.

Just make sure your egg is at room temperature. Pop it in hot water for a few minutes if it's cold.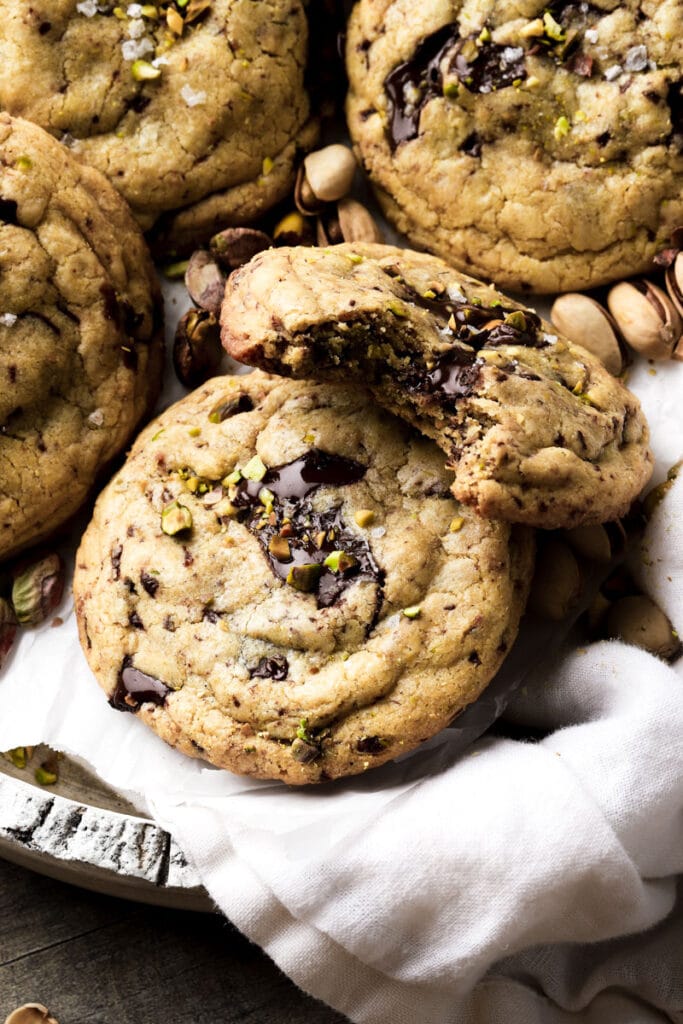 Step-by-Step Instructions
Step 1: Brown the butter by heating a stick of butter in a saucepan over medium heat. It will melt, bubble, foam and then the milk solids will toast and settle on the bottom. Make sure to read my whole post on browning butter if you haven't done it before. The butter should reduce from 113g to about 90-95g.
Step 2: Place the pistachios in the bowl of a food processor and process for a few minutes until the pistachios are as ground as they're going to get. Add the water (I do 1 tsp of water per ounces of pistachios) and blend until the mixture is pastey.
Step 3: Combine the browned butter with the pistachio paste, sugar and egg. Whisk aggressively, for 2-3 minutes, until it lightens in color and is smooth.
*see ingredient & substitutions above on using 3 egg yolks instead for a thicker cookie.
Step 4: Add the flour, baking powder and salt and use a rubber spatula to fold the dough just until the flour is almost combined.
Step 5: Add the chopped chocolate and pistachio crumbs and fold until all the flour is combined and the chocolate and pistachios are evenly distributed.
Step 6: Use a large cookie scooper to scoop 8 cookies, about 2.5 ounces each, and place them onto a cookie sheet (I use two cookie sheets because they spread a lot).
Step 7: Bake for 10 minutes then remove the pan from the oven and bang it on the counter a few times so the cookies flatten a little. Quickly use a biscuit cutter (or anything round) to scoot the cookies back into a round shape and finish baking. Return to the oven for 2 more minutes and bang them on the counter and scoot them with the biscuit cutter again.
Step 8: Top with the roughly chopped roughly chopped pistachio chunks and flakey sea salt and allow them to cool on the pan for at least 10 minutes to set before serving.
How to bake cookies
I always bake in a convection oven but when I took some polls on instagram, most of you said you either don't have one or you don't know how to use your convection oven. So since I just about developed all my recipes in a 350F(180C) convection oven, I decided to experiment with a conventional.
If you don't know the difference, a convection oven has a fan that circulates the heat more evenly. This usually results in a quicker bake, so always do less time if you're unsure and it also gives a more even browning. If you're not used to it, the change can be frustrating but I find them convenient.
These cookies spread a lot so I recommend using two average sized cookie sheets. I was able to squeeze all 8 cookies on my large 15×11" cookie pan, if it was any smaller, I would do 4 or 6 at a time.
Baking with a conventional oven (no fan)
Bake 2.5 oz cookies at 325F (163C) for 11-13 minutes.
Baking with a convection oven (fan)
Bake 2.5 oz cookies at 350F (177C) for 10-12 minutes.
How to make cookies ahead of time
The cookie dough can also be made ahead of time. Just finish the cookie dough, scoop the dough balls onto a cookie sheet and place it in the fridge to firm up for half an hour. Then place the cookie dough balls in an airtight container or bag and freeze for up to a few months.
Before baking, bring them back to room temperature and bake accordingly or reduce oven temperature by 25F and add a few extra minutes to baking time if baking frozen..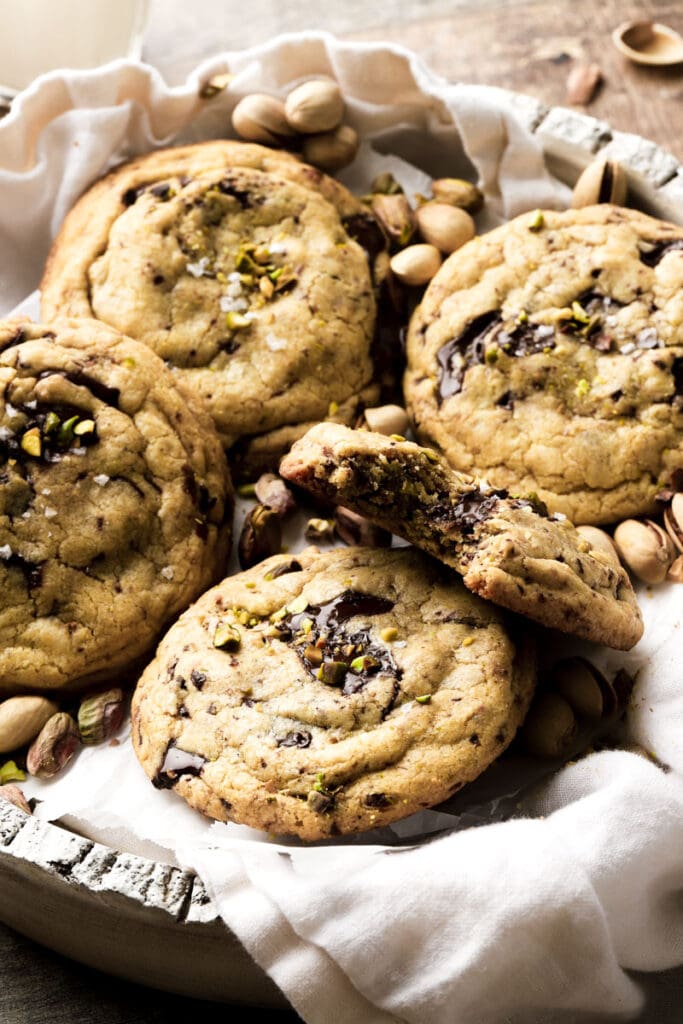 How to store cookies
Everyone loves a warm chocolate chip cookie but honestly I loved these fully cooled and I even loved them chilled while they were thawing. They're definitely more chewy after they've cooled.
Store them in an airtight container or bag at room temperature for 2-3 days or a few weeks in the freezer. Feel free to microwave them for 5-10 seconds before serving again.
Frequently Asked Questions
Can I make this dairy free?
I haven't tested these with dairy free butter but all of my recipes that I have tested have worked with dairy free butter so I don't see why it wouldn't work. 
Can I make this gluten-free?
I haven't tested these with gluten-free flour but all of my recipes that I have tested have worked with dairy free butter so I don't see why it wouldn't work. I recommend a 1:1 gluten-free substitute like King Arthur or Bob's red mill. 
Can I use a different type of nut?
I haven't tested it but I don't see why not. I would like to try it with cashews and white chocolate though!!
Thanks so much for reading today's post, if you have any questions just comment down below. Make sure to leave it in the comment section because I can't answer in the rating section.
If you make these insanely good chocolate chip pistachio cookies, I'd love it if you left a star rating for me. If it's less than five stars, please leave a comment with the rating so I know why! 🙂
As always, have a blessed day and happy baking!
Love, B
Chocolate Chip Pistachio Cookie Recipe
These chocolate chip pistachio cookies are crispy around the edge, chewy in the center and filled with melted pools of dark chocolate and chunks of pistachios.
Equipment
1 medium bowl

1 small pot
Ingredients
Pistachio Paste
1

ounce

pistachios

(weighed without the shells)

1-2

tsp

water
Cookies
1/2

cup

(113g) salted butter

browned and reduced to 90-93 grams*

3/4

cup

(150g) light brown sugar

lightly packed

3

large egg yolks or 1 large egg

60g**

2

Tbsp

(30g) pistachio paste

can also use store bought paste*

1

tsp

vanilla bean paste

or vanilla extract

1

cup

(120g) all-purpose flour

spooned and leveled

1

tsp

baking powder

1/4

tsp

fine sea salt

1

oz

lightly salted pistachios

finely chopped

4

oz

dark chocolate

roughly chopped

pinch

sea salt flakes
Instructions
Pistachio Paste
Place the 1 ounce of pistachios (without the shells) in a food processor and pulse until they're as ground as they're going to get. Add 1-2 tsp of water to it and blend until it turns into a paste.

1 ounce pistachios,

1-2 tsp water

Preheat the oven to 350F (177C) convection OR 325F (163C) conventional and line two cookie sheets with parchment paper.

In a small pot, over medium heat, cook the butter for 5-10 minutes, stirring intermittently until it begins to bubble and foam.

1/2 cup (113g) salted butter

Then stir continuously until you see the milk solids browning and settling on the bottom. Pour the butter into a bowl and allow it cool for a few minutes. 

Add the light brown sugar to the warm butter and whisk together for about a minute.

3/4 cup (150g) light brown sugar

Add in the egg (or egg yolks), pistachio paste vanilla and whisk aggressively for 2-3 minutes, until it's smooth and has lightened in color.

3 large egg yolks or 1 large egg,

2 Tbsp (30g) pistachio paste,

1 tsp vanilla bean paste

Add the flour, baking powder and salt and fold the cookie dough just until there are a few streaks left of flour.

1 cup (120g) all-purpose flour,

1 tsp baking powder,

1/4 tsp fine sea salt

Fold in the chopped pistachios and chocolate, just until they're evenly dispersed.

1 oz lightly salted pistachios,

4 oz dark chocolate

Split cookie dough into 8 cookies (2.5 ounces each), (4-6 per cookie sheet, they spread a lot) and bake one sheet on the middle rack for 10 minutes, just until the edges are starting to brown.

Remove them from the oven, give the pan a quick tap on the counter and use a round biscuit cutter to scoot them around so they're perfectly round. Return to the oven for 2-3 more minutes and repeat. The edges should be lightly browned and the top no longer wet.

Sprinkle with additional pistachios chunks and sea salt on top and allow them to rest for at least 10 minutes on the pan before transferring off the cookie sheet.
Notes
*if you skip browning the butter, make sure to use just 93 grams of regular butter and not the full 1/2 cup that's 113 grams.
**If you are trying to use leftover egg yolks from another recipe or just want a thicker cookie, feel free to replace the large egg with 3 large egg yolks.
***If you use store bought pistachio paste and it's runny, use just 1 Tbsp instead of 2 OR add an extra tablespoon of flour to the dough.
Nutrition
Calories:
398
kcal
Carbohydrates:
42
g
Protein:
7
g
Fat:
23
g
Saturated Fat:
12
g
Polyunsaturated Fat:
2
g
Monounsaturated Fat:
8
g
Trans Fat:
0.5
g
Cholesterol:
92
mg
Sodium:
249
mg
Potassium:
264
mg
Fiber:
3
g
Sugar:
25
g
Vitamin A:
486
IU
Vitamin C:
1
mg
Calcium:
81
mg
Iron:
3
mg