Peach cobbler pound cake is a gorgeous velvety pound cake baked on top of a peach cobbler mixture. Of course, it's topped with vanilla ice cream as well, to really give it that peach cobbler vibe.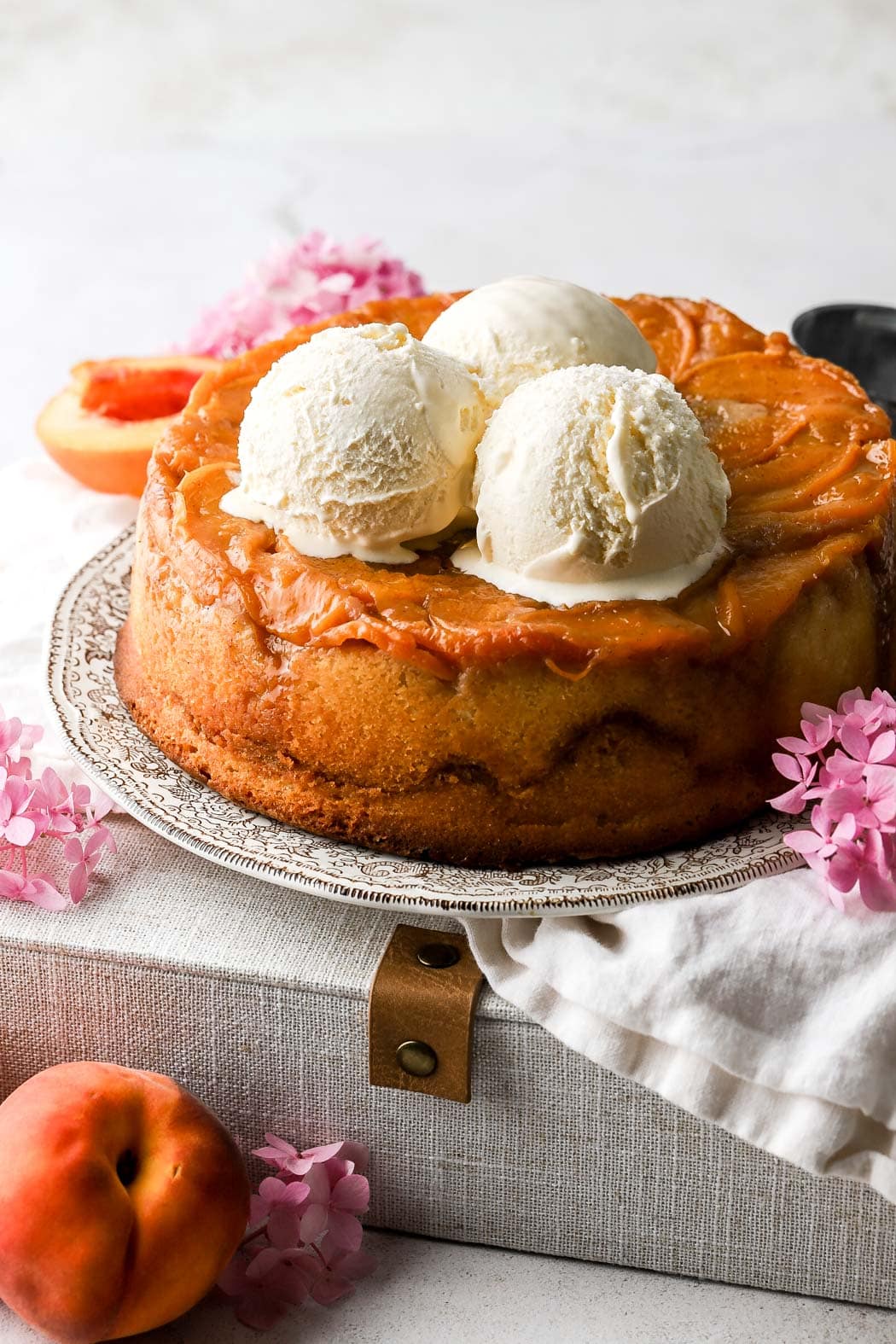 I just want to say that I'm so glad I didn't give up on this recipe. The first test of my peach cobbler pound cake was absolutely not delightful. I originally made it in a loaf pan and used brown sugar in the cake but then I went in a different direction and came up with this gorgeous cake. 
I chose to make it in a traditional cake pan instead of a bundt pan like a lot of other pound cake recipes because I think the peaches baked on the bottom just don't look appetizing in a bundt shape and it takes away from the bundt design.
My version also holds a mountain of vanilla ice cream on top, so you're welcome.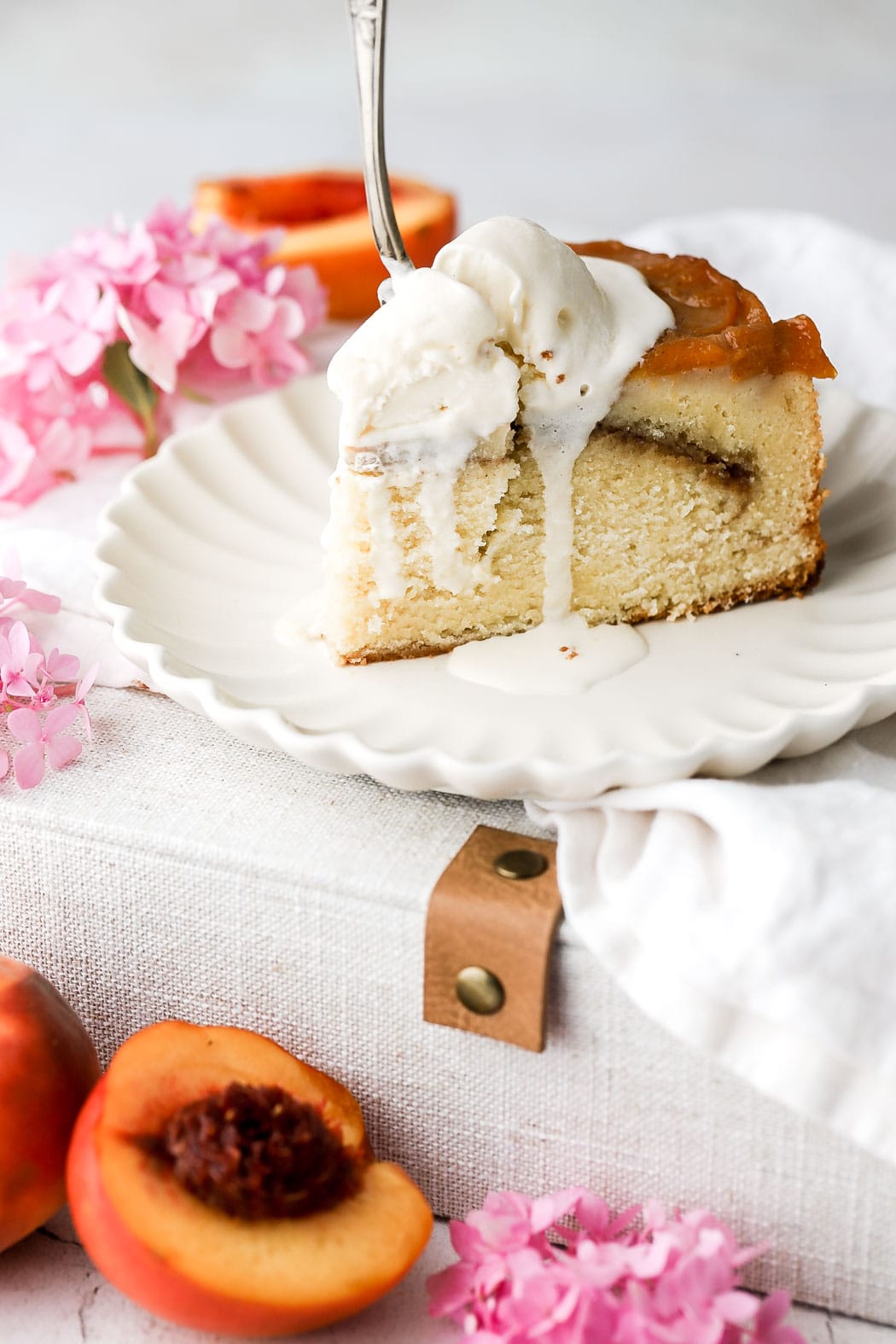 Why you'll love this peach cobbler pound cake
Caramelized peaches are baked on the bottom so when you flip the cake over it's like an upside down peach cake.
I tweaked the traditional pound cake recipe and added some sour cream/greek yogurt to it and it's the most perfect, dense and velvety texture.
A brown sugar swirl throughout the pound cake section of the cake that makes this all the more indulgent.
Can't forget the vanilla ice cream if we're going to call this a peach cobbler pound cake!
For a fun twist you could also brown all the butter in the recipe or use my pie filling ice cream recipe (sign up below to get it in your inbox). I use leftover fruit juice from pie fillings to make no-churn ice cream.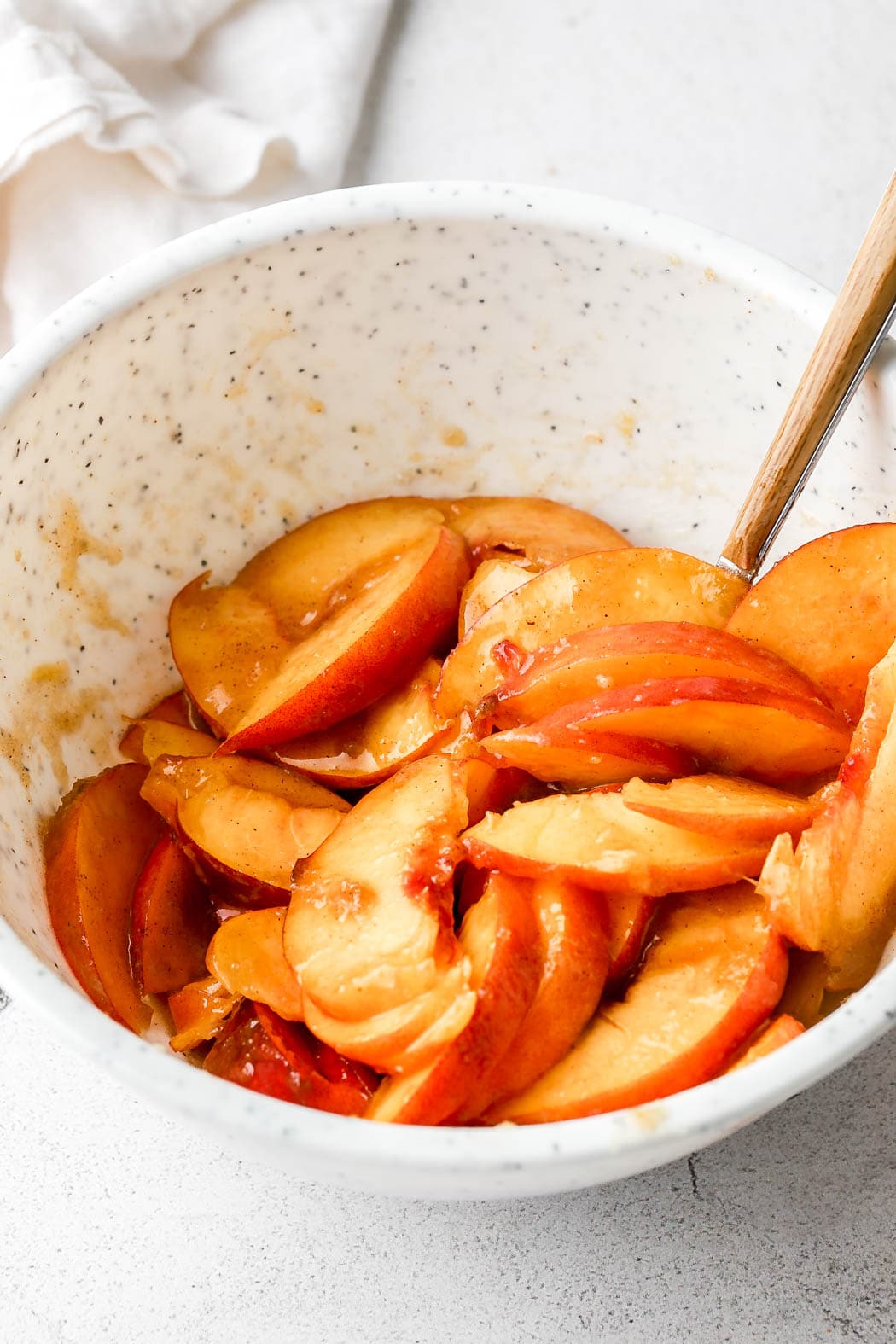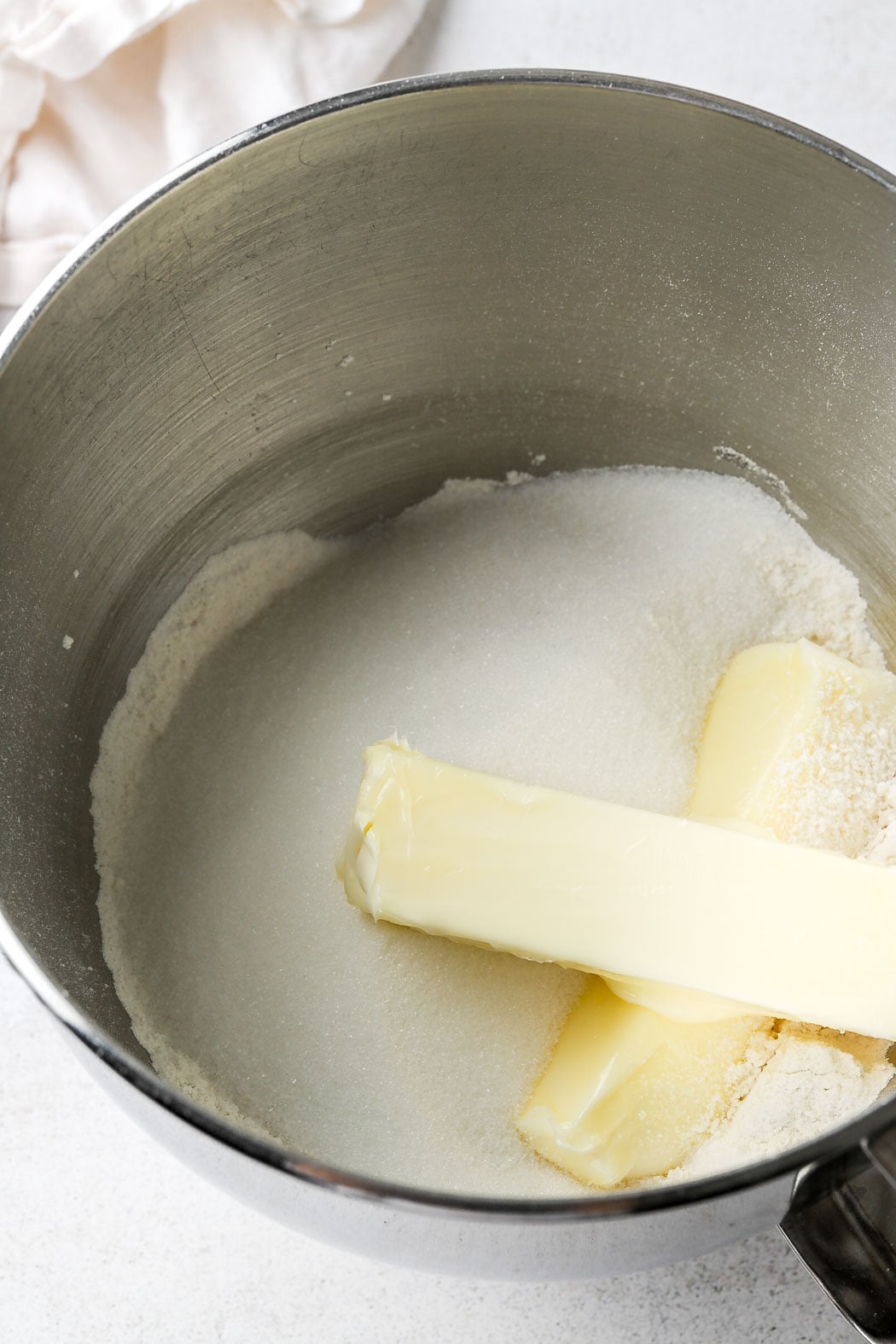 Ingredients you'll need:
Butter: I like to use salted butter but you can also use unsalted butter. I would just add an extra ¼ tsp of salt to every cup of butter used.

You'll need melted butter for the peach topping.
For the cake recipe, you want it softened. Softened butter is slightly warmer than room temperature. If it's warm in your house, just let it sit out but if not, just microwave it on 5-10 second intervals until it's soft but not melted.

Sugar: I use brown sugar for the peach topping and the cinnamon swirl but granulated sugar in the cake recipe. I don't recommend using brown sugar in the cake portion. I tried it and I personally don't prefer the texture or the flavor it produces.
Cinnamon: I use cinnamon in the peach portion and the swirl throughout the cake.
Vanilla: I use vanilla extract in this recipe but vanilla bean paste would be even more elevated.
Eggs: always use large, room temperature eggs. Pop them in hot water for 5-10 minutes if they're cold.
Flour: I like to use all-purpose flour whenever I can since that's what most people have on hand.

​​I also HIGHLY recommend using a digital scale, as flour is almost always over measured. 

Baking Powder: can sub for baking 1 tsp baking soda if you don't have baking powder.
Salt: salt brings out the flavor in all baked goods.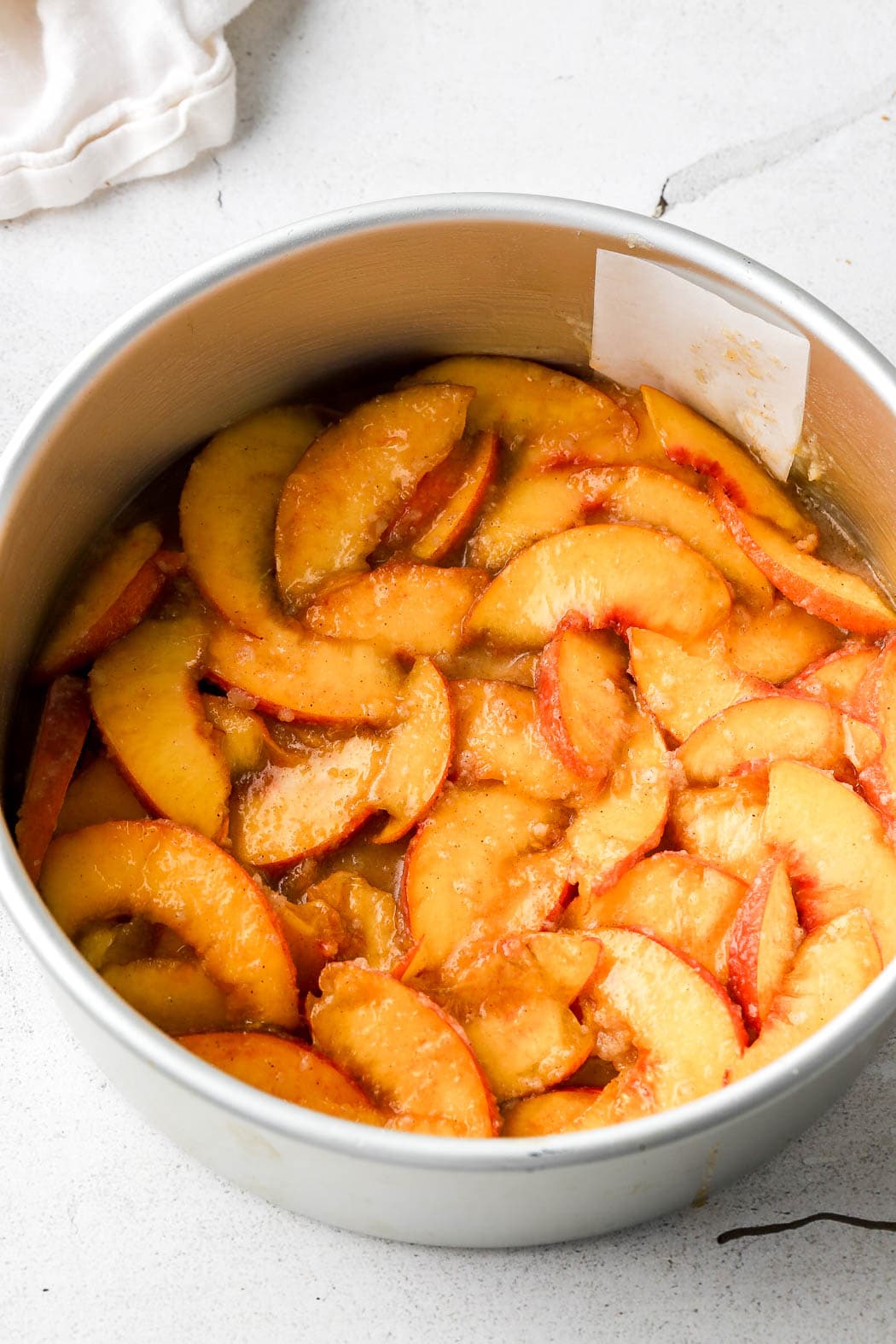 Step-by-Step Instructions
Make the peach topping by slicing the peaches and tossing them with the sugar butter and cinnamon. Spread the peach mixture into a greased and lined 8 inch baking pan.
Make the pound cake by combining the dry ingredients with the sugar. Then mix it with the softened butter and then add the eggs, one at a time. Add in the greek yogurt and mix until combined.
Spread half of the cake batter on top of the peaches, then top with the cinnamon sugar mixture and then spread the other half of the cake batter.
Bake the cake and top with vanilla ice cream.
FAQs
What kind of peaches to use?
I recommend using fresh peaches for this cake. Regular yellow peaches, white peaches, nectarines, any of them work. I don't bother peeling them and I slice them fairly thin.
I haven't tested this with canned peaches but I would probably skip the sugar if I used canned peaches.
Can I use a different fruit?
I haven't tried it but I bet this cake would be great with any other fruit. I would just slice them the same as the peaches. My to-do list includes bananas, apples, strawberries and cherries!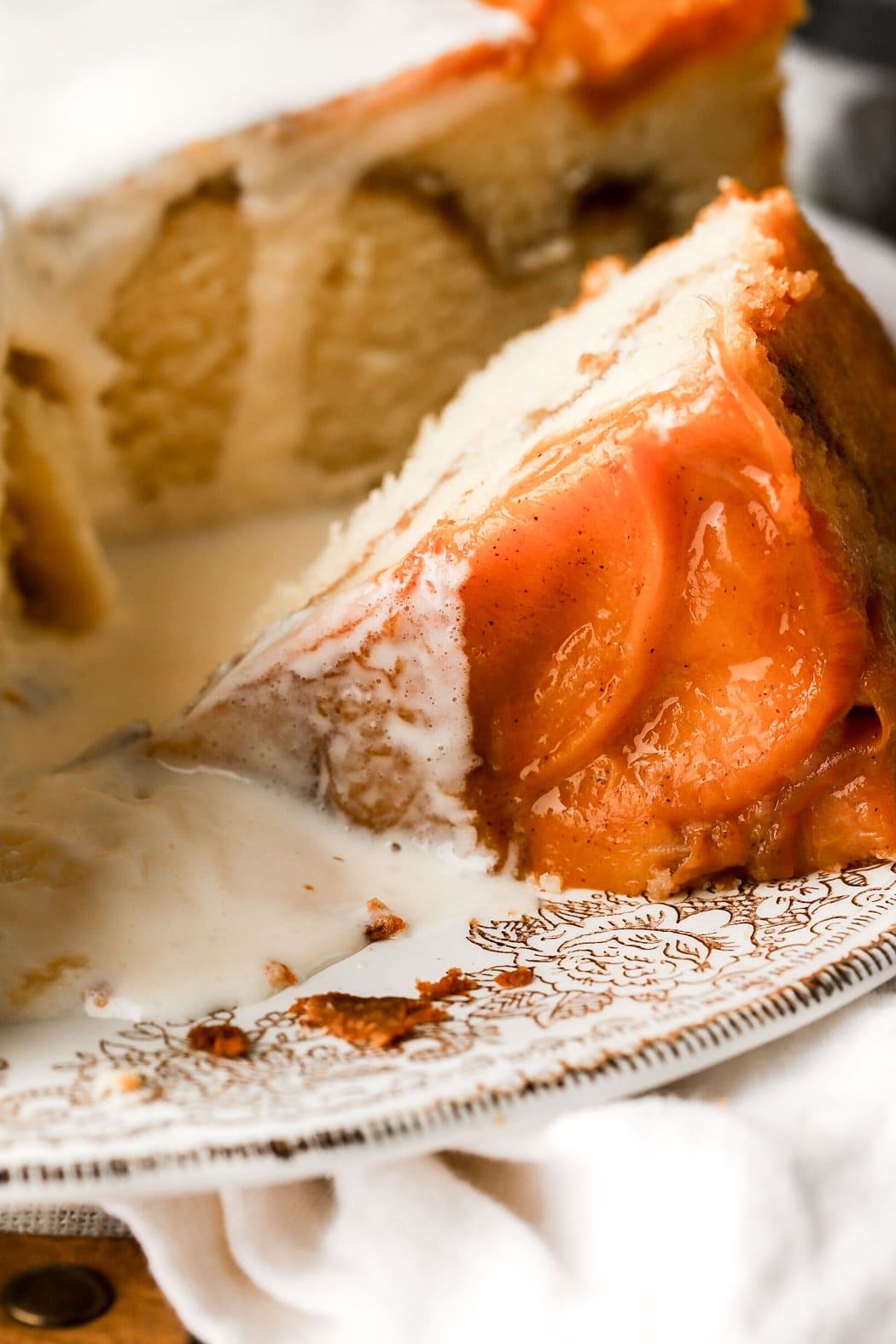 What pan should I bake it in?
I baked this peach cobbler pound cake in a 8×3 inch round baking pan because I wanted it to bake up tall. It will spill out of an 8 inch pan that's only 2 inches tall though so be careful.
You can also bake this cake in a:
You'll need to lower the baking time for all of these options and keep an eye out for doneness after 35 minutes.
How do I know when it's done baking?
The cake is done baking when the center no longer looks wet and the edges are dark golden brown color.
Make sure to test it by gently pressing on the tallest area of the cake and if it springs back, it's done. If it feels wet and stays pressed in, give it another few minutes before testing again.
Can I use whipped cream instead of ice cream?
Whipped cream would be a great alternative to ice cream if you want to serve this somewhere that's not as ice cream friendly. You can either use cool whip, canned whipped cream or make your own fresh whipped cream.
To make fresh whipped cream, beat 1 cup of heavy whipping cream with 2 Tbsp of powdered sugar just until you reach stiff peaks.
Can I make these dairy free?
Yup! Just swap the butter for dairy free butter and the yogurt for a dairy free yogurt. & of course, the ice cream for a dairy free ice cream.
Can I make these gluten-free?
I have not tested this recipe specifically but all of my cake recipes work with a 1:1 substitute of gluten-free flour so I don't see why this wouldn't work. I recommend King Arthur or Bob's Red Mill.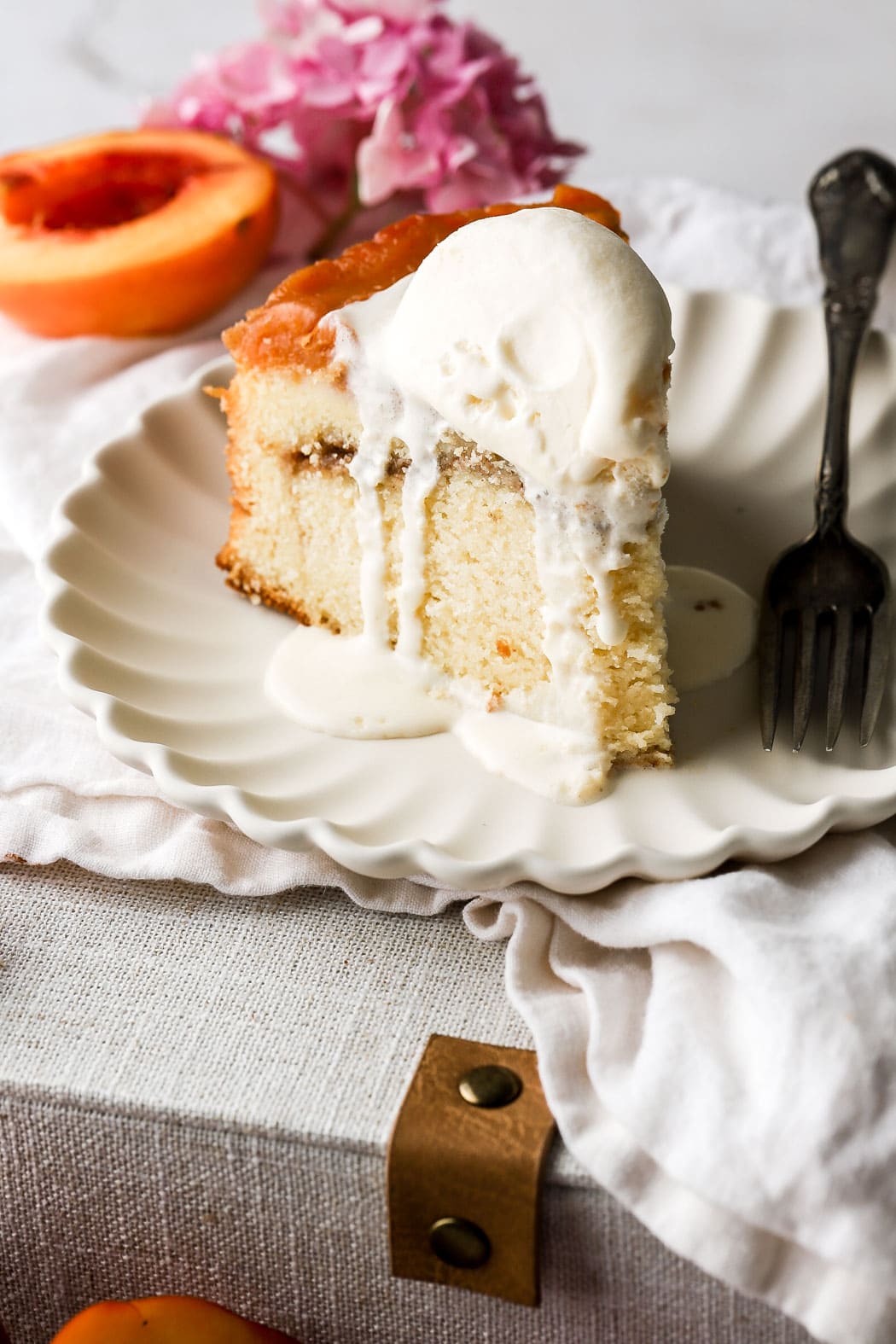 How to serve and store peach cobbler pound cake
I let it cool for 10ish minutes in the pan and then flip it over and let it cool almost to room temperature or all the way to room temperature.
Top with vanilla ice cream and serve immediately or store it covered at room temperature for 2 days (without the ice cream obviously lol).
To refrigerate, make sure to cover the cake with a cake dome or store it in an airtight container for up to a week.
To freeze it, I like to slice the cake and either place them tightly in an airtight container or wrap each slice individually with plastic wrap and then place them in an airtight bag. Thaw at room temperature before serving.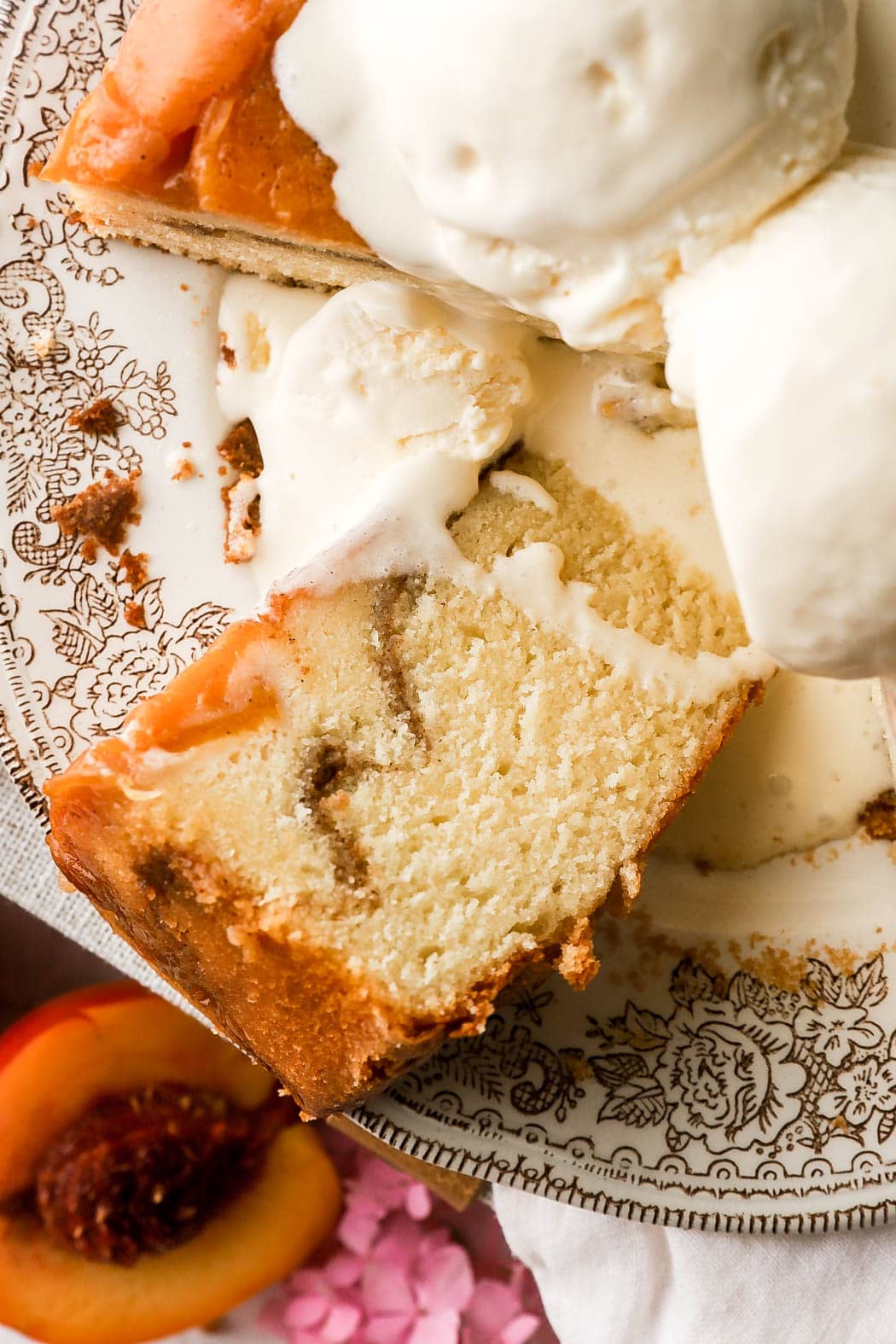 If you make this delicious peach cobbler pound cake, make sure to tag me @baranbakery on instagram so I can share them with everyone! 
As always, have a blessed day and happy baking!
Love, B
Yield: 12-16 slices
Peach Cobbler Pound Cake Recipe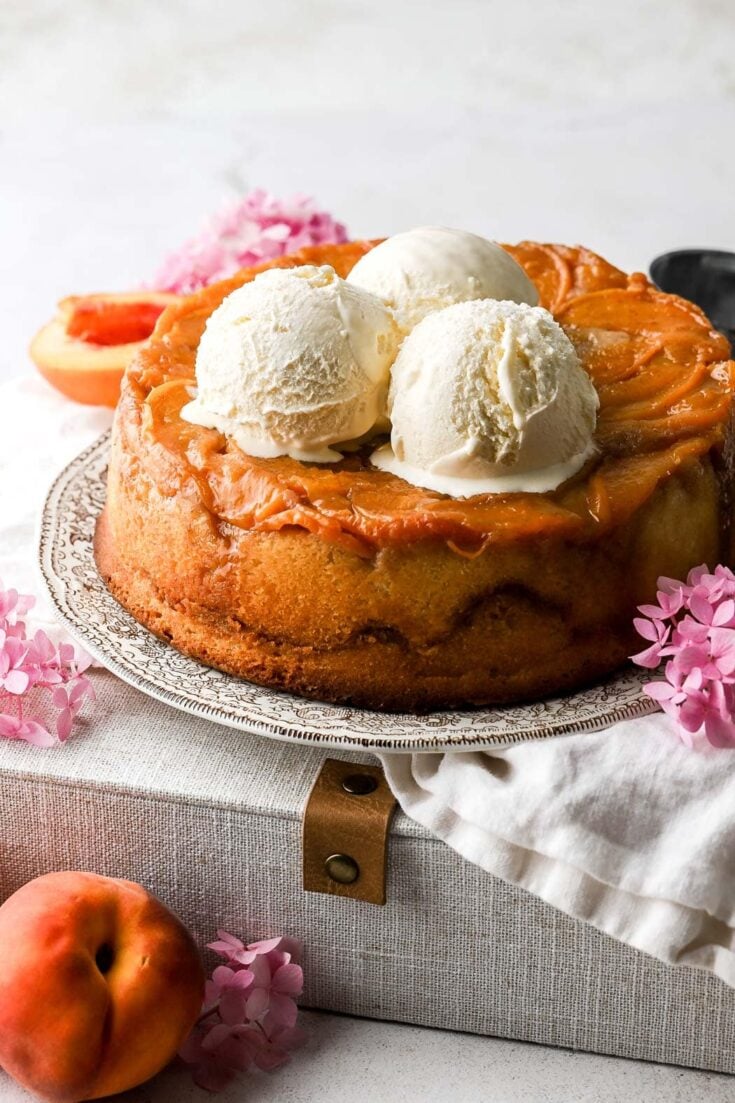 Peach cobbler pound cake is a gorgeous velvety pound cake baked on top of a peach cobbler mixture. Of course, it's topped with vanilla ice cream as well, to really give it that peach cobbler vibe.
Total Time
2 hours
45 minutes
Ingredients
Peach Cobbler Topping
2 large peaches (or two smaller/medium peaches), peeled and sliced
2 Tbsp (28g) salted butter, melted
1/4 cup (50g) dark brown sugar, lightly packed
1/4 tsp cinnamon
Cinnamon Swirl
1/4 cup (50g) dark brown sugar, lightly packed
2 Tbsp (15g) all-purpose flour, spooned and leveled
1/2 tsp cinnamon
Pound Cake
2 cups (240g) all-purpose flour, spooned and leveled
1 1/4 cups (250g) granulated sugar
1 Tbsp (10g) baking powder
1/2 tsp salt
1 cup (227g) unsalted butter, room temperature
4 large eggs, room temperature
3/4 cup (170g) Greek yogurt
2 tsp vanilla extract
3-4 large scoops of vanilla ice cream
Instructions
Peach Topping
Thinly slice the peaches and toss them into a medium bowl with the melted butter, brown sugar and cinnamon. Toss until the peaches are evenly coated.
Preheat the oven to 350F/177C convection (325F/163C conventional) and grease and line a round 8 inch cake pan that's 3 inch tall.*
Spread the peach topping onto the bottom of the pan and set aside.
Cinnamon Swirl
In a small bowl, combine the brown sugar, flour and cinnamon. Set aside.
Pound Cake
In a large mixing bowl or the bowl of a stand mixer, whisk together the all purpose flour, granulated sugar, baking powder, and salt until they're evenly distributed.
Add the room temperature butter and use an electric mixer fit with the whisk attachment to beat the mixture for 2-3 minutes, at medium speed, until pea size chunks form. Turn the mixer up to high for 1 minute, until the mixture starts to look more like a paste.
Add in the eggs, one at a time, beating on medium speed until each egg is fully incorporated. Make sure to scrape the sides and bottom of the bowl every so often.
Add the Greek Yogurt and vanilla extract and beat just until combined.
Spread half of the batter in the prepared pan on top of the peach topping. Sprinkle the brown sugar mixture on top and then top with the rest of the batter, spreading it evenly.
Bake for about 55-60 minutes, until it springs back when you press on the tallest part.
Allow the cake to cool in the pan for 10-15 minutes and then flip over onto a plate or cake stand.
Allow the cake to cool almost, or completely, to room temperature. I like it just slightly warm, topped with a scoop of vanilla ice cream.
Notes
*if you don't have a tall 8 inch pan, you can use a 9 inch pan and reduce the bake time by about 10 minutes.
Recommended Products
As an Amazon Associate and member of other affiliate programs, I earn from qualifying purchases.
Nutrition Information:
Yield:
16
Serving Size:
1
Amount Per Serving:
Calories:

309
Total Fat:

15g
Saturated Fat:

9g
Trans Fat:

0g
Unsaturated Fat:

5g
Cholesterol:

85mg
Sodium:

207mg
Carbohydrates:

39g
Fiber:

1g
Sugar:

25g
Protein:

5g
Nutrition information may not be fully accurate.