Mini cupcakes are the cutest way to eat a classic cupcake! They are just as delicious and quick and easy to bake but can serve more people!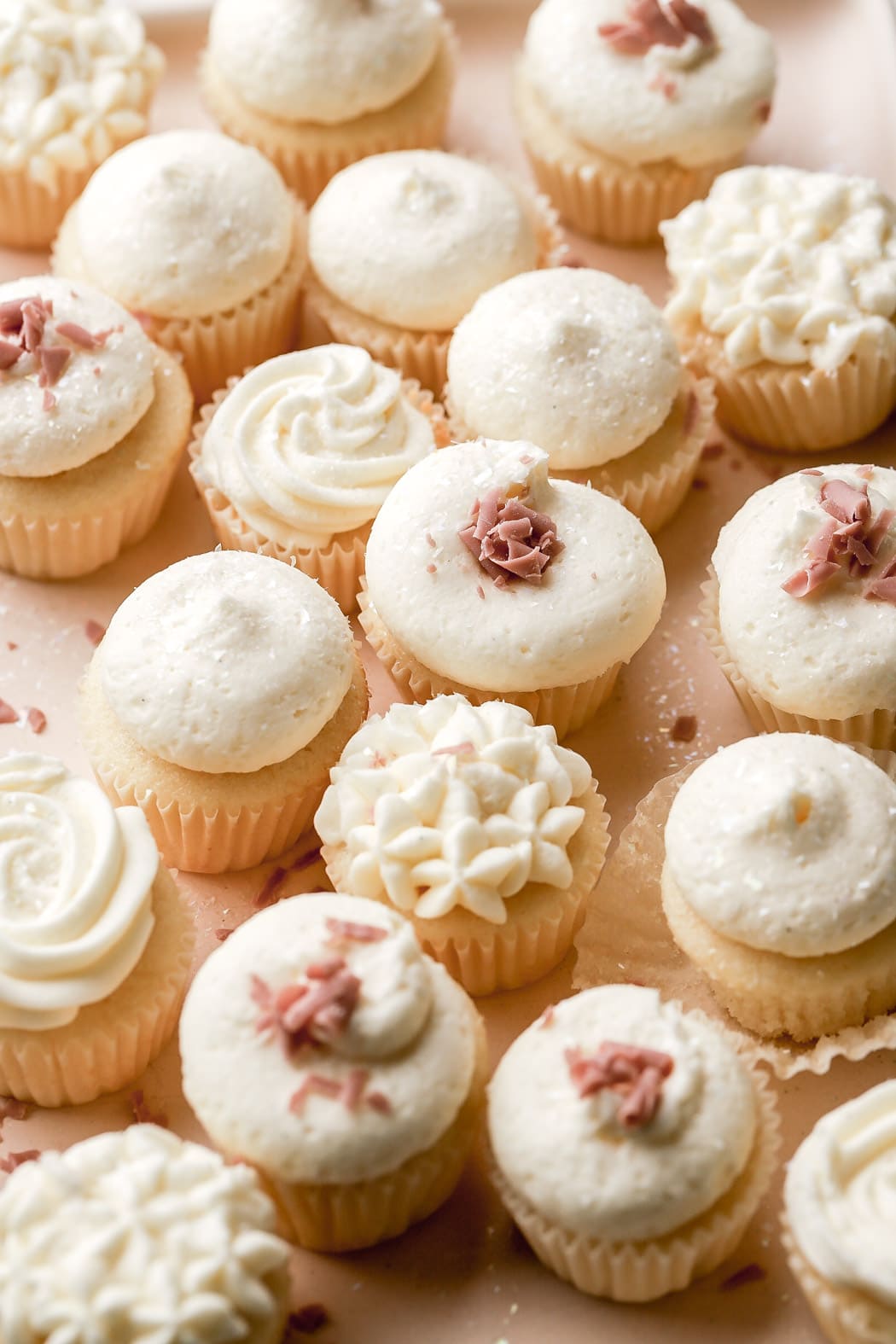 Aren't mini cupcakes just the cutest things you've ever seen?! They're fun to decorate and perfect to serve. Plus super easy to make and way less finicky than regular sized cupcakes.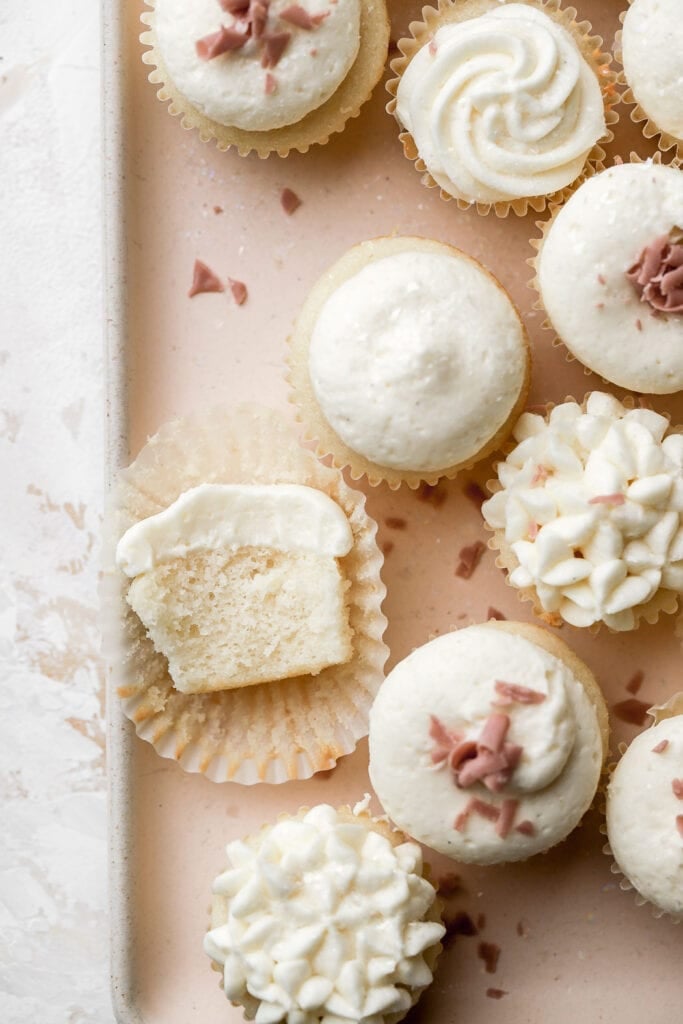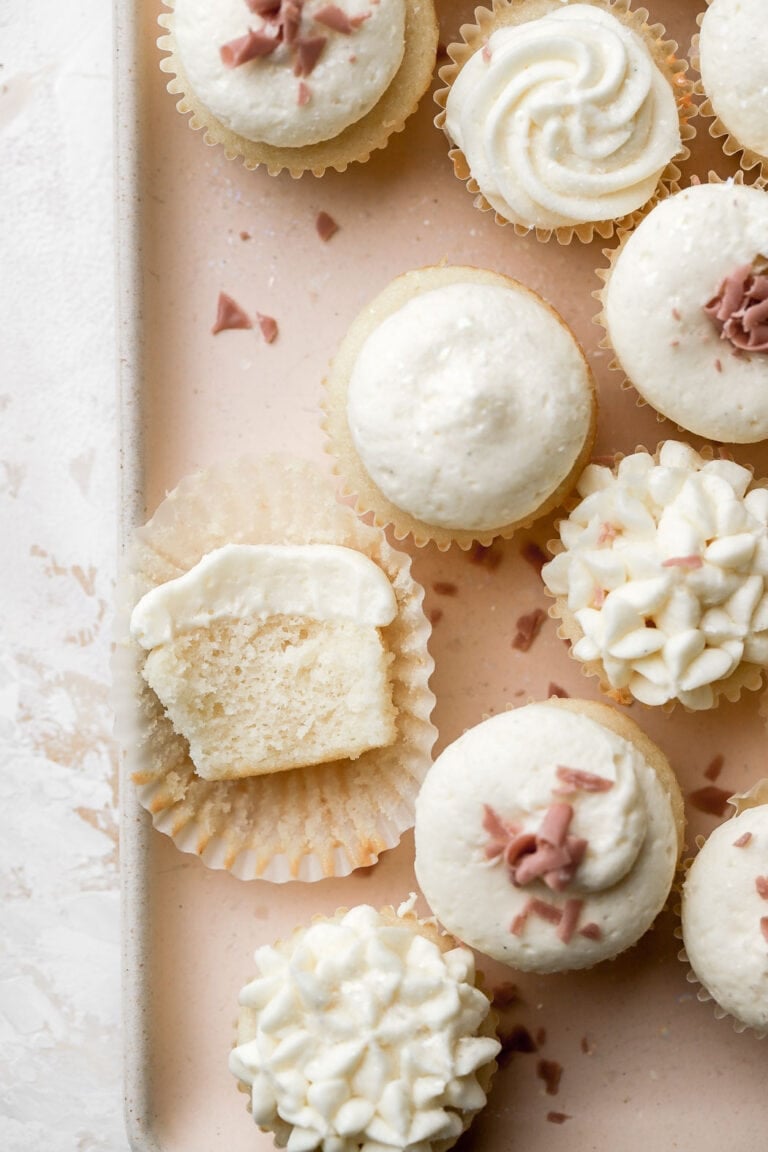 How to make Mini Cupcakes
I love mini cupcakes because they are like the appetizer of desserts. You can have a few and still have room for other treats, or if you eat a million of them their small size makes it easily justifiable lol.
To make mini cupcakes I used my Small Batch Vanilla Cupcakes recipe (which is just half my favorite vanilla cupcake recipe) and topped them with American Buttercream. I decorated them using different frosting tips and ruby chocolate curls but you can decorate them however you like!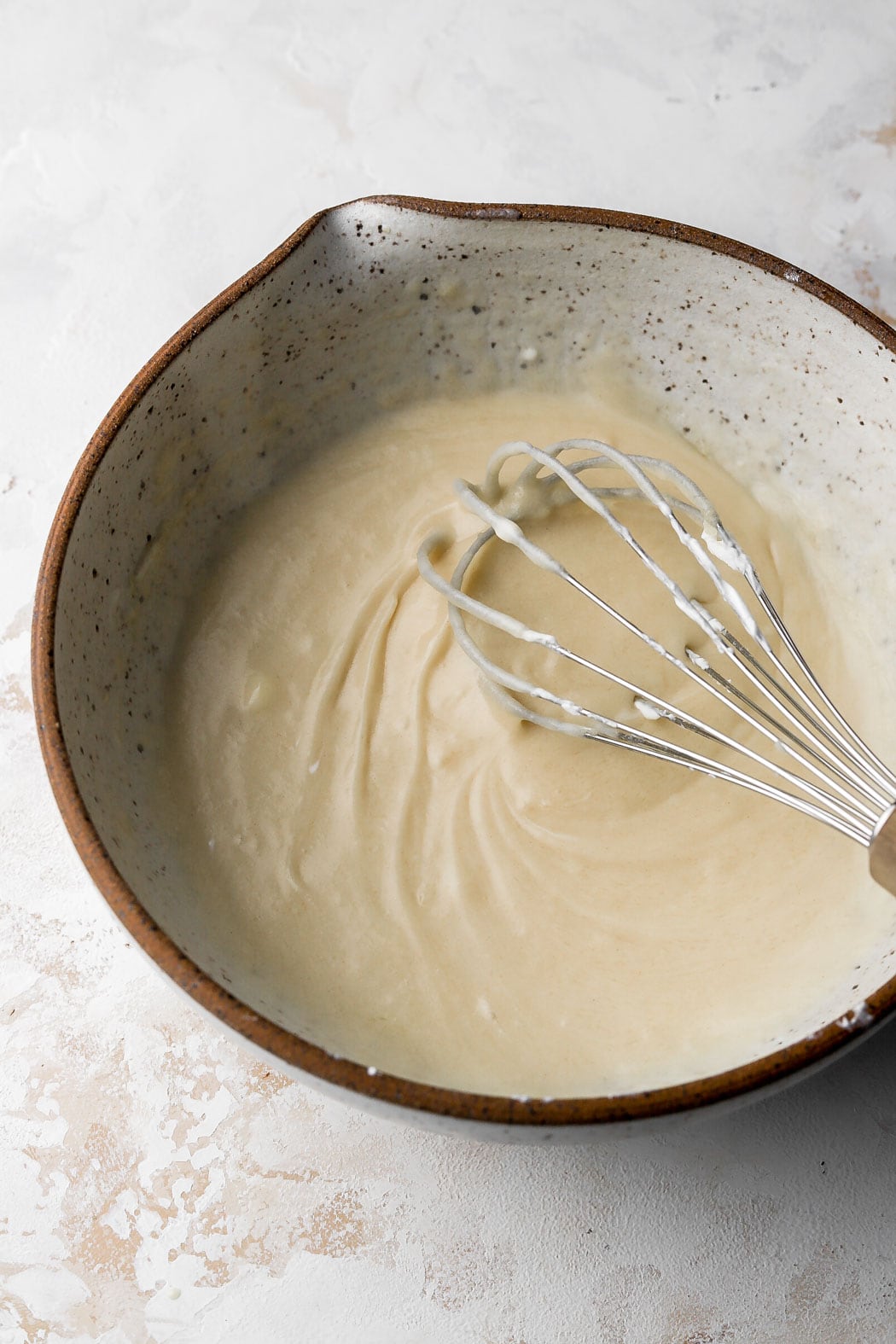 Mini Cupcakes
A versatile recipe is one of the best things because you can make different desserts. Like I said, I used my Small Batch Vanilla Cupcakes for these and the only difference is that you bake them using a mini muffin tin. You can also do the same with the chocolate cupcakes from that post.
Ingredients:
Flour: I use cake flour in cupcakes because they're much more delicate but I know some people don't have it at home. You can also do the all-purpose flour – 1 Tbsp + 1 Tbsp cornstarch.
Baking Powder: You just need 1 tsp of baking powder but it's an important ingredient to help get that dome shape. So please don't skip it or substitute it with baking soda.
Sugar: Everyone loves sugar and at the same time always tries to minimize it. Please, please, PLEASE don't. It's important if you want delicious, moist cupcakes and fluffy cupcakes.
Egg: I like my vanilla cupcakes to be pale and not brown around the edge so I use just egg whites.
Vanilla Extract: This one is pretty obvious. You can't have vanilla cupcakes without vanilla flavor lol.
Butter: I use unsalted butter in cakes and then add a pinch of salt. You can also use salted butter and omit the salt.
Liquid: I use a combination of milk and sour cream because I like the texture and flavor when using both. If you don't have sour cream you can substitute with Greek yogurt.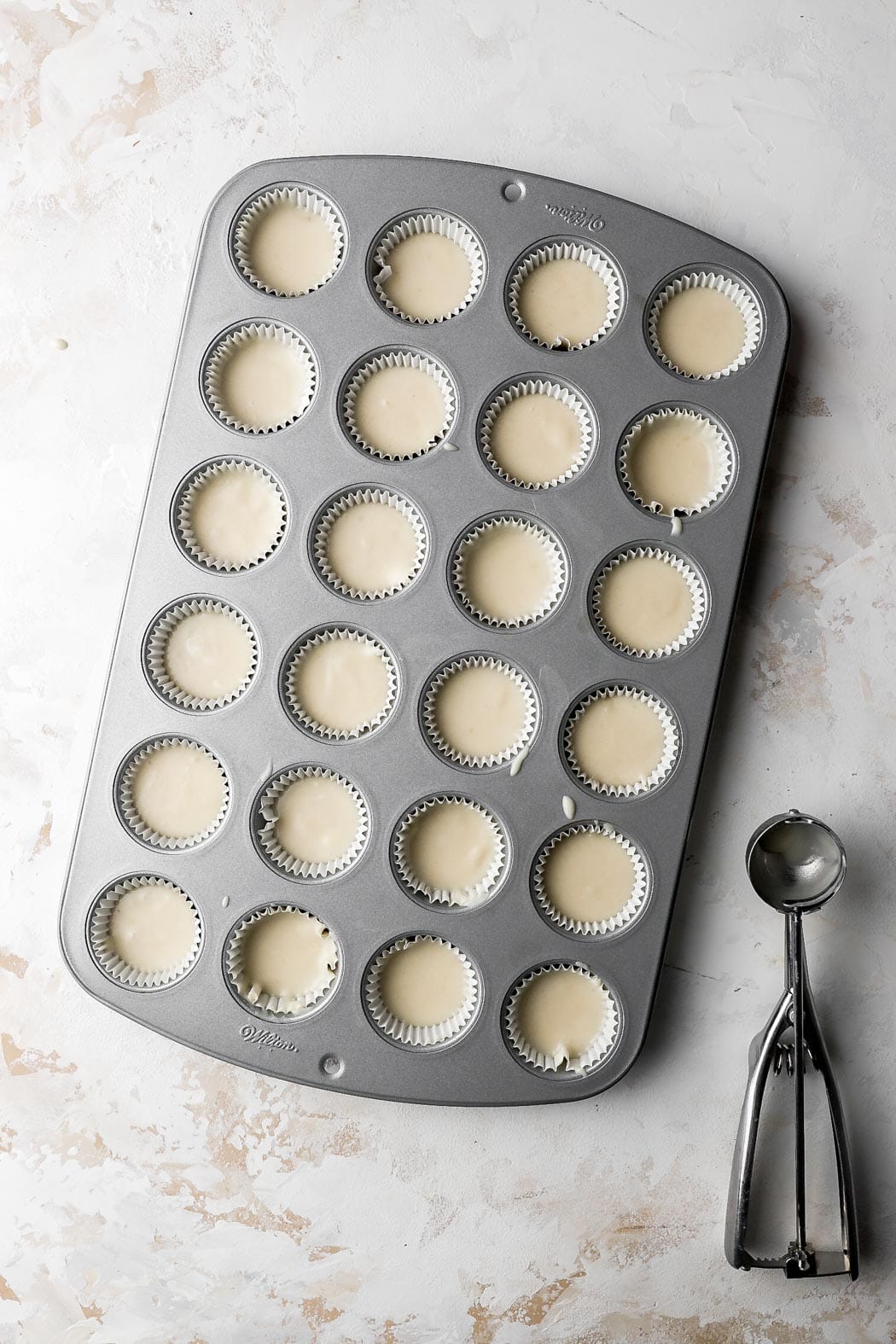 American Buttercream
The great thing about cupcakes is you can use whatever frosting you want. I used American Buttercream but you can use half a batch of Swiss Meringue Buttercream or French Buttercream.
Flavor with vanilla, cocoa powder, peanut butter, cookie butter, cinnamon, etc. to change it up a little.
Frequently Asked Questions (FAQs)
Can I double the recipe?
Yes you can. My small batch recipe makes 24 mini cupcakes so doubling it gives you 48.
Can I make these mini cupcakes chocolate flavor?
Yes! Use 2/3 cup (80g) all-purpose flour and 1/4 cup (20g) of cocoa powder and a whole egg. You can follow my Small Batch Chocolate Cupcakes recipe and just bake them in a mini muffin tin.
How can I customize these?
There are a million ways to customize your mini cupcakes. Besides decorating them however you like, you can add ¼ cup of jam, peanut butter, nutella or chocolate ganache to your frosting.
I don't recommend drastically altering the base of the cupcakes to flavor it though. You could certainly add some cinnamon or espresso powder. You could also sub the milk for egg nog or add some lemon zest. And of course, you can add any extracts to you want.
If you want more ideas, my book Frosted has over 60 different frosting recipes.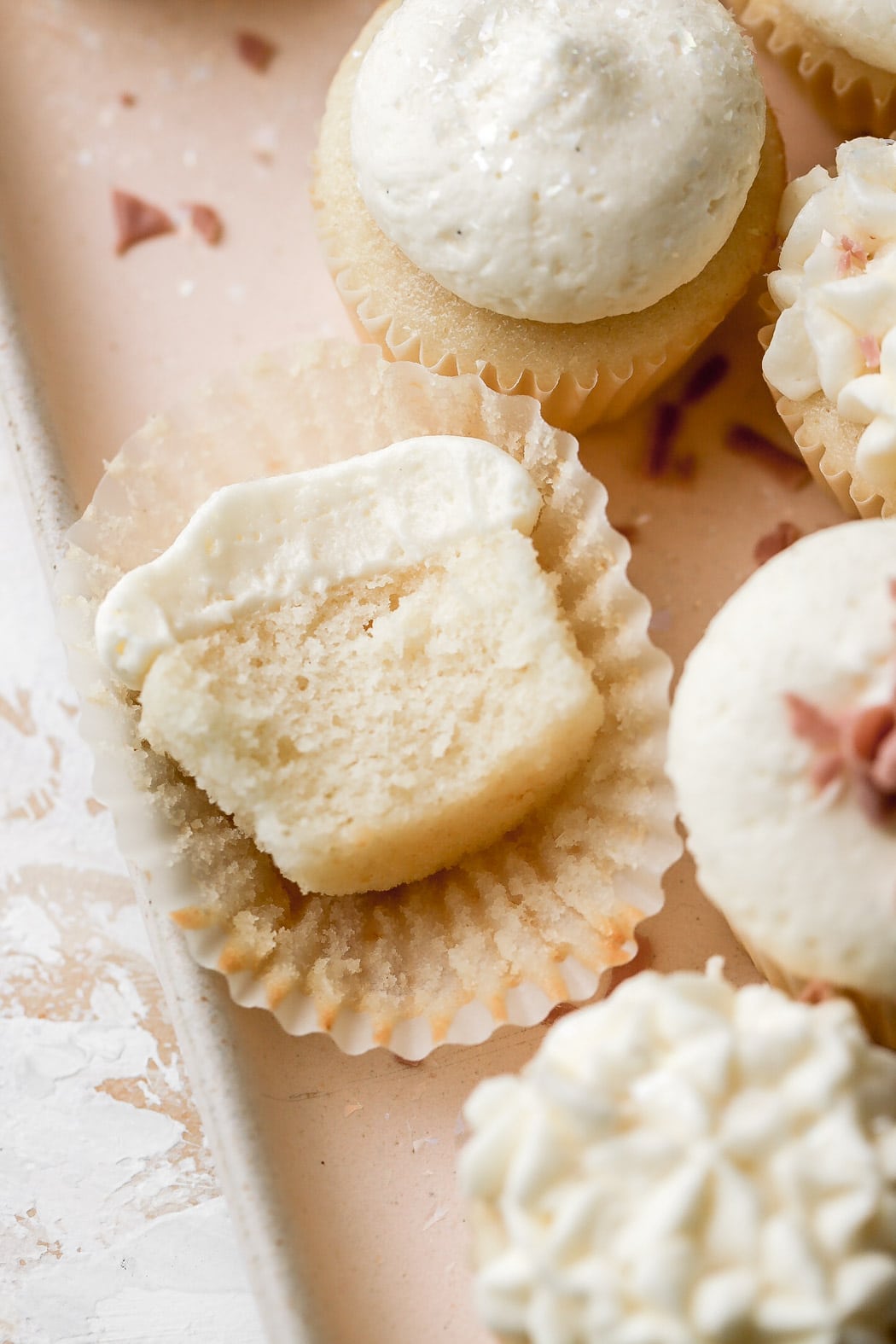 How to store mini cupcakes
You can store mini cupcakes at room temperature for 1-2 days. To store in the fridge, place them in an airtight container, cupcake holder, or cover them completely with plastic wrap for up to a week. To freeze them, place them in an airtight container and place the container in a freezer bag. Squeeze out all the air and freeze for 2-3 months.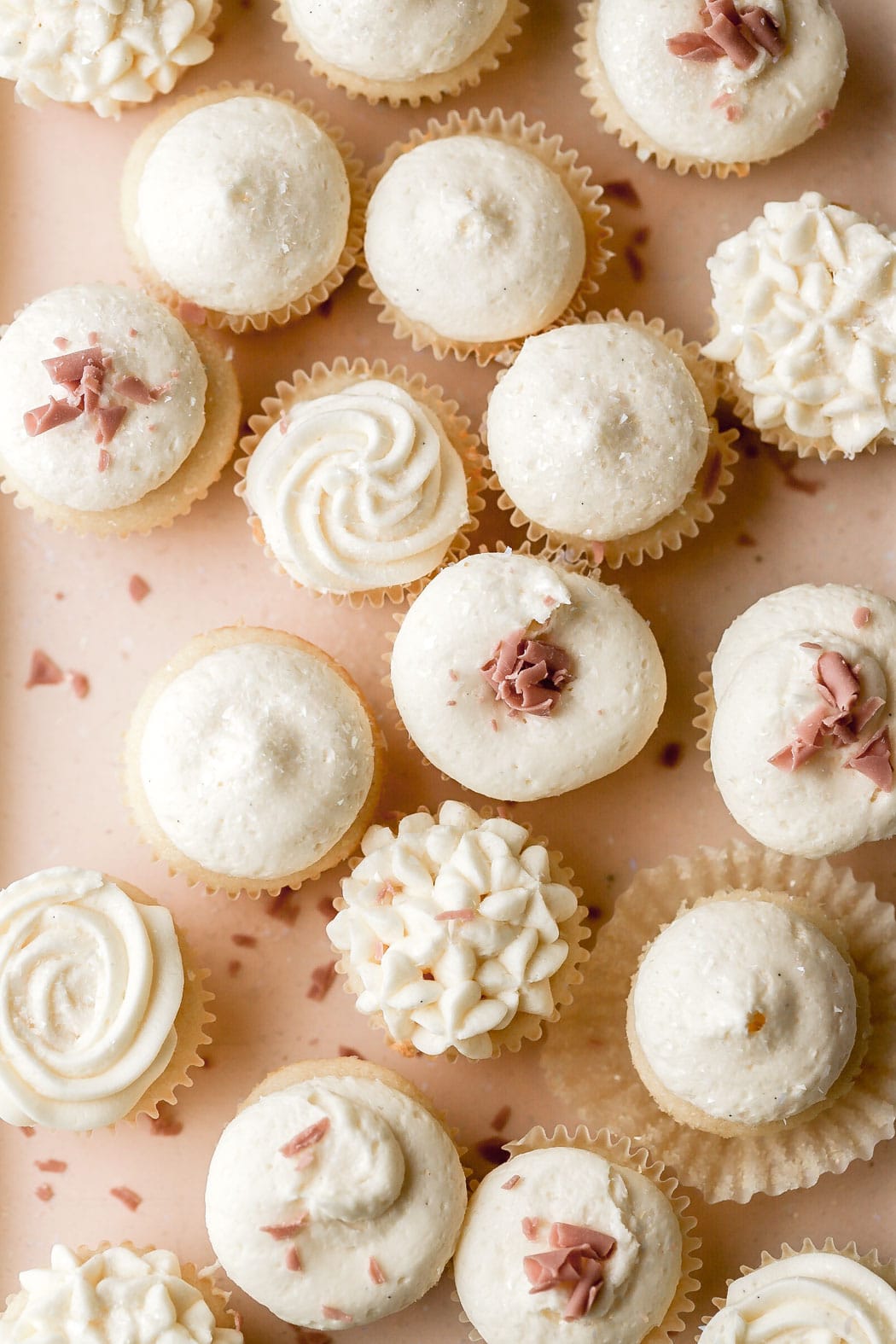 Thanks so much for reading today's post! If you have any questions just comment down below, I'm happy to answer!
If you make these mini cupcakes I would love to see them and how you decorate them! Make sure to tag me @baranbakery on instagram and order my cookbook, Frosted.
As always, have a blessed day and happy baking!
Love, B
Yield: 24 cupcakes
Mini Cupcakes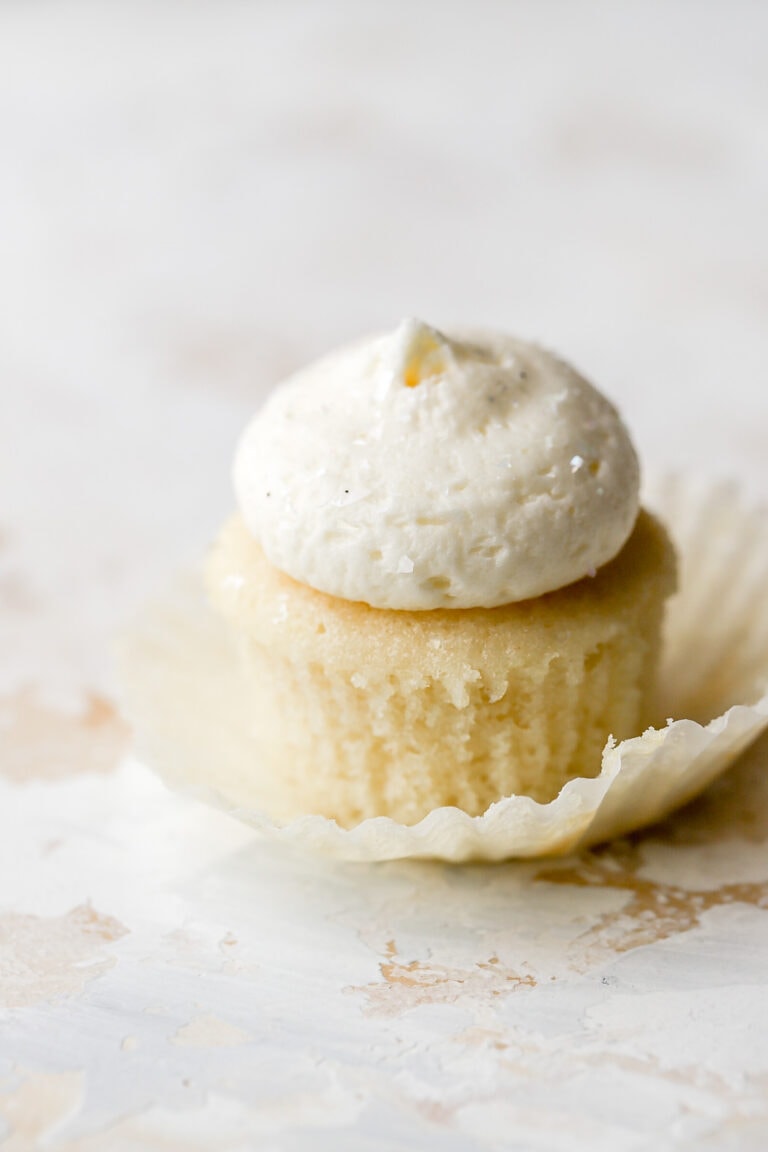 Mini cupcakes are a cuter way to eat a classic cupcake and just as quick and easy to bake.
Additional Time
30 minutes
Total Time
1 hour
25 minutes
Ingredients
Vanilla Cupcakes
3/4 cup (86g) cake flour, spooned and leveled
1 tsp baking powder
1/4 tsp salt
1/2 cup (100g) granulated sugar
1/4 cup (56g) butter, melted
1 large (30g) egg white, room temperature
1 tsp vanilla extract
1/4 cup (59mL) whole milk, room temperature
1/4 cup (56g) sour cream
Vanilla Buttercream
1/2 cup (113g) unsalted butter, room temperature
2 cup (240g) powdered sugar, spooned and leveled
1-2 tsp vanilla extract (or paste)
2-4 Tbsp (30-60mL) heavy whipping cream, room temperature
Instructions
Vanilla Cupcakes
Preheat the oven to 350F (177C) and line a mini muffin tin with cupcake liners (preferably a light colored pan).
In a medium bowl, whisk together the cake flour, baking powder, salt and sugar.
Add the melted butter to the dry ingredients and whisk together until it's combined.
Add the egg white and vanilla extract and mix until they're fully combined.
Add the milk and sour cream and mix just until the cupcake batter is smooth.
Fill each cupcake liner about 3/4 full. Bake for 10-12 minutes. When you press on the center of the cupcake it should spring back.*
Remove from the oven and let them cool in the pan for 10 minutes, then move them to a cooling rack. Allow the cupcakes to cool completely before frosting.
Vanilla Buttercream
Place the butter in the bowl of a stand mixer, fitted with a whisk attachment. Beat the butter for about five minutes, scraping the bottom and sides of the bowl halfway through.
Add the powdered sugar and vanilla extract and beat the frosting on low until it's combined. Then increase the speed to medium-high for another 5 minutes, scraping the bottom and sides of the bowl halfway through.
Add the heavy whipping cream and beat the frosting until it's well combined. Pipe onto the cooled cupcakes and decorate however you like.
Notes
*the vanilla cupcake recipe was designed to stay pale so don't look for a golden brown color when it's finished baking.
Nutrition Information:
Yield:
24
Serving Size:
1
Amount Per Serving:
Calories:

144
Total Fat:

8g
Saturated Fat:

5g
Trans Fat:

0g
Unsaturated Fat:

3g
Cholesterol:

30mg
Sodium:

67mg
Carbohydrates:

17g
Fiber:

0g
Sugar:

14g
Protein:

1g
Nutrition information may not be fully accurate.