This lemonade bundt cake recipe is a super dense and moist cake packed full of fresh lemon flavor from lemon juice and zest. It's topped with a thick lemony glaze and is the perfect summer treat!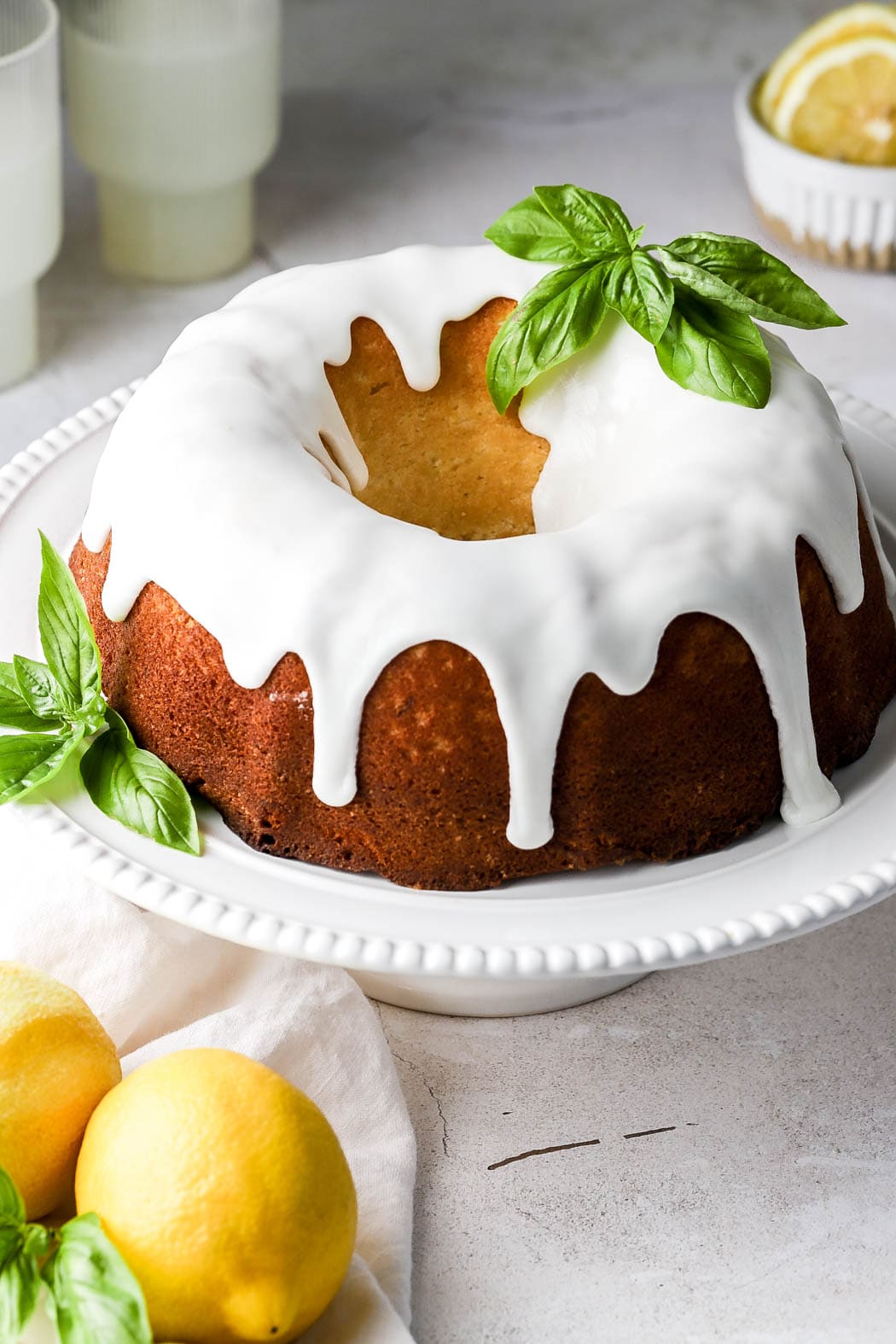 Nothing screams summer to me like lemonade! Although I'm not one for drinking my calories, I am one for eating them so what better way to have lemonade than in a cake?! Lemonade cake it is!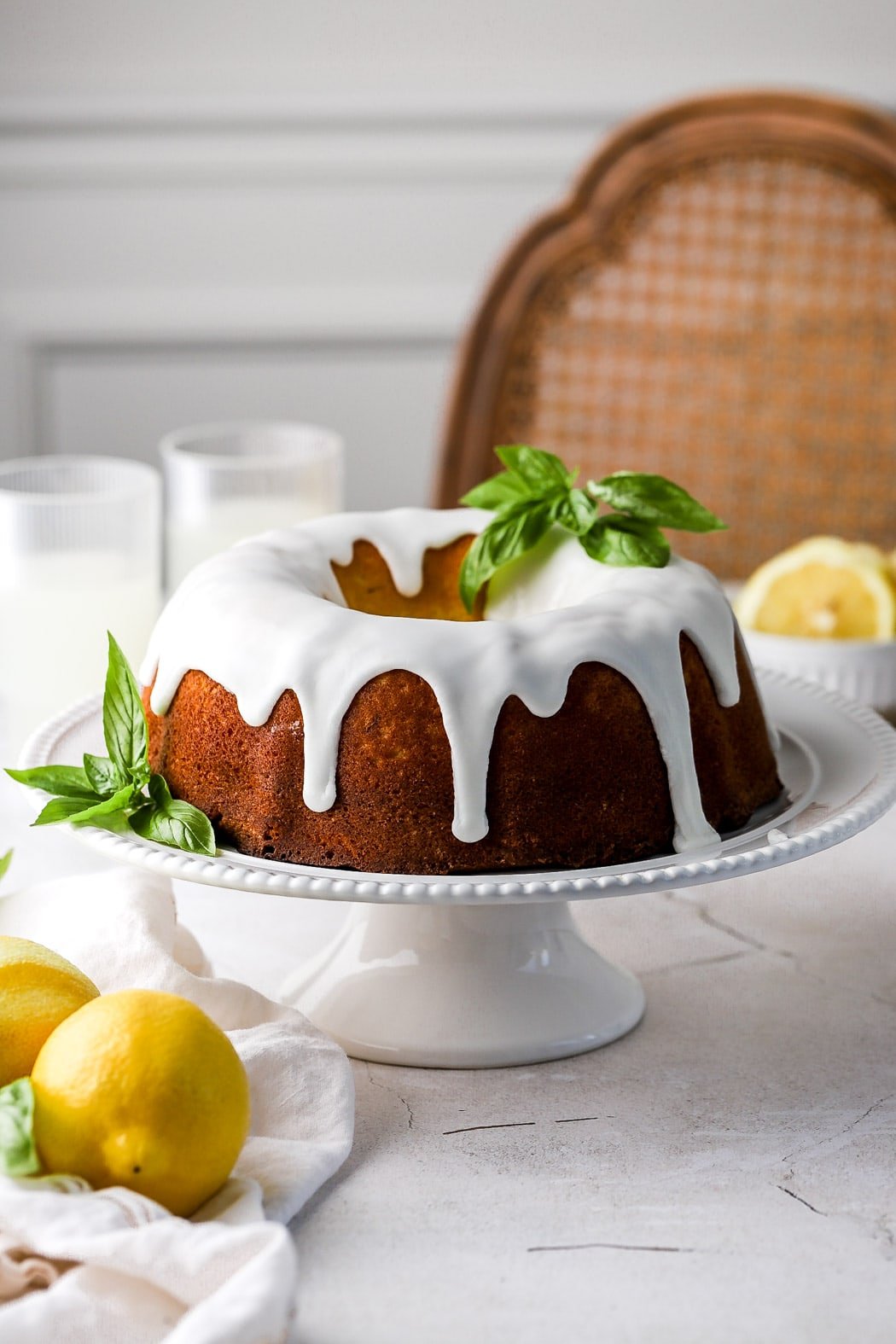 Why you'll love this lemonade bundt cake
I was skeptical at first because although I really prefer to use natural flavorings, I've always had trouble getting a strong lemon flavor to come through without lemon extract. So I was afraid I wouldn't be able to get that strong and tart lemon flavor I was craving for this lemonade bundt cake but I did it.
This cake is SO EASY to put together and only takes like 5-10 minutes (plus bake time).
Uses only fresh lemons for flavor, thanks to extra lemon zest.
Super dense but so moist and stays moist for days.
Tart lemon glaze hides any imperfections and provides the perfect lemony flavor punch.
If you love lemon as much as I do, make sure to check out my lemon white chocolate cookies, Lemon Poppy Seed Cheesecake, Lemon Macarons and my Lemon Curd Cake!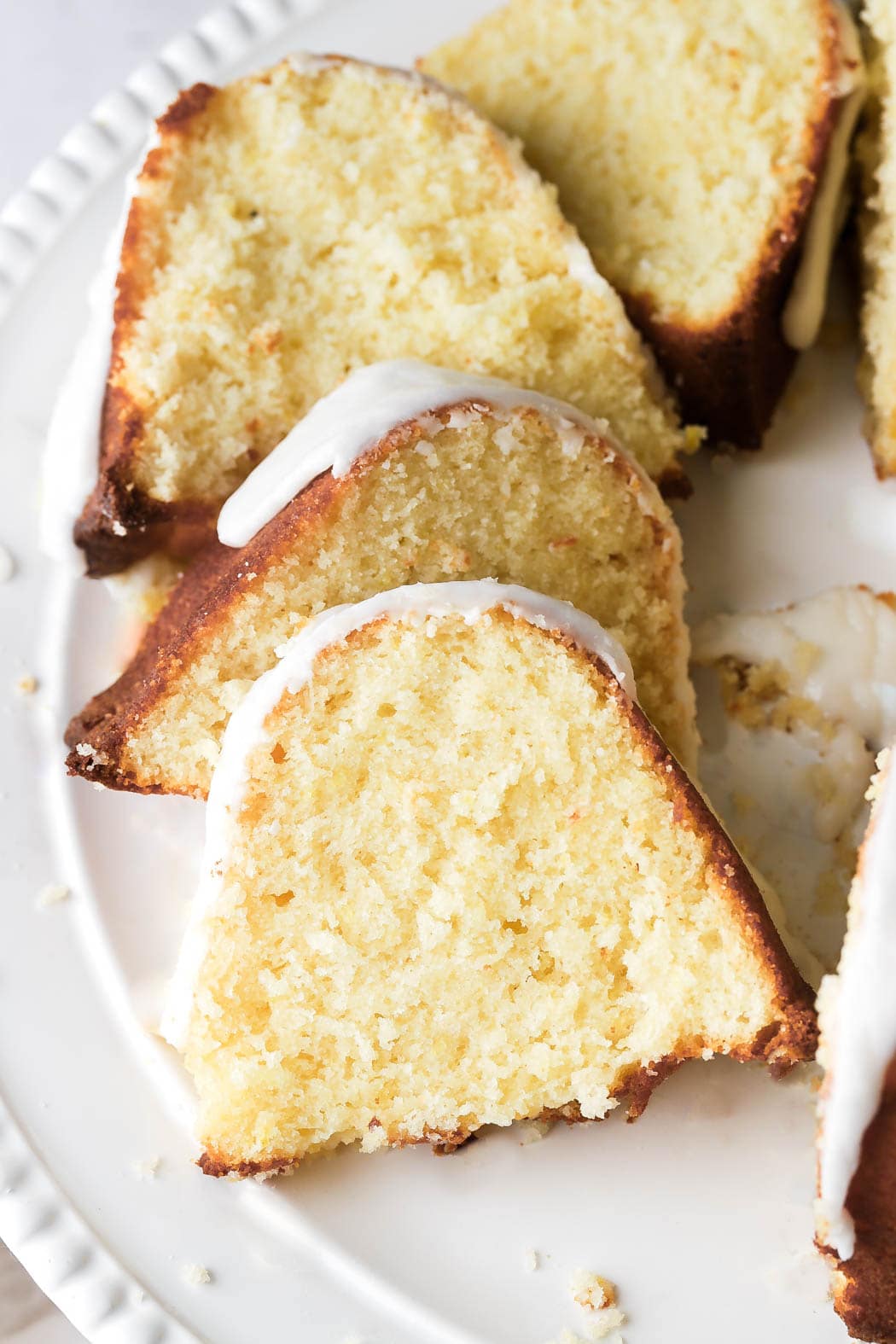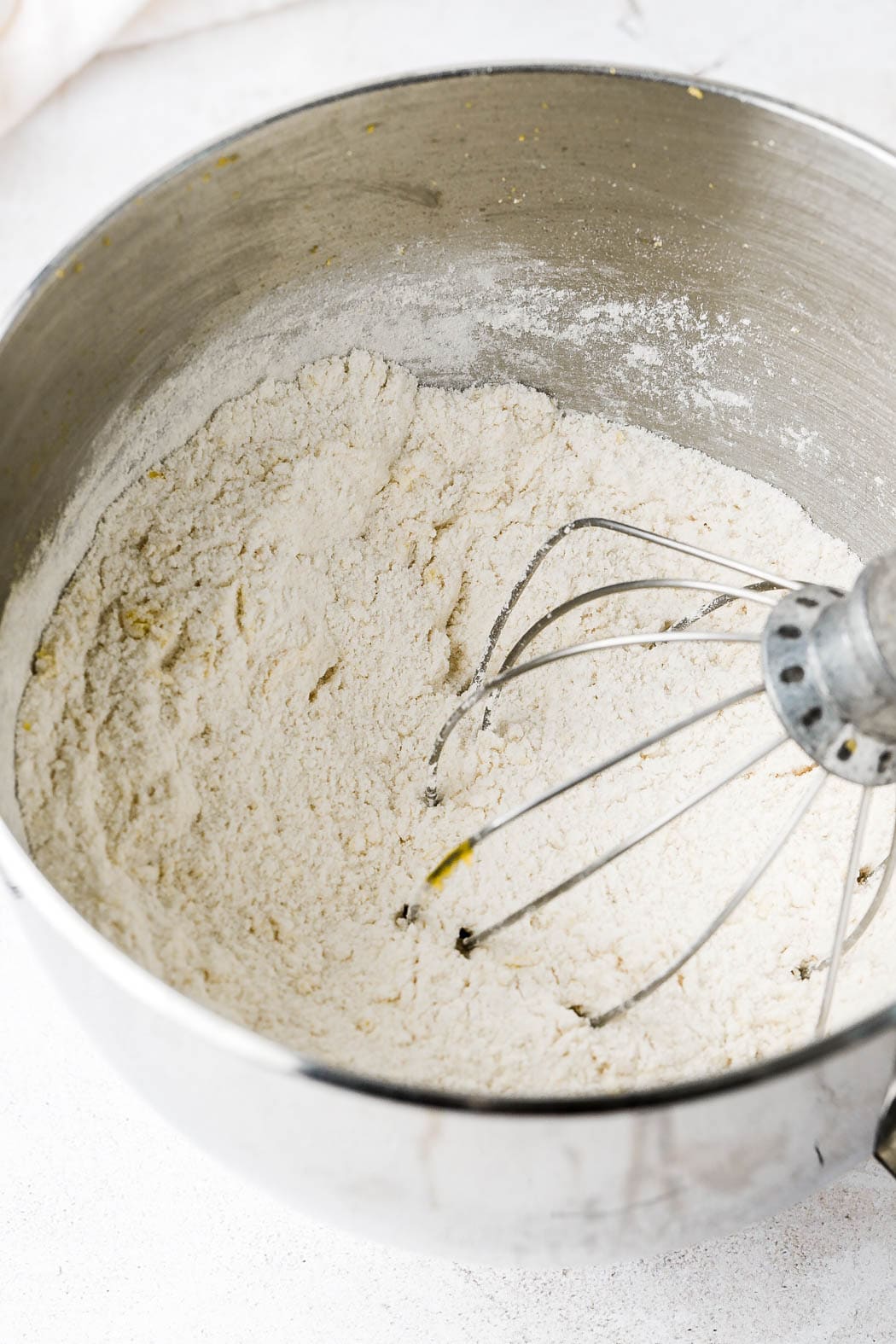 Ingredients & substitutions
Flour: I use all purpose flour in most of my recipes and I HIGHLY recommend using a digital scale, as flour is so often over measured.
Baking Powder We're using baking powder to help the cake rise, don't swap this for baking soda.
Sugar: I use granulated sugar in the cake and powdered sugar in the glaze, I don't recommend swapping these or reducing them.
Butter: I like to use salted butter but unsalted also works, just add ½ tsp of salt.
Oil: I always use vegetable oil or canola oil but any neutral oil works. Olive oil also works but it does impart some flavor (which can be delicious with the lemon).

I used butter and oil in this recipe because I just love the combination of both fats in cakes. Oil makes them spongy and super moist while butter makes them flavorful and gives that "melt in your mouth" texture.

Eggs: I use room temperature, large eggs. Pop them in hot water for a few minutes if they're cold.
Milk: I used milk in this recipe because I didn't want any extra acidity from buttermilk, sour cream or greek yogurt so I suggest using milk.

Any fat percentage milk works, along with dairy free milks.

Vanilla: I added a touch of vanilla extract to kind of give it that creamy, nostalgic lemon cream flavor.
Lemons: I used the zest of two large lemons. I juiced those two lemons and I recommend measuring the lemon juice out for the cake and the glaze. 1 tsp extra in the glaze it will be too runny.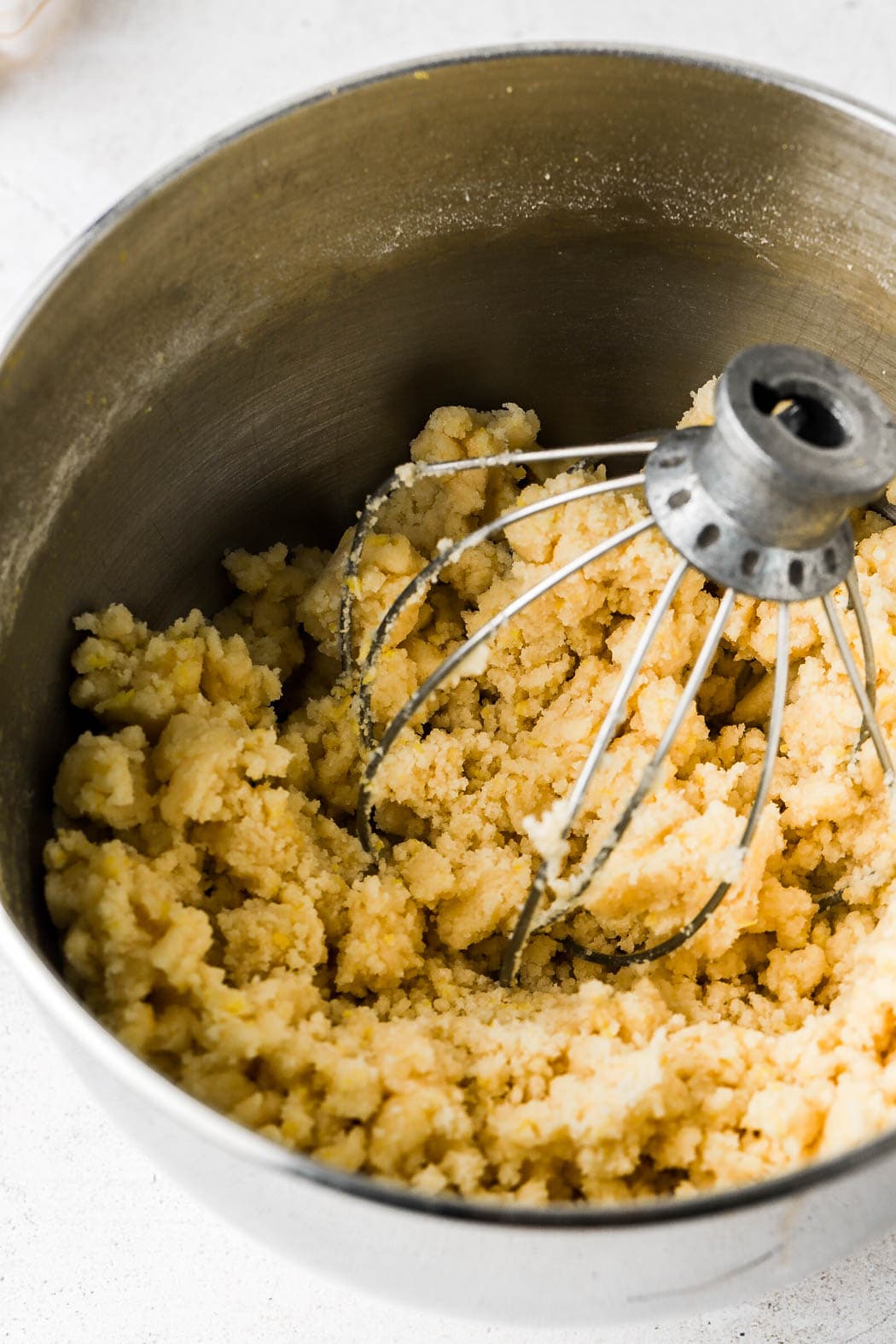 Step-by-Step Instructions
You can use an electric hand mixer or a stand mixer for this recipe. It'll be a little more difficult to incorporate the butter into the dry ingredients with just a bowl and whisk so I recommend an electric mixer.
Zest the lemons: and rub the lemon zest with the sugar in a large mixing bowl or the bowl of a stand mixer. Juice the lemons and set them aside.
Combine the dry ingredients: whisk together the lemon sugar, flour, baking powder, baking soda and salt.
Whisk in the butter and oil: add the softened butter and beat until it's fully combined. Then add in the oil and beat until it's fully combined.
Add the eggs: one at a time, beating until each egg is fully combined.
Add the vanilla, lemon juice and milk: with the mixer on low speed, add in the milk, lemon juice and vanilla and beat just until the batter is combined.
Bake: for 45 minutes at 350F and let it cool for 10 minutes in the pan before flipping it over. Don't wait longer or the top of the cake will stick to the pan.
Make the glaze: combine the sugar and lemon juice until it's smooth and spread on top of the cake once it's cooled to room temperature. The glaze will feel pretty thick but it will drip halfway down the cake still.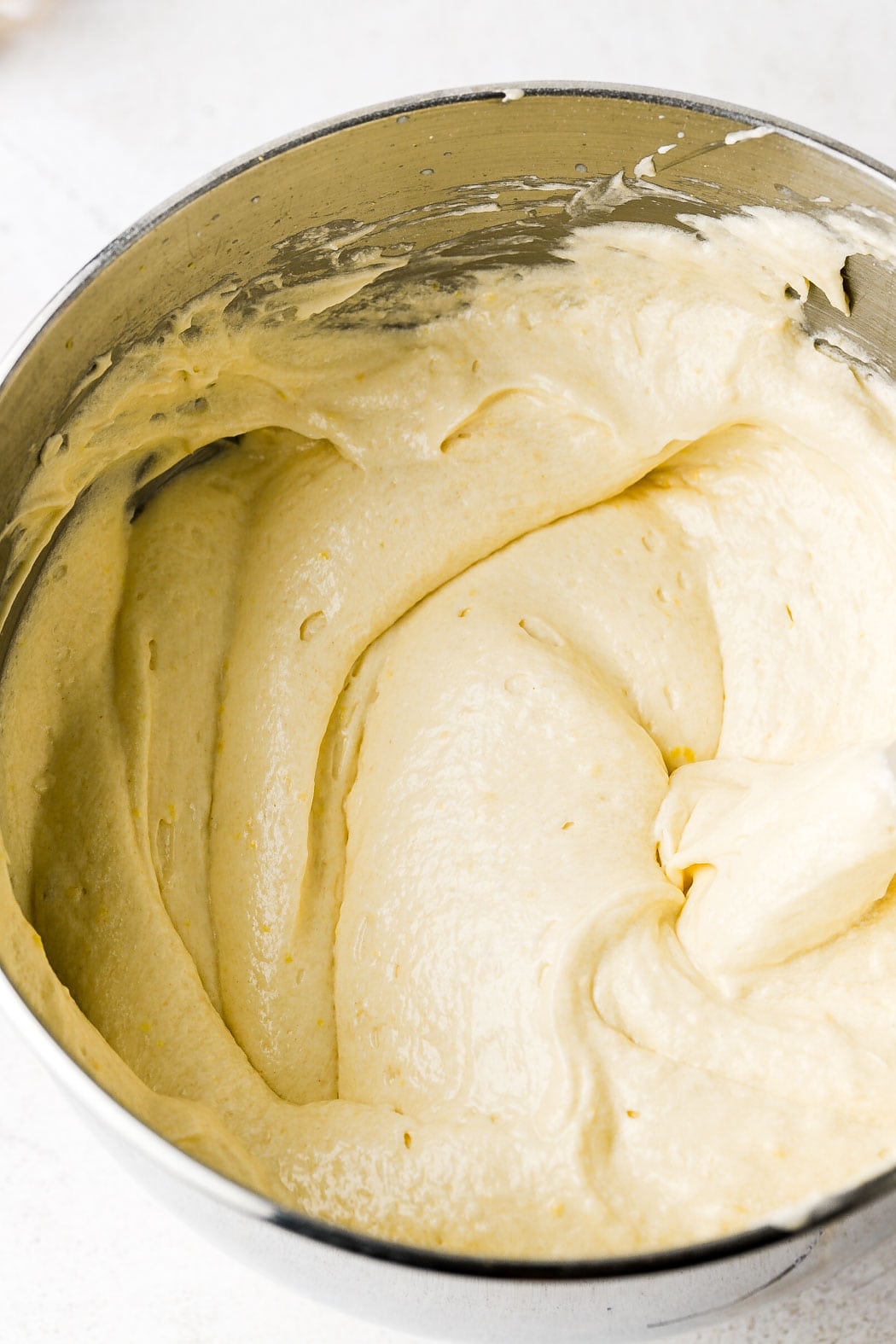 Why is it creamed backwards?
The method I used to mix the cake batter is called reverse creaming. I absolutely love this method for three reasons:
It's quick and easy with less room for error
It provides a super smooth and silky batter and a velvety cake texture
It limits gluten development because the flour gets coated in fat right away so the cake is super tender.
Frequently Asked Questions
Can I add in other mix-ins?
Omg yes. I'm thinking brown butter would be amazing in this, just like my Lemon Brown Butter Cinnamon Rolls. 
I haven't tested this but I next time I will try folding in a cup of blueberries or raspberries or replace the lemon with orange all together to make an orange creamsicle cake. 
Can I make this dairy free?
You can swap the butter and milk for a plant based version with no problem! 
Can I make this eggless?
I don't test my recipes with egg alternatives so I can't recommend a version without eggs.
Can I make this gluten-free
I don't test all my recipes with gluten-free flour but every cake recipe I have tested with gluten-free flour turns out great. I recommend King Arthur Flour or Bob's Red Mill 1:1 substitutes.
Can I just do powdered sugar instead of glaze?
If you're not a fan of glaze, you could just do powdered sugar. I recommend a confectioner sugar that doesn't melt. I like this one by Olive nation. 
What pan should I bake this in?
I used a 10inch bundt pan that holds 12 cups of batter. I don't recommend using a smaller one or it will spill out.
You can bake this recipe in a 9×13" sheet pan as well. It'll be slightly taller than I like for sheet cakes though. Just bake it for about 40ish minutes and start checking to see when it bounces back if you press on it.
You can also bake it in two or three 8 inch cake pans or three to four 6 inch pans, just start checking for doneness at 25-30 minutes and bake until it springs back when you press on it.
Frosting instead of a glaze
If you want to frost it with an actual frosting, I have my swiss meringue buttercream recipe and french buttercream recipe. You can add 2-4 tablespoons of fresh lemon juice to the buttercreams or whatever other flavor you want. Any kind of berry jam would be phenomenal as well, I would between ¼ cup to ½ cup, depending on the flavor and the consistency of the jam.
The lemon diplomat cream from my Honey Lemon Cake recipe would be like a cloud sitting on velvety lemon cake.
*amounts in frosting recipes is enough to frost a sheet cake and lightly frost an 8 or 6 inch layer cake.
How to store this Lemonade Bundt Cake
I recommend keeping it under a cake dome for 1-2 days at room temperature. If you are keeping it longer than 2 days, then I recommend refrigerating it from days 2 through 7. If it's any longer than that, I recommend freezing it.
How to freeze cake
Cakes stay more fresh when they're frozen. To freeze the lemonade bundt cake, slice it as desired and place them in an airtight container. Then place the container in a freezer bag and squeeze out all the excess air.
If you want to eat them individually, you can wrap each slice in plastic wrap and then place the slices in the freezer bag instead.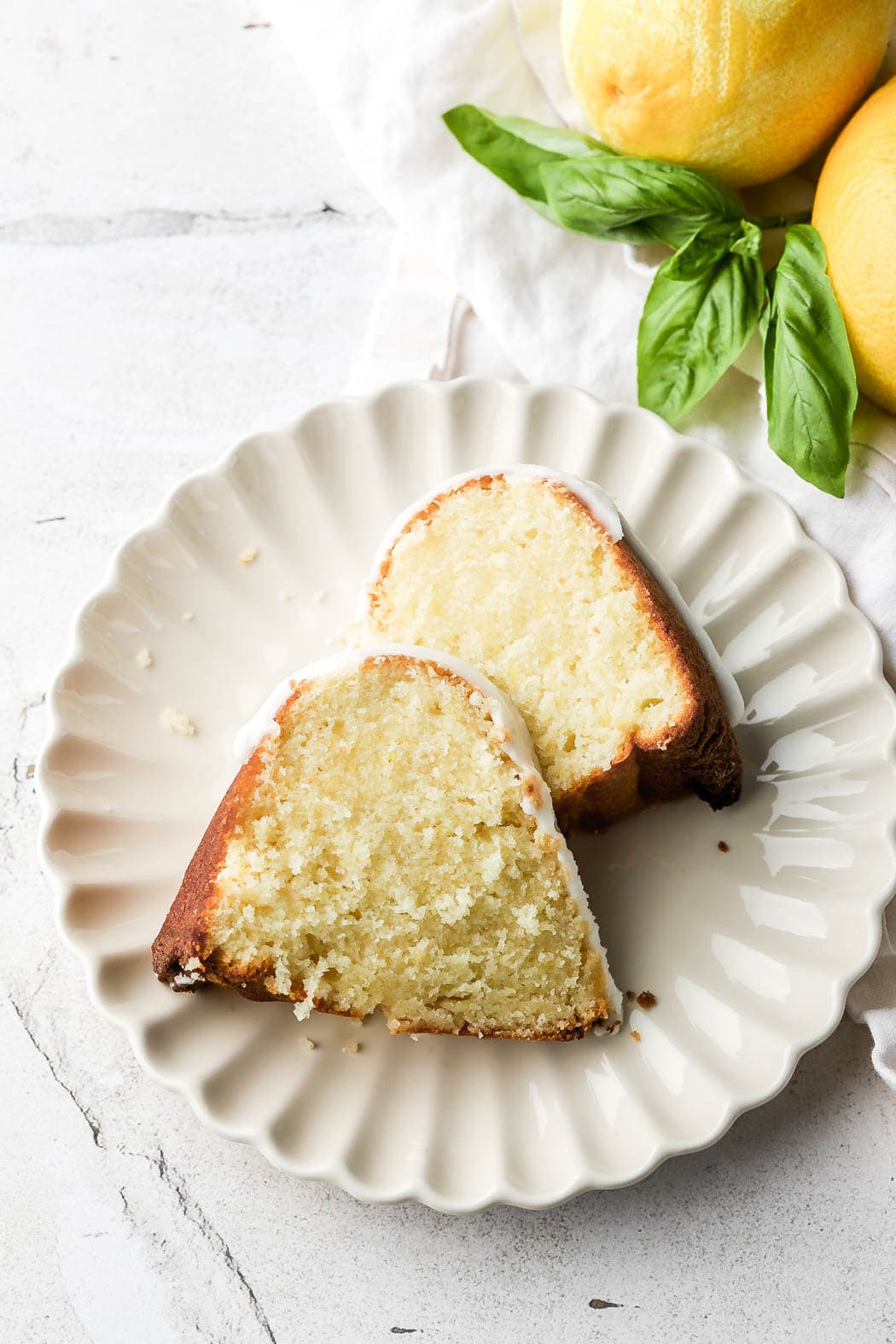 Thanks so much for reading today's post, if you have any questions just comment down below. Make sure to leave it in the comment section because I can't answer in the rating section :).
If you make this lemonade bundt cake recipe I would love to see it so make sure to tag me @baranbakery on instagram!
As always, have a blessed day and happy baking!
Love, B
Yield: 12-16 slices
Lemonade Bundt Cake Recipe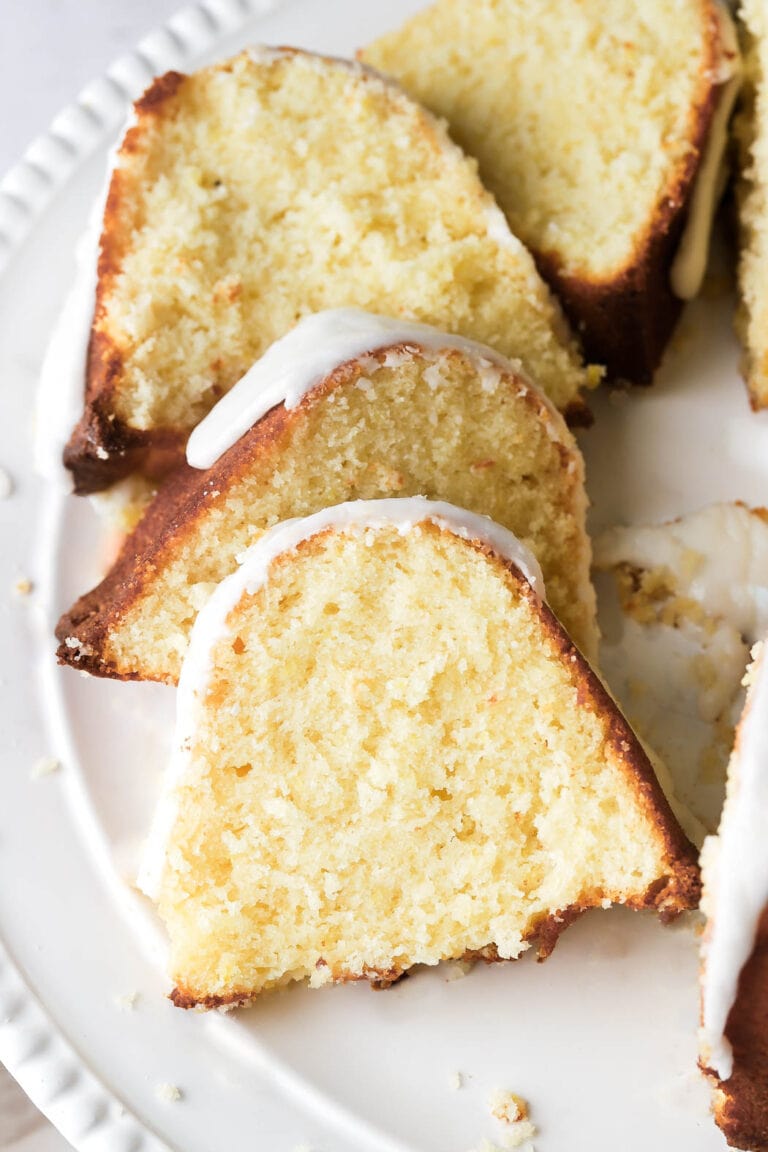 This lemonade bundt cake recipe is a super dense and moist cake packed full of fresh lemon flavor from lemon juice and zest. It's topped with a thick lemony glaze and is the perfect summer treat!
Ingredients
Lemonade Bundt Cake
3 cups (360g) all-purpose flour, spooned and leveled
2 cups (400g) granulated sugar
1 Tbsp (10g) baking powder
1/2 tsp salt
Zest from 1 large lemon
1 cup (227g) unsalted butter, room temperature
1/4 cup (60mL) vegetable or canola oil
5 large eggs, room temperature
3/4 cup (170g) milk, room temperature*
1/4 cup (60mL) lemon juice*
2 tsp vanilla extract
Lemon Glaze
1 1/2 cups (180g) powdered sugar, spooned and leveled
2 Tbsp (30mL) lemon juice
Instructions
Lemonade Bundt Cake
Preheat the oven to 350F/177C convection (325F/163C conventional) and grease a 10inch (12 cup) bundt pan with baking spray that also has flour in it (I use PAM).
In a large bowl or the bowl of a stand mixer, whisk together the flour, granulated sugar, baking powder, salt, and lemon zest, until they're evenly distributed.
Add the room temperature butter and use an electric mixer with the whisk attachment to beat the mixture for 2-3 minutes, until pea size chunks form. Add the oil and beat at full speed for another minute.
Add the eggs, one at a time, beating on medium speed until each egg is fully incorporated.
Add the milk, lemon juice and vanilla extract beat just until combined.
Spread the batter in the prepared pan and bake for about 45 minutes, until it springs back when you press on the tallest part.
Allow the bundt cake to cool in the pan for 5-10 minutes and then flip over onto a plate or cake stand.**
Lemon Glaze
Whisk the powdered sugar and the lemon juice together until they're completely smooth.
Spread on top of cooled cake and allow to drip naturally.
Notes
*if you want to use actual lemonade replace the milk and lemon juice with 1 cup of lemonade and use only 1 1/2 cups (300g) of sugar instead of 2 cups.
**Don't let the cake cool in the pan longer or it will sweat on the top and get soggy and stick to the pan a little.
Recommended Products
As an Amazon Associate and member of other affiliate programs, I earn from qualifying purchases.
Nutrition Information:
Yield:
16
Serving Size:
1
Amount Per Serving:
Calories:

388
Total Fat:

15g
Saturated Fat:

8g
Trans Fat:

0g
Unsaturated Fat:

6g
Cholesterol:

92mg
Sodium:

212mg
Carbohydrates:

59g
Fiber:

1g
Sugar:

38g
Protein:

5g
Nutrition information may not be fully accurate.