Lemon Poppy Seed Cheesecake
This lemon poppy seed cheesecake is a graham cracker crust, a no-bake lemon poppy seed cheesecake filling and fresh whipped cream on top. Of course, for the 'cherry on top' I swirled some lemon curd on top of the whipped cream.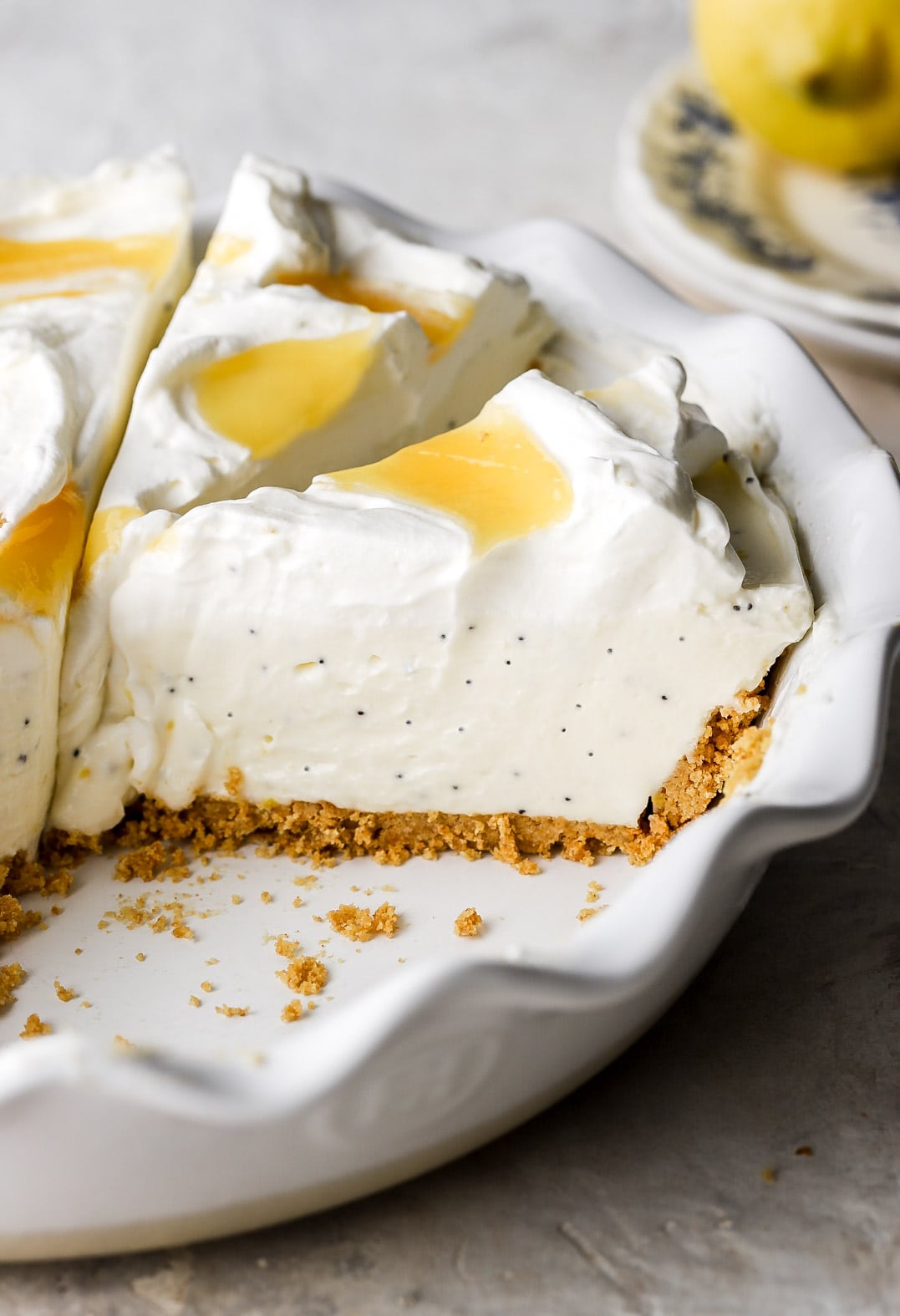 This lemon poppy seed cheesecake beauty got a serious glow-up. It's one of my oldest recipes on Baran Bakery and honestly, I forgot how good it was. I made only minor changes to the recipe (if you don't like it, email me and send you the old copy lol) and omg it is so much better than I remembered.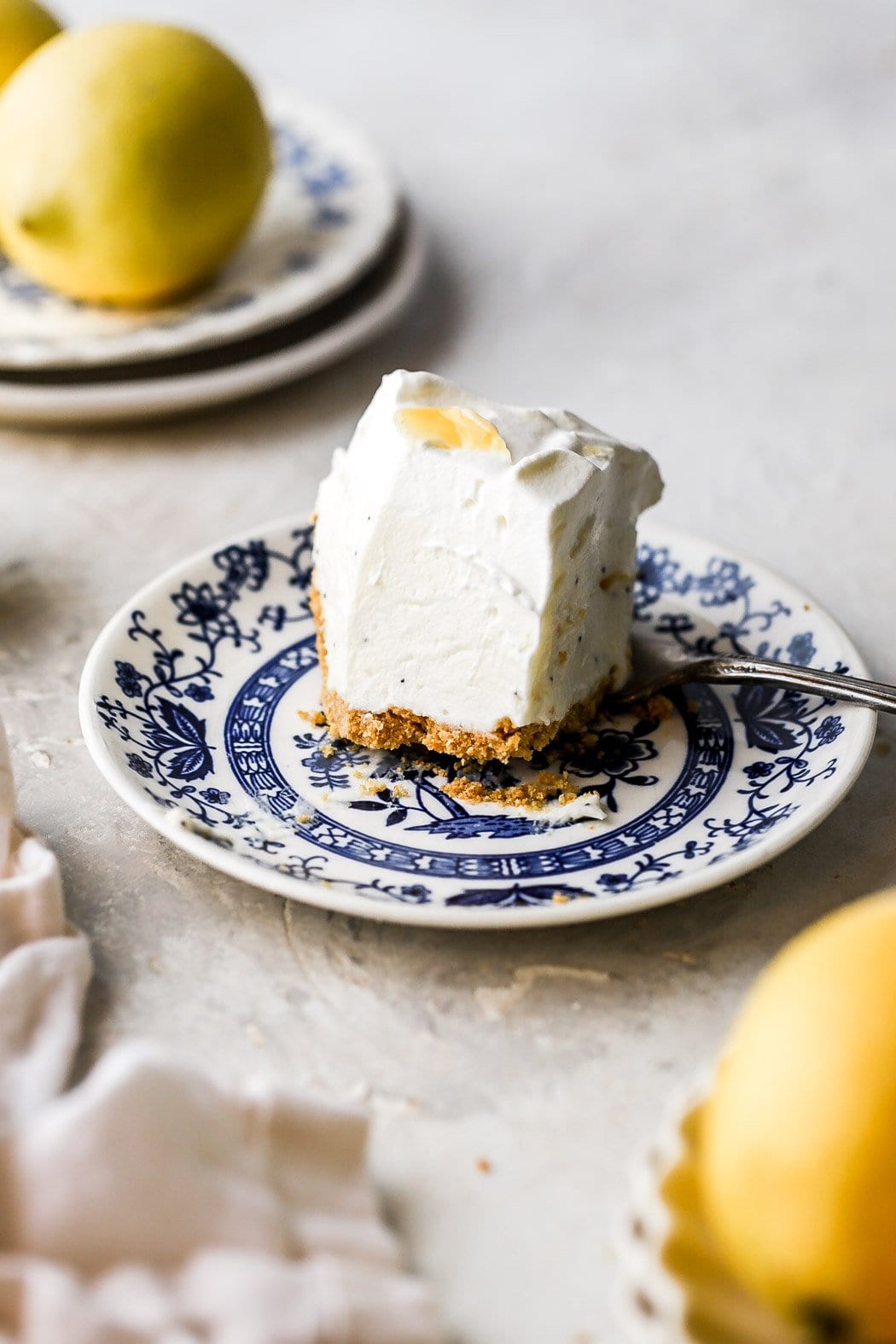 How to make lemon poppy seed cheesecake?
This lemon poppy seed cheesecake recipe is a no-bake cheesecake recipe which makes it the perfect dessert for summer. It's slightly tart and lemony, light and creamy, and super easy to make.
There's a graham cracker crust, a no-bake lemon poppy seed filling and fresh whipped cream on top. Of course, I had to swirl some lemon curd on top as well for both extra flavor and a good look. It's like "the cherry on top" but "the lemon top".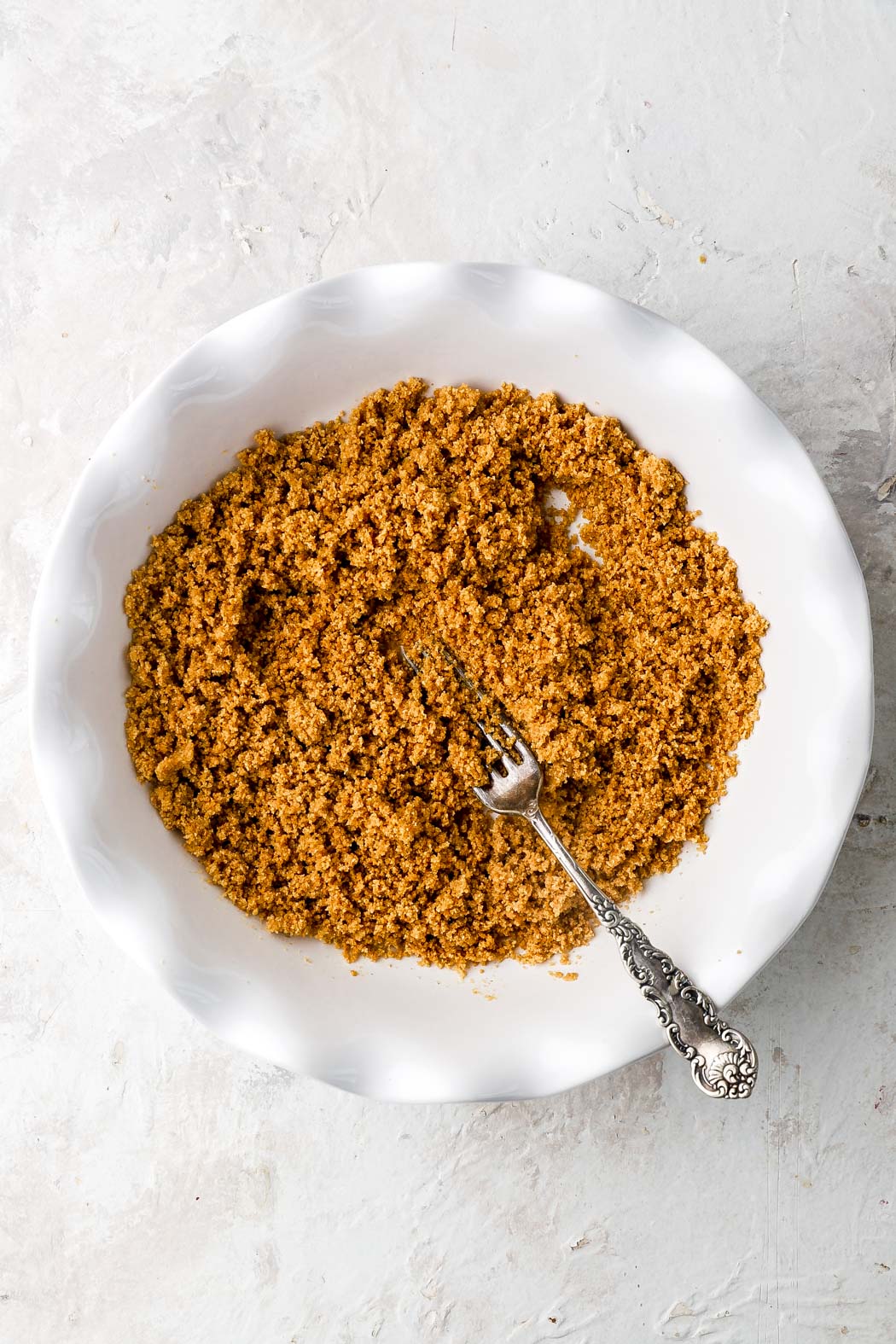 The crust
This is just a traditionally graham cracker crust. The graham crackers get finely crushed and then combined with ¼ cup butter until it sticks to itself when you press on it. Then firmly press the crust into the pan. Use a glass with a flat bottom to press it down straight so you have a smooth surface.
While you make the filling, freeze the crust so that it sets before pouring the filling on top.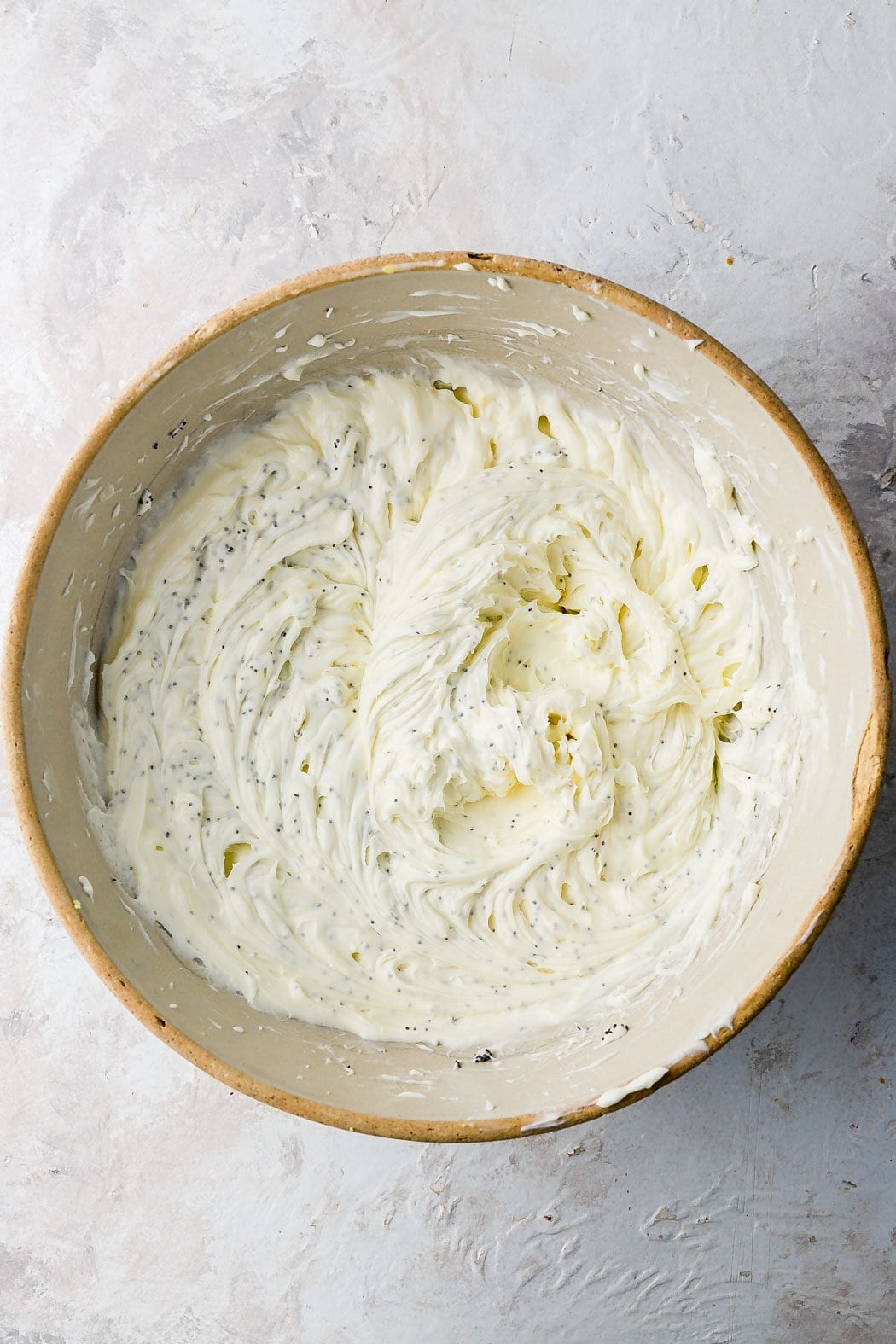 The cheesecake filling
Ok ya'll, this cheesecake cream recipe is as straightforward as it gets. In the original recipe, I just creamed the cream cheese with the sugar and then added in the sour cream, lemon juice and extract and poppy seeds.
I wanted to get rid of using the lemon extract so to bring out a more natural lemon flavor, I used two lemons. First zest the lemons and rub the lemon zest together with the sugar to release the oils. Then squeeze in the juice of both lemons, add the rest of the ingredients and beat them together until the batter is completely smooth.
A lot of no-bake cheesecake recipes include folding in whipped cream for an extra light texture but then requires gelatin to set because it's too soft. I skipped this all together and I love the way it turned out. It's thick and creamy but light and refreshing at the same time.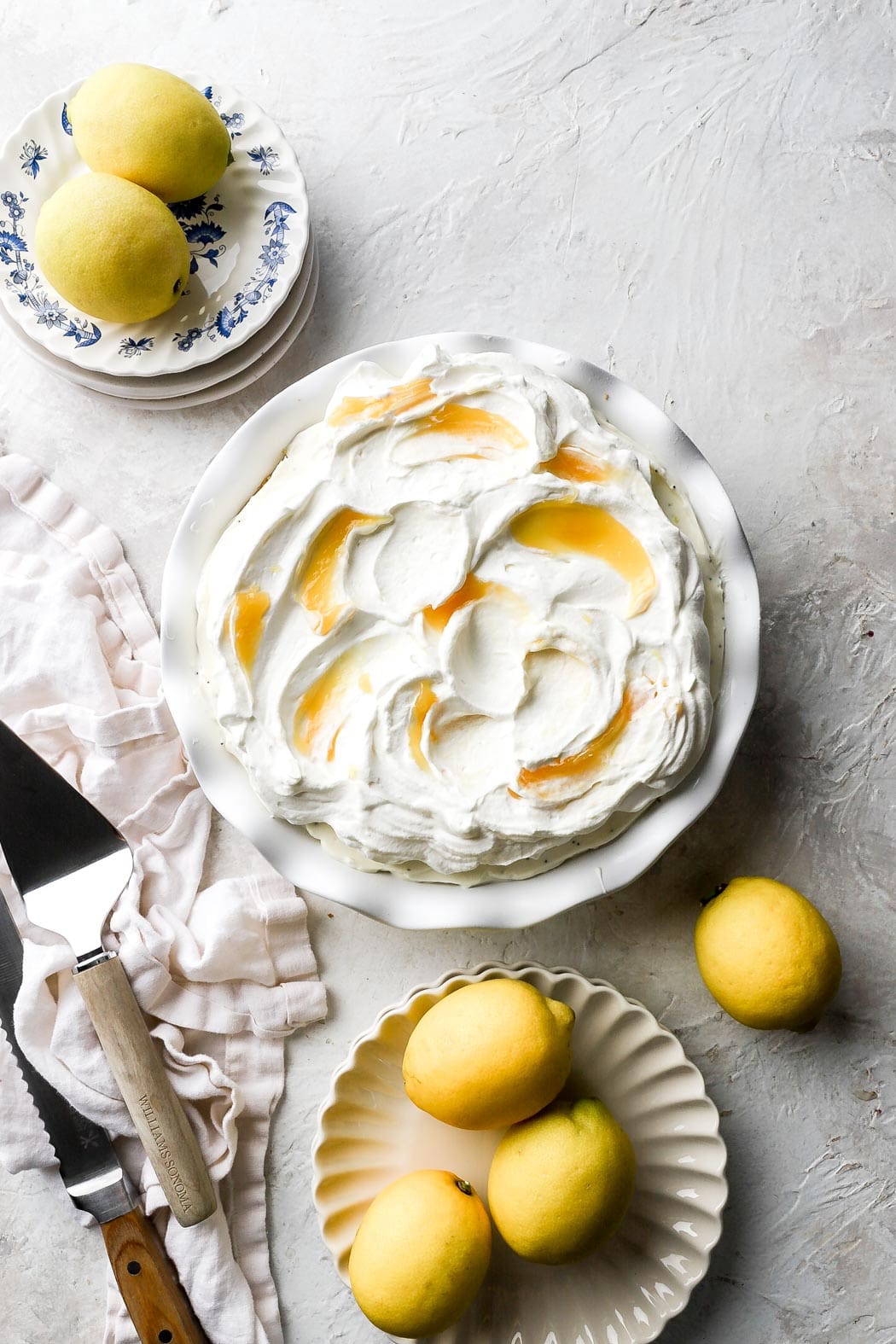 Ingredients:
Cream Cheese: make sure to use full-fat cream cheese. I have tried this with a low-fat cream cheese before (on accident actually lol) and it does not work. It won't set at all. I prefer the Philadelphia brand.
Yogurt: the original recipe called for sour cream. I use greek yogurt and sour cream pretty interchangeably so I swapped it for greek yogurt this time but either will do. Try not to use a low-fat sour cream or a yogurt that has a thinner consistency though.
Sugar: I just use granulated sugar and it should dissolve while you're beating it into the cream cheese.
Lemon: I wanted to use only fresh lemons in this recipe but the more lemon juice you add, the softer the filling will get and won't set up properly. I used the zest and juice of two medium lemons and I would not do anymore than that.

If you only have a large lemon, I would do 1 (or 1 ½). You can also add in ½ -1 Tbsp of lemon extract, which is what I had in the original recipe.
I also had 1 tsp of vanilla extract in the original recipe but I removed it because I didn't want it to take away from the lemon and poppy seed flavor. (Side note: I'm on a journey to not adding vanilla to everything I bake lol).

Poppy Seeds: I've only made this with blue or black poppy seeds and I've never tried white ones. Feel free to add more than one tablespoon if you'd like.
Fresh Whipped Cream
The original recipe called for one 8oz tub of cool whip (because that's all I knew back then) but I've since grown to appreciate making as much of a recipe from scratch as I can lol.
Pro Tip: I like to start mixing at low speed, then medium speed and when it's thickened a little I go to full speed. This way it doesn't splash around as much.
I added a little sour cream/greek yogurt to the whipped cream as well and swirled in some lemon curd on top (which I did not make from scratch because that's just doing too much now LOL). If you do want to make your own, my favorite recipe for lemon curd is in my lemon macarons post. 
The lemon curd is totally optional but honestly I don't think I'll ever make it again without it lol. It's sooo good and I wish I would've had some more poppy seeds to sprinkle on top but I ran out from testing my lemon poppy seed muffins so many times lol.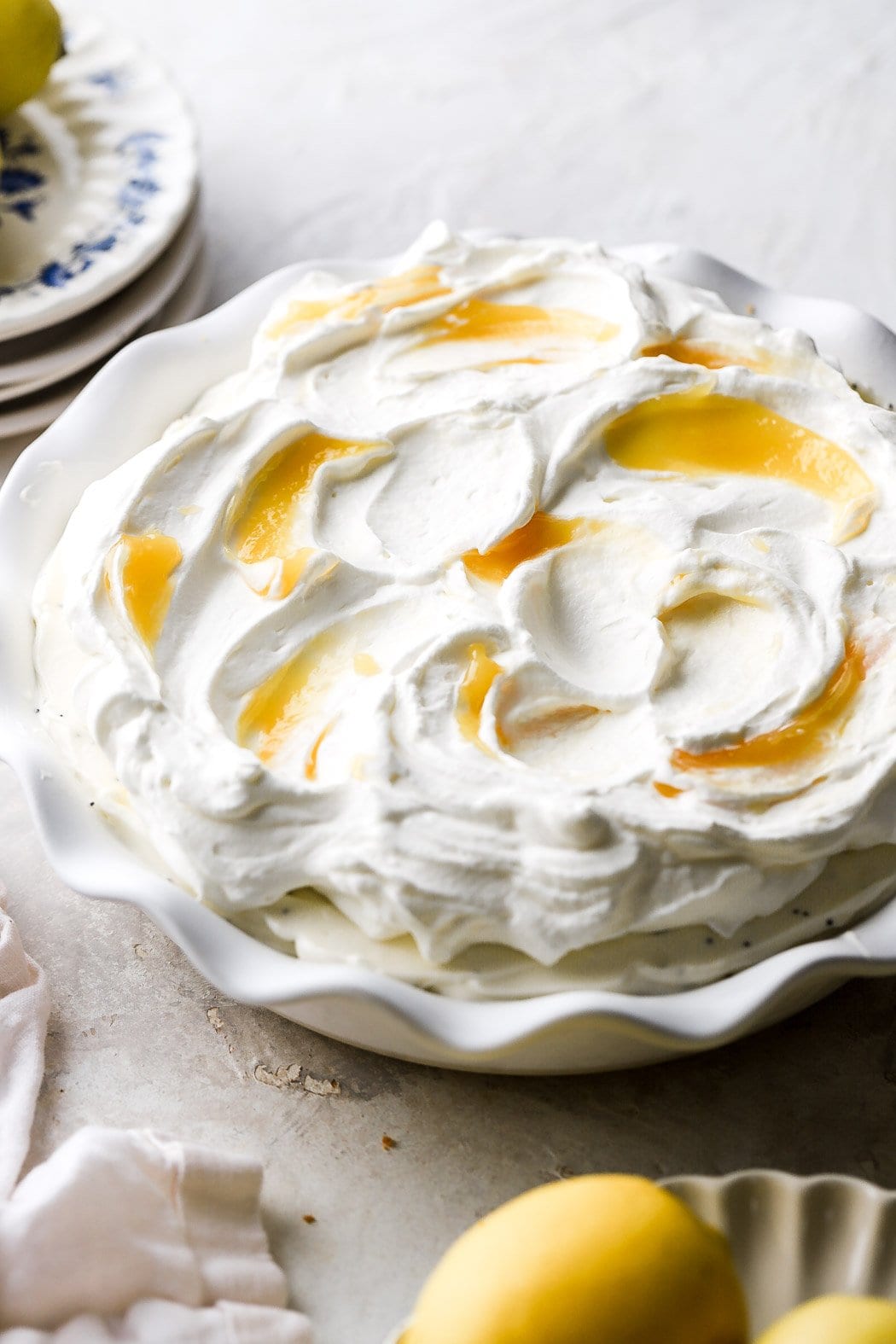 Frequently Asked Questions
Can I use store-bought pie crust?
Technically yes but I think it's a bit small for the filling amount. I would guess that this filling would probably even be enough for two of those pre-made pie crusts. 
Can I use store-bought whipped cream?
Yup! I would do an 8oz tub of cool whip but I don't recommend the canned whipped cream. 
Can I add lemon curd to the filling?! 
I thought about this after I made it and realized I missed out…you can totally mix in some lemon curd into the filling or just make swirls with it. I like the Dickinson's brand. 
How to store Lemon Poppy Seed Cheesecake
This lemon poppy seed cheesecake should be covered and stored in the refrigerator as much as possible. It's best served cold. If you can, make the whipped cream before serving, after the cheesecake has already been in the fridge for a few hours or overnight. This will help the whipped cream stay as fresh as possible.
Thanks so much for reading today's post, if you have any questions just comment down below. Make sure to leave it in the comment section because I can't answer in the rating section :).
If you make this Lemon Poppy Seed Cheesecake I would love to see it so make sure to tag me @baranbakery on instagram and check out my cookbook, Frosted.
As always, have a blessed day and happy baking!
Love, B
Yield: 10-14 servings
Lemon Poppy Seed Cheesecake Recipe
This lemon poppy seed cheesecake is a graham cracker crust, a no-bake lemon poppy seed cheesecake filling and fresh whipped cream on top. Of course, for the 'cherry on top' I swirled some lemon curd on top of the whipped cream. 
Total Time
6 hours
30 minutes
Ingredients
Graham Cracker Crust
1 package graham crackers
1/4 cup (56g) salted butter, melted
Lemon Poppy Seed Cheesecake
1 1/2 cup (300g) granulated sugar
2 medium lemons, zest and juice
32 oz (4 blocks) cream cheese, room temperature
1/2 cup (120g) greek yogurt/sour cream
1 Tbsp poppy seeds
Fresh Whipped Cream
1/4 cup (30g) powdered sugar, spooned and leveled
1 cup (237mL) heavy whipping cream, cold
2 Tbsp sour cream
lemon curd *optional
Instructions
Crust
Lay parchment on the bottom of a 9 inch springform pan and grease the sides for easy removal OR lightly grease a deep dish pie pan.
Using a food processor, crush the graham crackers until they are fine crumbs. Add the melted butter and pulse until it becomes crumbly.
Spread the mixture onto the bottom of the prepared pan evenly and press down until it all sticks together. Use a flat bottom glass to press down on the crust for a smooth surface.
Freeze while you make the filling.
Cheesecake
In a large bowl, add the granulated sugar and the lemon zest. Use your fingers to rub the lemon zest into the sugar to release the oils for a stronger flavor.
Juice the lemons and add the juice to the sugar, mixing until it's combined.
Add the cream cheese and yogurt and use an electric mixer to beat the cheesecake filling until it's smooth. This should take a few minutes, make sure to scrape the edge of the bowl every once in a while.
Add in the poppy seeds and mix until everything is combined.
Spread the filling over the prepared crust and refrigerate for at least 6 hours or overnight.
Topping
Before serving, in a large bowl or the bowl of a stand mixer add the powdered sugar and a few tablespoons of the heavy cream and whisk until it's combined.
Add the rest of the cream in and use an electric mixer to beat at low speed for a few seconds and then increase to high speed, until it's fluffy and just barely holds stiff peaks.
Add the yogurt/sour cream and mix until it's smooth. Spread the whipped cream on top of the cheesecake and swirl in some lemon curd on top.
It is best to refrigerate the cheesecake overnight. If that's not possible, refrigerate for about four hours before serving.
Recommended Products
As an Amazon Associate and member of other affiliate programs, I earn from qualifying purchases.
Nutrition Information:
Yield:
12
Serving Size:
1
Amount Per Serving:
Calories:

571
Total Fat:

41g
Saturated Fat:

24g
Trans Fat:

1g
Unsaturated Fat:

13g
Cholesterol:

139mg
Sodium:

333mg
Carbohydrates:

46g
Fiber:

1g
Sugar:

43g
Protein:

7g
Nutrition information may not be fully accurate.