This lazy cake is my take on the classic Romanian Salam De Biscuiti or UK chocolate biscuit cake. It's a cooked chocolate mixture poured over crushed animal crackers to make a cake-like texture and topped with dark chocolate ganache. Keep it simple vanilla or add rum, kahlua or bourbon.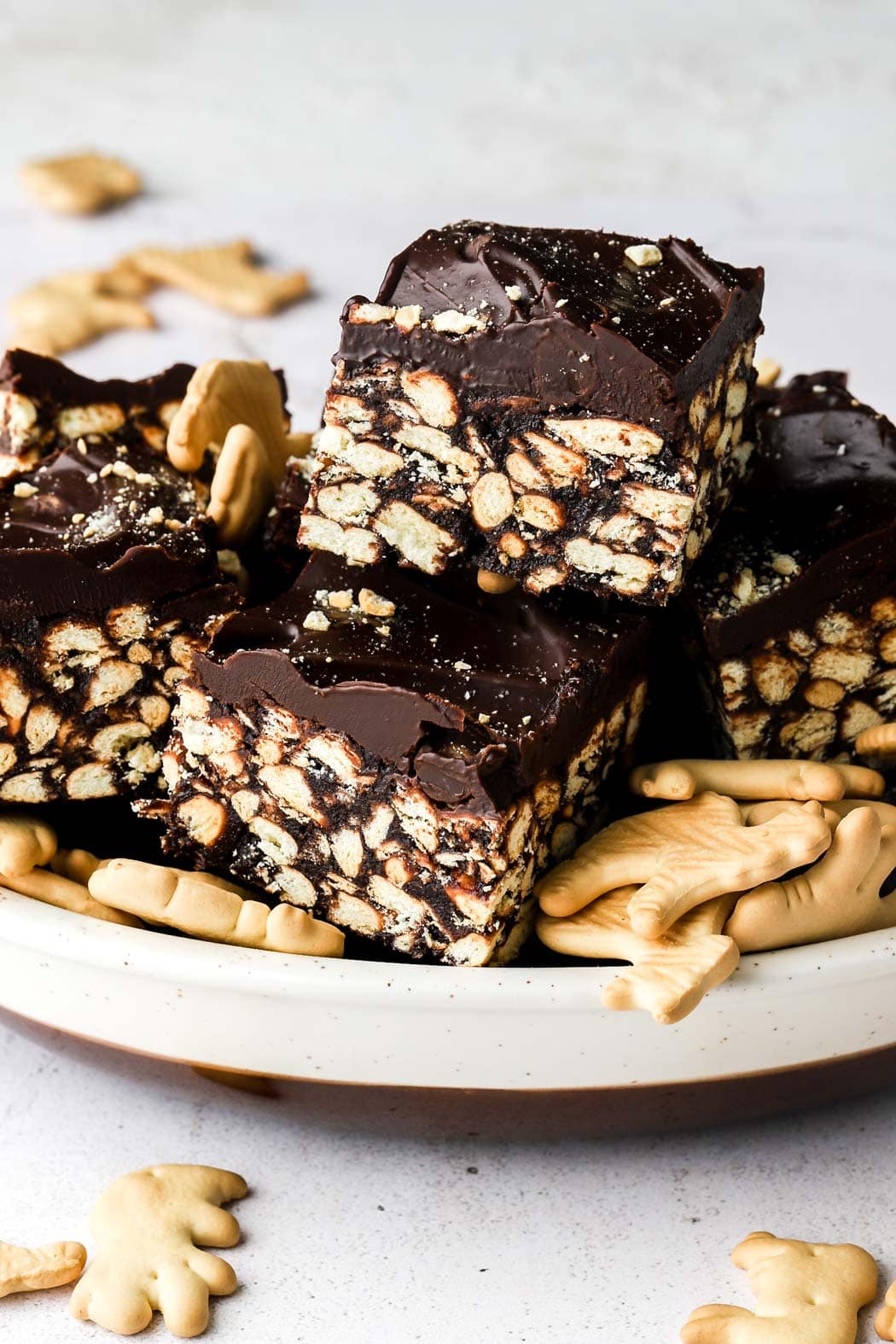 Friends. If you're European you've probably had these. I once thought they were specific to Romanians but I was wrong but then realized that other European and middle eastern cultures have a similar dessert. In the UK it's actually called a chocolate biscuit cake as well.
So for those who have no idea what I'm talking about, this is a super easy chocolate 'cake' recipe. It's traditionally made in a "salami" shape which I think is slightly unappetizing but nonetheless it is still very rich and delicious.
I made it much more appetizing by making it in a brownie pan. I also topped it with a dark chocolate ganache and some crushed animal crackers for extra visual appeal.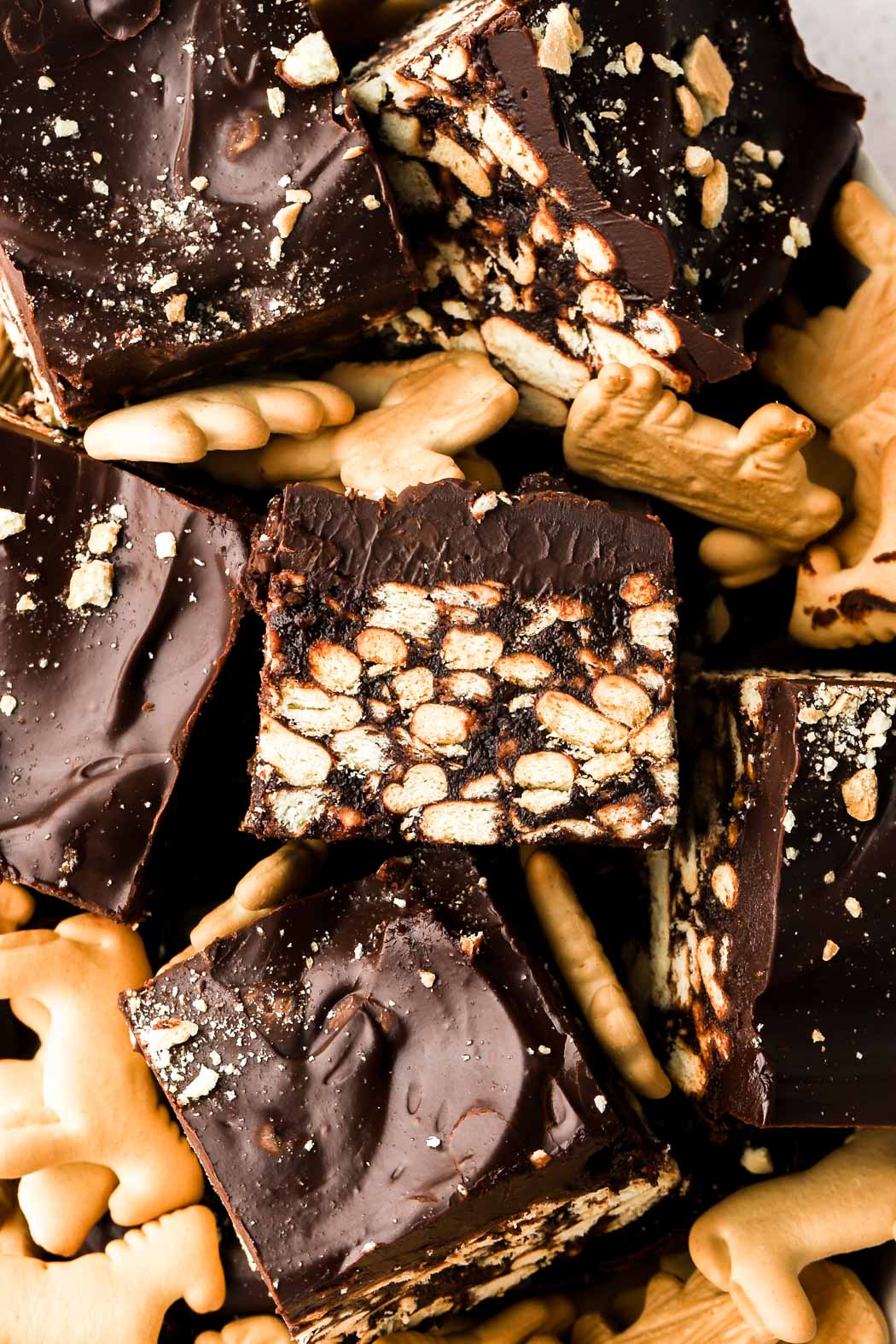 What is lazy cake?
Basically, it's like a no-bake brownie made with crushed animal crackers. Butter, sugar, cocoa powder and mix get boiled on the stove for 10 minutes and then the crushed animal crackers get folded in.
The animal crackers give it the structure since we're not using any flour or anything like that. However, you can also add whatever fill-ins your little heart desires. I like to keep it simple but some people may enjoy adding nuts, chocolate chips, raisins, etc.
My mom adds rum flavor but you can substitute this bourbon, amaretto or kahlua. Vanilla extract and almond extract are also a great substitute.
I also have this truffle version that I shared a while ago. & if you're looking for an actual chocolate cake recipe, I have this olive oil chocolate cake that is really easy.
If you're loving the dark rich chocolate flavor, my chocolate ganache cake is a true show-stopper.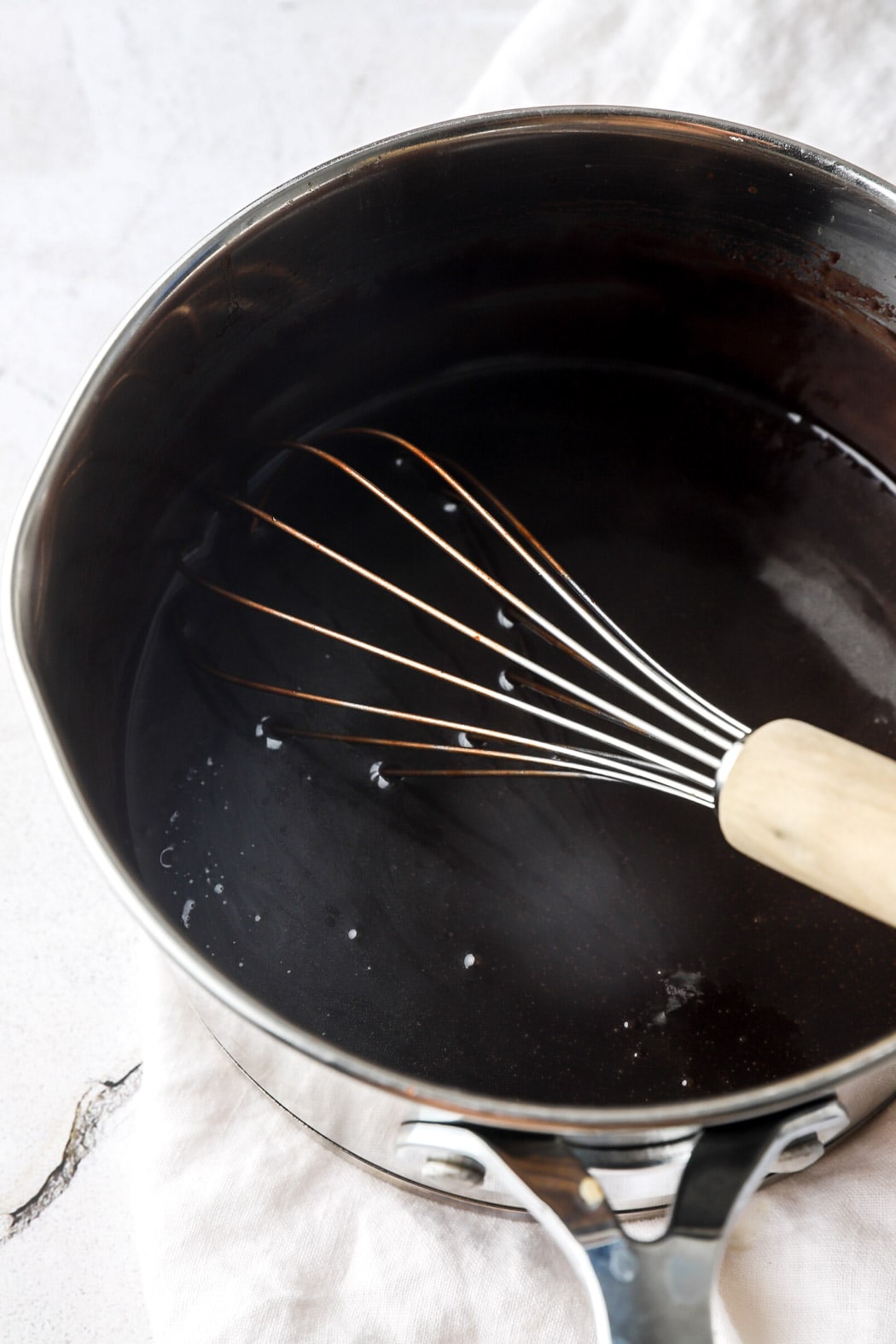 Ingredients for lazy cake
Butter: the butter gets melted so it doesn't matter if it's cold but it is quicker if the butter is already soft. I like salted butter but unsalted works too, just add an extra ¼ tsp of salt.
Sugar: I use granulated sugar in this recipe but brown sugar should work fine as well.
Cocoa Powder: the better quality your cocoa powder is, the better your cake will taste! My favorite is King Arthur Dutch Process Cocoa Powder or Rodelle Dutch Process Cocoa Powder. Don't use sweetened cocoa powder though!
Salt: salt brings out the flavor in all baked goods.
Milk: I use whole milk but any percentage of milk or dairy free milk works fine.
Animal crackers: I use the cheap kind because I've found that they all kind of taste the same when they're smothered with chocolate! Graham crackers and vanilla wafers should work well too.
Chocolate: you can use milk chocolate, semi-sweet chocolate or dark chocolate. I prefer dark chocolate for this recipe because I like it more rich than sweet..
Heavy Cream: you'll need heavy cream to make the ganache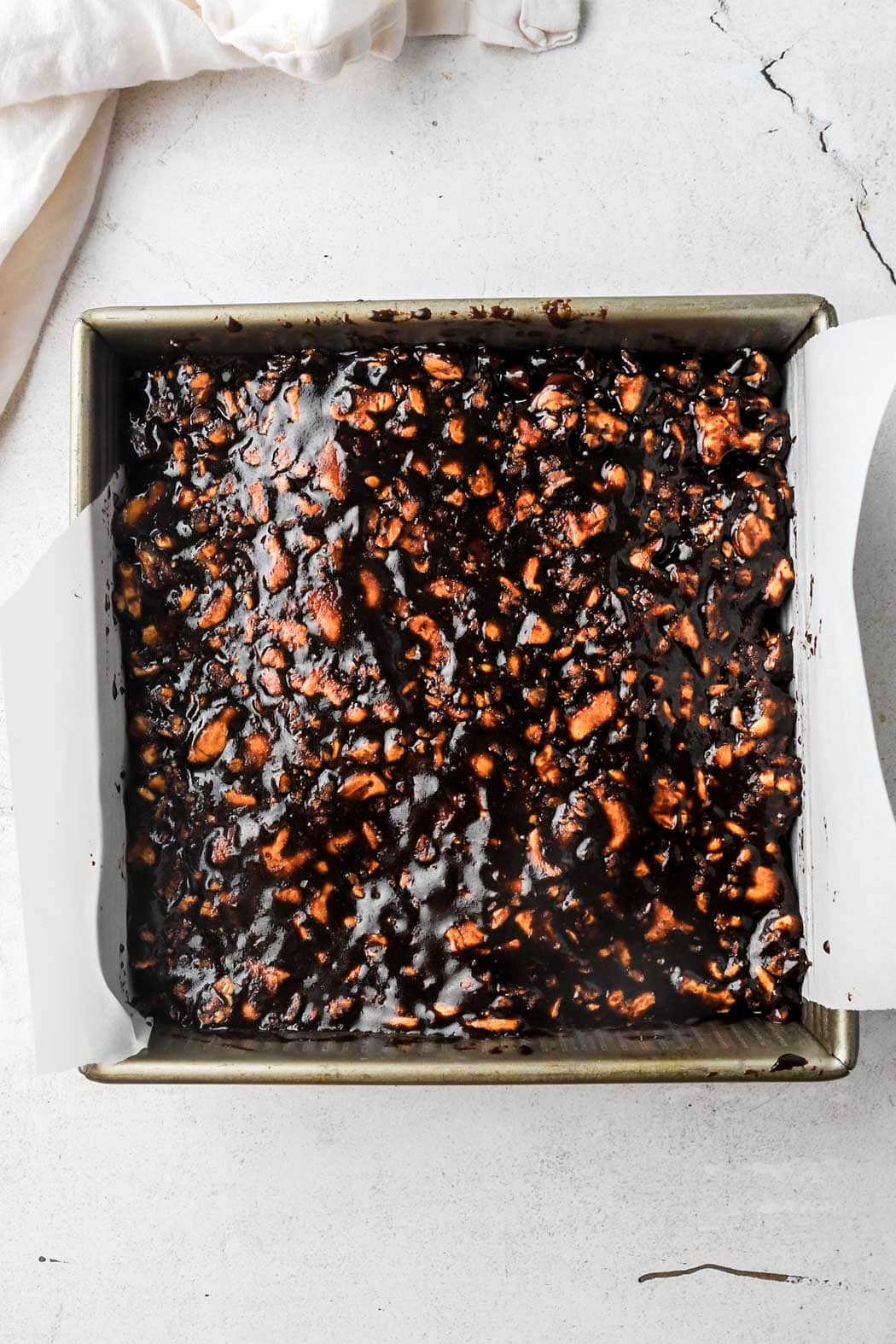 How to make this lazy cake recipe
You begin by heating the butter in a saucepan until it's melted.
Then add in the sugar and cocoa powder, stirring until they're well combined.
Slowly add the milk while whisking and then bring the mixture to a boil.
Continue to whisk for about 10 minutes, until it's just slightly thickened.
Remove from the heat, add in vanilla or other flavors and fold in the crushed animal crackers.
Spread into the prepared pan and refrigerate or freeze until it's set.
Heat the cream for the ganache and pour it over the chocolate chips.
Stir until the ganache is smooth and spread on top of lazy cake.
Top with animal cracker crumbs and/or pinch of sea salt flakes.
Sweetened condensed milk version
I tried making these eveeennnn lazier by using sweetened condensed milk. It works well but sweetened condensed milk isn't my favorite flavor and it gives a slightly sticker texture. If you want that version, it's SO EASY.
Just combine the ingredients in a bowl and fold in the crushed crackers. No need to cook the mixture!
1 cup (227g) melted butter
1 cup (80g) cocoa powder
1 can (14oz) sweetened condensed milk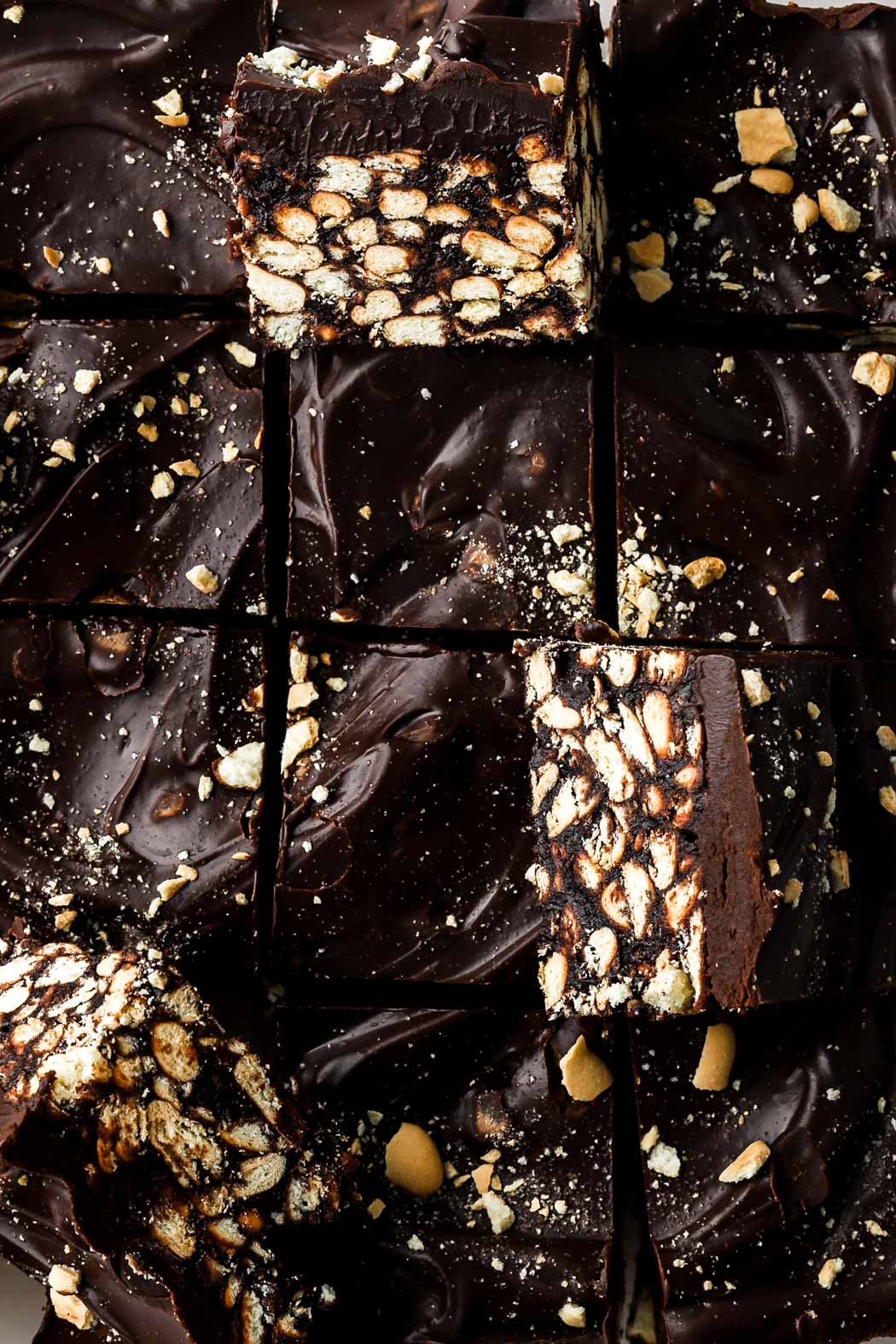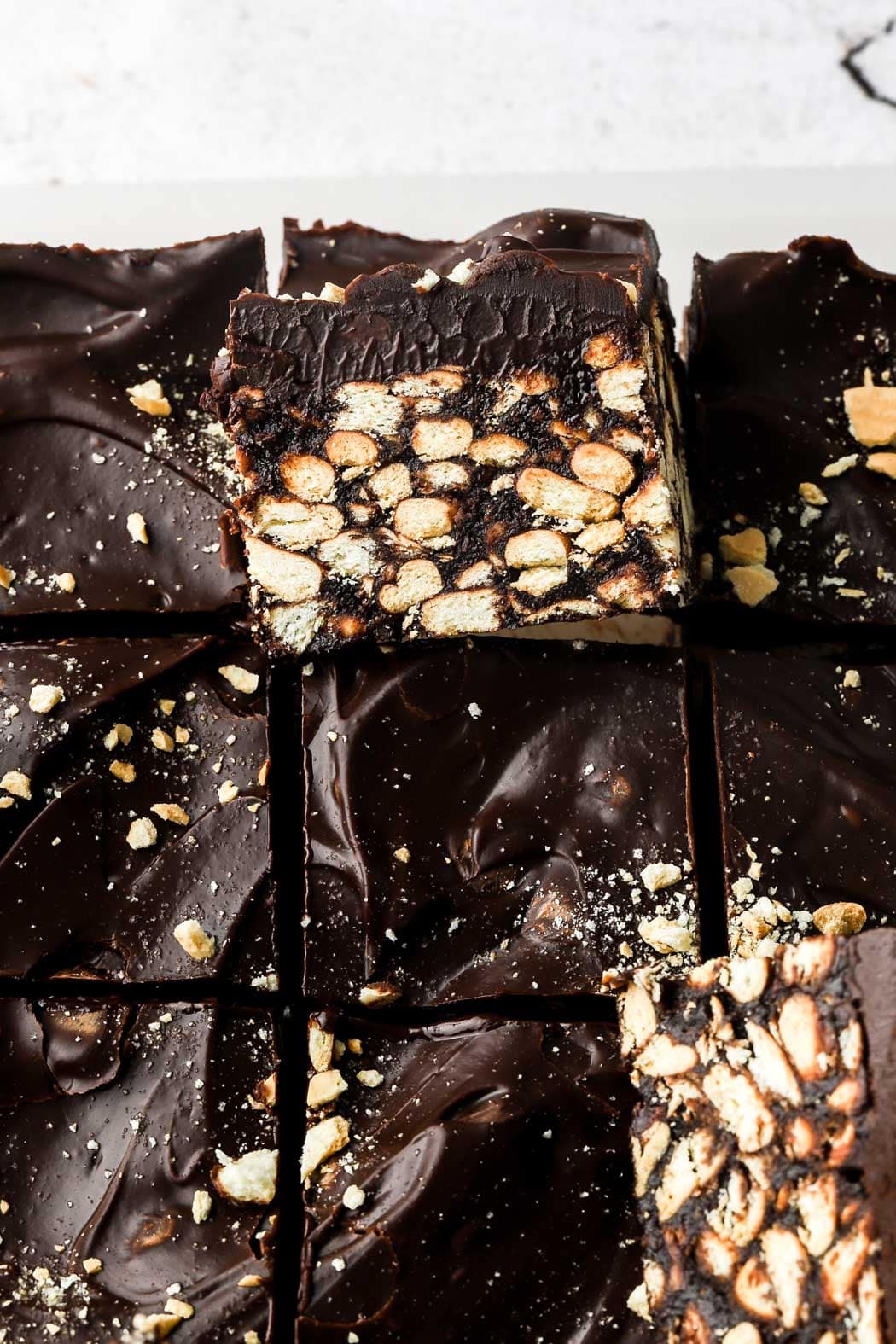 Can I make this dairy free?
Yup! Just use a vegan butter and dairy free milk and dairy free chocolate chips.
Can I make this gluten free?
Yup! Just use a gluten-free animal cracker or any gluten-free cracker you like.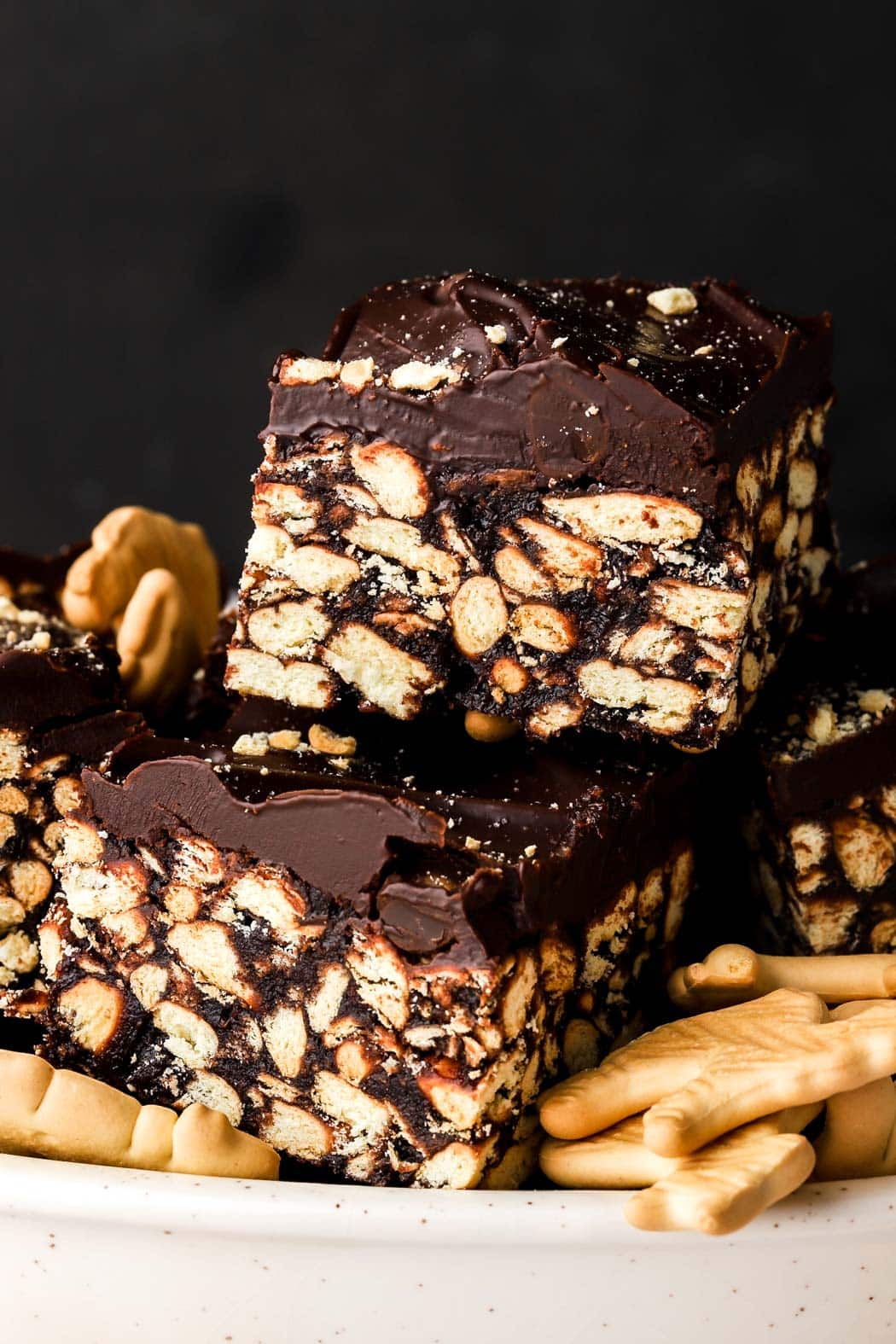 Can I change up the flavor?
Omg yes! I was thinking of adding ½ cup of peanut butter or cookie butter to the chocolate mixture and the ganache next time!
Can I make these in advance?
Yes, these stay amazing for days and they're especially great because they do better at warmer temperatures than other cakes with frostings.
How to serve and store lazy cake
This lazy cake needs a few hours to fully set before it'll slice smoothly. Once it's been chilled for a few hours, feel free to slice it and serve immediately. It can be served slightly chilled or at room temperature.
Lazy cake can be stored in an airtight container at room temperature for 3-4 days. Refrigerate it for 7-10 days or freeze it for 2-3 months.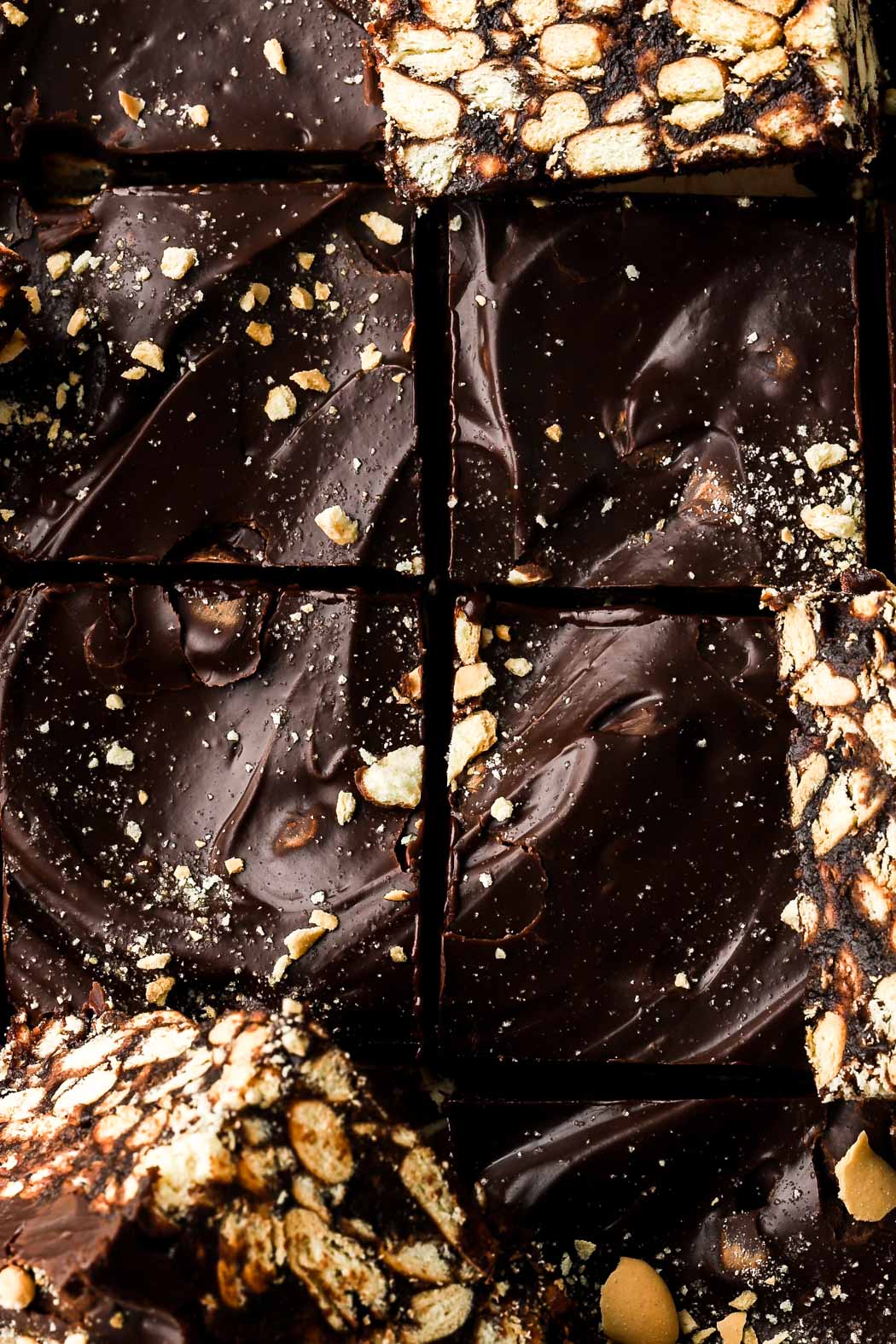 If you make this chocolate lazy cake, let me know what you guys think! Also make sure to tag me on instagram @baranbakery so I can see what you're making. As always, have a blessed day and happy baking!
Love, B
Yield: 16 large slices
Lazy Cake Recipe
This lazy cake is my take on the classic Romanian Salam De Biscuit. It's a cooked chocolate mixture poured over crushed animal crackers to make a cake like texture and topped with dark chocolate ganache. Keep it simple vanilla or add rum, kahlua or bourbon.
Total Time
4 hours
15 minutes
Ingredients
Cake
1 cup (227g) salted butter
1/2 cup (40g) unsweetened cocoa powder (I like dutch-process), spooned and leveled
1 cup (200g) granulated sugar
1 cup (8oz) whole milk
1 Tbsp vanilla extract (or 1-2 Tbsp of Rum, Kahluha, Amaretto, etc.)
425g animal crackers, roughly chopped (pulsed leaving chunky pieces)
Ganache
1 cup (6oz) dark chocolate
1/2 cup (4oz) heavy whipping cream
Instructions
Cake
Line an 8 inch square pan with parchment paper, leaving an overhang for easy removal. Secure it with binder clips.
In a medium saucepan over medium heat, melt the butter.
Add the cocoa powder and granulated sugar and whisk until they're combined and smooth.
Add the milk and whisk frequently (not aggressively) for about 5 minutes. Around five minutes the mixture should begin to boil, whisk frequently for another 10 minutes.
The mixture thickens a little but not significantly. Remove from the heat and add the vanilla extract or other flavorings.
Fold in the animal crackers and spread into the prepared pan. Refrigerate or freeze for at least an hour.
Ganache
Place the chocolate chips in a medium size bowl and set aside.
Place the cream in a small saucepan, over medium-low heat, and bring to a gentle simmer.
Swirl the pan to make sure it is heating evenly. You want the edge of the cream to be bubbling, not the whole cream boiling.
Pour the cream over the chocolate chips and cover with a lid for 2-3 minutes. Then slowly stir the chocolate and cream until they're smooth and combined.
Spread on top of the cooled 'cake' and top with more animal cracker crumbs.
Refrigerate for at least 2-3 hours, until it feels firm enough to slice.
Notes
*you can use any kind of cracker, like animal crackers, vanilla wafers, graham crackers, etc.
Recommended Products
As an Amazon Associate and member of other affiliate programs, I earn from qualifying purchases.
Nutrition Information:
Yield:
16
Serving Size:
1
Amount Per Serving:
Calories:

394
Total Fat:

23g
Saturated Fat:

13g
Trans Fat:

1g
Unsaturated Fat:

8g
Cholesterol:

42mg
Sodium:

228mg
Carbohydrates:

44g
Fiber:

2g
Sugar:

27g
Protein:

3g
Nutrition information may not be fully accurate.