Chocolate Animal Cracker Truffles (Salam de Biscuiti)
Once upon a time these were known as salam de biscuiti, now they're chocolate animal cracker truffles. It's chocolate mixture poured over crushed animal crackers, rolled into balls and dipped in sweet chocolate!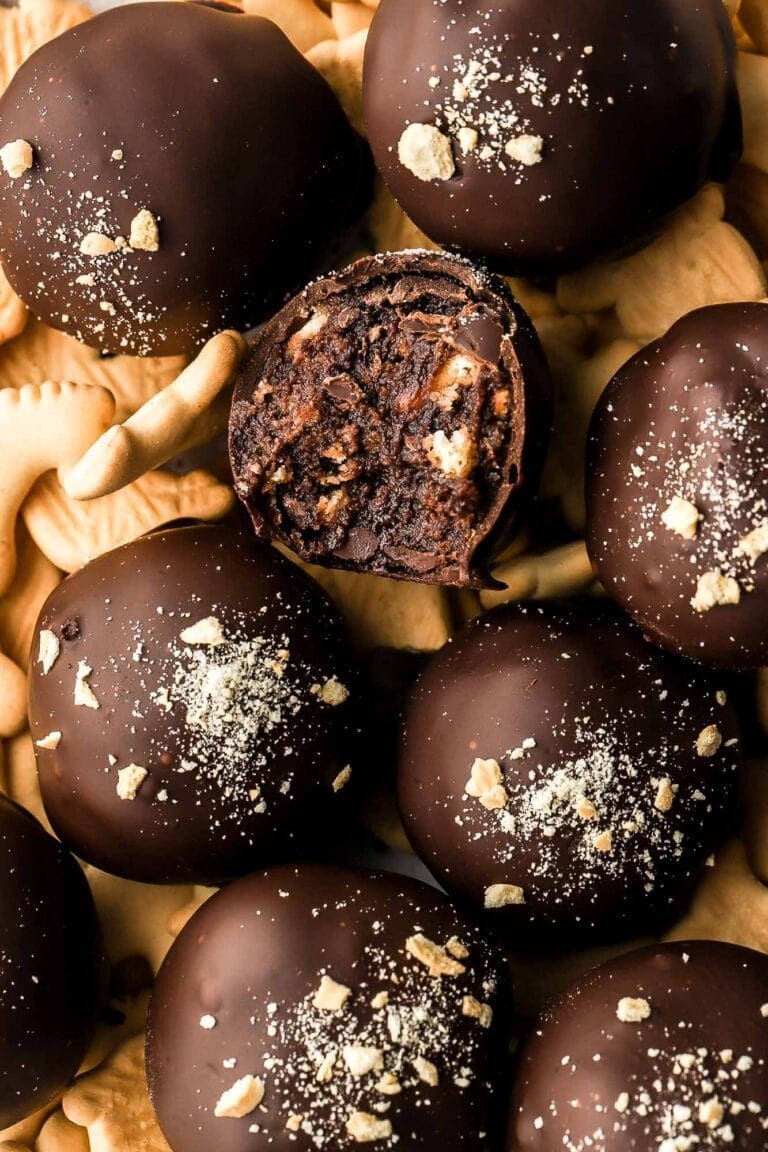 Friends. If you're European you've probably had these. I once thought they were specific to Romanians but I was wrong. I recently realized that other cultures have a similar type of dessert.
So for those who have no idea what I'm talking about, this is a super easy and delicious chocolate recipe. I made it more appetizing by turning it into animal cracker chocolate truffles.
The first time we made these was like five years ago at my engagement party. I wanted cake pops & of course my mother wanted something more Romanian so we found a happy medium. &&&& let me tell you! People went crazy over these.
They were the first dessert to go & people found my secret stash & ate those too! With such a big hit, I have no idea why we haven't made them again until now.
I also have this cake version that makes this recipe so much quicker! & if you're looking for truffles, these cookie dough ones are so good and so are these peanut butter truffles.
What are animal cracker trufflees?
Basically, it's like a no-bake brownie made with crushed animal crackers. It's got the regular, butter, sugar, cocoa powder, etc. 
You can also add whatever fill-ins your little heart desires. I like to keep it simple but some people may enjoy adding nuts, chocolate chips, raisins, etc.
My mom adds rum flavor to her chocolate truffles but you can substitute this. Vanilla extract, almond extract or even some amaretto would be a good substitute.
How to make animal cracker truffles
You'll be surprised at how easy these are to make. Granted they're not crushed Oreos with cream cheese easy but they're worth the extra effort.
You begin by bringing the milk, water and sugar to a boil. Then you add in the butter, cocoa powder, vanilla and coffee. Whisk the mixture intermittently while it continues to boil for at least five minutes. Now you remove the mixture from heat and add in the crushed animal crackers.
The mixture will thicken as it cools. Once completely cooled, use a small cookie scoop to roll into balls. After rolling, freeze them for at least thirty minutes. This will make them easier to work with while dunking them into melted chocolate.
How to melt chocolate?
Melting chocolate can be rocket science. That's not a joke, I'm being totally serious. You don't want to know how many times I've burned chocolate.
The quickest is by microwaving at 10-20 second intervals, stirring between each interval. This is risky, as chocolate burns very quickly. If you think it got too hot, quickly add more chocolate to bring the temperature down a little.
The most effective way is to make a double boiler. Place the chocolate in a medium heat proof bowl and place the bowl over a small saucepan with 1/2 cup of water in it. Bring the water to a boil and then lower it to a simmer. Stir the chocolate over the steam of the simmering water but don't let the water touch the bowl of chocolate. This may take more time but it is less likely to burn.
How to serve and store truffles
These truffles are a little bit soft so they're best served cold or slightly chilled. Store refrigerated in an airtight container for up to a week.
To freeze them, place them in an airtight container and place the container in a freezer bag, squeezing out all the excess air. Thaw in the refrigerator overnight.
I promise you won't regret making these animal cracker chocolate truffles, especially if you are a chocolate lover. They're the easiest & best truffles ever! If you make these, let me know what you guys think! Also make sure to tag me on instagram @baranbakery so I can see what you're making. As always, have a blessed day and happy baking!
Love, B
Yield: 35
Animal Cracker Chocolate Truffles Recipe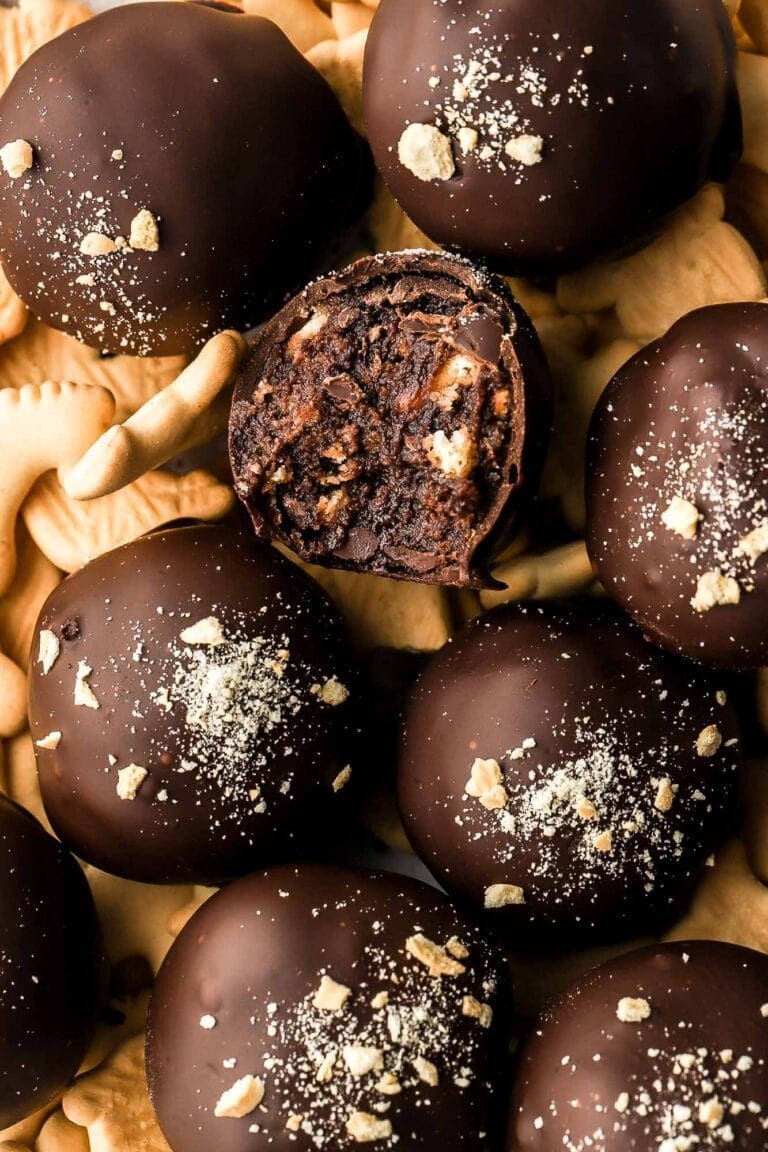 Once salami de biscuiti, now a chocolate animal cracker truffle. Easy, delicious, nostalgic!
Total Time
1 hour
57 minutes
Ingredients
Truffles
1 cup (237mL) milk
1 cup (237mL) water
1 cup (200g) granulated sugar
3 cups (8 oz) animal crackers, crushed
1/2 cup (113g) unsalted butter
1/2 cup (40g) Dutch process cocoa powder, spooned and leveled
1 tsp salt
1 tsp vanilla extract
1 tsp espresso powder *optional
Chocolate Coating
1 1/2 cup (9oz) semisweet or dark chocolate chips
2 tsp (30mL) coconut oil
Instructions
Truffles
In a large pot, over high heat, bring the milk, water and sugar to a boil and then reduce the heat to medium-low and let it simmer for about 8 minutes.
Meanwhile, crush the animal crackers into small chunks, no bigger than a peanut.
Add the butter, cocoa powder, salt, vanilla extract and espresso powder to the boiling mixture, whisking intermittently while cooking for another 5 minutes.
Remove the mixture from the heat and stir in the animal crackers. The mixture should have gotten a little bit thicker and will thicken more as it's cooling.
Allow it to cool completely and then use a small (1 inch) cookie scooper to scoop out rounds and form into balls. Once rolled, freeze them for about 30 minutes so they're easier to work with.
Chocolate Coating
Melt the chocolate and coconut oil together and then dip the balls into the chocolate. Before the chocolate sets, top with extra animal cracker crumbs.
Refrigerate for about 30 minutes to let them set. Serve cold or slightly chilled.
Notes
Store refrigerated in an airtight container for up to a week.
Recommended Products
As an Amazon Associate and member of other affiliate programs, I earn from qualifying purchases.
Nutrition Information:
Yield:
35
Serving Size:
1
Amount Per Serving:
Calories:

197
Total Fat:

9g
Saturated Fat:

5g
Trans Fat:

0g
Unsaturated Fat:

4g
Cholesterol:

8mg
Sodium:

98mg
Carbohydrates:

27g
Fiber:

1g
Sugar:

15g
Protein:

2g
Nutrition information may not be fully accurate.