This dark chocolate ice cream is a super rich, fudge-y dark chocolate no-churn ice cream with dark chocolate ganache swirled throughout and topped with flakey sea salt.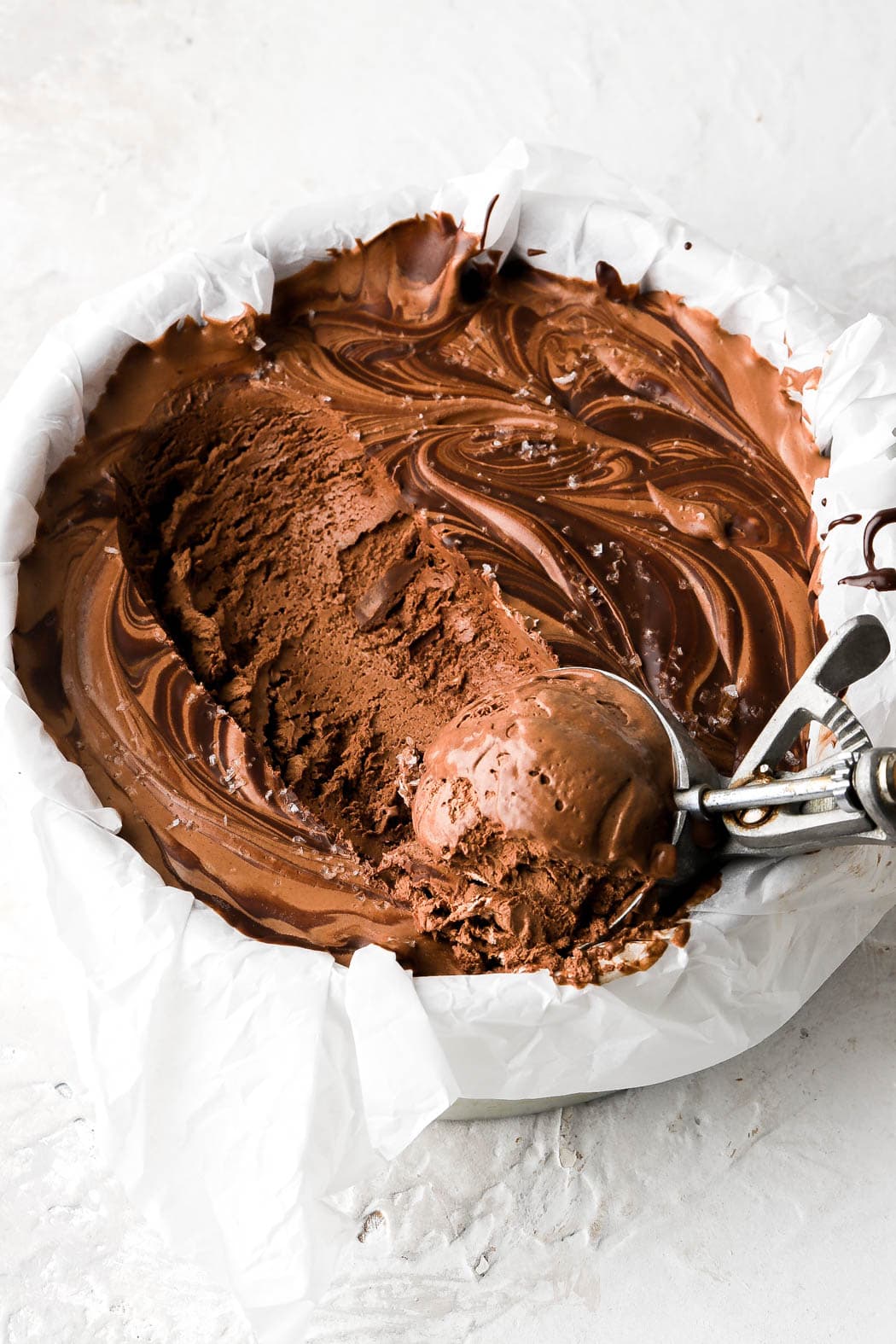 It's summer and I've been on a major homemade ice cream streak so I have some new recipes for ya. I love this easy no-churn recipe that can be adapted into basically any flavor! My good friend, Heather Templeton wrote a WHOLE COOKBOOK on no-churn ice cream.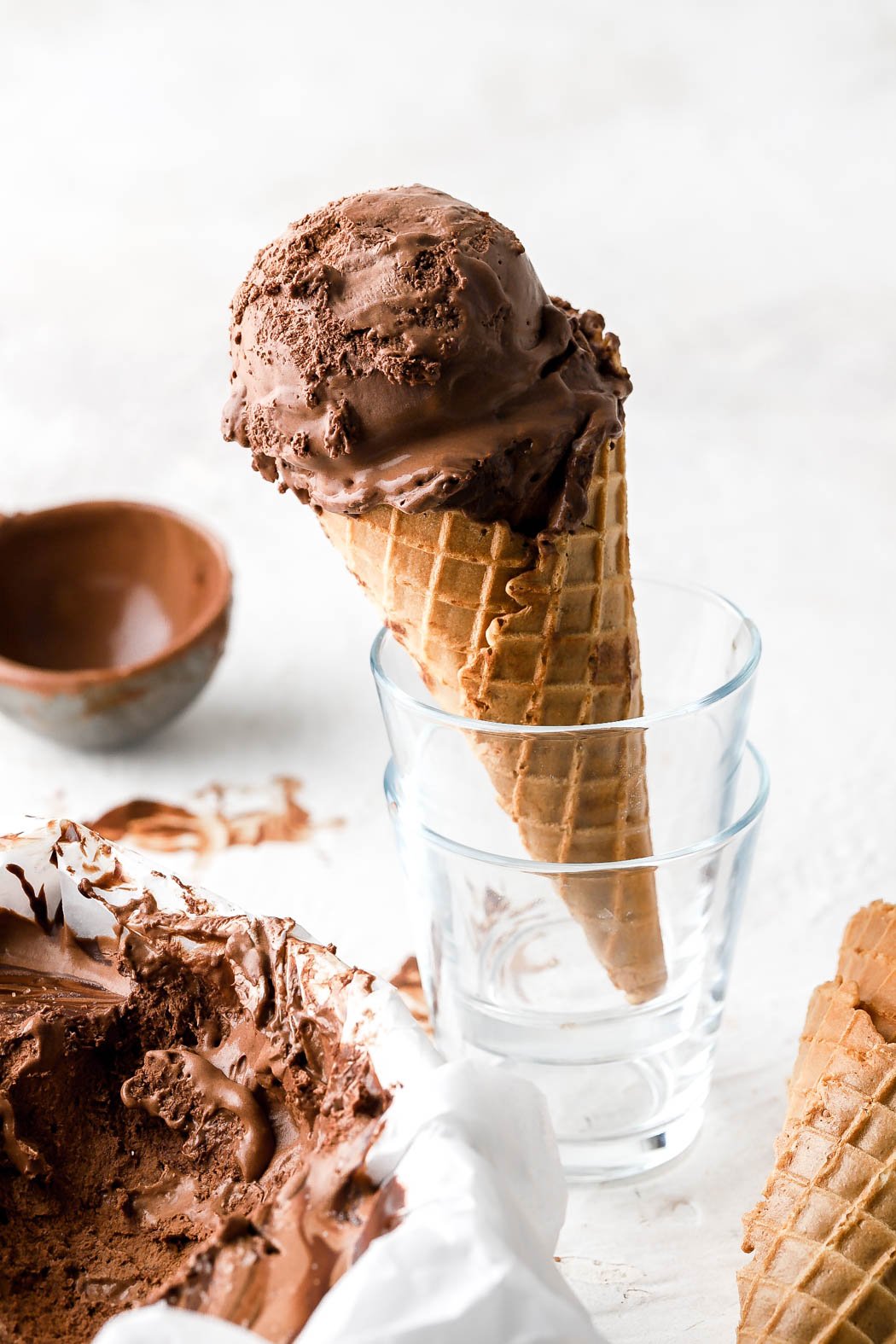 Why is this the best dark chocolate ice cream?!
This no-churn homemade ice cream recipe is SO QUICK & EASY to make! I love it because the texture is extra creamy and it doesn't freeze as solid as some other ice cream recipes. It also only uses like 3 ingredients for the ice cream base!!
Most homemade ice creams are made with a custard base using egg yolks and an ice cream maker. If I'm being honest I just think it's too much prep work and I ALWAYS FORGET TO FREEZE MY ICE CREAM MAKER IN ADVANCE!
I incorporated chocolate in three different ways to make sure it comes through as VERY rich and dark chocolate. 
I also made a chocolate marshmallow version, a caramel cheesecake ice cream, s'mores brownie ice cream and a cookie monster ice cream!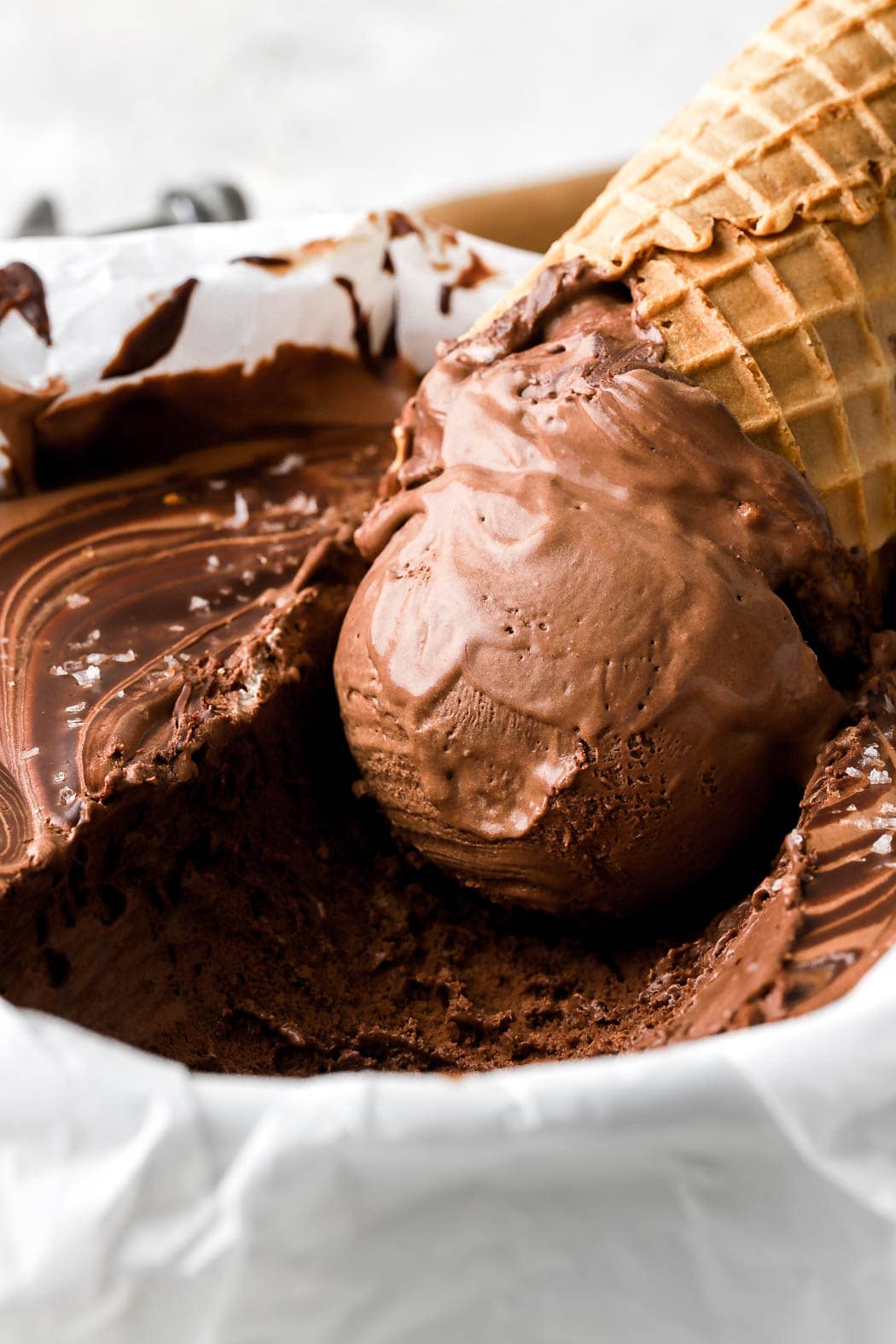 Ingredients
Coffee: I used hot espresso to "bloom" my cocoa powder. If you don't have espresso you can use regular hot coffee. If you don't want to use coffee, you can use hot water.
Cocoa powder: I used dutch-process cocoa powder for a dark and more intense chocolate flavor and color. I also "bloomed it" which means to mix the cocoa powder with hot liquid to bring out a more intense cocoa flavor.
Chocolate: I used Trader Joe's pound dark chocolate. Chocolate bars have less stabilizers so I like using them for ice cream, I feel like it keeps it more creamy. I also recommend using dark or bittersweet
Sweetened Condensed Milk: this is what sweetens the ice cream and makes it super creamy.
Heavy Whipping Cream: this gets whipped into fresh whipped cream and makes the ice cream super light and fluffy.
Salt: I am a die hard salted chocolate fan (salted anything actually lol) so I topped my ice cream with a generous amount of flakey sea salt (linked in the recipe card).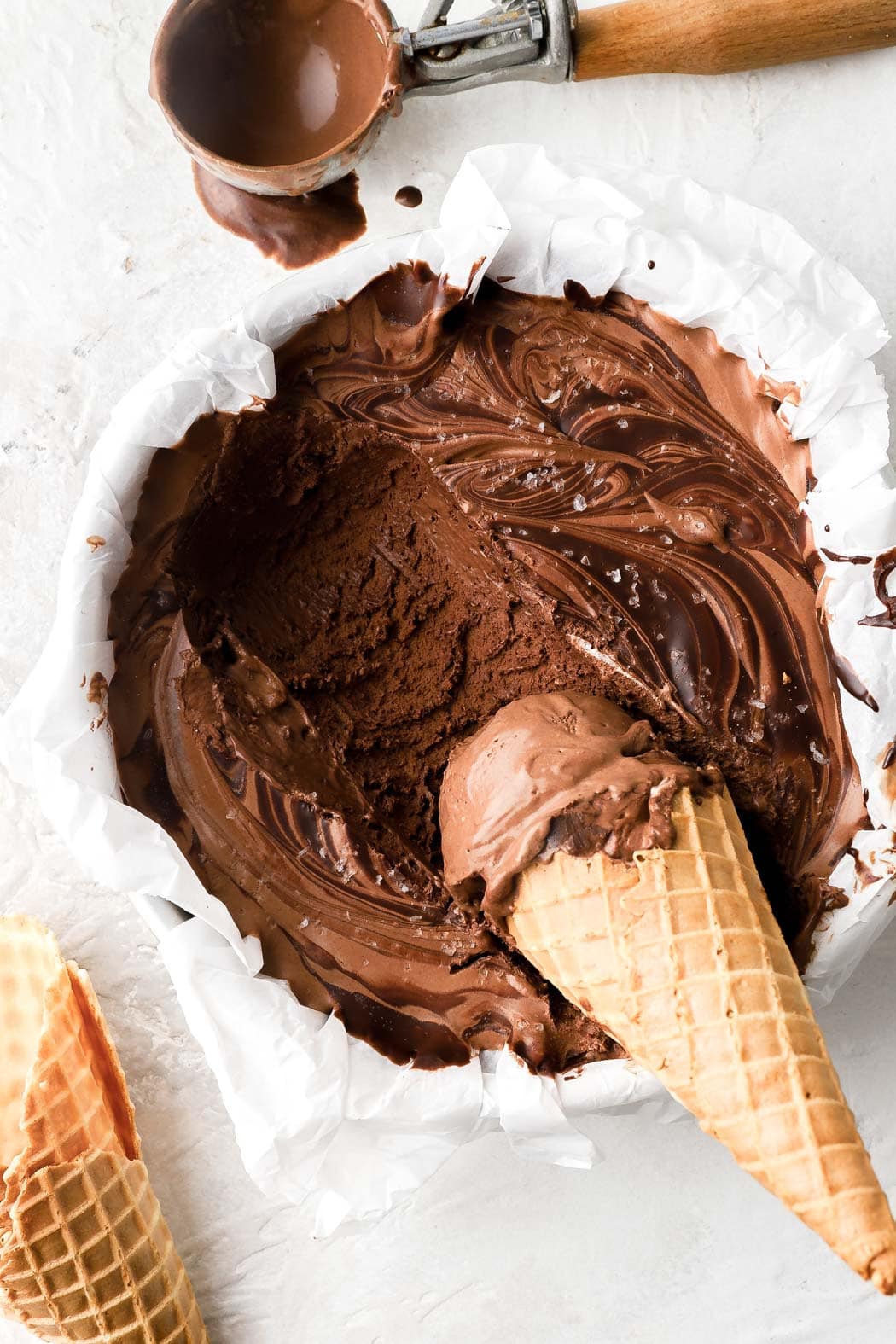 Step-by-Step Instructions
STEP 1 – Make the ganache: pour simmering heavy cream over another bowl of chocolate chips, let it rest and then stir gently until it's smooth.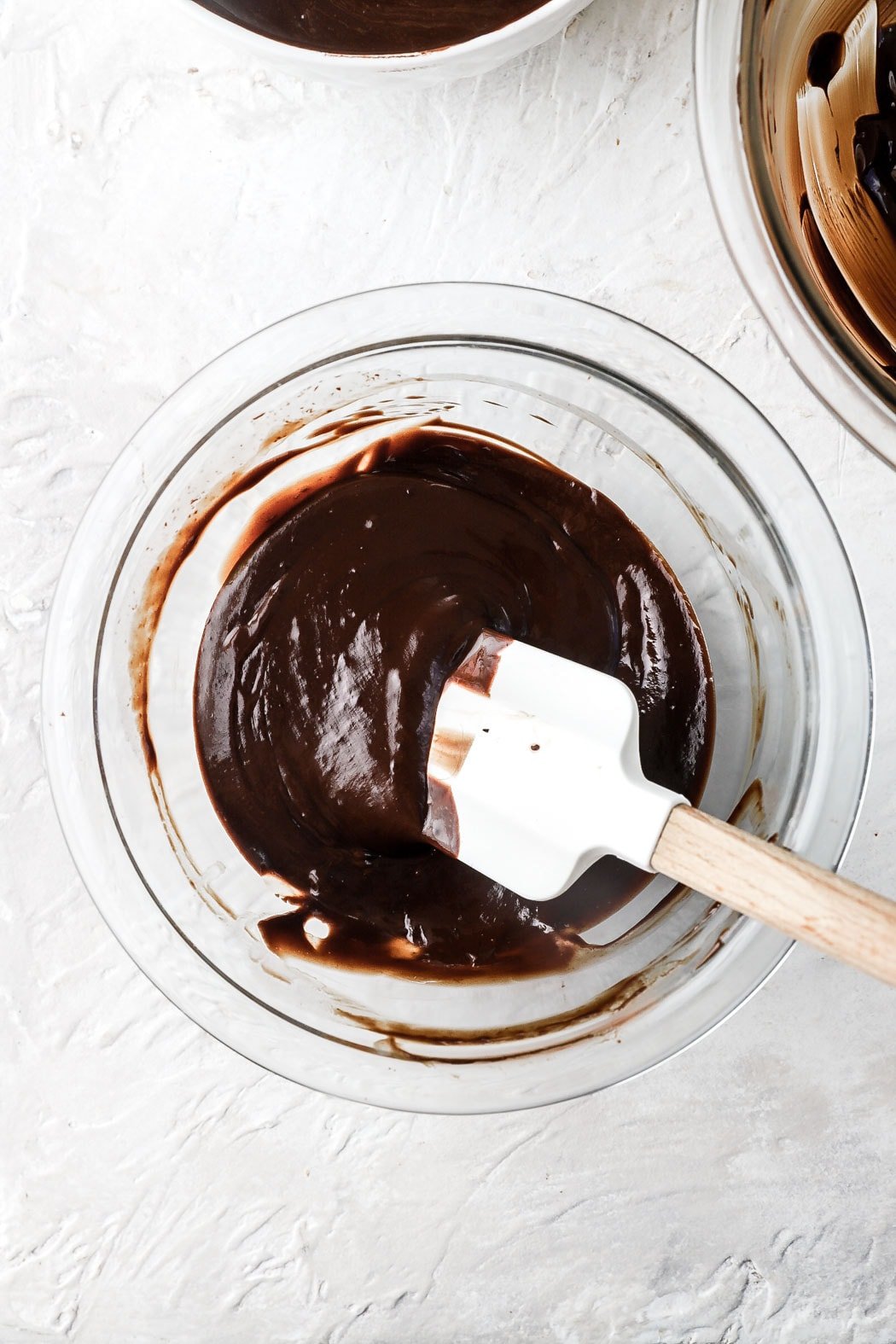 STEP 2 – Bloom the cocoa: Combine the cocoa powder with the hot coffee and let it cool.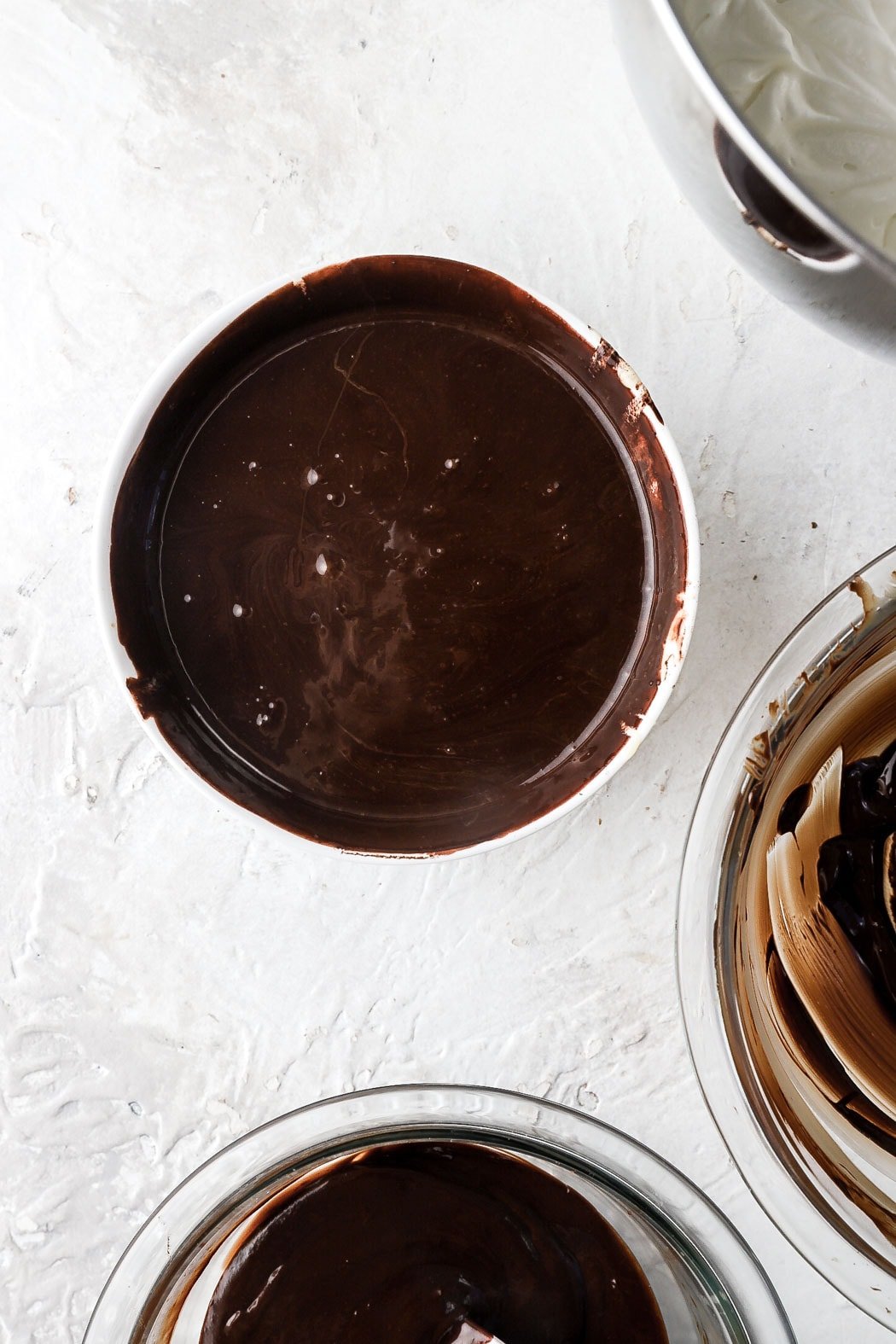 STEP 3 – Melt the chocolate: Melt the chopped chocolate in the microwave (or a double boiler) on 15 second intervals, stirring between each one until it's smooth. Let it cool a little.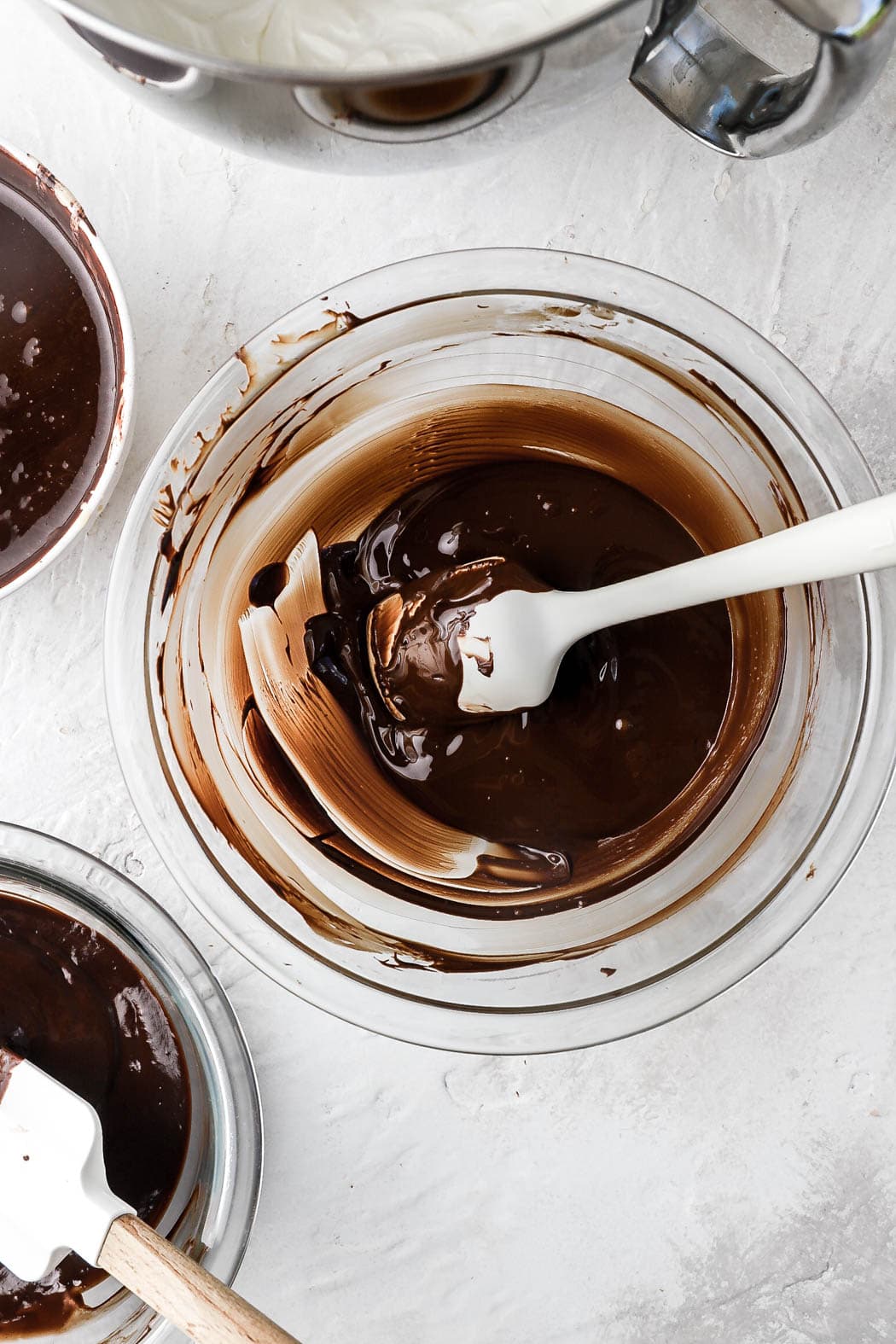 STEP 4 – Whip the cream: Whip the cream until it forms stiff peaks.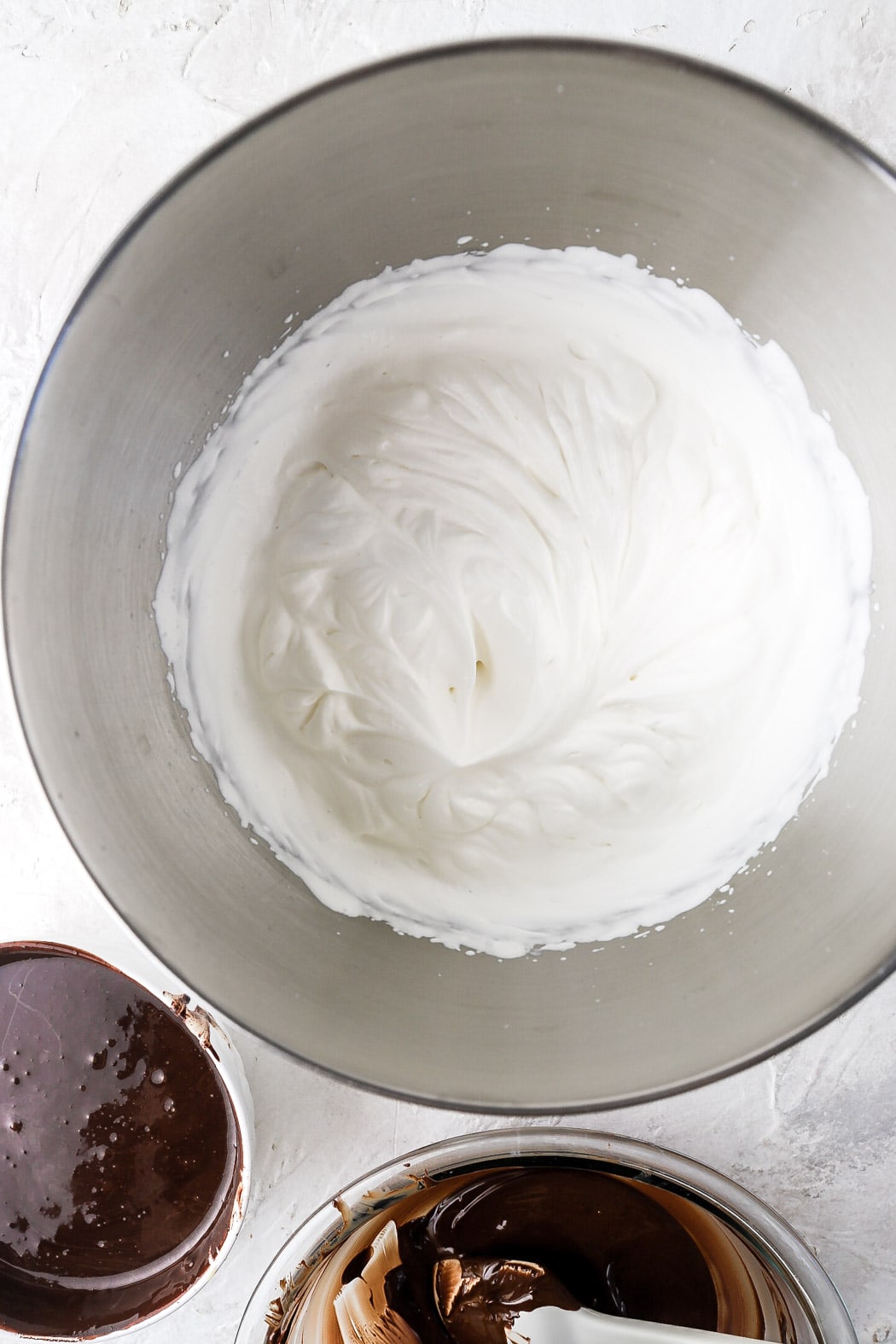 STEP 5 – Combine Sweetened condensed milk with cocoa/coffee: mix the sweetened condensed milk with the blooming cocoa powder and add it into the heavy whipping cream.
STEP 6 – Mix in the Melted Chocolate: Add the cooled melted chocolate into the whipped cream and mix until it's fully combined.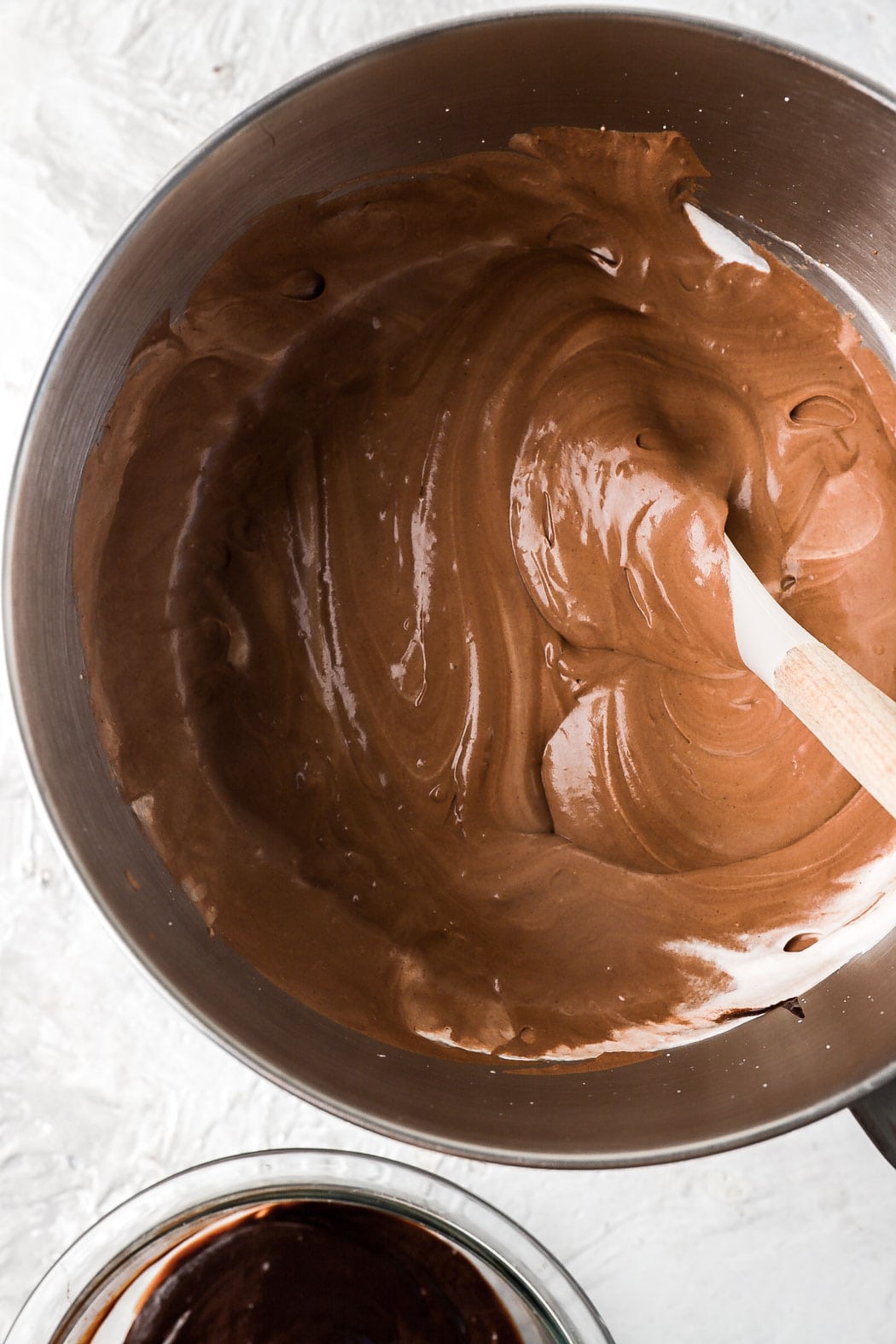 STEP 7 – Layer the ice cream: Spread half of the ice cream into a deep pan (I used a three inch deep 8 inch round pan). Swirl some chocolate ganache on top. Repeat with the second half and top with a generous pinch of sea salt.
STEP 8 – Freeze: Cover with a lid or plastic wrap and freeze for at least 8 hours or overnight.
Frequently Asked Questions
Can I skip the coffee?
Yup, I used a double shot of espresso but you can also use regular brewed coffee or hot water. 
Can I use natural cocoa powder?
I like dutch-process cocoa powder but it doesn't make a huge difference and natural cocoa powder works here too. Just make sure it's unsweetened.
Can I add in more things?
Yessss I have a marshmallow version (coming soon) but you can absolutely fold in some chocolate chip cookies, oreos, nuts, fruit, peanut butter swirls, etc. whatever your heart desires.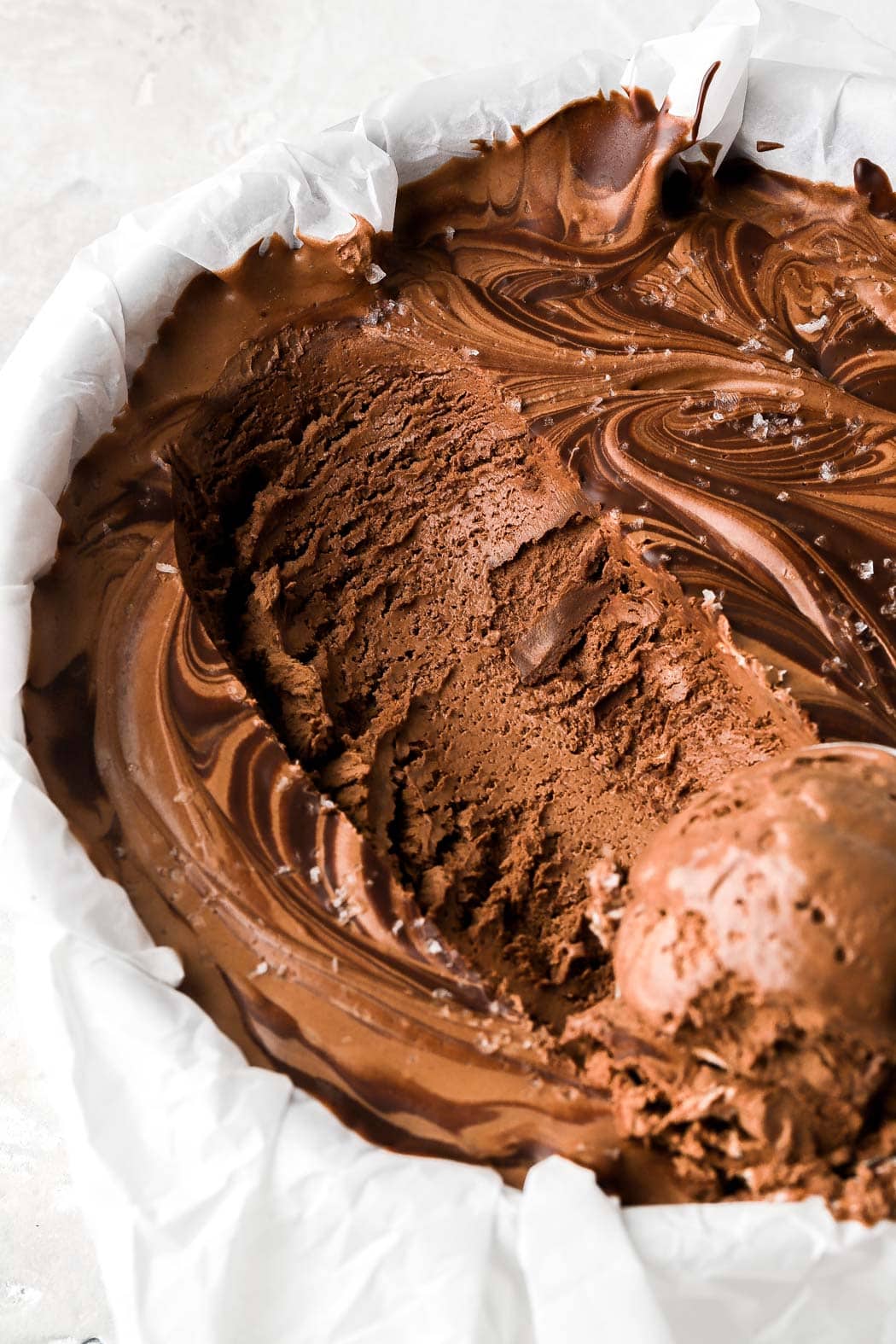 How to store dark chocolate ice cream
Make sure the ice cream is fully covered with plastic wrap or a container with a lid and freeze for at least 8 hours.
Thanks so much for reading today's post, if you have any questions just comment down below. Make sure to leave it in the comment section because I can't answer in the rating section :).
If you make this dark chocolate ice cream I would love to see it so make sure to tag me @baranbakery on instagram and check out my cookbook, Frosted.
As always, have a blessed day and happy baking!
Love, B
Yield: 10 servings
Dark chocolate Ice Cream Recipe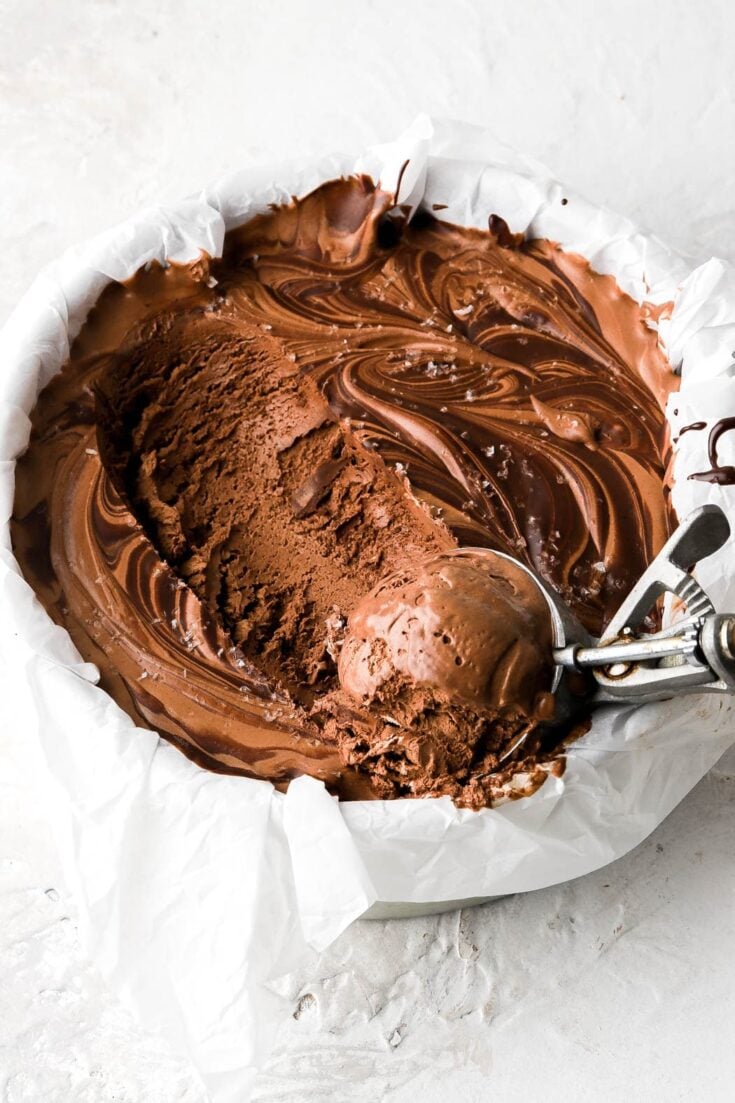 No churn, homemade dark chocolate ice cream with dark chocoalte ganache swirls!
Total Time
8 hours
20 minutes
Ingredients
Chcolate Ganache
1/3 cup (2oz) oz dark chocolate, chopped
1/4 cup (2oz) heavy whipping cream
Chocolate Ice Cream
1/2 cup (40g) dutch processed cocoa powder, spooned and leveled
1/2 cup (4oz) espresso or coffee, hot (can sub for hot water)
1 cup (6oz) dark chocolate, chopped and melted
2 cups (18oz) heavy whipping cream
1 can (14oz) sweetened condensed milk
Instructions
Chocolate Ganache
Place the chopped up chocolate into a bowl and set aside.
In a small pot, over medium heat, bring the heavy whipping cream to a simmer (edges are bubbling).
Pour the simmering cream over the chocolate chips, cover it and let it rest for 2-3 minutes.
Gently stir it with a fork or a rubber spatula until it comes together and it's smooth. Cover it at set it aside.
Chocolate Ice Cream
Bloom the cocoa by combining the cocoa powder with hot coffee. Stir until it's a paste and let it cool.
Place the chopped up chocolate into a small/medium glass bowl and microwave it for 15 seconds. Stir and repeat until it's melted and smooth.
Place the heavy whipping cream into a large bowl or the bowl of a stand mixer and use an electric mix, fitted with a whisk attachment, to the beat the cream until stiff peaks form (I start on slow speed so it doesn't splash and increase the speed as it thickens).
While that's mixing, combine the sweetened condensed milk with the blooming cocoa, mixing them together until they're smooth.
Add the cocoa/milk mixture to the whipped cream and beat until combined. Add the melted chocolate and beat just until combined.
Use a rubber spatula to make sure it's all mixed in and spread half of the ice cream into a deep pan.
Swirl some chocolate ganache into the ice cream and then repeat with the next layer.
Use a knife to make the swirls. Top with flakey sea salt and freeze for at least 8 hours.
Recommended Products
As an Amazon Associate and member of other affiliate programs, I earn from qualifying purchases.
Nutrition Information:
Yield:
10
Serving Size:
1
Amount Per Serving:
Calories:

377
Total Fat:

30g
Saturated Fat:

18g
Trans Fat:

1g
Unsaturated Fat:

9g
Cholesterol:

64mg
Sodium:

29mg
Carbohydrates:

25g
Fiber:

3g
Sugar:

18g
Protein:

4g
Nutrition information may not be fully accurate.