Triple Chocolate Chip Skillet Cookie
Think chocolate chip skillet cookie with brown butter, white chocolate, milk chocolate and dark chocolate chips! Perfectly caramelized edges and a warm, gooey center, a perfect bed for vanilla ice cream!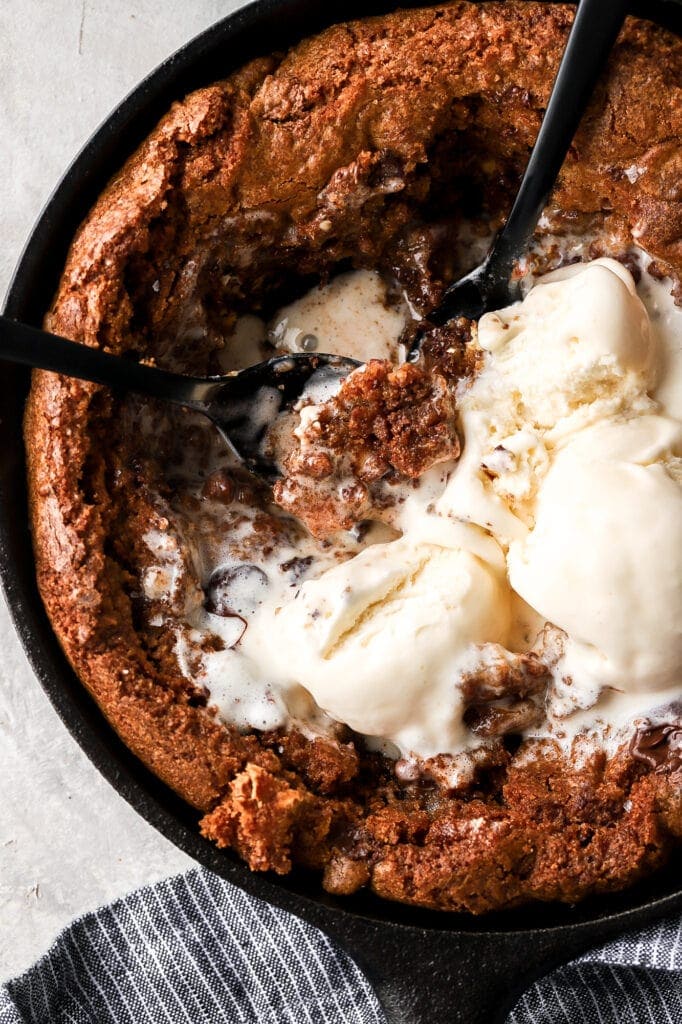 Friends. If you know me, I rarely make the same recipe twice, unless I'm testing it. I always like to try something new and experiment with new recipes if I'm craving something sweet or baking for an occasion. BUT this triple chocolate skillet cookie…I've made it like five times already. I think it's safe to say that if my baby weight isn't coming off, it's solely because of this skillet cookie.  
How to make a chocolate chip skillet cookies
Cookies are one of the simplest treats to make and when you don't have to roll each individual cookie out, it's even better! Skillet cookies aren't exactly the same recipe as regular chocolate chips cookies but they're made the same way with a slightly different ratio of ingredients.
The main steps include creaming the butter with the sugar, then the egg gets beaten in. Fold the flour in, followed by the chocolate chips and bake!
What makes this the best skillet cookie
Brown butter. Yup, that's it. Because the butter is such a crucial part of this recipe, it's important to use good quality butter, which is why I used Danish Creamery's Salted European Style Butter. Their butter is slow churned in small batches which gives it a velvety texture and makes it rich in flavor. Browning the already rich flavor and it's 85% butterfat literally helps take this cookie dough to the next level. I only browned half of it because I felt the flavor was too strong when all of the butter was browned.
There is one more thing. If you're wondering why the color of the cookie is a little darker than normal, it's because of the high sugar content. Yes, you can do a little bit less sugar but the way the sugar caramelizes with the butter on the edge of the pan is truly phenomenal!
Ok, ok, one last thing that makes this the best skillet cookie. You get THREE chocolate chip flavors, duh! Can't decide between white, milk or dark chocolate? Shove 'em all in there!
How to make brown butter
This literally only adds like 5 minutes to the recipe, not even. Place the butter in a saucepan, over medium-low heat. The butter will melt fairly quickly and then it'll begin to simmer. I usually just swirl the pan a little at this point. Then once it starts to foam, I use a wooden spoon or a spatula to stir it so I can see what's happening underneath the foam.
When I see the milk solids on the bottom begin to settle and brown I usually turn off the heat and stir continuously until I get a nice amber brown color. The darker the butter gets, the more bitter it will be so I like to stick to a medium brown color. 
Check out my full post on brown butter for more details!
How to serve triple chocolate chip skillet cookie
A good chocolate chip cookie is a slightly under-baked chocolate chip cookie…lol. So you might feel like the cookie is slightly under-baked at first but if you let it rest on the counter for 10-15 minutes, it'll continue cooking as it cools. 
Top with a few scoops of vanilla ice cream and enjoy from the skillet! If you want to slice it and serve it, I would probably let it cool for at least 30 minutes before trying to remove the slices from the pan.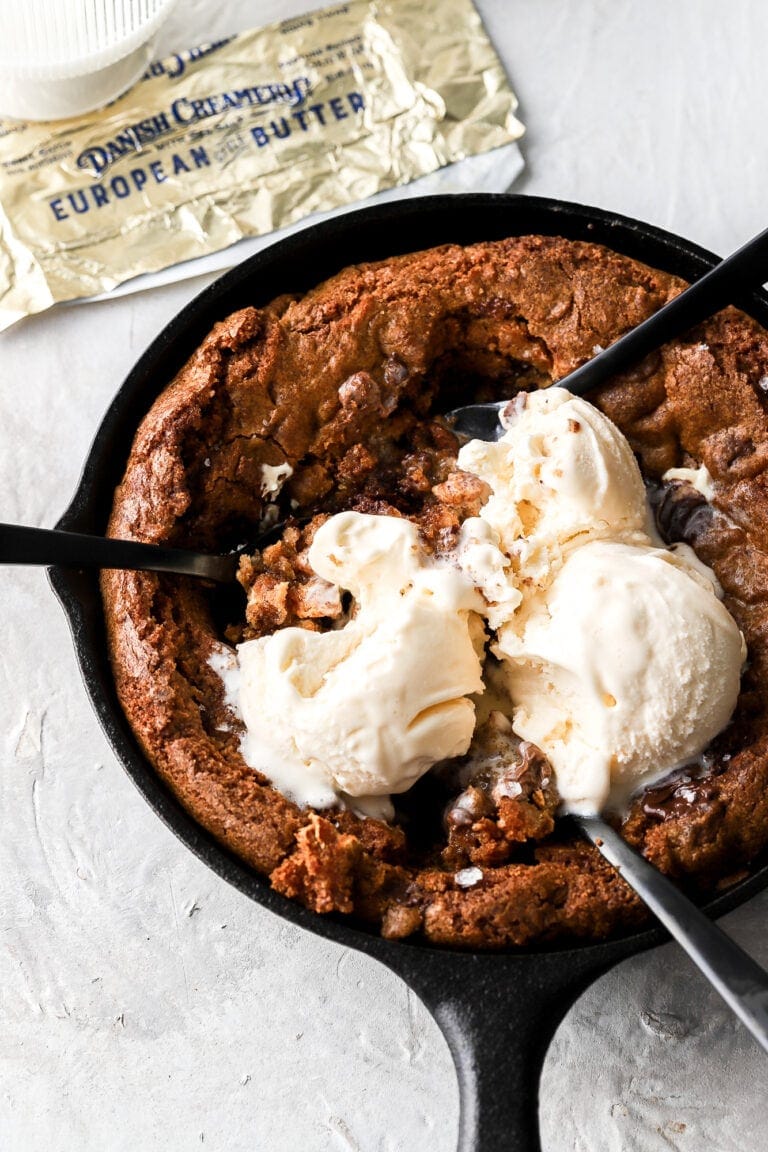 How to store a skillet cookie
I highly recommend eating chocolate chip skillet cookie on the day that it's baked. If you won't eat it all then only put as much ice cream as you're going to eat or remove a slice and put the ice cream on your plate.
Cover the leftover cookie with plastic wrap tightly or remove it and place it in an airtight container. Store it at room temperature for 2-3 days. Slightly reheat it in the microwave for a few seconds to warm it up before serving again.
Can I make it ahead of time
You can make the dough a few hours ahead of time and just cover it and leave it at room temperature or you can make it the day before, cover it, refrigerate it and then bring it to room temperature again before baking.
If you have any questions, I'd be happy to answer them down below. If you make this amazing triple chocolate skillet cookie, I'd love it if you shared it with me on instagram at @baranbakery! As always, have a blessed day and happy baking!
Love, B
Yield: 8 Slices
Triple Chocolate Chip Skillet Cookie Recipe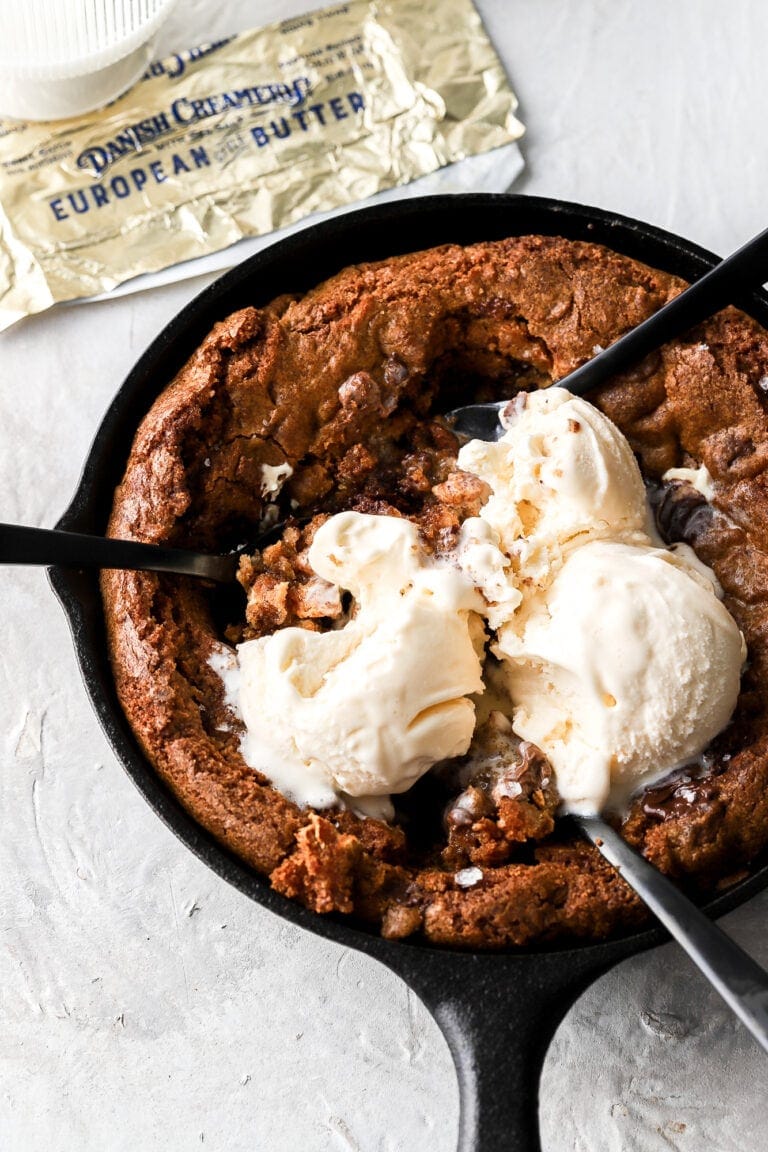 Brown butter cookie with triple chocolate chips, baked in a skillet to form a caramelized edge and a warm, gooey center.
Additional Time
5 minutes
Total Time
1 hour
5 minutes
Ingredients
1/2 cup (113g) Danish Creamery European Style Salted Butter, room temperature, divided
1 1/4 cup (250g) light brown sugar, lightly packed
1 large egg, room temperature
1 tsp vanilla extract
1 cup (120g) flour, spooned and leveled
2 tsp baking powder
2 oz dark chocolate chips
2 oz milk chocolate chips
2 oz white chocolate chips
Instructions
Preheat the oven to 350F/177C convection (325F/163C conventional) and grease an 8" skillet.
Begin by slicing the Danish Creamery European Style Salted Butter into 10 slices. Place half of the butter in a large bowl and the other half of the butter in a small saucepan over medium-low heat.
Intermittently stir the butter over the heat until it begins to brown. Once the butter begins to foam on top, stir continuously and once you see small brown speckles form on the bottom of the pan, remove it from the heat and pour the brown butter over the rest of the butter in the large bowl.
Allow the brown butter to melt the rest of the butter and whisk them together. Add the brown sugar and whisk until the butter is evenly distributed among the sugar. It will look kind of sandy.
Add the egg and vanilla extract and whisk for 2-3 minutes until the mixture is completely smooth and has lightened in color.
Fold in the flour and baking powder just until the flour is barely incorporated. Then fold in the chocolate chips until they're evenly distributed.
Spread the dough into the prepared skillet and bake for 40-45 minutes, until the cookie has browned, the edges have caramelized and the center only wiggles a tiny bit or not at all.
Allow the cookie to cool for 10-15 minutes and then top with vanilla ice cream and enjoy!
Notes
If you let it cool completely, you can slice the cookie into triangles and serve individually.
Nutrition Information:
Yield:
8
Serving Size:
1
Amount Per Serving:
Calories:

140
Total Fat:

9g
Saturated Fat:

5g
Trans Fat:

0g
Unsaturated Fat:

3g
Cholesterol:

31mg
Sodium:

156mg
Carbohydrates:

14g
Fiber:

1g
Sugar:

12g
Protein:

2g
Nutrition information may not be fully accurate.