Carrot Sheet Cake with Cream Cheese Frosting
Super easy carrot sheet cake frosted with a super light and fluffy cream cheese frosting made out of sweetened condensed milk!
What is a sheet cake?
I know you're probably looking at these photos of my carrot sheet cake and thinking "that's not a sheet cake, Bernice". I know, it's an 8-inch one layer carrot cake.
A sheet cake is a cake baked in a flat rectangular shaped pan. The size of a full sheet cake is 18 x 24-26 x 2 inches. Most recipes you find online for a "sheet cake" will be 9 x 12-13 x 2, which is technically a quarter sheet cake.
The recipe for this carrot cake with cream cheese frosting is half of that, so if you double my recipe, you can bake it in a quarter sheet cake pan. If you quadruple my recipe, you can bake it in a full sheet pan. If you just double it, you can make an 8-inch two layer cake as well.
What ingredients do I need for carrot sheet cake?
Carrot cake is known to have many ingredients. There are simpler ways to make it but honestly, I love the unique texture and flavors that come from all the different ingredients.
Flour: I use all-purpose flour
Baking Soda: my leavening agent of choice.
Cinnamon: all the warm and fuzzy spices please.
Salt: to bring out all the flavors.
Oil: you can use any mild flavored oil. I personally did not like the flavor when I used olive oil but the cake will bake up properly if you like that flavor. Try not to substitute with coconut oil, it's a different consistency. 
Sugar: I used granulated sugar. You can substitute for half or full brown sugar but the texture may be slightly different. It may give it just a little more moisture as well, so you may need an extra 1-2 minutes of baking time. 
Carrots… obviously. I use my kitchen aid attachment to shred them but you can also use a grater for grated carrots. 
Walnuts: I use the kitchen aid attachment for this as well but you can either chop them with a knife or put them in a plastic bag and crush them with a rolling pin.
Pineapples: I used canned crushed pineapples and I packed them into the measuring cup, squeezing out the juice but not straining them completely. 
Vanilla Extract: I like pure vanilla extract but artificial works well too . 
How to make sweetened condensed milk frosting?
This sweetened condensed milk frosting is incredibly light and fluffy. I basically combined all the best things:
Cream Cheese
Powdered Sugar
Whipped Cream
Vanilla
To make this super easy, light and fluffy whipped frosting, just use a hand mixer to combine all the ingredients together besides the whipped cream. Beat the heavy whipping cream separately and then fold it into the rest of the mixture.
How to decorate carrot sheet cake?
A lot of carrot cake recipes use coconut in the cake so decorating it with toasted coconut would be a great idea! However, I personally don't like adding coconut to my carrot cake because I feel like there are enough flavors going on here. Also, as pretty as coconuts are, they're not my favorite flavor, LOL.
Buttttt you know what makes for a great compliment to carrot cake and decorates it beautifully?! Caramel. I love caramel. It's like the most versatile cake topping ever, it's beautiful and tastes amazing with carrot cake!
How to store carrot cake with cream cheese frosting?
If the cake is already frosted, make sure to store it in the refrigerator because of the whipped cream. It's a very soft frosting so it will melt much quicker than other frostings.
There is enough frosting to frost the top and sides of the cake but if you don't use the whole thing and the sides are exposed, they will begin to dry out after a day or so. The best way to store the cake is to slice it and store the slices in airtight containers.
You can freeze the carrot cake recipe but I would not freeze the frosting with it because of the whipped cream.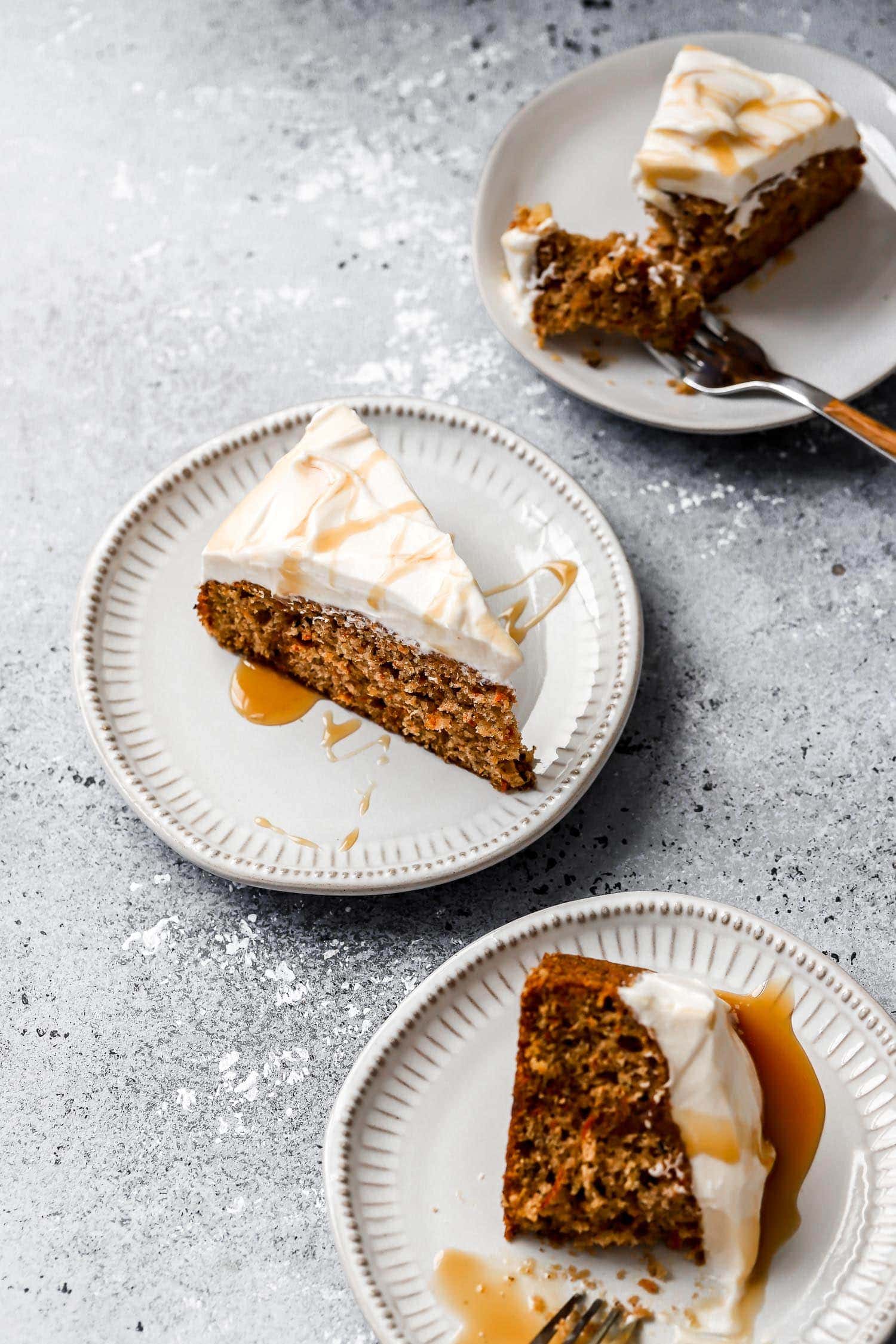 Make this Easter extra special, even if you're quarantined home, by making this super easy carrot sheet cake with sweetened condensed milk frosting. You can get Eagle Brand Sweetened Condensed Milk at just about any grocery store.
Make sure to tag me @baranbakery on Instagram, I'd love to share it with the rest of the BB tribe! As always, have a blessed day, happy baking and stay safe!
Love, B
Yield: 12
Carrot Sheet Cake with Cream Cheese Frosting Recipe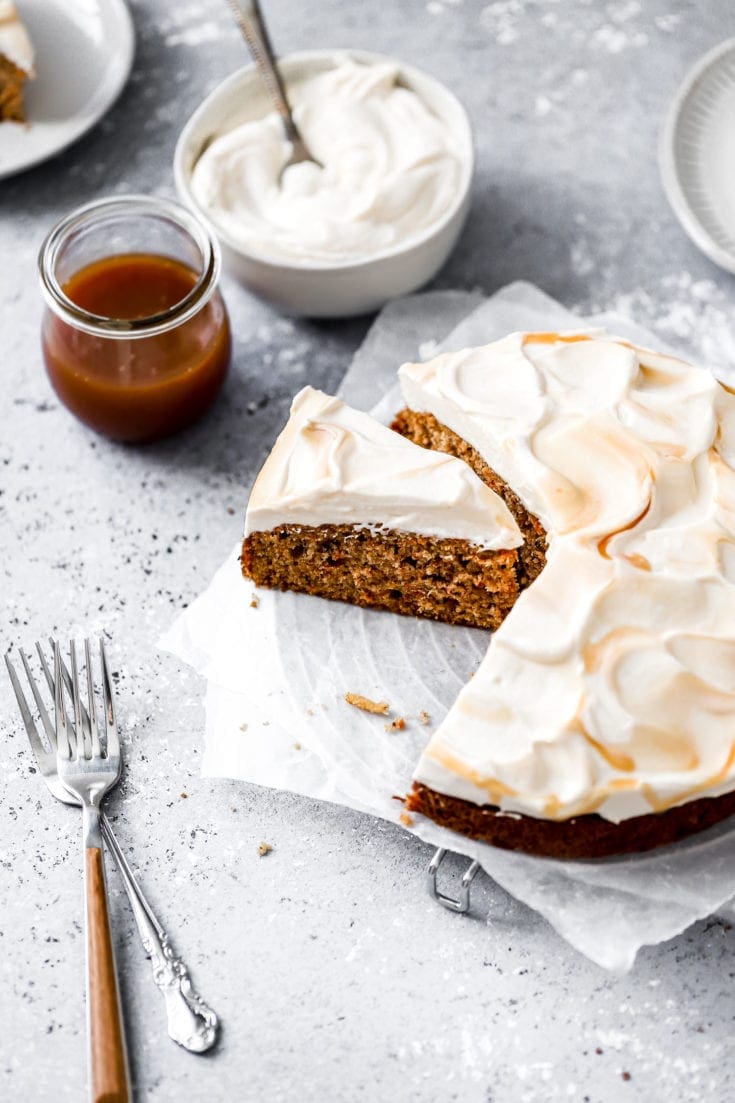 One layer moist carrot cake topped with a whipped cream cheese frosting, made with Eagle Brand Sweetened Condensed Milk, and an extra drizzle of caramel!
Additional Time
30 minutes
Total Time
1 hour
35 minutes
Ingredients
Carrot Sheet Cake
1 1/4 cups carrots, shredded
1 1/4 cup all-purpose flour, spooned and leveled and sifted
1/2 tsp salt
1 tsp baking soda
1/2 tsp cinnamon
1/3 cup walnuts, ground
2 large eggs, room temperature
1 cup granulated sugar
1/2 cup vegetable or canola oil
1/3 cup pineapples, crushed
Cream Cheese Frosting
4 oz cream cheese
1/4 cup Eagle Brand Sweetened Condensed Milk
1 cup powdered sugar, spooned and leveled
3/4 cup heavy whipping cream
2-3 Tbsp caramel, for the drizzle
Instructions
Carrot Cake
Begin by peeling and shredding the carrots (I use a kitchen aid attachment and do it with my stand mixer).
Preheat the oven to 350F/177C convection (or 325F/162C conventional) and use cooking spray and parchment paper to grease an 8-inch cake pan.
In a medium bowl, whisk together the flour, salt, baking soda, cinnamon and walnuts. Set aside.
In a large bowl, use a whisk to beat the eggs, sugar, and oil together. Whisk vigorously for about 2 minutes.
Fold in the dry ingredients until they are mostly combined and then add in the carrots and pineapples, folding until everything is fully combined.
Pour into the prepared cake pan and bake for 35 minutes, until a toothpick inserted in the center comes out clean.
Remove the cake and allow it to cool completely before frosting.
Whipped Cream Cheese Frosting
In a medium bowl, use a hand mixer or a stand mixer to beat the cream cheese until smooth.
Add in Eagle Brand Sweetened Condensed Milk and beat until combined.
Add in the powdered sugar, beating for about 5 minutes until the sugar is fully dissolved.
In a separate bowl, beat the heavy whipping cream until stiff peaks form.
Fold the whipped cream in the cream cheese frosting and spread it on top of the cooled carrot cake.
Drizzle some caramel on top and use the back of a spoon to make swirls.

Nutrition Information:
Yield:
12
Serving Size:
1
Amount Per Serving:
Calories:

395
Total Fat:

21g
Saturated Fat:

7g
Trans Fat:

0g
Unsaturated Fat:

13g
Cholesterol:

60mg
Sodium:

301mg
Carbohydrates:

48g
Fiber:

1g
Sugar:

37g
Protein:

5g
This post was sponsored by Eagle Brand. Thank you for supporting the brands that make Baran Bakery possible. All thoughts and opinions are 100% my own!