Caramel Pecan Pie with Homemade Caramel Sauce
The easiest caramel pecan pie made with homemade salted caramel and no corn syrup!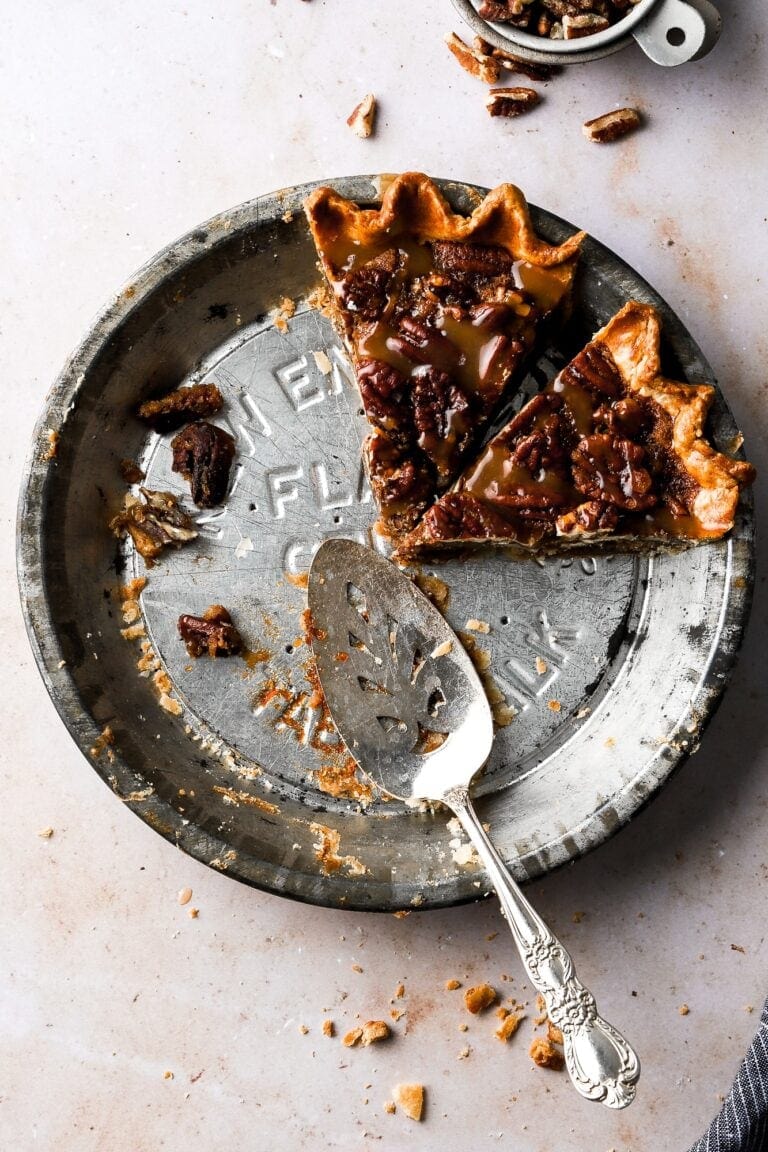 Three words: caramel pecan pie. I elevated this classic Thanksgiving dessert by making it with a homemade salted caramel sauce instead of corn syrup. I mean, nothing against corn syrup but homemade salted caramel sauce is better in every way. 
What is pecan pie
Pecan pie is a traditional American Thanksgiving dessert with a southern origin. A pie crust gets filled with a sweet pecan filling and baked until it's nice and crispy on the edges and gooey in the center. For extra indulgence, it can be topped with a generous scoop of vanilla ice cream.
How to make pecan pie
The base of this pecan pie recipe is made with a homemade salted caramel sauce instead of corn syrup. The pie can also be made with honey or maple syrup but let's be real, caramel always wins.
After you've made the caramel sauce and the pie crust, you'll make the filling. To make the filling, you just combine the butter, sugar, eggs, caramel and vanilla, mixing until they're smooth. Stir in the pecans and toss them around until they're evenly coated with the caramel mixture. Pour the filling over the crust.
When the pie gets baked, keep an eye on the color of the edge of the crust. If it begins to brown before the filling looks set, remove it from the heat, cover the edge of the pie with foil and then continue baking.
What kind of pie crust do I need
You can use any kind of pie crust for this caramel pecan pie. I have a buttermilk pie crust recipe that is great but you'll need only half of that for this pie. You can also use your favorite homemade pie crust or a store bought pie crust. You'll need just one roll (they usually come in packs of two for the top and bottom) since it's just the bottom of the pie crust.
You also don't need to blind bake the pie crust. That's always way too much effort, #dtm, and I found if I bake it on the bottom rack, the bottom of the crust bakes up nicely.
How to store pecan pie
Just like any other baked good, you don't want it to dry out so leave it in the pie pan, cover it tightly with plastic wrap and store it in the refrigerator for up to a week. Salted caramel pecan pie can be served cold or at room temperature. I don't recommend serving it hot out of the oven as it will most likely fall apart.
Thanks so much for stopping by today. If you make this amazing caramel pecan pie make sure to tag me @baranbakery on instagram, I'd love to see it!! Thanksgiving looks a little different for most of us this year but I hope you find the joy in it anyway. As always, stay safe my friends and happy baking!
Love, B
Yield: 9" pie
Caramel Pecan Pie Recipe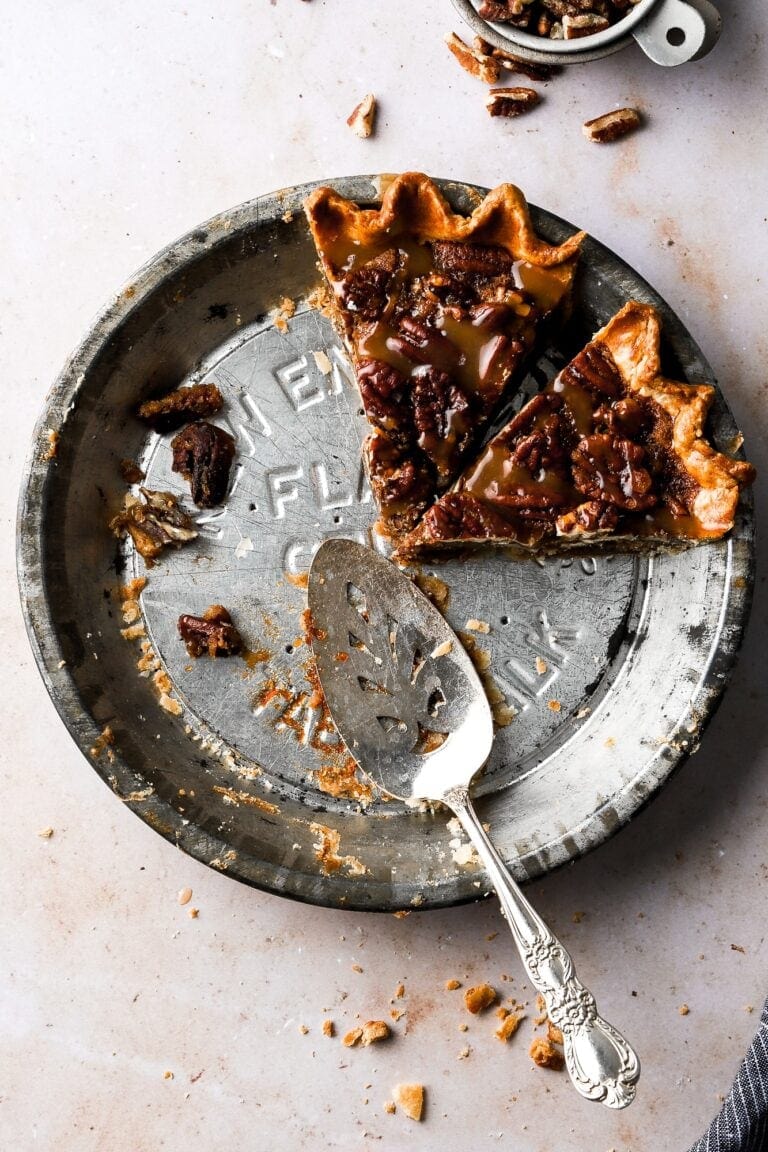 The easiest caramel pecan pie made with homemade salted caramel and no corn syrup!
Total Time
5 hours
45 minutes
Ingredients
Salted Caramel Sauce
1/2 cup (100g) granulated sugar
1/4 cup (59mL) water
1/4 cup (56g) salted butter
1/2 cup (118mL) heavy whipping cream
1/2 tsp salt
Crust
1/2 recipe of buttermilk pie crust or 1 roll of store bought pie crust
Pecan Filling
3/4 cup salted caramel sauce*, plus more for topping
1/2 cup (110g) light brown sugar, lightly packed
3 large eggs, room temperature
1/4 cup (56g) butter, melted
1 tsp vanilla bean paste
2 cups (250g) chopped pecans
pinch of sea salt flakes
Instructions
Caramel Sauce
Begin by preparing the homemade salted caramel sauce. In a medium saucepan, heat the sugar and water over medium heat. Place the lid on the pan and remove it every 2-3 minutes to swirl (NOT stir) the sugar.
Once the sugar changes to an amber color, remove it from heat (it will continue cooking because the pan is hot so do this immediately). Stir in the butter and whisk continuously. Once that's combined, stir in the heavy cream and then the salt.
Once it's done, set it aside and allow it to cool at room temperature for about an hour. It doesn't have to cool fully, just enough not to cook the eggs.
Crust
Prepare the buttermilk pie crust as directed, use a rolling pin to roll it out and press it onto the bottom of a shallow 9" pie dish (NOT A DEEP ONE). Trim the edges as desired and refrigerate the crust for 30 minutes.
Preheat the oven to 350 (177C) conventional (no fan).
Place a sheet of parchment paper on the chilled pie dough and fill it in with pie weights (or rice) to keep the sheet in place.
Bake the pie crust on the bottom rack of the oven for 20-25 minutes.
Filling
Meanwhile, n a large bowl, combine the caramel sauce, brown sugar, eggs, butter and vanilla until they're smooth. Add the pecans and toss until they're fully coated.
Pour the filling over the par-baked pie crust and return the pie to the oven for about 30 minutes.
Remove the pie from the oven again and cover the edges of the crust with foil to prevent them burning. Return the pie to the oven for about 15-20 more minutes, until the filling no longer looks liquid-y.
Remove the pie from the oven, allow it to cool to room temperature and then refrigerate it for a couple of hours to fully set. Top with extra salted caramel sauce and a pinch of sea salt flakes.
Notes
Store fully covered in the refrigerator.
*feel free the replace caramel sauce with PURE maple syrup or honey.
Nutrition Information:
Yield:
10
Serving Size:
1
Amount Per Serving:
Calories:

375
Total Fat:

27g
Saturated Fat:

7g
Trans Fat:

0g
Unsaturated Fat:

19g
Cholesterol:

74mg
Sodium:

203mg
Carbohydrates:

30g
Fiber:

3g
Sugar:

18g
Protein:

6g
Nutrition information may not be fully accurate.