White Chocolate Oatmeal Raisin Cookies
These white chocolate oatmeal raisin cookies are super quick and easy to make. They're crisp on the outside and chewy in the center. The hint of cinnamon pairs perfectly with the combination of raisin and white chocolate.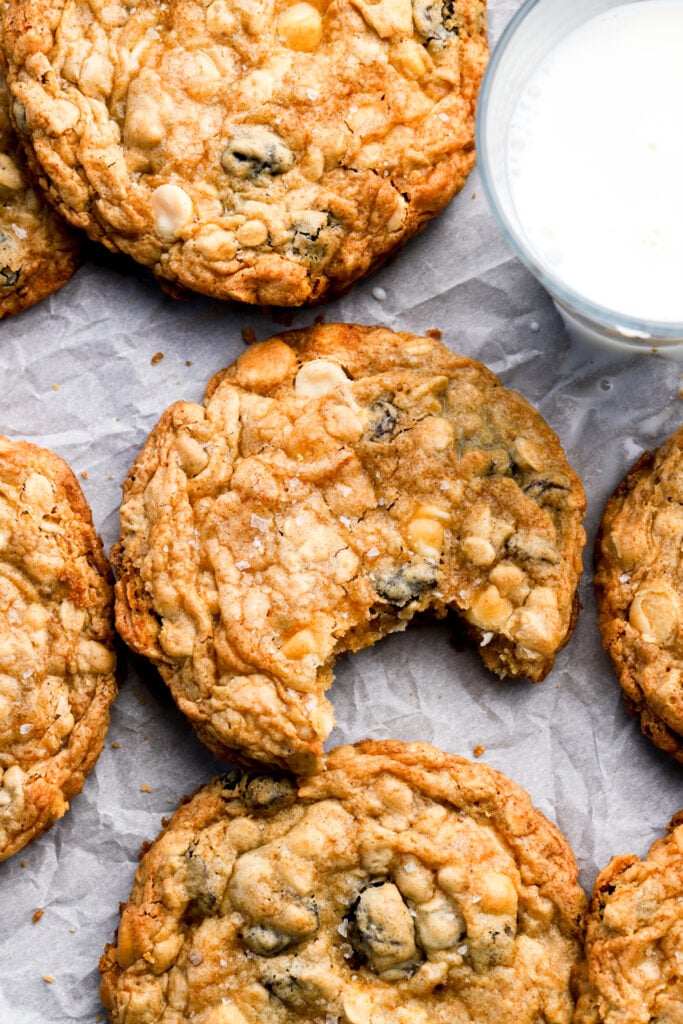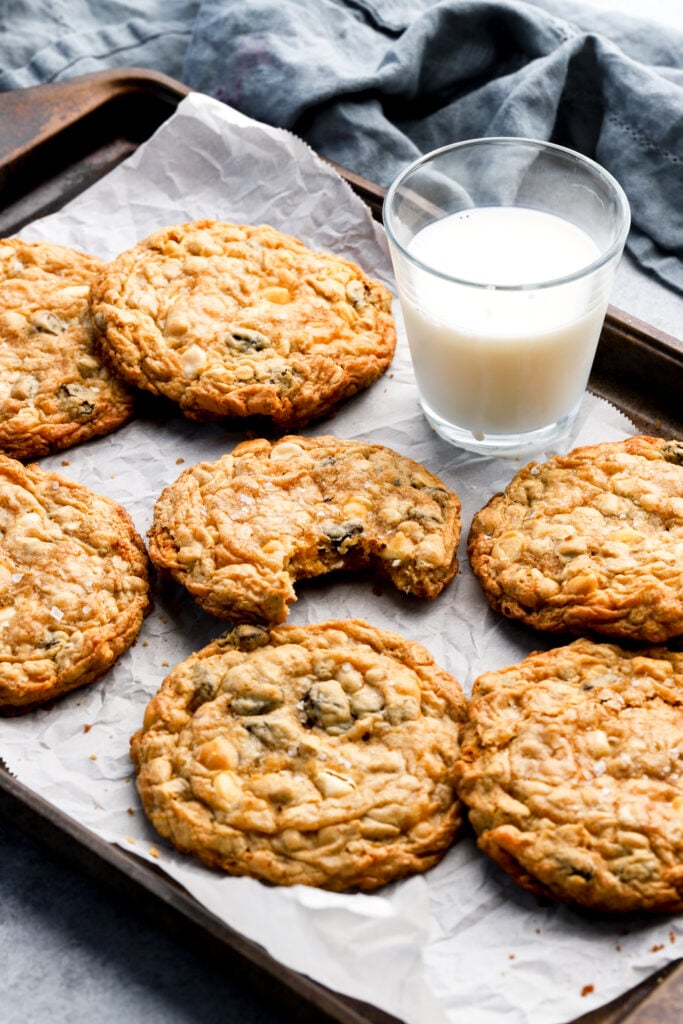 Ingredients:
Flour: I just used all-purpose flour for this recipe however, I HIGHLY recommend using a digital scale, as over-measuring the flour is the most common baking mistake and may result in dry cookies.
Sugar: I used JUST light brown sugar for these cookies and I don't recommend substituting it. Granulated sugar makes these cookies super pale and chewy and dark brown sugar is too dark and molasses-y. However, you could do half dark brown sugar and half granulated sugar as that would be the equivalent of light brown sugar.

Reducing the amount will alter the texture of the cookies as well so I don't recommend reducing it.

Butter: I LOVE using salted butter in cookies! I started doing this last year and it just seems more flavorful.
Egg: I used 1 large egg in this recipe – it can be cold or room temperature.
Vanilla: Don't underestimate the power of vanilla extract in a cookie recipe. I stopped putting vanilla in EVERYTHING I make, but for cookies it's essential.
Baking Powder: just baking powder, no baking soda.
Salt: I like sea salt but any salt works.
Sea Salt Flakes: I would say this is optional but I'm not sure we can be friends if you don't add extra sea salt flakes on top of your cookie lol
Chocolate chips: I used white chocolate chips but you can also use milk or dark chocolate if you prefer! These cookies spread a lot so i don't really recommend a chopped chocolate bar, as they'll spread even more and the chocolate will likely spill out of the cookie.
Oatmeal: I used just old fashioned rolled oats. I haven't tested the other kinds but usually quick or steel cut oats work fine as well but may slightly change the texture. 
Spices: I used just ground cinnamon – optional but makes it feel fall-like.
Raisins: any brand is fine, can also use dry cranberries (craisins) for Christmas time!
Step-By-Step Instructions
Step 1: Preheat the oven to 350F (177C) convection OR 325F (163C) conventional and line cookie sheets with parchment paper.
Step 2: Microwave the butter for 20-30 seconds (if it gets super hot, let it cool a little bit).
Step 3: Add the light brown sugar to the melted butter and whisk together for about a minute.
Step 4: Add in the egg and vanilla and whisk aggressively for 1-2 minutes, until it's completely smooth.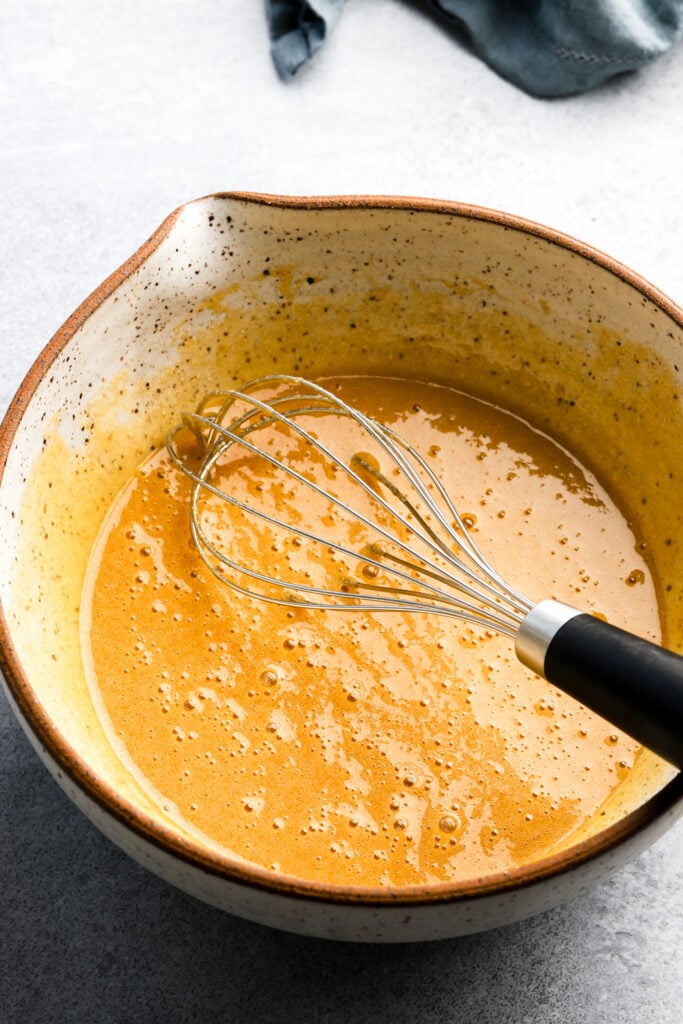 Step 5: Add the dry ingredients and fold the cookie dough just until there are no streaks of flour left.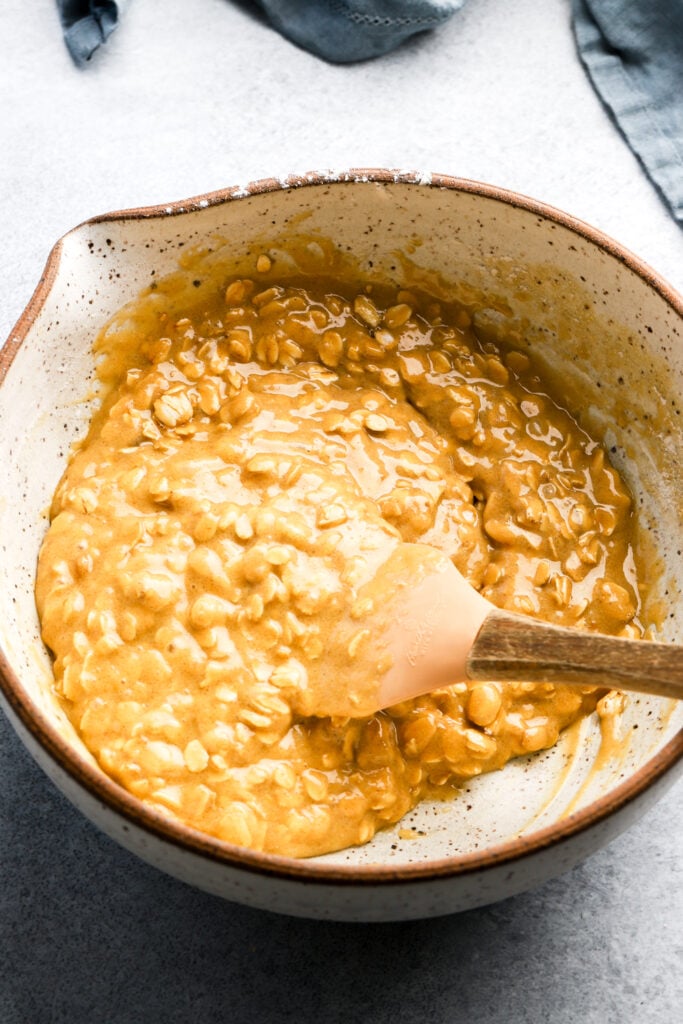 Step 6: Fold in the raisins and white chocolate, just until they're evenly dispersed.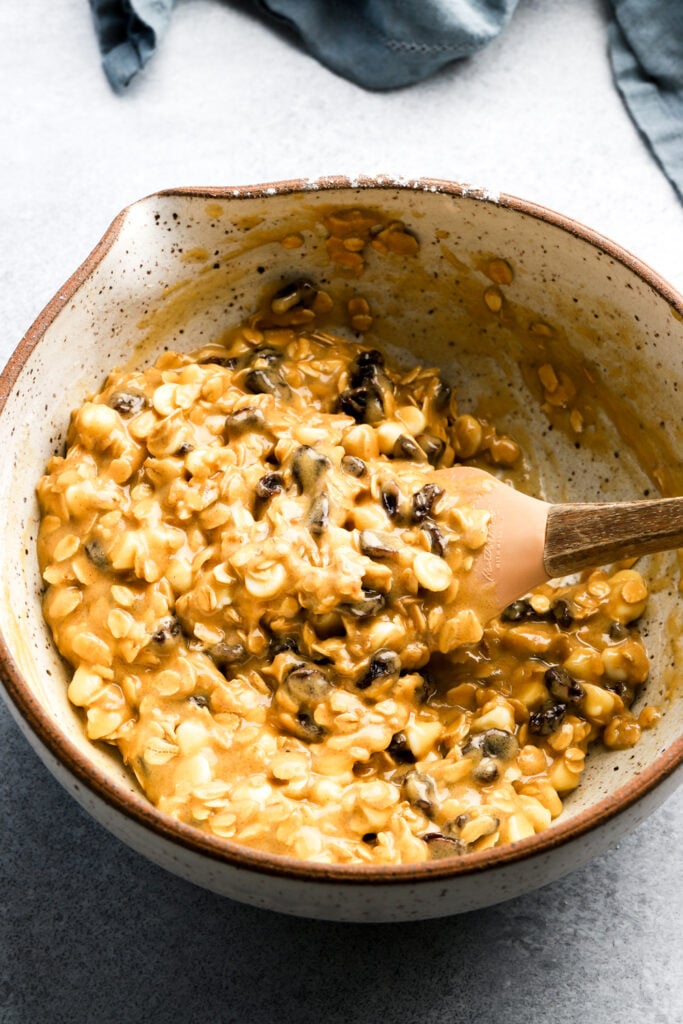 Step 7: Split cookie dough into 8 small cookies, about 2.5 ounces each, and bake 4-6 cookies per sheet for 12-14 minutes on convection or 14-16 minutes on conventional. 
if you want a slightly thicker cookie – refrigerate (or freeze) the cookie dough for 30ish minutes, until it firms up a little and then bake, they will spread less if they're cold.
(I don't line my cookie sheets anymore but cookies usually do stick to the pan. I just use an offset spatula to remove them but if you line your cookie sheet with parchment paper, they won't stick).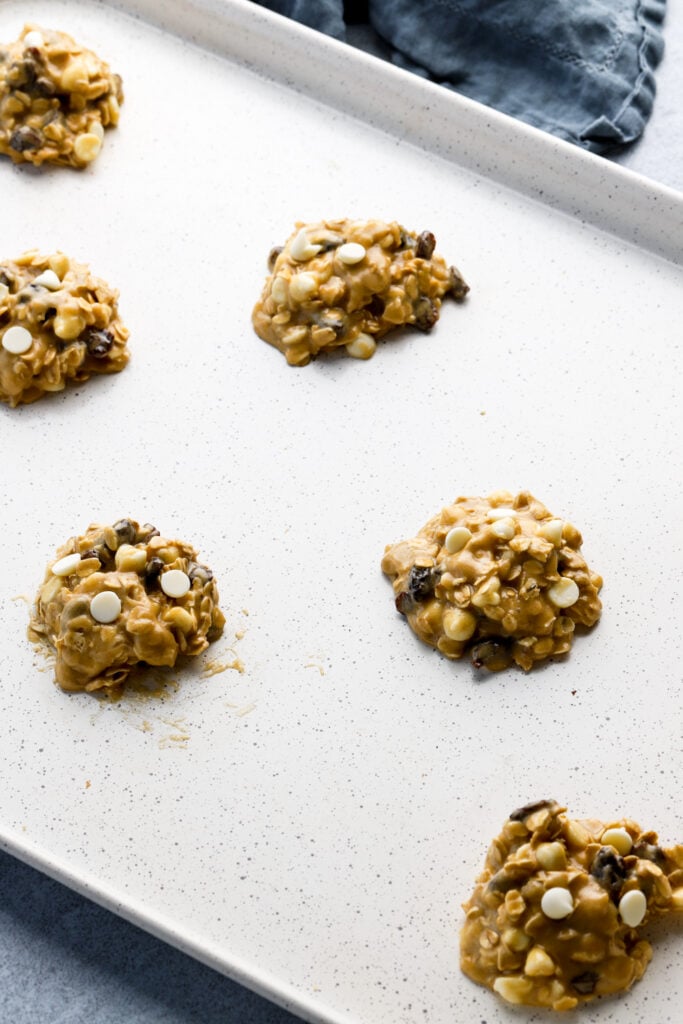 Step 8: Remove from the oven allow them to rest for 5-10 minutes before transferring off the cookie sheet. Sprinkle with sea salt flakes and enjoy warm!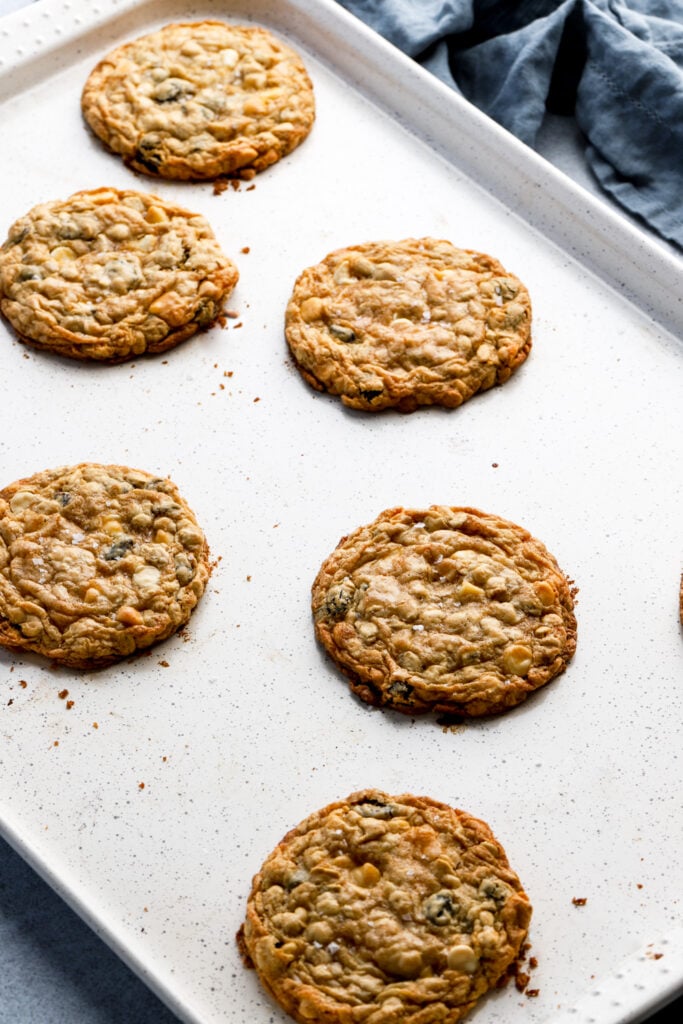 How to bake these cookies (convection and conventional)?
I always bake in a convection (fan) oven but when I took some polls on instagram, most of you said you either don't have one or you don't know how to use your convection oven. So since I developed ALL my recipes in a 350F convection oven, I decided to experiment with a conventional.
If you don't know the difference, a convection oven has a fan that circulates the heat more evenly. This usually results in a quicker bake, so always do less time if you're unsure and it also gives a more even browning. If you're not used to it, the change can be frustrating. 
Most convection ovens will automatically regulate 25 degrees lower. So if I set my oven to 350F convection, my oven thermometer reads 325F. That's why I recommend baking my recipes 25 degrees lower if it's not in a convection oven. I've tested this with all my base recipes in several ovens over the last few years.
Baking with a convection oven (fan)
Bake 2 oz cookies at 350F (177C) for 12-14 minutes
Baking with a conventional oven (no fan)
Bake 2 oz cookies at 325F (163C) for 14-16 minutes
How To Get Perfectly Round Cookies
Most cookies bake a little bit uneven around the edges, especially if the dough is soft and not refrigerated before baking. To get your cookies perfectly round, as soon as you remove them from the oven, use anything round like a biscuit cutter/cup/mug, etc. to scoot the cookies around within the circle. 
Be gentle so you don't break the soft cookie but you have to be quick and do it as soon as the cookie comes out of the oven, before the edges set. 
You can also just use a fork or any utensil to push the edges back in.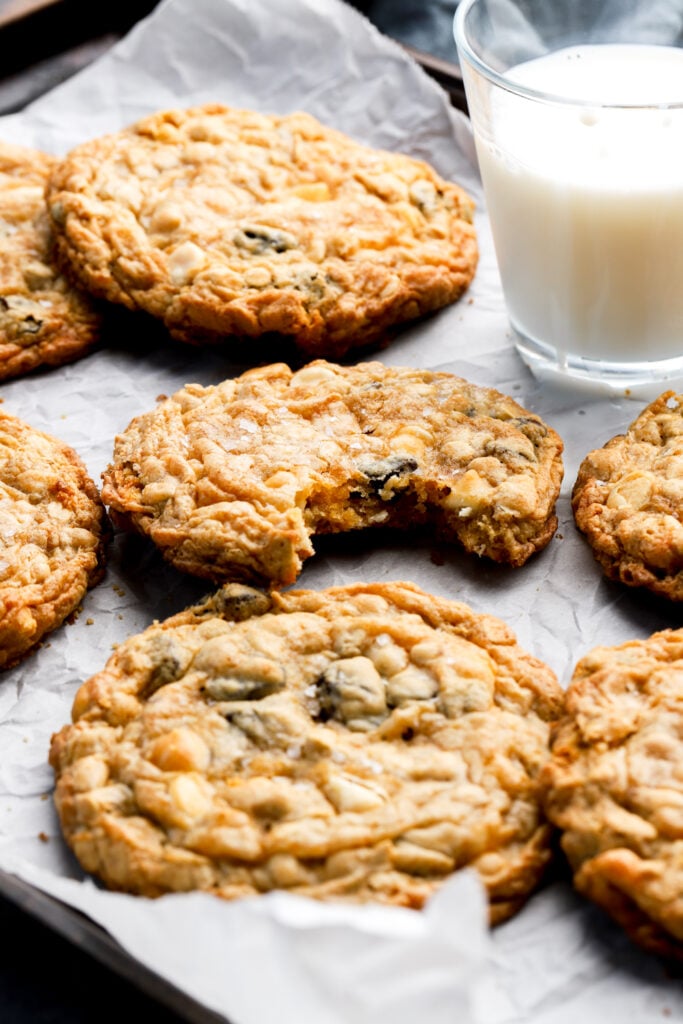 Frequently Asked Questions
Can the cookie dough be made ahead of time?
The cookie dough is pretty soft so you'll want to scoop it out, then refrigerate it on a plate or tray until the cookie dough balls are more firm. Then place them in a ziplock bag and freeze. To bake, remove them from the freezer as the oven is preheating and bake 325 F convection (fan) OR 300 F conventional (no fan) for 14-15 minutes or remove them a few hours in advance, bring them back to room temperature and bake like you would fresh. 
Can I make these dairy free or vegan?
I haven't tested egg free cookies but you can make these cookies with dairy free butter and dairy free chocolate. 
Can I make these gluten-free?
I have tested my base cookie dough recipes with 1:1 substitute for King Arthur and Bob's Red Mill Gluten-Free Flour Blends. The cookies turnout perfectly, they just have a traditional gluten-free flour flavor which is a little earthy/nuttier. Make sure to use gluten-free oatmeal too. 
Can I use quick oats or steel cut oats?
The answer is yes. The texture will likely be different but should still produce a good cookie.
What kind of chocolate can I use for these oatmeal cookies?
I used white chocolate but you certainly can replace the white chocolate (and/or the raisins) with dark chocolate. The recipe can also be made with chopped baking chocolate but the cookie will spread a tiny bit more and take a little longer to set/cool after baking. 
Can I have other add-ins?
Of course! Whatever you're craving today, craisins, cranberries, nuts, dark chocolate etc.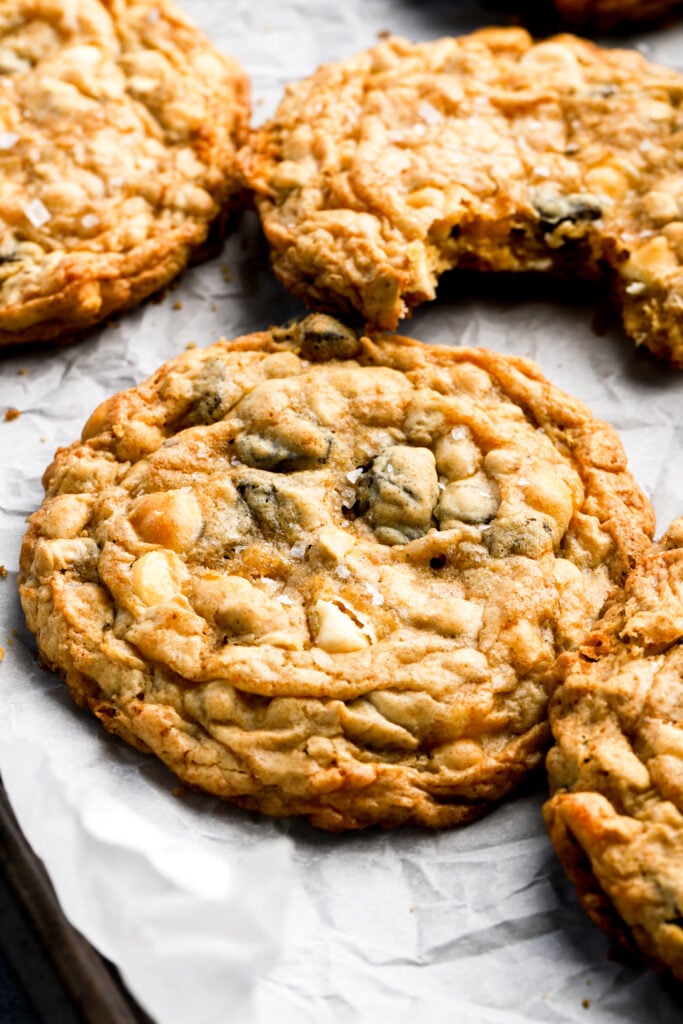 How To Store These Oatmeal Raisin Cookies
These cookies won't need storing. Once I start I just can't stop lol. But really, just place them in a ziplock bag and keep them at room temperature for a few days. They obviously will dry out a little more the longer you leave them but I just pop in the microwave for like 5-10 seconds before eating.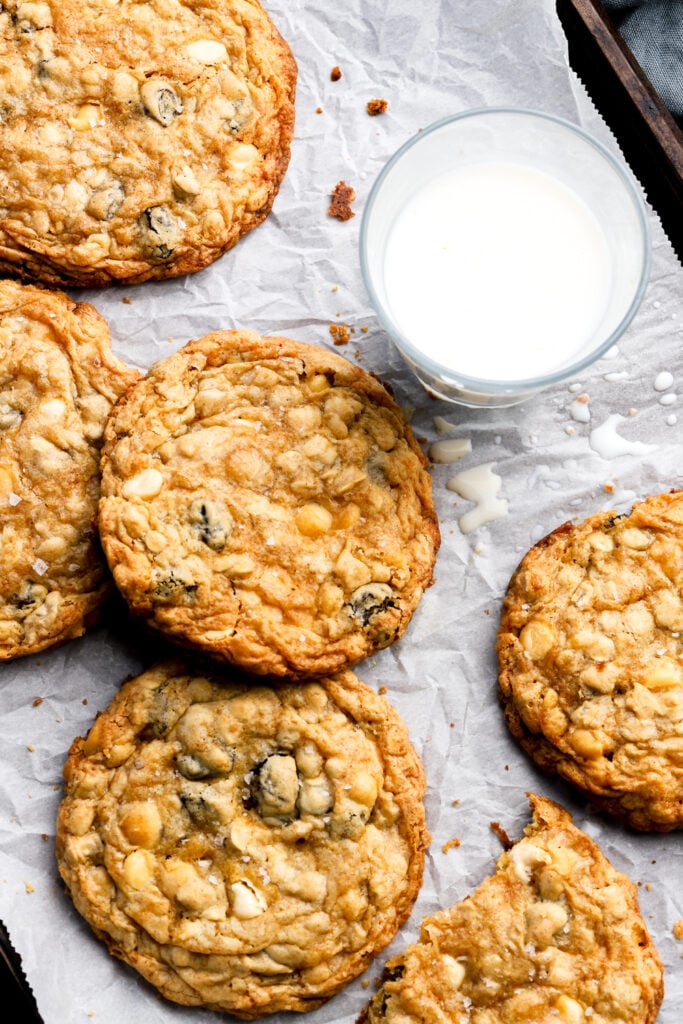 Thanks so much for reading today's post, if you have any questions just comment down below.
If you make these white chocolate oatmeal raisin cookies, I would love it if you left a star rating for it in the recipe card.
As always, have a blessed day and happy baking!
Love, B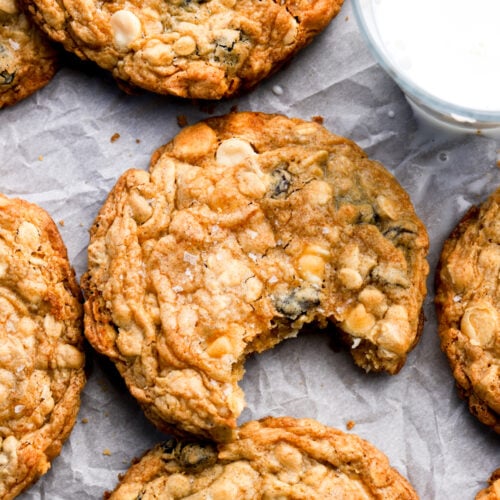 White Chocolate Oatmeal Raisin Cookies
These white chocolate oatmeal raisin cookies are super quick and easy to make. They're crisp on the outside and chewy in the center. The hint of cinnamon pairs perfectly with the combination of raisin and white chocolate.
Ingredients
1/4

cup

(56 g) salted butter

melted

2/3

cup

(132 g) light brown sugar

lightly packed

1

large egg

room temperature

1

tsp

vanilla extract

3/4

cup

(90 g) all-purpose flour

spooned and leveled

3/4

cup

(80g) old fashioned rolled oats

1/2

tsp

ground cinnamon

1

tsp

baking powder

1/4

tsp

fine sea salt

1/4

cup

(2oz) raisins

1/2

cup

(3 oz) white chocolate chips

or chopped white chocolate bar

tiny

pinch

sea salt flakes
Instructions
Preheat the oven to 350F (177C) convection OR 325F (163C) conventional and line two cookie sheets with parchment paper.

In a medium bowl, microwave the butter for 20-30 seconds, just until it's melted (if it gets super hot, then let it cool a little bit).

1/4 cup (56 g) salted butter

Add the light brown sugar to the melted butter and whisk together for about a minute. Add in the egg and vanilla and whisk until it's completely smooth.

2/3 cup (132 g) light brown sugar,

1 large egg,

1 tsp vanilla extract

Add the flour, oatmeal, cinnamon, baking powder and salt and fold the cookie dough just until there are no more steaks of flour left.

3/4 cup (90 g) all-purpose flour,

3/4 cup (80g) old fashioned rolled oats,

1/2 tsp ground cinnamon,

1 tsp baking powder,

1/4 tsp fine sea salt

Fold in the raisins and white chocolate, just until they're evenly dispersed.

1/4 cup (2oz) raisins,

1/2 cup (3 oz) white chocolate chips

Split cookie dough into 8 cookies, about 2.5 ounces each, placing 4-6 per cookie sheet. Bake one sheet on the middle rack for 12-14 minutes, just until the edges are starting to brown and the center is puffed.

Remove them from the oven, give the pan a quick tap on the counter and use a biscuit cutter to scoot the cookies to make them round (if desired).

Sprinkle with sea salt flakes and allow them to rest for 5-10 minutes before transferring off the cookie sheet.

tiny pinch sea salt flakes
Nutrition
Serving:
1
g
Calories:
245
kcal
Carbohydrates:
38
g
Protein:
3
g
Fat:
9
g
Saturated Fat:
5
g
Polyunsaturated Fat:
1
g
Monounsaturated Fat:
3
g
Trans Fat:
0.2
g
Cholesterol:
34
mg
Sodium:
175
mg
Potassium:
129
mg
Fiber:
1
g
Sugar:
22
g
Vitamin A:
187
IU
Vitamin C:
0.3
mg
Calcium:
71
mg
Iron:
1
mg