Strawberry Blueberry Pie
Summer calls for a perfectly sweet and tart strawberry blueberry pie surrounded by a golden brown pie crust and topped with creamy vanilla ice cream.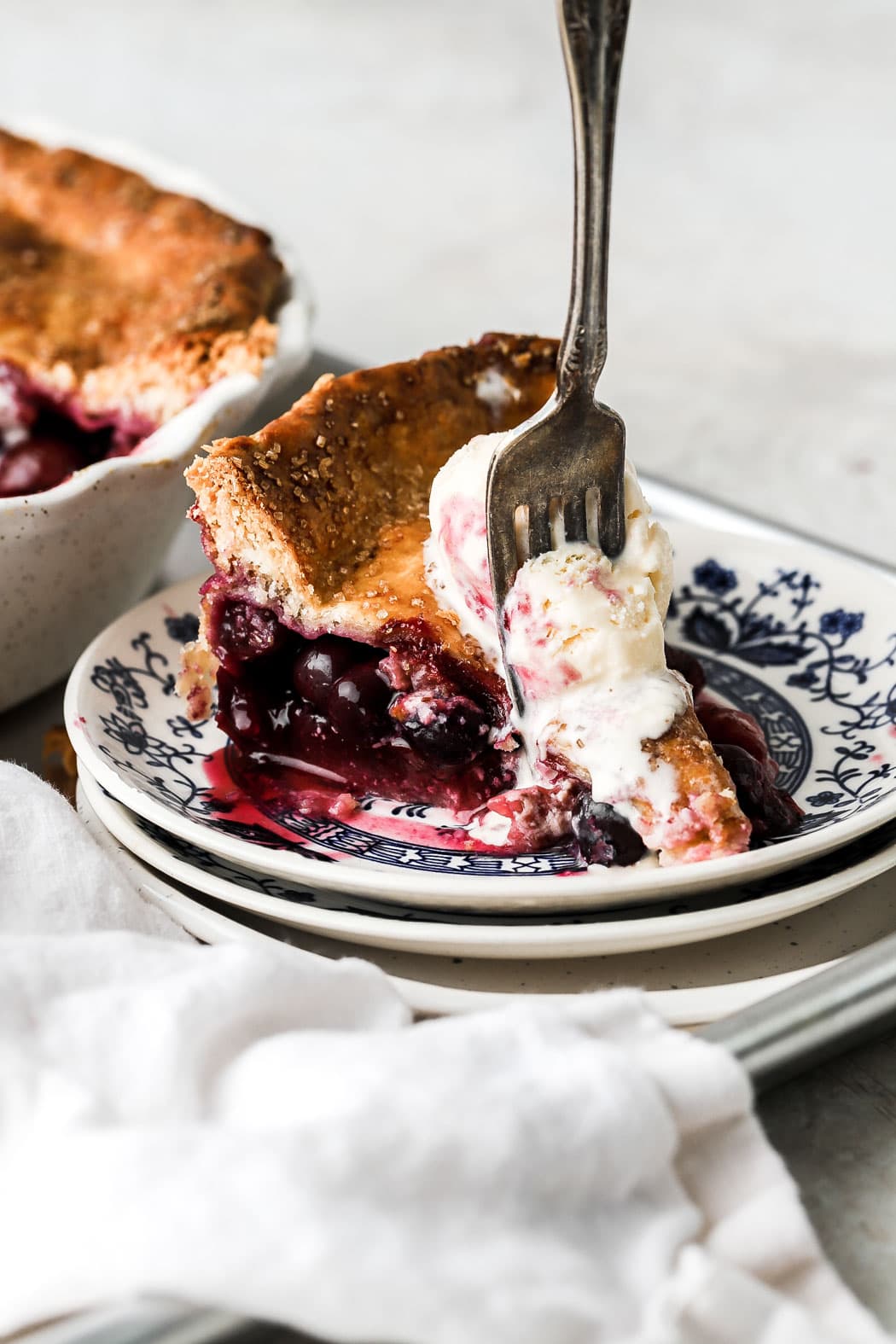 How to make Strawberry Blueberry Pie
Not rocket science or anything, just a perfectly beautiful golden buttery crust with a kind of sweet, kind of tart strawberry blueberry filling that's topped with creamy vanilla ice cream. The perfect July 4th recipe because you can make it days in advance!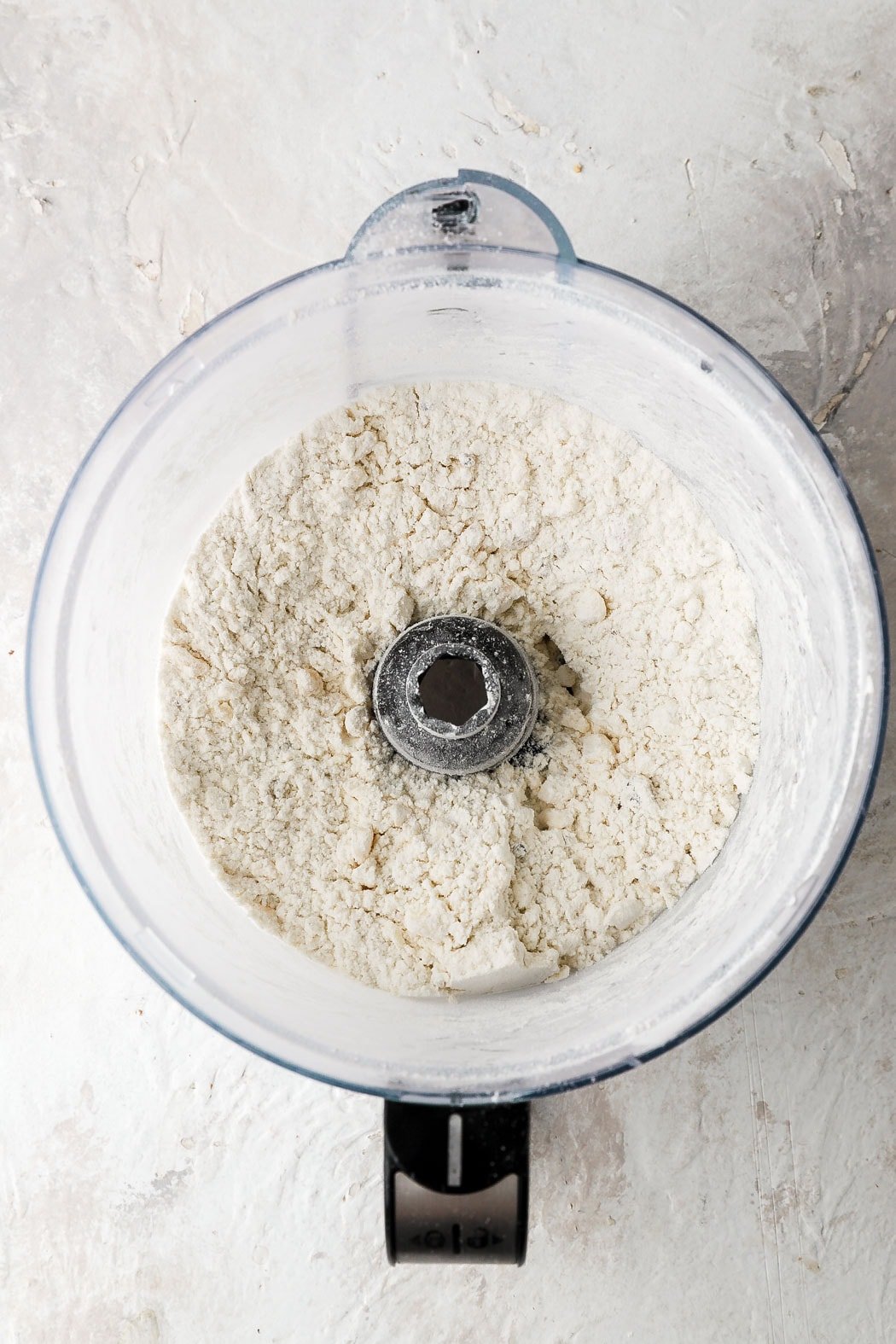 The pie crust
This pie crust recipe is super simple to make and has never failed me! & I'm not a fancy pie kind of girl. If you've been here a while, you'll know that cakes are more my thing. So I'm telling you this pie crust turns out perfectly for me every time.
This pie crust recipe is also used it in my apple butter pop tarts and basically every other pie recipe that uses a pie dough.
I did make one little change here, I used half brown butter. I only did half because I already had some prepared but you could brown the whole butter.
Make sure to look at the images as a reference to see how the dough should look at each stage. If you do all brown butter, you may need just a tiny bit more water.
Ingredients:
Flour: I just use all purpose flour. There is such a thing as pastry flour and I know some people like cake flour for pie crusts too but all-purpose works perfectly here.

I also HIGHLY recommend using a digital scale, as flour is almost always over measured.

Sugar: I add just a touch of granulated sugar to the pie dough. If you swap this for brown sugar, you may need to cut back on some of the water.
Butter: You can do all butter, all brown butter or half and half like I did. Just make sure to give the brown butter time to chill back until it's hard again. I have not tried this recipe with shortening or lard so I can't recommend them, although I don't see why they wouldn't work here.
Water: you'll want ice cold water. I measure my water first, pop it in the freeze while I get the rest of my ingredients ready and then bring it out when I need it (make sure it doesn't actually freeze).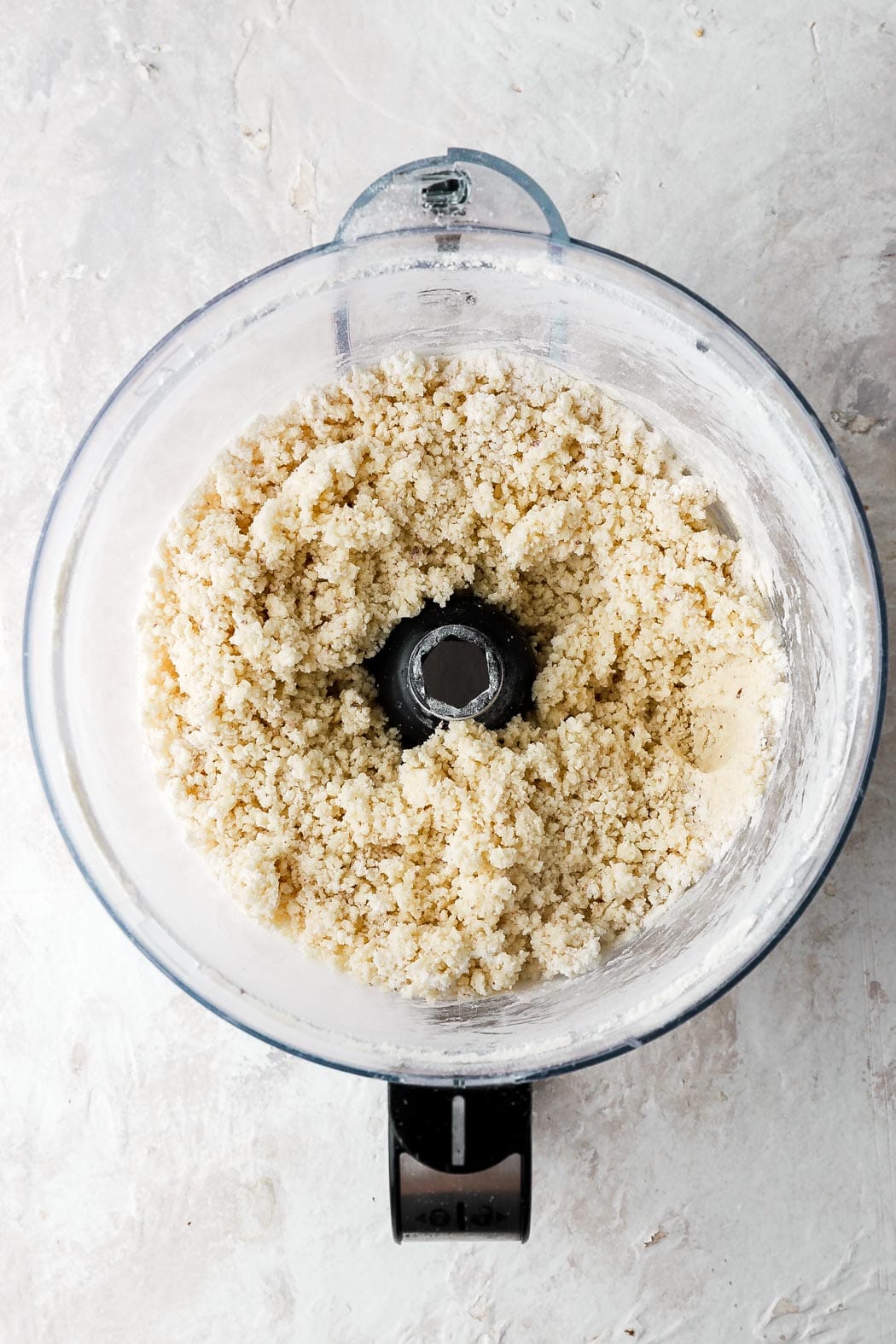 The strawberry blueberry pie filling
Oftentimes when you make fruit pies with a juicy fruit filling, you end up with a soggy crust. That's because the fruits, especially fresh berries (and frozen) release a lot of juice in the oven, making it difficult for the bottom crust to bake through. There's a few ways to combat this:
Dice the strawberries and then mix them with the blueberries, sugar, lemon juice and zest. Let this mixture macerate for about an hour or so. Then strain it and you'll see all the juice that's been released. I actually strain it twice, once at about half an hour in.
Before filling the pie, toss the fruit mixture with cornstarch. At first I tried just ¼ cup of cornstarch but the filling leaked quite a bit so I usually do about ⅓ cup cornstarch to 2-2.5lbs of fresh fruit.

(You can squeeze in 3 lbs of fruit in this recipe as well but do ½ cup cornstarch then and about ¼ cup more sugar).

Once you've laid out the bottom pie crust into your pie plate, dust the bottom with about a tablespoon of cornstarch, this will help soak up some of the excess juice.
Don't bake at convection – a convection (fan) oven uses a fan to rotate the heat more evenly throughout the oven. A conventional (no fan/conduction) oven usually has the heat coming from the bottom. If you bake at convection, the top can brown quicker than the bottom will bake.

With a conventional the heat coming from the bottom goes directly to that bottom layer so it'll bake slightly quicker without browning the top too much.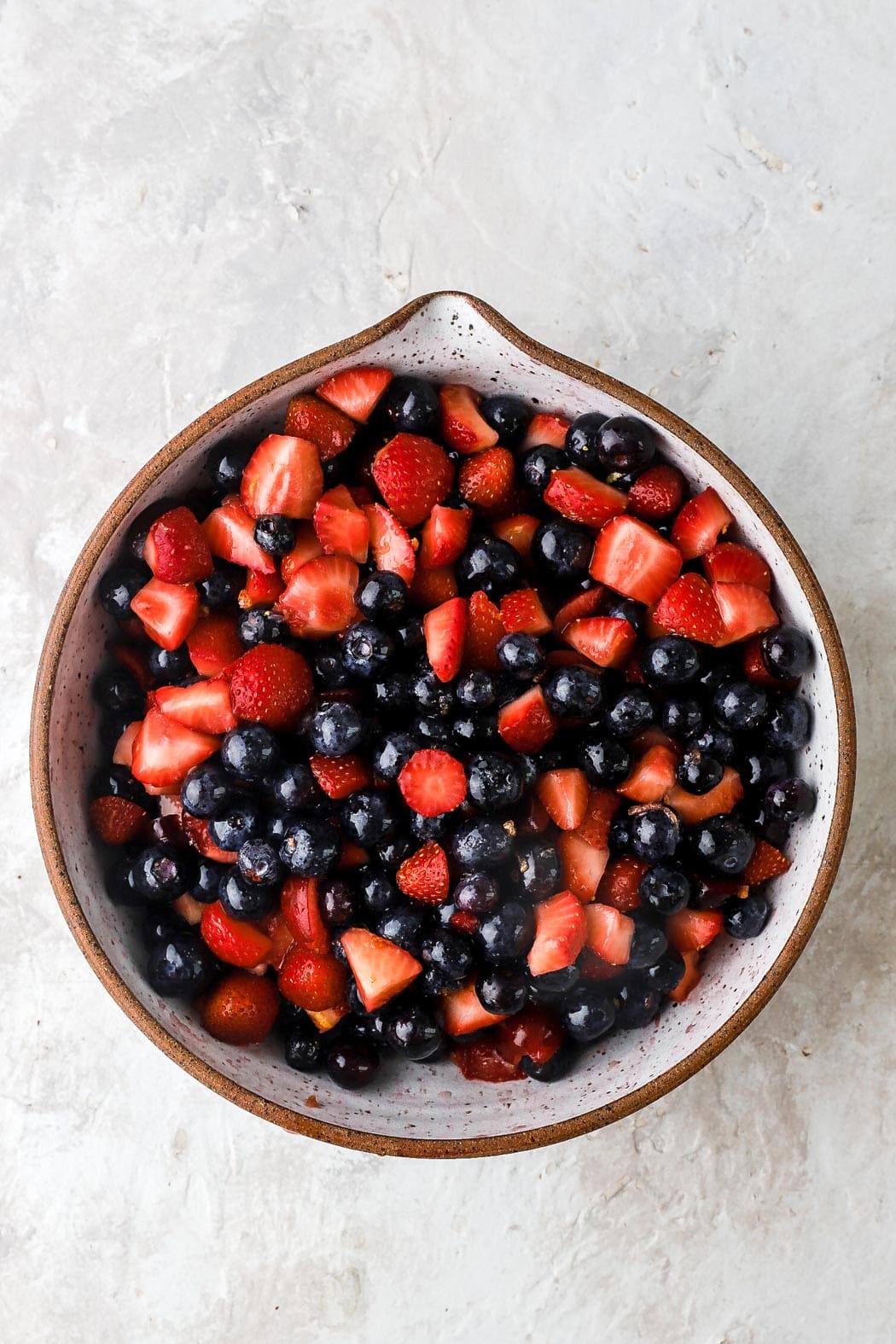 How to put the pie together
I went really simple with this one lol. I just rolled out my top dough into a slightly smaller circle than the bottom. Then fold the edge of the top crust underneath the bottom crust and crimp the edge with your fingers by pressing down every other finger width apart. Slice a few slits in the top
I did a full covered pie crust for three reasons:
I love how it looks
It's the easiest to do (besides a streusel, of course)
You get more pie crust to filling ratio this way!
I really do need to practice doing a lattice crust on top of the filling next time. I know it's still early summer but I am looking forward to making apple pie in the fall – ohhh or maybe even an apple strawberry pie later this summer?! We'll do a lattice top for that…maybe lol, no promises.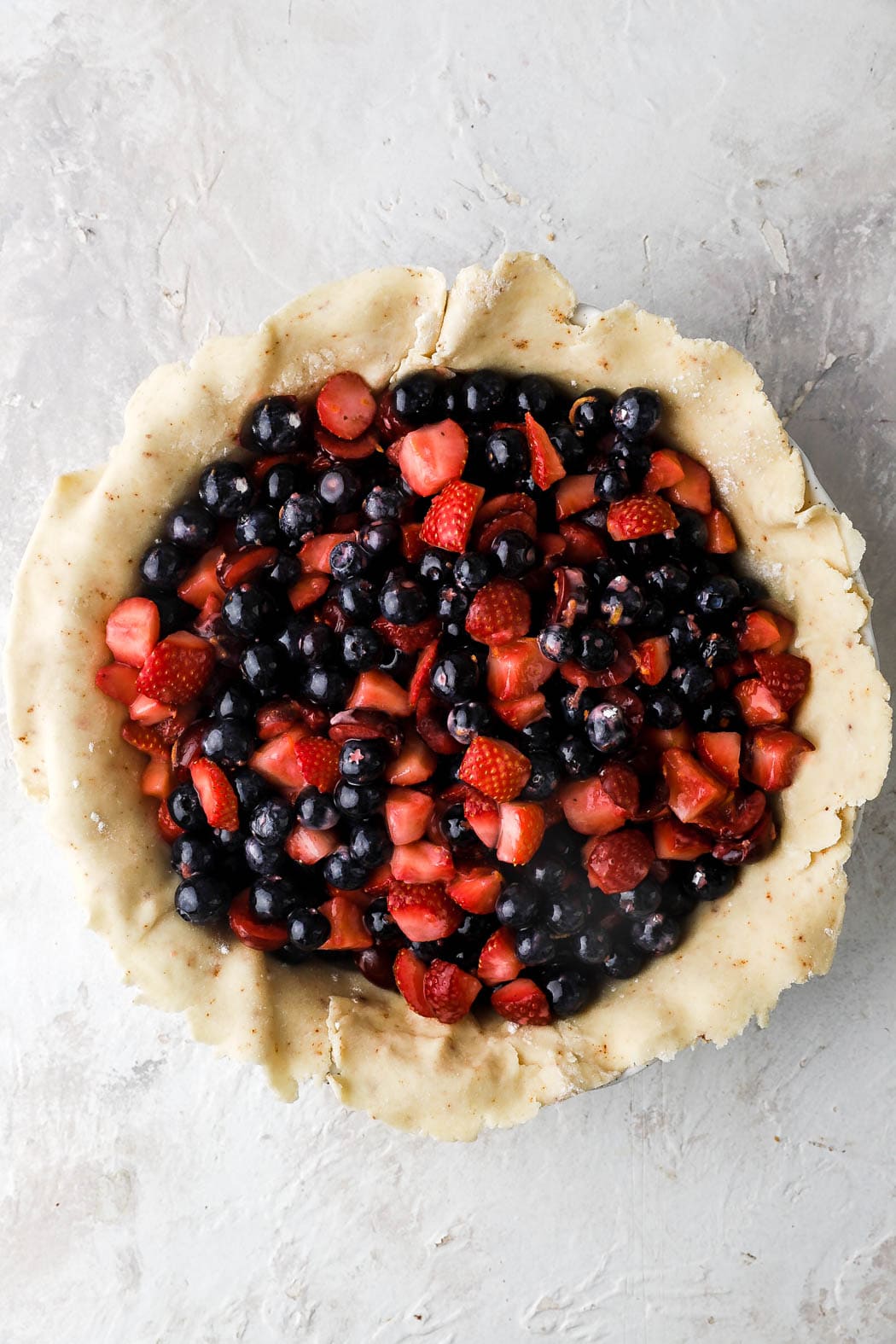 Tips for getting the pie crust just right
Temperature matters: to create a flaky crust, you want the butter to be cold so it doesn't melt into the other ingredients. To keep the butter as cold as possible I like to put my flour and sugar in the food processor bowl and then freeze the whole bowl while I cube my cold butter.

Add the butter to the bowl and freeze while you measure the ice cold water. For ice water, I just put 1-2 ice cubes in the cup and then measure the water or measure the water and freeze it for a few minutes.

Temperature matters again: Refrigerate the pie dough after you've made it and once it feels a little more firm, about 30-60 minutes later, you can roll it out. I roll out half at a time (so the bottom crust first and then the top crust) so the other half doesn't' t get too warm.

If you're making designs with the top crust and it starts to feel sticky/soft, just refrigerate it again for a few minutes.

Temperature matters one more time: You want the pie crust to hold its shape while it's baking. If you bake room temperature pie dough, the butter will melt right out and the crust will shrivel up.

What you want to do is, once the pie is all done, pop it in the fridge or the freezer for about half an hour before baking. You want the crust to be firm and cold before baking so that it holds its shape.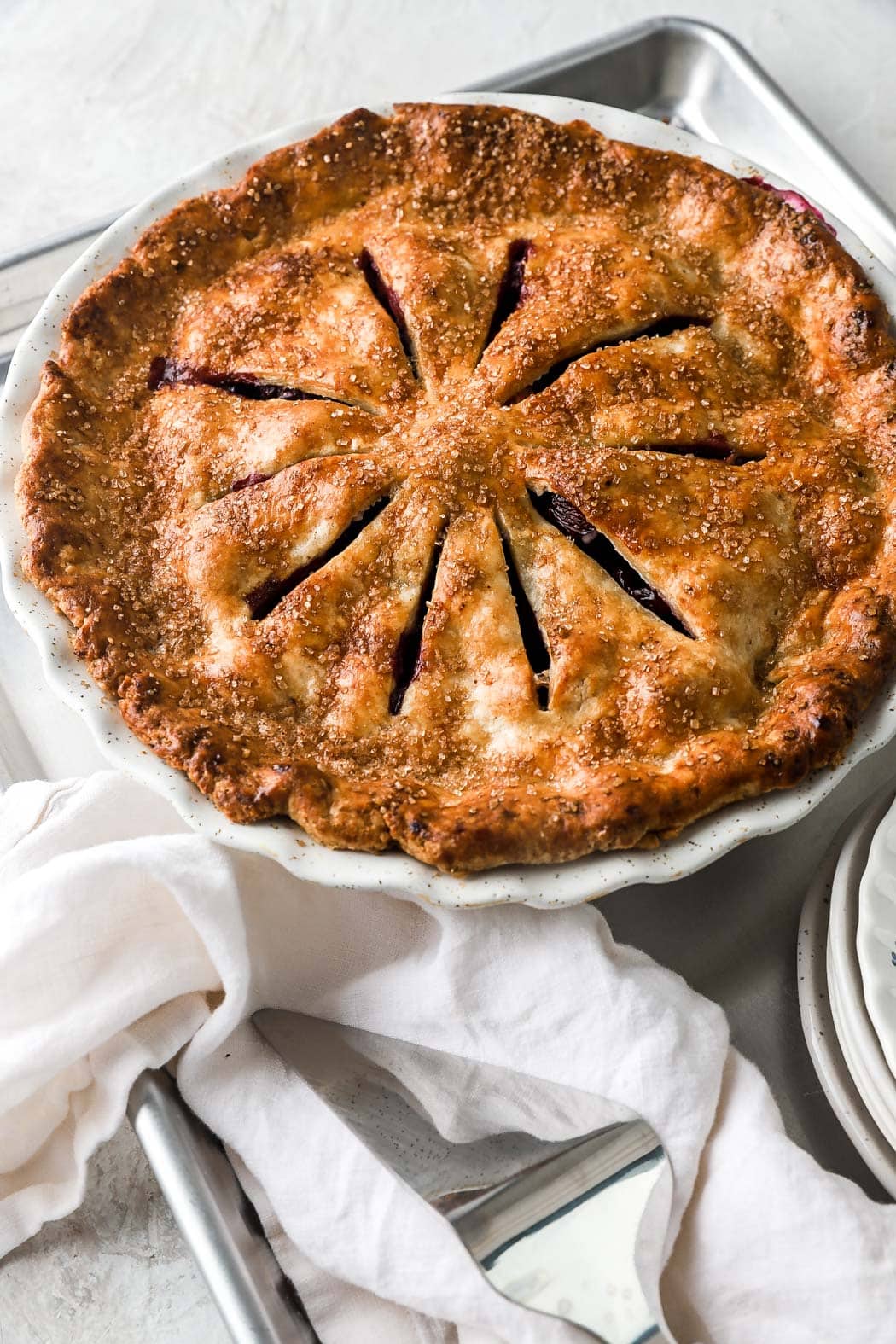 Frequently Asked Questions
Can I use other fruit?
Yes, you can make a mixed berry pie by adding in raspberries and/or blackberries. I've also made this pie with some cherries. Just keep in mind if your fruits are super ripe and juicy, you may want to increase the cornstarch to ½ cup (64g).
Can I use a store bought pie crust?
Yes you can use store bought pie crust but I don't know if it's just me, I always feel like store bought pie crusts have a slightly bitter taste? But it will definitely work for this recipe.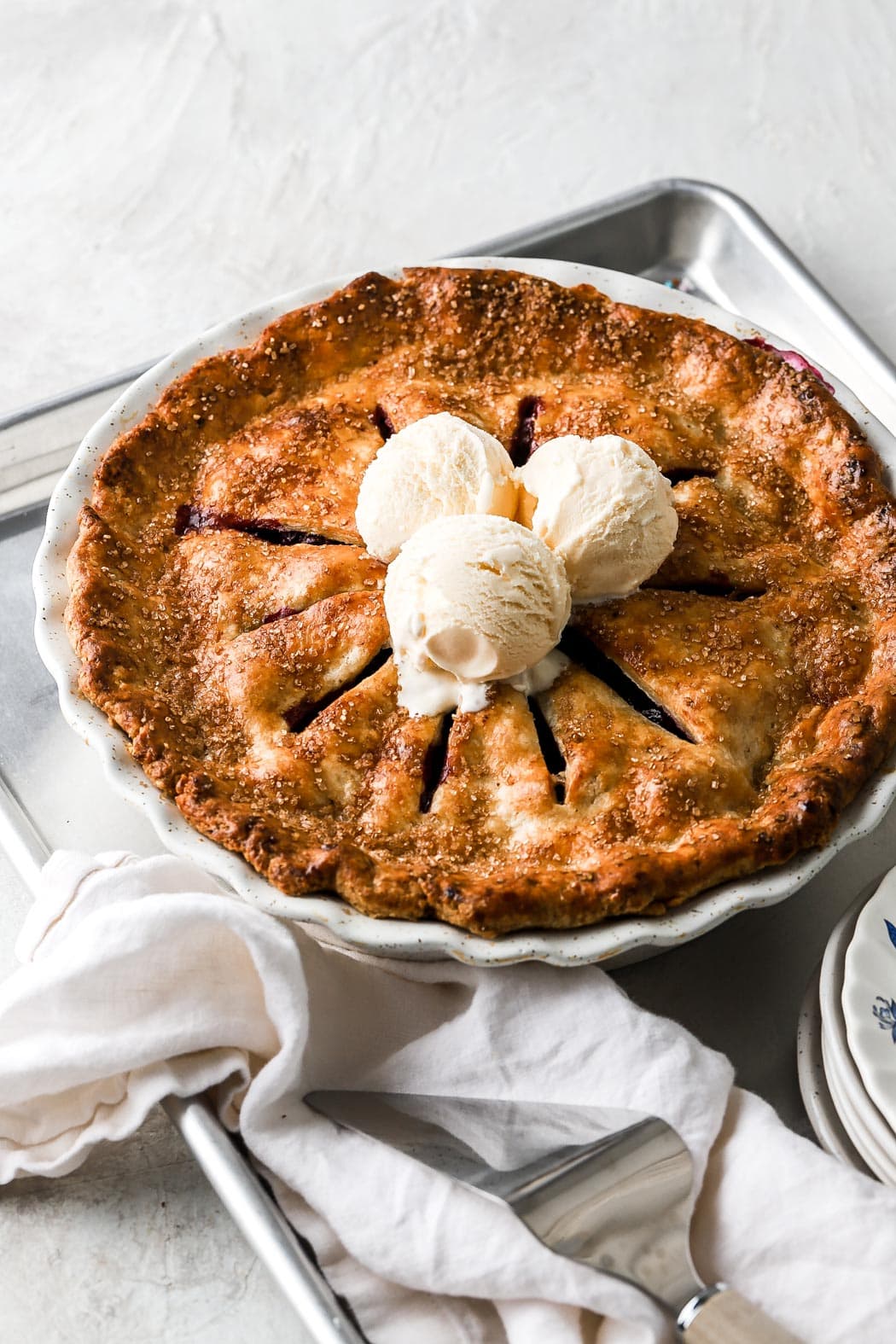 Can I use frozen fruits to make a pie?
You can use frozen strawberries and blueberries (or any other frozen fruit) to make this pie but frozen fruits generally release more water than fresh fruit so I definitely recommend increasing the cornstarch to at least ½ cup, if not ⅔ cup.
Why is my pie leaking everywhere and not setting
If you slice the pie while it's warm, it will definitely still leak some of the juices out. It needs to come to room temperature in order for the filling to set properly.
Mine was still just a slightly warm when I sliced it for these photos. If you want to eat it warm, you can either embrace the mess or just microwave the slice for 10-15 seconds after slicing it.
If you want to make it a little less runny, another option is to use 1/2 cup (64g) cornstarch instead of the 1/3 cup (42g).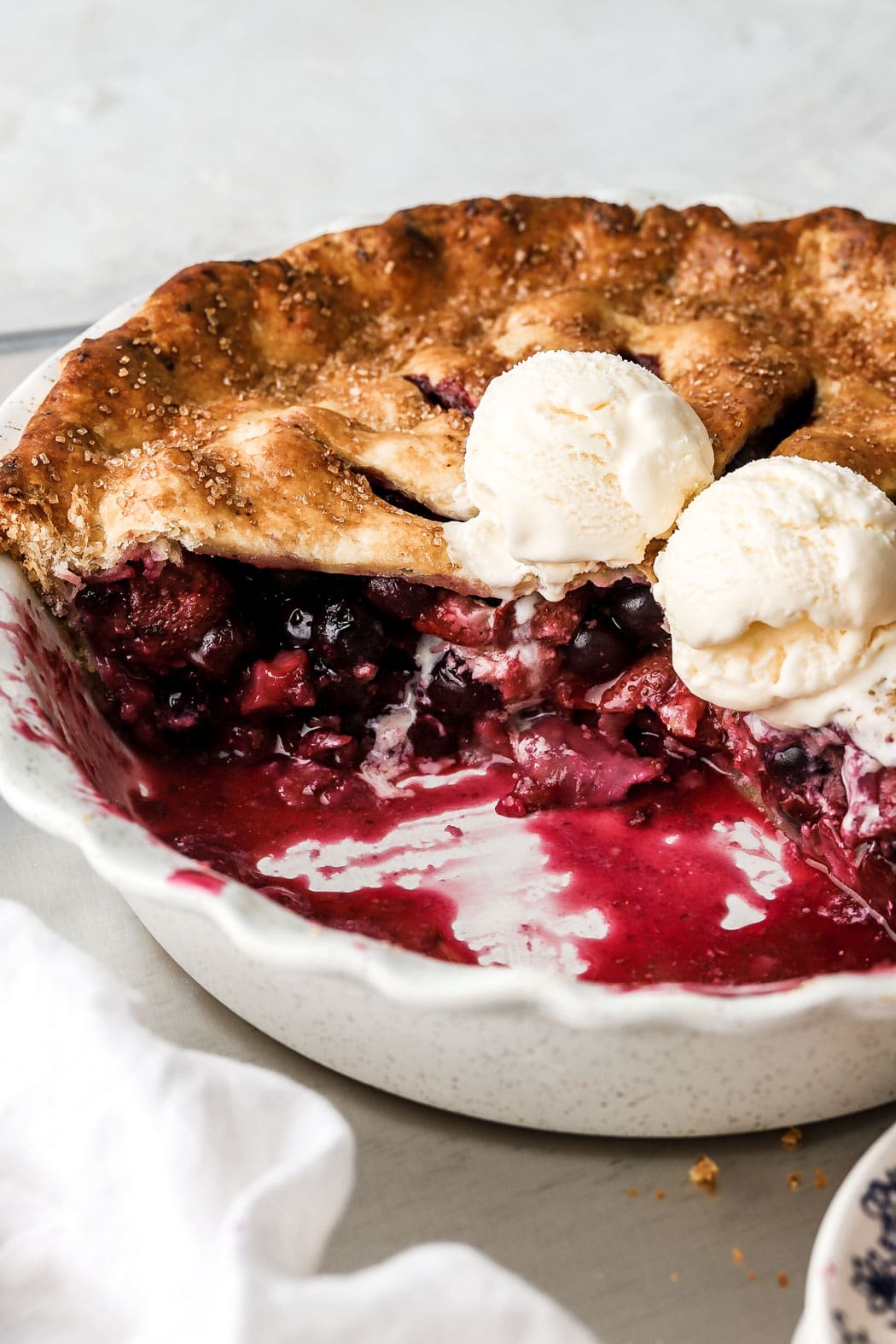 How to store Strawberry Blueberry Pie
After the pie comes to room temperature, it can sit out for a few hours but then make sure to cover it and refrigerate it. It'll be good in the fridge for about a week but the crust will get more stail over time.
I have not tried freezing the pie (baked or unbaked) but I do freeze the pie dough in advance and just thaw it in the fridge a few hours before rolling it out.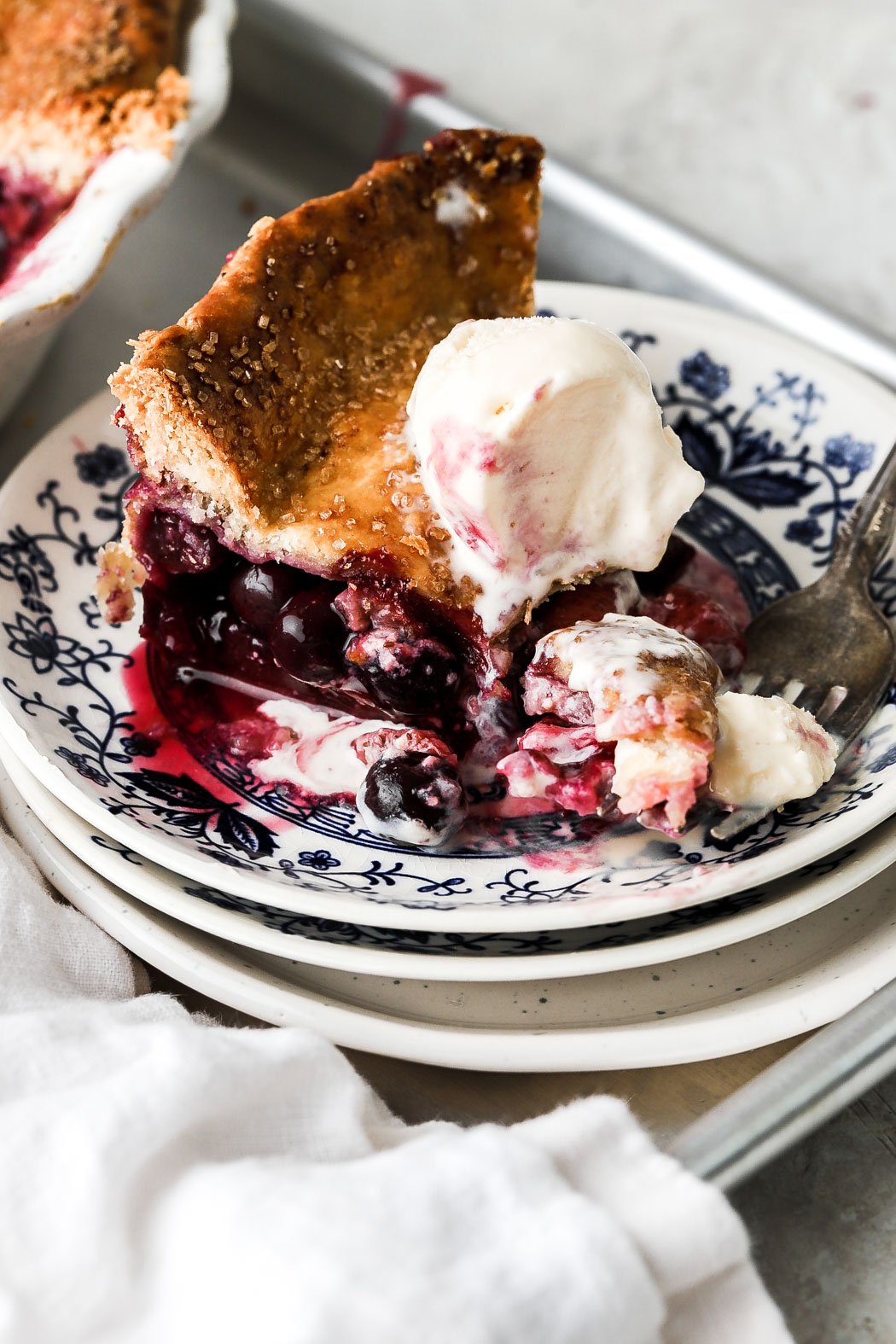 Thanks so much for reading today's post, if you have any questions just comment down below. Make sure to leave it in the comment section because I can't answer in the rating section :).
If you make this strawberry blueberry pie I would love to see it so make sure to tag me @baranbakery on instagram.
As always, have a blessed day and happy baking!
Love, B
Yield: 8-12 servings
Strawberry Blueberry Pie
Summer calls for a perfectly sweet and tart strawberry blueberry pie surrounded by a golden brown pie crust and topped with creamy vanilla ice cream.  
Total Time
3 hours
45 minutes
Ingredients
Pie Crust
2 cup (240g) all-purpose flour, spooned and leveled
1 Tbsp granulated sugar
3/4 cup (170g) salted butter, cold
1/3-1/2 cup (79mL-118mL) ice cold water
1 Tbsp cornstarch
1 large egg for egg wash
1-2 Tbsp turbinado sugar
Strawberry Blueberry Filling
1 1/2 lbs fresh strawberries (1.5 large boxes), hulled and diced
1 lb fresh blueberries (1 big box)
1/2 cup (100g) granulated sugar
1 medium lemon, zest and juice *optional for more flavor
1/3 cup (42g) cornstarch, spooned and leveled*
vanilla ice cream for topping
Instructions
Pie Crust
Place the flour and sugar in the bowl of the food processor. Place the whole bowl in the freezer while you cube the butter. Add the cubed butter to the flour and sugar in the freezer, for 5 minutes.
Remove the the bowl from the freezer, place it on the food processor and pulse until pea seize chunks form.
While the food processor is on, stream in the water just until it starts to come together. Start with only 1/3 cup of water and use up to 1/2 cup if needed. You want the dough to be crumbly and just barely stick together.
Remove the dough from the food processor, press it together so it all sticks together. Wrap it in plastic wrap and refrigerate it for an hour.
Strawberry Blueberry Filling
In a large bowl combine strawberries, blueberries, sugar, lemon zest and juice if using and let it macerate for about an hour.
The juice will collect at the bottom of the bowl, strain it and discard the liquid (I use it for homemade snow cone syrup). I do this twice, once at half an hour and then at one hour.
Before assembling the pie, toss the fruits with cornstarch.
Assemble
When the pie crust is firm but still malleable, roll out the bottom crust to a circle that's about 1/8-inch thick. Place it into a deep pie dish, bringing the crust up to the top edge.
Dust the bottom of the crust with the tablespoon of cornstarch and then spoon the strawberry blueberry filling over the pie crust, leaving as much of the juice behind.
Roll out the top pie crust into a circle that's also about 1/8-inch thick. Place it on top of the fruit filling and fold the edges of the top pie crust over the edge of the bottom, crimping the edge with your finger.
Slice a few breathing holes into the top of the pie crust and refrigerate it for at least half an hour.
Preheat the oven to 350F (177C) conventional (no fan). Beat an egg with a fork until the yolk is well combined with the egg white. Brush the pie crust with the egg wash and sprinkle generously with turbinado sugar.
Bake the pie for about 60 minutes. The crust should be a dark golden brown and the filling should bubble through the little slits in the top of the pie.
Allow to cool for a few hours. I like to slice it when it's at room temperature or slightly chilled, so it doesn't leak as much. Top with vanilla ice cream and enjoy!
Notes
*if you want to make it a little less runny, you can do up to 1/2 cup (64g) cornstarch instead.
you can put a baking sheet pan underneath the pie filling if you're afraid of it bubbling over - I had no issues with this since the crust fully covers the pie and the filling is not overfilled.
Recommended Products
As an Amazon Associate and member of other affiliate programs, I earn from qualifying purchases.
Nutrition Information:
Yield:
12
Serving Size:
1
Amount Per Serving:
Calories:

321
Total Fat:

14g
Saturated Fat:

8g
Trans Fat:

0g
Unsaturated Fat:

5g
Cholesterol:

66mg
Sodium:

127mg
Carbohydrates:

46g
Fiber:

3g
Sugar:

23g
Protein:

4g
Nutrition information may not be fully accurate.