Apple Pop Tarts with Homemade Apple Butter
The ultimate fall breakfast treat, apple butter pop tarts use a simple pie crust recipe filled with a brown sugar apple butter filling and topped with apple glaze!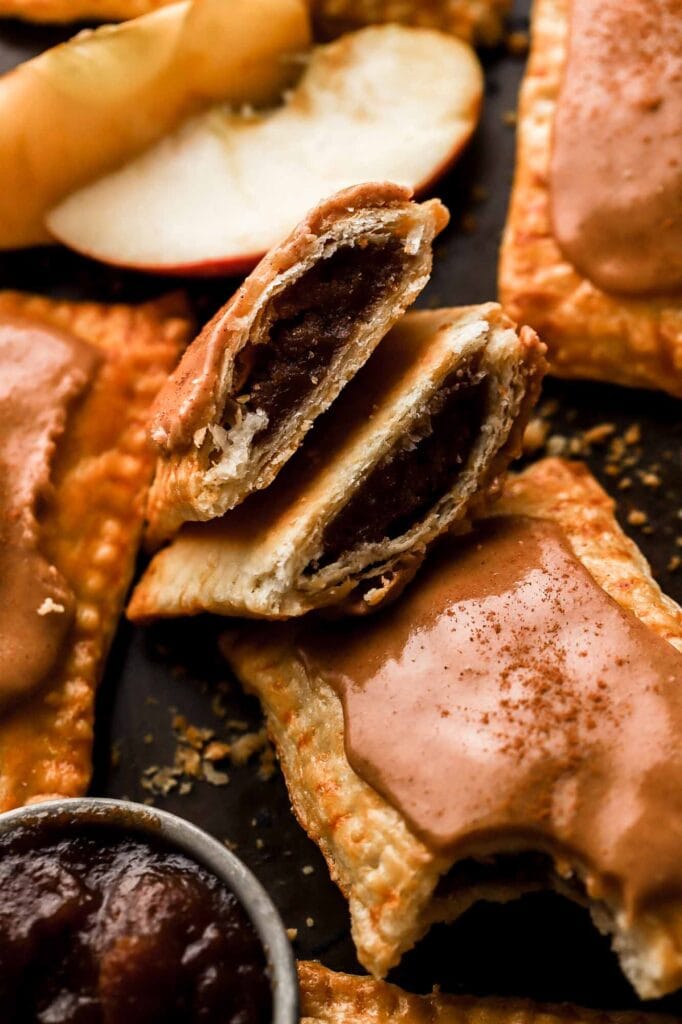 Growing up, I LOVED pop tarts! My favorite was the chocolate, the s'mores & the cookies and cream. I would toast them for just a minute or two & they would get warm and gooey in the center & a little crispy around the edges.
These apple butter pop tarts are everything you wish you had as a kid, lol. I adapted the pastry from my buttermilk pie crust recipe and of course, I used my instant pot apple butter for the filling. If you don't have an instant pot, you can also make apple butter in a crock pot!
How to make apple butter pop tarts
Here I usually tell the user what the different layers or parts of the cake are, then I separate them in the next few Header 3's and talk about each one specifically.
The flakey pastry
What makes pastry flakey?! Butttterrrr. Cold butter, to be specific. For the best flakey pastry, you want super cold ingredients so I like to chill the flour and sugar with the bowl for a few minutes, use cold cubed butter and ice water.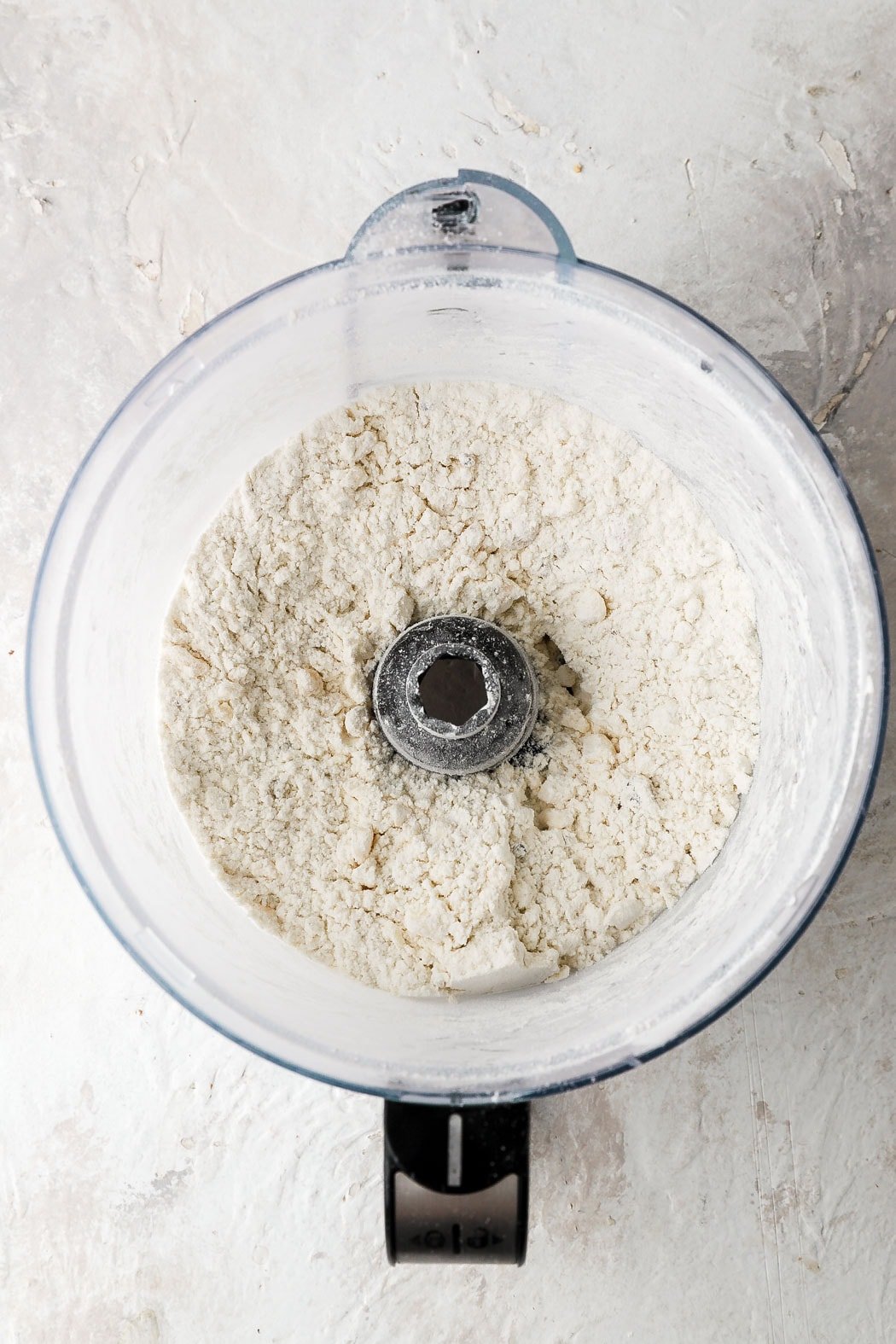 Apple butter filling
My goal with this filling was to make it similar to the brown sugar pop tarts but apple butter flavored! I combined apple butter with brown sugar, cinnamon and flour to make it nice and thick. Make sure to put as much of the filling onto the pastry while still leaving room on the edge to crimp the pastries together.
Apple Glaze
The glaze. What's the difference between hand pies and pop tarts? Pop tarts are glazed. I really wanted to accentuate the apple flavor so I used both apple butter and apple cider to make this glaze. If you don't have apple cider on hand, you can certainly use apple juice or even just water or milk. Don't skip the apple butter though!
It's a pretty thick glaze because I didn't want it to run off of the pop tarts but once you apply it to the top of them, it'll settle like smooth glaze.
Frequently Asked Questions
Can I use a store bought apple butter
I tested the recipe with homemade and store bought apple butter. You can use both just make sure whatever you use isn't too runny. You can see the consistency of the apple butter I used for these in the photos, aim for something like that. If yours is a little more runny, just add an extra 1-2 tsp of flour.
Can I use a store bought pastry
I also made these with both homemade and store bought pastry. I included the homemade pie crust recipe that I used but you can certainly use your favorite one or a store bought one.
How to store apple butter pop tarts
Store apple butter pop tarts in a ziplock bag, at room temperature for 1-2 days. If it's longer than that, simply place them in the freezer. You can also wrap them individually and then place them in a ziplock bag or airtight container if you want to freeze for 2-3 months. Bring them back to room temperature before serving!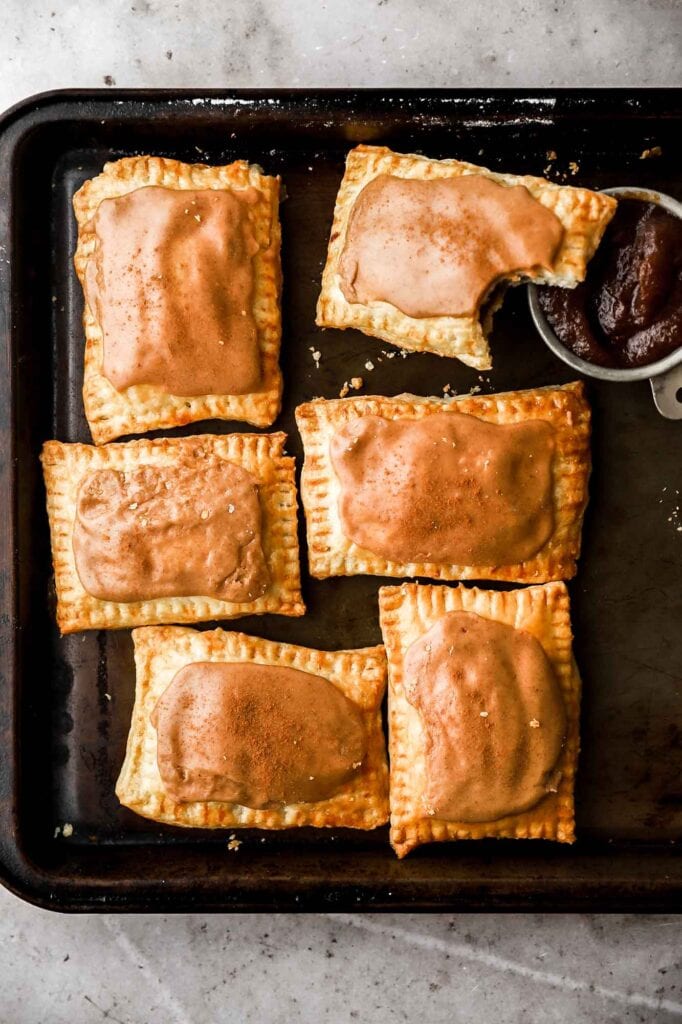 Thanks so much for reading today's post , if you have any questions just comment down below, i'm happy to answer! If you make this apple butter pop tarts I would love to see the results, please make sure to tag me @baranbakery on instagram.
As always, have a blessed day and happy baking!
Love, B
Yield: 10 pop tarts
Apple Butter Pop Tarts Recipe
The ultimate fall breakfast treat, apple butter pop tarts with apple glaze!
Additional Time
1 hour
30 minutes
Total Time
2 hours
30 minutes
Ingredients
Pastry
2 cup (240g) all-purpose flour, spooned and leveled
1 Tbsp granulated sugar
3/4 cup (170g) salted butter, cold
1/3-1/2 cup (79mL-118mL) ice cold water
1 egg for egg wash, room temperature
Apple Butter Filling
1/2 cup (160g) apple butter
1/2 cup (100g) light brown sugar, lightly packed
2 Tbsp (15g) all-purpose flour, spooned and leveled
1/2 tsp cinnamon
Apple Butter Glaze
1/2 cup (60g) powdered sugar, spooned and leveled
1 Tbsp (18g) apple butter
1 tsp (5mL) apple cider (or milk/water/apple juice, etc.)
Instructions
If you're making Homemade Apple Butter, begin with that so it has time to cool.
Pastry
Place the flour and sugar in the bowl of the food processor. Place the whole bowl in the freezer while you cube the butter. Add the cubed butter to the flour and sugar in the freezer, for 5 minutes.
Remove the bowl from the freezer, place it on the food processor and pulse until pea seize chunks form. While the food processor is on, stream in the water just until it comes together. Start with only 1/3 cup of water and use up to 1/2 cup if needed. You want the dough to just barely stick together.
Remove the dough from the food processor, press it together so it all sticks together. Wrap it in plastic wrap and refrigerate it for an hour.
Assemble
Combine the ingredients for the apple butter filling until they're smooth and set aside.
Remove half of the pie crust from the fridge and leave half wrapped in the fridge. Roll it out into about 1/8" thick rectangle (basically as thin as you can without seeing through it or breaking it).
Cut the edges so it forms a perfect square or rectangle and slice them into 3x4" rectangles. Set aside the leftover dough.
Spread about 1 Tbsp of apple butter filling on half of the pieces, leaving about a 1/4" overhang of the dough. Place another sheet of dough on top of it and use a fork to seal/crimp the edges and poke a few holes on the top of the pop tart.
In a small bowl, beat the egg for the egg wash and brush a thin layer onto the pastry, covering it completely. Freeze the pop tarts for about 15-20 minutes, until they feel firm.
Preheat the oven to 350F/177C convection (325F/163C conventional) and bake for 30-35 minutes, until they're a nice golden brown color. Remove from the oven and allow them to cool completely before glazing.
Repeat with the rest of the pastry from the fridge. Then press together the leftover pastry scraps, wrap them again and refrigerate for another 20 minutes before making more pop tarts. Don't reuse the "scraps" of the "scraps", the more you press on the dough, the more tough it becomes.
Glaze
In a medium bowl, combine all the ingredients for the glaze and mix until it's smooth. It should be feel pretty thick, almost like frosting. Spread it on top of the pop tarts and it will settle like a glaze.
Once it's dry, top with a pinch of ground cinnamon. Allow them to air dry for a few hours before packing/stacking.
Recommended Products
As an Amazon Associate and member of other affiliate programs, I earn from qualifying purchases.
Nutrition Information:
Yield:
10
Serving Size:
1
Amount Per Serving:
Calories:

322
Total Fat:

15g
Saturated Fat:

9g
Trans Fat:

1g
Unsaturated Fat:

5g
Cholesterol:

74mg
Sodium:

131mg
Carbohydrates:

43g
Fiber:

1g
Sugar:

21g
Protein:

4g
Nutrition information may not be fully accurate.