Lemon Drop Cookies with Vodka Glaze
The best lemon drop cookie with a sweet lemon vodka glaze. Easy to make and even easier to eat!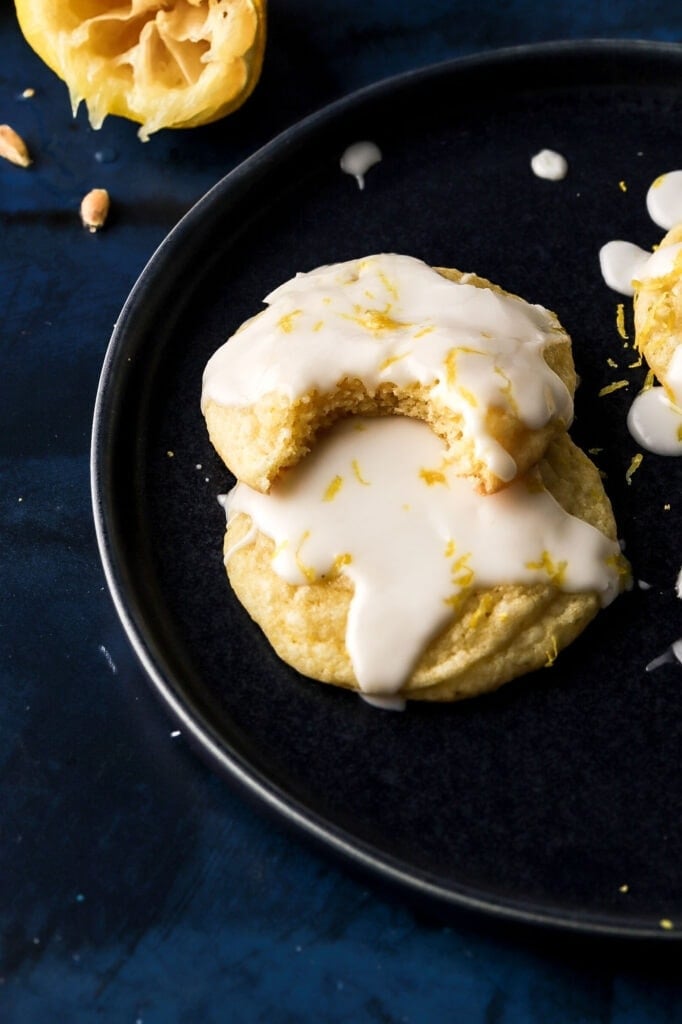 Friends, it's that time of year again, where we indulge in all the wonderful cookies and celebrate the birth of our saviour with our loved ones! There are so many classic Christmas cookies to choose from so I wanted to step out of the box for this one. These lemon drop cookies get their name from a classic cocktail not from a drop dough.
What are lemon drop cookies
Lemon drop cookies are lemon and vanilla flavored sugar cookies. The texture is crisp on the outside and soft and chewy on the inside, basically the perfect cookie. If I'm being totally honest, I loved these cookies so much that I ate half the batch before they were even glazed.
They're topped with the easiest lemon vodka glaze, which is obviously optional. The vodka can be replaced with lemon juice, milk or water to make a simple sweet glaze. Adding extra lemon extract is never a bad idea too!
How to make lemon drop cookies
These cookies are so incredibly easy to make. I love when all you need is a mixing bowl and whisk. We're basically combining the melted butter with the sugar and eggs and lemons and then folding in the dry ingredients. Easy peasy lemon squeezy.
Unfortunately for that perfect thick and chewy texture, the cookies do require chilling time. Make sure to bake the cookies just until the edges begin to change color. As soon as you see a tiny bit of color, remove them from the oven and let them finish baking on the pan for 5-10 minutes. 
How to store the cookies
Make sure to let the glaze fully set before stacking the cookies, so that they don't all mush together. The cookies are good for a few days at room temperature or about a week refrigerated. Always store them in an airtight container so they don't dry out.
You can also freeze the cookie dough to bake later. Make sure they're wrapped tightly in plastic wrap and then stored in an airtight container so they don't get any freezer burn. To bake the frozen dough, defrost them in the fridge overnight or set them at room temperature for at least an hour before baking. You want them firm like when they're refrigerated but not frozen solid. 
Thanks so much for stopping by today, I hope you guys enjoy these lemon drop cookies as much as we did! If you're a fellow lemon lover, make sure to tag me @baranbakery on instagram if you make them. As always, have a blessed day and happy baking!
Merry Christmas!
Love, B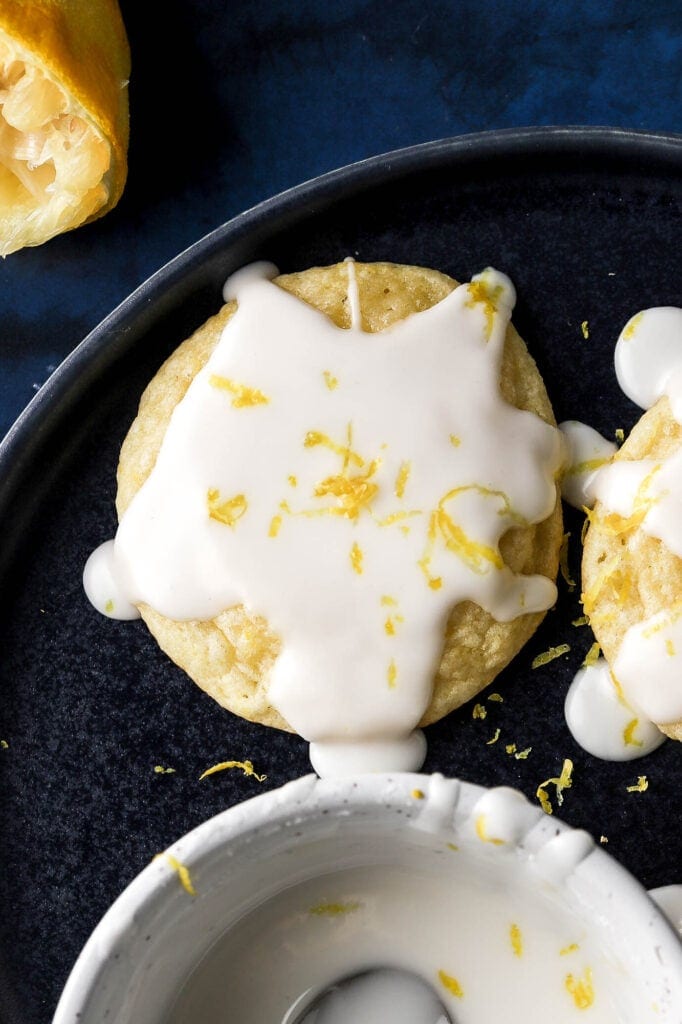 Yield: 16 Cookies
Lemon Drop Cookies Recipe
The softest lemon sugar cookies drizzled with a sweet lemon vodka glaze!
Prep Time
4 hours
30 minutes
Additional Time
10 minutes
Total Time
4 hours
50 minutes
Ingredients
Cookies
2 cups (240g) all-purpose flour, spooned and leveled
1/2 tsp baking soda
1/4 tsp salt
1/2 cup (113g) unsalted butter, melted
1 cup (200g) granulated sugar
1 large egg, room temperature
1 tsp vanilla extract
Zest and juice of one large lemon
Vodka Glaze
1 cup (120g) powdered sugar, spooned and leveled
3-4 tsp lemon vodka
Instructions
For the cookies, combine the flour, baking soda and salt in a mixing bowl and set them set aside.
In a large bowl, mix together the melted butter, sugar, egg, vanilla extract, lemon zest and juice until they're smooth.
Fold in the dry ingredients, just until the last streak of flour is combined.
Use a small cookie scoop (1 1/2 inch) to scoop out cookie dough rounds. Place them 2 inches apart on a baking sheet lined with parchment paper. Refrigerate them for at least 2-3 hours, until the cookie dough is firm.
Preheat the oven to 350F/177C convection (325F/163C conventional) and bake the cookies for 10-11 minutes, just until the edges are set and are very lightly browned. Remove them from the oven and let them cool on the pan for 5-10 minutes. Then move them to a wire rack to cool completely (or enjoy warm without the glaze).
To make the glaze, mix the powdered sugar and lemon vodka until they're smooth. Dip the top of the cookies in the glaze or drizzle it on top.
Store in an airtight container at room temperature for 2-3 days or in the refrigerator for up to 7-10 days.
Notes
If you're not into the vodka glaze, you can just use lemon juice and powdered sugar or omit the glaze all together, the cookies are great alone too!
For a really strong lemon flavor, you can add 1/2-1 tsp of lemon extract as well.
Nutrition Information:
Yield:
16 cookies
Serving Size:
1
Amount Per Serving:
Calories:

177
Total Fat:

6g
Saturated Fat:

4g
Trans Fat:

0g
Unsaturated Fat:

2g
Cholesterol:

27mg
Sodium:

91mg
Carbohydrates:

28g
Fiber:

1g
Sugar:

21g
Protein:

1g
Nutrition information may not be fully accurate.
For similar recipes, check out: