Gingerbread Snickerdoodles
Super soft gingerbread snickerdoodles are subtly spiced and rolled in cinnamon sugar to give it a gooey center and a nice crisp edge. 
Ending cookie week with a super festive gingerbread snickerdoodle! These cookies are just as easy to make as all of the other cookies I posted this week. I know they're nothing elaborate but truth, ain't nobody got time for fancy cookies 🥴. Regardless, they're absolutely delicious, super easy and quick to make and are now a family favorite (Narcis ate THREE!). 
How to make gingerbread snickerdoodles
Again, just like the small batch chocolate chip cookies, I used melted butter for the dough because no one wants to wait for the butter to be at the perfect room temperature. Whisk them with the sugar, add the vanilla and egg and then fold in the dry ingredients. 
There is one extra step to these cookies though. Since the dough is so soft and I really wanted to roll them in cinnamon sugar, I did have to freeze the dough for JUST five minutes! So you'll scoop the cookie dough into 10 scoops, freeze them on the cookie pan, preheat the oven and then remove them from the freezer, roll them in cinnamon sugar and bake.
Ingredients:
Flour: I just used all-purpose flour for this recipe however, I HIGHLY recommend using a digital scale, as over-measuring the flour is the most common baking mistake and may result in dry cookies. 
Sugar: I'm going to spare you my whole rant on sugar lol… I used JUST dark brown sugar for these cookies and I don't recommend substituting it. I didn't want to add any extra molasses to get that classic "gingerbread" flavor so I just used the dark brown sugar.

& then of course, granulated sugar for rolling. 

Butter: I LOVE using salted butter in cookies! I started doing this this year and it just seems more flavorful and it's one less step since you don't have to add extra salt. If you use unsalted butter, just add ¼ tsp salt to the batter with the flour too.
Egg: I used one FULL large egg in this snickerdoodle recipe. 
Vanilla: Don't underestimate the power of vanilla extract in a cookie recipe. I stopped putting vanilla in EVERYTHING that I make but for cookies it's essential. 
Baking Powder: just baking powder, no baking soda. 
Spices: I used cinnamon and ginger and they're pretty essential in gingerbread snickerdoodles if you ask me.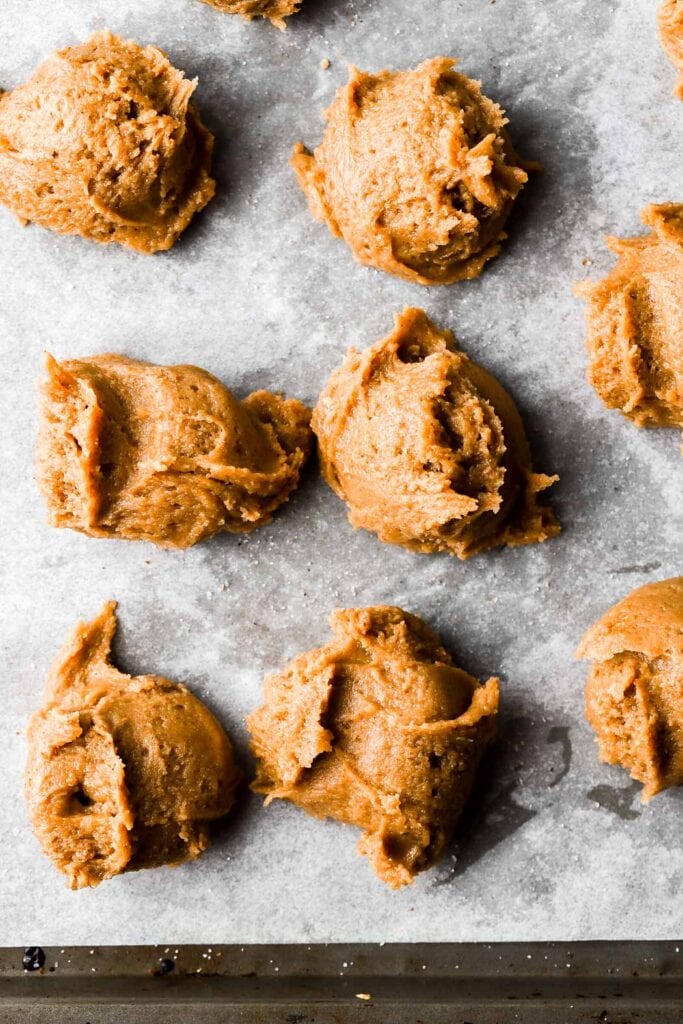 How to bake these cookies
I always bake in a convection oven but when I took some polls on instagram, most of you said you either don't have one or you don't know how to use your convection oven. So since I developed ALL my recipes in a 350F convection oven, I decided to experiment with a conventional.
If you don't know the difference, a convection oven has a fan that circulates the heat more evenly. This usually results in a quicker bake, so always do less time if you're unsure and it also gives a more even browning. If you're not used to it, the change can be frustrating.
If you're using a conventional (NO FAN) oven, I recommend baking these cookies at 325F (163C) for about 12 minutes instead of 350F (177C) for 10 minutes in a convection oven.
Of course, if you get more than 10 cookies then they're smaller in size and you'll have to bake less. If I separate the dough into 13 cookies, then I bake them for 8 minutes. 
Frequently Asked Questions
How can I store unbaked cookie dough?
The cookie dough is pretty soft so you'll want to scoop it out, roll it and then press it down just a little so it looks more like a disc than a ball. Then refrigerate it on a plate or tray until the cookie dough is more firm. Once they're firm, place them in a ziplock bag and freeze. To bake, remove from the freezer as the oven is preheating and just add an additional 2-3 minutes to the bake time.
Can I make these vegan?
Unfortunately I haven't had time to test this but I really wanted to get this recipe out to you all so when I do try it, I'll certainly update it. If you try it, let me know!
Can I double the recipe to make a big batch of cookies?
You can! I double this recipe all the time and it makes 20 cookies.
Can I add add-ins?
You sure can, just fold them in at the end. Some fun add-ins that I recommend:
1 cup of nuts, any kind but roughly chopped
1 cup of chocolate chips, any kind
1 cup of mini marshmallow
If you have any other add-ins you've tried, let me know in the comment section.
How to store baked cookies
These gingerbread snickerdoodle cookies are actually really good the next day too. I mean most things are but these are just about as good as fresh! Just place them in a ziplock bag and keep them at room temperature for up to five days. They obviously will dry out a little more by day 5 but I just pop in the microwave for like 5-10 seconds before eating.
Thanks so much for reading today's post , if you have any questions just comment down below, i'm happy to answer! If you make these gingerbread snickerdoodles, I would love to see them! Make sure to tag me @baranbakery on instagram and as always, have a blessed day and happy baking!
Love, B
Yield: 10
Gingerbread Snickerdoodles Recipe
Super soft gingerbread snickerdoodles are subtly spiced and rolled in cinnamon sugar to give it a gooey center and a nice crisp edge. 
Additional Time
10 minutes
Ingredients
1/2 cup (113g) salted butter, melted
3/4 cup (150g) dark brown sugar, packed
1 large egg, room temperature
1 tsp vanilla extract
1 1/2 cup (180g) all-purpose flour, spooned and leveled
1/4 tsp fine sea salt
2 tsp baking powder
1 tsp cinnamon
1 tsp ginger
cinnamon sugar for coating
Instructions
In a medium bowl, whisk together the melted butter and the dark brown sugar just until they're combined.
Add in the egg and vanilla and whisk aggressively for 1-2 minutes, until its smooth and lightened in color.
Fold in the flour, salt baking powder, cinnamon and ginger just until the last streak of flour is combined.
Scoop dough into 10 cookies on a cookie sheet and freeze for 5-10 minutes.
Preheat the oven to 350F/177C convection (325F/163C conventional).
Remove the cookies from the freezer and roll each one into a ball and then roll them in cinnamon sugar.
Bake for 10-12 minutes, until the edges are set and center is puffed.
Let them rest on the cookie pan for 5-10 minutes before serving.
Notes
If you don't have convection, bake at 325F (160C) conventional for 11-12 minutes.
Recommended Products
As an Amazon Associate and member of other affiliate programs, I earn from qualifying purchases.
Nutrition Information:
Yield:
10
Serving Size:
1
Amount Per Serving:
Calories:

211
Total Fat:

10g
Saturated Fat:

6g
Trans Fat:

0g
Unsaturated Fat:

3g
Cholesterol:

43mg
Sodium:

182mg
Carbohydrates:

28g
Fiber:

1g
Sugar:

13g
Protein:

3g
Nutrition information may not be fully accurate.