Fruity Pebble Cake with Cereal Milk
Ultimate fruity pebble cake with real fruity pebbles and cereal milk incorporated in every part of the cake!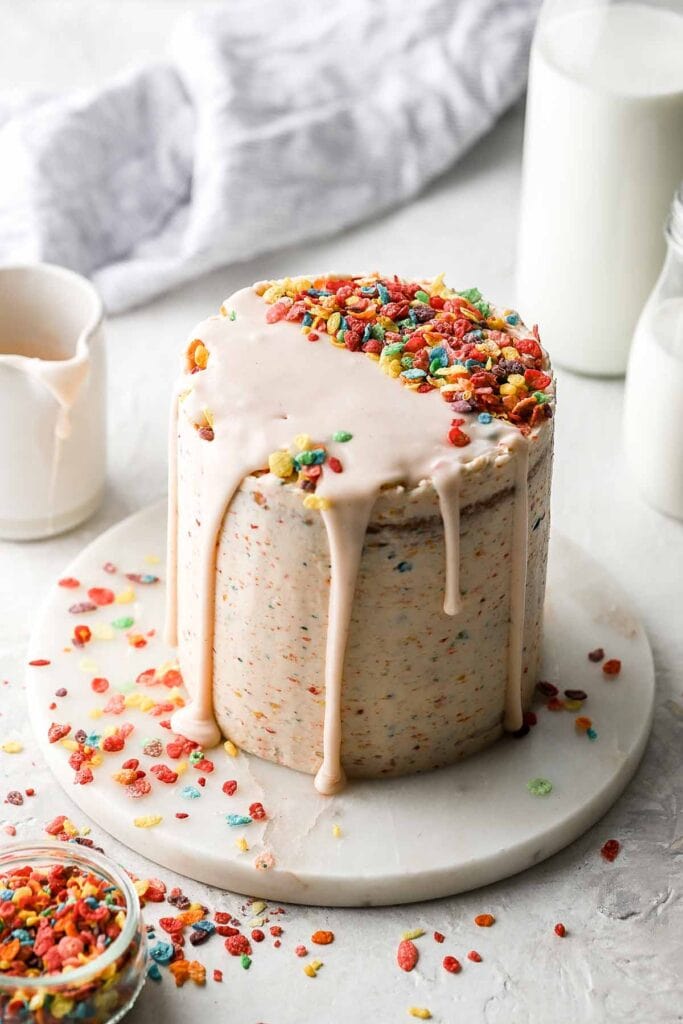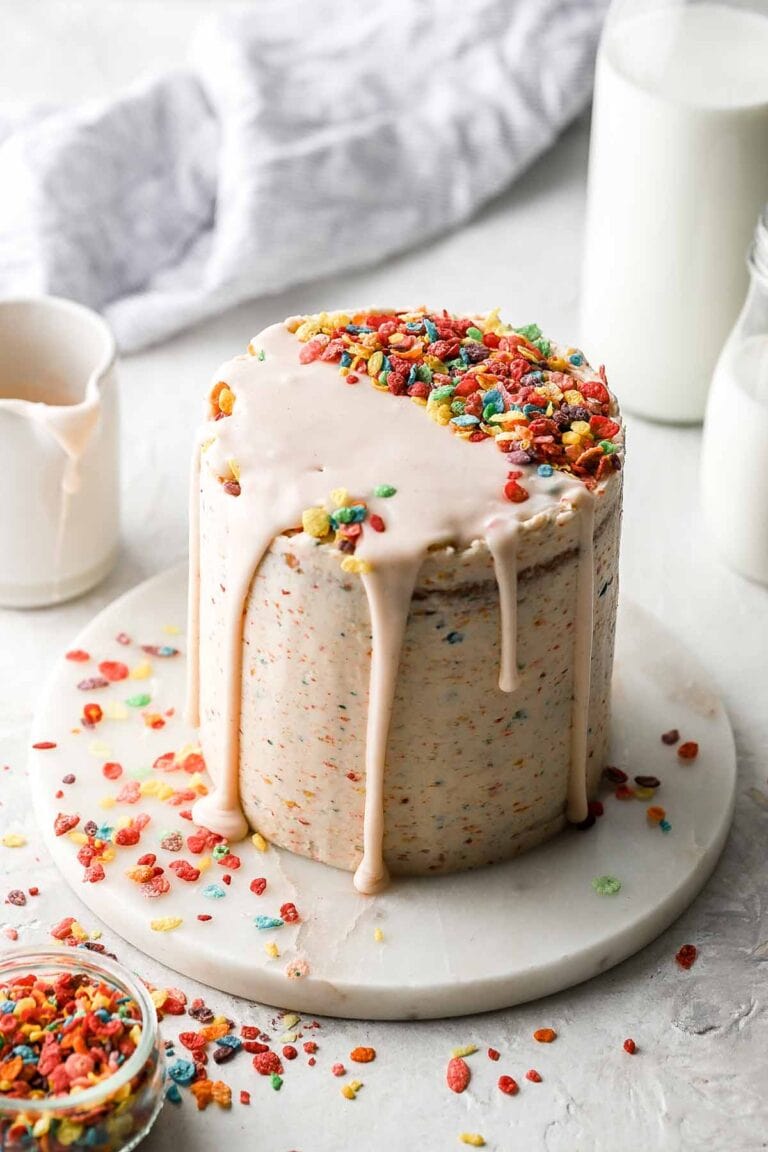 People always ask how I come up with content. Most times it's a craving or imagination of flavors just playing well. Sometimes it's visualizing how good something would look through the lens and occasionally it's me using up ingredients that I don't want to waste, aka, fruity pebbles.
I love cereal, especially fruity pebbles, but let's be real, it really isn't the healthiest of breakfasts. So my dad found two open boxes of fruity pebbles at home which were on the verge of going stale, along with a gallon of milk nearing its expiration date so instead of tossing it (or him eating it all lol) I told him to bring it over and I'll do something with it.
A cereal milk cake has been on my cake to-do list for a long time but I could never decide on which cereal to do so I never did it. I guess fate chose it to be fruity pebbles! The best part is, you can literally make this cake with any cereal flavor and I think cinnamon toast crunch is next for me.
What's in this fruity pebble cake
It's so disappointing looking for a recipe on a specific flavor you want and all the recipes out there just incorporate the flavor in such a subtle way that you don't even notice it. I wanted this fruity pebble cake to be like BAM dis is a FRUITY PEBBLE cake. Not, oh this is a vanilla cake with a few fruity pebbles here that I can see but not really taste.
So my fruity pebble cake has a few components:
Cake – made with cereal milk, soaked fruity pebbles & extra extracts to give it a stronger flavor
Frosting – made with cereal milk and soaked fruity pebbles
Crunch – fruity pebbles between the layers and on top
Glaze – made with cereal milk and extra extracts to give it a stronger flavors
What is cereal milk
If you don't know what cereal milk is, you're missing out but I'm here to educate! Lol, it's pretty self-explanatory but basically the ever so popular Christina Tosi made cereal milk a huge thing through her bakery Milk Bar. The idea of steeping milk things in milk to give it flavor has been used long before her but she made it super popular with cereal.
It's easy to make, literally just pour cereal into milk and let it sit as long as you want. I recommend at least 30 minutes to get a stronger flavor but you can even do it overnight if you want.
It's truly a wonderful way to incorporate flavor into baked goods but it just requires a bit more time than average baking. Also, if you like this recipe, I did a similar method with my Oreo cake!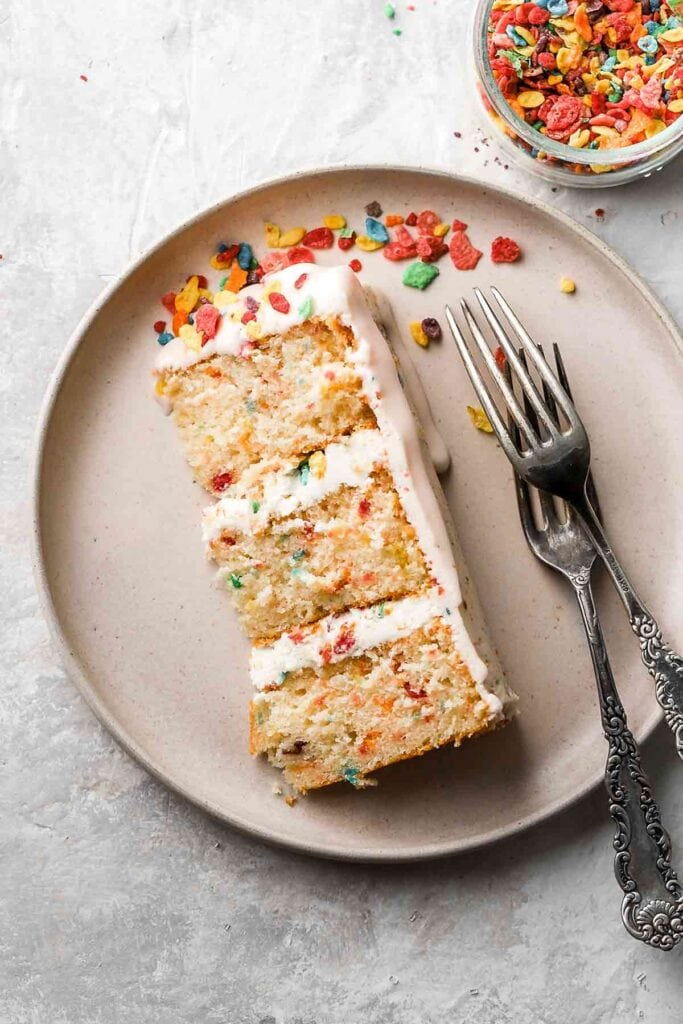 How to make cereal milk frosting
I've seen lots of recipes use traditional American buttercream to make cereal milk frosting and they just add a couple of Tbsp of cereal milk to the butter and powdered sugar mixture. This isn't a bad idea, in fact it's probably better than using a European buttercream since they don't have any milk in the recipe at all.
However, there is a better way. Ermine buttercream (also known as boiled milk frosting) uses almost a whole cup of milk in the recipe which means more cereal milk and more flavor.
I let my cereal milk steep and then strain the cereal and set it aside. Cook the milk with flour and sugar until they thicken. Once it's cooled, whip it with the butter and then add in some of the soaked cereal.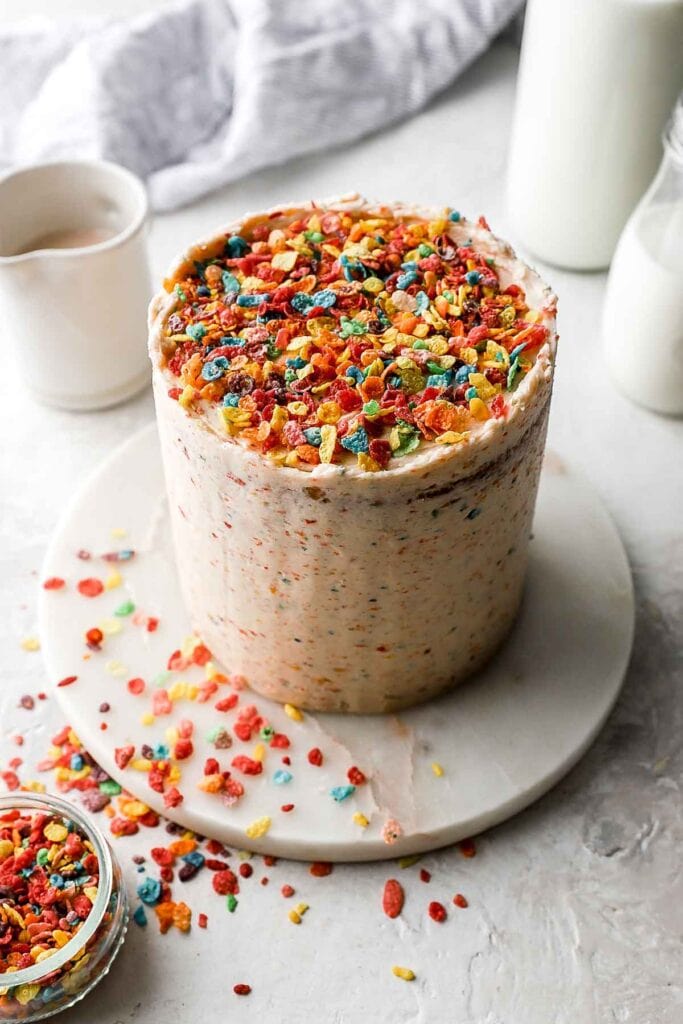 How to store fruity pebble cake
Store the frosted cake at room temperature for 2-3 days. If it's sliced, make sure to cover the cut side with plastic wrap or a cake dome. You can also refrigerate the cake fully covered for up to a week.
To freeze the cake, slice it and place the slices in an airtight container. Then place the container in a freezer bag, squeezing out all the excess air. Freeze for about 2 months.
Thanks so much for reading today's post, I hope you guys enjoy this cake! If you have any questions, just comment down below and please be patient for a response 🙂 Make sure to tag me @baranbakery on instagram if you make this banana cake. As always, have a blessed day and happy baking!
Love, B
Yield: 8-10 slices
Fruity Pebble Cake with Cereal Milk Recipe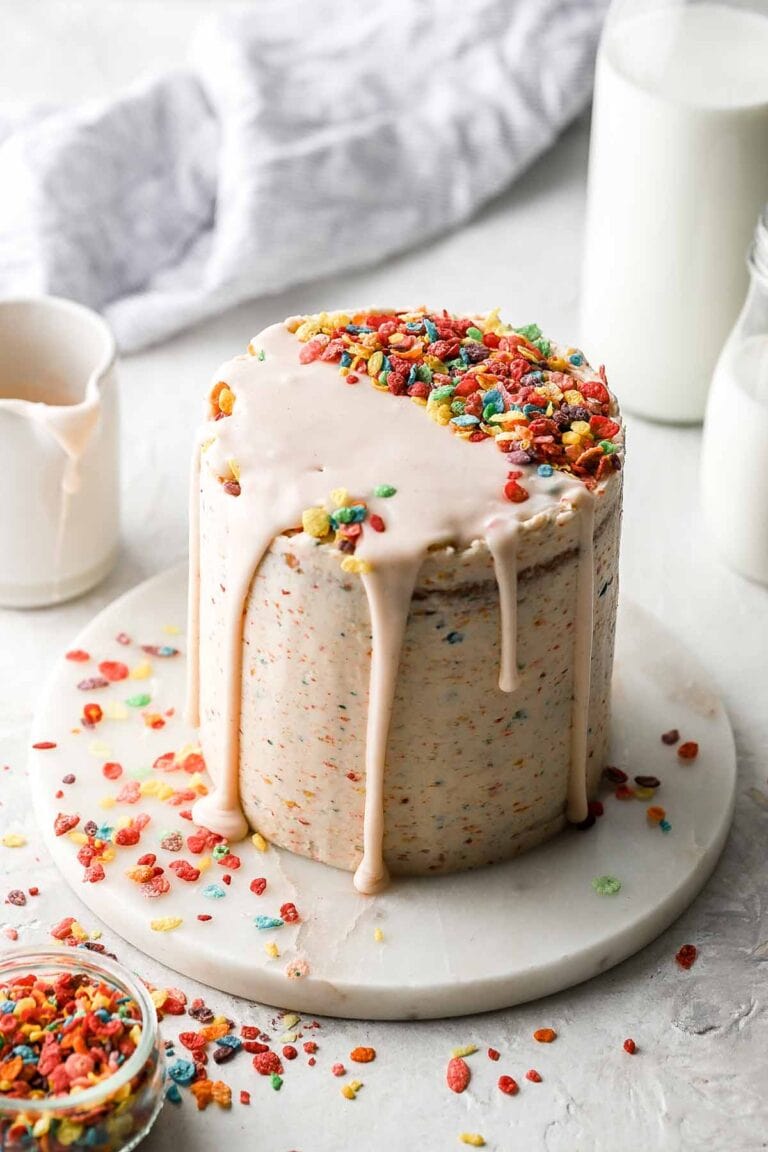 Ultimate fruity pebble cake with real fruity pebbles and cereal milk incorporated in every part of the cake!
Prep Time
1 hour
30 minutes
Total Time
6 hours
5 minutes
Ingredients
Cereal Milk Buttercream
1/2 cup fruity pebbles cereal
1 cup (237mL) milk
1/4 cup (30g) flour, spooned and leveled
3/4 cup (150g) granulated sugar
1 cup (227g) + 2 Tbsp (28g) unsalted butter, room temperature
1 tsp vanilla extract
Fruity Pebble Cake
3/4 cup fruity pebbles cereal
1 1/2 cups (355mL) whole milk
2 cups (240g) all-purpose flour, spooned and leveled
1/2 tsp salt
1 Tbsp baking powder
1 1/2 cups (300g) granulated sugar
1/4 cup (56g) unsalted butter, room temperature
1/2 cup (118mL) canola oil
3 large eggs, room temperature
1 tsp vanilla extract
1/2 tsp lemon extract
1/2 tsp strawberry extract
Cereal Milk Glaze
1/4 cup fruity pebbles *if needed
1/4 cup (59mL) milk *if needed
1 cup (120g) powdered sugar, spooned and leveled
1 tsp vanilla bean paste
1/4 tsp strawberry extract
1/4 tsp lemon extract
Extra fruity pebbles for topping
Instructions
Cereal Milk Ermine Buttercream
Begin by soaking the fruity pebbles in the milk for at least 30 minutes. Strain the cereal out of the milk and set it aside.
In a small saucepan combine the flour and granulated sugar. Slowly add in 3/4 cup of the cereal milk, while whisking continuously so you don't get clumps. Once all the milk is combined, place the saucepan over medium-low heat and whisk continuously but slowly.
Once the mixture begins to thicken and sticks to the bottom of the pan, whisk quicker. Cook the mixture until it's thick enough to coat the back of a spoon, between 5-10 minutes.
Remove from the heat, pour into an airtight container and allow to cool completely to room temperature, about a couple hours (you can also put it in an ice bath but continue to whisk so it cools evenly and doesn't get clumpy). Set aside.
Fruity Pebble Cake
Begin by soaking the fruity pebbles in the milk for 30 minutes. Strain the cereal out of the milk and set aside.
Preheat the oven to 350F/177C convection (325F/163C conventional) and grease and line three 6 inch cake pans.
In a medium bowl, whisk together the flour, salt, and baking powder until they're evenly distributed.
In the bowl of an electric mixer fitted with the whisk attachment, beat the granulated sugar and butter for 2 minutes. Add the oil and continue beating for a minute. Add the eggs, one at a time, beating on medium speed until each egg is fully incorporated. Add the vanilla, lemon and strawberry extracts and beat just until combined.
Add half of the dry ingredients to the wet ingredients, turn the mixer on low speed and then pour in the cereal milk, followed by the rest of the dry ingredients. When the flour is almost fully combined, add in the soaked fruity pebbles and fold the batter until they're evenly distributed.
Distribute the batter evenly among the prepared pans, about 15oz in each pan and bake the cakes for 35-40 minutes. When the cake is fully baked it will release itself from the edge of the pan and it will spring back when you press down on the center.
Invert the cakes onto a tea towel and allow them to cool completely before frosting.
Assemble
To finish the frosting, place the 1 cup of butter in the bowl of stand mixer and using the whisk attachment, beat at full speed for at least 5 minutes, until the butter is fluffy and pale yellow.
Reduce the speed to medium and add in a couple Tbsp of the cooled mixture at a time, allowing it to combine with the butter before adding more. Scrape the edge of the bowl as needed and once it's all combined, add in the vanilla extract and beat at full speed for another minute.
Use 1/4 of the frosting to frost the first layer of cake, top with some crushed fruity pebbles and repeat with the second layer. Then place the third layer on top and refrigerate the cake for 30 minutes.
Add the other 2 Tbsp of butter and HALF of the soaked cereal from the cereal milk (that we made for the frosting) to the leftover frosting and beat on medium speed just until it's combined. If the frosting feels too soft, refrigerate it for 10 minutes and then frost the outside of the cake, leaving a rough border at the top to form a ridge.
Fill the top with fruity pebbles. Refrigerate the cake while you make the glaze.
Cereal Milk Glaze
If you have any cereal milk left from earlier you can just use that but if you don't, then you'll need to soak some more fruity pebbles in milk for 15-30 minutes.
Combine 1 Tbsp of cereal milk with the powdered sugar, vanilla, strawberry and lemon extracts and whisk until lit's completely smooth.
If it looks too thick, add one more tablespoon of the cereal milk but if it's too runny, add 2 more tablespoons of powdered sugar at a time. The glaze should be thick so that it doesn't run off the cake (test it in one spot first).
Drizzle glaze on top of the cake and let it set.
Serve at room temperature or slightly chilled.
Recommended Products
As an Amazon Associate and member of other affiliate programs, I earn from qualifying purchases.
Nutrition Information:
Yield:
8
Serving Size:
1
Amount Per Serving:
Calories:

898
Total Fat:

47g
Saturated Fat:

21g
Trans Fat:

0g
Unsaturated Fat:

24g
Cholesterol:

154mg
Sodium:

460mg
Carbohydrates:

111g
Fiber:

1g
Sugar:

76g
Protein:

10g
Nutrition information may not be fully accurate.