French Opera Cake Recipe (double layers)
The classic French Opera Cake, doubled in layers to make six layers of almond sponge cake, three layers of coffee French buttercream, three layers of rich chocolate ganache and topped with a chocolate glaze!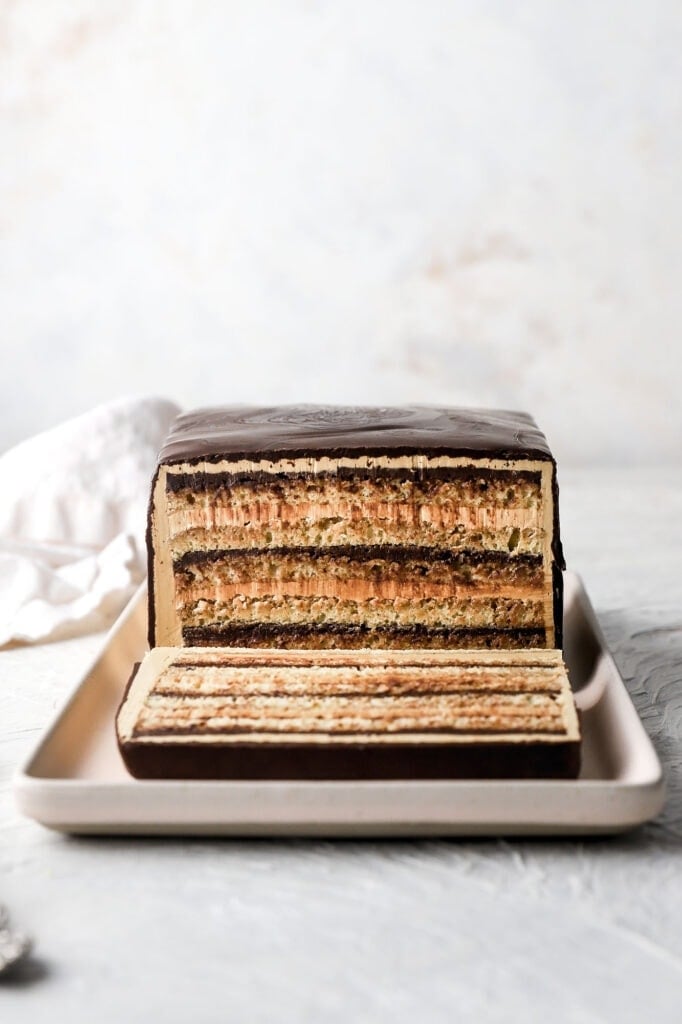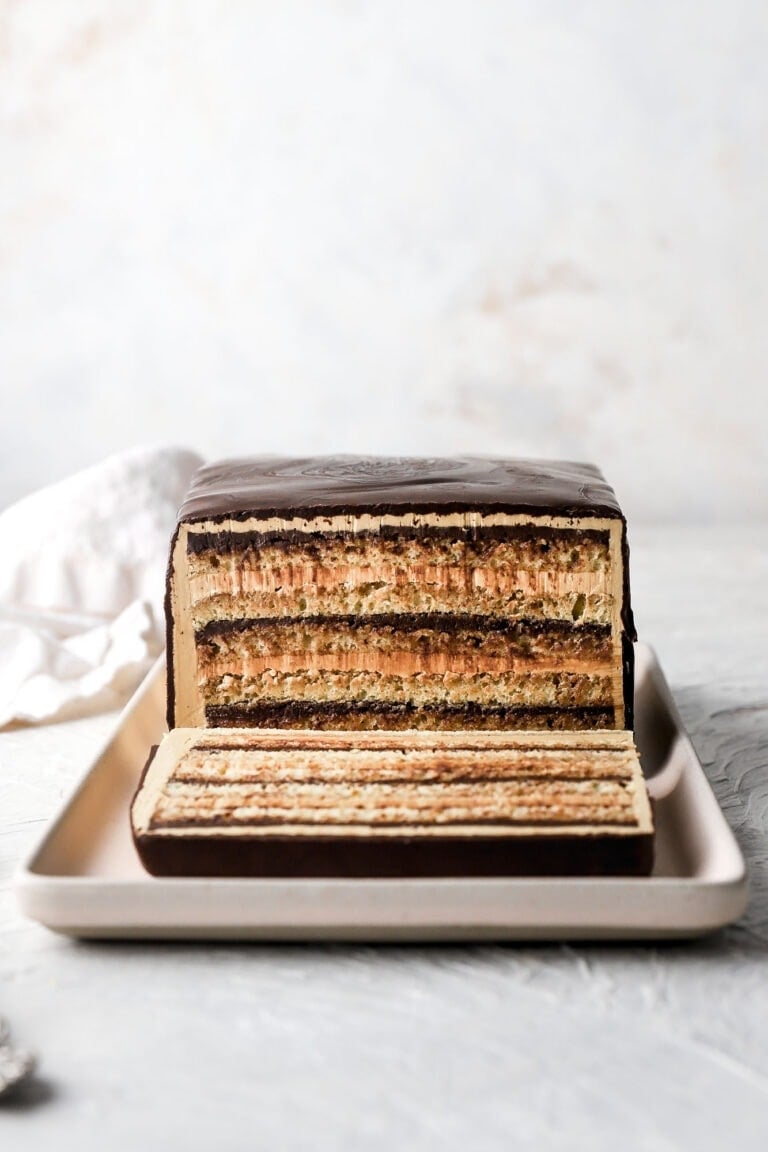 What is an opera cake
An opera cake is a cake that was developed by French pastry chef Cyriaque Gavillon in 1955. I'm not entirely sure why it's called an opera cake but I've heard two theories. The first being that his wife said it reminded her of the Paris Opera House, Palais Garnier and the second being that it is made up of six layers, like an opera, and topped with an icing (which, to me, means seven layers but whatever).
Anyways, the cake is made up of an almond sponge, called joconde, coffee french buttercream and chocolate ganache. I've seen it made a million different ways but I chose to double the layers to make it extra grande.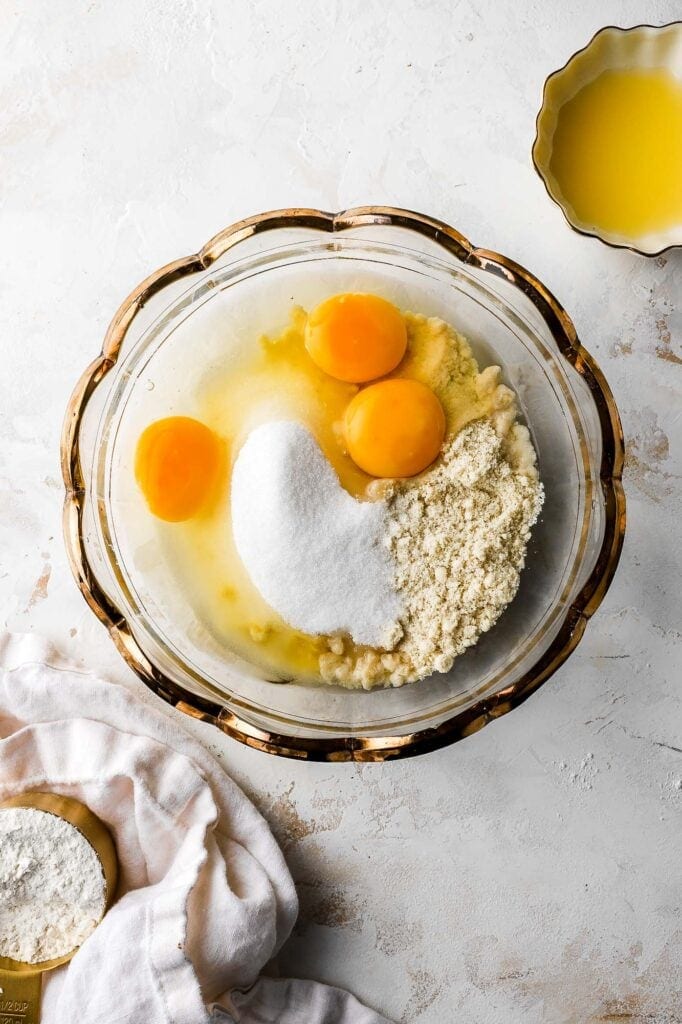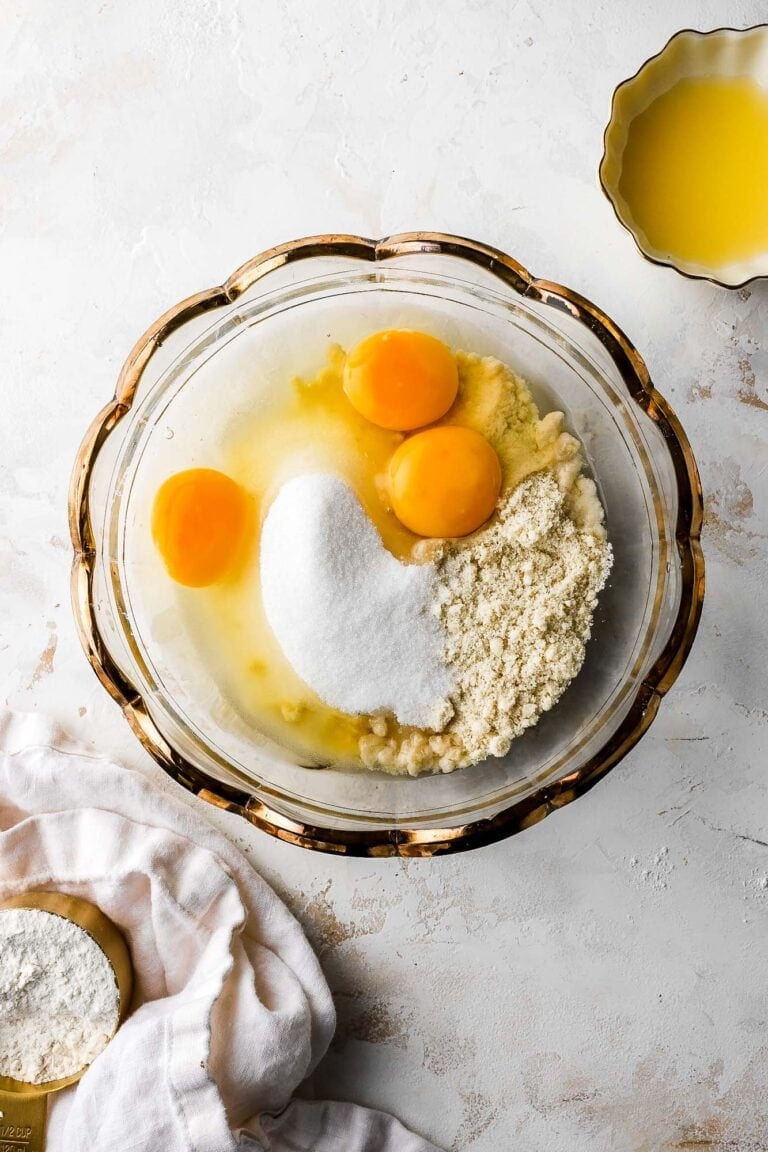 How to make an opera cake
Joconde Sponge
Joconde is the classic type of sponge used to make Opera Cake. It's a very light, almond sponge cake that I've seen made a million different ways. I prefer to use a limited amount of ingredients so I chose to do mine with just granulated sugar instead of both granulated and powdered sugar.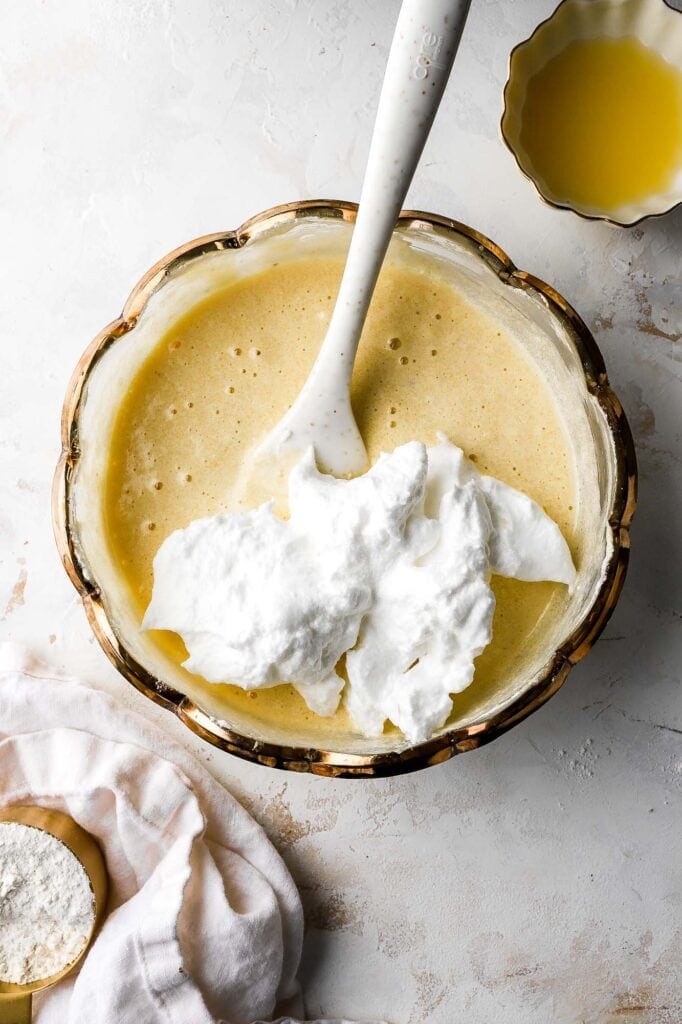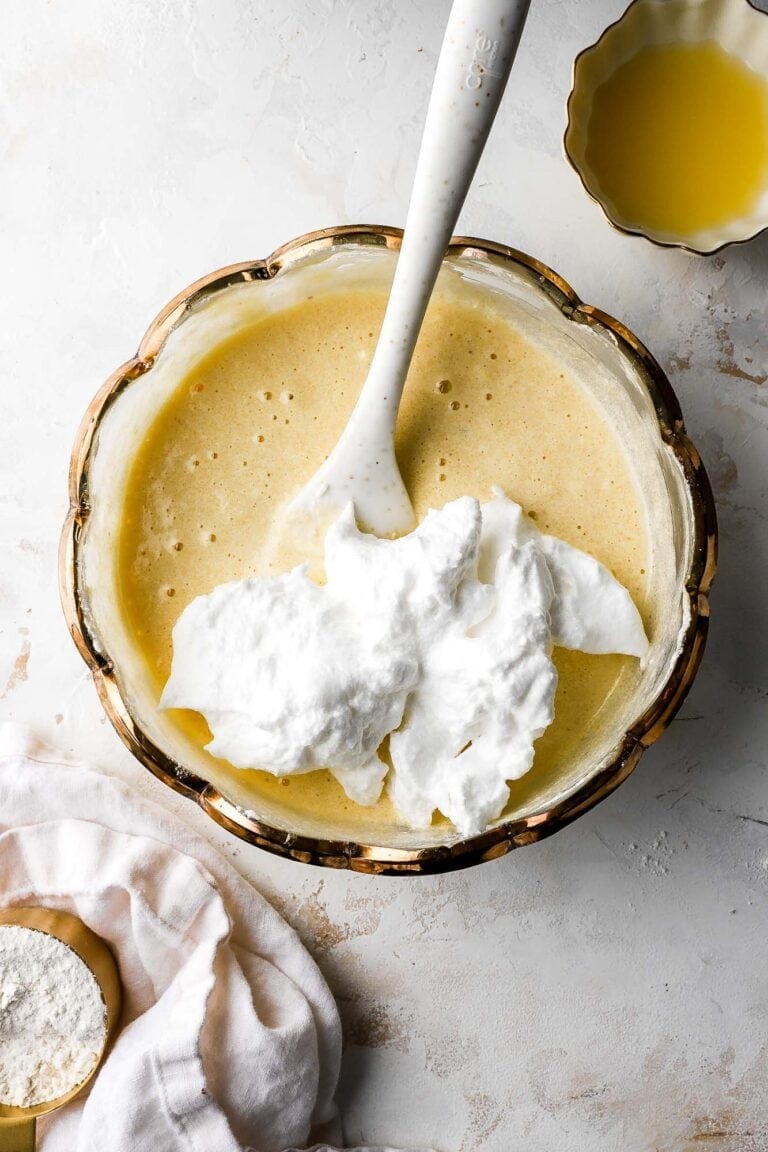 I've included step-by-step photos for how to make Joconde sponge because if you've never made it before, it can be a little difficult to know if you're doing it right. The basic steps are:
Whip the whole eggs with the almond flour and some of the sugar.
Whip the extra egg whites with the rest of the sugar and then fold it into the other batter.
Sift in the flour and then fold in the melted butter.
It seems quite simple, but because there is no chemical leavening agent in the sponge, the egg whites have to be perfectly whipped and folded into the batter without deflating it.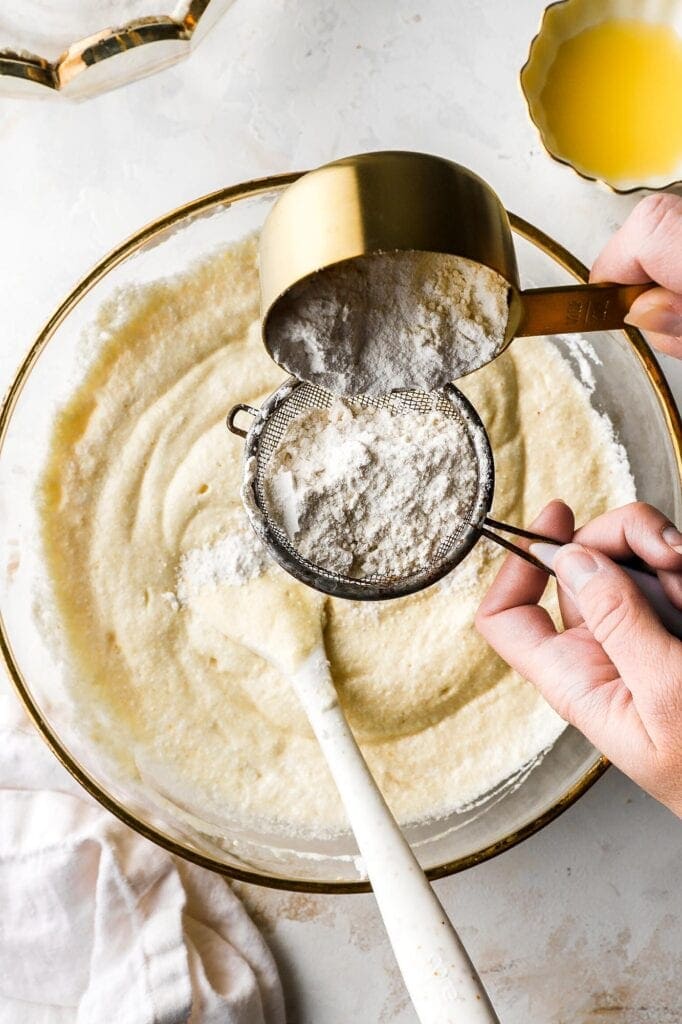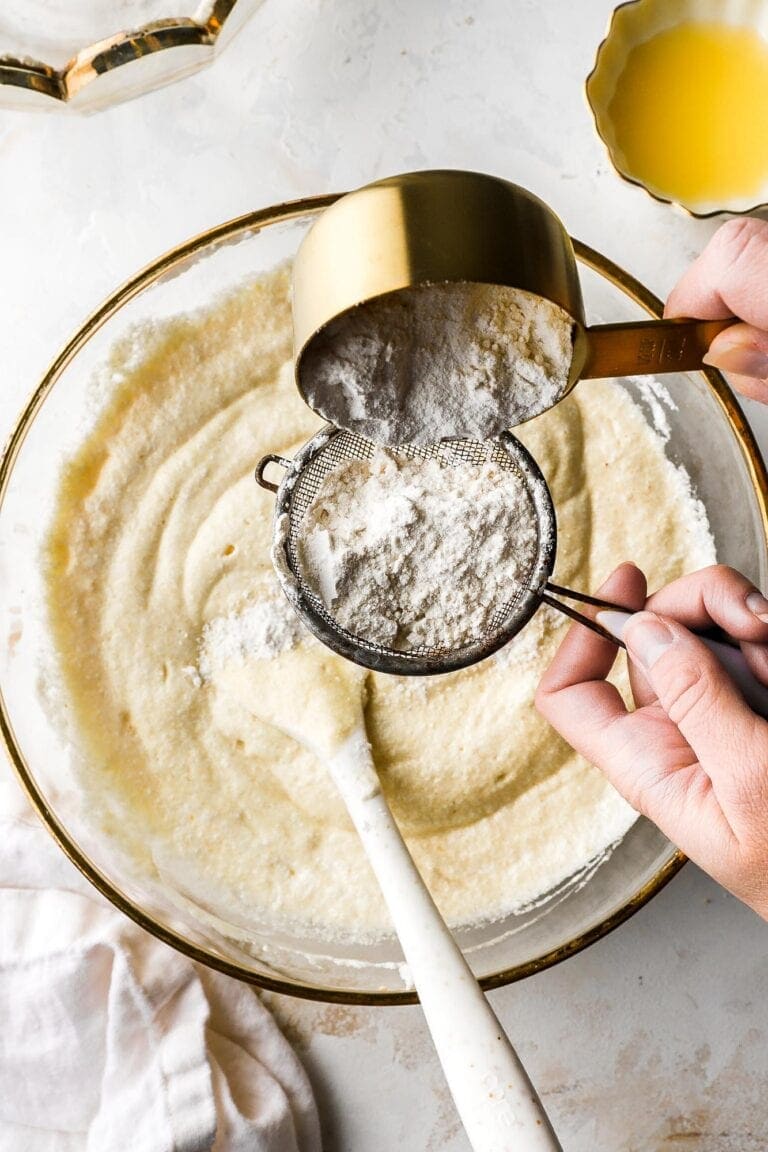 Troubleshooting over-whipped egg whites
The most common mistake is over whipping the egg whites. If this happens, the egg whites will be too dry and they won't fold properly into the batter. Instead of being smooth, it'll look kind of chunky, like the photo below.
The recipe starts by folding ⅓ of the egg whites into the batter. If it doesn't fold in smoothly and looks chunky, then add an extra egg white to the bowl of whipped egg whites and beat it for like 10-15 seconds, just until it's incorporated. It should look a little less dry but should still hold firm peaks. Then proceed with the rest of the recipe.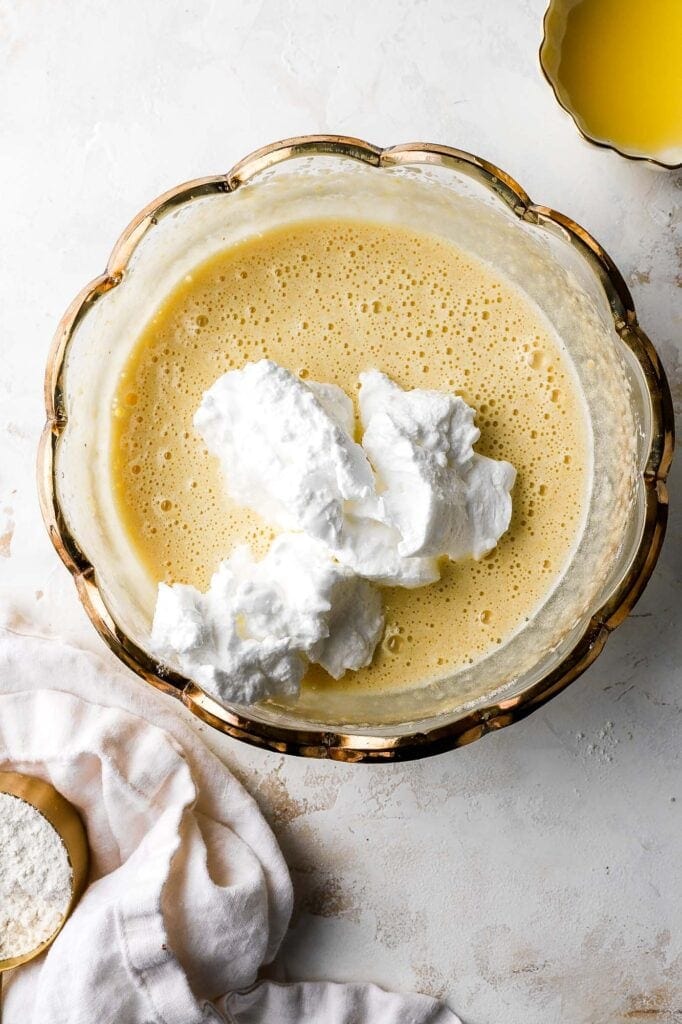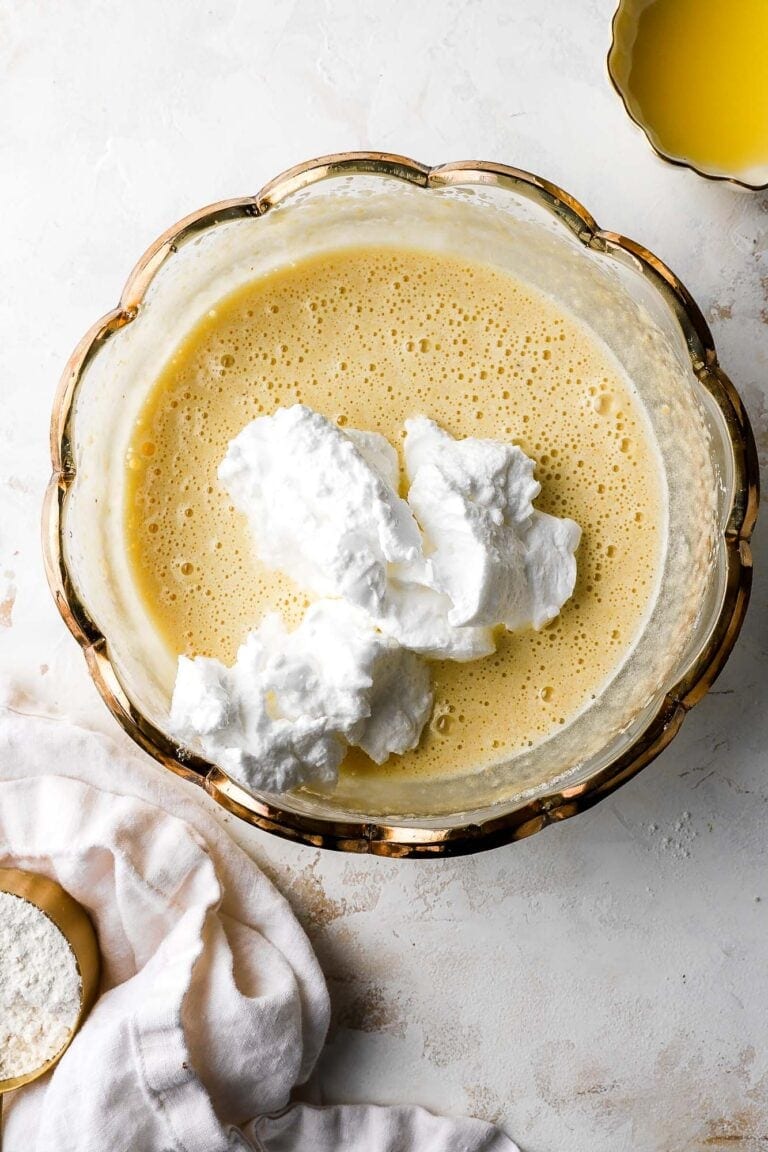 What pan to bake the sponge in
I chose to bake my sponge in six square 6" cake pans because I suck at cutting even squares. However, you can bake this in one large sheet pan, for about 10-15 minutes, and then cut it into 6 squares.
Since the classic French opera is half the height of my cake, you can even just slice the large sheet into three layers. You'll end up with the classic, shorter cake and the layers will be: cake, buttercream, cake, chocolate ganache, cake, buttercream, chocolate ganache.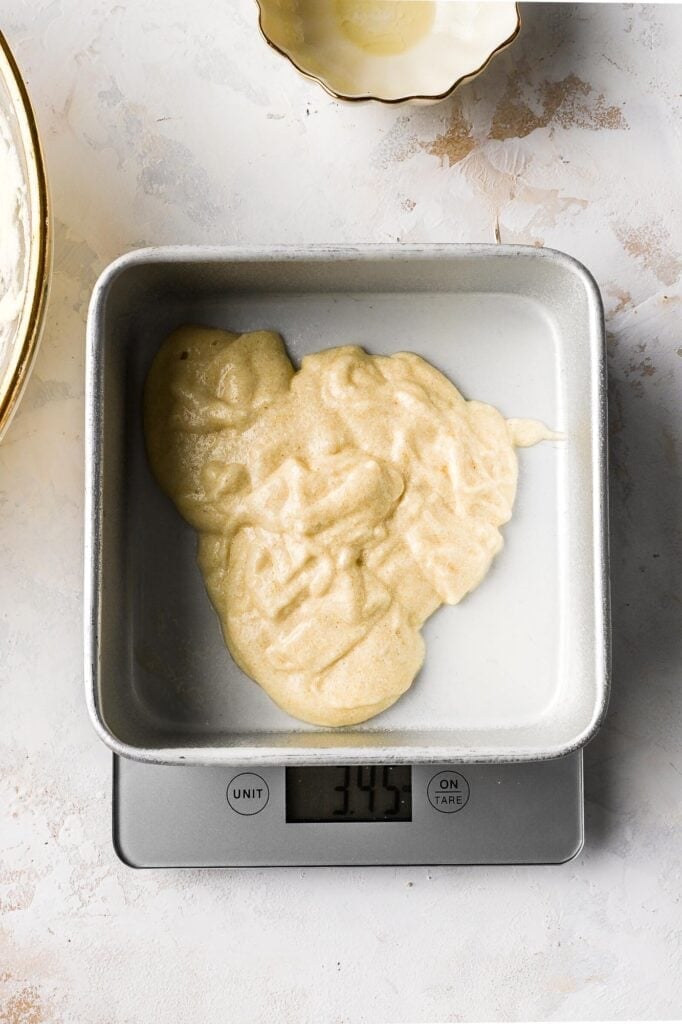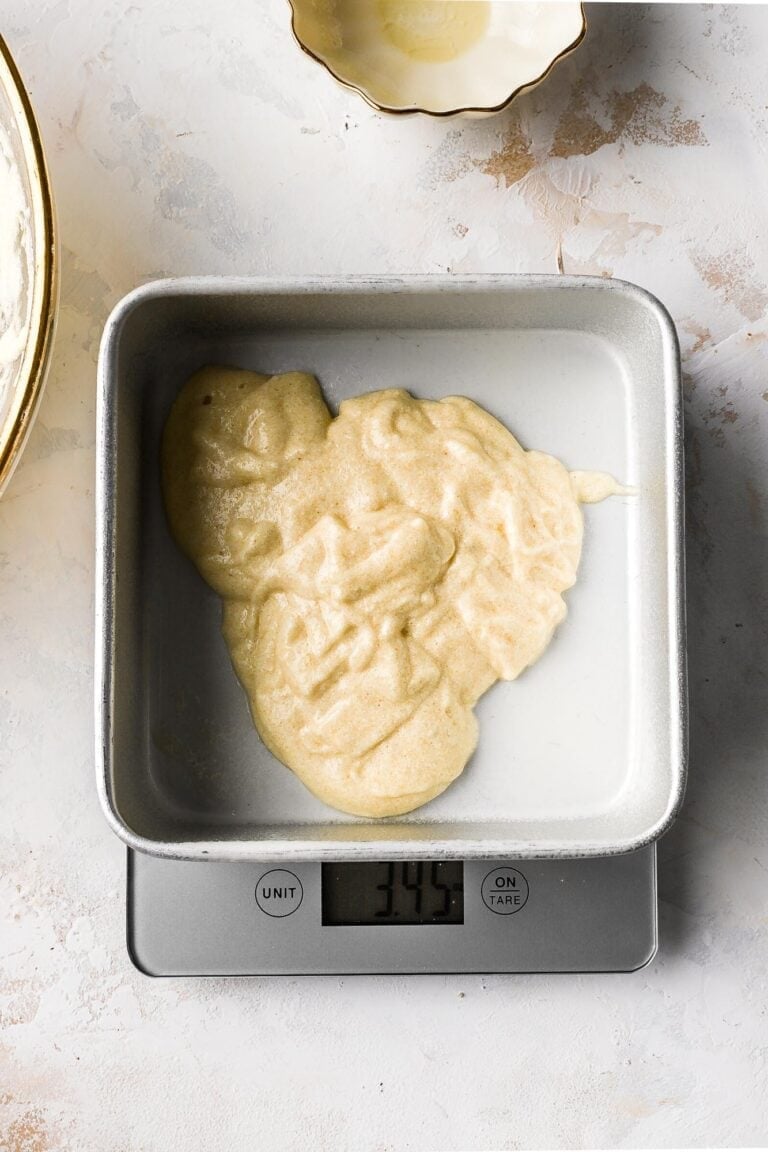 Coffee French Buttercream
A classic French Opera Cake uses French buttercream as their frosting…for obvious reasons. This buttercream can be intimidating but fear not, I've dedicated an entire post, with step-by-step photos, showing you how to make French Buttercream!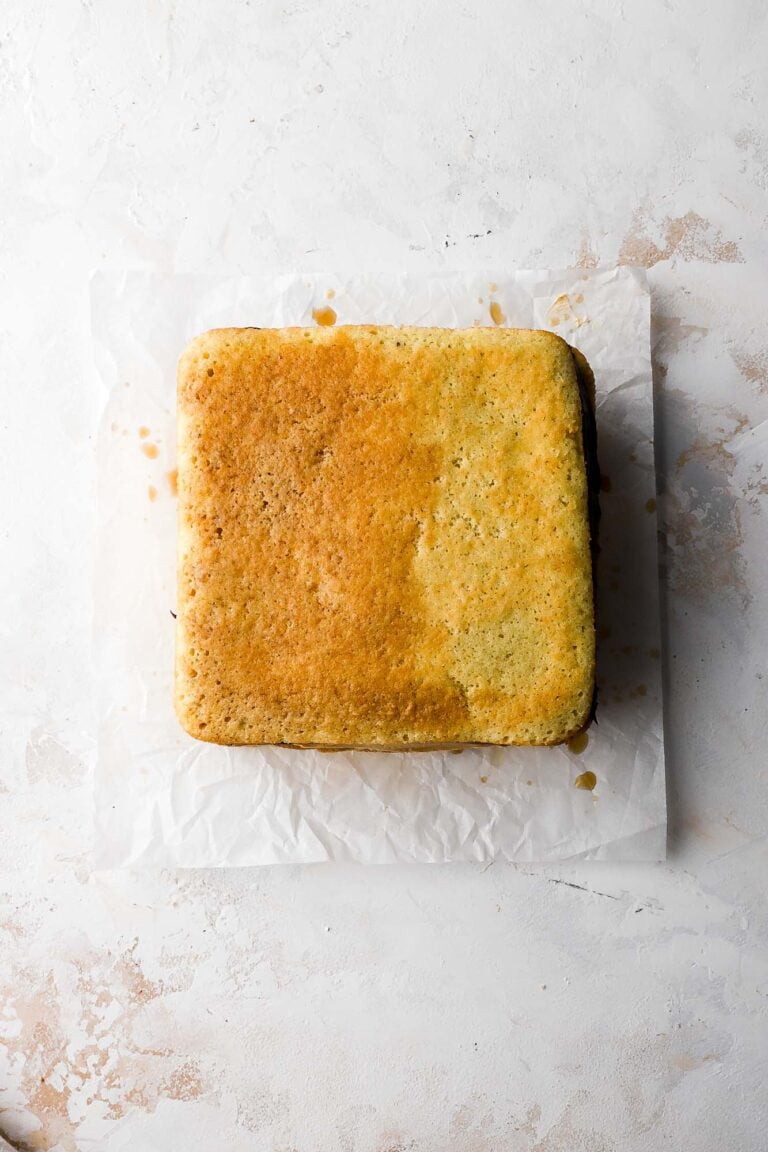 Chocolate Ganache
Chocolate ganache is pretty basic. There are various ways to make chocolate ganache but I like to stick to just chocolate and cream. For a thick chocolate ganache, I usually stick to a 2:1 ratio of chocolate to cream and for a thin chocolate ganache, I do 1:1 chocolate to cream. For this particular recipe, I chose to make my chocolate ganache right in the middle of those two so that it's not too firm and not too soft.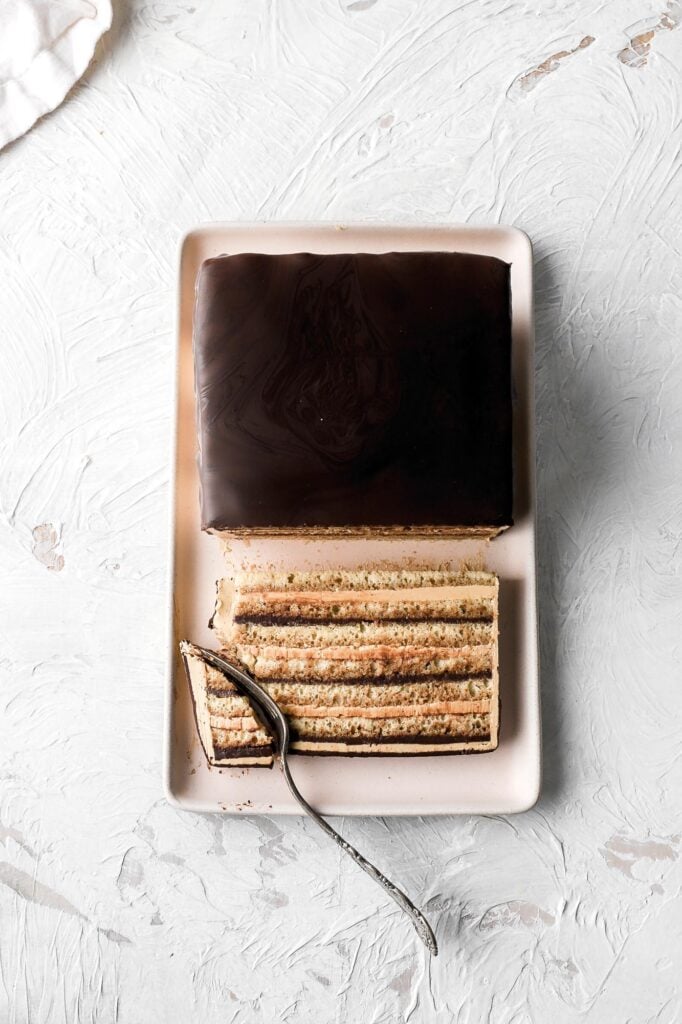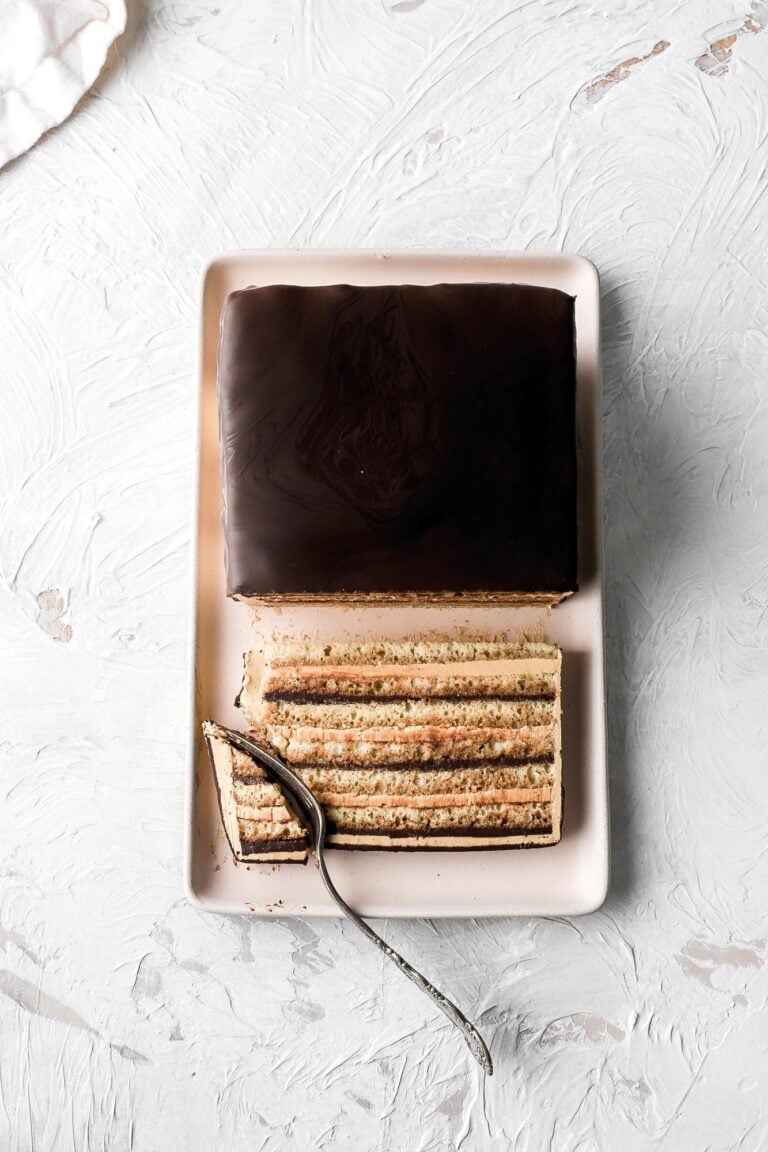 How to store opera cake
I recommend serving opera cake at room temperature or just slightly chilled, so it's nice and soft and creamy. However, it does get really soft after a while so make sure to store it fully covered in the refrigerator for about a week.
The cake can also be frozen, for about a month, but make sure to double wrap/seal it so it doesn't get freezer burn and thaw in the refrigerator overnight.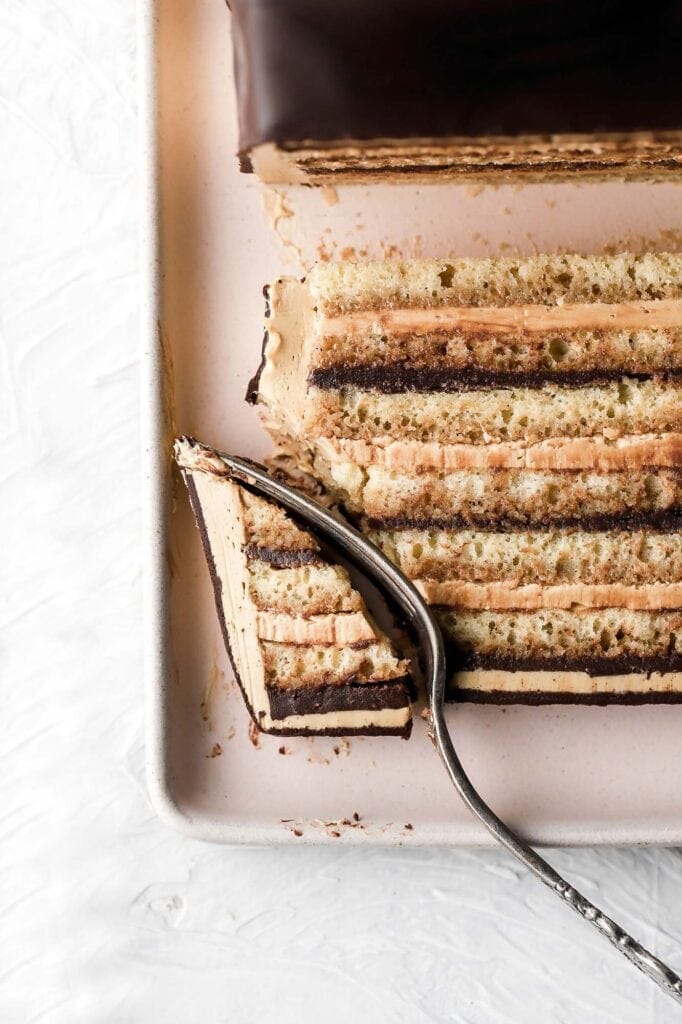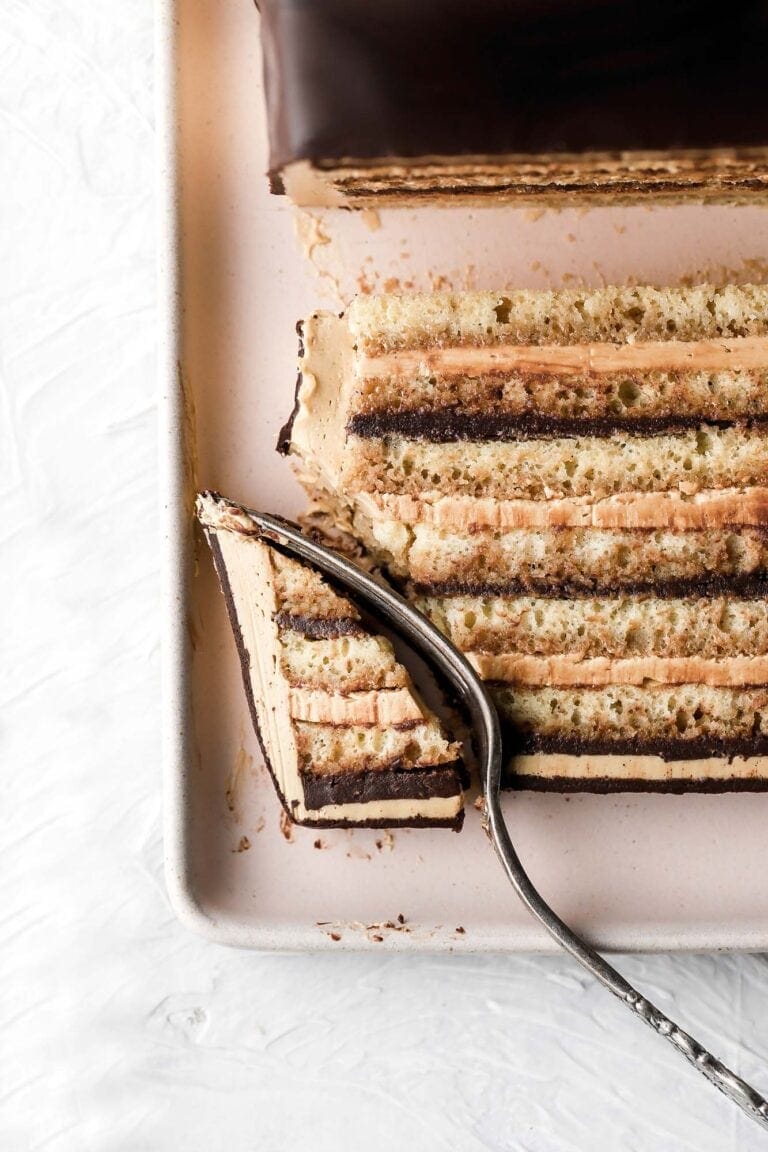 Well, congrats if you've stuck around this long, I know it was a long one. I hope you guys enjoy this classic french opera cake and if you make it, make sure to tag me @baranbakery on instagram!
This recipe can be a little intimidating but I'd love for you to make so if you have any questions, just comment down below! As always, have a blessed day and happy baking!
Love, B
Yield: 8 slices
French Opera Cake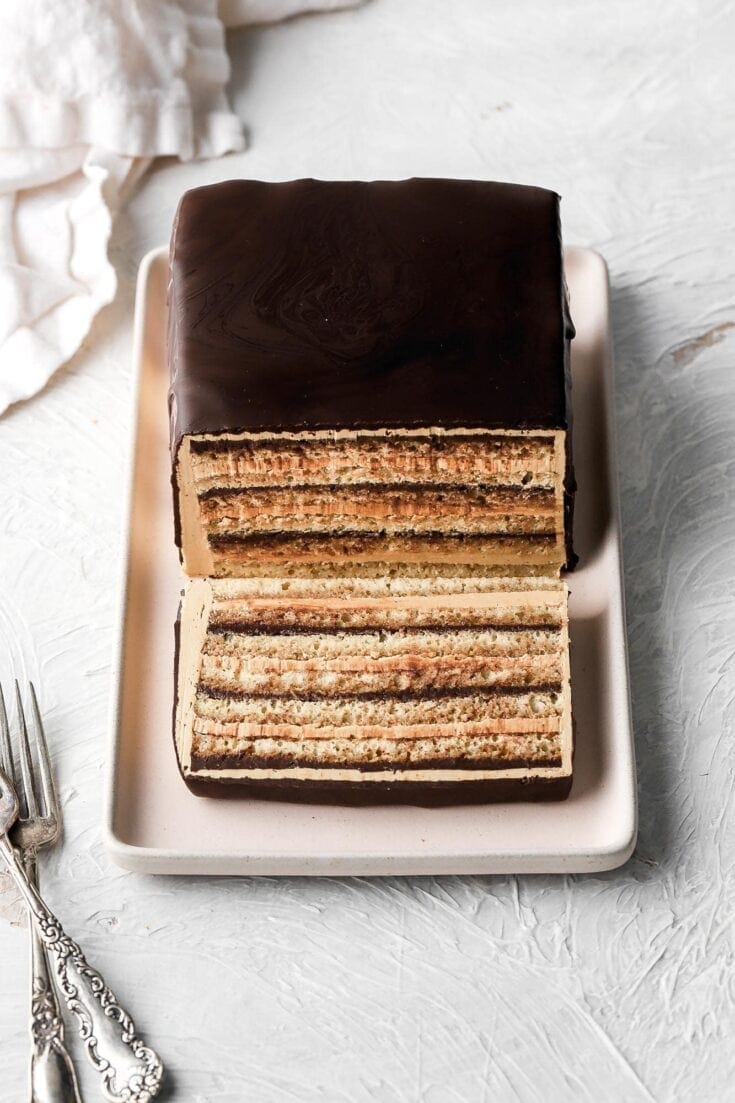 The classic French Opera Cake, doubled in layers to make six layers of almond sponge cake, three layers of coffee French buttercream, three layers of rich chocolate ganache and topped with a chocolate glaze!
Total Time
4 hours
15 minutes
Ingredients
Joconde Sponge
1 cup (100g) almond flour, spooned and leveled
1/2 + 1/4 cup (100g + 50g) granulated sugar, divided
1/4 tsp salt
1 tsp vanilla extract
3 large eggs, room temperature
3 large egg whites, room temperature
1/2 cup (60g) all-purpose flour, spooned and leveled
2 Tbsp (28g) melted butter
Coffee Soak
3/4 cup (177mL) coffee
1/4 cup (50g) granulated sugar
Chocolate Ganache
1 cup (6oz) dark chocolate
1/2 cup (118mL) heavy whipping cream
Coffee French Buttercream
1 cup (200g) granulated sugar
1/4 cup (59mL) water
4 large egg yolks, room temperature
1 cup (227g) unsalted butter, room temperature
⅛ tsp salt
1 Tbsp espresso powder dissolved in 1 tsp hot water
2 tsp vanilla bean paste (or vanilla extract)
Chocolate Glaze
1/2 cup (3oz) dark chocolate
1 Tbsp (15mL) coconut oil
Instructions
Joconde Sponge
Preheat the oven to 375F (190C) and grease a 6" square cake pan (or as many as you have since you'll need six layers) .
In a large bowl, combine the almond flour, the 1/2 cup of granulated sugar, salt, vanilla extract and whole eggs. Beat the mixture for 2-3 minutes, at high speed, until the color lightens and the batter looks fluffy.
In a separate bowl, beat the 1/4 cup of granulated sugar with the egg whites, at medium high speed, just until stiff peaks form, 1-2 minutes. Don't over-whip (if you do, see the troubleshooting section).
With a clean spatula, gently fold 1/3rd of the egg whites into the batter until it's fully incorporated. Fold in the second 1/3rd of the egg whites into the batter and then the last 1/3rd.
Sift half of the flour over the batter, gently fold it in just until it's combined and then repeat with the second half. Pour the melted butter around the edge of the bowl and gently fold it in until it's fully incorporated.
Pour 1/6 of the batter into the prepared pan (about 3.5oz) and use an offset spatula to spread it evenly. Bake the cake for 7 seven minutes, on the middle rack, just until it releases from the edge of the pan a little and the cake springs back when you press on it.
Invert the cakes onto a flat surface and then repeat with the rest of the batter. You should get 6 thin layers total.
Coffee Soak
Brew the coffee and mix it with the sugar until the sugar dissolves. Set it aside to cool completely.
Chocolate Ganache
Place the chocolate in a medium, heat safe bowl. Heat the cream in a small saucepan, over medium-low heat, just until it's simmering (not boiling).
Pour the hot cream over the chocolate, cover the bowl and let it sit for 2 minutes. Stir the chocolate until the cream is fully incorporated. Cover the bowl and allow the chocolate ganache to cool completely to room temperature.
COFFEE FRENCH BUTTERCREAM
Make 1 batch of French buttercream. Add in the espresso and vanilla, mixing just until they're fully combined.
Assemble
To assemble the cake, place the first layer on a flat surface and brush it generously with the coffee soak. Spread a layer of buttercream, about as thick as the cake layer itself, onto the cake.
Top with another layer of cake and coffee soak and then spread a layer of chocolate ganache, about as thick as the cake. Repeat with the rest of the layers and then smooth out the edges as much as possible. Refrigerate the cake for 2-3 hours to let it set.
Slice the edges off the cake to make them smooth and then with the rest of the buttercream, frost the outside of the chilled cake until it's fully covered. Refrigerate it for about an hour, until the buttercream feels firm, and then make the chocolate glaze.
Chocolate Glaze
Place the chocolate and oil in a small aluminum bowl. Place the bowl of chocolate on top of a small simmering pot of water (about ¼ -½ cup of water), to create a double boiler.
Stir the chocolate frequently until it's smooth and silky. Allow it to cool for about 5 minutes before pouring it on top of the cake.
Place the cake in the fridge for a few minutes so the chocolate sets.
To get clean slices, run a large serrated knife under hot water and dab the water off. So the chocolate doesn't crack, slowly go back and forth to create grooves into the chocolate before you press down and slice.
Recommended Products
As an Amazon Associate and member of other affiliate programs, I earn from qualifying purchases.
Nutrition Information:
Yield:
8
Serving Size:
1
Amount Per Serving:
Calories:

850
Total Fat:

58g
Saturated Fat:

31g
Trans Fat:

0g
Unsaturated Fat:

24g
Cholesterol:

275mg
Sodium:

233mg
Carbohydrates:

70g
Fiber:

5g
Sugar:

56g
Protein:

14g
Nutrition information may not be fully accurate.
For similar recipes, check out: