Cinnamon Sugar Chips with Phyllo Dough
The ultimate 10-minute snack, cinnamon sugar chips, made with Athens Phyllo Dough Sheets.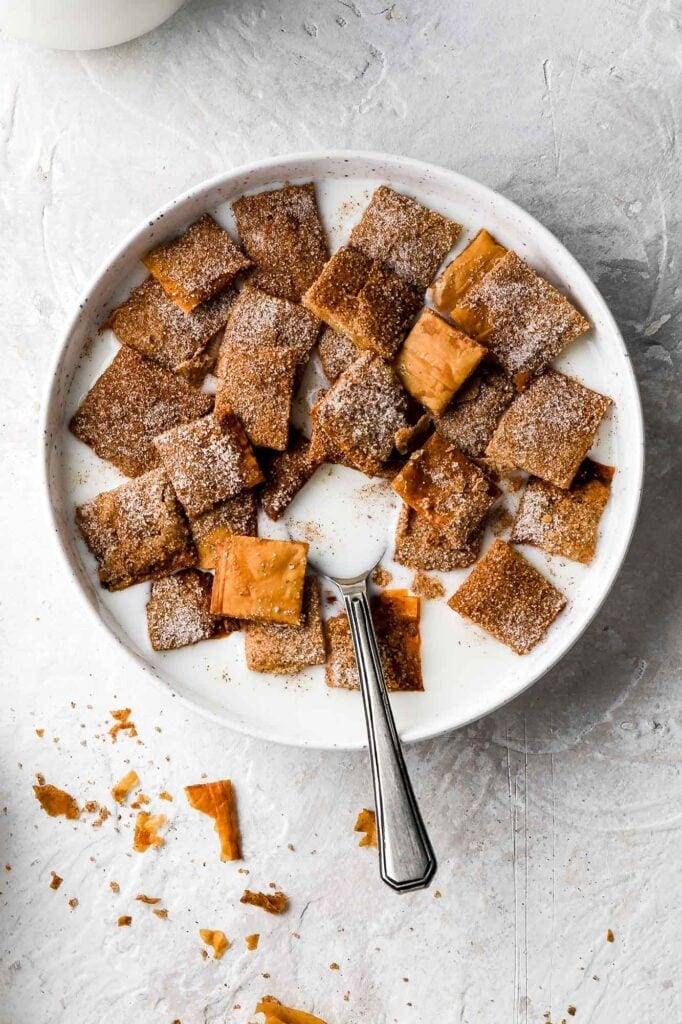 Good morning friends! I mean, it's morning for me as I'm writing this… We spent the whole weekend moving into our new house and now I have a couple more weeks before baby #2 makes its appearance (we don't know the gender). Needless to say, it's been crazy busy around here so easy, delicious sweet treats are what we're looking for, and Athens Foods always comes in handy!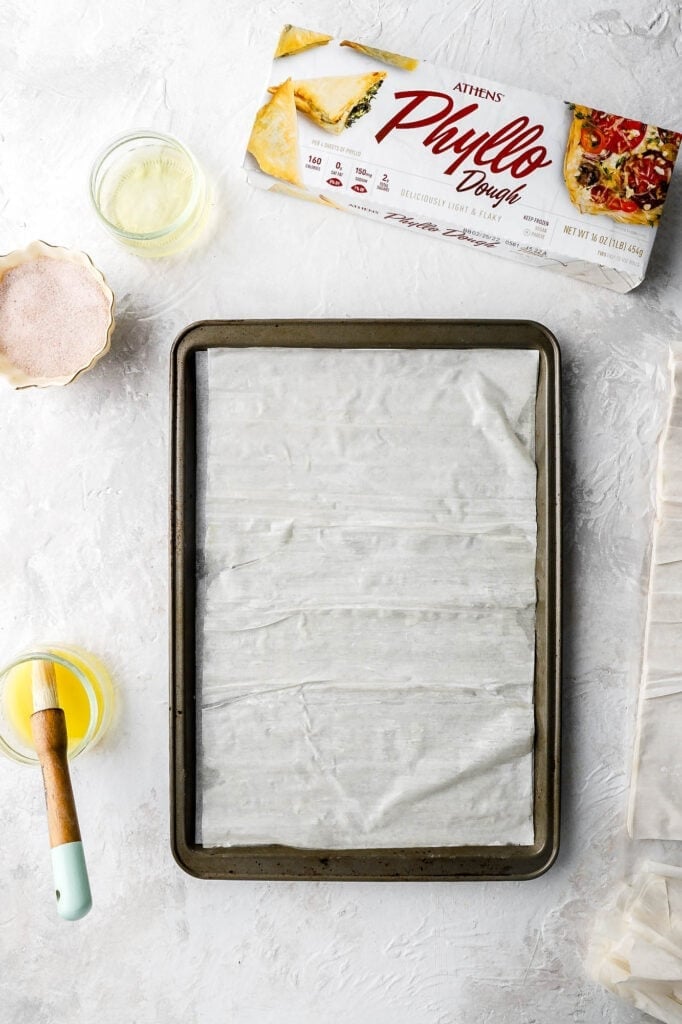 How to make cinnamon sugar chips
Cinnamon sugar chips are exactly what they sound like, crispy little bites covered in cinnamon sugar. They're made by layering Athens Phyllo Dough Sheets with melted butter and then the top layer gets a little egg wash for extra crisp and color, and a generous sprinkle of cinnamon sugar.
You can use a pizza cutter to cut them into your desired size. I made mine pretty bite size, like cereal. Then bake for 8-10 minutes, until they're a nice golden brown, let them cool for a few minutes and enjoy! Yes, they really are that easy to make!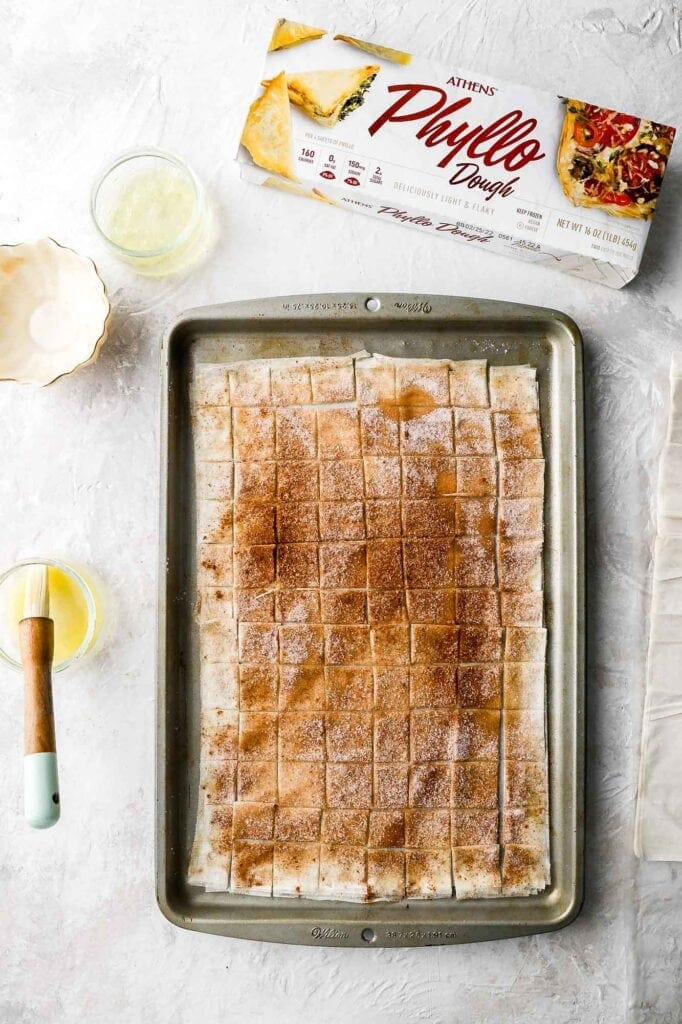 Can I add other toppings?
Of course! Some fun, sweet toppings would be chocolate, chai spice, pumpkin spice, gingerbread, shredded coconuts, ground walnuts/pecans, etc.
If you're feeling adventurous, you can even go the savory route and top them with garlic powder, parmesan, herbs, salt, pepper, sesame seeds or any other spice, really. etc. If you try something different, let me know how you liked it!
How to serve cinnamon sugar chips
Cinnamon sugar chips can be served warm or at room temperature. If I'm being honest, I love snacking on them plain or eating it as a cereal with milk. You can also serve them with some sort of dip, like homemade salted caramel sauce, cream cheese, yogurt, whipped cream or vanilla ice cream!
For savory chips, I would try something like humus, ranch, melted cheese, etc.
How to store chips
Allow the chips to cool completely to room temperature and then store them in an airtight container at room temperature for up to a week. If you refrigerate or freeze them, they may lose their crisp and just be soggy so I don't recommend that.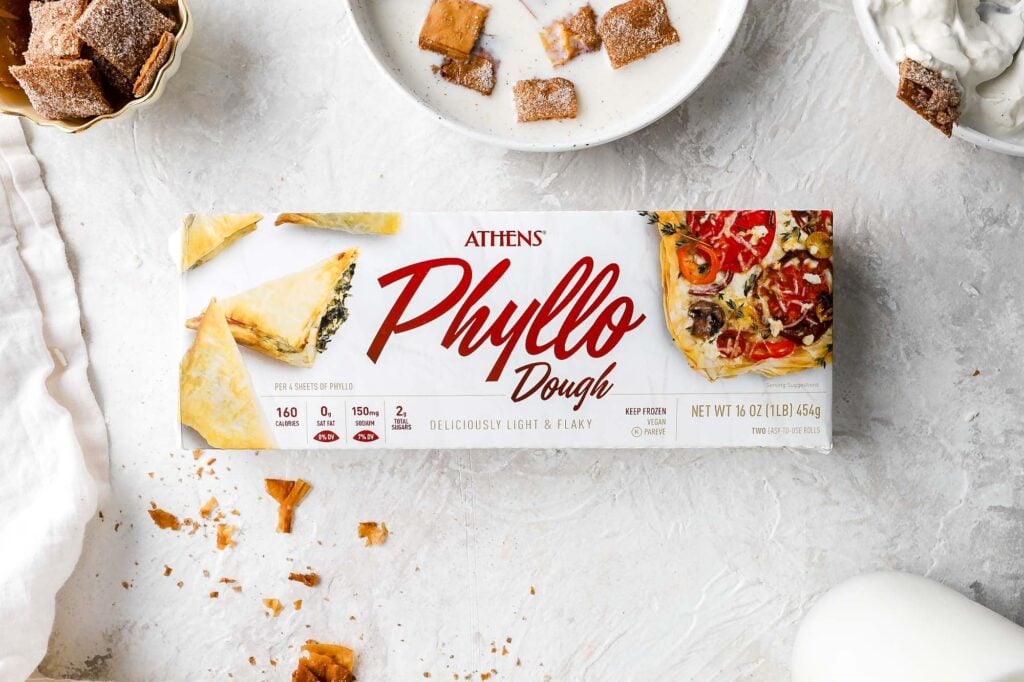 Thanks so much for stopping by, if you have any questions just comment down below. If you make these delicious cinnamon sugar bites, make sure to tag us @baranbakery and @athen_foods on instagram! As always, have a blessed day and happy baking.
Love, B
Yield: 96 Chips
Cinnamon Sugar Chips Recipe
Easy and quick Cinnamon Sugar Chips made with Athens Phyllo Dough Sheets, cinnamon and sugar and can be eaten with anything!
Additional Time
5 minutes
Ingredients
5 sheets Athens Phyllo Dough
2 Tbsp unsalted butter, melted
1 large egg whites, room temperature
1//4 cup granulated sugar
1/2 tsp cinnamon
Instructions
Thaw 5 sheets of phyllo, following thawing instructions on package.
Preheat the oven to 375F/191C convection (350F/177C conventional) and line a cookie sheet with parchment paper.
Place the first sheet of Athens phyllo dough on the cookie sheet, brush the top with melted butter, layer the next sheet and repeat.
Lightly beat an egg white with a fork and brush the top layer with the egg white and sprinkle the sugar and cinnamon on top.
Use a pizza cutter to slice into small squares and bake for 8 minutes. Let the chips cool and serve!


Nutrition Information:
Yield:
96
Serving Size:
1
Amount Per Serving:
Calories:

9
Total Fat:

0g
Saturated Fat:

0g
Trans Fat:

0g
Unsaturated Fat:

0g
Cholesterol:

1mg
Sodium:

8mg
Carbohydrates:

1g
Fiber:

0g
Sugar:

1g
Protein:

0g
Nutrition information may not be fully accurate.
This post was sponsored by Athens Foods, all thoughts and opinions are 100% my own. Thank you for supporting the brands that support Baran Bakery!