Strawberries and Cream Cupcakes
Strawberries and cream cupcakes are made using my best vanilla cupcakes filled with a creamy strawberry filling and frosted with strawberry cream cheese frosting!
How to make strawberries and cream cupcakes
There's like a million strawberry cupcake recipes out there and to be honest, it's incredibly difficult to get a good strawberry flavor in your cake, while preserving the tender texture of cupcakes.
There's a few ways to incorporate strawberries into cake or cupcakes, like roasting them, pureeing and reducing them, baking them straight into the cake like I did with these strawberry mojito cupcakes or using them fresh! Although those mojito cupcakes are pretty darn good, I still prefer that fresh strawberry flavor.
My strawberries and cream cupcakes use my favorite vanilla cupcake recipe filled with a chunky strawberry cream filling and frosted with a subtle strawberry cream cheese frosting.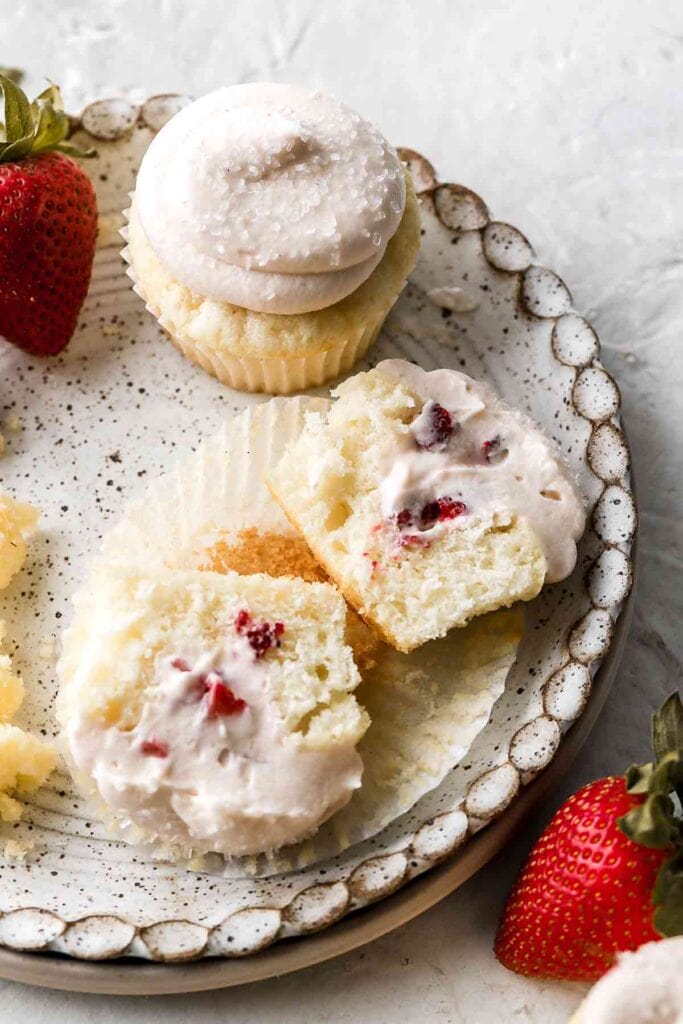 The BEST vanilla cupcakes
I told you I had a bunch of cupcake recipes coming at you and most of them use this base recipe. I tested this vanilla cupcake recipe like a million times and have adapted it in so many different ways.
You can also use my small batch cupcake recipe to make a small batch of these strawberries and cream cupcakes.
The unfortunate thing is that cupcakes aren't very forgiving like regular cakes. If you just overfill or underfill the muffin pans slightly, they won't be as beautifully domed (but they'll still taste great!).
Ingredients:
Cake Flour: I'm not a huge cake flour fanatic for regular cakes but for cupcakes, I feel it is more important.

But even more important than using cake flour is measuring the flour accurately. I HIGHLY recommend a digital scale. They're so much more accurate, super affordable, and reduce the amount of dishes. 

Sugar: I use granulated sugar for this recipe and PLEASE don't reduce the amount of sugar and then message me that they didn't turn out. Sugar is not just used as a sweetener, sugar helps with leavening, moisture and tenderness. 
Butter & Oil: I use a combination of butter and oil in almost all of my cake recipes because I love the structure and flavor from butter and the moisture from oil. 
Eggs: I use two egg whites for this recipe because I like my cupcakes to be a nice uniform pale color. This recipe also works using just one whole egg if you prefer that, they will just be slightly more yellow and may brown more on the edges. 
Milk & Sour Cream: I have tested this recipe with a million and one combinations of milk, sour cream, yogurt, buttermilk, etc. This is my favorite ratio and combination. If you don't have sour cream, you can replace it with full fat greek yogurt.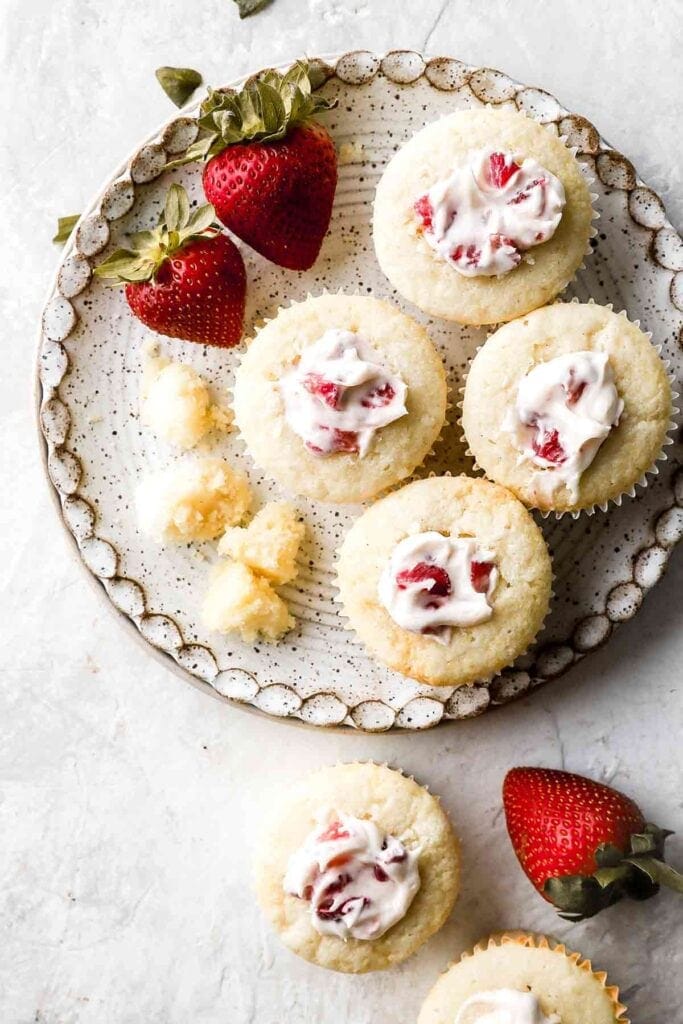 Easy Cream Cheese frosting
Cream cheese frosting is very simple to make. It's the same as American buttercream, where you just whip the butter and cream cheese together for a few minutes, then add in the powdered sugar and any flavors you want.
I like to beat the frosting for 5-10 minutes after adding the powdered sugar just to make sure the sugar gets fully dissolved and the frosting is super silky.
The only thing with cream cheese frosting is to be careful with adding in extras, like the strawberry jam. It's already a very soft frosting so extra liquid will make it softer. I like to refrigerate my cream cheese frosting for 30 minutes once it's done, then whip it again and pipe.
Strawberry Cream Filling
This is the star of the show. Strawberries and cream cupcakes would not be strawberries and cream cupcakes without the strawberries and cream. Lol, that's a mouthful 🤣. This is basically just part of the cream cheese frosting mixed with fresh strawberry chunks and as you can see from the images, I filled the cupcakes as high as I could!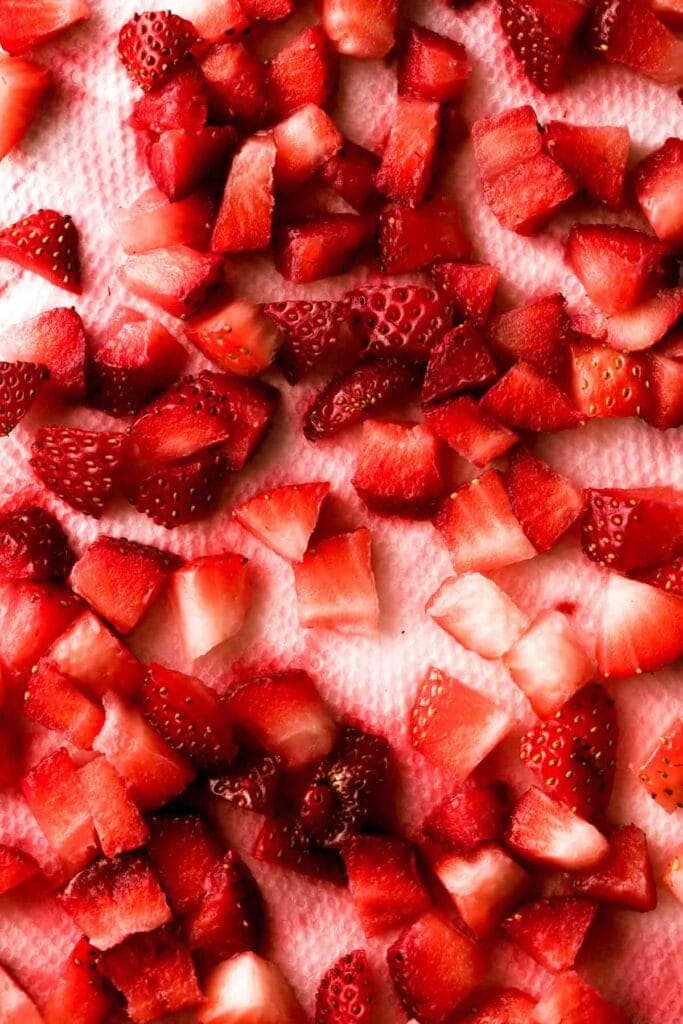 Storing cupcakes
How to make cupcake ahead of time
If you bake the cupcakes ahead of time, store them in an airtight container or fully covered at room temperature overnight. If it's longer than one night, freeze them and bring them back to room temperature when frosting.
The frosting can be made 1-2 days in advance (without the strawberries) but it needs to be fully covered and refrigerated. Bring it back to room temperature to get a spreadable consistency before trying to frost and then add the strawberries to the filling when you're assembling the cupcakes.
In my opinion, it's just easier to make the frosting fresh.
How to store finished cupcakes
Once the cupcakes are done, refrigerate them for 30-60 minutes until the frosting firms up. Then cover them completely in an airtight container or wrapped in plastic wrap. Because this has cream cheese frosting, I recommend storing them in the refrigerator. They can be refrigerated for 7-10 days but keep in mind the cupcake will slowly dry out with time so I recommend freezing after 1-2 days.
Can I freeze the cupcakes
Personally, I don't like freezing anything with fruit in it. I find that it just makes it kind of soggy so I don't recommend freezing them.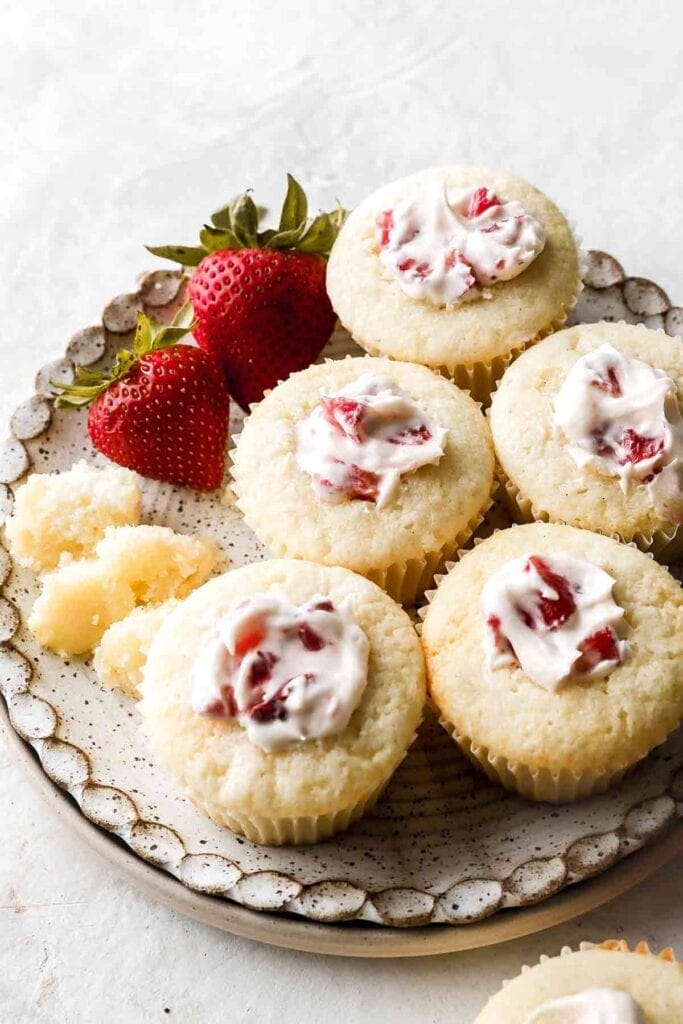 Thanks so much for reading today's post. If you have any questions just comment down below and make sure to tag me @baranbakery on instagram if you make these cupcakes. If you're looking for more strawberry cupcake recipes, my strawberry mojito cupcakes have strawberries in the batter! As always, have a blessed day and happy baking!
Love, B
Yield: 13
Strawberries and Cream Cupcakes Recipe
Strawberries and cream cupcakes are made using my best vanilla cupcakes filled with a creamy strawberry filling and frosted with strawberry cream cheese frosting!
Total Time
2 hours
3 minutes
Ingredients
Vanilla Cupcake
1 1/2 cup (172g) cake flour, spooned and leveled
1/4 tsp baking soda
1/2 tsp baking powder
1/4 tsp salt
1 cup (200g) granulated sugar
1/4 cup (59mL) canola oil
1/4 cup (56g) unsalted butter, room temperature
2 large (60g) egg whites, room temperature
2 tsp vanilla extract
1/3 cup (78mL) whole milk, room temperature
1/2 cup (113g) sour cream
Cream Cheese Frosting
1/2 cup (113g) unsalted butter, room temperature
1/2 cup (112g) cream cheese, room temperature
2 tsp vanilla bean paste
3 1/2 cups (420g) powdered sugar, spooned and leveled
1/8 tsp salt
1/4 cup strawberry jam
Strawberry Cream Filling
1/4 of cream cheese frosting
10 medium strawberries, diced
Instructions
Set the diced strawberries, for the filling, onto a paper towel to dry out while making the rest of the recipe.
Vanilla Cupcake
Preheat the oven to 350F/177C convection (325F/163C conventional) and line 13 muffin tins with cupcake liners (preferably a light colored pan).
In a medium bowl, whisk together the cake flour, baking soda, baking powder, salt and sugar. Add the oil and butter to the dry ingredients and beat together until they're combined. Add the egg whites and vanilla extract and mix until they're fully combined. Then add the milk and sour cream, mixing just until the batter is smooth.
Fill each cupcake liner about 2/3-3/4 full (about 50g). Bake for 16-18 minutes. The cupcake should no longer look wet and when you press on the center of the cupcake it should spring back, or once a toothpick inserted comes out clean.
Remove them from the oven and let them cool in the cupcake pan for 10 minutes, then move them to a cooling rack. Allow the cupcakes to cool completely and then use a cupcake corer or a knife to cut a whole out the center. Set aside.
Cream Cheese Frosting
In the bowl of a stand mixer, cream together the butter, cream cheese and vanilla for 1-2 minutes, until they're smooth and creamy. Add in the powdered sugar and salt and turn the mixer to low speed.
Once the sugar is combined, turn the mixer up to medium-high speed and beat until the sugar is fully dissolved and the frosting feels smooth, about 5 minutes.
Remove about 1/4 of the cream cheese frosting and set it aside for the filling. Add the strawberry jam to the rest of the frosting and mix until it's fully combined.* Refrigerate the frosting for 20-30 minutes while you do the filling.
Strawberry Cream Filling
Fold together the reserved cream cheese frosting with the diced strawberries. Use a small spoon to fill the cupcakes. Remove the frosting from the fridge, mix it one more time so it's smooth. Use a piping bag to frost the cupcakes. Top with extra strawberries or clear sprinkles.
Notes
*feel free to add 1/2-1 tsp of strawberry extract to the frosting if you want a stronger flavor!
Recommended Products
As an Amazon Associate and member of other affiliate programs, I earn from qualifying purchases.
Nutrition Information:
Yield:
13
Serving Size:
1
Amount Per Serving:
Calories:

443
Total Fat:

20g
Saturated Fat:

10g
Trans Fat:

0g
Unsaturated Fat:

9g
Cholesterol:

43mg
Sodium:

184mg
Carbohydrates:

64g
Fiber:

1g
Sugar:

49g
Protein:

3g
Nutrition information may not be fully accurate.