Pumpkin Cheesecake Cupcakes
These pumpkin cheesecake cupcakes are the ULTIMATE fall cupcakes. They have a cinnamon graham cracker crust, a fluffy pumpkin cupcake filled with creamy vanilla cheesecake batter and topped with a tangy sour cream frosting.
Welcome, my new favorite cupcake, pumpkin cheesecake. She is the definition of fall in a little muffin tin. The graham cracker crust, the cheesecake filling, the sour cream frosting, everything about these cupcakes is unique but so familiar at the same time.
For more of my favs, I love a good classic vanilla cupcake but for fall, these apple cider cupcakes are *fire emoji* and these cinnamon cupcakes are so underestimated. I also have chocolate caramel pumpkin cupcakes or download my maple pumpkin cupcakes with the form below.
Why you'll love these cupcakes
Unique idea but super familiar and nostalgic flavors at the same time
The graham cracker crust adds a lovely crisp texture balanced by the sweet and creamy cheesecake filling.
I used a sour cream frosting to play off the flavors of tangy cheesecake and to make sure these cupcakes weren't too sweet.
Can be made well in advance without drying out.
They're super good even without the frosting at all. 
Ingredients
Flour: I use all purpose flour in most of my recipes and I HIGHLY recommend using a digital scale, as flour is so often over measured.

If you want to make these a little healthier, you can swap half the flour for whole wheat flour or all of the flour for white whole wheat flour.
1:1 Gluten-free flour substitutes also work.

Baking Powder & Baking Soda: We're going to need both here, recipes with pumpkin/banana, etc. usually need a little more than normal leavening.
Sugar: I used dark brown sugar and granulated in the cupcake batter, dark brown sugar in the crust, granulated sugar in the cheesecake filling and powdered sugar in the frosting. You could also keep it simple and use light brown sugar in all the components except the frosting.
Oil: I recommend a neutral oil like vegetable oil or canola oil. Olive oil will also work but may impart some flavor.
Eggs: I use room temperature, large eggs. Pop them in hot water for a few minutes if they're cold.
Pumpkin: I usually use Libby's pumpkin puree (not pumpkin pie filling). I've also used Kroger brand or Whole Foods 365 brand.
Spices: I make my own pumpkin pie spice at home or you can just buy some. It's just a combination of spices with a higher ratio of cinnamon.
Cream Cheese: I recommend full-fat cream cheese here. Make sure to warm it up slightly or leave it to soften at room temperature so it can mix well with the sugar.
Butter: I use unsalted butter for my buttercreams and then add a tiny pinch of salt. If you like salted butter, feel free to use that instead. Make sure it's at room temperature, not too cold and not greasy, when making the buttercream.
Sour Cream: I recommend full fat sour cream as it contains a lower water content and emulsifies better with the butter. Make sure to leave it out at room temperature for at least an hour before using or just microwave it for 10 seconds or so.
Step-by-Step Instructions
Step 1: Make the crust by combining crushed graham crackers with dark brown sugar, cinnamon and melted butter.
Step 2: Add 1 Tbsp of crust to the bottom of each cupcake liner and use a cup or your fingers to press it down to form a crust.
Step 3: Combine the wet ingredients – whisk together the eggs, sugar, oil and pumpkin really well until the batter is completely smooth.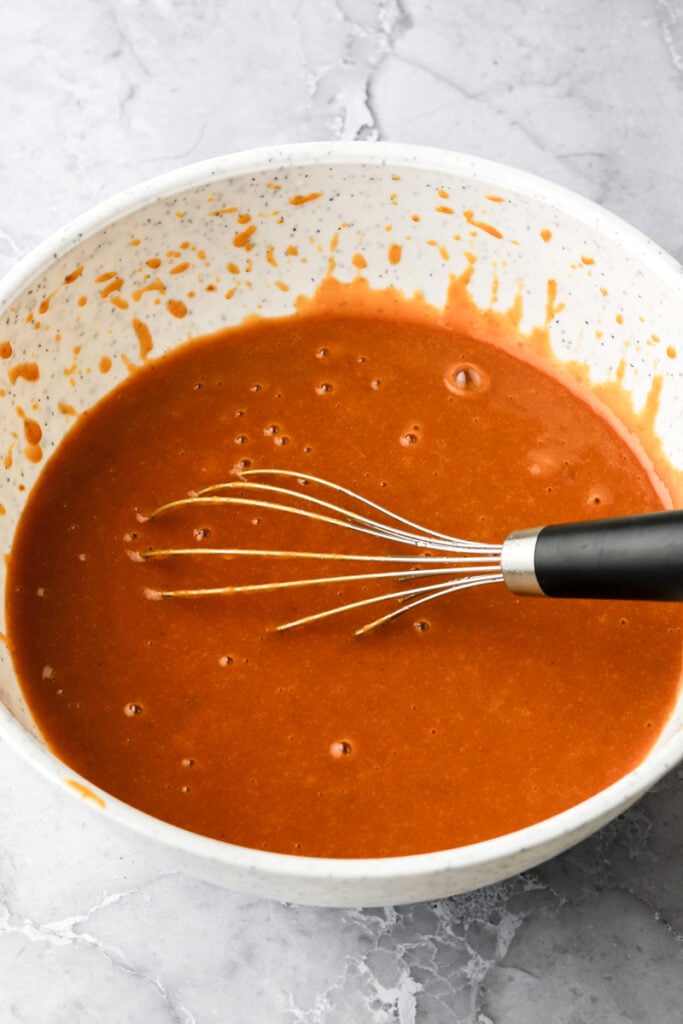 Step 5: Add the dry ingredients – whisk in the flour, baking powder, baking soda, spices and salt into the wet ingredients until they're completely combined.
Step 6: Fill the cupcake tins only about ⅔-¾ full. You should have enough for exactly 24 cupcakes.
Step 7: Combine the cheesecake filling – whisk together the softened cream cheese with the sugar and pipe it into the center of each cupcake.
NOTE: Make sure to insert the piping tip into the center of the cupcake, so the tip is covered. Apple some pressure until you see the pumpkin cupcake batter rise a bit. Then release pressure before removing the piping bag from the cupcake. This will ensure that cheesecake filling is inside the cupcake and not on top of the cupcake.
Step 8: Bake for 22 minutes and allow to cool before making the frosting.
Step 9: Make the frosting by beating the room temperature butter with half of the powdered sugar. Then add the sour cream and the other half of the sugar. Mix until it's completely smooth then use a rubber spatula to press out any huge air bubbles.
Step 10: Pipe the frosting on top of the cupcake and top with graham cracker crumbs.
Frequently Asked Questions
Can I halve the recipe?
Yes, you can definitely make half to get 12 cupcakes. I wrote a 24 batch just to use up the whole sleeve of graham crackers and the whole block of cream cheese. 
Can I do this cheesecake method with other cupcake flavors?
I haven't tried it but I don't see why not. It's definitely on my list to do so let me know what flavors you'd like to see!
What kind of pumpkin to use
I just use canned pumpkin puree. Someday I'll get to making my own pumpkin puree but that day is not today. I recommend Libby's brand or something of similar consistency.
Make sure you don't accidentally buy pumpkin pie filling. 
Can I skip the frosting or the filling?
This recipe does have a lot of parts to it, although I did keep them fairly simple. If you want to skip one of the steps, I do really love these cupcakes without the frosting as well because the cheesecake filling still gives it that frosting feel.  
How to store these pumpkin cheesecake cupcakes
I place the cupcakes under a cake dome or in an airtight container in the refrigerator for 7-10 days. You want to make sure to always refrigerate anything with cream cheese. They can be served cold or at room temperature.
If it's longer you can freeze them and defrost a few hours before serving.
How to freeze muffins
Bakes stay more fresh when they're frozen. Place cupcakes in an airtight container and then place the container in a freezer bag.
You can also wrap each one individually in plastic wrap (after it's chilled so you don't ruin the frosting) and then place those in a freezer bag so you can easily remove one at a time.
Freeze for up to a couple of months. Bring back to room temperature before serving.
Thanks so much for reading today's post, if you have any questions just comment down below. Make sure to leave it in the comment section because I can't answer in the rating section.
If you make these delicious pumpkin cheesecake cupcakes, I'd love it if you left a star rating for me. If it's less than five stars, please leave a comment with the rating so I know why! ?
As always, have a blessed day and happy baking!
Love, B
Yield: 22 cupcakes
Pumpkin Cheesecake Cupcake Recipe
Total Time
2 hours
7 minutes
Ingredients
Graham Cracker Crust
1 sleeve (8 full sheets/140g - 1 1/4 cup of crumbs) graham crackers (Biscoff crumbs or gingersnaps work too).
2 Tbsp (25g) dark brown sugar, lightly packed
1/2 tsp cinnamon
1/4 cup (56g) salted butter, melted
Pumpkin Cupcakes
2 cup (240g) all-purpose flour, spooned and leveled
1 tsp baking soda
2 tsp baking powder
1 tsp fine sea salt
2 tsp cinnamon
1 tsp nutmeg
1 tsp cloves
1 tsp ginger
4 large eggs, room temperature
1 cup (200g) granulated sugar
1/2 cup (100g) light brown sugar, lightly packed
3/4 cup (180mL) canola oil
1 (15oz) can pumpkin puree
Cheesecake Filling
8 oz (1 block) cream cheese, softened
1/2 cup (100g) granulated sugar
2 tsp vanilla bean paste
Sour Cream Frosting
3/4 cup (185g) unsalted butter, room temperature
1/2 cup (123g) sour cream, room temperature
2 tsp vanilla bean paste
4 1/2 cups (520g) powdered sugar, spooned and leveled
graham cracker crumbs for topping
Instructions
Graham Cracker Crust
Preheat the oven to 350F/177C convection (325F/163C conventional) and line 24 muffin tins with cupcake liners.
Place the graham crackers in a food processor and pulse until they're finely ground.
Add the granulated sugar, cinnamon and melted butter, pulsing until they're evenly distributed.
Place about 1 Tbsp amount of graham cracker crust into each cupcake liner and press it down with your fingers or a small cup to form a crust.
Cheesecake Filling
Whisk together the cream cheese with the granulated sugar and the vanilla bean paste until they're smooth.
Place the cheesecake filling in a piping bag fit with a round tip and set aside.
Pumpkin Cupcake
In medium bowl, whisk together the flour, baking powder, baking soda, salt and spices until they're evenly distributed.
In a large bowl, whisk together the eggs, sugar, oil and pumpkin aggressively for 1-2 minutes, until they're well combined.
Add the dry ingredients to the wet ingredients and mix until they're well combined.
Scoop the batter over the crust, filling the cupcake tins about 3/4 full.
Insert the piping bag into the center of each cupcake (so the tip is towards the center not on top if the cupcake) and squeeze about a quarter size amount of filling into the center of the cupcake.
Release the pressure from the bag before you lift the bag out from the center of the cupcake (this helps it stay inside the cupcake and not on top of the cupcake).
Bake the cupcakes for 22 minutes. Remove from the oven and allow them to cool completely before frosting.
Sour Cream Frosting
In a large bowl or the bowl of a stand mixer, use the whisk attachment to beat the butter until it's pale and fluffy, 2-3 minutes. Scrape the edge of the bowl halfway through.
Add half of powdered sugar and beat on low speed just until it's combined. Increase the speed to medium/high and beat for another minute.
Add the sour cream and vanilla bean paste and beat just until they're combined.
Add the rest of the powdered sugar and mix on low speed until it's combined.
Scrape the bottom and edge of the bowl well and increase the speed to medium/high for 2-3 minutes.
Pipe frosting on top of cupcakes and top with crushed graham crackers.
Nutrition Information:
Yield:
24
Serving Size:
1
Amount Per Serving:
Calories:

328
Total Fat:

17g
Saturated Fat:

6g
Trans Fat:

0g
Unsaturated Fat:

10g
Cholesterol:

56mg
Sodium:

253mg
Carbohydrates:

42g
Fiber:

1g
Sugar:

32g
Protein:

3g
Nutrition information may not be fully accurate.